Support TFG by using the links in our articles to shop. We receive a small commission (at no extra cost to you) so we can continue to create helpful free content. We earn from qualifying purchases made to the featured retailers. Thank you, we appreciate your support!
Not sure how to pack your bras so that you don't ruin their shape or just can't seem to fit them in your bag? Our readers share how to pack bras and their picks for the best bras to pack for your next vacation!
---
How to Pack Bras
---
Table Of Contents
Travel Fashion Girl help! A reader asks:
Hey everyone! Just curious how you pack your bras to take up as little space as possible but also keep their shape. I've been blessed with an "ample bosom," so my bras have the molded cups.
Bras are a must-have item on every female explorer's packing list, but do you struggle with how to pack bras in a suitcase? Are you worried about ruining the shape of your expensive bra? Our readers give advice on how to pack padded bras to make the most of the space in your luggage and protect them from damage.
Compass Rose Travel Packing Cubes
Designate a Packing Cube as Your Underwear Cube
Why not designate one packing cube just for your bras and underwear? One reader says, "I have a packing cube specifically for bras, and stuff my undies and socks in there so that they can keep their shape."
I like to place my underwire bra along the right or left corner of a slim packing cube. This way the underwire follows the cube's edge. I place two to three underwire bras over each other in the exact same place and then place my underwear in the cups so the shape is protected, and I maximize space. I also place underwear or small socks in the space between the cup and the bottom of the cube, making sure I make the most of every nook and cranny.
Several of our readers also like to use a packing cube for their bras. One reader says, "I layer three bras on top of each in a packing cube with undies, socks, and tanks rolled in and around them."
Watch this video on how to pack for one trip with different activities!
Think Outside the Cube
Just because packing cubes are so handy doesn't mean you have to pack everything inside them.
One female explorer suggests "leaving the bra out of the packing cube and then pack it the corner of my bag so the corner of a packing cube fits inside the cup, and the curve of the wire follows the curve of the corner of my suitcase."
Another reader shares how she "puts my bras in the corners of the suitcase, then the packing cube corner wedged into it. It's a little place where nothing else fits, but there's a bit of room."
What a great way to make sure you are using every available space in your suitcase!   
Follow these packing hacks one trick to instantly downsize your luggage!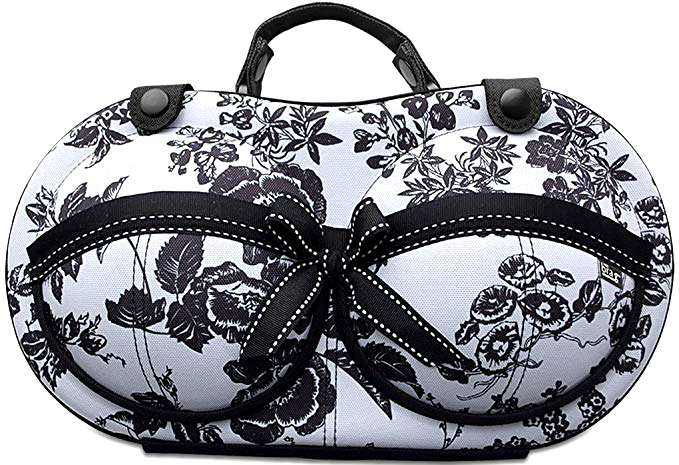 Use a Travel Bra Bag  
You could invest in a Travel Bra Case to keep your bras protected and organized when traveling. This travel bra organizer is designed to prevent your bras from becoming crushed or damaged by adding a protective layer around your bras. It comes in two sizes and lots of different colors and styles. Bra bags are an awesome packing solution for protecting your favorite underwear!
One reader shares how she bought a bra case "that I use all the time when I travel. I can't be without it now. I don't have to worry about folding or crushing my bras."
You'll want to look your best when you travel! Read my travel tips to Pack Light Stylishly! 
Laundry Science Premium Regular Bra Wash Bag
Pack Bras in Bra Wash Bags
You also could use this Laundry Bra Wash Bag to pack your bras when on vacation. The plastic frame with the mesh is designed to be flexible and protect your bras while maintaining its shape.
One reader says, "I use a bra washing bag. I place my bras in it, and then I put miscellaneous things in small pouches to fill up the nooks and crannies. I then use the lingerie bag for my underwear on laundry day."
One product for multiple purposes — what an awesome way to save space in your packing!
Here are our tips on how to hand wash clothing when traveling!
Fold Them
Some readers choose to fold their bras before packing them.
Using socks or panties to keep the shape of the cups is a popular bra packing strategy among our female readers. One reader says, "I fold my bras in half, and then roll panties and then put those in the cups."
Another reader adds, "I fold my bras in half, one cup inside the other, and then I find a corner to tuck it into, around other stuff."
One reader says that when traveling, "I try to pack bras that don't have molded cups so that I can squish them into my suitcase better!"
Learn which works best for packing, folding vs. rolling clothes for packing!
Disclaimer: Folding one bra cup into the other can ruin the shape and integrity of your bras.
Stack Them
If you are looking for how to pack bras in a suitcase, stack them toward the top of the bag with enough room to avoid crushing the cups. Stack one bra behind the other, keeping the cups puffed up. Then stuff some socks or panties behind the cup. This makes sure your bras keep their shape and will avoid ruining them.
One reader shares how she "stacks them and then stuff the cups with underwear and socks." Another reader adds, "I nest the bra cups inside another bra, stacking them, and then stuff with underwear or socks and place near the top of my suitcase. This works well for me."  
Get expert tips on choosing the best bra for travel!
How Many Bras to Pack?
Figuring out how many bras to pack can be confusing, especially when you are on a long vacation. Generally speaking, you want to pack the most versatile bras possible, so always choose what makes sense for the activities you have planned.
As with shoes, three is the magic number. Keep this rule of three in mind for bras, too!
Remember, if you are traveling for longer, you can do laundry while on your vacation, so you won't need to pack more bras just because you will be away longer.
Read about the bras every woman should pack when traveling!
Our Readers' Favorite Bras for Travel
Wacoal Halo Underwire Bra in Sand
Most Versatile Underwire Bra: Wacoal Women's Halo
Wacoal's underwire bra has all-over stretch lace cups for great natural shaping and offers excellent support. It has adjustable convertible straps that can be worn traditionally over the shoulder or in the racerback style.
This bra is available in a wide range of colors, from versatile neutrals to more colorful red and blue, so there is a color to suit everyone.
One reader says, "This is my go-to bra." Another reader says, "I am always really happy with my bras from Wacoal." While one reader also adds, "Wacoal Halo Lace is the comfiest bra I've ever worn."
Prima Donna Madison Bra in Caffe Latte
Best Full Cup Bra: Prima Donna Madison
Our readers also really love the Prima Donna's Madison bra because of its support and coverage. One reader says, "The bra is sooo comfy and gets the job done. They're always comfy." Another reader adds how " I love my Madison bra!"
Bali Comfort Wirefree Bra in White
Best Wireless Bra: Bali Comfort Revolution
Bali is a popular bra brand among our readers, as it offers various styles and many different bust sizes, so there is a bra to fit everyone. One reader says it's "the BEST bra ever!"
Read our post on the best wireless bra!
Comfortable Wireless Bra: Hanes Ultimate
Bras from Hanes are a particular favorite among our female explorers. One reader says, "I just love my Hanes bra." Another reader also shares how "my friend just got these and LOVES THEM! She said it's the best bra she's ever had."
Remember: If you are planning any strenuous activities on your vacation or even for bumpy travel days, pack a sports bra. Have a look at these options. 
---
How do you pack bras when traveling? Share in the comments below!
---
For related packing tips, please read:
---
LIKED THIS POST? PIN THIS PIC TO SAVE IT!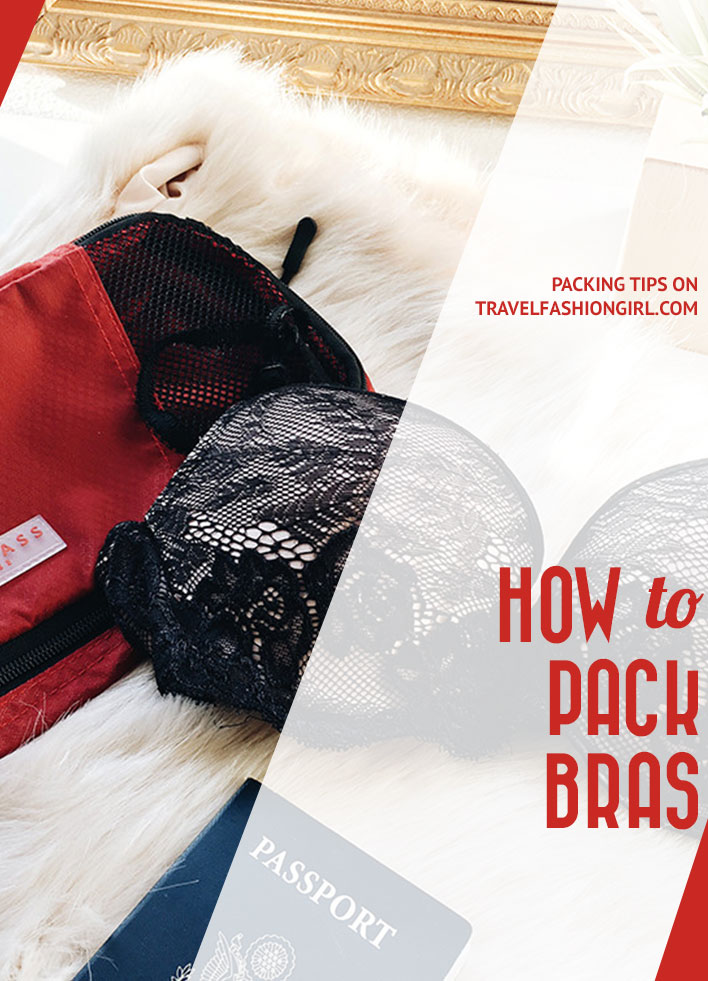 ---
I hope you enjoyed this post on how to pack bras for travel. Please share it with your friends on Facebook, Twitter, or Pinterest. Thanks for reading!
---