Support TFG by using the links in our articles to shop. We receive a small commission (at no extra cost to you) so we can continue to create helpful free content. As an Amazon Associate, we earn from qualifying purchases made on Amazon in addition to other retailers featured on the blog. Thank you, we appreciate your support!
Are you looking for the ultimate Ireland packing list? You've come to the right place. Here, we rounded up everything you may (or may not) need if you're wondering what to pack for Ireland. 

---
Ireland Packing List
---
Table Of Contents
To help you with your planning, we're providing a free, editable and printable Ireland travel checklist you can customize for your trip. Use it to ensure you've planned for every aspect of your packing so you can enjoy your travel.
Keep reading to find out what you need for your Ireland vacation packing list and to download your free travel packing list of things to bring for your trip to the Emerald Isle!
Before you leave, you'll also want to read my e-book about traveling to Ireland! It includes everything in one convenient location!
The following Ireland packing list shares what you need to bring on your trip into three sections:
Printable Packing Checklist:

Download an editable spreadsheet to help you with your planning.

Ireland Packing List:

See what you need based on each item category.

Ireland Packing Tips:

Learn how to pack efficiently so you can travel light.
Printable Ireland Packing Checklist
Click here to access the editable Google Doc printable Ireland packing checklist that corresponds to this article. You also can download the print-friendly, PDF version here or you can click the image below to open the editable file.

Printable Checklist
The Ireland packing checklist contains multiple categories to help you pack for your trip, along with a list of the essentials to bring in your suitcase. You'll also find all the items listed in the categories above with spaces so you can add your own information. With this checklist, you can:
Add an item's weight (the less each item weighs, the less overall baggage weight).

Note if you need to purchase something or if you already own it.

Note where you'll pack each item.
Wondering the best way to weigh your luggage? Find out why we love this luggage scale!
Ireland Vacation Packing List
Before you head on your trip, you need to know what to pack! Here, you'll find everything you should consider, including in your Ireland packing list based on its category.
What Shoes Should I Pack for Ireland?
Your shoes for Ireland should be functional. Generally speaking, you'll need some type of boot year-round in Ireland, even when traveling there in summer. Choose a calf-height for the winter and ankle boots for the rest of the year.
Overall, our readers have voted these as the No. 1 shoes for Ireland!
While you want to be fashionable, comfort should come first when choosing what shoes to wear in Ireland. You'll be walking a lot, probably a lot more than you do at home, as you sightsee. It's important to choose shoes you can wear all day for walking.
One unexpected issue many travelers discover once they get to Europe are the cobblestone streets.
While great to look at, stone streets aren't always the easiest to walk on and can make for sore feet even if you don't normally have discomfort. Depending on the city, these streets can also be hilly, slippery when wet, and uneven.
Make sure your sightseeing shoes are broken in properly. Opt for a pair that is comfortable and you can wear it for hours without discomfort.
We recommend the rule of three when it comes to shoes. Plan to take three pairs total on your trip:
    Walking shoes

    Activity shoes

    Additional shoes
Walking Shoes: Sneakers
Slip-on sneakers are a great option for all-day walking and sightseeing. Our readers are big fans of Skechers black slip-on sneakers, but there are many comfortable brands and styles. Don't buy another pair until you read this article about the best shoes for travel!
Activity Shoes: Chelsea Ankle Boots
As with sneakers, there are many choices for boots to wear to Ireland. We love waterproof ankle boots. They will keep your feet dry in when it rains and warm if the temperature drops.
When in doubt, tan chelsea boots like this boot from Teva is the go-to style of choice and a great addition to your Ireland packing list. Read these tips on how to wear ankle boots in every season.
UGG Simmens Leather Boot Brand
Additional Shoe: Tall Boot
If you're visiting Ireland in winter, you may want a tall boot, in addition to or instead of an ankle boot. In colder seasons, these waterproof leather boots are recommended. They are still stylish, but they'll keep your feet warm and dry, which is so important when you're traveling.
Tip: We have an entire category on the website dedicated to the best travel shoes for Ireland, including walking shoes, hiking shoes, waterproof boots, ankle boots, and more!
What Clothes Should I Pack for Ireland?
Ireland is known for its four-seasons-in-one-day weather. Unpredictable would be a good word to describe it. Yet, regardless of when you travel, you will need an umbrella and waterproof gear like a raincoat; in winter a parka; and year-round sensible walking shoes and waterproof boots.
When considering what to pack for Ireland, remember that major cities like Dublin are very trendy, combining formal and casual wear.
Find out what to wear in Dublin here!
To build your Ireland travel packing list, start by choosing 10 clothing items to act as the core of what you bring — regardless of the length of your trip. These 10 items will act as the foundation of your travel wardrobe, so they should be interchangeable and easy to mix and match to create different looks.
Our readers have voted this as the best rain jacket for Ireland!
If you aren't sure what to choose for your 10 core items, follow our guidelines on how to create a capsule wardrobe for travel. It includes eight examples you can follow. Start your checklist as follows:
Ireland Packing List Clothing Capsule Wardrobe
Top 1

Top 2

Top 3

Top 4

Top 5

Bottom 1

Bottom 2

Bottom 3

Dress (or other) 1

Dress (or other) 2
Visit our travel clothing section for product suggestions like the best travel pants, best merino wool clothing, and the best cold weather items!
Now that you've selected your 10 essential clothing items for Ireland, determine if you need any other pieces based on the weather or your activities. For example, it rains year-round in Ireland (even in summer!), so you'll need a rain jacket and ankle boots.
Don't forget about underwear and bras, too! Nude colors (or the color closest to your skin tone) are best for bras, as they can be worn underneath any color top. For more tips, check out our article on how to choose the best bras for travel.
For underwear, pack up to 10 pairs (or one for every day of your trip). If you're traveling for longer than one week, you can hand wash them along the way.
Find out our recommended travel underwear!
For these other items, you may need to pack:
Ireland Packing List Additional Items
Outerwear 1

Outerwear 2

Sleepwear 1

Sleepwear 2

Workout 1

Workout 2

Underwear 1-10

Bra 1

Bra 2

Bra 3

Socks 1-3

Swimsuit 1

Swimsuit 2
If you're traveling to Ireland in winter, you'll need warm weather items, like gloves and scarves, whereas, in other seasons, you may want a hat or rain boots. You can incorporate style into your wardrobe through the colors, prints, and designs you choose for these items.
Don't forget to add thermal underwear if you're traveling to Ireland in the winter!
Wondering what to wear in Ireland? Check out these resources:
For your packing list for Ireland, you may need to pack:
Ireland Packing List Shoes and Accessories
Shoes 1

Shoes 2

Shoes 3

Hat

Belt

Purse – Day

Purse – Night

Wallet

Scarf

Jewelry

Sunglasses

Sunglasses Case

Watch (or Travel Clock)

Gloves (if applicable)
Read this guide for 10 steps to packing the best travel shoes for your Ireland trip!
What Luggage Should I Choose for Ireland?
The first step in packing for Ireland is deciding what luggage and travel gear to bring. Your intended activities and length of trip will determine the type of suitcase you should choose.
Read why choosing luggage is important for packing light!
The best suitcase for Ireland is a rigid trolley case, ideally with four casters. The trolley should be divided into two compartments (not just one big compartment) for easy packing. These are easy to travel with on bumpy terrain.
If you're planning a long-term trip to Ireland or are traveling to a more remote Irish city where wheels won't work well, a backpack will be a better option. Find out how to choose the best travel backpack. It's also the perfect fit for those who prefer to travel hands-free.
For long days of sightseeing in Ireland, we prefer to take a hands-free option, such as the Rebecca Minkoff Julian backpack!
You'll also want to bring a personal bag for the plane, either in addition to an in-flight purse or in place of it if you're traveling carry-on only. Find out what a carry-on personal item is and whether you should bring one on your trip to Ireland.
In addition to your luggage, we recommend using packing organizers like the Compass Rose packing cubes. They help you stay organized, feel less stressed while traveling, and make it easier to travel carry-on only. Find out why packing cubes are essential — our readers swear by them and so do we! We recommend using these packing cubes — they're ours.
Packing organizer for your accessories

Packing organizer for your electronics

Makeup bag

Toiletry bag

Shoe bag

First aid (if applicable)

Daypack or personal item
Find out the best toiletry bags here!
eBags Pack-it-Flat Hanging Toiletry Kit
How to Pack Toiletries for Ireland
Knowing what toiletries to bring on your Ireland vacation can be challenging, especially if you want to travel light. While your individual needs will be unique, there are a few general guidelines you can follow.
Travel-size 3oz or 100ml products and containers are sometimes more or less than what you actually need, so it may be better to use travel containers like these instead. They allow you to bring the perfect amount you need for your trip.
Similar to luggage, the functionality of toiletry bags differs, and one may not meet the needs of every trip. Check out our list of the best toiletry bags for travel so you can determine which style makes the most sense for your trip. In our experience, hanging toiletry bags like these offer the most versatility.
In your toiletries bag, you'll likely need to pack:
Toothbrush

Toothpaste

Shower cap

Shampoo

Conditioner

Leave-in conditioner

Soap/body wash

Loofah

Razor

Deodorant/antiperspirant

Body moisturizer

Face moisturizer

Sunblock
Optional toiletries include:
Eye cream

Pumice stone

Hair styling product

Tampons

Menstrual cup

Toilet paper
If you forget anything, you can pick up toiletries at a Boots or local drugstore, which you can find in a number of Ireland's cities.
Read this guide on how to choose toiletries for your trip!
First Aid Kit (optional)
When traveling to Ireland, you may not need to pack a full-size first aid kit, as you can likely buy most of these items at a local drugstore. However, you may want to take one or two doses or packets of each of the following items to create a mini first aid kit for emergencies:
Prescription medication

Contact solution (if needed)

Pain relievers

Band-Aids

Tissue

Digestion tablets

Allergy pills

Antibacterial wipes/gel
Find out what to include in a travel first aid kit!
Makeup
Like your clothing, create a capsule makeup collection when you travel to Ireland so you only take the essentials. Use small travel containers like these to avoid taking large products such as foundation and concealer. For your makeup bag, you may need:
Eyebrow pencil

Concealer

Foundation

Powder

Eye shadow palette

Lipstick/lip gloss

Blush

Mascara

Eyeliner
Read this article on how to downsize your travel makeup kit!
Hair and Grooming
Instead of bringing all your hair tools when traveling, see if your accommodation provides items such as a hairdryer.
Instead of full-size products, invest in travel size dryers or straighteners, if needed. A nicely groomed mane adds the perfect finishing touch to a perfectly planned travel outfit! Ireland can get pretty windy, so you may need a few products to tame your hair.
In your toiletries or makeup bag, you may need to pack:
Hair ties

Hair clips

Bobby pins

Travel-size hairbrush

Travel-size mirror

Tweezers
You also may need:
Travel-size blow dryer

1″ flat iron

Nail clipper

Nail buff

Other
Worried about the famous Ireland wind messing up your hair? Read more tips on travel hair styles!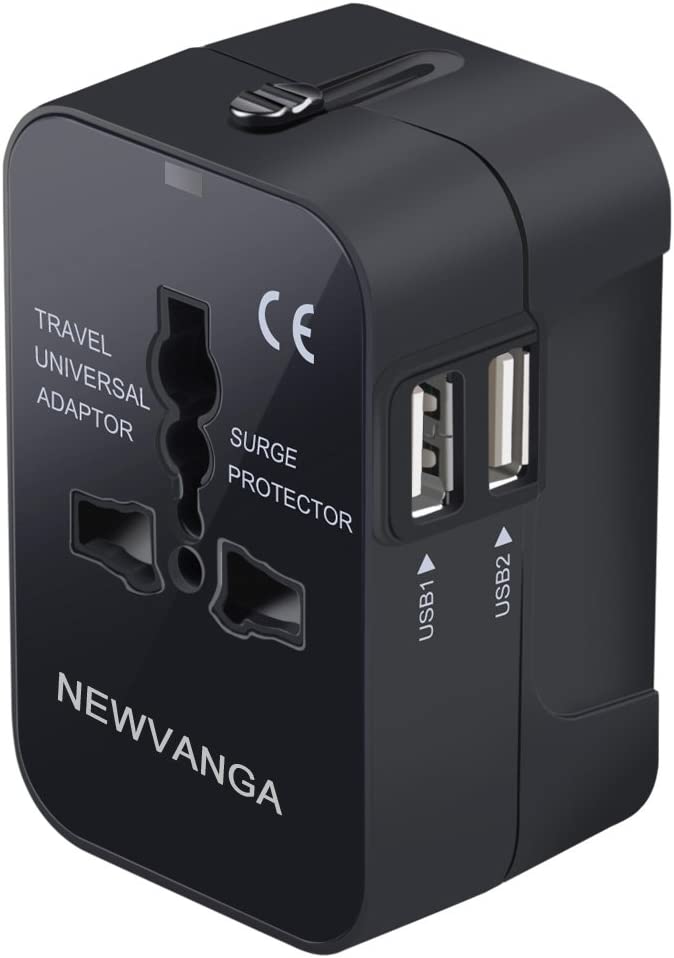 Which Electronics Do I Need for Ireland?
The electronics you need for your trip will depend on whether you're traveling for vacation or business. Before your trip, read this guide that explains how to protect your electronics from the different voltage abroad. You can use a travel adapter like this one if you plan to visit a few other countries on the same trip.
For your electronics, you may need to pack:
Phone

Phone charger

Phone cover

Camera

Camera charger

Camera battery 1

Camera memory card 1

Camera cover

Memory stick (with important info)

e-reader

e-reader charger

e-reader cover
For an international adapter, we recommend the NEWVANGA Travel Adapter, which is easy and convenient to use in Ireland and the UK!
Other electronics may include:
Tablet

Tablet charger

Tablet cover

Laptop

Laptop charger

Laptop cover

Laptop case

Screen protector

Keyboard protector

Selfie stick

External hard drive

External hard drive cord

Portable power bank

Portable power bank cord
Read this post for tips on preparing an electronic checklist!
Ireland Travel Documents and Money
Other than your passport, cash, and cards, many of the below items are available in digital form, so you may want to use this as a reference checklist rather than a physical checklist.
For this, you may need:
Passport

Passport copy

Passport holder

Boarding pass

Itinerary (some airlines require this printed when you have to check-in in person)

Visas in passport (if needed)

Immunization records (if there are health requirements, such as yellow fever)

Emergency cash (enough for one full day)

Credit cards

Driver's license or alternate form of ID

Guidebook

Language guide

Notebook (to note addresses in a paper, not phone)

Pen (to fill out immigration forms)

Emergency contact info

Travel insurance

Copies of all travel documents (on a memory card, USB stick, or stored in email)
Ireland uses the Euro for its currency. Find out the best place to exchange foreign currency!
Travelon Signature 3 Compartment CrossbodyColor: Pewter – not existing in the choice of colors
Travel Safety in Ireland
Traveling in Ireland is generally very safe, but wherever you go, there's always a possibility of theft. There are a few precautions you can take to protect your belongings, such as using one of these anti-theft devices.
Anti-theft products that are worn under your clothing are useful to conceal valuables. While not necessary, some female travelers make feel more comfortable with an anti-theft purse, as well.
Compass Rose Secret Bra Wallet
We recommend this RFID secret bra stash to conceal your cash and cards safely and discreetly!
For your safety needs, add these items to your Ireland packing list:
Never carry your passport while sightseeing! Read these tips to learn how to keep your passport safe while traveling!
Pre-Trip Checklist
As soon as you book your trip to Ireland, there are a few essential steps to take:
Call banks to inform them of your travel plans.

Check the weather at your destination.

Check baggage restrictions.

Check visa regulations.
Read this post to see my personal step-by-step packing routine!
Ireland Packing Tips
To avoid overpacking, take the time to plan and research before your trip to Ireland. Find out the weather forecast and finalize your activities so you can accurately determine exactly what you will and will not need for your trip.
The biggest game changer for me was using packing cubes. They completely transformed the way I traveled, and I was able to travel full-time carry-on only for several years!
The video below shows you the technique I use to travel carry-on for every trip:
Watch the packing tutorial on Youtube!
As shown in the video, I use slim-size packing cubes, These are the only packing cubes *sized to fit the exact width of a carryon suitcase* and they also have a *unique color-coded and numbered organization system* – the only kind currently available anywhere on the market.
Read this post where I explain everything you need to know about packing cubes, including what they are, how to use them, their benefits, and the best brands. Trust me, they're the ultimate game changer! 
---
What else would you add to your Ireland packing list? Share and comment below!
---
For more destination packing list, please read:
---
LIKED THIS POST? PIN THIS PIC TO SAVE IT!
---
I hope you found this Ireland packing list helpful! Please share it with your friends on Facebook, Twitter, and Pinterest. Thanks for reading!
---