Support TFG by using the links in our articles to shop. We receive a small commission (at no extra cost to you) so we can continue to create helpful free content. As an Amazon Associate, we earn from qualifying purchases made on Amazon in addition to other retailers featured on the blog. Thank you, we appreciate your support!
Wondering what to pack for Ireland in summer? We've got some outfit ideas for every coast! Follow these tips and you'll be ready for everything!
---
What to Pack for Ireland in Summer
Written By: Niki Landry
---
Ireland holds an appeal for many travelers: English speaking, rugged beauty, incredibly friendly people, and fascinating history. For me, it's the place I'm always longing to get back to.
Planning what to pack for Ireland comes with a special set of instructions. It's always colder than what you might expect – you have to be ready for rain, and the wind is strong.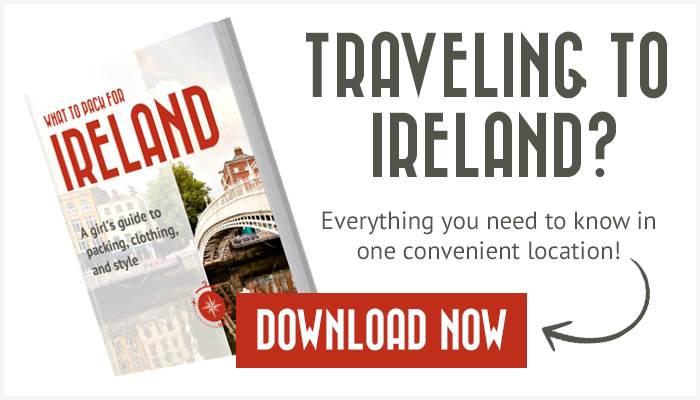 Below I've set up an outfit for each coast of Ireland, based on typical activities and weather so you can be ready for whatever this beautiful island dishes out.
 Ireland Packing List: Tunic | Top | Shirt | Tee | Jacket | Jeans | Leggings | Scarf | Jeans | Jacket | Boots | Crossbody | Sneakers | Sandals
The outfits above would be suitable for most of the summer in Ireland. Always check the weather forecast before you go. Once you've researched the weather, you can focus on creating a travel capsule wardrobe, which should easily fit in a carry-on suitcase with the help of packing cubes to compress your clothing.
When you're planning what to pack for Ireland, remember that even on warm and sunny days, the wind and rain can make it feel colder.
Plan for rain, bring layers and remove as needed.
One dress with tights can be a suitable addition to this packing list but I wouldn't pack short bottoms on a minimalist travel packing list.
If you're visiting in the winter or it's going to be particularly cold while you are there, you will definitely need to bulk up your outerwear; throw in a cozy hat and gloves.
Here are some tips on how to stay warm in cold weather!
East
Tunic |  Jeans | Jacket | Crossbody | Boots
Since most visitors enter the country through Dublin, I've started on the east coast of Ireland. I've chosen a relaxed but stylish outfit for the city – something comfortable enough to walk around in, warm, and waterproof.
Leave your suede boots at home and opt for leather instead. Always bring along your raincoat or a small travel umbrella for inevitable bursts of rain. If it happens to be a colder day, you can layer a jacket and scarf over your sweater.
Here are more tips on what to wear in Dublin!
South
 Shirt | Jeans | Jacket | Boots
Castles, estates, quaint towns, parks, and incredible views are all within your grasp on the southern and southwestern coasts of Ireland. There's no need to dress up, but you do want to look presentable in the hundreds of photos you are going to take.
Include a button down shirt for ease and comfort, a warm jacket, stylish booties, and slim cut jeans as you plan what to pack for Ireland in summer. Bring items that can transition from a walk to see ruins to a stop at the local pub. And while it may sound monotonous: bring your raincoat.
These are some of our favorite travel raincoats for women!
West
Tee | Leggings | Jacket | Scarf | Sneakers
You may be trekking, cycling, or kayaking, so it's best to keep it super casual on this end of the island. The west coast is where things get a bit rugged, especially the farther north you go.
Of course, if you are spending a day in a city or town, then you can resort back to one of the more fashionable outfits, but for any outdoor activity it's a good idea keep it simple. Sneakers for muddy trails, leggings, and a simple top will complete this look. For more warmth, layer on a jacket, scarf, and raincoat.
Here are more ideas on how to use stylish workout clothes for travel!
Northern Ireland
Top | Jeans | Scarf | Jacket | Sandals
Heading to the north will require you to change your euros to pounds, and maybe an upgrade to your outfit. Take in all the capital city of Belfast has to offer in a sweet flounce top, dark wash jeans, and cute flats, the perfect outfit for a café, gallery, and museum hopping.
Just switch out your shoes to something with a rubber bottom before you take a day trip to the Giant's Causeway and Antrim coast.
Here are some ideas on the best waterproof boots for travel!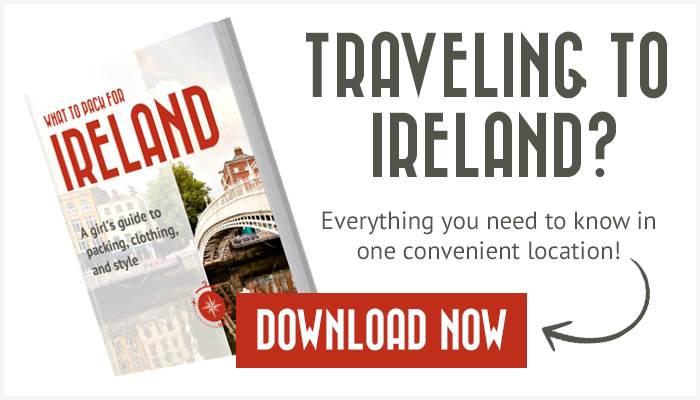 ---
By mixing these 10 pieces, three shoes, and one purse, you'll have everything you need to take in the sights of Ireland and Northern Ireland. Throw in your undergarments, sleep clothes, and an umbrella, and you're all set for your next trip.
What are your tips on what to pack for Ireland? Share them below!
---
For more Europe packing tips, please read:
Suggested travel resources:
---
LIKED THIS POST? PIN THIS PIC TO SAVE IT!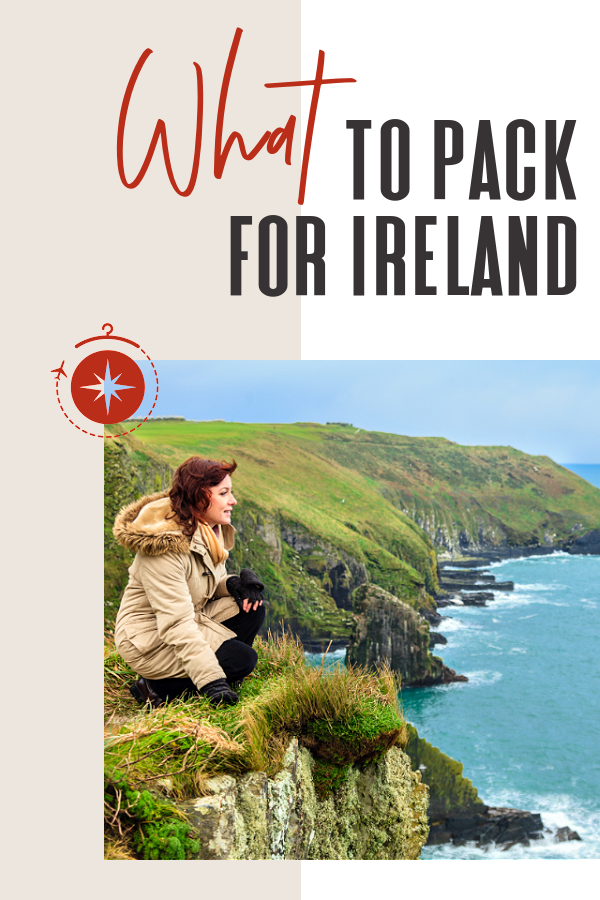 ---
Hope you liked this post on what to pack for Ireland. Please share with your friends on Facebook, Twitter, and Pinterest. Thanks for reading!
---
Author Bio: Niki is an interior designer and artist from Louisiana. In addition to her design work, she writes for local and online publications sharing her experiences and passion for travel. Niki is currently adding stamps to her passport while building her design practice, Niki Landry Designs.
---