Support TFG by using the links in our articles to shop. We receive a small commission (at no extra cost to you) so we can continue to create helpful free content. We earn from qualifying purchases made to the featured retailers. Thank you, we appreciate your support!
For this edition of Locals Approved Packing Lists Sara Hajgato, a designer for the brand BOTANIKA, has provided  a locals opinion to help us create this Budapest Travel Packing List.
Sara is a Budapest based eco-conscious designer for BOTANIKA, a brand that creates sustainable organic accessories using botanical dyes obtained from plants.
---
Budapest Travel Packing List
edited by Chantelle Mallin
---
Even though she has spent roughly 10 years of her life travelling the world, she well and truly classes Budapest as home, claiming her roots have brought her back to the lovely city time and time again. Check out her beautiful textiles on her blog and facebook. Thank you for your tips Sara!
Budapest Clothing Style
There is a slight divide between the older generation and the younger, with the former tending to opt for more of a conservative yet classic flair such as three piece suits and formal hats, whereas the younger generations are more western in the way they dress, having a much more comfortable and casual attitude to style.
In the rural areas of Hungary more traditional clothing is apparent, such as women in peasant babushkas (scarves) and men wearing floppy brimmed hats.
So your wardrobe blends in with locals while in Budapest consider that while the local's fashion is becoming more modern avoiding wearing loud clothing such as neons and contrasting bold prints that will draw unwanted stares – unless that's what you're looking for!
Travel Essentials
Travel essentials for Budapest really depend on what time of the year you plan to visit. In the summer, a hat and sunglasses for sun protection are definitely recommended.  In the winter, the temperature will drop requiring you to wrap up in warmer clothing such as hats, shearling lined coats and a cute and cozy scarf. An umbrella is a must, we all know how the rain likes to creep up on us when we're least expecting it. It's better to be safe than dripping wet!
Once you've researched the weather, you can focus on creating a capsule travel wardrobe, which should easily fit in a carryon suitcase with the help of packing cubes to compress your clothing.
Read these tips on what to wear on a rainy day!
Comfortable shoes are an essential! Budapest has some beautiful and historic sites such as the castle and Gellért Hegy that are best seen on foot. There are plenty of cobbled streets that definitely do not mix well with heels – stick to boots or a chic pair of brogues in the summer.
You can't travel Budapest without visiting the baths, just like touring Heroes Square or eating a delicious bowl of goulash, they are a must see. If you're planning to visit make sure to pack your swim suit, towel and flip flops (alternatively the latter two can be rented at the spa.)
Budapest Shopping
If you've forgotten an item or just fancy updating your travel wardrobe then check out one of Budapest's huge shopping malls such as Mammut located in Buda or The West End City Center in Pest, featuring stores such as H&M, Mango and Zara.
Many new young designers are making a name for themselves in the city and the rest of the world, if you fancy checking out some of their original designs pay a visit to Mono a multi-brand store stocking several designers or Zoe Phobic a fresh designer label with affordable prices.
If you're looking for a unique piece or vintage is your thing check out stores such as Retrock and Lovebug Vintage specializing in cool one off unique pieces.
Worried about theft, add items like a money belt or Secret Bra Pocket to your packing list for Budapest.
Tee |  V Neck | Shirt | Longsleeve | Dress 1 | Dress 2 | Jeans 1 | Jeans 2 | Jacket | Raincoat | Skirt | Cardigan | Flats | Boots | Scarf | Bag
What to pack for Budapest in Spring
Weather:
Sara says: Spring can be quite diverse weather-wise, but seasons seem to be merging so winter may drag into March making it cool and even snowy (this year there was heavy snow mid-March), late April- early May can bring about warm summer temperatures with lots of sunshine.
Start by reading these general tips on packing for spring travel:
Budapest Travel Packing List: Spring
The most favorable time to visit Budapest is during the spring season from March – May, the weather tends to be milder making it perfect for walking the city and seeing the sites, several festivals are hosted in the spring including the spring festival. Like Sara said, weather in Budapest in the spring can be unpredictable, meaning what to pack can be tricky, check the weather updates before your trip to gain a clearer view.
The best advice would be to layer, adding and removing clothing depending on how cool or warm it becomes. Include jeans or dark trousers, perfect for pairing with a neutral t-shirt or blouse, add a cool leather jacket or thick blazer and printed scarf to complete the look. If you want to add a little femininity to your wardrobe include a cute tea dress, paired with a pair of opaque tights for when the weather starts to drop.
These are the best leggings for women that travel as voted for by our readers!
Accessorize your outfits with a pair of sunnies and a fedora for a chic spring time look. Shoes can be a problem due to the unpredictability of the weather, stick with a comfortable pair of boots of brogues perfect for all the sightseeing, and a pair of closed toe sandals for if the weather peaks up. Don't forget an umbrella to protect yourself from the spring showers!
These are the most cute and comfortable ballet flats for travel!
Sleeveless | Tank | V Neck | Blouse | Dress 1 | Dress 2 | Jeans | Shorts | Poncho | Cardigan | Skirt | Shorts | Flats | Sandals | Hat | Bag
What to pack for Budapest in summer
Weather:
Sara says: Summer is usually hot and dry, with day temperatures anywhere averaging 30-35 C / 86-95 F. Refreshing showers do sometimes occur, but they offer a welcome relief in the heat, so it's best not to worry too much about these.
Start by reading these general tips on packing for summer travel:
Budapest Travel Packing List: Summer
Summers in Budapest can get hot!! Take full advantage of the glorious weather and pack a wardrobe to reflect the heat. You will want to take flowery dresses, loose blouses, tank tops and skirts or shorts.
Choose a colour palette that can be easily mixed and matched, try and choose light fabrics such as cottons, linen and silk that are breathable and absorb moisture. Don't forget to pack a beautiful printed bikini and matching flip flops and take a refreshing trip to the Budapest's baths.
For added versatility, these are popular convertible travel dress styles!
The best choice of footwear would be a pair of summery sandals or flip flops. If you plan on doing ample amounts of sightseeing, opt for a pair of printed canvas flats or cut out brogues for the comfort factor.
These are the most cute and comfortable ballet flats for travel!
Accessorize your outfits with sunglasses, a floppy hat and plenty of sun cream for protection from the sun. It would be useful to carry a small fold up umbrella just in case you get hit with an occasional summer rain shower.
If your heading out at night check out the ruin bar gardens around Kazinczy street, which are lively in the summer months and are the best place to browse how the locals hang out. Make sure pack a cute printed dress and light cardigan in case the heat starts to drop, pair with a pair of gladiator sandals and a bright colored scarf.
Read these tips on what to wear on a rainy day!
The heat in Budapest can be really dry, so don't forget your favorite moisturizer to revive dehydrated skin.
Shirt | Sweater | Tee | V Neck | Dress 1 | Dress 2 | Jeans 1 | Jeans 2 | Jacket | Raincoat | Skirt | Leggings | Flats | Boots | Scarf | Bag
What to pack for Budapest in Autumn
Weather:
Sara says: Late August can sometimes be rainy, early-mid September often brings about a so-called "Indian Summer" with warm sunny days, which have tended to appear later on in month in the past few years.
Start by reading these general tips on packing for autumn travel:
Budapest Travel Packing List: Autumn
Autumn in Budapest is known as 'old woman's summer' or 'Indian summer, bringing short cool spells that can last for weeks on end. High temperatures remain until the end of October varying between 16 – 20 ºC / 60-68 F, come November however and the temperature will start to dramatically fall, bringing lots of rain and sometimes even snow.
Read these tips on what to wear on a rainy day!
Like the spring season, try and pack with the thought of layering in mind. Clothes can be added and removed according to the temperature. Bring clothes suitable for warmer day temperatures and cooler nights such as loose blouses, mid sleeved t-shirts, jeans, leggings and a light blazer or jacket. If you want to add femininity pack a pretty midi dress and a pair of opaque tights.
These are the best leggings for women that travel as voted for by our readers!
Rain can be frequent during the autumn so pack a raincoat, umbrella, waterproof boots and a thick fabric scarf. If you're seeing the sights during a downpour at least you'll be comfortable whilst doing so.
These are the best waterproof leather boots recommended by our readers!
Shirt | Sweater | Turtleneck | V Neck | Dress 1 | Dress 2 | Pants |  Jeans | Jacket | Coat | Skirt | Leggings | Boots 1 | Boots 2 | Beanie | Bag
What to pack for Budapest in Winter
Weather:
Sara says: Winter is cold and often cloudy with snowfall and freezing temperatures, especially in January and February.
Start by reading these general tips on packing for winter travel:
Budapest Travel Packing List: Winter
Warmth is the key word when packing for Budapest in the winter, with temperatures regularly dropping to below freezing on most days, with lows of around -4 ºC rising and highs hardly reaching 3 ºC / 37-39 F, December sees not more than 1.5 hours of sunshine per day, I think the sun glasses and sun cream can be left at home.
Warm clothing is a must for winter in Budapest. Try sticking to fabrics such as wools, fleece and polyester that have the ability to retain warm air and keep moisture out keeping you nice and toasty.
Choose clothing such as knitted jumpers, thick waterproof winter coats (preferably with a fleece lining to keep you warm and cosy), jeans or wool trousers and long sleeved tops. If you want to add more femininity to your wardrobe add a wool dress and thick wool tights. Remember to keep warm and layer up!!
Find out why thermals are a must for traveling light (and staying warm) in winter!
Thick waterproof boots are essential during the winter months, with rain and snowfall being expected – fux fur lining and thick fleece socks will generate added warmth I'm sure you'll appreciate. An umbrella wouldn't go amiss either!
These are the best waterproof leather boots recommended by our readers!
Accessorize your winter wardrobe with wool hats, leather gloves and scarf, giving you added warmth from the elements, go for muted color tones that match the season such as black, browns and burgundy – make sure you dress for the season.
Read these tips on how to avoid a boring all-black wardrobe when you travel!
Budapest Travel Tips
Immerse yourself in the culture, experiencing everything Budapest has to offer, whether it be the beautiful historical sites or the 'gastronomic abundance' Hungarian food has to offer, wind down and relax at night and pay a visit to one of the ruin bars downtown or hit A38 boat, voted the best bar in the world.
Budapest is a vibrant shopping district offering pieces from local up and coming designers so make sure to check it out. Judi from High Style Blog provided us with the cool fashion map shown above.
If you're prepared to brave the winter weather you should definitely pay a visit to Budapest's Christmas market in Vörösmarty Square, usually opening toward the end of November the fair offers delights galore including homemade gifts, traditional foods, music and art.
---
Enjoy your trip to Hungary and Budapest! 
What are your tips on the ideal Budapest Travel Packing List?
---
Please note: Most of Europe's Budget Airlines have this Carryon Bag Allowance: 55cm x 40cm x 20cm. Always check your airlines individual baggage rules and regulations in advance.
---
LIKED THIS POST? PIN THIS PIC TO SAVE IT!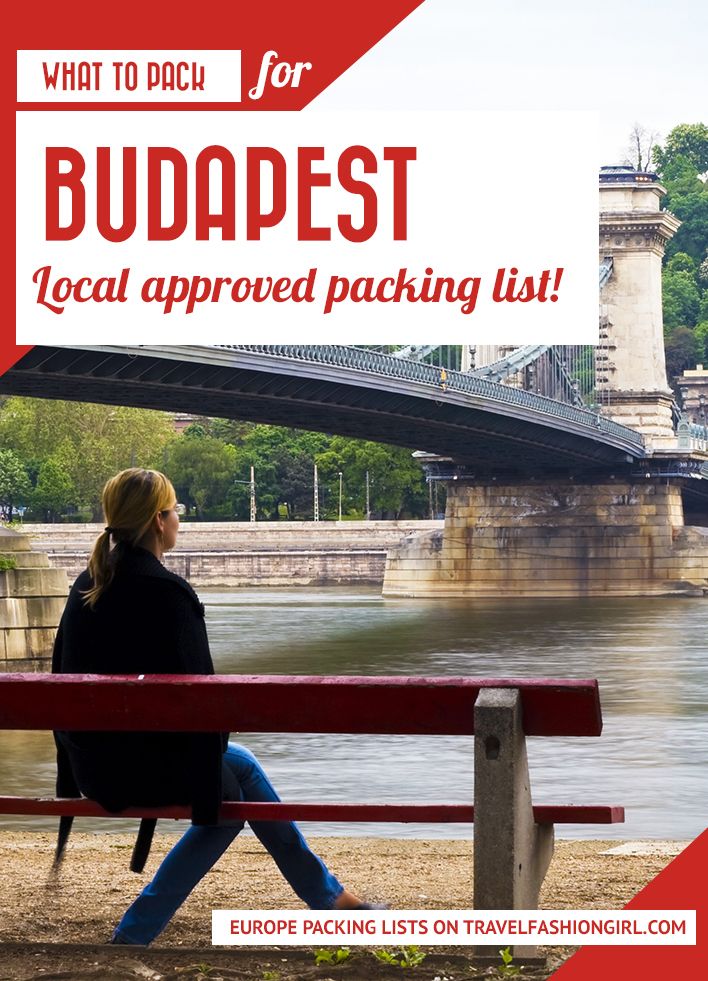 ---
For more tips, please read these Europe packing lists:
Suggested travel resources:
Please read our Ultimate Packing List for Europe featuring stylish outfits and travel tips for 9 countries.
---
Hope you found this Budapest packing list helpful so you can dress like a local. Don't forget to share the love on Facebook, Twitter and Pinterest. Thanks for reading!
---