How Do I Pack For an Extended Trip?
How do I Pack for an Extended Trip?
FOLLOW THESE 10 STEPS TO LEARN HOW
---
If you're traveling for more than one month, this packing guide is for you. Figuring out a packing list for long term travel is no longer a challenge with these tips! Click on each of the below items to learn more about each one.
Step 1
Packing for a long trip is daunting but it's not impossible. In fact, these packing tips can even help you travel carry-on only if that's your goal. I do, and I'm a long term traveler, blogger, and digital nomad too!
The trick to packing for long periods of time is to pack one week's work of clothing. Why? You'll just do laundry once a week!
It's true. No matter the length of your trip you can pack for one week and have everything you need.
To master the art of packing light, use this key concept to help you pack strategically, efficiently, and even stylishly: a capsule travel wardrobe. Take a look at TFG's Signature Packing Lists for four unique travel wardrobe suggestions and if you need more help understanding how to mix and match, colors, styling, and essential clothing items, read Pack Light Stylishly which will introduce you to the basics.
Step 2
If it's your first time traveling or you have a particularly complicated itinerary, review this packing course which shows you specific techniques to plan an efficient and highly functional travel wardrobe for an extended trip.
I walk you through my personal step by step process as I prepare for my own long term travels!
Pack like a pro!
Step 4
Shoes are always a major challenge and long term travel makes it even more difficult! Start with the concepts presented in this post on the best travel shoes for long trips around the world.
Try your best not to overpack shoes. Choose versatile shoes for travel that match all your clothing and pack no more than 2-4 pairs. 3 is the magic number!
Read this 10 step guide to packing the best travel shoes for any trip. Browse our top travel shoe suggestions based on the footwear most recommended by TFG's readers.
Step 5
If you haven't already purchased your luggage, take a look at the top recommendations for:
Read about how to choose luggage and the best travel backpack. Don't forget your travel gadgets including international travel adapters! For long term trips, backpacks tend to be the popular option. Why? Because the chances are you'll be traversing through lands far and wide. In fact, many time, the greatest destinations hardly have a path at all!
Don't like the idea of traveling with a backpack? Use something built to last like a wheeled backpack or my latest bag of choice! Don't forget your day pack!
Step 6
One of the most important aspects about packing efficiently is using travel organizers. Watch this packing video to learn how to use packing cubes to maximize space and ensure everything fits into one bag every time.
These are the top 12 reasons why I prefer packing cubes to other organizers.
Step 8
Packing well depends on your research. Determine what activities you will do on your trip to help you pack only the clothing you will use.
Review this Round the World Packing List for an interchangeable travel wardrobe that will give you an idea about how to pack for diverse environments, countries, and climates.
It's very important to check the weather forecast for your destination on weather.com or bbc.com/weather several weeks and days before your trip.
This 10 step guide to packing for trips with different weather is also a must read!
Step 9
Sign up for Travel Fashion Girl's newsletter and get instant access to free packing templates, downloadable checklists, ebooks, and more.
Step 10
Take a look at these posts for essential gear for travel backpacking trips:
For important travel tips, please read:
And read my secrets to packing light for 7 years of long term travel:
For more help, read our getting started page and…
►  Join our Facebook group to ask packing questions.
►  Also, read our Facebook page to find answers to similar questions. Don't forget to "like" the page!
►  Lastly, for additional visual inspiration, check out our Pinterest page and various clothing ideas.
►  For ideas on where to shop, check out our best online shopping sites.
Happy travels!
Alex
Editor of Travel Fashion Girl
LIKE THIS POST? PIN IT TO SAVE IT!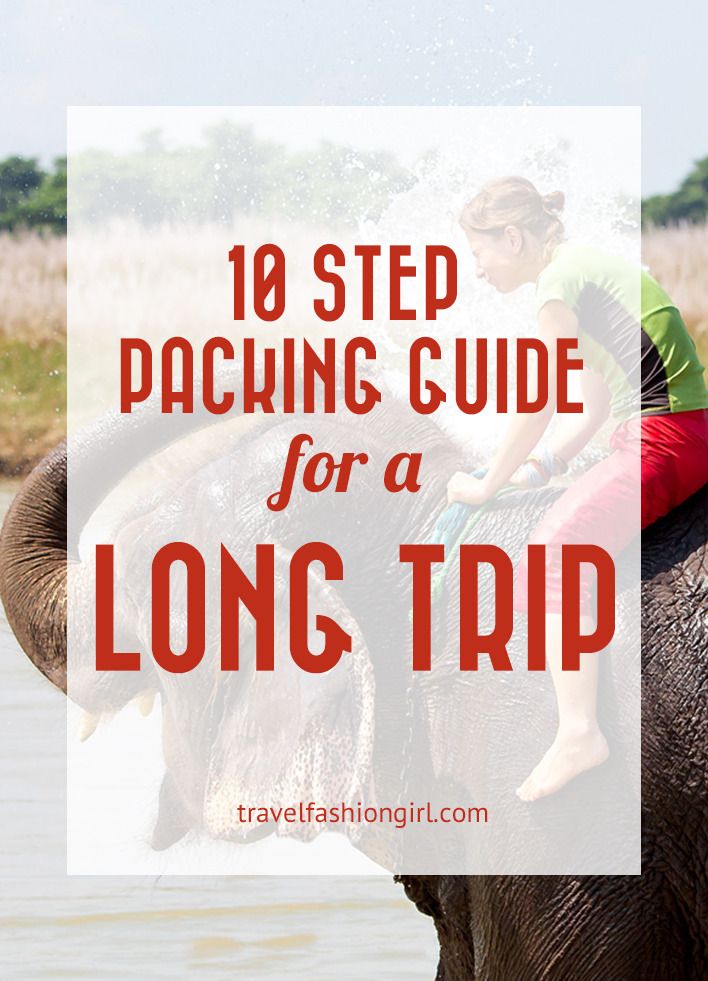 Did you find this article helpful? Please share your own tips or feedback in the comments below! Don't forget to share this guide with your friends on Facebook, Twitter, or Pinterest. Thanks for reading!