Support TFG by using the links in our articles to shop. We receive a small commission (at no extra cost to you) so we can continue to create helpful free content. We earn from qualifying purchases made to the featured retailers. Thank you, we appreciate your support!
Curious about what to pack for Puerto Rico? Learn about the clothing and travel essentials you need for the Caribbean paradise!
---
What to Pack for Puerto Rico
Written By: Lily Kim
---
Table Of Contents
Puerto Rico is not just a gateway or cruise ship stop; it hasn't been dubbed the "Enchanted Isle" and "Singapore of the Caribbean" for nothing! Known as the beautiful backdrop of "Gilligan's Island," PR carries with it a mystique and warmth that is all it's own.
The burgeoning art scene in the Santurce part of the capital, San Juan, near Loiza Street, is worth seeking out. San Juan has an excellent culinary scene and fascinating historical forts, but the natural attractions make Puerto Rico a tropical destination that you shouldn't pass on.
What's the Weather in Puerto Rico
The temperature is warm all year long in Puerto Rico. Most of the spring and early summer is not prone to hurricanes, which historically occur in PR around autumn (September-November).
June is usually the best month to travel to PR. Even at a monthly average of 17.5 cm (7 inches) of rainfall, summer is relatively drier, with short bursts of afternoon rain and constant humidity (mostly in northern rainforests or on the western coast), except on the dry southwest coast (like the Guanica State Forest and desert).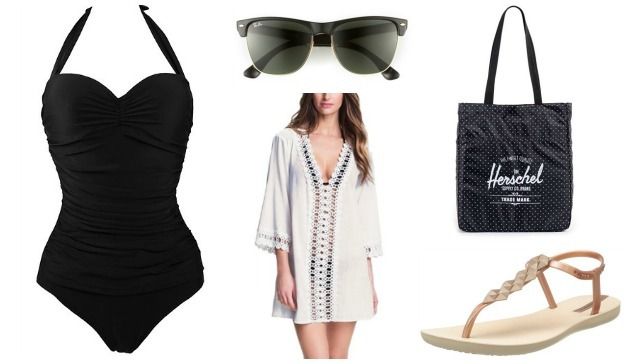 Swimsuit | Sandals | Tote Bag |  Sunglasses | Bikini Cover-up
What to Pack for Puerto Rico: Swimwear
When you're planning what to pack for Puerto Rico, keep in mind that flip flops and beach apparel are the norm along the coasts. Practically across the highway from El Yunque National Park, which boasts a rainforest vista that hikers relish, Fajardo has a quiet stretch of marinas and seaside parks
By day, visitors can dive or enjoy one of the most beautiful beaches in the world by catching a boat to Vieques and Culebra. By night, the dark water comes alive by paddle boat in Fajardo's Bioluminescent Bay. Be prepared to get splashed!
TFG shows you expert tips and tricks to find the most flattering swimsuit styles for your body type!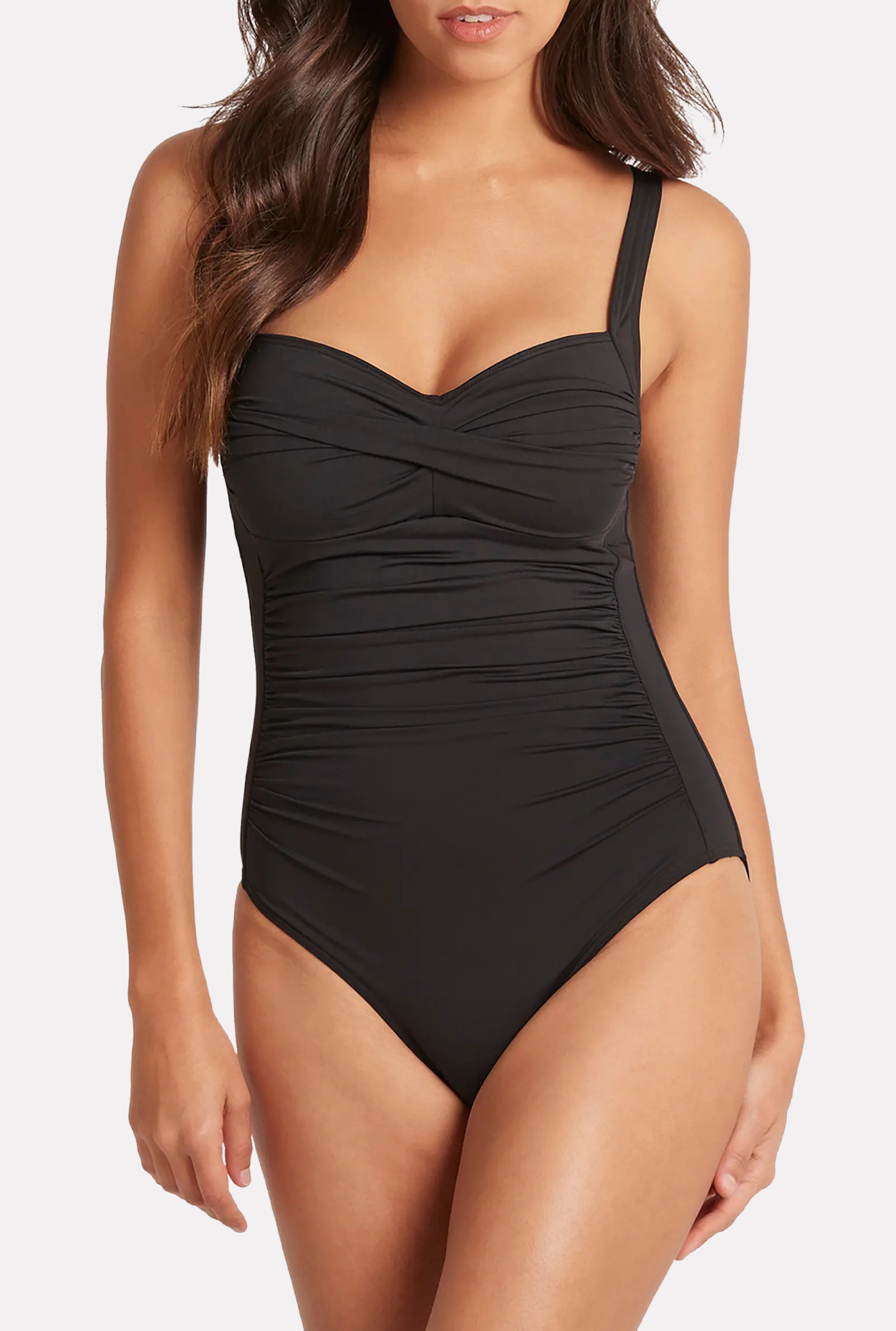 Shop Sea Level Twist Front Swimsuit: Amazon  | Nordstrom | Neiman Marcus (Sizes 4-16)
Swimsuits
Since you'll most likely be swimming or lounging by the water every day, readers suggest bringing at least two pairs of swimsuits. This way, you'll always have at least one dry suit to change into for the day. 
In this tropical beach city, readers suggest wearing whatever you feel comfortable and confident in. But if you're planning on doing some more active adventures like snorkeling or paddle boarding, make sure your bathing suit offers support, won't come undone easily, and will stay put. 
A lot of readers love the versatility of one piece bathing suits. They can have a swim in the ocean and then simply throw on a skirt or pair of shorts for a walk through town. Sea Level's twist front one piece is a popular reader choice, as it's supportive and offers good coverage while being incredibly flattering, slimming, and stylish!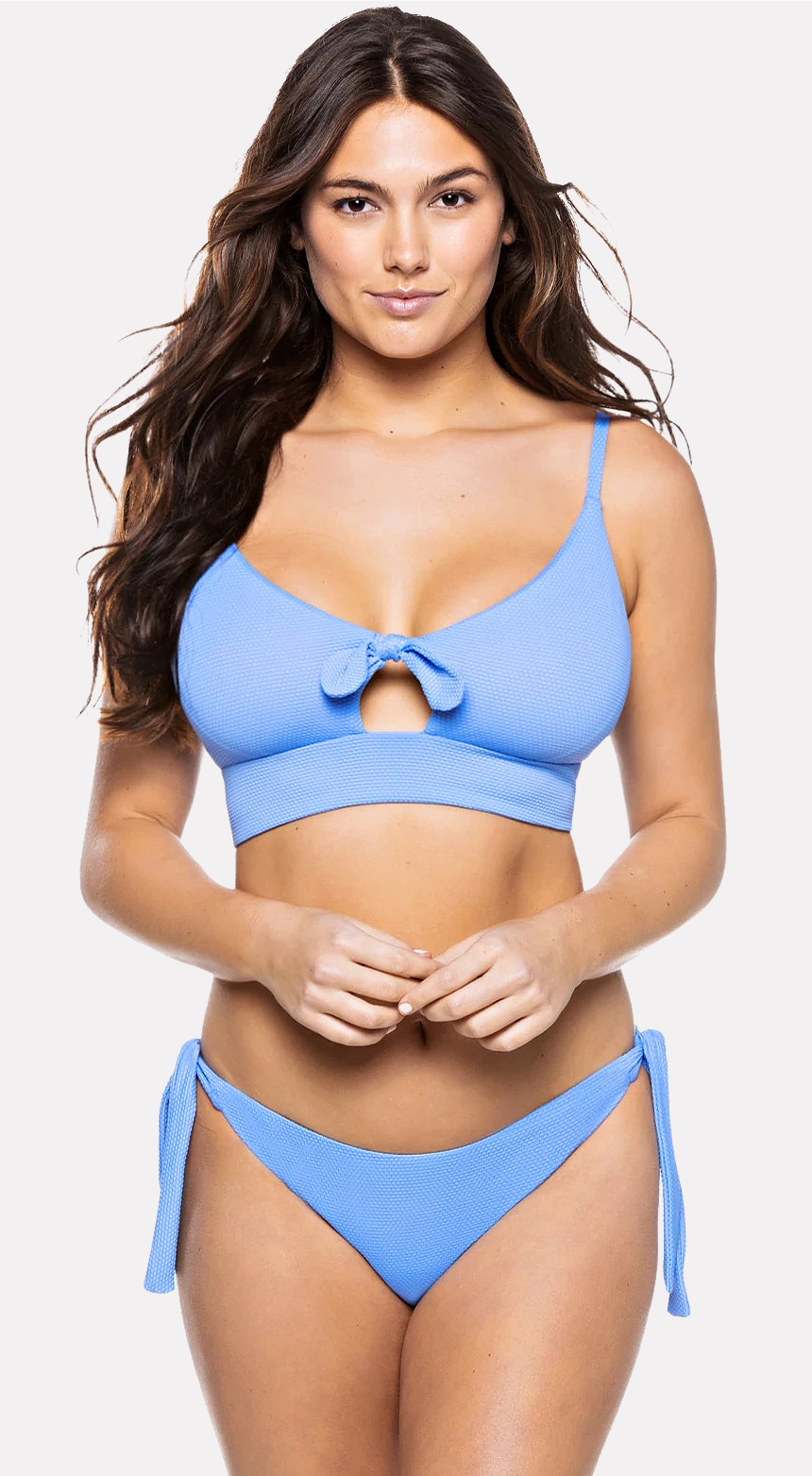 Charlie Textured Bralette Bikini Top | Dylan Textured Hipster Bottom
If you're hoping to get a good tan on your trip, opt for a bikini! The Maxswim Charlie bikini top and bottoms are a particular TFG fave for their wide size range, the perfect amount of support and adjustability, and super stylish look.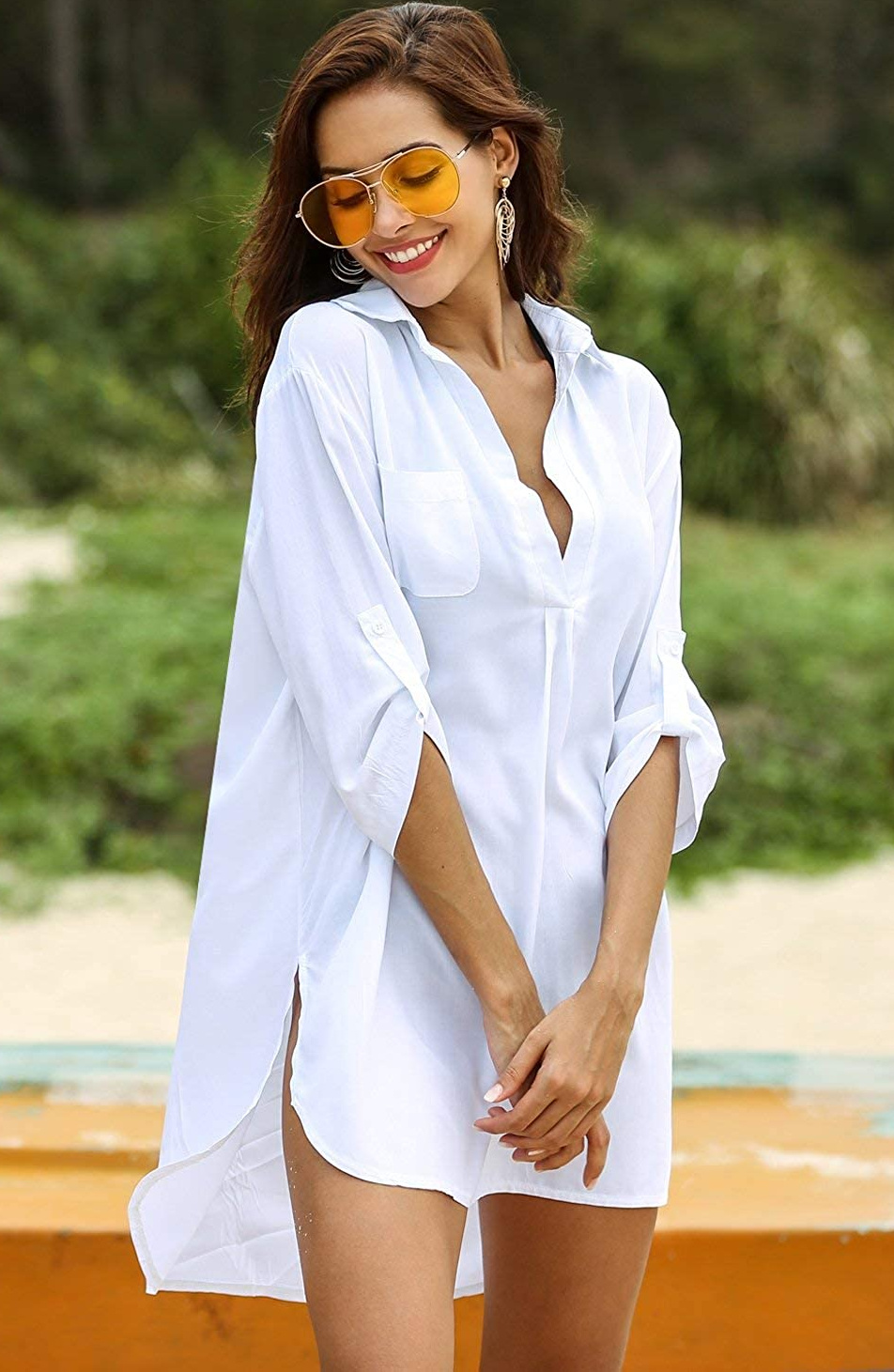 Ekouaer Swimsuit Beach Cover Up | Sizes S-3XL
Beach Cover Ups
Beach cover ups are so handy to bring along on your trip for adding coverage while strolling along the sand or for grabbing lunch. 
While PR is a beachy destination, readers warn that you shouldn't walk around town in just a bathing suit as you might in other beach destinations. A cover up is the perfect solution if you don't want to put your clothes on over a semi-wet bathing suit! 
Ekouaer's cute take on a white button down is such a chic option that's breathable, airy, and quick drying — important features that you'll definitely want to look for when choosing a cover up!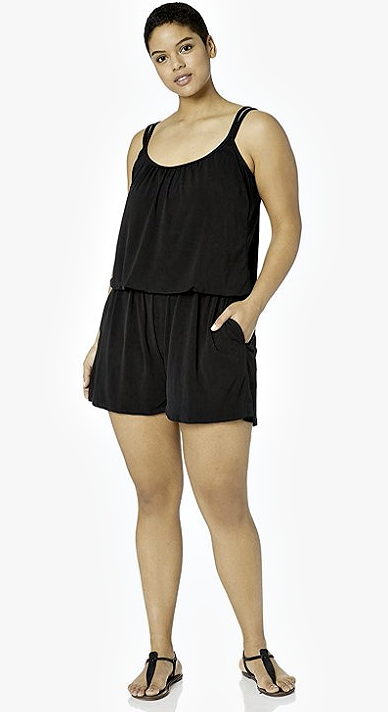 Maxine of Hollywood Plus-Size Romper | Sizes 16-24
This look gets bonus points for a cover up that can double as a cute outfit all on its own. Versatility is a must for your travel capsule wardrobe, so pieces like this Maxine of Hollywood romper is a solid choice that can be worn lounging by the water or dressed up with sandals and a shall for dinner!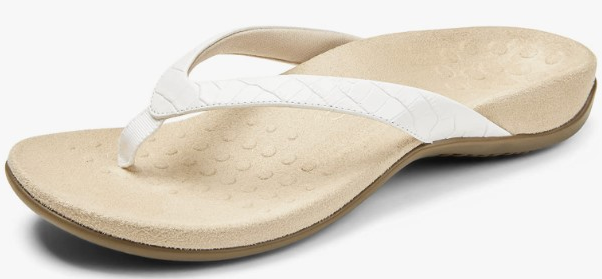 Shop Vionic Dillon Sandals: Amazon | Zappos | Vionic
Beach Sandals
Readers say that, without a doubt, the #1 shoe you'll be wearing in Puerto Rico is sandals! It'll be sunny and humid, so you'll want your feet to breathe but still be supported throughout all the walking you'll be doing. TFGers recommend a sandal that offers great support, a cushioned footbed, and solid traction on the bottom. 
The Vionic Dillon flip flop is a major fave for it's cushy, orthotic footbed that promotes stability and natural foot alignment, non-irritating toe-post, and stylish look! You can log some serious miles in these comfy sandals and then wear them to a nice restaurant!
Here are comfortable walking sandals that are stylish, too!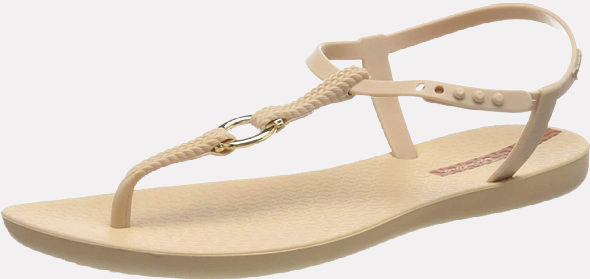 Ipanema T Bar Flip Flop Sandals
You'll definitely want a pair of waterproof sandals that you can take to the beach or wear in a rain shower. Most readers recommend a simple pair of rubber flip flops for the beach, walking around your accommodation, and for quick walks. 
The Ipanema T-bar rubber sandals are a great alternative, as they have an ankle strap for support, durable rubber constriction, and SUCH a cute look, especially with the metal ring!   
Wearers say they offer great cushioning, though they don't have arch support and are best for beach days where there won't be lots of walking involved.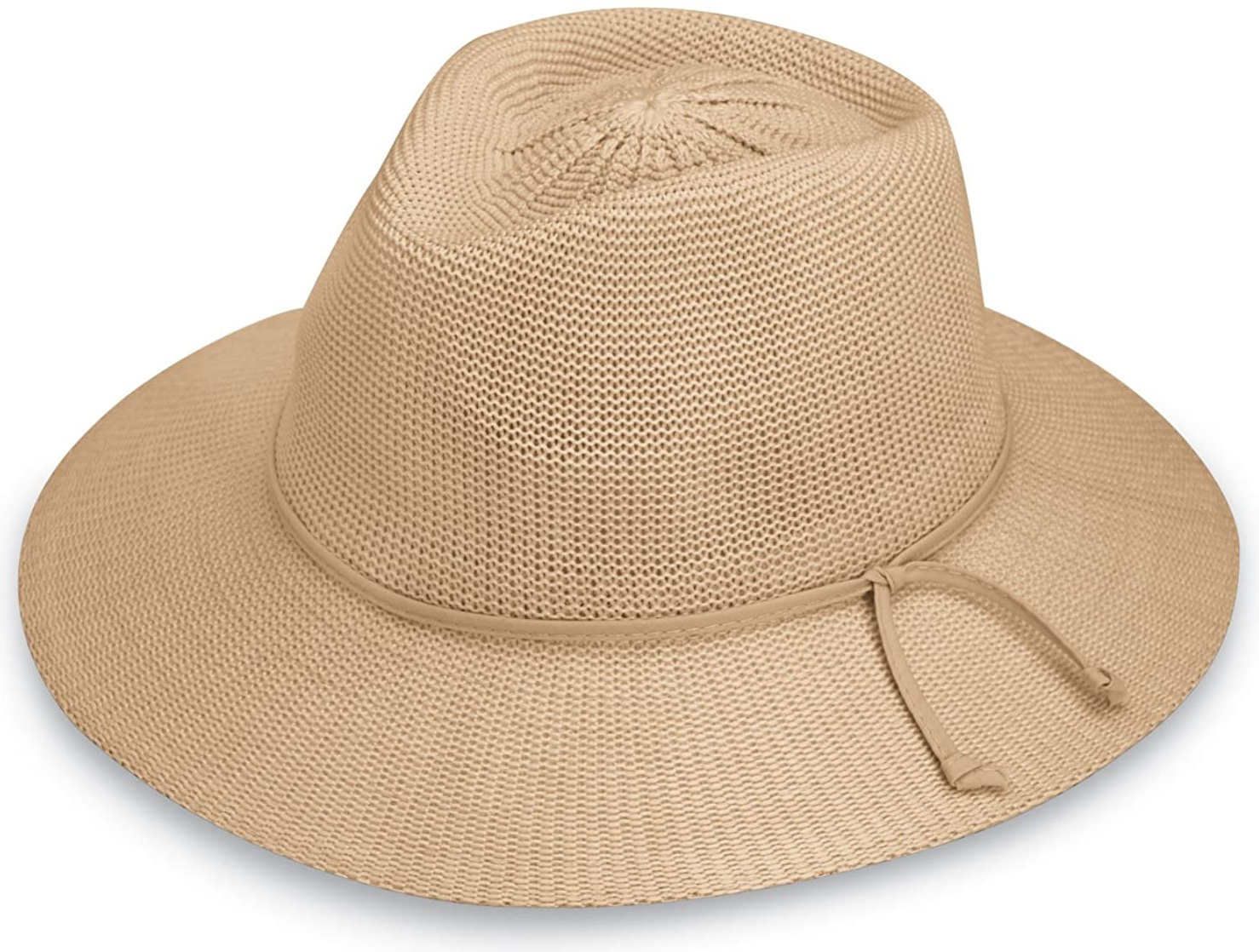 Wallaroo Victoria Fedora Sun Hat
Sun Hat
With the glorious, hot sun shining down on you all day, you'll need a hat to keep your face protected. Opt for a sun hat that'll cover your whole face and ears, and bonus points if it has built-in UPF, as the sun is quite intense in Puerto Rico. 
Also, make sure your hat is light and airy yet secure — you won't want it blowing away! 
Readers love the packability of the Wallaroo Victoria sun hat. It can be scrunched up into a bag and come out looking perfect! Plus, it has UPF 50+ sun protection, offers a great amount of coverage, and looks really stylish! 
Also, read our review on why Wallaroo hats are so popular for sunny travels!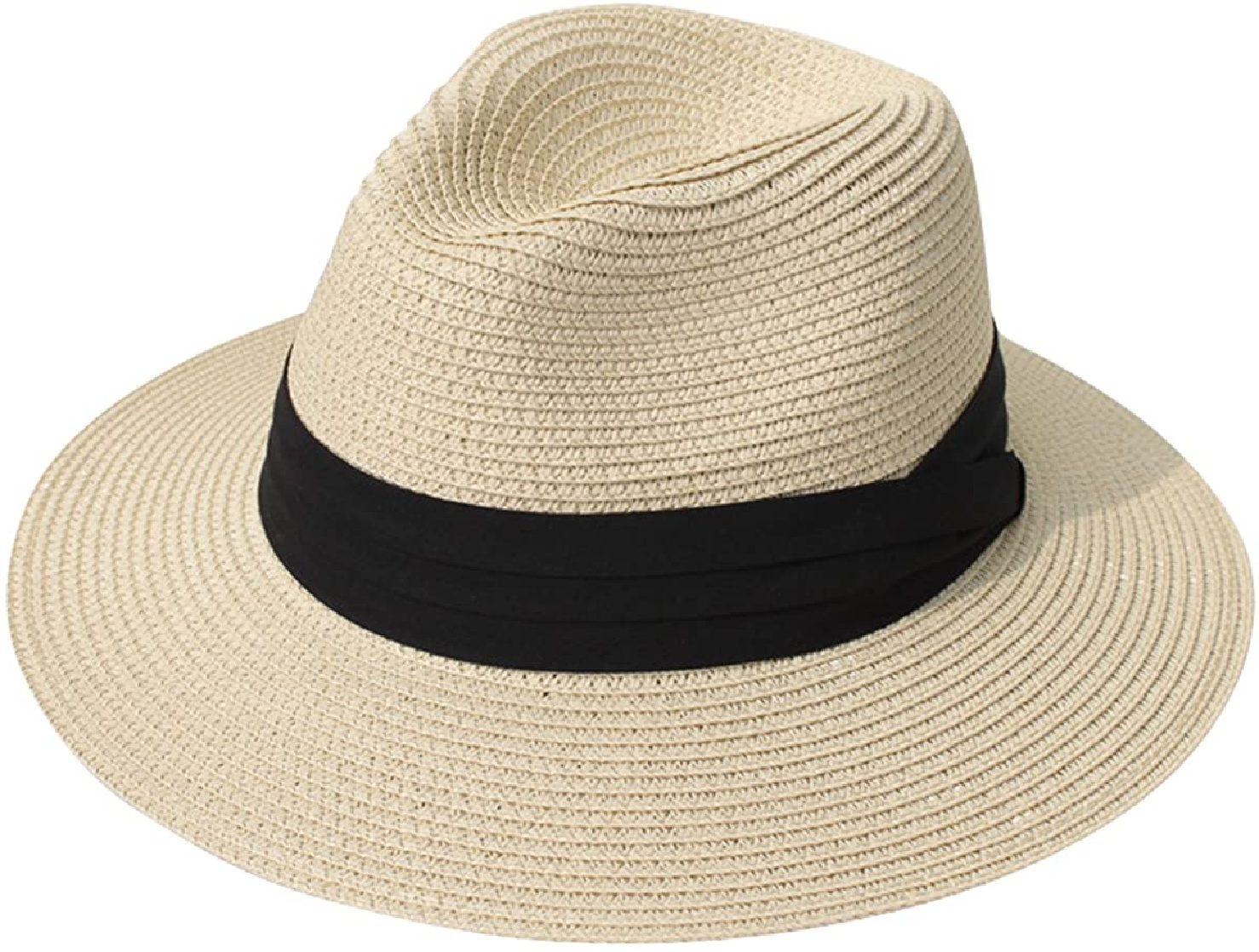 Lanzom Wide Brim Straw Panama Hat
Since you'll be spending a lot of time in the sand, go for something that's high quality and dependable yet low maintenance. It's possible that your hat will fall into the sand or get splashed with water, so if it won't get damaged or stained easily, then you've found a great hat! 
Travelers adore this Lanzom wide brim straw hat for its durability, packability, UPF 50+ sun protection, and classic, easy-to-style look. 
What to Pack for Puerto Rico: Clothing
The temperature usually varies between 21°C/71°F at night and 29°F/84°F during the day but reaches 34°C/94°F in the colorful city of Ponce and nearby rum distilleries in the south. That's to say, it'll be hot and humid, so your packing list should consist of lightweight, comfy, and breathable pieces. 
That being said, if you're traveling in the rainy season (June through November), expect some frequent rain showers and pack accordingly. 
With so many beautiful beaches and forests, the exciting activities that Puerto Rico has to offer are endless! Be sure your packing list allows for all of the adventures you may want to embark on, from hitting the El Morro or El Yunque mountain paths to the hip tapas bars in San Juan!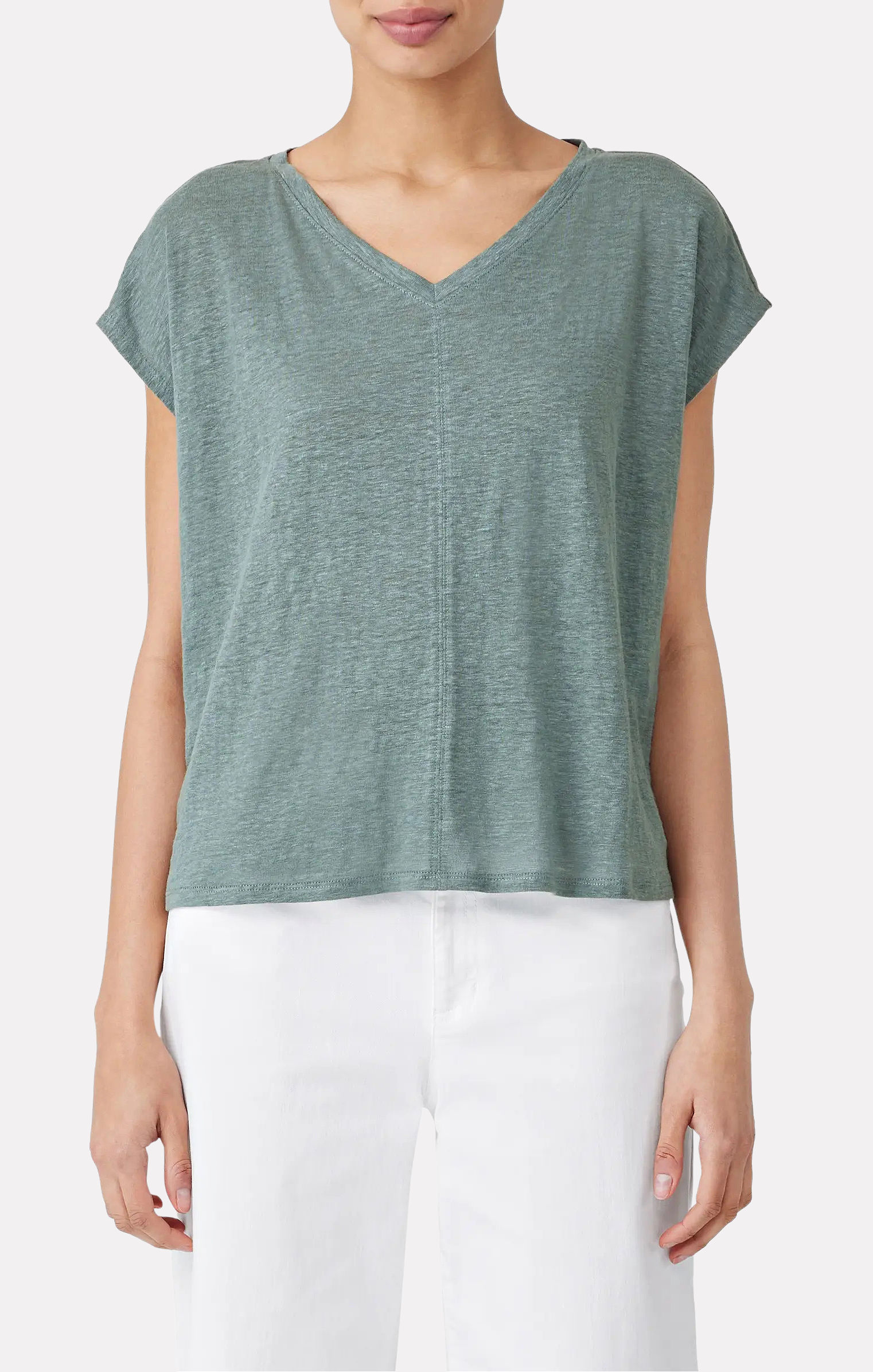 Shop Eileen Fisher V-Neck T-Shirt: Nordstrom | Neiman Marcus | Eileen Fisher (Sizes XXS-3X)
Lightweight Shirts
In PR's hot and humid climate, you'll need light and airy tops that won't retain sweat and will stay fresh throughout the day. Readers recommend loose silhouettes and fabrics such as cotton and linen. 
Readers have also shared that the style in Puerto Rico is very laid-back and easygoing, so a basic t-shirt is always a good bet! Eileen Fisher's organic linen tee has a flowy and feminine look and is such a great staple that you can wear repeatedly throughout your trip, both dressed up and casual!
Check out these top wrinkle free shirts so your next trip will be easier to pack for!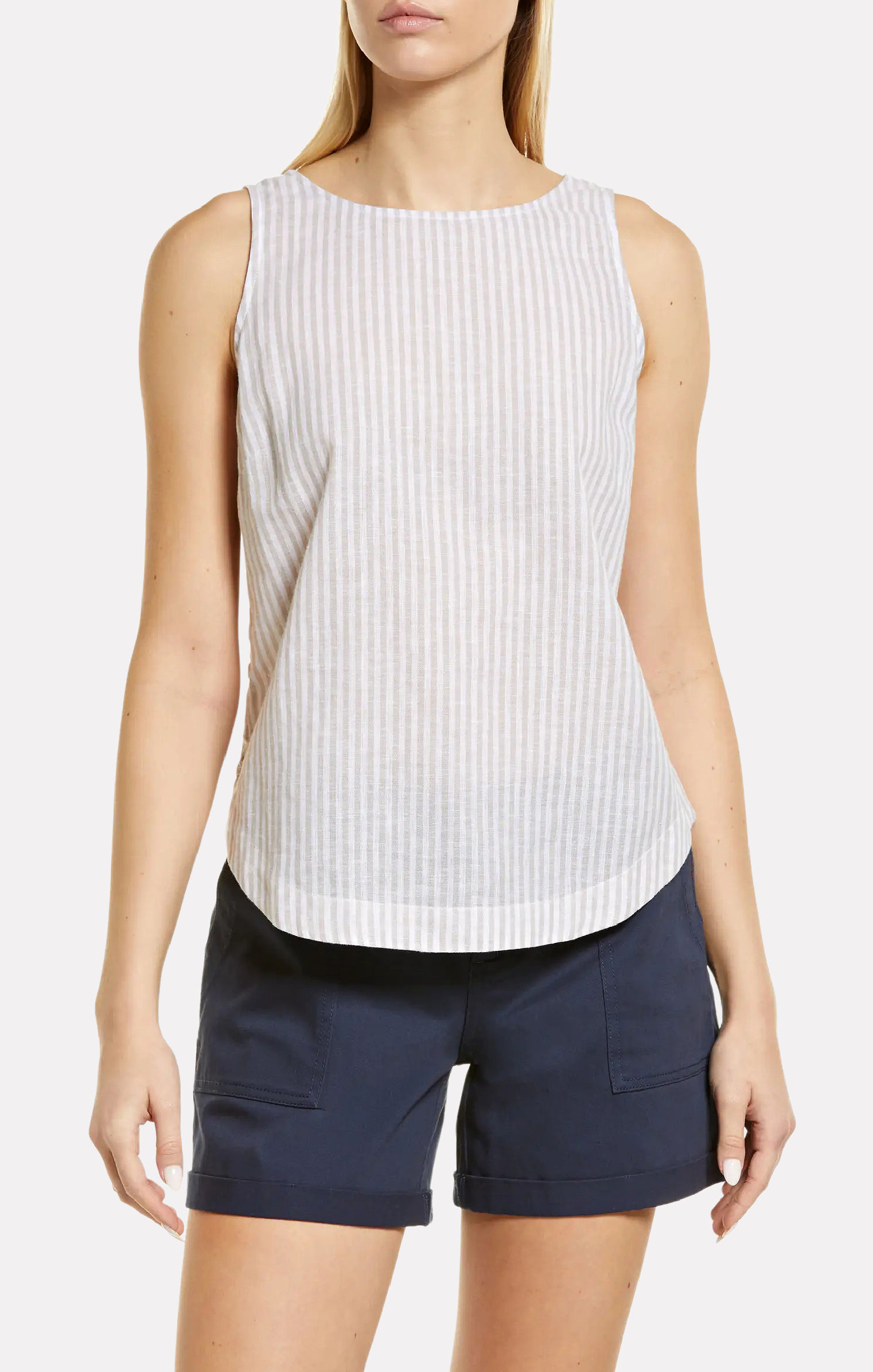 Beachlunchlounge Leo Stripe Linen & Cotton Top | Sizes XS-XL
If you want to step things up a notch, Beachlunchlounge's Leo top is such an effortless and comfy way to do that. The texture of its linen and cotton fabric gives it a chic and elevated appearance, the loose silhouette is both comfortable and flattering, and the striped pattern is cute! 
Plus, the blend of linen and cotton is perfect for staying cool in hot destinations like PR.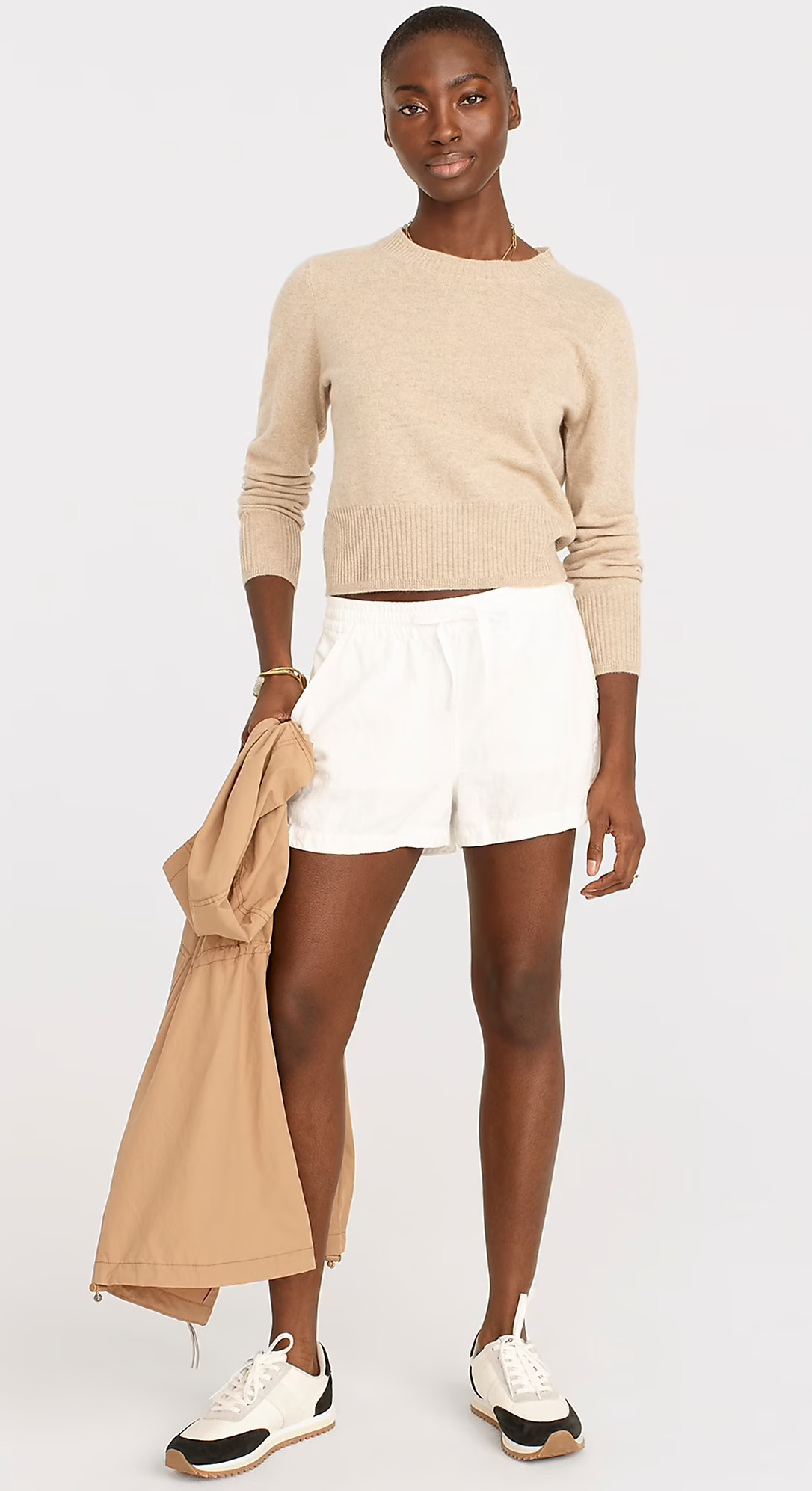 J.Crew Seaside Linen Blend Shorts | Sizes XXS-3X
Bottoms
Stay cool and soak up that vitamin D in a pair of flowy shorts. Readers say that shorts are a must-pack for Puerto Rico and can be worn for most of your activities, whether sightseeing, hanging out on the beach, embarking on some active excursions, or just lounging. 
While denim shorts are always cute and suitable for a beach vacation, most readers recommend something more lightweight and breathable. 
Linen shorts are the perfect option as they're cooling, moisture-wicking, and versatile with all kinds of tops, sneakers, and sandals – perfect for travels across PR. J. Crew's Seaside linen shorts are adorable and super comfy, with an elastic waistband and a loose yet flattering fit. They come in a ton of colors, too, from neutral to bright!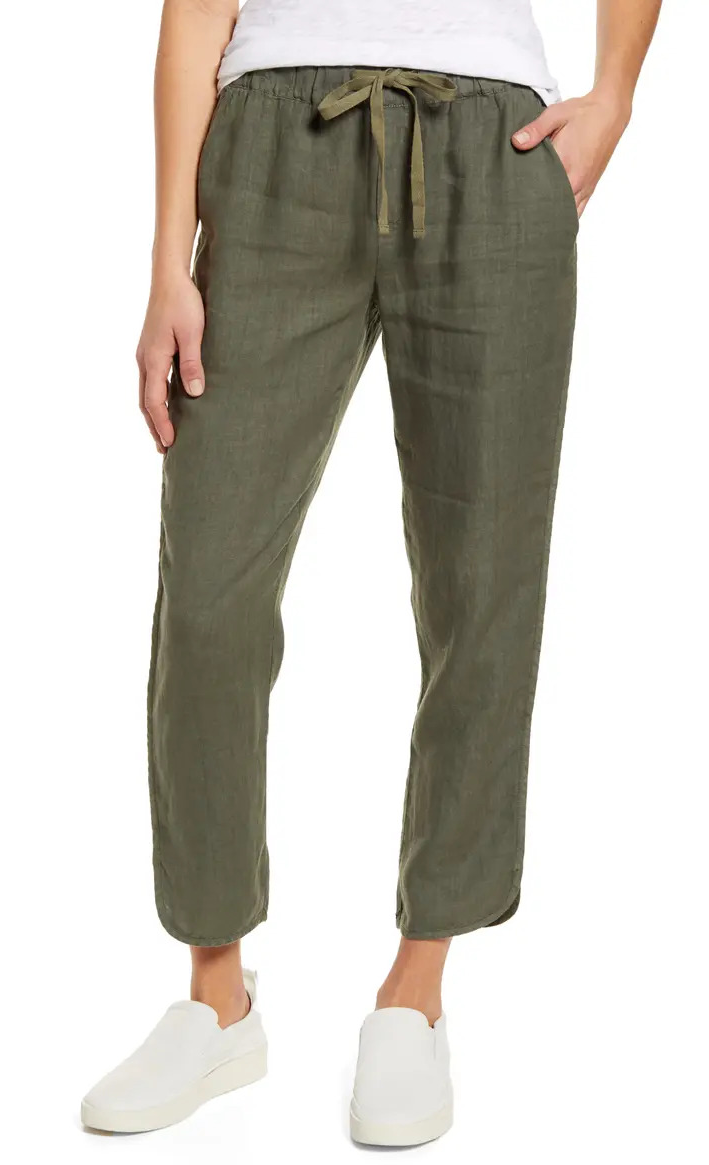 Caslon Track Style Linen Pants | Sizes XS-XXL Regular & XXS-XL Petite
While shorts are an easy and comfy go-to, especially on those sweltering hot days, you'll definitely be glad to have packed a pair of pants or two for days when you're visiting cathedrals, historical sights, or just need some extra coverage. 
But again, be sure to choose light and airy fabrics like linen and cotton! Caslon has a wonderful range of linen options, and their linen track pants are comfy and laid-back by day yet totally able to be dressed up with a pretty blouse and fun accessories by night!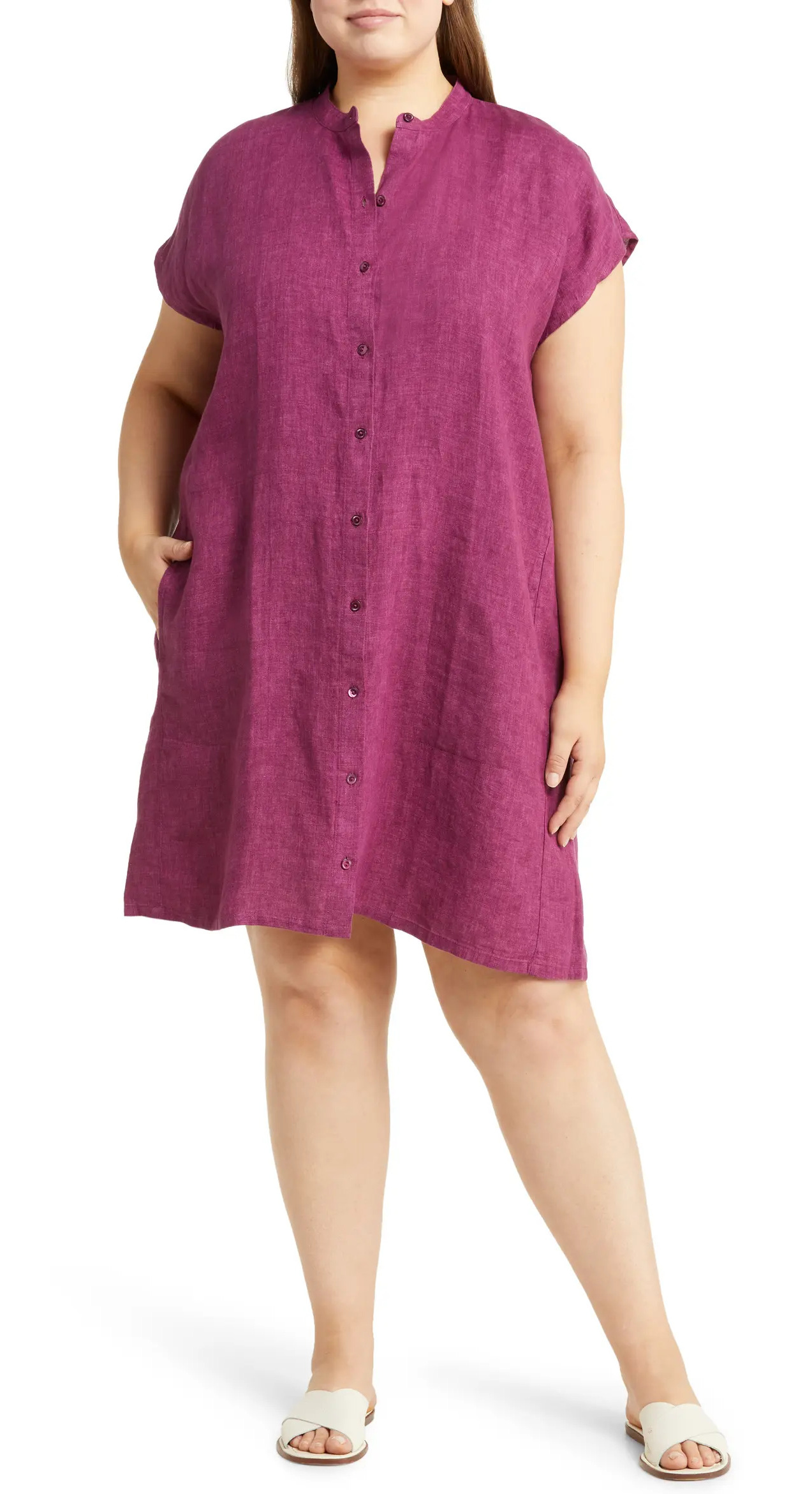 Eileen Fisher Shift Dress | Sizes XXS-XL Regular & 1X-3X Plus
Dresses
Sun dresses are an easy breezy option that you'll see on locals and visitors alike! They're so easy to throw on, will be airy and comfy throughout the day, and give you a cute, put-together look within a matter of seconds. 
Look to dresses made from fabrics such as cotton, linen, and rayon, which will allow your skin to breathe and help keep you cool. Whether short, midi, or maxi, you can't go wrong — pair them with comfy sneakers for a day that entails lots of walking or with wedge sandals for a night on the town. 
Boxy and chic, Eileen Fisher's linen shift dress comes in three vibrant colors that'll suit this tropical destination perfectly!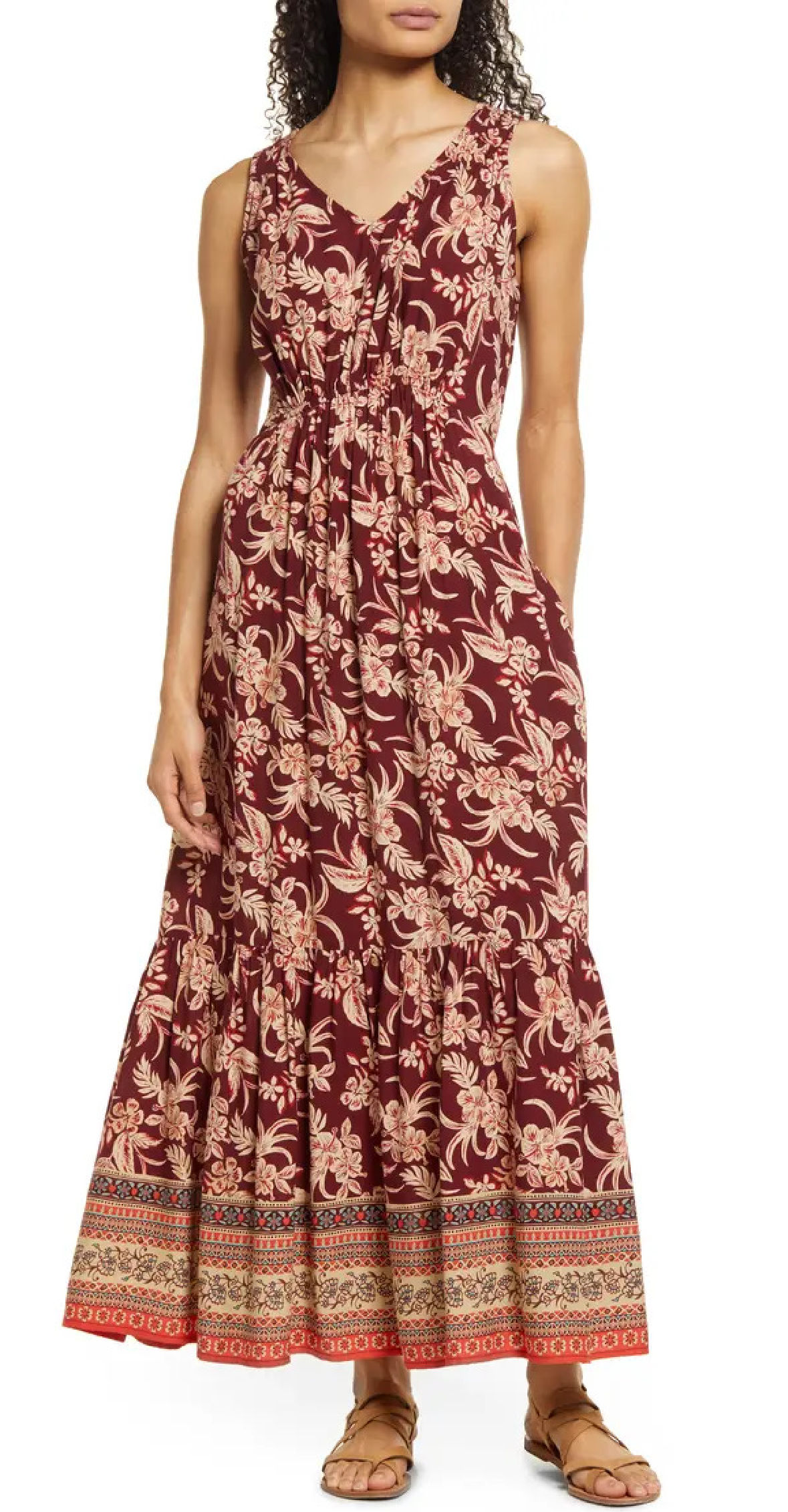 Beachlunchlounge Freesia Maxi Dress | Sizes XS-XL
Readers share that Puerto Rican locals definitely don't shy away from color, so don't be afraid to rock some bold and colorful dresses on your trip! 
If you're more of a long dress kind of gal, look to ankle-grazing silhouettes with flowy skirts to give you that perfect combination of style and comfort. 
The Beachlunchlounge freesia print maxi dress will make such a fun addition to your packing list! A dress like this is sure to get a lot of use, whether shopping in town, grabbing dinner by the beach, or dancing the night away!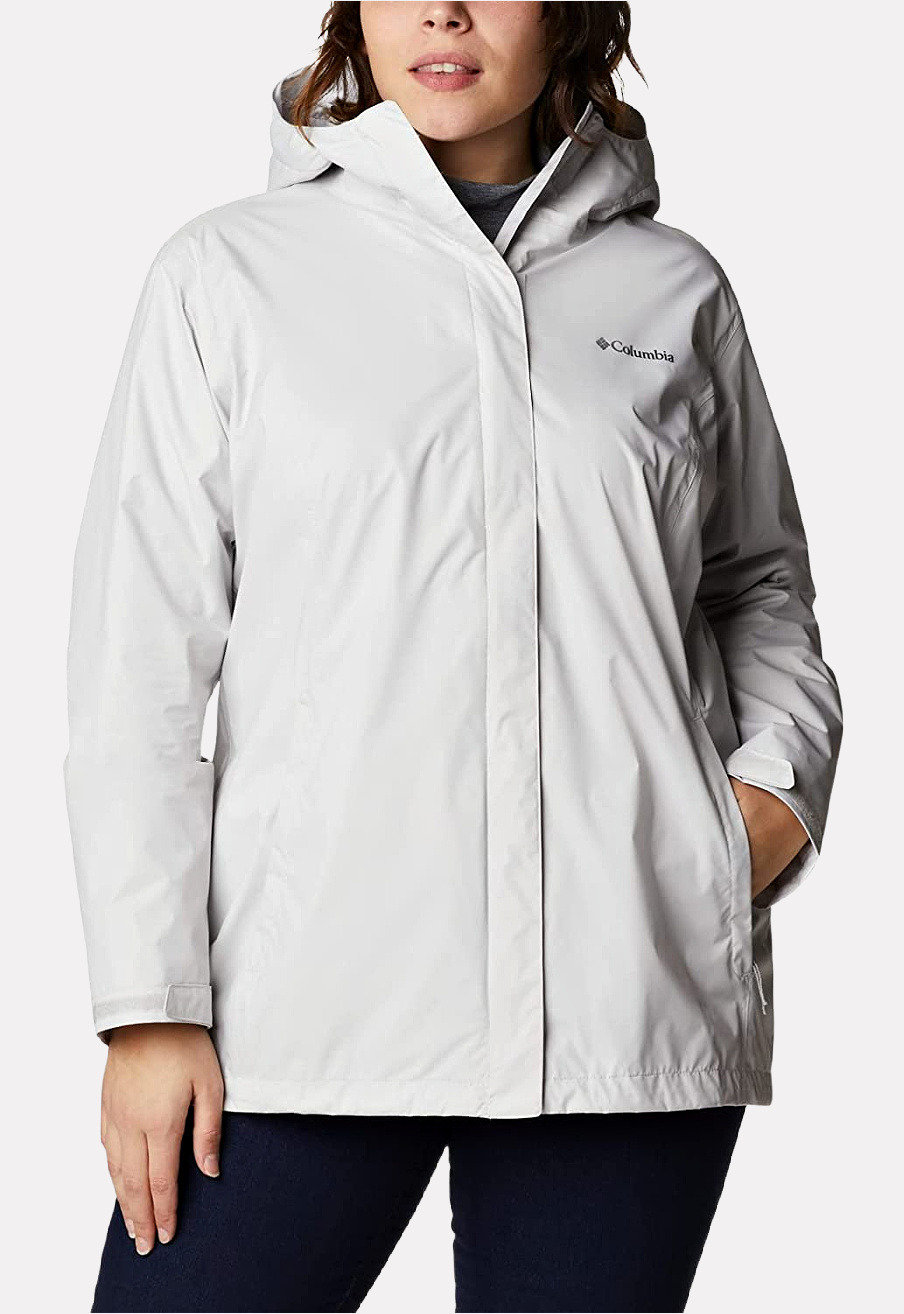 Shop Columbia Arcadia II Jacket: Amazon | Kohl's | Dick's Sporting Goods | Backcountry | Columbia
Sizes: XS-XXL Regular | 1X-3X Plus
Jackets 
If you're traveling to PR in the rainy season, you'll likely be hit with occasional rain showers, so readers highly recommend bringing a lightweight and easy to pack rain jacket with you as you embark on your adventures each day. Be sure it's breathable, too! 
When it comes to lightweight and easy-to-carry rain jackets, Columbia's Arcadia jacket is the #1 pick with readers. It's adjustable, has a protective hood, works well in all kinds of climates, and can be folded down to fit into a pocket of your day bag!
This guide covers tips and top picks for the best travel jacket for any season or scenario!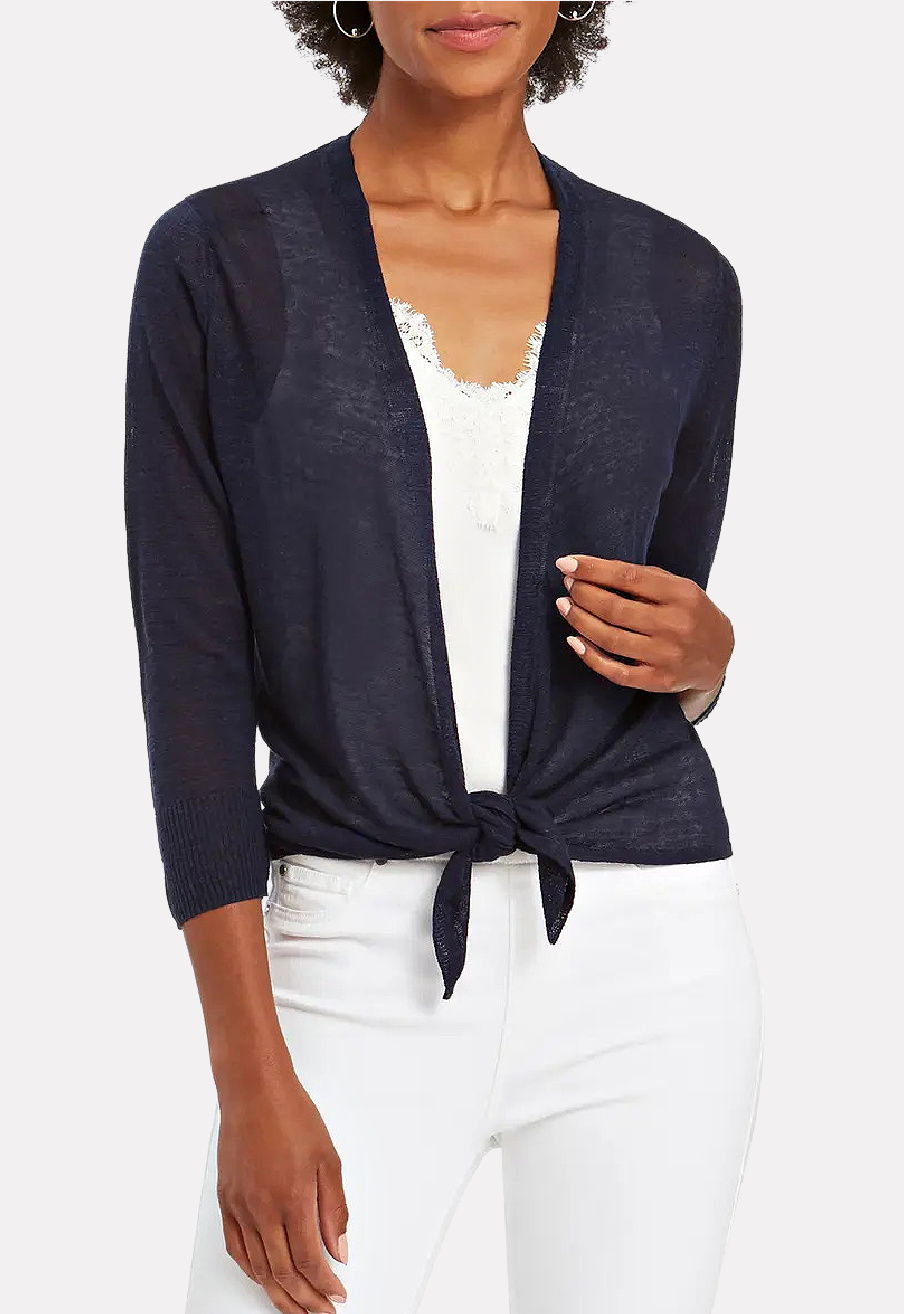 Shop NIC+ZOE Convertible Cardigan: Amazon | Nordstrom | Target | Bloomingdale's | Dillard's
Sizes: XXS-XXL Regular | XS-L Petite | 1X-3X Plus
While Puerto Rico is warm year round, readers recommend bringing a shawl or cardigan. They'll come in handy when going into shops or restaurants that have strong air conditioning, as well as for the evenings when it can get chilly (especially if you're staying in the cooler coastal area of Humacao on the eastern coast, where the trade winds come in). 
You won't need anything too heavy or thick — just a light layer that'll add a bit of warmth and style up an outfit, like NIC+ZOE's 4 way cardigan! This knit cardigan is breathable yet really cozy, can be worn in four different ways, which is great for changing up your look day to day, and comes in a lot of pretty colors.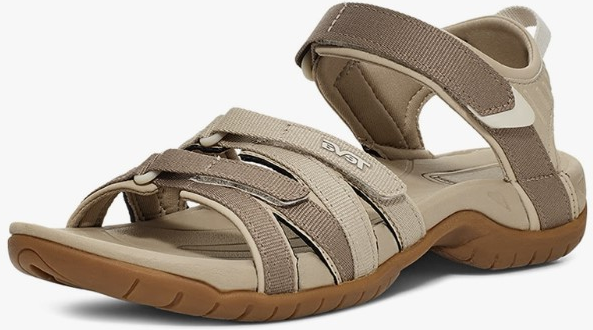 Shop Teva Tirra Sandal: Amazon | Zappos | REI | Teva
Shoes
Aside from your beach sandals, a lot of readers suggest a more supportive and sporty pair of sandals, such as the Teva sandals, that can be worn on rainforest treks or on the boat ride to your snorkeling excursion. 
Packing these kinds of sandals with shorts and a swimsuit is the first step to making your Puerto Rican experience an adventure to remember!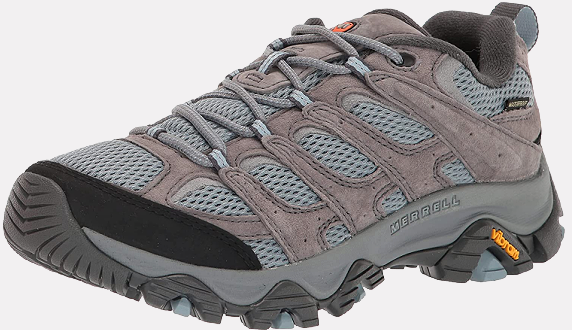 Shop Merrell Moab 3 Hiking Shoes: Amazon | Dick's Sporting Goods | Merrell
If you're planning on exploring some of the gorgeous national forests and lush hiking trails that Puerto Rico has to offer, don't forget a comfy pair of hiking shoes! Look for a pair with plenty of support, durability, and breathability, and if they're waterproof, that's even better! 
The Merrell Moab hiking shoes are absolutely amazing, offering all of those important features — including being waterproof! They're super lightweight, too. Readers absolutely love this pair!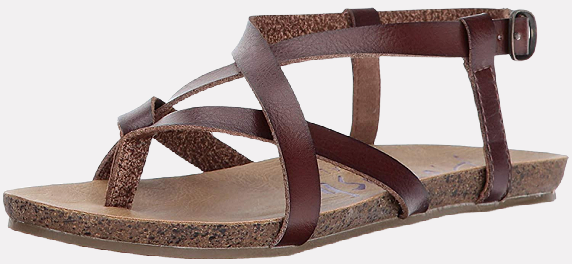 Shop Blowfish Malibu Sandals: Amazon | Zappos
Readers say that you really don't need to pack a lot of different shoes for Puerto Rico — you can easily get by with versatile beach sandals and either sneakers or sporty sandals for heavy walking days and excursion days. 
That being said, if you have the room and want the option of a nicer pair of sandals for going out to restaurants and enjoying Puerto Rico's nightlife, then do pack a cute little strappy sandal or even a ballet flat! 
A great option would be a sandal in a neutral color, so it'll look great with all kinds of outfit options. A sandal like the Blowfish Malibu Granola will be super comfy and cool yet elevated enough to go with your dressier looks, which is why many readers recommend it! 
What to Pack for Puerto Rico: Toiletries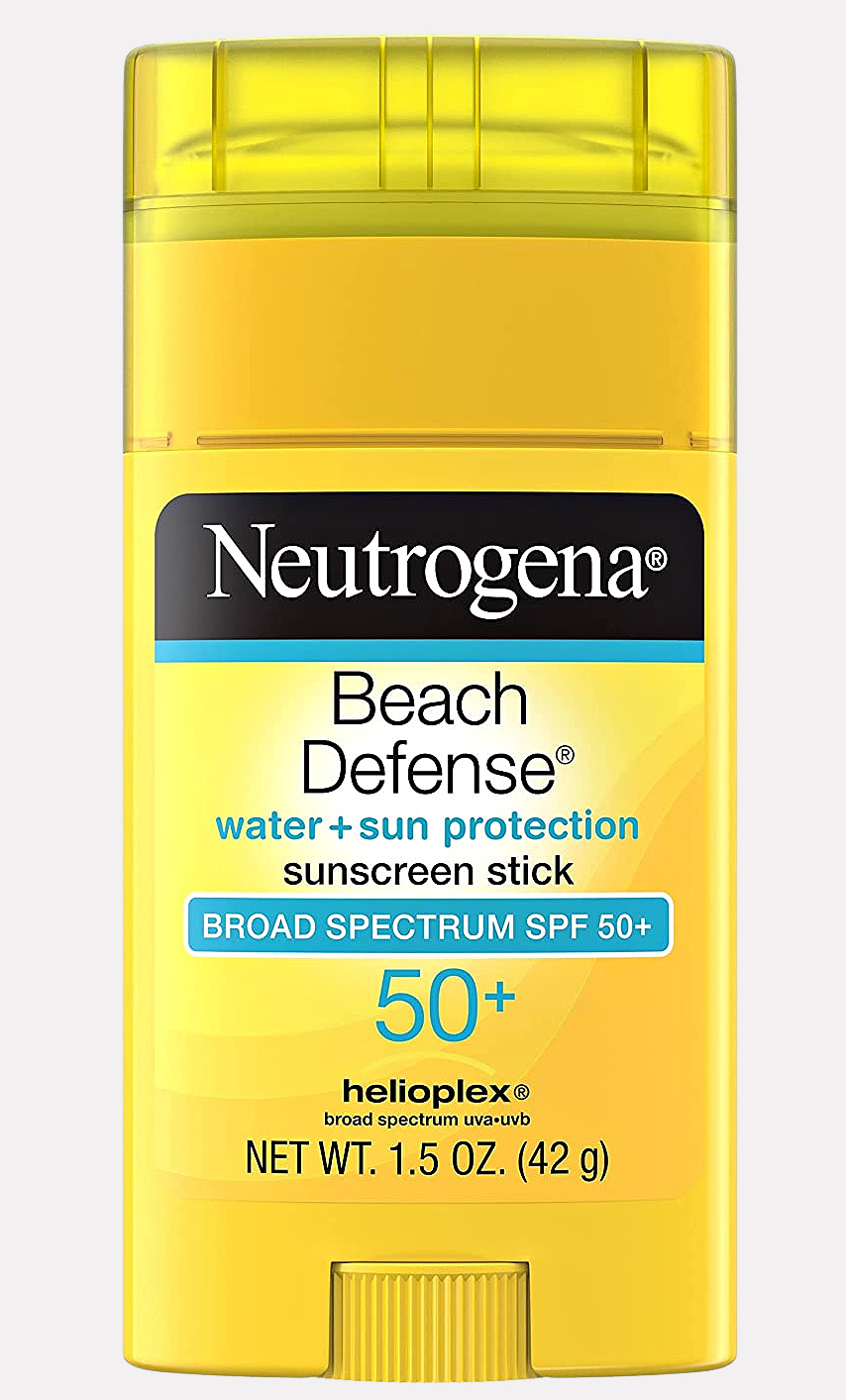 Neutrogena Beach Defense Sunscreen Stick
How to Pack for Puerto Rico: Luggage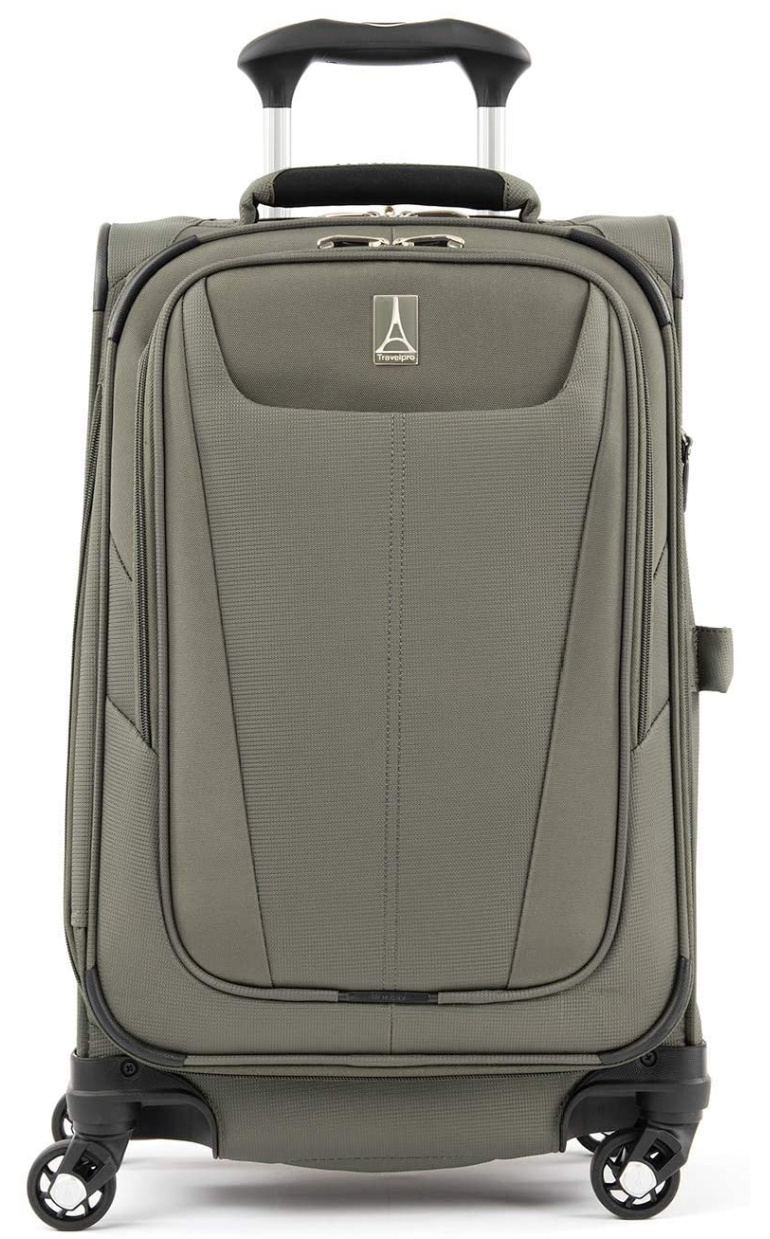 Shop Travelpro Maxlite 5 Softside Luggage: Amazon | Travelpro
Suitcase and Personal Item
A lot of readers say that traveling with a carry on suitcase only for destinations like Puerto Rico is super easy and makes the whole travel experience a breeze, as their packing lists consist of super lightweight clothing and shoes that don't take up a ton of packing space. 
If this is your plan of action, too, you'll want to make sure that your luggage will comply with your airline's overhead bin restrictions and will be lightweight and easy to carry, but still be spacious enough to fit everything you need! 
Travelpro's Maxlite 5 suitcase is our readers' #1 carry on suitcase pick. It's super roomy, ultra-light, and will add so much ease to your travel day. It's highly durable and can be packed to the brim, with the flexible material offering some wiggle room for an extra pair of shoes or perhaps some snorkel gear! 
Because you may find yourself having to roll your suitcase over uneven or rough surfaces and carry them upstairs, make sure your luggage boasts sturdy and high quality wheels, a firm handle, and can be lifted up easily.
Read our complete review to find out why readers love the Travelpro Maxlite 5 expandable spinner suitcase so much!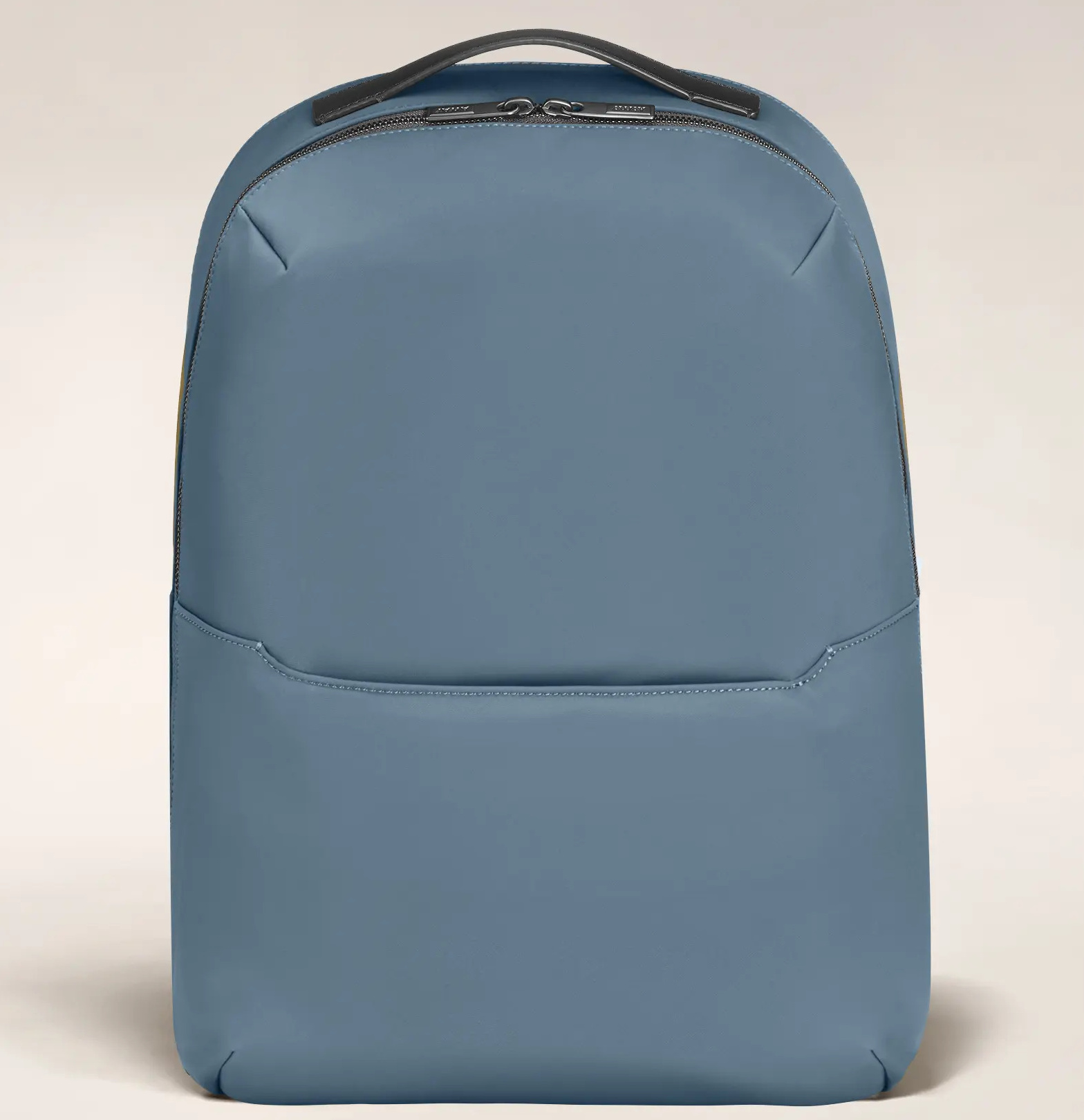 Away The Everywhere Zip Backpack
When it comes to your personal items, it's important to go for something functional, easy to keep clean, and versatile. Major bonus if you can use it once you arrive, whether for a sightseeing day, a beach day, or even on an active excursion! 
Features like interior organization, secure zippers, water resistance, resilient fabric, and a comfortable design are all things to keep an eye out for. Be sure it's not too bulky or heavy but will easily fit all of your travel essentials. 
Away's The Everywhere backpack makes a stellar personal item, as it's slim yet SO spacious on the inside, with ample organizational pockets and compartments, as well as a breathable mesh back panel (which will come in handy once you touch down in sunny Puerto Rico!), padded sleeves, and a super stylish look. It's water-resistant, too!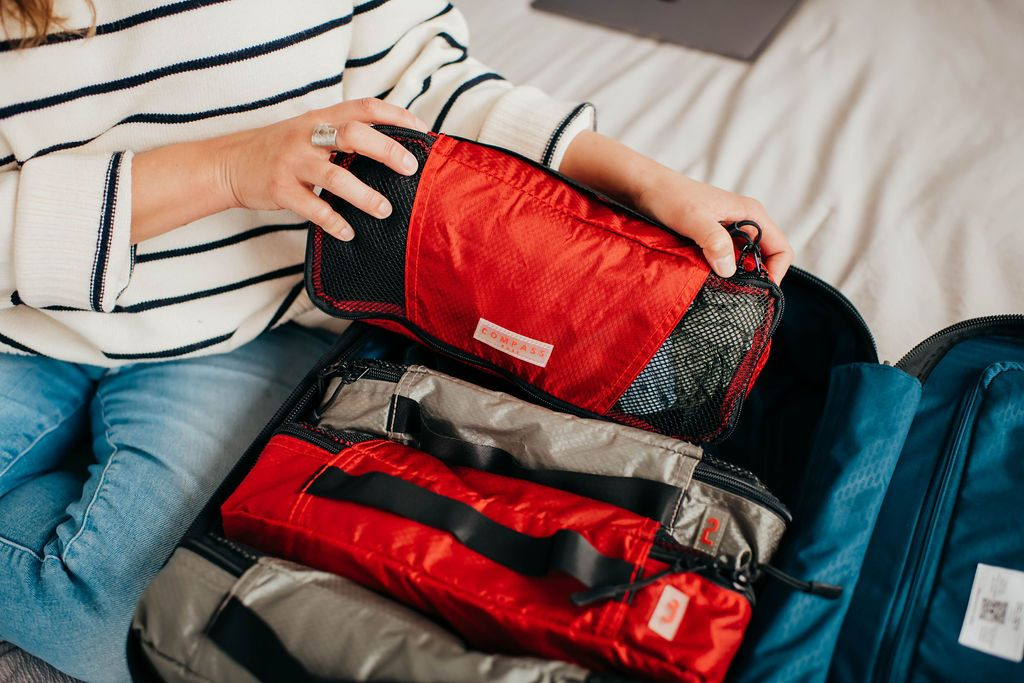 When getting ready to pack your clothes, don't forget to use packing cubes! They'll keep everything you pack very organized as can be and also really help with keeping your clothing less wrinkled and neat. 
Plus, they'll compress your items which will maximize your suitcase space, so you'll be able to add any vital extra items, or maybe squeeze in that fave bathing suit or those cute pair of wedge sandals!
Take a look at some tips for how to use packing cubes so you can maximize your packing space!
Final Tips From Readers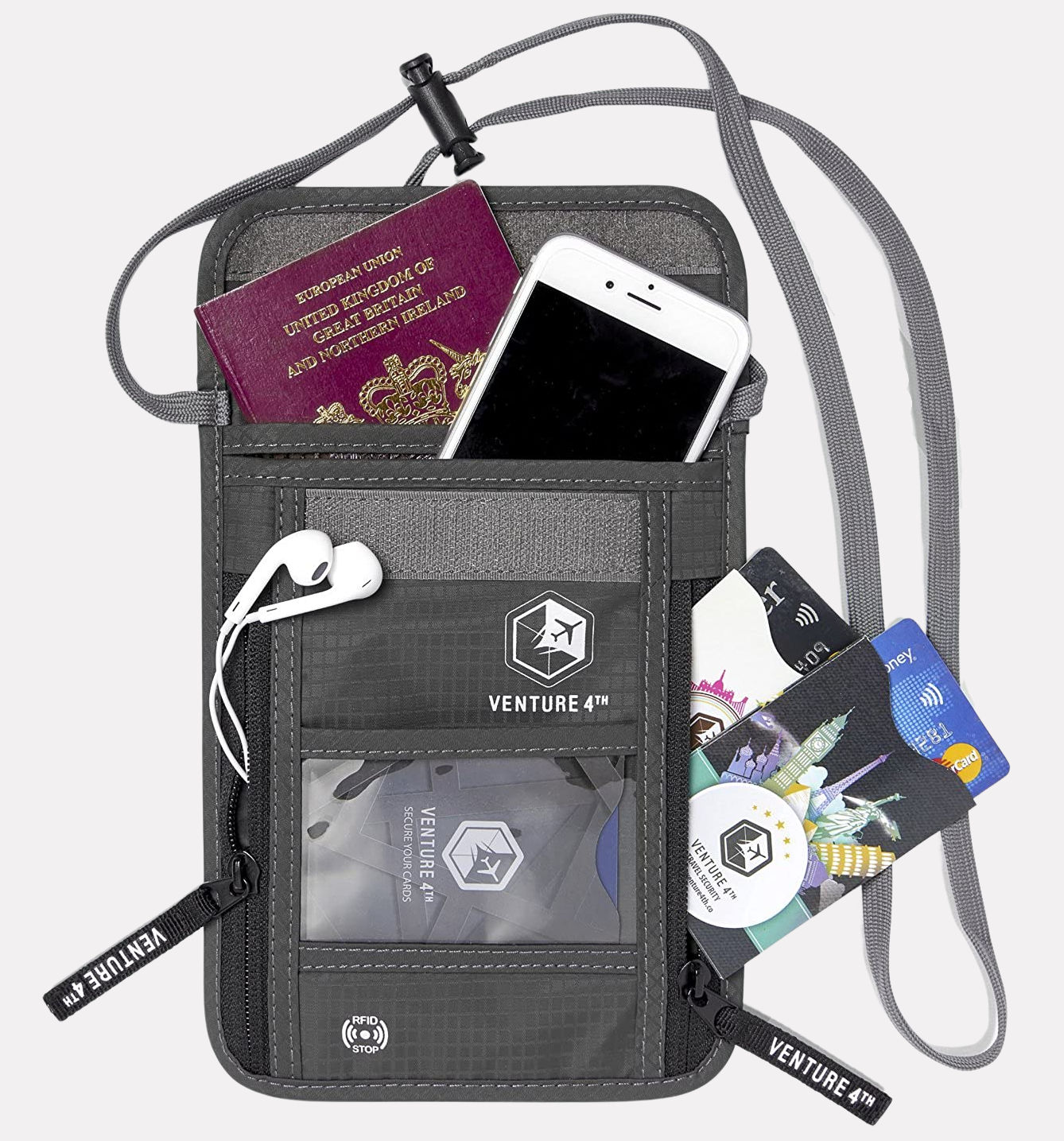 Venture4th Passport Holder Neck Pouch With RFID Blocking
---
What are your tips on what to pack for Puerto Rico?
---
 For more North American packing lists, please read:
---
LIKE THIS POST? PIN THIS PIC TO SAVE IT!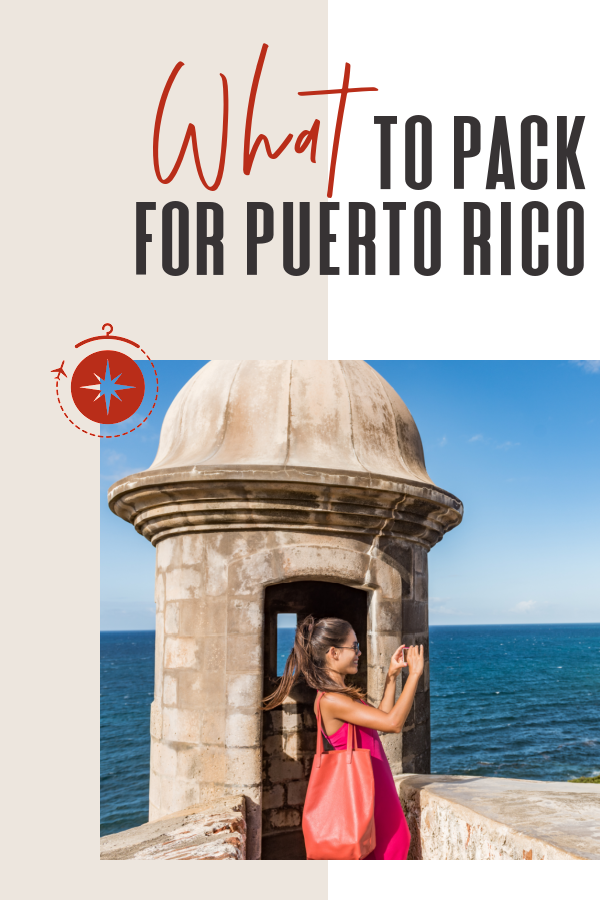 ---
Hope you liked this post on what to pack for Puerto Rico. Please share with your friends on Facebook, Twitter, or Pinterest. Thanks for reading!
---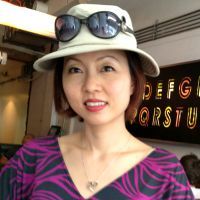 Author Bio: Lily An is a Canadian educator and Vancouver-born nature enthusiast. When she isn't working or traveling, she is likely to be skiing, diving, or mountain biking with her family.
---