Support TFG by using the links in our articles to shop. We receive a small commission (at no extra cost to you) so we can continue to create helpful free content. As an Amazon Associate, we earn from qualifying purchases made on Amazon in addition to other retailers featured on the blog. Thank you, we appreciate your support!
Wondering what to pack for Puerto Rico? Find out the clothing and travel essentials you need for the Caribbean paradise!
---
What to Pack for Puerto Rico
Written By: Lily Kim
---
Puerto Rico is not just a gateway or cruise ship stop; it hasn't been dubbed the "Enchanted Isle" and "Singapore of the Caribbean" for nothing! Famed as the beautiful backdrop of "Gilligan's Island," PR carries with it a mystique and warmth that is all its own.
The burgeoning art scene in the Santurce part of the capital, San Juan, near Loiza Street, is worth seeking out. San Juan has an excellent culinary scene and fascinating historical forts, but the natural attractions make Puerto Rico a truly worthwhile tropical destination.
Essentials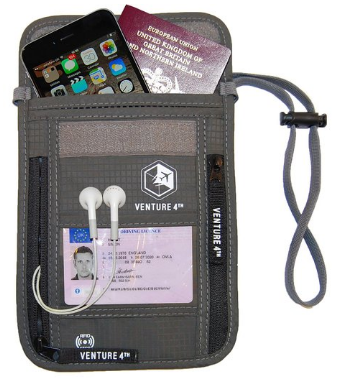 Venture4th Passport Holder Neck Pouch With RFID Blocking
Puerto Rico is wonderful to explore and can be toured by rental car. But even American travelers should bring proof of citizenship (to depart the island) as well as a driver's license.
American dollars in small denominations might help when tipping and to purchase reliable maps or phone cards, in case one gets lost. Cash is especially necessary outside of the big city to buy beverages and fuel.

If you are worried about theft, add items like a

money belt

or

Secret Bra Pocket

to your packing list.

Puerto Rican rules of the road, amenities, and even voltage interfaces are similar to what one might find in the US.
What to Wear in Puerto Rico: Clothing
The temperature is summery all year long in Puerto Rico. Most of the spring and early summer is not prone to hurricanes, which historically occur in PR around autumn (September-November).
June is usually the best month to travel to PR. Even at a monthly average of 17.5 cm (7 inches) of rainfall, summer is relatively drier, with short bursts of afternoon rain and constant humidity (mostly in northern rainforests or on the western coast), except on the dry southwest coast (like the Guanica State Forest and desert).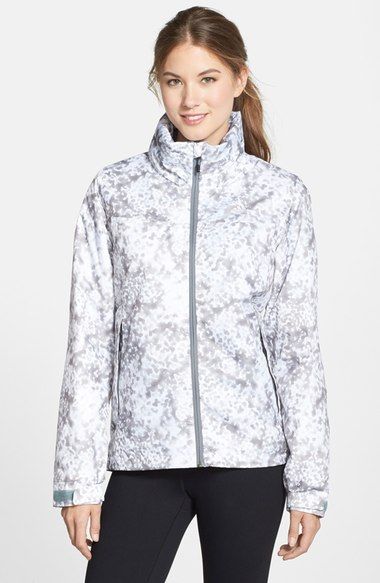 The temperature generally varies between 21°C/71°F at night and 29°F/84°F during the day but reaches 34°C/94°F in the colorful city of Ponce and nearby rum distilleries in the south. Therefore, you should bring both a very light rain jacket with stowable hoodie as well as summer or beach attire when planning what to pack for Puerto Rico.
Use a capsule wardrobe to pack light but create many outfits.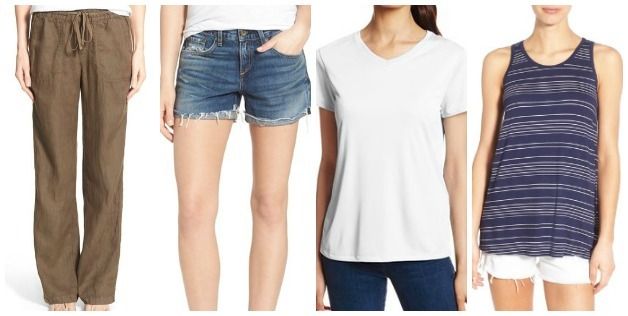 Linen Pants /  Denim Shorts / V-Neck Tee / Stripe Tank
Practical clothing might include a bikini under shorts or summer pants. Beautiful beaches and views can be combined with numerous activities, and breathable shirts and tank tops should withstand sweat without embarrassing sweat marks.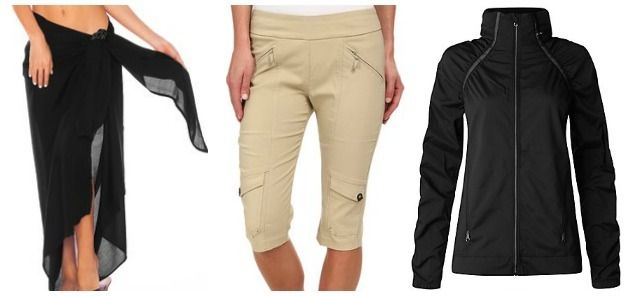 Sarong / Gather and Sprint Jacket / Skinnylicious Capris
A sarong would be appropriate during the day by the water. Lululemon's Sprint jacket is particularly multi-use as it is water-resistant (and there's also a hole in the hood for ponytails!) Pair it with Skinnylicious "perfect fit" capris in a pretty array of colors.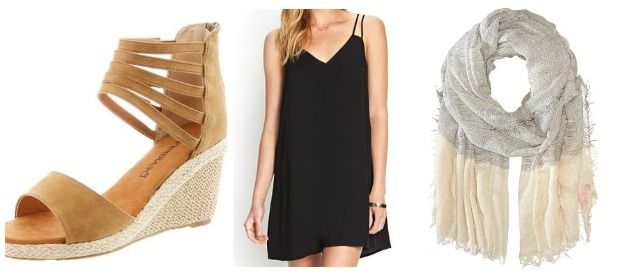 Wedge Strappy Sandals Espadrille / Sleeveless Strappy Swing Dress / Scarf
Jump from El Morro or El Yunque mountain paths to hip tapas bars in San Juan by shedding sneakers for wedge sandals that will be comfortable on cobblestone roads. A spare lightweight dress never hurts, and don't forget some fun accessories!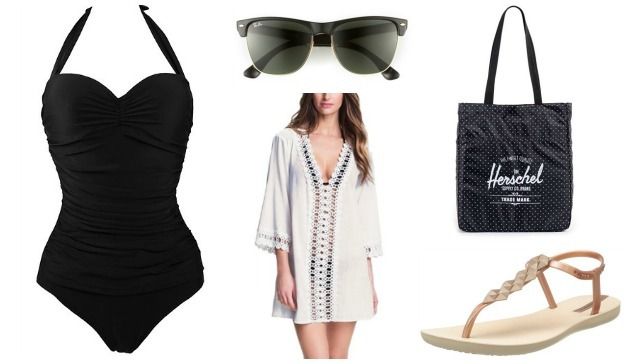 Swimsuit / Sandals / Tote Bag /  Sunglasses / Bikini Cover-up
When you're planning what to pack for Puerto Rico, keep in mind that flip flops and beach apparel are the norm along the coasts. Practically across the highway from El Yunque National Park, which boasts a rainforest vista that hikers relish, Fajardo has a quiet stretch of marinas and seaside parks.
By day, visitors can dive or enjoy one of the most beautiful beaches in the world by catching a boat to Vieques and Culebra. By night, the dark water comes alive by paddle boat in Fajardo's Bioluminescent Bay. Be prepared to get splashed!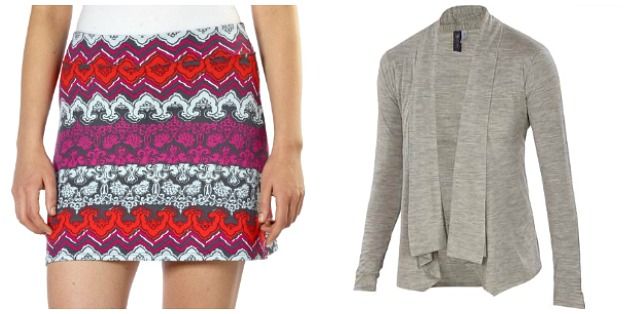 If you're staying by the choppier yet cooler coastal area of Humacao on the eastern coast, where the trade winds come in, it would be a good idea to pack golf skorts (a combination of skirt and shorts) or a sports dress, jogging shoes, and a sweater for nights (temps can drop to 65°F).
Supermarkets provide all of the necessities for a comfortable stay in a vacation home resort on gated, park-like grounds, and golf carts take tourists to stores and restaurants (use mosquito repellent!)
The secret to packing light is to use packing cubes to compress your clothing!
What to Wear in Puerto Rico: Accessories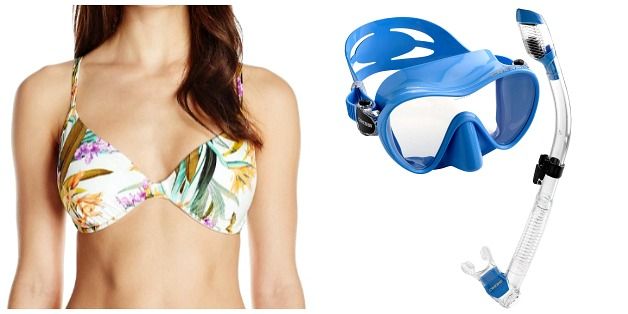 Underwire Bikini Top / Mask Snorkel Set
Diving and snorkeling are easy to learn in the warm waters of PR. Most dive operators provide snorkels, fins, and masks. A pair of wet-dry Merrell's or closed-toe Teva sandals could be worn on rainforest treks as well as on a boat. Packing these with shorts and a swimsuit are the first step to making your Puerto Rican experience an adventure to remember!
What to Bring in Puerto Rico: Toiletries

Avene Eau Thermale Hypoallergenic / Ultra-Light Hydrating Sunscreen SPF 50 / Pur Minerals 4-in-1 Pressed Mineral Makeup (SPF 35+) / Go Pro / First Aid Kit
A good sunscreen is key in Puerto Rico. Avene Eau Thermale Hypoallergenic sunscreen does not have harsh chemical compounds, PABA, fragrance or Oxybenzone that's found in most American and even European sunscreens. It is ideal in the delicate marine environment around PR (and also respects the skin of fragile frogs, which eat mosquitoes)!
Although Avene has a beautiful consistency and texture, if you don't like the white residue of mineral UV-blockers, then try the less whitening Ultra-Hydrating Avene Lotion (SPF 50+) and a bronzer or blush.
Pur Minerals 4-in-1 Pressed Mineral Makeup (SPF 35+) comes in a variety of shades, from light and blush to deep tan. Pur Minerals advertises an environmentally friendly, paraben-free product that is a foundation, concealer, powder and sunscreen, all-in-one compact with mirror. This will be just as helpful as your "anti-frizz" hair cream.
A day pack or beach bag will fit most of what you'll need on a daily basis in PR.  Sunglasses are important, as are a dry change of undergarments. Additionally, a waterproof or robust camera should be light enough to carry up to the top of a mountain (with plenty of battery charge).
Particularly in the eastern and central mountainous areas, a first aid kit should include basic necessities until you can reach a medical facility if care is urgently required. Hydrochloride motion sickness pills, ear drops, DEET-free bug repellent, sinus medicine and painkillers, tissue packs (for public toilets) and band-aids (for blisters) will be helpful. Much of the food in PR is deep-fried, but anti-diarrhea medication might come in handy.
Ziploc bags are also useful to pack snacks or sandwiches, since most areas outside San Juan do not have many gas stations or cafes for rest stops.
---
What are your tips on what to pack for Puerto Rico?
---
 For more North America packing list, please read:
---
LIKE THIS POST? PIN THIS PIC TO SAVE IT!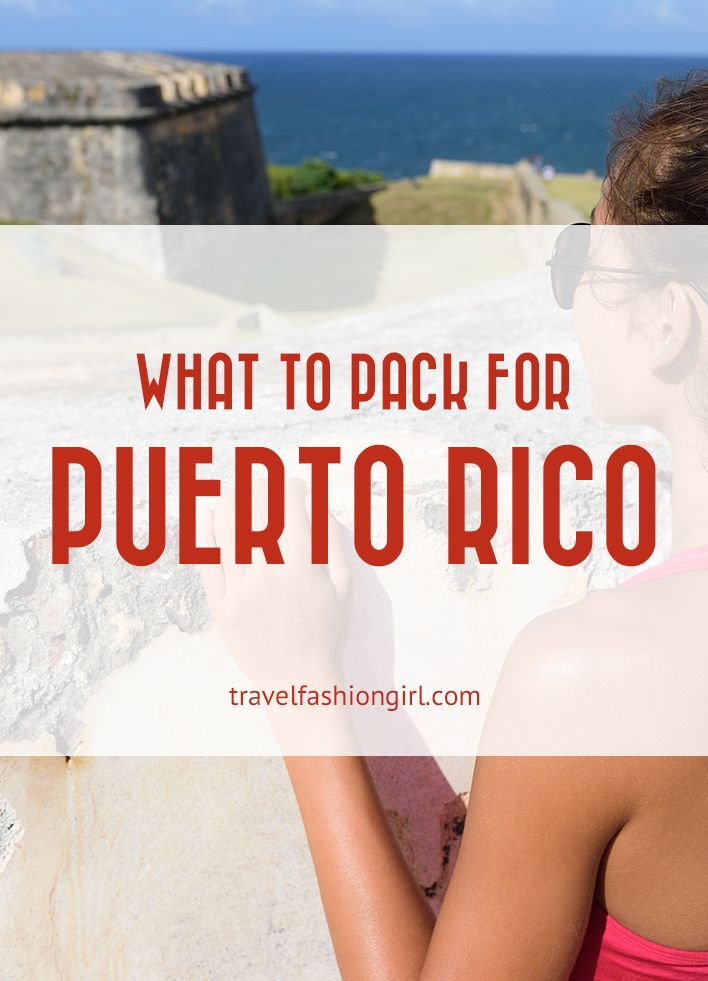 ---
Hope you liked this post on what to pack for Puerto Rico. Please share with your friends on Facebook, Twitter, or Pinterest. Thanks for reading!
---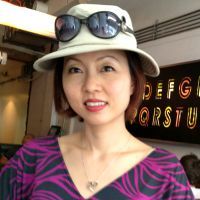 Author Bio: Lily An is a Canadian educator and Vancouver-born nature enthusiast. When she isn't working or traveling, she is likely to be skiing, diving, or mountain biking with her family.
---