Support TFG by using the links in our articles to shop. We receive a small commission (at no extra cost to you) so we can continue to create helpful free content. As an Amazon Associate, we earn from qualifying purchases made on Amazon in addition to other retailers featured on the blog. Thank you, we appreciate your support!
Seasoned travelers know that a great-quality, functional carryon suitcase is essential, and our readers have voted on their absolute favorite. Read our complete review to find out why readers love the Travelpro Maxlite 5 expandable spinner suitcase so much!
---
Travel Pro Suitcase Review – Maxlite 5 21" Carryon
---
Table Of Contents
After taking advantage of the Prime Day Travelpro suitcase sale to buy the bestselling Maxlite 5, I was so excited to put it to the test during a 4-day, 3-night stay at a Cancun resort. And I'm excited for good reason! TFG readers absolutely adore it and voted it the #1 suitcase on the blog, so based on that recommendation, I wanted to take it on a vacation to see how it does!
Read on to discover the awesome features of the Travelpro Maxlite 5-softside carryon suitcase and why it comes so highly recommended by our readers!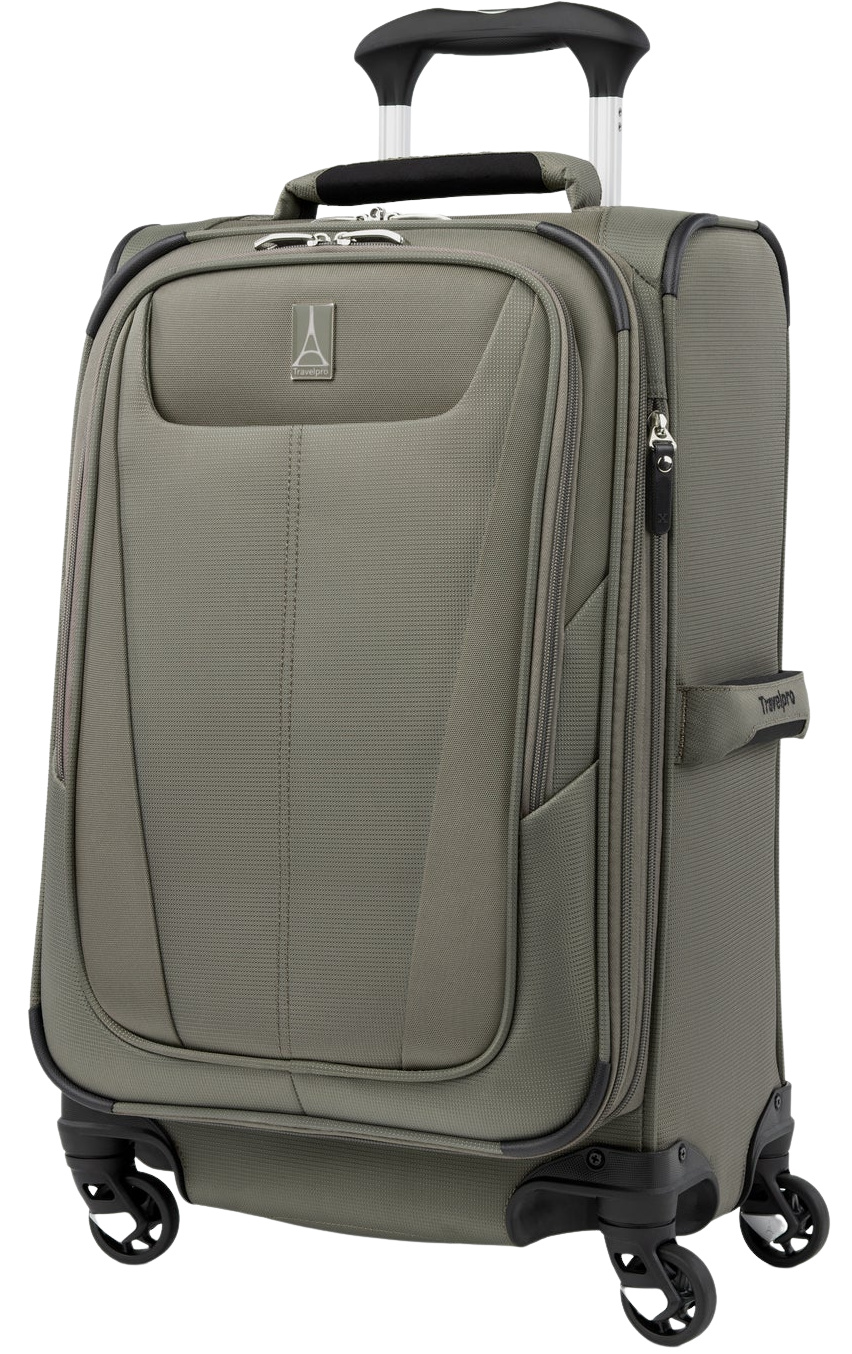 Travelpro Maxlite 5 Softside 21" Carryon Suitcase in Slate Green
Travelpro Maxlite 5 21" Carry-On Suitcase Specs
Brand and Style: Travelpro Maxlite 5 Softside 21" Carryon Suitcase
Material: Stain-resistant and water-repellent polyester
Dimensions and Weight: Interior Travelpro suitcase dimensions are 21" x 14" x 9"; exterior dimensions are 23" x 14.5" x 9"; and weight is a mere 5.4 lbs
Features: Ultra-lightweight, incredibly durable zippers, handles, and wheels, useful pockets, and is expandable up to 2" for extra packing room
Colors: Comes in a wide range of colors including black, blue, green, rose, and purple. 
Travel Type: Great for domestic travel as it would fit most carryon size requirements (always check with your airline); however, for European travel, it's recommended to use the Travelpro Maxlite 5 20" carryon suitcase. 
Read the ultimate guide on how to choose a suitcase!
Travelpro Maxlite 5 Suitcase Features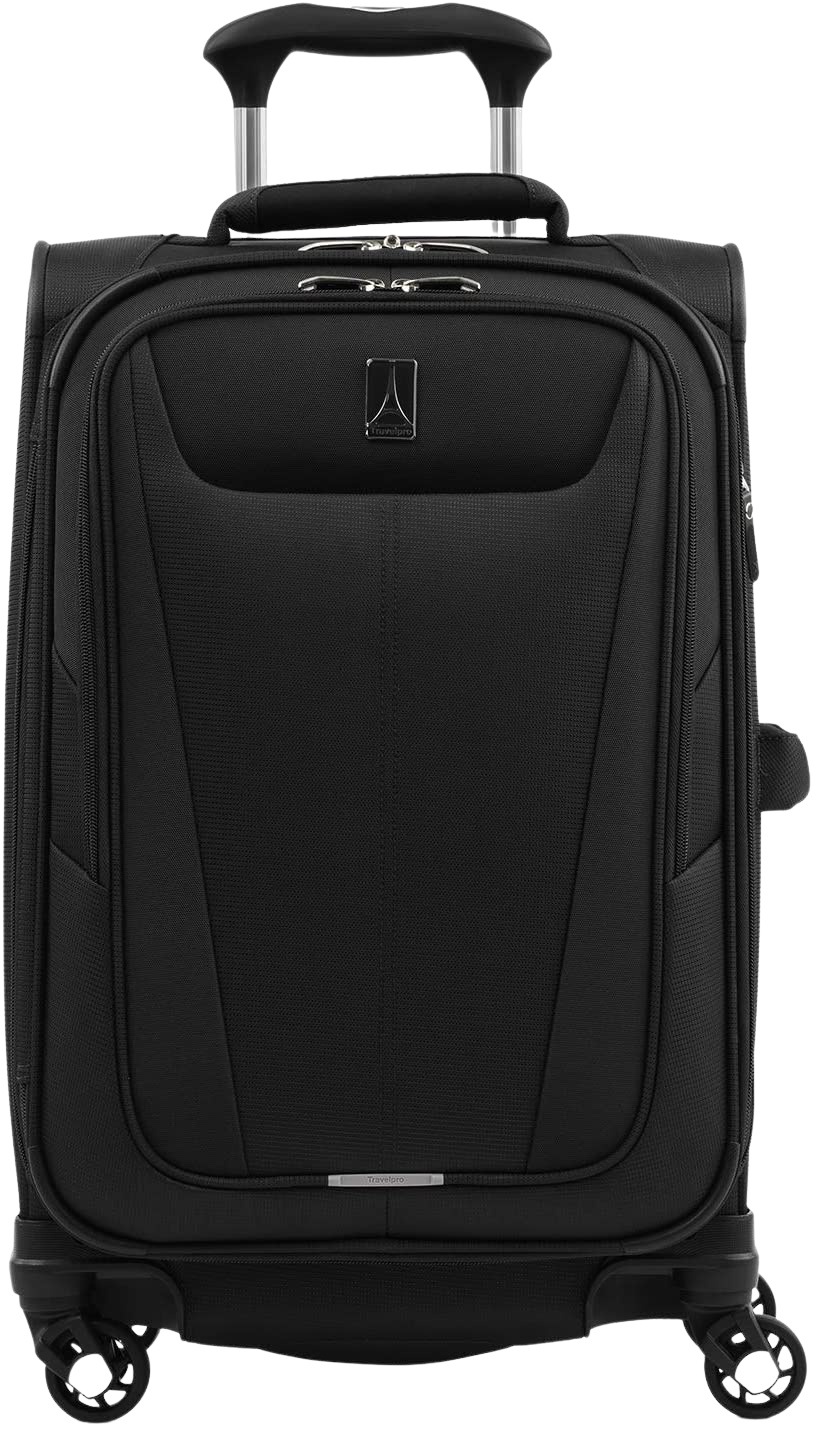 Travelpro Maxlite 5 21" Carryon Suitcase in Black
Size and Material
At only 5.4 pounds, the Travelpro Maxlite 5 carry-on 21-inch is really light! I won't use a carryon that weighs over 5.5 pounds because most carryon weight limits are 22 pounds, so you want your suitcase to weigh as little as possible to make room for all of your belongings. 
Aside from the weight, the Maxlite 5 also has very functional side handles which are really helpful for lifting it up. The material is great, too. It's water-resistant and stain-resistant, which is a big plus. 
The handle length seems to work well for travelers of varying heights, including me at 5'2" and taller travelers that are 6'5". It also has four wheels that make it really easy to maneuver, so it won't hold you back if you're running to catch a flight!
One discerning traveler says, "I was pleasantly surprised by the mobility and craftsmanship of this bag. This bag is also EXTREMELY (almost impossibly) lightweight. It is definitely a bargain for the price."
Here is a quick list of the best luggage brands according to top travel experts!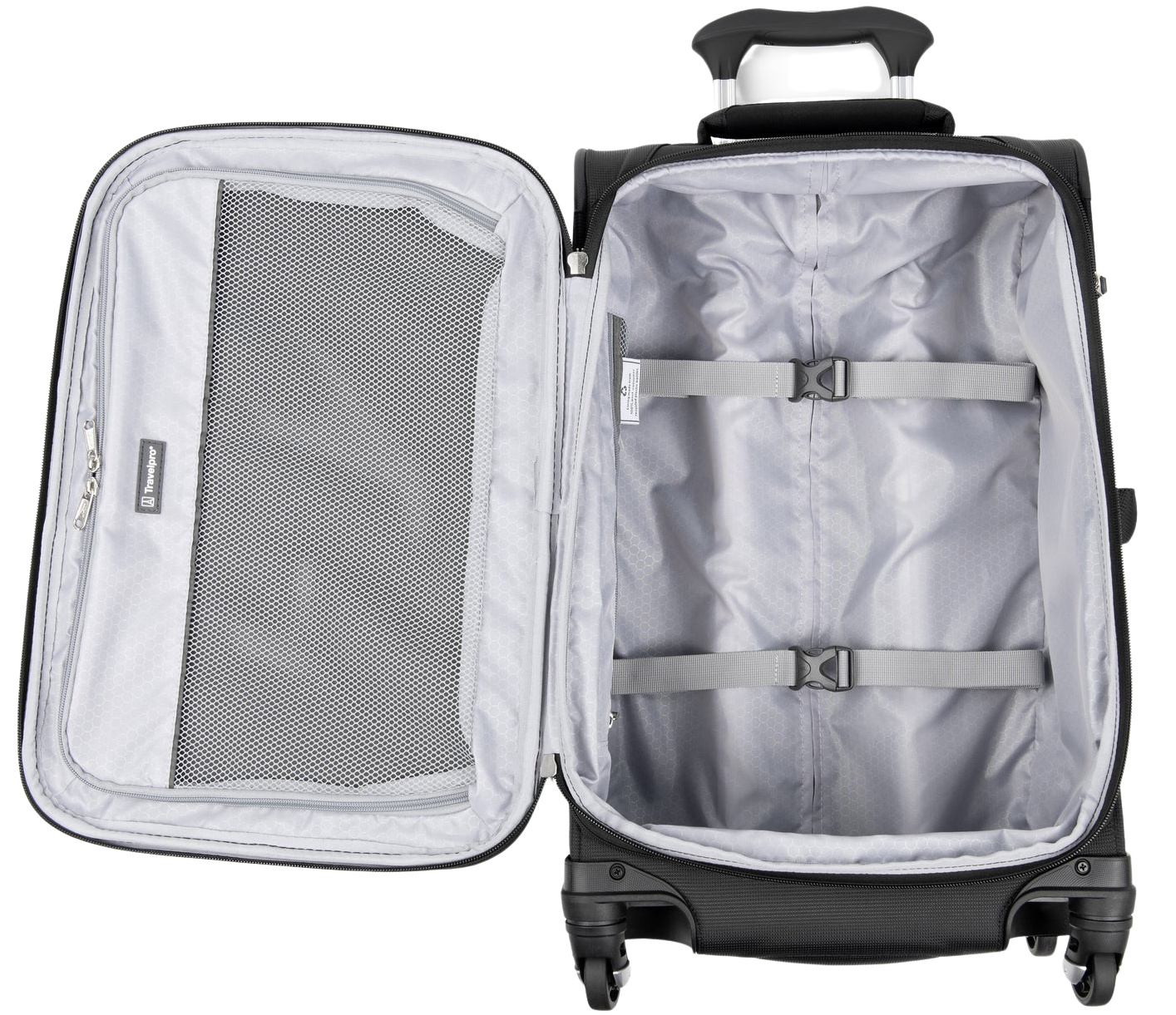 Interior of Travelpro Maxlite 5  21" Carryon in Black
Packability
The Travelpro Maxlite 5 softside expandable spinner wheel luggage is a 21-inch suitcase that is carry-on compliant (for most domestic airlines), but don't let the size fool you–it can fit a LOT of things!
When I took it to Cancun, I forgot how much I love the spaciousness of a softside suitcase. I was able to fit 6-7 packing cubes in this suitcase, plus other items. This is a great carry-on option for short trips, but with efficient packing, you can make the Maxlite 5 work for multi-week trips, too! 
The Maxlite 5 has super handy storage features to optimize your packing, such as the interior lid pocket, the side accessory pocket, and the adjustable hold-down straps to keep your things nice and snug. There's also an outer zipper with even more space to store your easy-to-reach essentials. 
Another perk of the Travelpro Vaxlite carry on spinner is that it's expandable up to 2", which our readers find really handy when they come home with goodies from their trip! Keep in mind that when expanded, the suitcase may not fit the carry-on dimensions anymore, and would have to be checked. 
One reader shares, "That front pocket is where I stash all my hats. I always take at least four on any trip. Totally agree about the expansion at the end of a trip and then check the bag going home. I've had a number of pieces of the Maxlite for years now, lots of travel with each, great performance."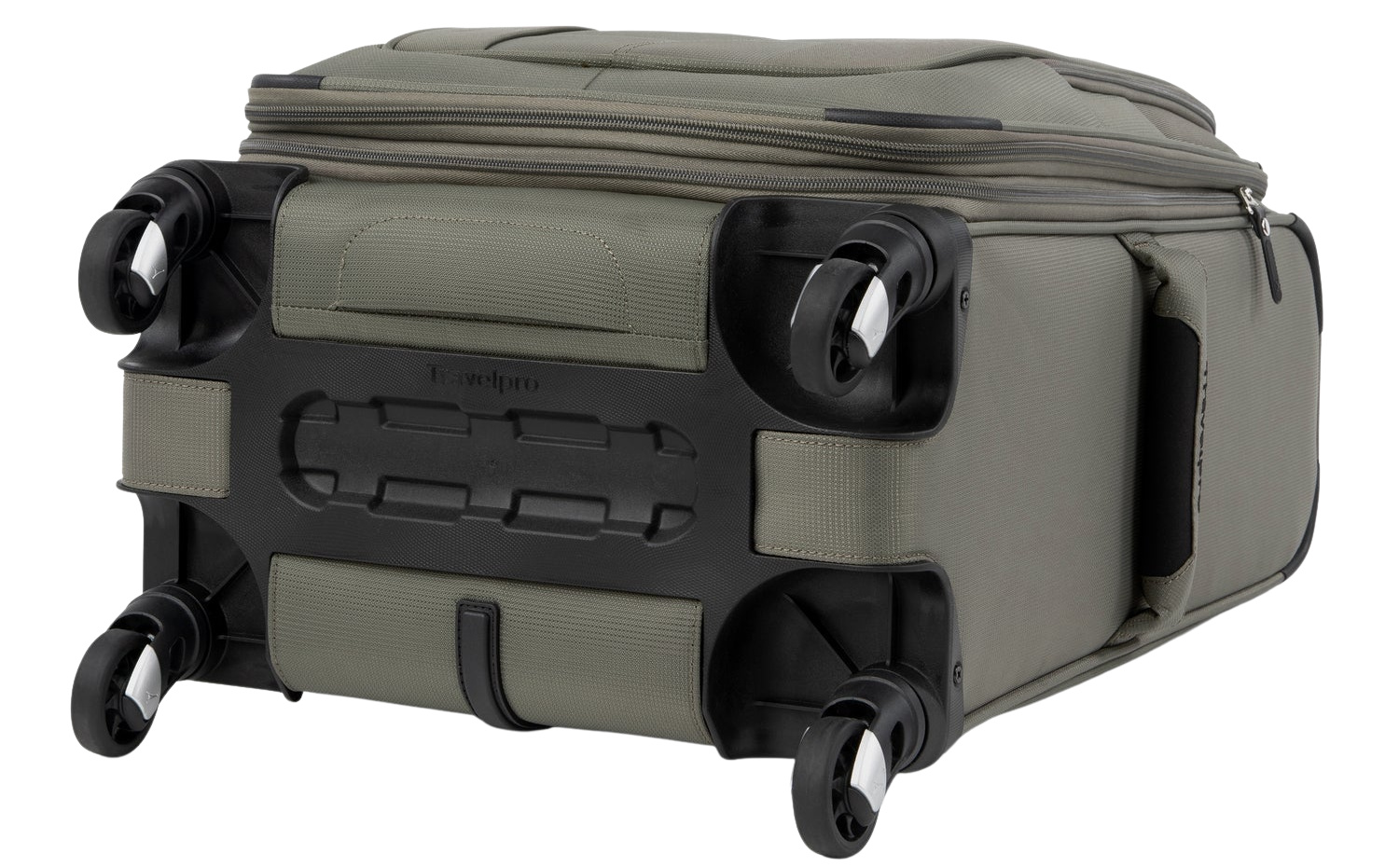 The Travelpro Maxlite 21" can handle rigors of travel (in Slate Green)
Durability
The Travelpro Maxlite 5 21 inch suitcase definitely holds up to the rigors of travel. It's no wonder TFG's seasoned travelers have loved and highly recommended this suitcase!
We all know the feeling of a wobbly suitcase handle, but with the Maxlite, you'll forget that was ever an issue. The handle is really sturdy (and stays that way over time). It's made with heavy duty zippers, and the high-performance Travelpro suitcase wheels make for a smooth ride. And to top it off, the Travelpro comes with a one-year warranty to ensure there are no problems. 
Readers have reported years of consistent use without their Travelpro showing signs of wear. 
One traveler shares, "This luggage is a rock star. Used it very recently on a trip to Spain and it held up great. Had to roll it over cobblestones, construction sites, and up and down metro stairs, and it kicked butt. This luggage is meant for travelers. Travelpro makes the best!"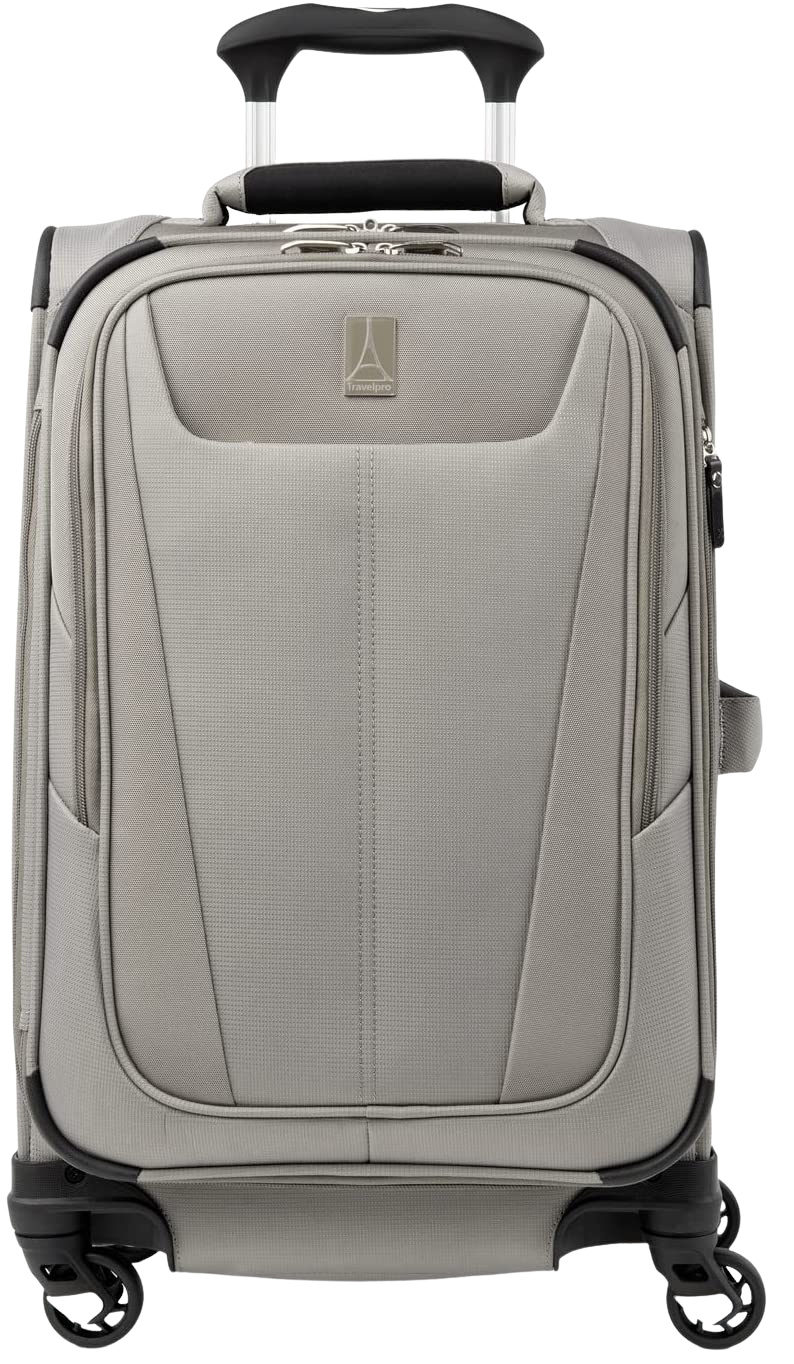 The Travelpro Maxlite comes in gorgeous options, like this pretty Champagne shade
Style 
Travelpro Maxlite 5 lightweight rollaboard luggage is not short on style, either! My bag is in the color Slate Green, but it also comes in black, blue, gray, burgundy, and purple. It has a cute, patterned (and moisture-resistant) interior which is a nice touch. It's a sophisticated-looking suitcase that looks more expensive than it is. And again, it doesn't show signs of wear easily. 
One Maxlite 5 owner says, "​​The bag is very nice looking and unique and I have not seen anyone with the one in the color I got (the light blue color). I have seen several airline employees with other Travelpro bags, which also makes me trust the quality."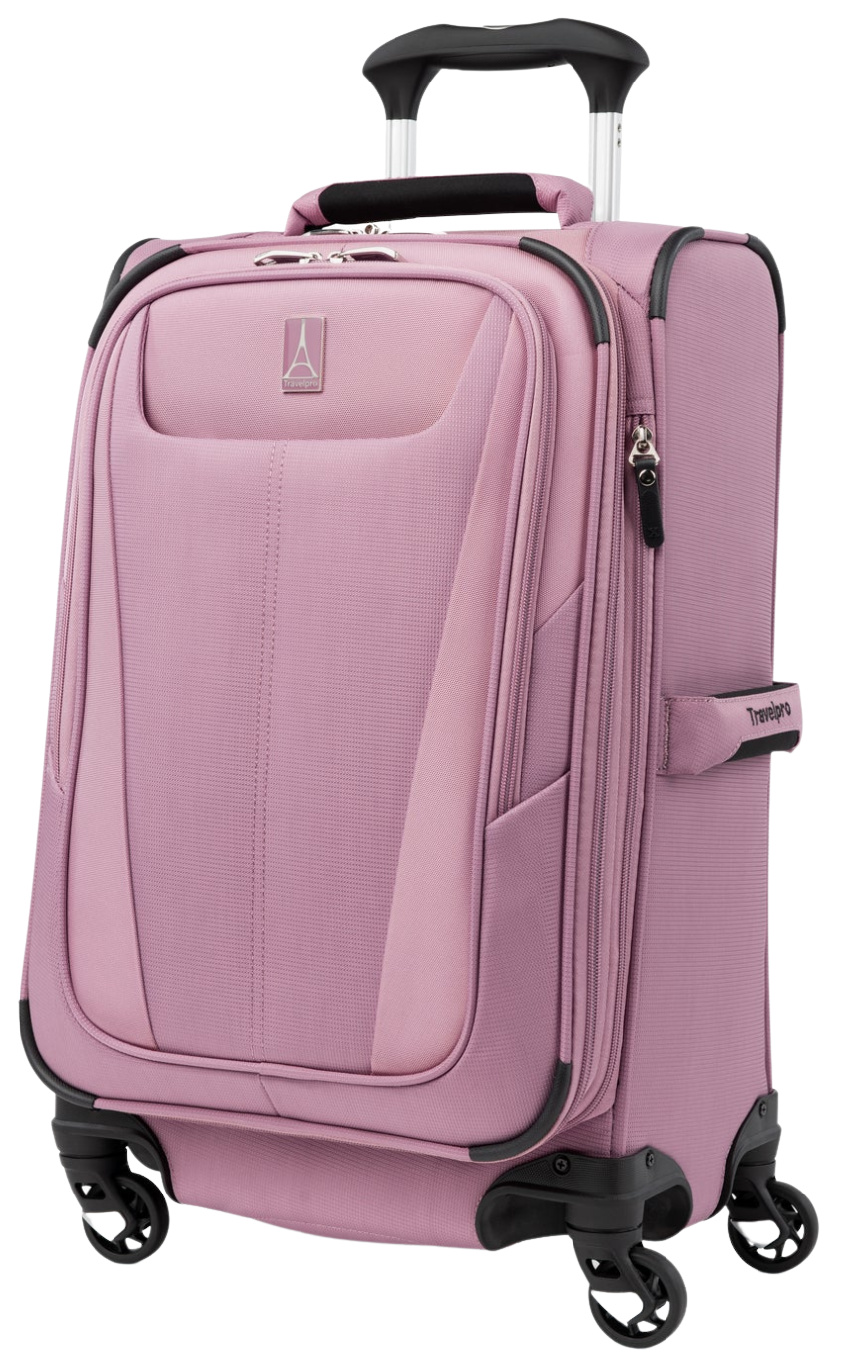 Readers describe the Travelpro Maxlite as super lightweight!
Pros
The Maxlite 5 Travelpro suitcases are great because they're super lightweight but have ample packing space. Readers love how durable the Maxlite 5 is and how easy it is to lift and maneuver. The quality of the wheels, handle, and material make a huge difference. The suitcase is attractive and will stay really nice, even throughout years of use. With so many great features, it makes total sense that the Travelpro Maxlite 5 lightweight expandable suitcase is the #1 bestselling suitcase on the blog! 
A happy user reports, "I skip the $50 round trip fee per checked bag and the time wasted at baggage claim. Works even for week+ trips in any weather as long as you pack smart. And it's sturdy due to Travelpro's attention to detail, such as the wheel axles supported at both ends. Also great that the extension handle has two heights, making it comfortable for any family member. The next time I need another suitcase for my family, I will be back for another one of these." 
For the quick getaway, see these picks for the top weekender bag women use to get the job done!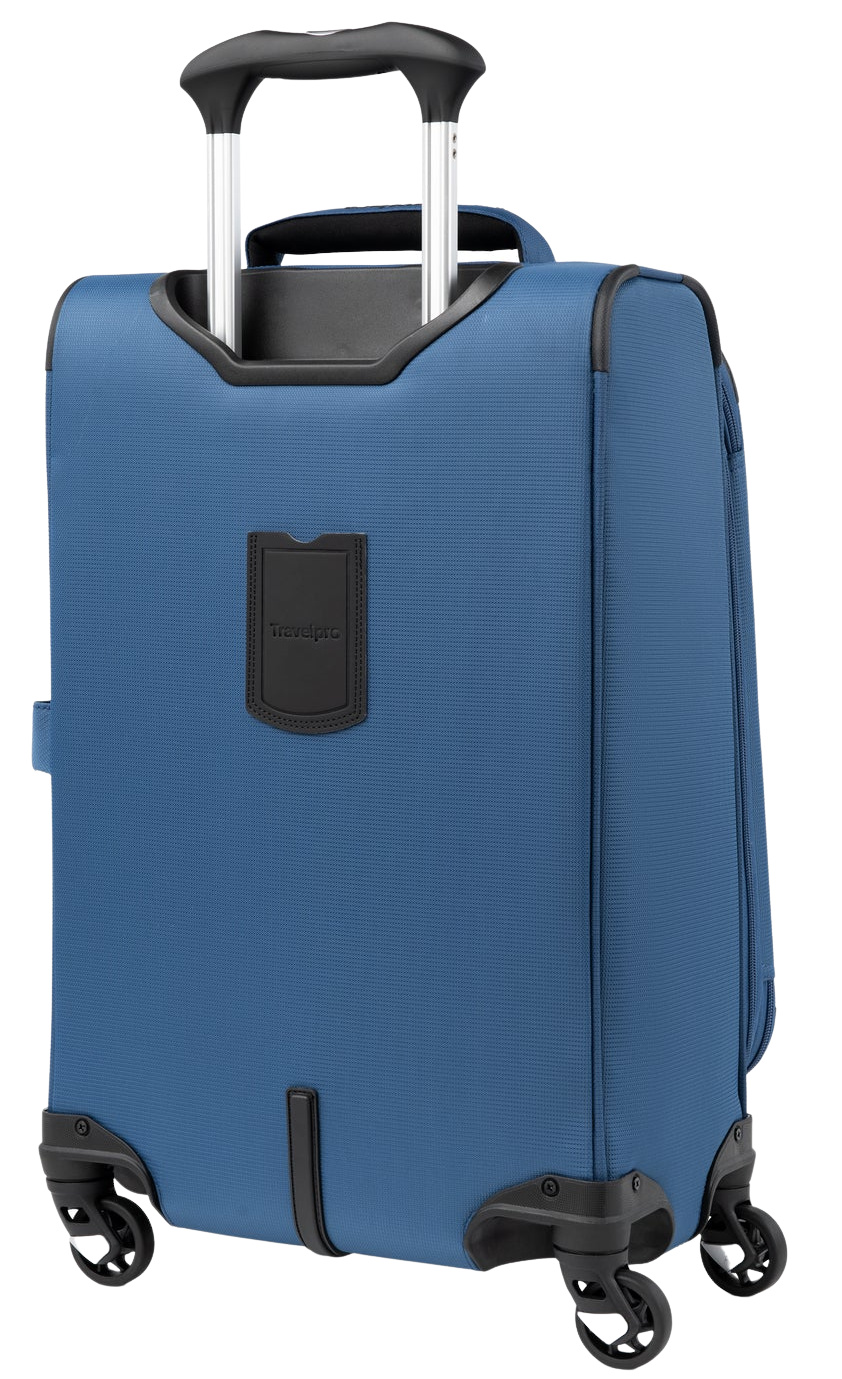 Readers recommend evenly distributing weight with the Travelpro Maxlite to keep it balanced
Cons
For as fantastic as the Travelpro Maxlite 5 spinner suitcase is, there are a few things to keep in mind. First, it may not fit in the overhead compartment of all planes across all airlines. When I flew into Cancun on American Airlines, the suitcase DID fit in the overhead compartment of two relatively small planes: ERJ 175 and an Airbus A321. 
I had no issues using it as a carryon, but every airline is different, so it's wise to double check with the airline you plan on flying on.
For international travels, our reader consensus is that you might want to check out the 20-inch Travelpro suitcases, but if you mainly travel domestically and like a little extra space, I'd definitely go with this one. 
Additionally, if the suitcase is front- and top-heavy (say, with a heavy bag on top and a laptop in the front sleeve), it might tip forward a bit, which is something a lot of soft-shell suitcases are known to do. With this suitcase, you'd want to make sure the weight is evenly distributed to prevent tipping over. 
Lastly, the colors are a bit more muted in person than expected. I bought the Travelpro Maxlite 5-softside expandable spinner wheel luggage in the color Slate Green, although I wish I would've ordered the Sapphire Blue instead. It's still really pretty, though!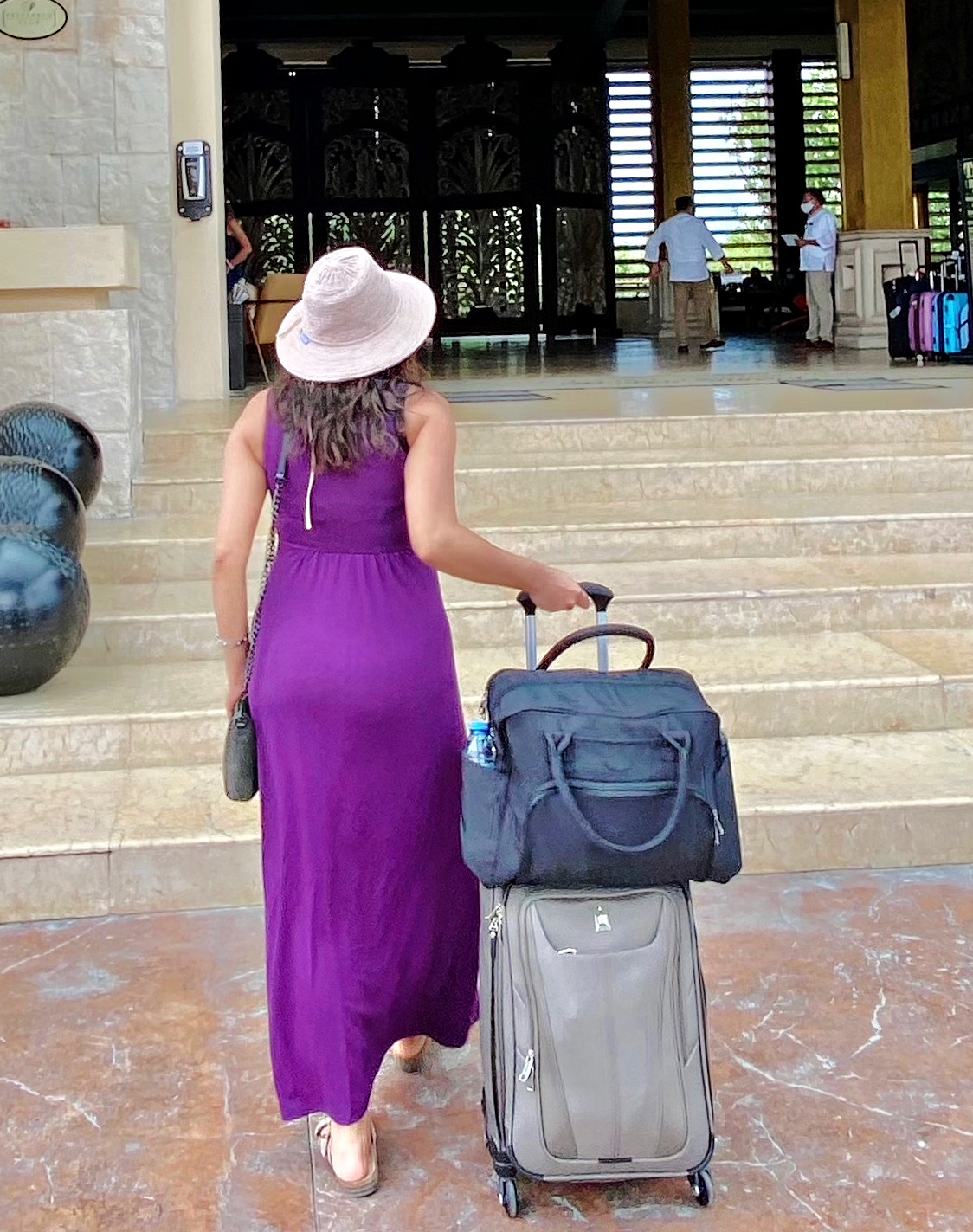 Heading to a Cancun resort with my Travelpro Maxlite 5 21" Carry On
Verdict
As TFG readers shared their Travelpro suitcase reviews, it really piqued my interest, so I finally got the Maxlite 5 for myself! 
Overall, I'm really pleased with the Travelpro Maxlite 5 expandable carry on spinner's packability, durability, and lightweight feel. It's easy to travel with and is definitely worth the price. It's no wonder TFG's seasoned travelers have been loving and highly recommending this suitcase!
A TFG reader says, "I've used mine for 2.5 years now. I've traveled a lot with it and love it. It beats my Tumi hands down. I'm 5'0″ and my husband is 6'6″; neither of us had issues with the handle which is unusual. The wheels so far have held up and continue to be smooth. I've traveled to France and the islands with it, so far not having any issues with it fitting."
Here's a review of the Travelpro Maxlite 3, another popular recommendation for any traveler!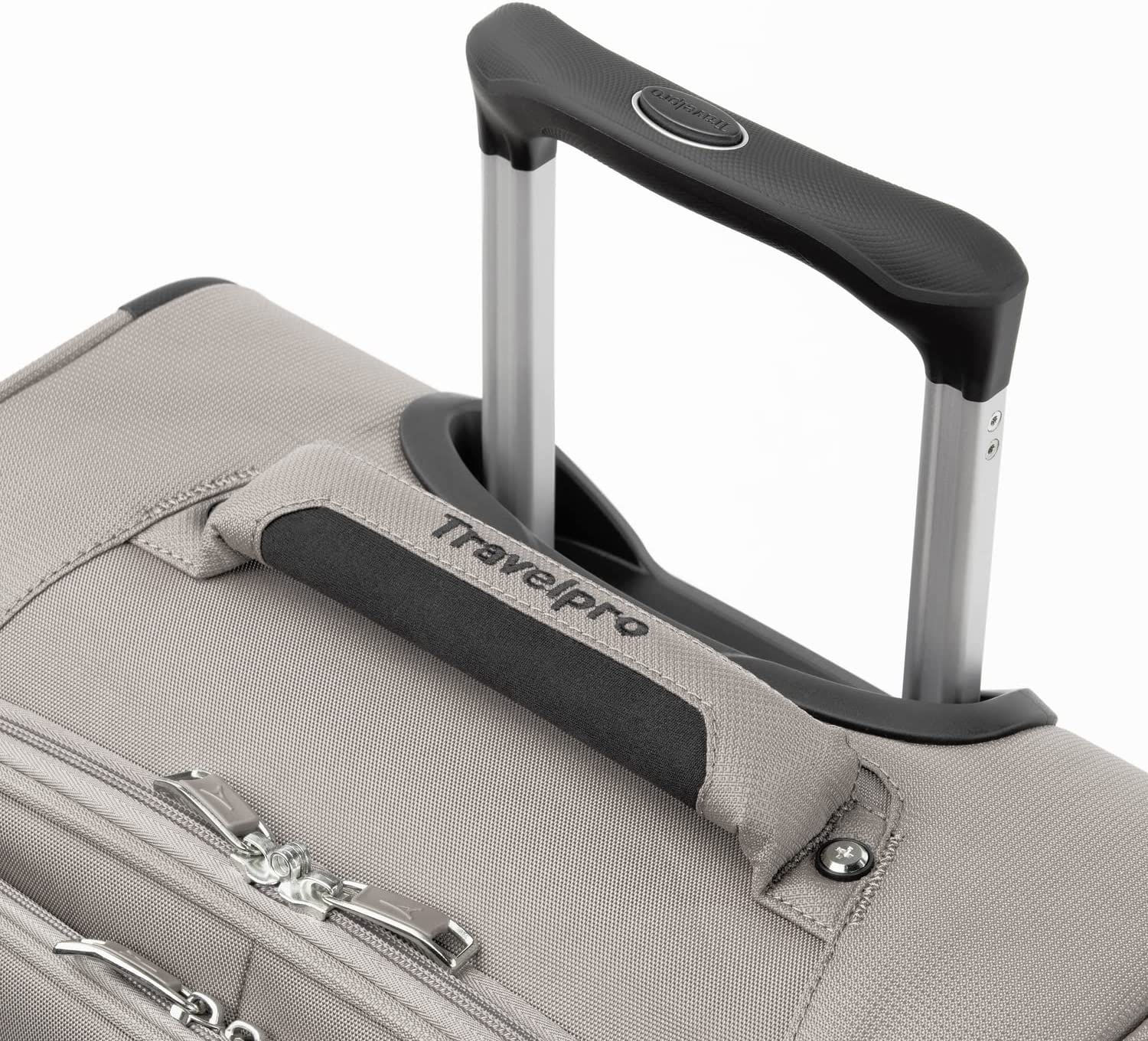 Where to Buy Travelpro Maxlite 5
You can purchase this bestselling suitcase on Amazon and directly from the Travelpro website.
---
Tell us about your experience with Travelpro Maxlite luggage. Are you a fan? Share in the comments below!
---
For more carry on suitcases, please read:
---
LIKED THIS POST? PIN THIS PIC TO SAVE IT!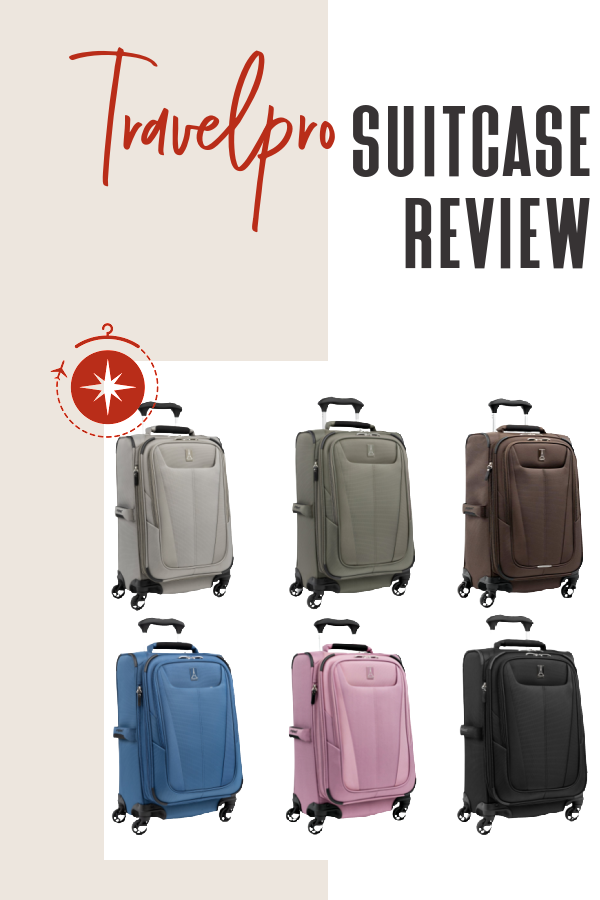 ---
We hope you liked this review on the Travelpro Maxlite 5 international spinner suitcase. Please share with your friends on Facebook, Twitter, and Pinterest! Thanks for reading!
---