Support TFG by using the links in our articles to shop. We receive a small commission (at no extra cost to you) so we can continue to create helpful free content. As an Amazon Associate, we earn from qualifying purchases made on Amazon in addition to other retailers featured on the blog. Thank you, we appreciate your support!
Packing for conservative cultures in tropical climates can prove difficult if you're not used to the weather. Between Washington, D.C. and North Carolina summers, I thought I had experienced the hottest humidity I ever would, but having to face that heat (or hotter!) without shorts or sleeveless tops is a whole new ball game. Follow these tips and learn my trick on how to stay cool in the heat!
---
How to Stay Cool in the Heat in Conservative Countries
Written By: Evanne Allen
---
Here are a few things to consider when traveling to a conservative country with a tropical climate:
Want to look your best when traveling but still be comfortable. Read my travel tips to Pack Light Stylishly!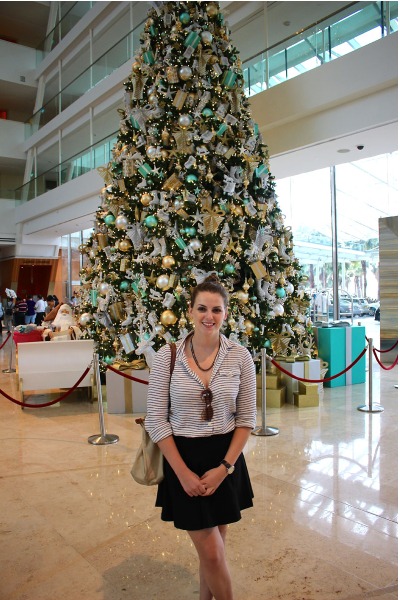 Fabric
Fabric is the key when considering how to stay cool in the heat. Selecting the right fabrics is the first step to staying cool in the tropics. Even loose, flowy pieces will quickly cling to you if they are made of material that does not wick moisture. Some fabrics, like polyester, silk and wool, trap heat against your body by preventing warm air to flow out.
For the most part, fibers like cotton, linen and rayon are best for tropical climates. They absorb moisture and allow air circulation.
You might be immediately thinking of maxi dresses as an easy way to stay stylish and conservative, but make sure you check the tags; the wrong fabric will trap all the heat around your body and your stylish piece will become your nightmare.
Read TFG's tips on choosing the best fabrics for travel.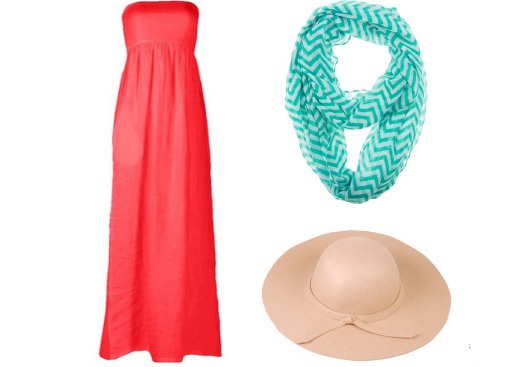 Linen Dress | Wrap-around Scarf | Wide-brimmed Hat
Cover-up
Conveniently, covering up can actually help keep you cooler by protecting your skin from the sun – an essential tip for how to stay cool in the heat. Look for long sleeved shirts specifically made to block UV rays and remember to check the tag to determine their fabric.
Wear a lightweight hat for extra protection. Make sure you pick a breathable fabric (no wool or polyester) and preferably a wide brim. I travel with a woven fedora that keeps my face from burning and shades my eyes. Plus, it's a perfect makeshift fan.
For anywhere that requires you to cover your shoulders, consider bringing a lightweight scarf. Store your scarf in a packing cube until you need it. This accessory is great for making a low-rise top more conservative, or for covering up your shoulders on the fly.
Check out TFG's favorite clothing items for a stylishly respectful look.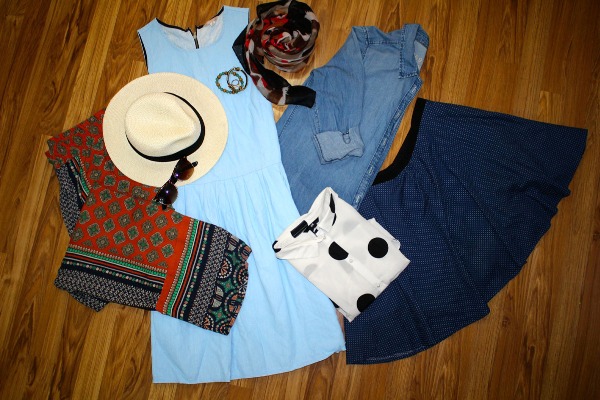 Loose-Fit
Covering up doesn't mean tight clothing. Your most fitted pieces might cover your skin, but they still don't belong in more conservative countries like Myanmar. Bring pieces that don't cling to your body to allow more air. This is a great opportunity to wear all your boyfriend fit items (except your jeans), breezy dresses and full skirts.
SEA travelers love harem style pants available everywhere in the area. Check out this post for more ideas.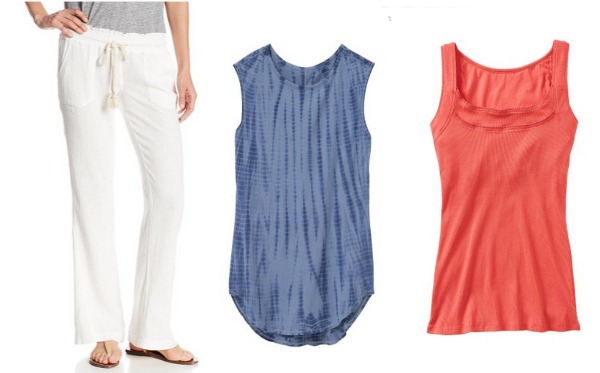 Loose Pants | Tank Top | Cotton Tank
Layers
This might sound counterintuitive but layers are great when planning how to stay cool in the heat. A loose cardigan or cotton button down worn over a tank won't trap heat around your body and you can take it off whenever the situation allows. Also, where there is intense heat there is often intense air conditioning and you may even get chilly indoors.
A lightweight and breathable cotton or silk scarf ads another layer of warmth in the AC. (Although hanging out at 7-11 just for their air conditioner is always refreshing.)
Always remember that nude or the color closest to your skin tone is best under thin fabrics. Learn more about choosing the best bras for travel.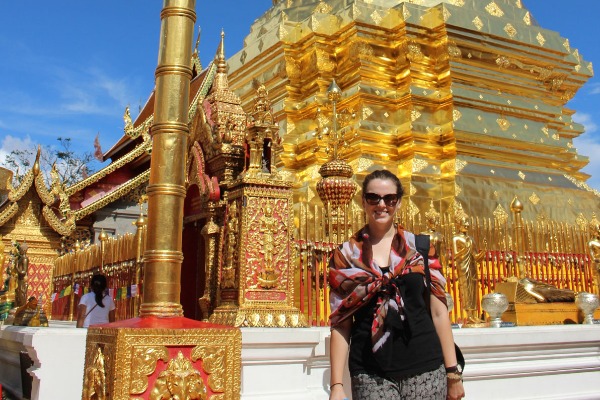 "Workout" items are perfect for a travel wardrobe
Just because a country is conservative, doesn't mean you can't look good. Tops made for workouts are usually moisture-wicking, breathable and dry quickly. With all the stylish exercise brands out there, you have plenty of options that will easily blend into your everyday outfits. Try to avoid polyester and look for spandex cotton blends instead.
TFG loves these items from Athleta!
---
Hopefully these pointers have helped you learn a few tricks on how to stay cool in the heat. As you pack, remember to double check the tags of the items you want to bring to make sure they're going to breath in the heat. Just because a fabric is thin, doesn't mean it should go with you to the tropics!
 What are your tips on how to stay cool in the heat? Comment and share!
---
For more tropical travel fashion tips,please read:
---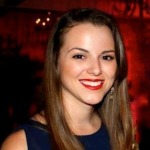 Author Bio: Evanne Allen is a traveler based in Chiang Mai, Thailand. Unable to choose between bustling cities and remote villages, she bounces around in search of new cuisine and interesting people. She left her job at a museum in Washington, D.C., to see the world in person, and co-founded Poplar Travels, where she blogs about experiences with adventure, luxury and culture around the world.
---
Hope you enjoyed this post on what to how to stay cool in the heat. Share it with your friends on Facebook, Twitter and Pinterest. Thanks for reading!
---