Support TFG by using the links in our articles to shop. We receive a small commission (at no extra cost to you) so we can continue to create helpful free content. As an Amazon Associate, we earn from qualifying purchases made on Amazon in addition to other retailers featured on the blog. Thank you, we appreciate your support!
One of the most popular topics in the TFG Facebook Group is about currency. Should you convert money before leaving home or at your final destination? How do you find a reputable place to change currency? What's the best place to exchange foreign currency? Our readers help us answer these questions and more!
---
Best Place to Exchange Foreign Currency
Written By: Megan Stetzel
---
Kate Spade Card Holder / GintaXen Credit Card Holder
Get a Travel-Friendly Debit/Credit Card
There are plenty of credit and debit cards that either don't charge international fees at all or charge minimal fees. One of the best is Charles Schwab, which has absolutely zero foreign transaction fees or ATM fees no matter where you are in the world. With this debit card, you can get foreign currency at an airport ATM upon arrival!
"I have a Charles Schwab account, which lets me take local currency out of ATMs around the world and refunds any potential fees. It is the very best option for frequent travelers, and I recommend it to everyone."
Another perk of travel-friendly credit and debit cards is not having to carry large sums of cash. Big wads of money are uncomfortable to carry in your wallet or pocket and can be a theft risk. 
Most destinations in Europe accept and prefer credit cards anyway, so travel lighter with cards!
As an added bonus: most credit and debit cards are insured, so if someone does make off with your card, the bank will typically refund any fraudulent charges right away. If someone makes off with your cash, you're either out of luck or waiting for your insurance claim to go through weeks later!
Read these tips on how to avoid travel theft.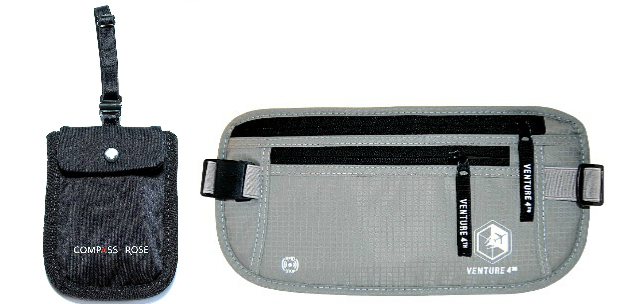 ATM Upon Arrival
Exchange rates are typically best at your destination. Research ahead of time to see which ATMs are available at your destination airport and what their fees are.
Generally speaking, ATMs at airports don't have great exchange rates, so take out only what you need for the first day or two of your trip upon arrival. Once you've settled in to your hotel, look for a nearby ATM where you can withdraw the remainder of the money you need and store it safely in your accommodation.
Tip: Keep a minimal amount of cash in your wallet and place the rest of your money and cards in an anti-theft product. For example, if you plan to take a taxi from the airport, keep the payment for the taxi in your wallet but any money you won't be using immediately should be stored.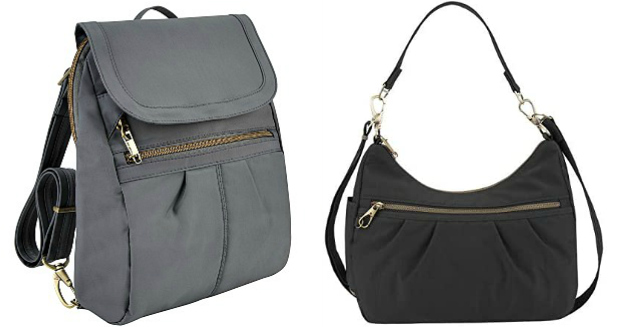 Anti-theft Backpack / Anti-theft Tote
Get It Before Your Trip
If you are arriving late at night or somewhere other than an airport, and you're relying on public transportation or a taxi to get to your hotel, it might be a good idea to get some currency before you leave for your trip. You can always pull more money out the next day.
Many banks in your home country will order currency as a service for customers. Make sure to plan ahead because depending how remote your destination, it may take days or weeks to get the cash in hand.
Some travelers feel more comfortable using anti-theft bags when they travel. However, you should still plan to distribute your money and cards by storing some in a secret money pouch, your hotel, and your purse.
Budget to Save Some For Later
One super savvy reader recommended bringing back a few small bills from places you know you'll be returning to. Then you'll have a stash of cash for the next time you visit and won't need to worry about finding an ATM immediately upon arrival.
If you plan to visit various destinations, keep in mind that the physical dimensions of currency varies between countries. Choose a continental size travel wallet that can accommodate various currency widths.
Skip Currency Exchange Booths
Airport currency exchange booths are particularly notorious for offering bad exchange rates and are definitely not the best place to exchange foreign currency. If you must use one, only exchange a small amount of money but use a bank or ATM at your earliest convenience.
If you must have cash upon arrival, get it from your local bank, AAA, or travel agent prior to departure.
You can download an app like XE to your phone so you have an idea of the exchange rate in advance and during your trip, too.
Have Multiple Options
The best tip is to ensure you have multiple money options: from credit cards to cash to debit cards. Theft, bank errors, and simply losing things does happen!
Make sure you have credit cards hidden in different places within your luggage and bags to make sure you're prepared for whatever comes your way!
For more information, read these tips on how to keep your passport safe while traveling!
---
What are your tips on the best place to exchange foreign currency? Please comment below!
---
For more travel packing tips, please read:
---
LIKED THIS POST? PIN THIS PIC TO SAVE IT!
---
I hope you liked this post on the best place to exchange foreign currency. Please share with your friends on Facebook, Twitter, and Pinterest. Thanks for reading!
---
Author Bio: Megan is a full-time traveler who loves to eat her way through new places, even though she is gluten-free. Find more of her stories, mishaps, and adventures on her travel blog, Why Wait World or follow her on Instagram or Snapchat at ForksFootprints.
---