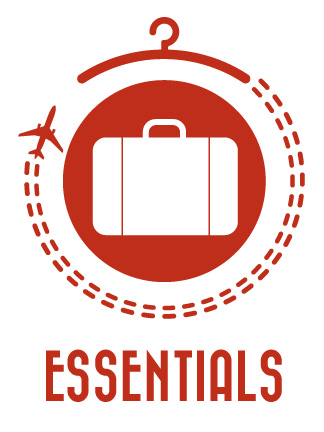 The Travel Essentials Packing List
Our Signature Packing Lists are your ultimate guide to packing light. Whether you're a fashionista or a no-frills traveler, these lists are made for you to customize to fit your own personal style.
This isn't your average packing list! The clothing shown has been carefully selected and offers you brands, colors, fabrics, and functionality that will help make planning your travel wardrobe a breeze.
By including a combination of well-known travel brands along with your favorite retailers, you'll find that you really can find a happy balance between travel and fashion!
Pack like a pro with Travel Fashion Girl and don't forget to download your free printable packing checklist!
Please keep in mind that each item shown represents visual ideas of how you can create a custom travel wardrobe. Read this guide
to learn how to adapt the items to the styles and color palette of your choice. For a complete introduction to creating a
travel wardrobe, please read Pack Light Stylishly.
Maxi Dress | Sleeveless | Blouse | Tee | Cami Top | Tank Top | Skirt | Pants | Jeans | Dress | Flats | Sandal | Sunglasses | Bag
You can use the Travel Essentials Packing List as a sample travel wardrobe as a stand alone minimalist packing list or as the main core of your clothing.  Long term travelers can use this list as well as vacation-goers. Keep reading to learn how.
Consisting of ten pieces of clothing, these are the essentials chosen specifically to provide you with optimal function while maximizing your potential for varying travel outfits. Ten pieces can create the ideal capsule wardrobe for travel and can also act as the essence to a larger packing list. Make sure you can mix and match each item.
For long trips in particular you'll need to choose fabrics that can wash and dry quickly and easily. For trips less than two weeks you may need to rewear clothing (a common pro traveler technique).
THE PERFECT CAPSULE WARDROBE
WHERE AND WHEN ARE YOU TRAVELING?
This Travel Essentials packing list is the ideal capsule wardrobe for travel. You can easily travel with only ten pieces for Round the World trips, two week vacations, or even weekend travel. For cold weather, please read these tips.
LAUNDRY
Depending on the length of your trip there's a good chance you'll need to do laundry. For two week trips you can use the Maximista Packing List to make complete outfits for two weeks but this is the exception.
The key to traveling for more than three weeks is to do laundry once a week and just pack one week's worth of clothing!
If you're using the Travel Essentials Packing List for longer trips, hand washing is necessary. Make sure to choose the right fabrics for your basics is necessary to ensure maximum use and swift washing times. Suggested items to pack include a universal rubber sink plug and packable clothesline to make this process a breeze!
GUIDELINES TO CHOOSE APPROPRIATE ITEMS
As with all the lists, it is important to select clothing items that work well together and can be used interchangeably.
COLOR: One Color Story – solids, neutrals, limited patterns in same color story preferable
FABRIC: Flexible for short trips; Strict for long trips: durable quick dry synthetics and fast drying light fabrics
CUT: Good fit; every item must mix and match
STYLE: Appropriate in various settings: Beach, Temples, Villages, Cities, Treks, etc
TRAVEL BAG: Depends on trip length 30-40 Liter Backpack or carry-on size suitcase. Check out other luggage options.
Travel organizers are the key to organization and the ability to maximize space especially for carry-on luggage. Watch this packing video to learn more!
Sample Travel Essentials Packing List
10 Pieces of Clothing
Four Tank Tops/Short Sleeve Tops in the heat or Four Long Sleeves for Cooler Climates Synthetic fabric, quick dry, solid colors or prints in same color story to layer as needed for varying temperatures and travel outfit variety. Tunics can be versatile and can be worn in more than ways than regular length tops and the longer length is most flattering to leggings.
Ideally, all tops should mix and match with each other for the cold. Must match all bottoms to make the most of your travel wardrobe.
One Long Sleeve Shirt Light quick drying fabrics in the heat. Able to layer over other tops and dresses as a light jacket or cover up. Button up tops are versatile. Merino wool or cashmere to act as a top layer over other tops as needed.
Remember to choose sleeve lengths that you like. Some women like sleeveless and others like long sleeves. Choose what works for you.
Three sets of Bottoms Highly dependent on your destination and the weather, choose items that can be used for every activity. Should mix and match with all tops.
Whether you choose long pants, capris, shorts, or skirts is up to you. Jeans work well on vacations, trips to metropolitan cities, or cool climates. Very destination dependent. They may be thick but hardly have to be washed.
If you pack colorful or printed tops choose solid or neutral bottoms and vice versa.
Two Dresses or if you prefer separates choose skirts instead. You can go one of two ways with this: bold colors or prints or classic style with neutral color. It depends on your style.
Versatility is key. For dresses choose one that can take you from day to night with some added accessories or an extra hint of makeup. Minimum should be one day/night and one day. A classic wrap dress is always a great choice, maxi (long length) dresses are great for conservative environments, and an LBD (or your favorite color) work well.
Two Outerwear
One coat/jacket plus one layer for underneath.
One-Two Bathing Suits
Reversible bathing suits allow you to mix and match. Choose one that has a neutral shade on one side so it can easily double up as a bra under your tops.
Two-Three Bras
Neutral colors that matches with all your tops. Nude tones recommended. Read about choosing the best bras for travel.
One Sports Bra
For long trips if you plan on doing activities or have long bumpy transportation journeys.
Two Sleepwear
Pajamas depends on your personal preference but try to choose versatile items that can be worn outside the bedroom if needed such as running shorts and a fitness top. Silk or satin chemises and sets can be used as a light option as well.
Ten Pairs of Travel Underwear
Quick dry, avoid 100% cotton or mesh. Quantity depends on length of trip. Read these tips for extended travel.
Three Pairs of Shoes
Choose versatile footwear. Style depends greatly on your activities and the weather but one thing's for sure: choose comfort over fashion. A balance between functionality and fashion is ideal! Should mix and match all clothing and work for all activities. Read our ten step guide to choosing the best travel shoes for any trip.
Accessories
One belt that can be worn with pants and dress for practical style. Jewelry can be used to add color, change style, or add glam. Don't forget them. Read the lazy girl's guide to stylish travel accessories for more ideas.
Makeup
Take the essentials but leave the drawer filled with makeup at home. Decanter full sizes into smaller reusable containers with only the quantity you need. Read these posts for more travel makeup tips.
Alternate Travel Essentials Packing List Combinations
4 Tops + 4 Bottoms + 2 Dresses (versatile, shown above)
5 Tops + 3 Bottoms + 2 Dresses (good multi-climate trips or hot weather)
6 Tops + 3 Bottoms + 1 Dress (good for varying climates)
7 Tops + 3 Bottoms (good for cold climates)
10 Dresses (perfect for resort and tropical vacations)
LIKE THIS POST? PIN THE PIC BELOW TO SAVE IT!
READ THE REST OF OUR SIGNATURE PACKING LISTS:
Find out what to wear in every destination and visit our country specific packing lists for even more helpful tips.
READY TO TRAVEL CARRY-ON ONLY?
If it's your first time traveling, you have a complicated itinerary, or you're a chronic overpacker take our packing course which shows you exactly how to travel carry-on only for each and every single trip!
PRINTABLE TRAVEL CHECKLIST