Support TFG by using the links in our articles to shop. We receive a small commission (at no extra cost to you) so we can continue to create helpful free content. As an Amazon Associate, we earn from qualifying purchases made on Amazon in addition to other retailers featured on the blog. Thank you, we appreciate your support!
With freezing temperatures around the corner, it's easy to resort to a boring all-black outfits for your cold weather travels. Don't get stuck in a rut and take a look at these womens winter fashion ideas. Keep warm and stylish on vacation!
---
Women's Winter Fashion
Written By: Niki Landry
---
Super cold temperatures at a destination are one of the hardest weather conditions to both dress and pack for a trip. Layers, coats, and boots can get bulky making it difficult to pack light, and sometimes staying warm and comfortable overrides the need to look good.
We've all seen (or been) the traveler who piles on clothes to stay warm without concern for their appearance.  It's one strategy to tackle the cold, but I prefer the alternative. A travel outfit that is both stylish and cozy.
Start by reading these general tips on packing for winter travel:
On cold winter trips, your outermost layers end up being the pieces that are worn the most. In addition to having a warm (and possibly water-resistant) jacket, the base layers you wear closest to your skin are the key factor in staying warm and packing light.
The truth is that womens winter fashion isn't always practical and you have to choose the right pieces when traveling to cold destinations.
You can switch out your base layers daily, but typically you will have one coat, hat, and scarf. It's important that these are well thought out pieces that coordinate easily with each other, and that you feel comfortable wearing each item.
Read more about the best thermal underwear for women!
Below are suggestions and accessories to help you stay fashionable during your next winter vacation.
Halogen Lightweight Cashmere Scarf
Stylish Scarf
Winter coats can be expensive and often viewed as an investment piece, so most people (including myself) are hesitant to experiment or follow trends when it comes to coats.
At a lower price point and in styles to suit every need and wardrobe, scarves are the answer to try new materials, patterns, or looks on your winter vacation. Also, two scarves are usually easier to stuff in your bag than two coats, so switch out your neck wear if you need a change during your trip.
Perfect to stay warm and add style, too. Female travelers love scarves – an easy addition to your womens winter fashion buys!
Bold Makeup
With your body warm and toasty under all of your layers sometimes the only exposed surface is your face, use it as a canvas to have a little fun. Go for a bold colored lip, dramatic eye, or just up the ante on your normal makeup look.
A simple change can draw attention away from your bulky winter gear and up to your face. Just make sure you use a non-transferable lip color to ensure that you red lipstick doesn't rub off on your favorite scarf or coat collar.
A bold lip can enhance your look without the need to bring your entire makeup supply. Here are seven more clever travel makeup hacks!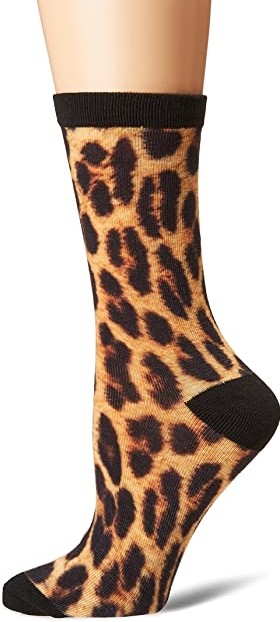 K. Bell Black Label Crew Socks
Fun Socks
Choosing the right travel shoes is one of the most important aspects to creating packing lists, but also consider your socks. Letting a pattern or colored sock peak out of the top of your boots is an easy way to infuse some interest into your outfit.
They also come in handy for tucking in and securing leggings or skinny jeans. If you are wearing a skirt or dress with tights, then adding tall socks and boots can give you an extra layer of warmth.
Find out how compression socks saved my toes after a trip!

Trendy Sunglasses
In addition to being a functional accessory, your sunglasses can also give you an outlet for a little self-expression on your trip. You will need them to block your eyes from wind or sun reflection off of snow, but that doesn't mean they can't serve a dual purpose.
Play with the shapes and color to add some interest to your travel outfit. If you tend to wear all black in the winter, a pop of color on your face can make all the more impact.
The most practical and health-conscious sunglasses are polarized. Find out the benefits of polarized sunglasses!
Hat
Womens winter fashion is not complete without a hat. Essential for keeping you warm, blocking wind, and as a great cover for unruly hair, at least one hat should accompany you on your winter travels.
Beanies are everyone's favorite winter hat for their comfort and easy to pack shape, but don't rule out other options. Berets and felt wide brim hats are popular right now and can make fun travel companions.
We love hats! Read the lazy girl's guide to stylish travel accessories!
Sweater Weather
Although your coat and cold weather accessories will be getting the most play during your trip, don't completely ignore your mid-layer selections. As soon as you walk into a business or restaurant with the heat turned way up or a fire burning the layers will start to shed.
Look for tops and sweaters in textures or styles that look great on their own or layered. An added bonus? Choosing for one in a toasty, travel friendly merino wool. That's why we love J. Crew's Tippi sweater above!
Just because your sweater is thicker doesn't mean it will keep you warmer. Learn about the best fabrics for travel – the (best) and warmest ones aren't thick!
---
What's your favorite women's winter fashion? Please share in the comment below!
---
For more ideas on what to wear in cold weather, please read:
---
LIKED THIS POST? PIN THIS PIC TO SAVE IT!
---
Hope you liked this post on womens winter fashion. Please share with your friends on Facebook, Twitter and Pinterest. Thanks for reading!
---
Author Bio: Niki is an interior designer and artist from Louisiana. In addition to her design work, she writes for local and online publications sharing her experiences and passion for travel. Niki is currently adding stamps to her passport while building her design practice, Niki Landry Designs.
---