Support TFG by using the links in our articles to shop. We receive a small commission (at no extra cost to you) so we can continue to create helpful free content. We earn from qualifying purchases made to the featured retailers. Thank you, we appreciate your support!
The Scarpa Moraine hiking boots may not seem like an obvious choice over other outdoor brands like Merrell or Keen, but these are comparable for hiking and camping. Check out our Scarpa boots review below!
---
Scarpa Boot Review – Moraine Waterproof Gore-Tex Style
---
Table Of Contents
Are Scarpa boots any good? My first experience wearing the Scarpa Moraine hiking boots was on a two-week trip hiking and camping around Utah's national parks—and they did not let me down! Offering the utmost in comfort and practicality, these hiking boots managed to check all the boxes. 
I'm not the only one as another user also raves about them, "These shoes are the best I've ever had and I hike the Rocky Mountain Peaks often." Considered lightweight and sturdy, these can take on any mountain it seems, and conditions—as they are also waterproof!
Find out all the details in this Scarpa hiking boots review!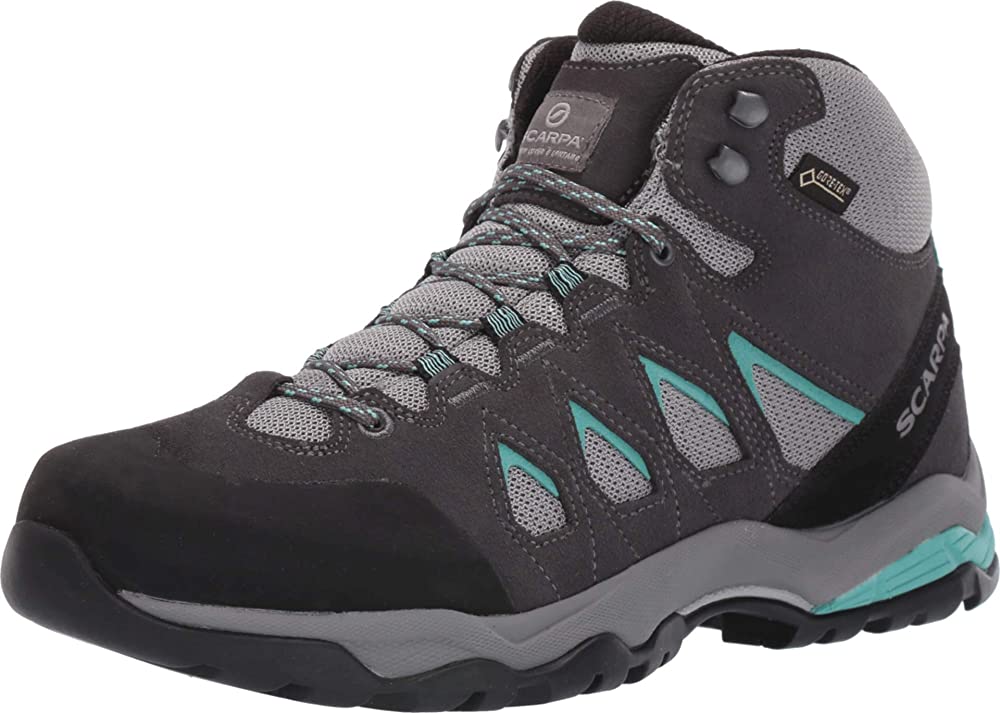 SCARPA Moraine Mid GTX Waterrpoof Hiking Boots in Grey/Lagoon
Scarpa Moraine Mid GTX Hiking Boot Specs
Brand and Style: Scarpa Moraine Mid GTX Waterproof Hiking Boots
Material: Leather and synthetic waterproof fabric, suede and polyester mesh upper, and rubber outsole
Colors: Available in grey with blue details and dark grey with green details
Travel Type: Perfect for hiking and camping on any terrain and in any climate
Scarpa Moraine Hiking Boot Features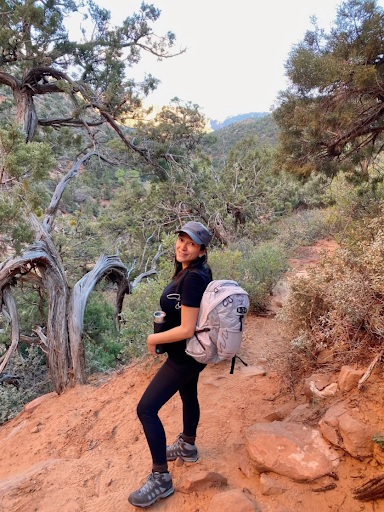 Hitting the trail in Scarpa Boots (Also:  Zella Leggings, Icebreaker Tee, and Osprey Tempest 20 Daypack)
Comfort
The Moraine Hiking boots are incredibly comfortable. They're very lightweight compared to other hiking boots. There's also no break-in period with these shoes at all! I wore them hiking on the Great Sand Dune in Colorado right after buying them, and then spent several hours hiking daily for the following two weeks in Utah among other national parks, and they were absolutely amazing. 
The structured toe box offers extra protection, while the cushioned footbed will keep your feet happy no matter how long your outdoor adventure lasts. 
One user shares, "Last week I successfully completed the West Coast Trail in them. Talk about putting them to the test! I was carrying a 30 lbs pack and we had heavy rains for 3 of the 7 days. They were terrific. Not one blister even. Can't recommend them enough."
These are the most recommended hiking boots for women according to our readers!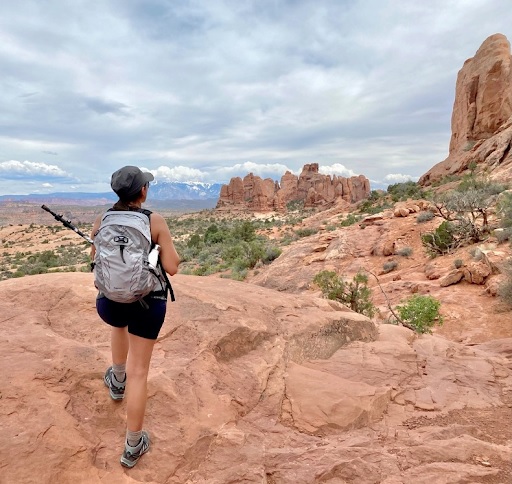 Navigating an incline in my Scarpa Boots (Also: Trail Buddy Hiking Poles, Outdoor Research Hat, and Osprey Tempest 20 Daypack)
Durability
The Scarpa Moraine hiking boots have excellent traction due to their Vibram outsole. You will not slip in these shoes! They're waterproof and can withstand the harshest of elements. The Scarpa boot laces are also super strong.  
Whether you're trekking through snow or sand, the Moraine boots will have your back. And while they're protective and waterproof, they also manage to be breathable and won't make your feet too hot, even in warmer climates. One user says,"The grip, even when wet, holds. My next pair will be this same model as I love them!"
Scarpa boot reviews mention how well these hold up, even throughout years of wear and tear. One hiker reports, "I bought this style of Scarpa boots 6 years ago when I first started hiking. I've taken them on many, many day hikes over the past 6 years and they haven't shown nearly any wear. The soles are still in great shape, and the stitching on the uppers is still as good as the day I bought them."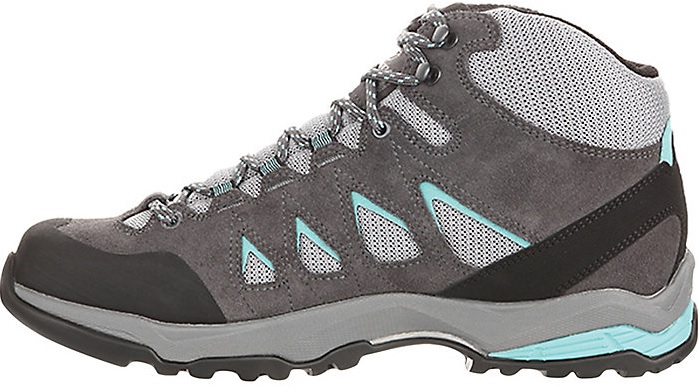 SCARPA Moraine Mid GTX Waterrpoof Hiking Boots in Grey/Lagoon
Fit
These Scarpa boots are incredibly supportive. The EVA midsole offers cushioning and arch support, while the mid-height style gives your ankle support and protection. The boot sizing chart for the Moraine shows a range from 5 1/2 to 9 1/2. 
Wearers of the Scarpa Moraine hiking boot have reported that these shoes are great for mid to wide feet, though they're super comfy for narrow feet, too. Their wider toe box offers added protection for your toes and makes hiking down steep slopes painless.
You can get a full picture of Alex's two-week camping and road adventure to Utah in her Trip Report and her National Park Packing List.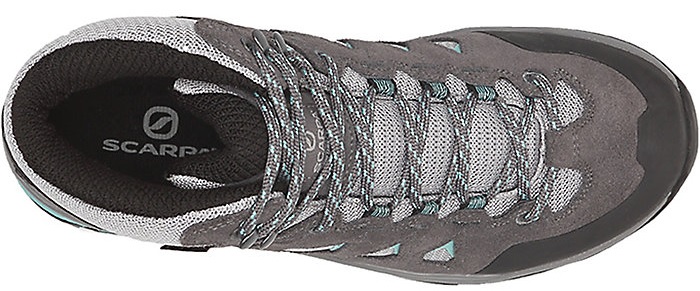 Front view of SCARPA Moraine Mid GTX Waterproof Hiking Boots
Additionally, wearers recommend going half a size up with these boots. One user shares, "I took these boots to Iceland and found them to be a perfect blend of supportive, rigid sole, and a light waterproof/breathable upper. They were aggressive enough for hiking on steep, muddy volcanic slopes but light enough to wear around the museums in Rekjavik."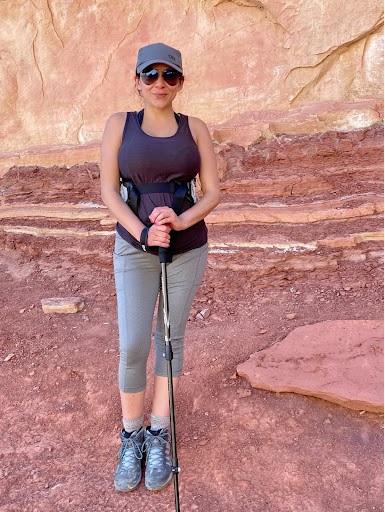 Taking a rest in Scarpa Boots (Also: Old Navy Tank Top (similar), Trail Buddy Hiking Poles, and Outdoor Research Hat)
Style
One wouldn't think style is a factor with hiking boots, but many wearers feel differently!
I always go for functionality over fashion when I hit the trails, but with these Scarpa Moraine hiking boots, I feel like I'm getting the best of both worlds. They have a fresh look and come in really nice neutral colors. The blue or green details (depending on which color option you choose) are very subtle but add a cute pop of color. 
Because they're so simple and versatile, these boots can be worn everywhere from a rugged desert to an urban jungle. 
One user shares, "Love the fit, color, shape, design, and durability. Stylish enough to wear to work, and strong for to-and-from errands, mountain hiking, and camping. "
If you're planning to go hiking, you may want to consider using trekking poles!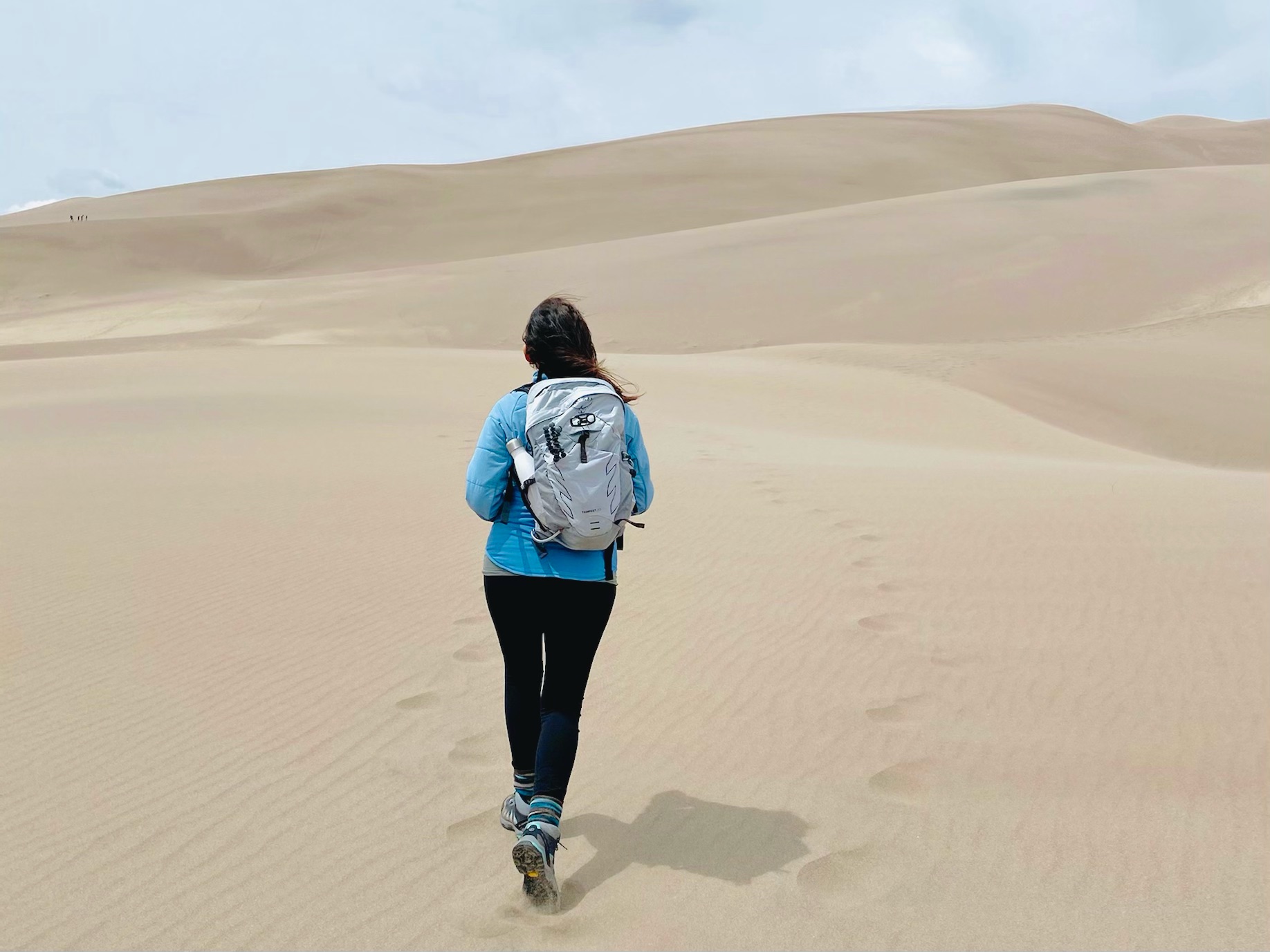 Pros and Cons
The Scarpa Moraine boots are comfortable, lightweight, and waterproof hiking shoe. They have awesome traction and will keep your feet supported throughout hours of wear. They're also versatile and can be worn on many different expeditions.
Another great feature is that the lining is sustainably made with recycled fabric. 
One user sums it up, "They are light enough that you don't feel like you are carrying blocks of mud on your feet, they are not overly hot/sweaty (like some waterproof shoes), they are waterproof (but watch the depth), and they don't look silly walking around town."
Other users report there is not a lot of cushion in the sole. One reviewer says, "While supportive, these don't have much cushioning. Which may be good or bad depending on how much you like to feel the ground beneath you." Adding a supportive insole to these shoes might solve this issue for those who do need extra cushioning.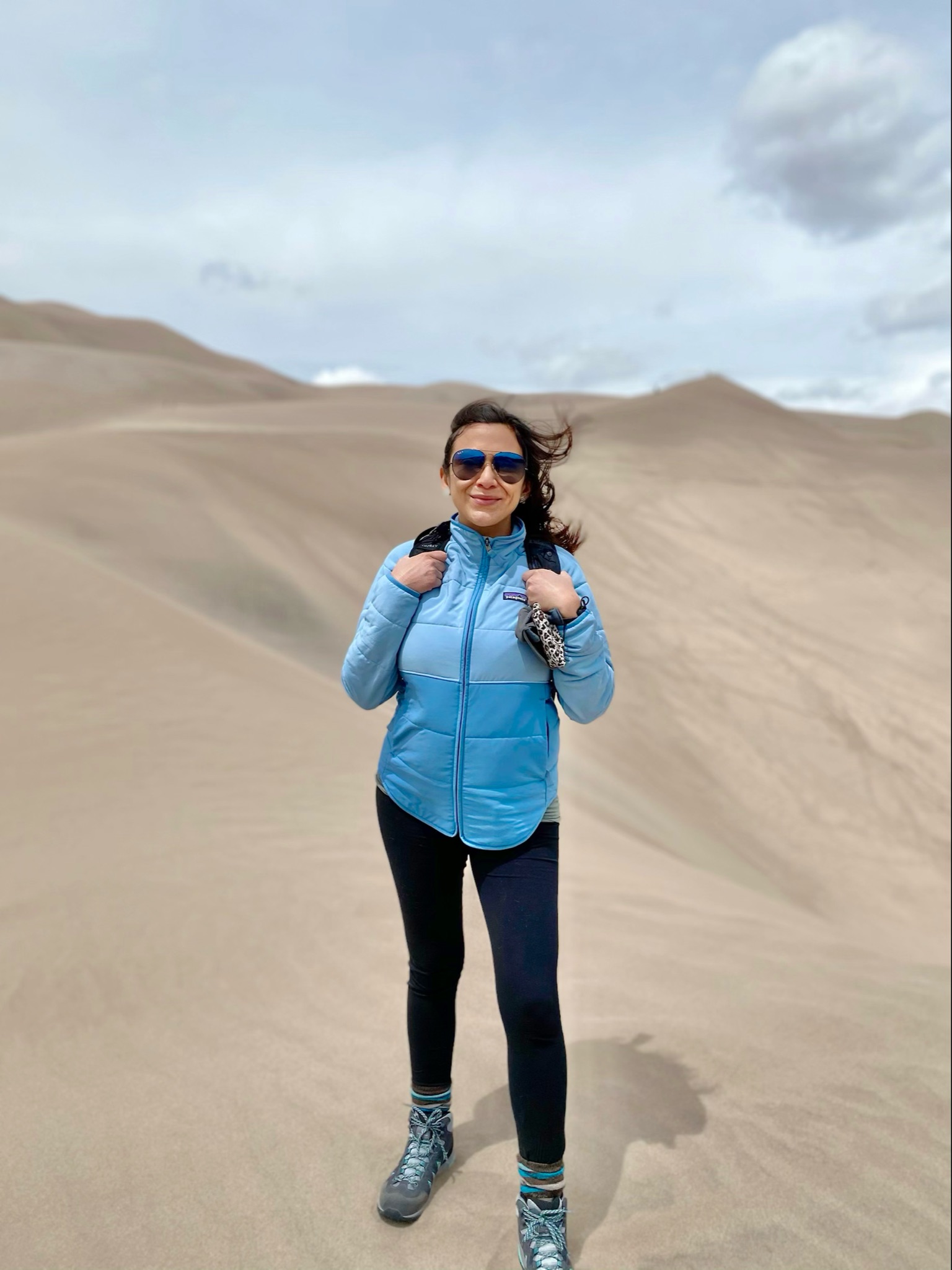 Tackling sand dunes in Scarpa Hiking Boots  (Also: Patagonia Fleece Shell, Zella Leggings)
Verdict
Hiking boots are THE most important item to consider when going on a hiking or camping trip. They need to be really comfortable, fit well, and have all the necessary features to support you on your exciting excursion. After wearing the Scarpa Moraine hiking boots on a two-week trip hiking and camping around Utah's national parks, I can confidently say that these hiking boots are beyond amazing! 
I definitely agree with many Scarpa hiking boots reviews which state that these are an excellent choice for a short or extensive outdoor adventure! They're lightweight, stay nice and dry, and didn't hurt my feet the entire trip, even without breaking them in first. Wearers of this shoe rave about the perfect fit and ample support. 
Though some have said these aren't as cushioned as they'd like them to be, if you suffer from specific foot issues, you could use insoles, or seek out boots where the insole is removable to add your own orthotics.
However, one outdoor enthusiast says of these overall, "I love these terrific boots! They are super comfortable, and waterproof too. I wear them almost every day for hiking, and they have been wonderful. I have ordered several pairs because they are just the very best boots."
From my own experience, I couldn't be happier with my Scarpa Moraine hiking boots. I can't recommend these enough! And it seems, others agree too!
TFG is sharing the top hiking pants women love that are sturdy yet nice enough to wear off-trail too!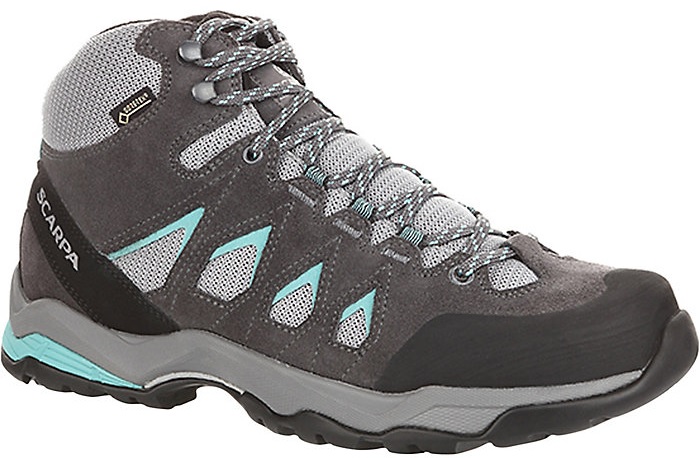 SCARPA Moraine Mid GTX Waterrpoof Hiking Boots in Grey/Lagoon
Where to Buy Scarpa Moraine Hiking Boots
The best place to buy the Scarpa Moraine boots is on Amazon. If you're reluctant to pay full price, you can also check for a Scarpa boots sale at events such as Prime Day.
---
Have you used Scarpa Moraine hiking boots for outdoor activities? Share your review in the comments below!
---
For more women's hiking gear, please read:
---
LIKE THIS POST? PIN THIS PIC TO SAVE IT!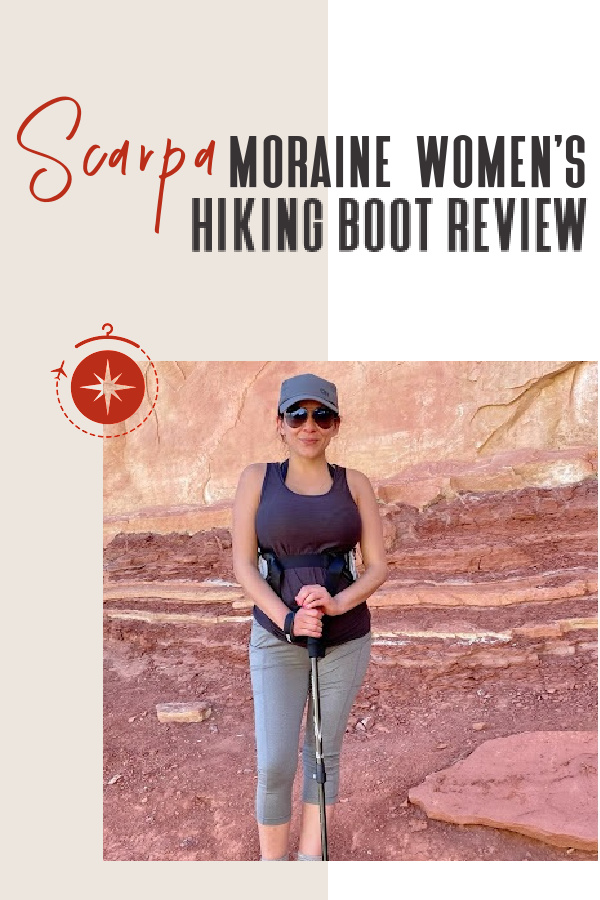 ---
We hope you liked this review of the Scarpa Moraine hiking boot! Please share this post with your friends on Facebook, Twitter, and Pinterest. Thanks for reading!
---