Support TFG by using the links in our articles to shop. We receive a small commission (at no extra cost to you) so we can continue to create helpful free content. As an Amazon Associate, we earn from qualifying purchases made on Amazon in addition to other retailers featured on the blog. Thank you, we appreciate your support!
Read my Blondo Villa Waterproof Boots review and find out why Travel Fashion Girl readers and I love this comfortable boot for travel!
---
Blondo Villa Waterproof Boots Review
---
Table Of Contents
If you've been reading TFG for a while, you've likely seen us (and our readers) mention the shoe brand Blondo a number of times. Blondo boots are some of the best booties for travel because they're comfortable, durable, stylish, and waterproof.
Here, I'm reviewing some of the best black ankle boots for traveling, which are also the No. 1 black ankle boot for travel: the Blondo Villa Waterproof Bootie. You'll learn why these Blondo waterproof boots are popular, especially with our Travel Fashion Girl readers.
Blondo Villa Waterproof Ankle Boot
Blondo Boots Basics
Style: Villa waterproof bootie
Material: Waterproof suede, nubuck, and leather
Colors: Black suede, black leather, butterscotch leather, cognac nubuck, dark grey suede, mushroom suede, and taupe nubuck
Heel Height: 1 ¾ inch
Travel Type: Wear these for stylish city vacations any season!
Blondo Villa Weatherproof Suede Boots
My Favorite Blondo Villa Bootie Features
I, as well as our readers, love this ankle boot for traveling for a number of reasons.
Blondo Ankle Boots Offer Classic Style
Blondo waterproof booties are available in a variety of colors in both suede and leather. I chose the suede style in a neutral hue.
I love this one because it doesn't have any particularly trend-driven details, making it a classic shoe you can wear anytime, anywhere. It's a timeless look and easy to dress up or down.
The boots not only have been a good travel buy, they've been ideal for living in England and also in Southern California. They don't look like rain boots. Instead, they look like regular leather boots with the added functionality of comfort, durable soles, PLUS waterproof materials.
Tip: you only need three pairs of shoes for any trip. Find out how with Pack Light Stylishly!
Blondo Villa Waterproof Dark Grey Suede Bootie
The Blondo Villa is Waterproof
One of the biggest benefits of this bootie is that it's really waterproof.
Blondo shoes are not only comfortable, but they're also waterproof, so you can easily walk in them on wet surfaces or in the rain without worrying about ruining the leather or suede. Yes, even the weatherproof suede boots hold up to rain, wet weather, and even snow.
One of our readers says, "Mine have survived Seattle rain and Michigan snow. Feet stayed dry and warm in both. Excellent weatherproofing."
Our readers vouch for their waterproof feature and so do we. I live in them here in England where it rains a good part of the year.
Looking for cute rain boots? See our list!
Blondo Women's Boots are Comfortable
Comfort when walking is one of the most important features for travel shoes, and Blondo Villa booties are extremely comfortable.
They have a stacked, 1¾-inch heel that's thick and durable, so it actually provides more support than flat shoes. This heel also offers some arch support, which adds to its comfort.
These booties are so comfortable, and I can walk hours on end in them without any blisters or pain.
A reader says, "I'm buying my third pair at the anniversary sale! I prefer the lower heeled style bootie — looks like they've got a cute one. Love that they are waterproof, and I find them very comfortable for walking."
Blondo Villa Ankle Boots make our list of the comfortable walking shoes!
Blondo Villa Waterproof Ankle Bootie
Blondo Boots Provide Stability
The rubber sole on this ankle bootie offers great stability whether you're walking on cobblestones, hilly streets, or uneven surfaces. The flexible, rubber sole means you don't have to worry about slipping. I love how sturdy these booties feel when I'm walking in them.
A reader says, "I wore mine OUT all over London! Love them!"
Another reader says, "I bought a pair last year and wore them in London and Edinburgh. They didn't need to be broken in and my feet stayed dry. I live in Boston and they're even good in light snow."
Blondo Villa booties are among the best shoes for Europe with its cobblestone streets!
Blondo Ankle Boots are True to Size
I'm usually a 6 1/2 with heels, sandals, and flats but a size 7 in sneakers and boots. I like a good fit and for shoes not to be loose. I originally ordered them in a size 7 and sent them back for a 6.5.
The size 6.5 fits me perfectly in length and can be worn with a thin merino wool blend sock. A size 7 fits me slightly too long but can be worn with a thicker merino wool sock.
Merino wool socks are the best options for travel! Find out what other socks are the warmest for winter travel.
A reader says, "Love my Blondos. I have narrow flat feet, and they're great for me. Buying my third pair. May buy a fourth."
If you have a wide foot, they may not be the best option as our readers say that they're most comfortable for a narrow to regular width foot.
Need wide shoes? Shop these cute shoes for wide feet!
Blondo Villa Waterproof Bootie Leather
Blondo Booties are Versatile
These boots are so versatile for all travelers! The neutral color and minimal details make them easy to mix and match with all of your outfits any season. When traveling, I like to take no more than three pairs of shoes.
I love ankle booties when traveling to colder or rainy destinations. These Blondo Villa boots are perfect for minimalist travel as you can pair these with any outfit, from a dress to jeans.
One reader says, "I have two pair and am buying a third, if that tells you anything."
Blondos make the list for the best shoes for travel!
Blondo Villa Boots are Packable
Lastly, these boots are easy to pack as they take up less space than a taller calf-length or knee-length boot. This is one of the reasons why ankle boots are one of the most popular styles for traveling in cooler seasons. They keep your feet covered and protected without being bulky in your luggage. Packing cubes make the perfect shoe bags to protect your luggage from dirty shoes.
A reader says, "I've had a pair of tall boots for years and just got booties. I'll be getting more pairs soon, for sure!!!"
Use this free packing list to streamline for travel planning!
Blondo Villa Waterproof Boots Review: Video
Watch this video!
Blondo Villa Waterproof Bootie
Why Ankle Boots are the Perfect Shoe for Travel
Ankle boots, in general, are one of our favorite fashion essentials to pack for travel.
For one, ankle boots are some of the most functional shoes to travel with in colder seasons, in transitional seasons, such as spring and autumn, and when traveling to multiple destinations with different climates.
It's also really convenient to take an ankle bootie, because they're much more packable than a tall boot or a knee-length boot. And lastly, you can easily dress ankle booties up or down, which makes them so versatile.
Since TFG's readers loved this brand of waterproof boots so much, I decided to buy a pair of the ankle booties to try them for myself. As expected – our readers always have the best recommendations.
With this Blondo Villa Waterproof Boots review you know why our readers and I love these boots for travel.
Blondo Villa Black Ankle Bootie
Where to Buy the Blondo Villa Waterproof Boots
I truly believe the Blondo Villa waterproof ankle booties are one of the best black ankle booties for travel. I recommend checking them out in the black leather as well as the neutral suede hues.
You can purchase the Blondo Villa waterproof boots on Amazon!
Additional Popular Blondo Waterproof Ankle Boots
Shop: Amazon
Blondo Liam
Yes, another awesome style from Blondo!  The Liam boots are also waterproof. They feature a lower heel, so they're a nice, more casual alternative. Plus, the side zipper and tassel add a decorative and cute touch to this style.
One traveler is very please with how these boots held up during a trip. "I overcame my fears and bought these boots online and they were so worth the risk. They're comfortable, waterproof, and have a good tread to prevent slipping on wet surfaces. I bought them for a trip to Ireland and put them through gravel, fields of deep wet grass, long walks down tiled corridors, streets, and they are comfortable and dry and came away looking good. I'm happy with this purchase!"
Shop: Amazon
Blondo Dagger
Readers have been loving the Blondo Dagger boots which are waterproof, even protecting feet against slush—a common occurrence in winter. They're also considered comfy by users and have a rubber sole so you can grip onto walking surfaces with confidence. The standout buckle gives it a fun, biker look and chunky soles may not be for everyone, but this has been a winner with the TFG community overall!
Shop: Amazon
Blondo Elvina 
We love the gorgeous Blondo Elvina boots, especially the crocodile pattern! Fully waterproof, these have flexible movement in the rubber sole and they won't slip so easily on wet surfaces so you can feel stable as you're walking. And with a slightly higher than other Blondo boots, it has a sleek look too. 
"I wore this boot in NYC during some rain, walking all day," says a happy user, "I walked a lot. I wore it almost all the time. I love the shoe and it's very stylish and you can dress it up or down. Glad I bought them; met my needs and totally waterproof which was the main reason I was shopping Blondo to begin with."
Shop: Nordstrom
Blondo Danika
Stomp it up with these new reader favorites! The Blondo Danika platform flat boots are made of sleek waterproof leather, they're comfy and feature a stretchy rib panel around the ankle for a perfect fit. The chunky lug sole adds a little edge and has excellent traction too.
A reader describes these chunky flat boots: "The platform bottom is super light and gives me much needed height without sacrificing comfort. The stretch panels on the side give the shaft a custom fit. These are a good value!"
Shop: Amazon
Blondo Samara
The Blondo Samara boots have the same reliable waterproof leather, along with a cushioned footbed. The design is stylish as well, featuring a suede pull top and square toe.
One wearer shares their first experience wearing these booties, "The first time I wore this boot it was drizzling and I walked over two miles. My feet were dry and comfortable! The sole is perfect for walking up and down hills. No slipping." A simple, but elegant pair that will carry you from fall to spring!
Looking for some extra support? Check out our readers tried and tested recommendations for the best insoles for a day spent on your feet!
 Compass Rose Carry On Packing Cubes
How to Pack Your Ankle Boots
Though you may wear your boots on the plane, you might want to store your shoes afterwards or choose to wear a different pair home.  Start by selecting a container such as a shoe bag or a packing cube, then pack according to your type of luggage. See more in the video below.
Watch this video to start learning how to organize with packing cubes!
Whether you have a front loading or top loading backpack, it's crucial to put your shoes first, at the bottom. If you're planning to pack shoes in a rolling carry-on, remember that it stands sideways, so it's important to note how it functions when it is upright. Most often, your shoes will need to be packed close to the wheels, so that the luggage maintains its balance in transit.
---
What favorite features would you add to this Blondo Villa waterproof boot review? Share your top picks in the comments below!
---
For more ideas on boots for travel, please read:
---
LIKED THIS POST? PIN THIS PIC TO SAVE IT!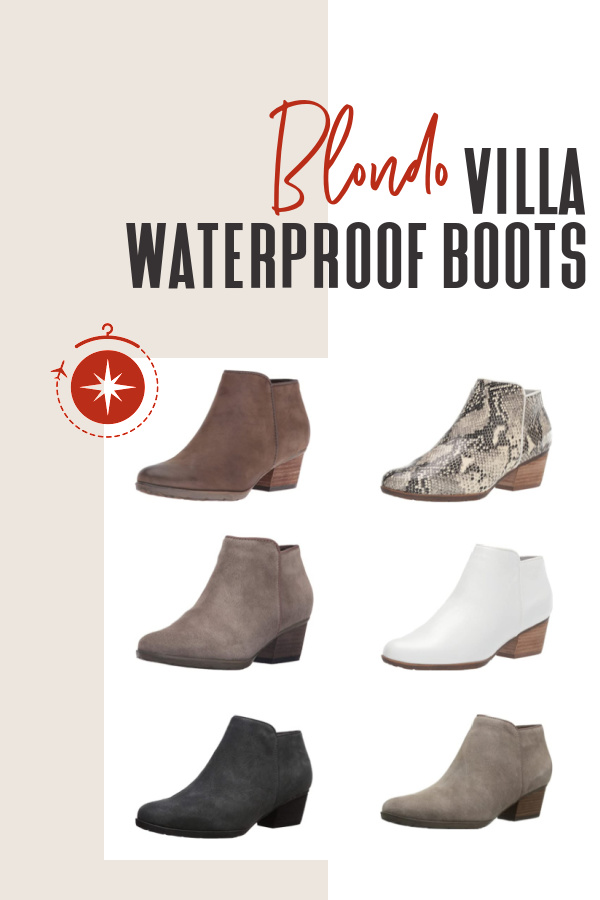 ---
Hope you liked this 
Blondo Villa Waterproof Boots review

. Share this post with your friends on Facebook, Twitter and Pinterest. Thanks for reading!
---