Support TFG by using the links in our articles to shop. We receive a small commission (at no extra cost to you) so we can continue to create helpful free content. As an Amazon Associate, we earn from qualifying purchases made on Amazon in addition to other retailers featured on the blog. Thank you, we appreciate your support!
Snow trips require expert packing, as it's not easy fitting thick coats into a small bag. We're sharing our expert tips on what to wear in the snow along with a snow packing list!
---
What to Wear in the Snow
Written By: Sebrin Elms
---
It's that time of year when we start preparing for wintery, wonderland travel. Snowy slopes, cozy cabins, and charming little towns with twinkling lights are just some of the backdrops we can expect this season.
But one thing that makes us want to give up and book a trip to Bali? The idea of packing all of those snow clothes in a single suitcase and knowing exactly what to wear in the snow! The video below might help get you started. 
Get started on preparing for winter travel with this video! 
It's important to note that bulky fabrics won't necessarily make you feel warmer! You have to choose the right cold weather fabrics and layer your items strategically.
But before you can pack, you need to know what to wear in the snow.
What to Wear in the Snow
Fashion in the snow is actually doable (and can be super adorable). Dress like a snow bunny or a high fashion hiker amongst the white powder with the help of our snowy style guide.
Unless you're hiking the frozen tundras of the North Pole, snowy attire is almost always about layers. You'll most definitely need a weatherproof jacket, a sweater or thermals, and a regular shirt to add to your travel capsule wardrobe.
Depending on how cold or snowy the climate, you can go with jeans (and even tights underneath to keep you warm) or snow pants if it's really cold. Pair them with a merino wool base or cotton long-sleeve t-shirt, and layer with a sweater. You also can explore more on what winter clothing to choose by watching the video below.
This video can help you plan a packable winter wardrobe!
Now you can finish with accessories! Suede mittens with faux fur trim, cute ear muffs, a chunky knit scarf and cute cabin socks are just some of the accessories that can help dress up your layers upon layers of snow proof clothing. Just make sure that fashion meets functionality.
Odds are you will be going out on the town for one night, even if it is freezing. Wear a sweater dress with long sleeves or is forgiving so that you can wear tights underneath without the seams showing through. Bundle up with ankle boots and accessories, including your scarves, mittens and jackets. Give it all to coat check when you arrive!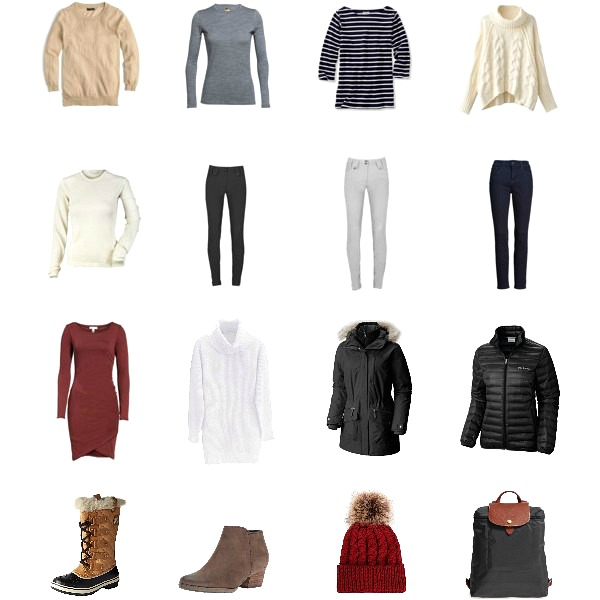 Sweater | Thermals | Longsleeve | Pullover | Baselayer | Pants 1 | Pants 2 | Jeans | Dress 1 | Dress 2 | Coat | Jacket | Boots 1 | Boots 2 | Beanie | Backpack
Snow Packing List
How to Pack for a Snow Trip
Now that you know what to wear in the snow, it's time to figure out how to pack all those layers and big jackets!
Here's a quick summary on how to pack for a snow trip:
Snow boots, heavy jackets and large sweaters take up a lot of packing room and the idea that we can get all of this in a single bag is quite frightening. But fear not, fashionistas! We can help you pack fashionable necessities that will make you look like cute little snow bunnies all while saving money and major luggage hassles.
To help you make the most of your winter gear and limited luggage space, start by reading these general tips on packing for winter travel: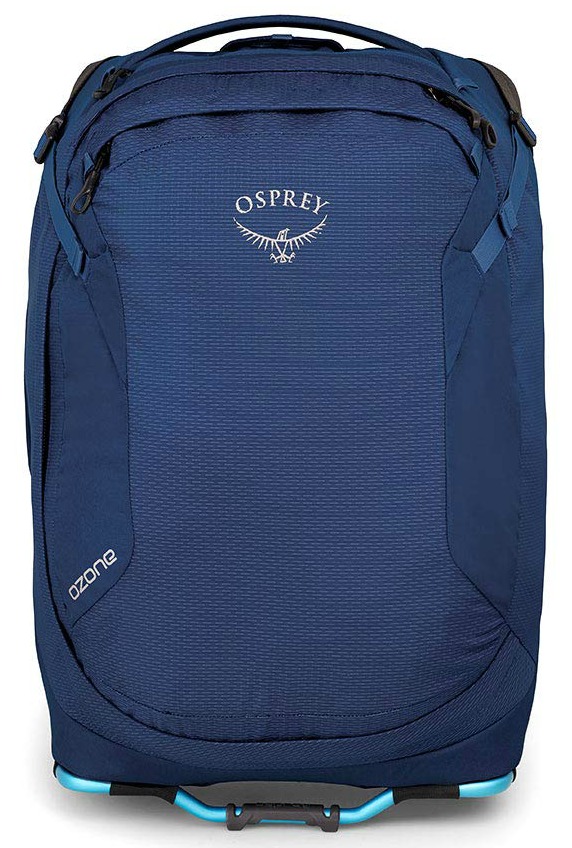 Pick the Right Suitcase
You'd think the bigger the better would serve you best with all of these heavy snow items. But the last thing you're going to want to do is lug a heavy suitcase in the snow.
Unless you're taking a Christmas cruise or have your own personal valet, you're going to want medium-sized luggage so your arms don't fall off carrying your bag. But the real question is: should you do hard or soft luggage?
In my experience, soft luggage tends to offer more space in last-minute packing situations. Hard luggage is great for reminding us what we really need and forces us not to overpack. But since we have bigger items that we need to squeeze in our gear, soft luggage is usually best. Or, consider a flexible rolling suitcase or a large backpack.
Discover the top luggage brands for travel and why they love them!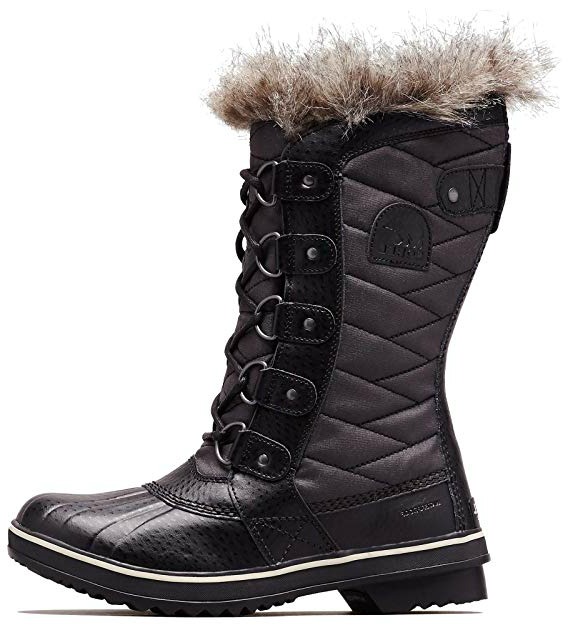 Start With the Boots
When deciding what to wear in the snow, you're definitely going to need snow boots or rain boots that work as snow boots. Unfortunately, these are the least forgiving items when it comes to packing space.
First, gather all of your bras, undies, scarves and mittens that you know you'll bring with you. Shoves them to capacity in those boots (roll, fold or just shove in there). Then pack your boots. To help save some space, place one boot in your bag to make it look like an "L" shape. Then, put the other boot upside down and facing its other half.
It should make a loose looking rectangle frame. Not only will this save space but will help build a frame for your suitcase (which is incredibly useful in the event that you're using soft luggage).  If you're struggling to figure what types of winter shoes to pack, the video below might help!
Watch this video to learn the best winter shoes to take with you!
If possible, only bring a single pair of snow boots. You could always bring a pair of sneakers for light weather days or event booties for a night out on the town. But you don't want to pack extra boots you don't need.
Not exactly recommended, since new shoes should be broken in before a trip so you know they are comfortable, but if you really need two pairs, try waiting to buy a pair when you arrive. They'll be brand new, in fashion with local trends, and save space in your bag. 
Here's the best women's waterproof leather boots for travel!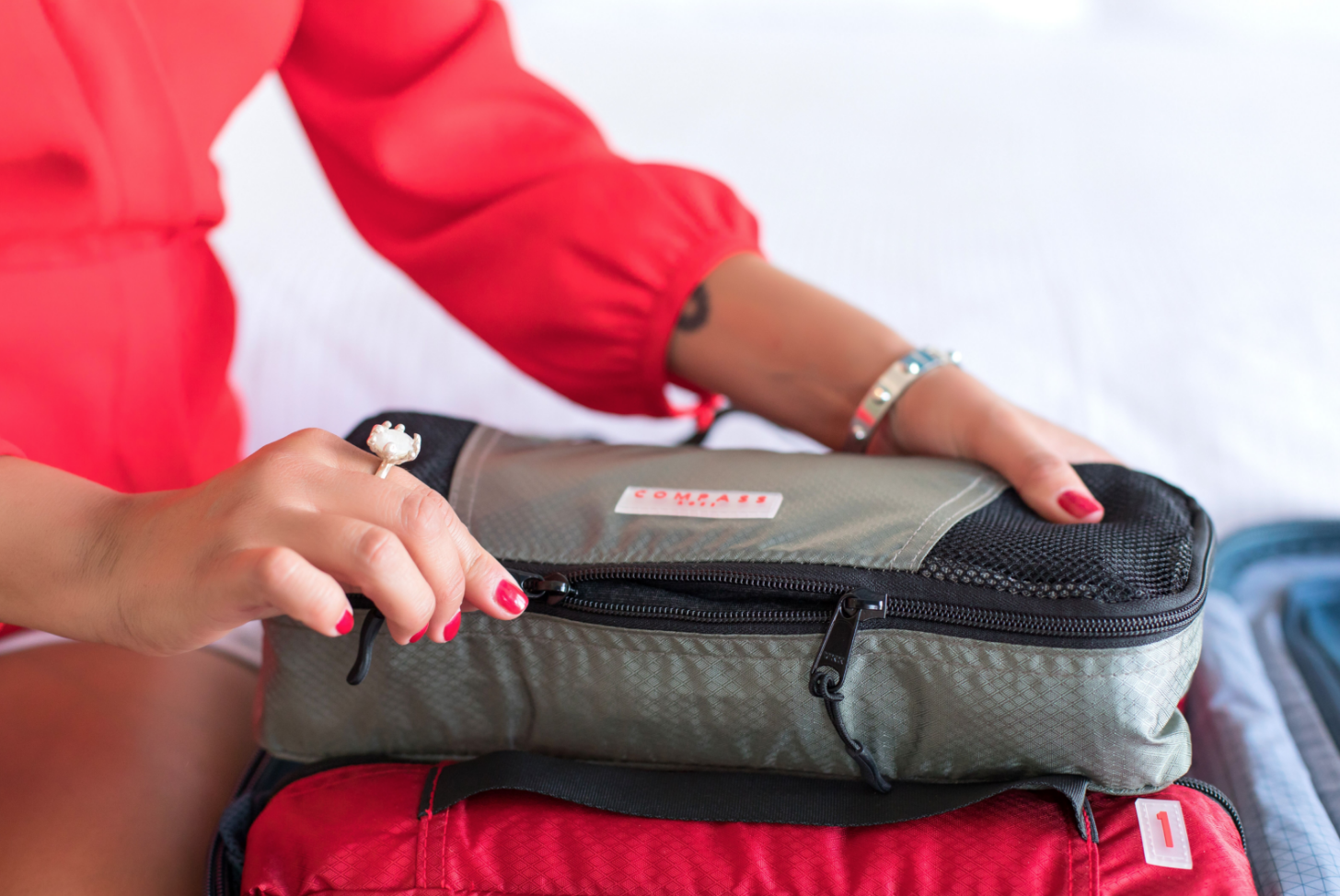 Compress Fabrics When Possible
Much like snow boots, heavier fabrics aren't forgiving when it comes to packing. They're bulky and there aren't many ingenious ways to fold them in your bag. This can include snow pants, coats, or heavy sweaters.
Generally, bulky sweaters take up a lot of room in a suitcase, which is why it's better to choose a warm, yet packable fabric like merino wool. As an example, the J. Crew Margot Sweater is 100% merino wool and rolls up small in packing cubes to compress your clothing as shown in the packing video below.
Learn hacks with packing cubes in the video above or watch the entire five-part YouTube series!


With items already in packing cubes, just place them in around your already packed snow boots. To save as much space as possible, try wearing your bigger items at the airport. I always bring my heavy or large jackets on the plane in case I get cold or can use them as a pillow.
Read these tips on how to choose the best packing organizers!
Icebreaker Merino Top and Leggings
Start Adding Accessories
Most of the prime real estate in your luggage should be filled with snow gear and boots at this point. But you might notice there are still a few available slots and layers.
Depending if you're checking a bag or using this as a carryon, this is when you can start adding some of those last-minute things you know you'll need but can maneuver a lot better.
This can include light shirts, pajamas, makeup and toiletries, hair tools, and any remaining socks, scarves and hats you couldn't fit in your boots. Start finding spare pockets and spaces to add these items you can't live without.
Here's a list of our favorite thermal layers to ensure you pack light and stay warm!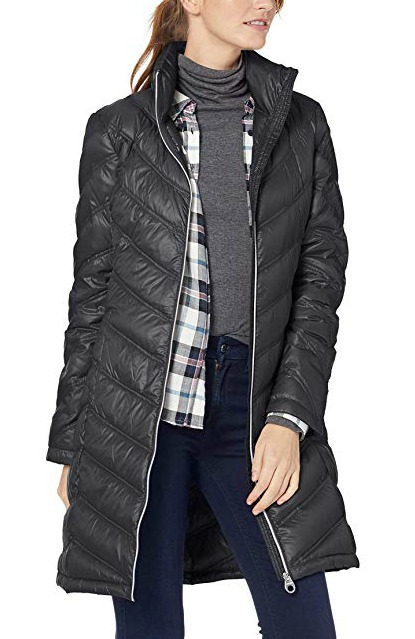 Calvin Klein Chevron-Quilted Packable Down Coat
Finish With Items You Can Squish
Odds are you have a puffer jacket you have to bring, or an extra sweater, but can't seem to fit it all. Fold the items as best as you can (those puffer jackets are a beast to fold!), place them at the top, inside part of your pack and fold over your suitcase top. 
Finally, sit on your suitcase and have a friend help you zip! This might not be the most glamorous way to pack, but you'll definitely get your last minute items in there.
Another option for outerwear is to choose a packable down jacket which can fit better into your luggage, yet still keep you toasty. And remember: where you're traveling is cold! Since you're most likely going to wear layers to and from the airport, you could also wear a down jacket which will inevitably save room in your bag overall.
Read this guide to about packing winter jackets! 
---
What are your tips on what to wear in the snow? Share your snow packing list in the comments below!
---
For more packing strategies, please read the following:
---
LIKED THIS POST? PIN THIS PIC TO SAVE IT!
---
We hope you liked this snow packing list and tips on what to wear in the snow. Please share with your friends on Facebook, Twitter, and Pinterest. Thanks for reading!
---
Author Bio: Sebrin is a newlywed, flower child, and travel-obsessed blogger. When she isn't traipsing the globe with her husband, you can find her curled up with a book, snuggling with her kitty babies, or binge-watching Netflix. Follow along her travels on her blog or instagram!
---