Support TFG by using the links in our articles to shop. We receive a small commission (at no extra cost to you) so we can continue to create helpful free content. We earn from qualifying purchases made to the featured retailers. Thank you, we appreciate your support!
Snow trips require expert packing, as it's not easy fitting thick coats into a small bag. We're sharing our expert tips on what to wear in the snow along with a snow packing list!
---
What to Wear in the Snow
Written By: Sebrin Elms
---
Table Of Contents
It's that time of year when we start preparing for wintery, wonderland travel. Snowy slopes, cozy cabins, and charming little towns with twinkling lights are just some of the backdrops we can expect this season.
But one thing that makes us want to give up and book a trip to Bali? The idea of packing all of those snow clothes in a single suitcase and knowing exactly what to wear in the snow! The video below might help get you started. 
Get started on preparing for winter travel with this video! 
It's important to note that bulky fabrics won't necessarily make you feel warmer! You have to choose the right cold weather fabrics and layer your items strategically.
But before you can pack, you need to know what to wear in the snow.
Going skiing? Find out what to pack for your ski trip here!
What to Wear in the Snow
Fashion in the snow is actually doable (and can be super adorable). Dress like a snow bunny or a high fashion hiker amongst the white powder with the help of our snowy style guide.
Unless you're hiking the frozen tundras of the North Pole, snowy attire is almost always about layers. You'll most definitely need a weatherproof jacket, a sweater or thermals, and a regular shirt to add to your travel capsule wardrobe.
Depending on how cold or snowy the climate, you can go with jeans (and even tights underneath to keep you warm) or snow pants if it's really cold. Pair them with a merino wool base or cotton long-sleeve t-shirt, and layer with a sweater. You also can explore more on what winter clothing to choose by watching the video below.
This video can help you plan a packable winter wardrobe!
Now you can finish with accessories! Suede mittens with faux fur trim, cute ear muffs, a chunky knit scarf and cute cabin socks are just some of the accessories that can help dress up your layers upon layers of snow proof clothing. Just make sure that fashion meets functionality.
Odds are you will be going out on the town for one night, even if it is freezing. Wear a sweater dress with long sleeves or is forgiving so that you can wear tights underneath without the seams showing through. Bundle up with ankle boots and accessories, including your scarves, mittens and jackets. Give it all to coat check when you arrive! 
 Alex's Snow Packing List
Now that you have some great ideas on what types of clothing to wear, it helps to know the specific layers to bring to stay warm.  When editor-in-chief Alex visited Park City, Utah for a week-long wintry stay in a Deer Valley cabin, she wanted to bring cute cozy clothing to spend lazy days in the cabin, enjoying the view, and being surrounded by nature.
TFG readers have been asking about what she brought specifically, so she's sharing her most vital items for one week in the snow that kept her toasty warm, which you could use as a template for your own winter trips!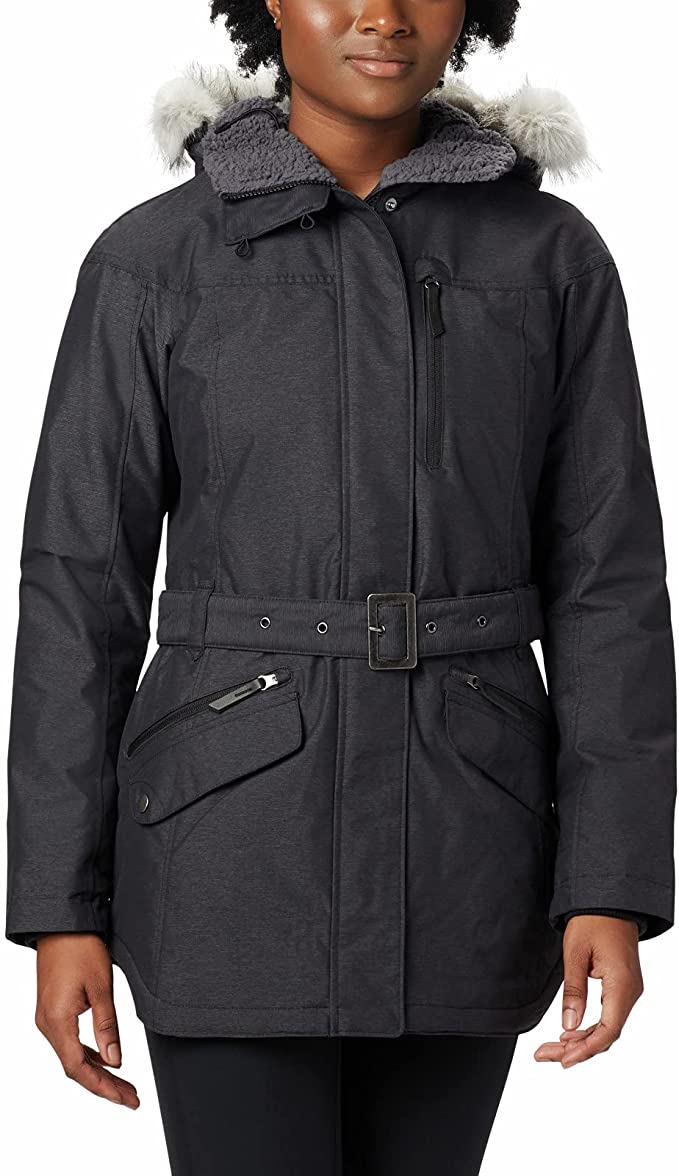 Columbia Carson Pass II Jacket | Also at Columbia 
Columbia Carson Pass II Parka
​​The Columbia Carson Pass II is one of the most popular coats on the blog!  It's durable and water-resistant, which makes it perfect for adventurous trips and cold, wet weather. And since the fabric is reinforced, it won't easily rip or snag!
It's waterproof and breathable at the same time, so it doesn't feel too bulky to pack. The adjustable storm hood keeps you covered yet on those chilly-sunny days you can easily remove it.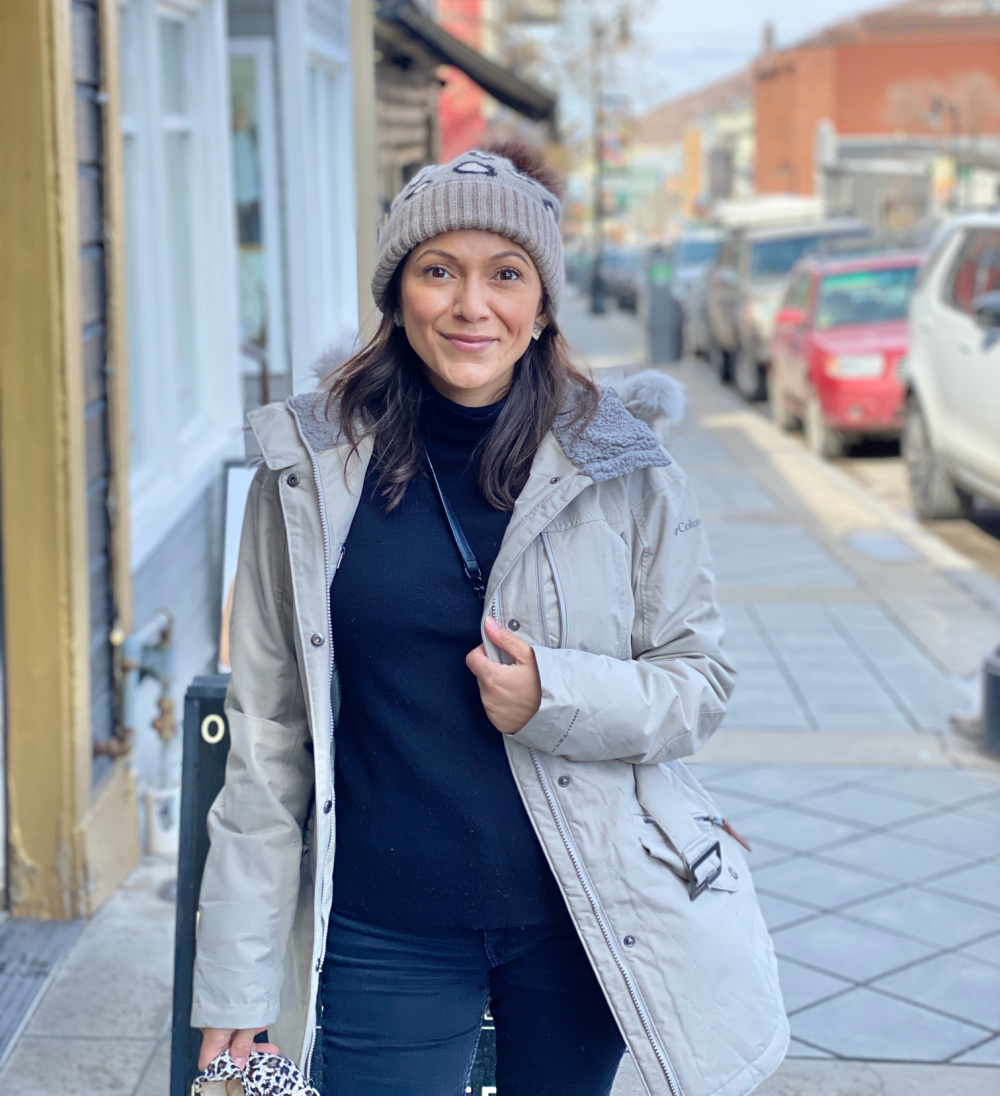 In Columbia Jacket and Cashmere Wool Hat
Alex gives her mini-review, "I not only wore it the during a winter Utah trip, but also my National Parks road trip earlier this year when I transitioned from chilly Colorado to more desert climates like Vegas and Utah, and it kept me SOO warm!" 
Overall, it has a modern but classic fit, which means it's suitable for a range of motion and is ideal to wear outdoors to explore or hike around. Available in sizes XS-XXL and 1X-3X.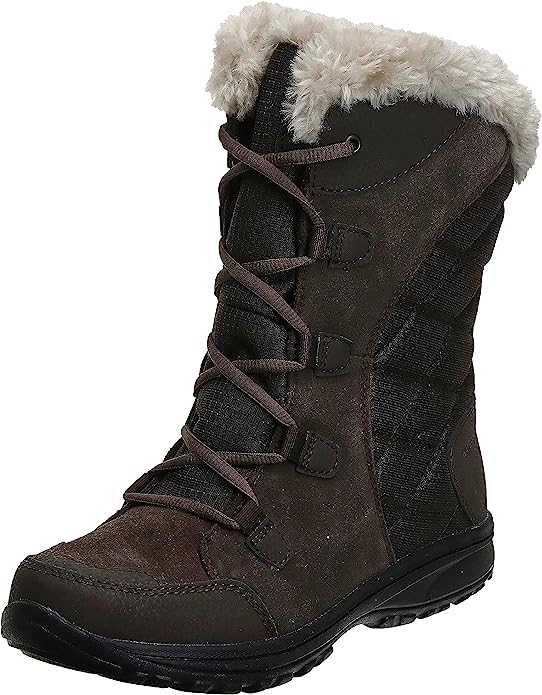 Columbia Women's Ice Maiden II Snow Boot
Columbia Ice Maiden II Snow Waterproof Boots
When you need a boot that's durable and can withstand cold temperatures, reach for the Columbia Ice Maiden II.
This pair is a modern take on the winter staple of waterproof boots. Their sleek style is minimalistic while still retaining all of the practical aspects of snow boots. The faux fur lining adds style, comfort, and added insulation. These types of shoes are definitely the best waterproof boots for a ski trip or other snow adventures.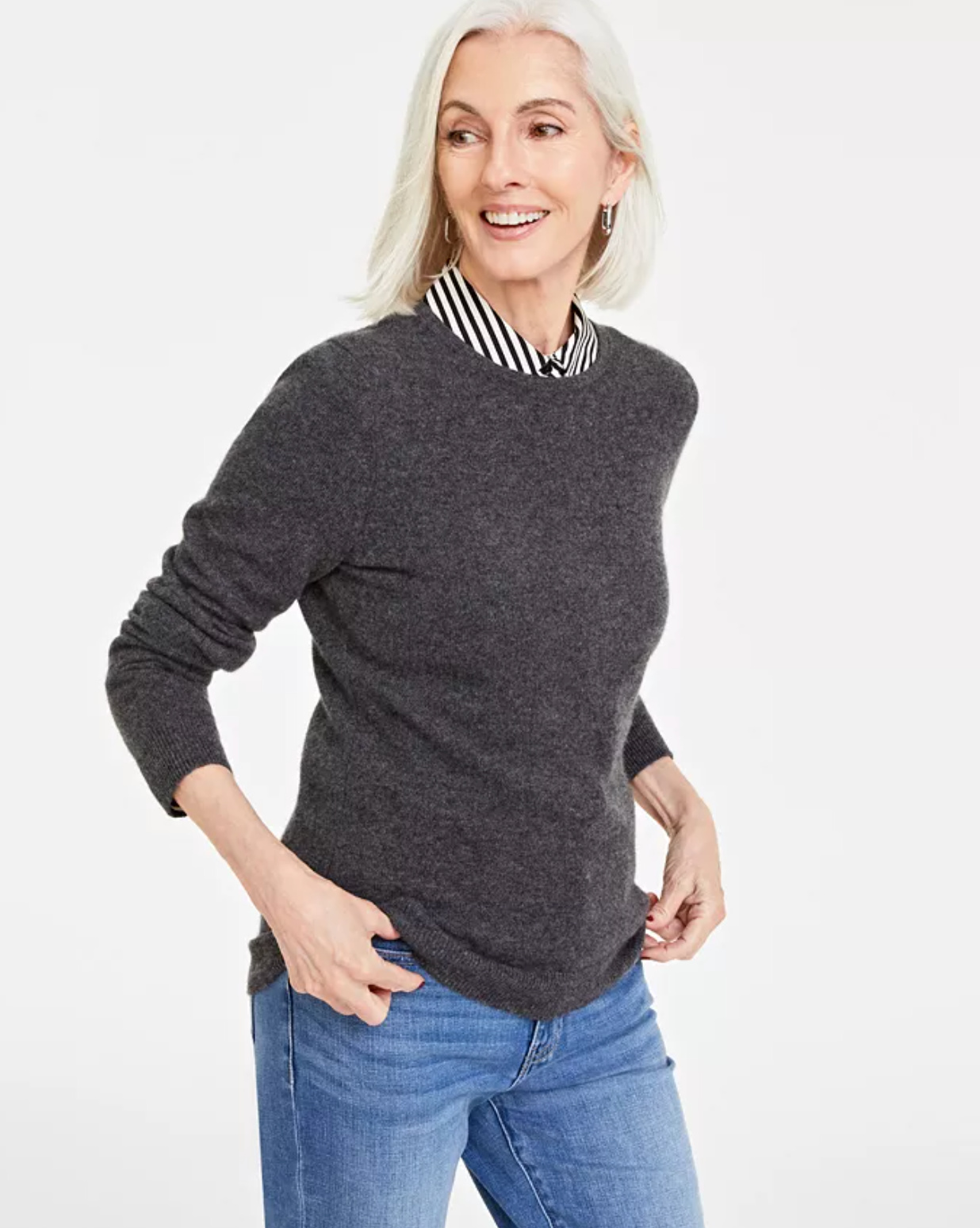 Charter Club Cashmere Crewneck Sweater | Sizes P/P-XXL
Charter Club Cashmere Sweater 
If you've been reading TFG for a while, you know how obsessed we are with J. Crew!  Alex fell in love with the Tippi sweater which is not available anymore, but the Charter Club Cashmere Crewneck Sweater has become the next winter choice for many readers. This comes in many gorgeous colors, so there is a color to suit everyone, and it's soft as well as durable. It's offered in inclusive sizing too (PP-XXL)!
One review says, "The color is as exquisite as is the luxurious soft feel. The length is on trend. I highly recommend this sweater."  This is also available in plus sizes (0X-3X), too!
When choosing a sweater to join you on your winter travels opt for one made from fleece, wool, cashmere, turtleneck or alpaca!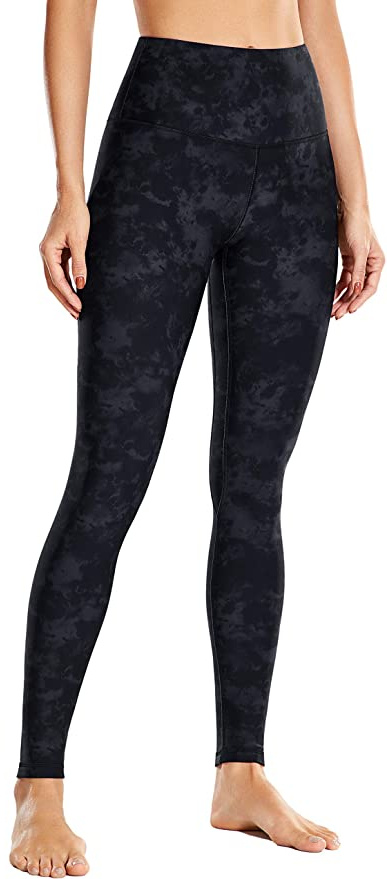 Carovia Fleece Lined Leggings
A highly popular reader pick, the Carovia fleece leggings are seamless and feel smooth like hosiery yet keep you warm!
Alex's short review says, "I ordered the Carovia fleece leggings for a winter trip to Deer Valley, Utah. I wasn't planning to go skiing so I wanted clothing that would be cozy to wear inside the cabin, and this fit the bill. I prefer these fleece leggings to the Angelina brand because the fabric is smooth on the exterior so the fabric feels more durable, and they can double up as regular leggings. They have a good fit and have held up well despite going in the dryer (on low setting). Paired with the matching fleece long sleeved top, a down jacket, and my Ugg boots, these were incredible and kept me comfortable."
They come in sizes XXS-XL (and comes with a pocket!).
You can also wear fleece-lined leggings, merino wool leggings, or tights underneath your cold weather pants to stay warm in the snow. 
Terramar Thermasilk Pointelle Top | Terramar Thermasilk Pointelle Pant
Terramar Thermasilk Warm Base Layer Top and Bottoms
While fleece leggings are definitely a must, the most vital item above all is thermals. Wearing them underneath everything allows the body to retain constant warmth.  
If you're looking for a layering item, consider the silk Terramar base layer top that can keep your body warm, but also wick away sweat during any winter activity. It also doesn't retain odors! 
Most of the time, it's better to buy your thermals in a set, so don't forget you can pick up the Terramar silk bottoms to create your own set! 
While merino wool clothing makes great base layers, so does silk. And these are a must-have for TFG readers! Both the tops and bottoms are available in sizes XS-XL.
Choose from this and this round up of the best thermals for women!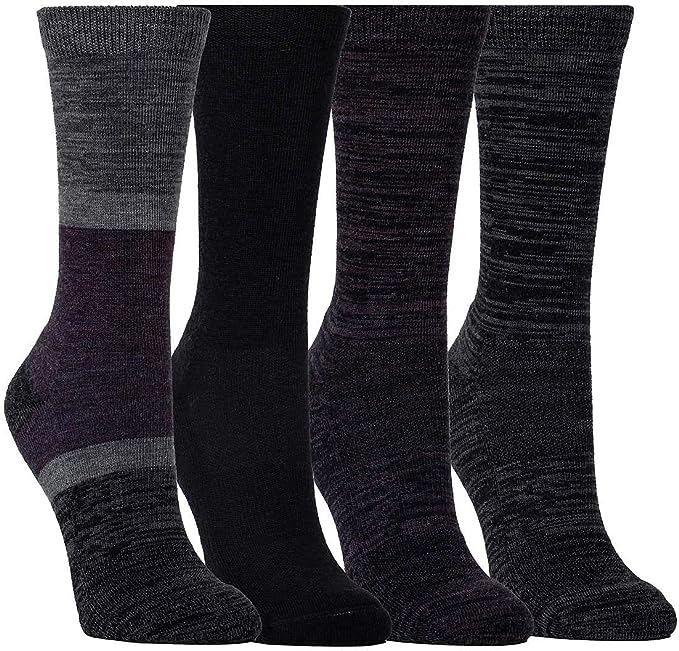 Kirkland Quarter Trail Merino Wool Socks
Kirkland Merino Wool Socks
TFG readers and editor-in-chief Alex adore Kirkland's merino wool socks for their softness, comfort, and warmth factor. One reader shares, "I wash them in cold water and hang them to air dry, but they have held up really well and keep my feet warm, too."
They come in a pack of four and you can choose from several different patterns and colors. With a cushioned footbed and reinforced heel and toe, these socks will last all season long!
She also brought these other warm pieces that are worth mentioning:
To read more about her snowy one-week trip to Park City, Utah, and see her entire packing list, you can find it here!
If you're interested in other ideas, here's a sample winter capsule wardrobe: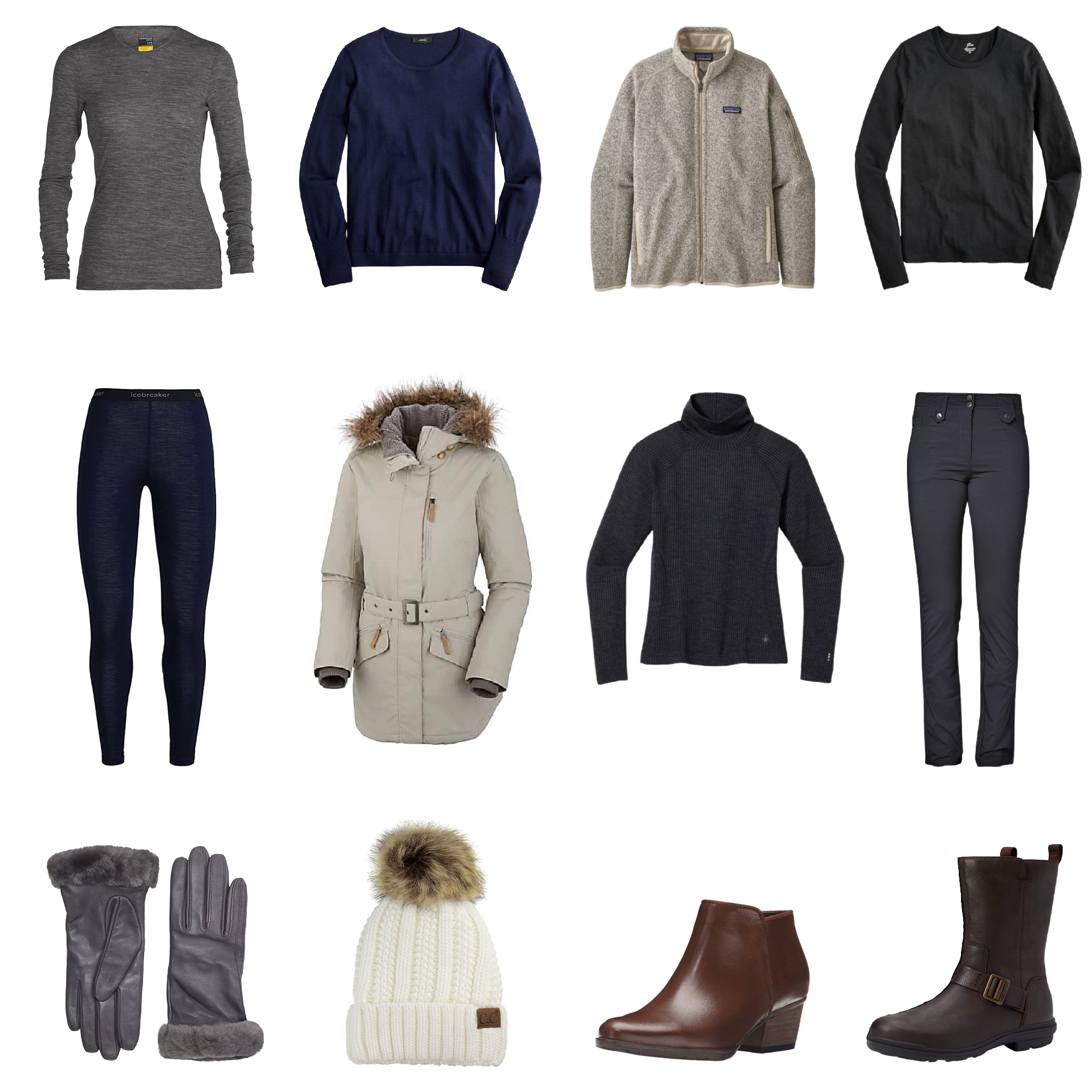 Thermal Top | Sweater | Fleece Jacket | Long Sleeve | Thermal Bottom | Winter Jacket | Turtleneck Top | Pants | Gloves | Beanie | Ankle Boots | Tall Boots
Sample Snow Packing List
How to Pack for a Snow Trip
Now that you know what to wear in the snow, it's time to figure out how to pack all those layers and big jackets!
Here's a quick summary on how to pack for a snow trip:
Snow boots, heavy jackets and large sweaters take up a lot of packing room and the idea that we can get all of this in a single bag is quite frightening. But fear not, fashionistas! We can help you pack fashionable necessities that will make you look like cute little snow bunnies all while saving money and major luggage hassles.
To help you make the most of your winter gear and limited luggage space, start by reading these general tips on packing for winter travel: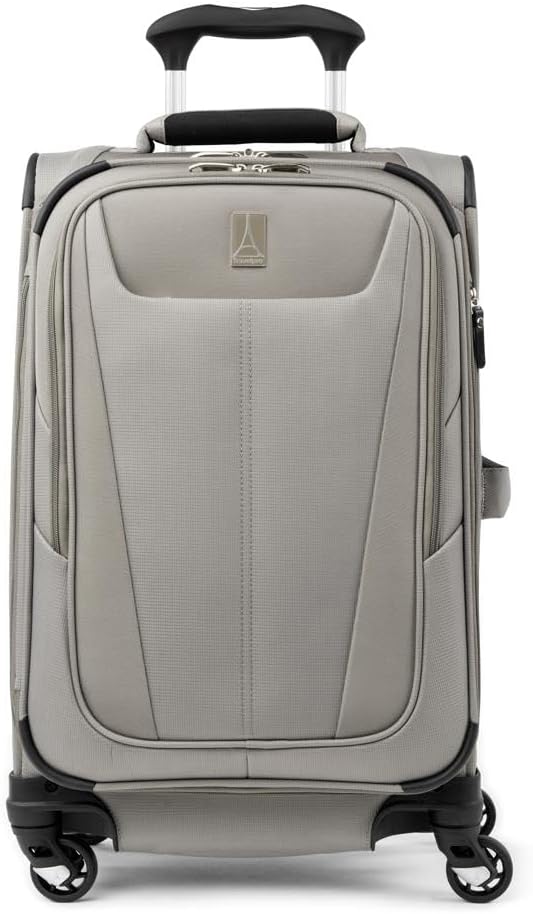 Travelpro Maxlite 5 Wheeled Luggage
Pick the Right Suitcase
You'd think the bigger the better would serve you best with all of these heavy snow items. But the last thing you're going to want to do is lug a heavy suitcase in the snow.
Unless you're taking a Christmas cruise or have your own personal valet, you're going to want medium-sized luggage so your arms don't fall off carrying your bag. But the real question is: should you do hard or soft luggage?
In my experience, soft luggage tends to offer more space in last-minute packing situations. Hard luggage is great for reminding us what we really need and forces us not to overpack. But since we have bigger items that we need to squeeze in our gear, soft luggage is usually best. Or, consider a flexible rolling suitcase or a large backpack.
Discover the top luggage brands for travel and why they love them!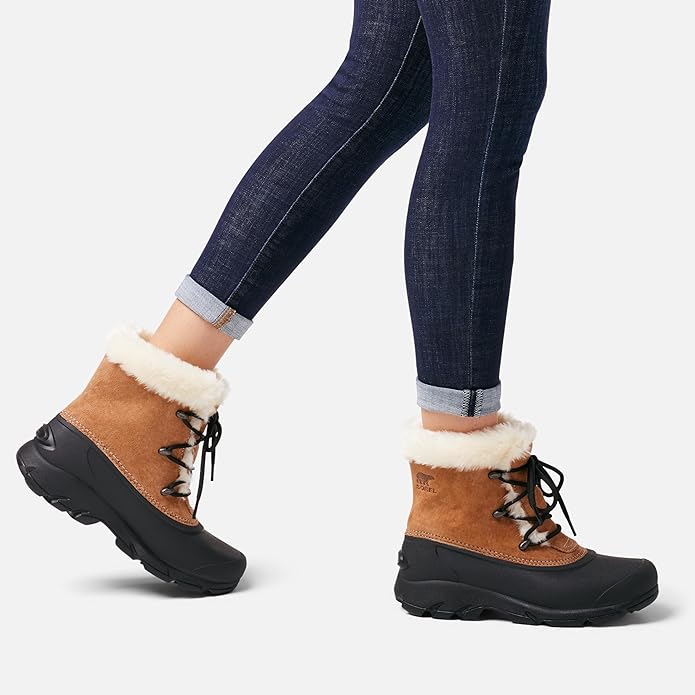 Sorel Explorer II Carnival Snow Boot

Start With the Boots
When deciding what to wear in the snow, you're definitely going to need snow boots or rain boots that work as snow boots. Unfortunately, these are the least forgiving items when it comes to packing space.
First, gather all of your bras, undies, scarves and mittens that you know you'll bring with you. Shoves them to capacity in those boots (roll, fold or just shove in there). Then pack your boots. To help save some space, place one boot in your bag to make it look like an "L" shape. Then, put the other boot upside down and facing its other half.
It should make a loose looking rectangle frame. Not only will this save space but will help build a frame for your suitcase (which is incredibly useful in the event that you're using soft luggage).  If you're struggling to figure what types of winter shoes to pack, the video below might help!
Watch this video to learn the best winter shoes to take with you!
If possible, only bring a single pair of snow boots. You could always bring a pair of sneakers for light weather days or event booties for a night out on the town. But you don't want to pack extra boots you don't need.
Not exactly recommended, since new shoes should be broken in before a trip so you know they are comfortable, but if you really need two pairs, try waiting to buy a pair when you arrive. They'll be brand new, in fashion with local trends, and save space in your bag. 
Here's the best women's waterproof leather boots for travel!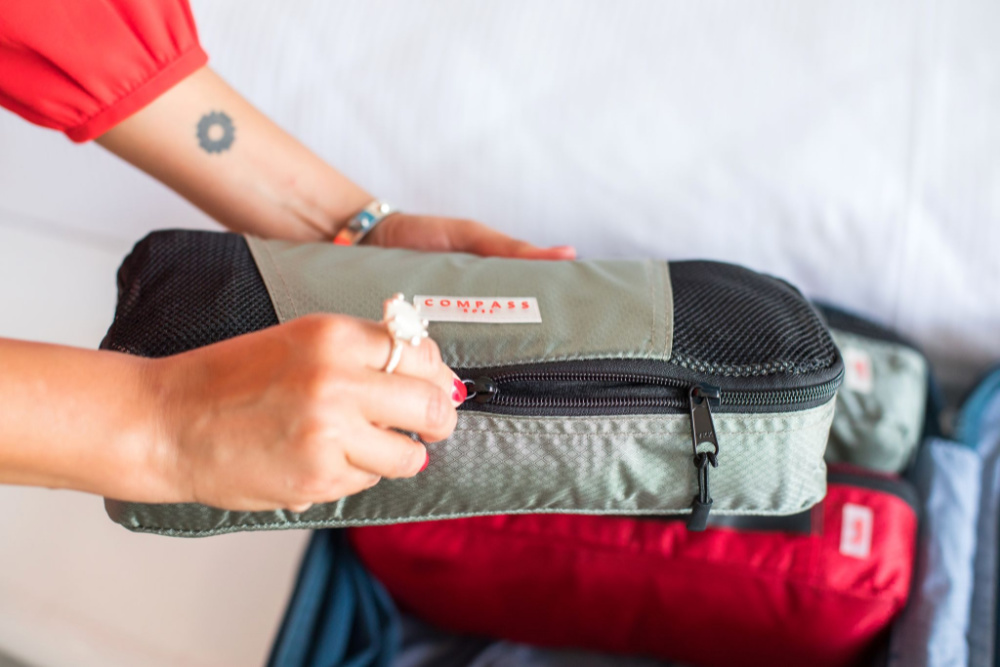 Compress Fabrics When Possible
Much like snow boots, heavier fabrics aren't forgiving when it comes to packing. They're bulky and there aren't many ingenious ways to fold them in your bag. This can include snow pants, coats, or heavy sweaters.
Generally, bulky sweaters take up a lot of room in a suitcase, which is why it's better to choose a warm, yet packable fabric like merino wool. As an example, the Unbound Merino Sweater is made up with 100% merino wool and rolls up small in packing cubes to compress your clothing as shown in the packing video below.
Learn hacks with packing cubes in the video above or watch the entire five-part YouTube series!


With items already in packing cubes, just place them in around your already packed snow boots. To save as much space as possible, try wearing your bigger items at the airport. I always bring my heavy or large jackets on the plane in case I get cold or can use them as a pillow. And if you're looking for other packing organizers, read these tips!
However, there's actually may be the odd occasion where you may need to pack a little more, depending on the destination or activities you'll be doing. In that case, what should you do? 
To give more illustration, when editor-in-chief Alex embarked on her Park City, Utah ski trip, she had to account for not only taking her usual lightweight but warm winter clothes, she also brought clothing that was more thick and plush.
She was traveling with five other people, some of which were skiing, and four of which checked bags. Even though her traveling party rented a large Suburban to drive from Salt Lake City airport to Deer Valley, a group of six people plus coats, luggage, and personal items quickly got cramped! 
Yet, with her lightweight clothing and heavier items, she still managed to pack carryon only! Her BIG secret? Compression bags!
TAKE A LOOK AT THE INSTAGRAM VIDEO BELOW TO SEE ALEX'S STEP BY STEP PROCESS AND LEARN HOW SHE USED COMPRESSION BAGS TO DOWNSIZE AND PACK ALL OF HER WINTER GEAR:
View this post on Instagram
Note: We DO NOT recommend compression bags for fast-paced multi-stop trips, they're great for a single destination when all you have to do is unpack and repack one time. For more multi-stop trips, we recommend using a set of packing cubes and the Compass Rose ones are color and number coded so it's easy to organize clothing if you're having to unpack and repack frequently.
Read this post for even more guidance on how to use compression bags to pack winter clothing!
Icebreaker Merino Top and Leggings
Start Adding Accessories
Most of the prime real estate in your luggage should be filled with snow gear and boots at this point. But you might notice there are still a few available slots and layers.
Depending if you're checking a bag or using this as a carryon, this is when you can start adding some of those last-minute things you know you'll need but can maneuver a lot better.
This can include light shirts, pajamas, makeup and toiletries, hair tools, and any remaining socks, scarves and hats you couldn't fit in your boots. Start finding spare pockets and spaces to add these items you can't live without.
Nomad Lane Bento Personal Carryon Bag and Compass Rose Packing Cubes
Alternatively, if you're bringing a personal item onboard, choosing something multi-use like the Nomad Lane Bento Bag, gives some extra packing options, allowing you spread spread accessories that you may even use in-flight, like toiletries, scarves, or hats, as well as fitting in electronics.
Here's a list of our favorite thermal layers to ensure you pack light and stay warm!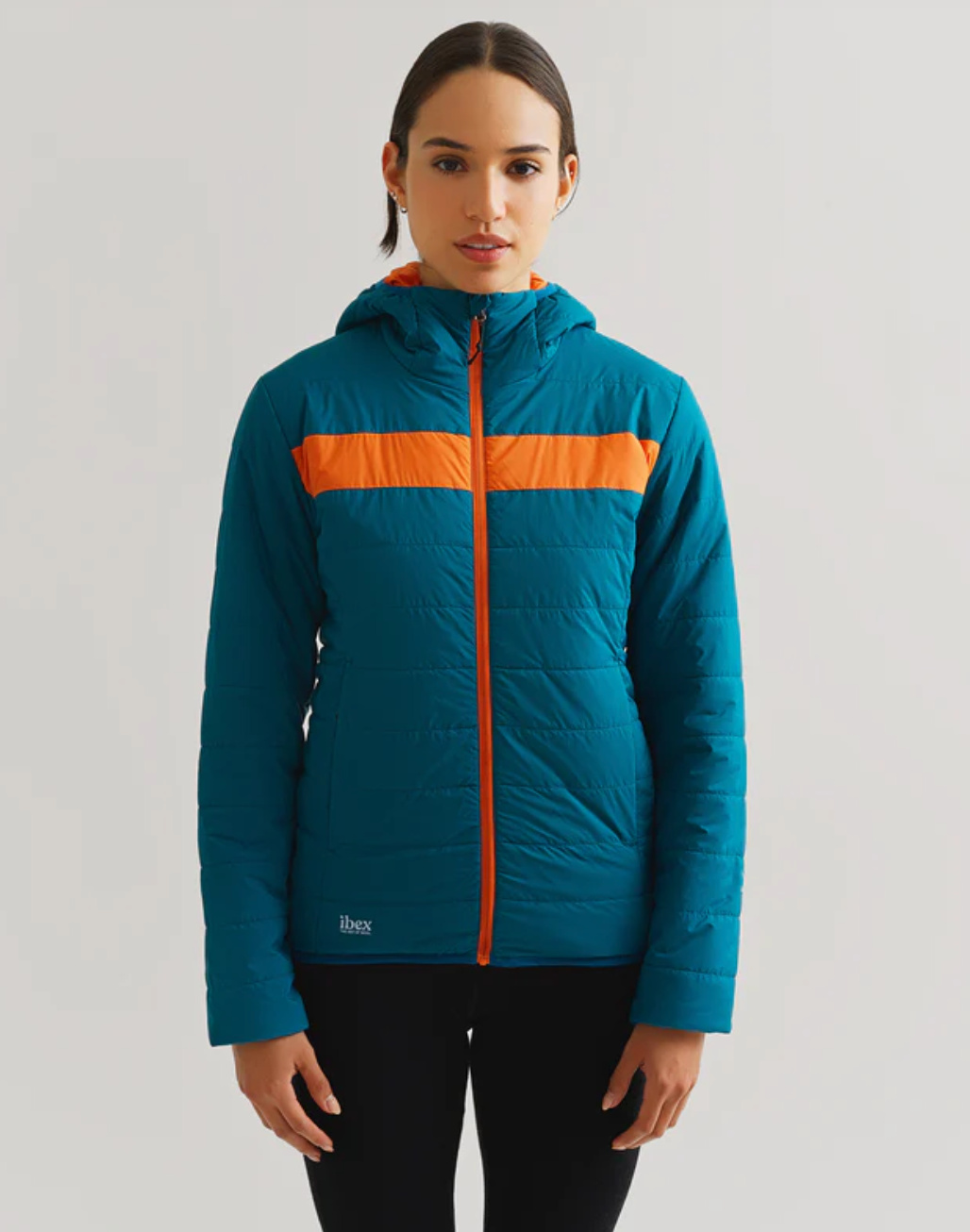 ibex Women's Wool Aire Down Jacket
Finish With Items You Can Squish
Odds are you have a puffer jacket you have to bring, or an extra sweater, but can't seem to fit it all. Fold the items as best as you can (those puffer jackets are a beast to fold!), place them at the top, inside part of your pack and fold over your suitcase top. 
Finally, sit on your suitcase and have a friend help you zip! This might not be the most glamorous way to pack, but you'll definitely get your last minute items in there.
Another option for outerwear is to choose a packable down jacket which can fit better into your luggage, yet still keep you toasty. And remember: where you're traveling is cold! Since you're most likely going to wear layers to and from the airport, you could also wear a down jacket which will inevitably save room in your bag overall.
Read this guide on packing winter jackets! 
---
What are your tips on what to wear in the snow? Share your snow packing list in the comments below!
---
For more packing strategies, please read the following:
---
LIKED THIS POST? PIN THIS PIC TO SAVE IT!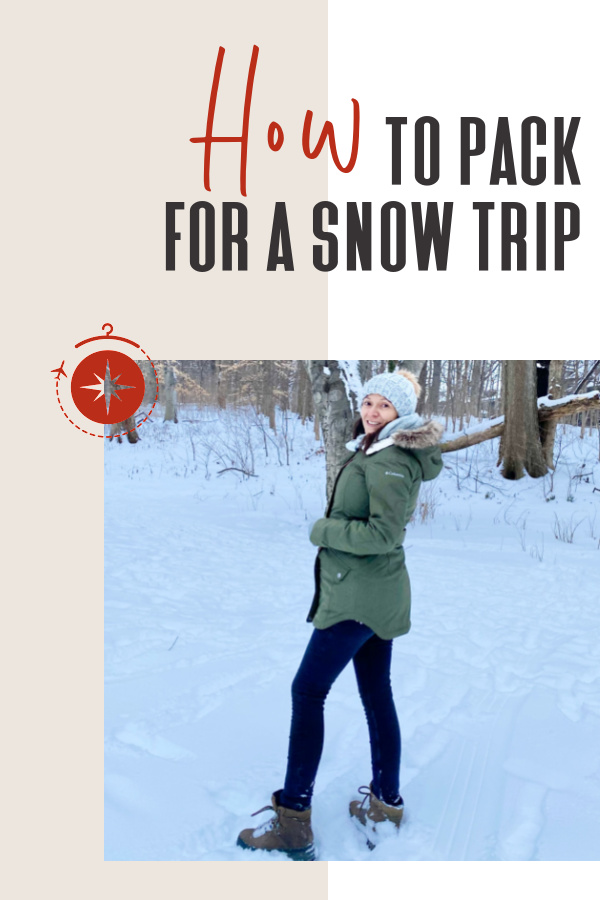 ---
We hope you liked this snow packing list and tips on what to wear in the snow. Please share with your friends on Facebook, Twitter, and Pinterest. Thanks for reading!
---
Author Bio: Sebrin is a newlywed, flower child, and travel-obsessed blogger. When she isn't traipsing the globe with her husband, you can find her curled up with a book, snuggling with her kitty babies, or binge-watching Netflix. Follow along her travels on her blog or instagram!
---