Support TFG by using the links in our articles to shop. We receive a small commission (at no extra cost to you) so we can continue to create helpful free content. As an Amazon Associate, we earn from qualifying purchases made on Amazon in addition to other retailers featured on the blog. Thank you, we appreciate your support!
Many destinations are stunning during the spring and summer seasons. But part of the charm, and even the history, of these locations is found during the chilly, winter and early spring seasons. The snow, the food, and the traditions make these locations perfect for holiday travel.
But how do you pack fashionable, bulky jackets in a single suitcase? Read this guide to find out how!
---
Packing Winter Jackets
Written By: Sebrin Elms
---
Table Of Contents
Packing for cold weather travel can be quite daunting, especially if you want to travel carry-on only. But it doesn't have to be impossible. I'm sharing my tried-and-true tips for packing winter jackets into a suitcase.
To help you make the most of your winter gear and limited luggage space, start by reading these general tips on packing for winter travel:
Here's a quick summary on how to pack bulky winter jackets in your luggage:

Calvin Klein Chevron-Quilted Packable Down Coat, sizes XS-3X Plus
Pack Those Puffer Jackets/Vests
Puffer jackets and vests are not only trendy and cozy, but they also are perfect for saving space. Because of their material (their poof is created with down insulation or synthetic fibers), there's more air between the material, making it easier to condense.
To pack correctly, zip or button the front. Fold the sleeves inward over the center and roll from the top to the bottom. Use a rubber band to hold it or simply shove the jacket in your bag last. Either way, the soft and squishy material makes it very easy to pack.
Here are the the best packable down jackets to keep you warm this winter!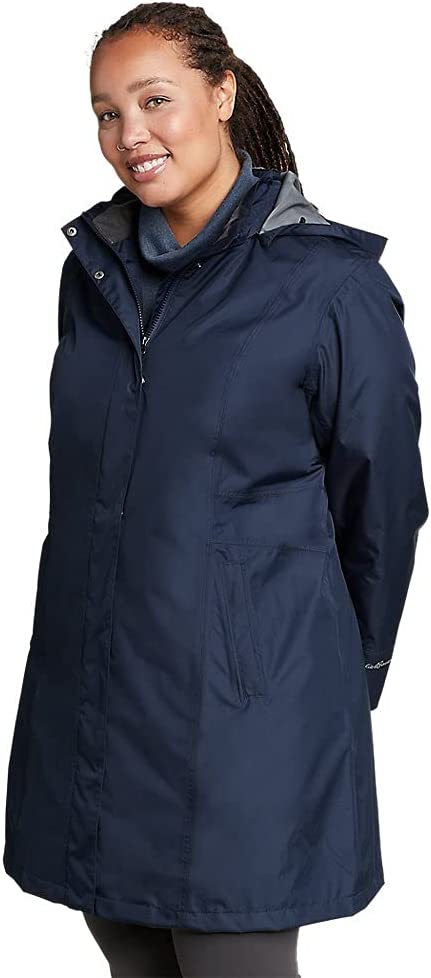 Eddie Bauer Girl On the Girl Trench, sizes XS-3X Plus
Combine the Roll and Fold
Are you a roller or a folder? Many will tell you why one way is better than another, but with heavy jackets, you're going to have to try both.
I personally find that folding jeans and pants works well, while rolling jackets and tops is best. But feel free to experiment! Different materials fold differently and require creativity.
Find out how to pack clothes without wrinkles!
Try Vacuum Seal Bags
Even if you're not packing a puffer jacket, there is still air in all of your clothing. By removing that air found between the fibers, you save a ton of space and making it much easier to pack more clothing.
Just be sure to find a travel vacuum or a manual pump that's light. You don't want to carry a heavy piece of a equipment around with you on your travels.
Read these tips on how to choose the best packing organizers!
Compass Rose Compression Packing Cubes
Use Packing Cubes
In 2017, I launched Compass Rose Travel Accessories and my very first product was a 4-Piece Set of Carryon Packing Cubes. These are the only packing cubes sized to fit the exact width of a carryon suitcase and they also have a unique color-coded and numbered organization system – the only kind currently available anywhere on the market.
Watch the packing tutorial on Youtube!
I put together a five-part YouTube series showing you the different methods to use packing cubes. If you use this specific packing strategy, they can also compress your belongings. This is the secret to traveling carryon only!
Buy Compass Rose Packing Cubes here!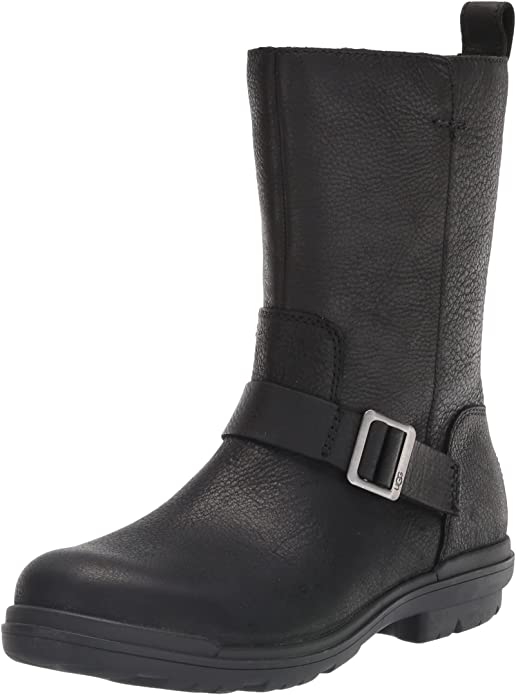 UGG Hapsburg Waterproof Leather Boot
Pack the Jacket and Shoes First
If you're going to a snowy destination, you're probably also bringing winter boots. Start with an empty suitcase and fill those boots with small-ticket items (like socks, underwear, headbands, tank tops and scarves).
Then place those shoes at the bottom in an alternating pattern (try to shape the outline of the boots like a square, a heel on the bottom and the other heel turned and on top).
Next, add your jackets to the mix. I like to pack them in the center and add my shirts and pants to the perimeter of the bag, but feel free to put them anywhere that fits.
If you're packing some gadgets that you don't mind putting in your checked bag, you can also put them in the jackets.
Tip: if you can, avoid packing your winter boots by wearing them on the plane. Choose one neutral pair that will work with all your clothing so you don't have to bring more than one pair. Choose from our readers' top waterproof winter boots!
Columbia Carson Pass II Jacket
Wear Your Coats Instead of Packing Them
This one is a real space saver for your suitcase, but not so much for your flight. If you're coming from an already cold destination, this packing tip will work wonderfully to keep you warm in the airport and on your flight.
If you're coming from a warm destination, wearing a heavy parka may be a pain. If it's too hot to wear, bring it with you to use as a pillow on the plane, train or car.
Take a look at this carry-on winter packing list to see how it's possible to pack light even in cold weather!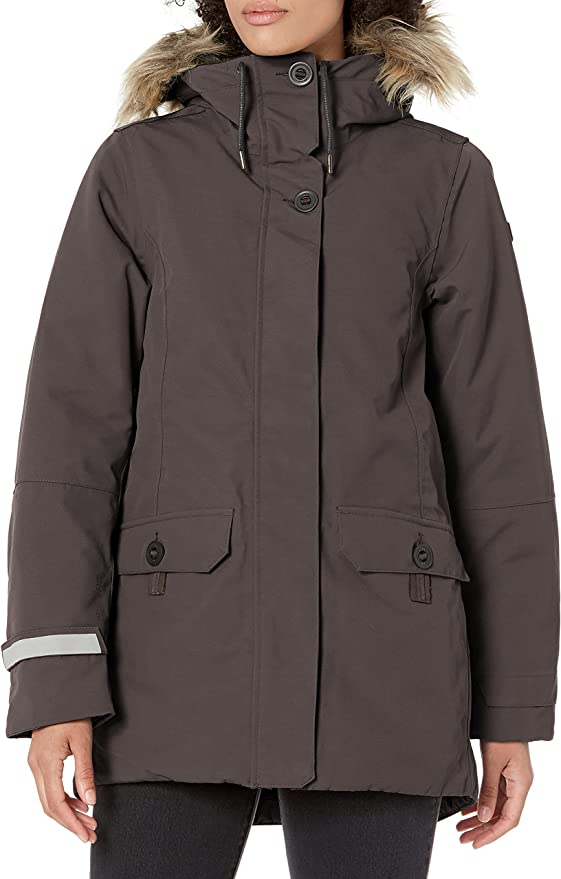 Pack a Single, Perfect Coat
If you're looking to save the ultimate amount of space, pack a single coat for your travels. Your instagram pics might lack diversity, but this versatile jacket will save you a lot of trouble.
For the perfect, single coat, think of the kind of weather you'll be encountering. Should it be waterproof? Do you need a hood? Should it reach your waist or your legs? Make sure your coat goes with the rest of your clothing in your travel capsule wardrobe. Depending on how cold it's gonna get, the more details it has, the better. If you invest in a quality parka, you won't need another snow jacket for a very long time!
Choose from our list of the best winter jackets!
---
What are your tips on how to pack large winter jackets in a suitcase? Share and comment below!
---
For more packing strategies, please read the following:
---
LIKED THIS POST? PIN THIS PIC TO SAVE IT!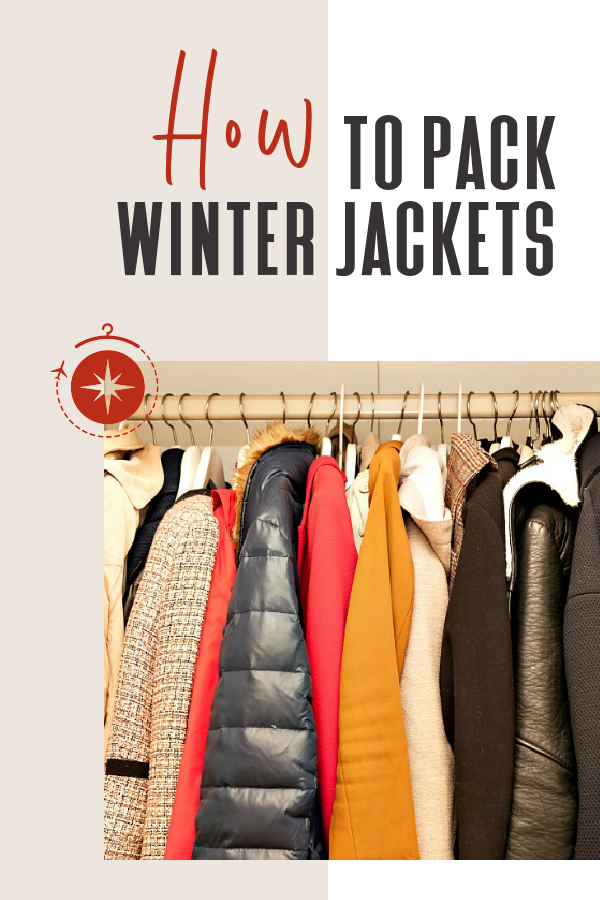 ---
Hoped you liked this post on packing bulky winter jackets. Please share it with your friends on Facebook, Twitter, or Pinterest. Thanks for reading!
---
Author Bio: Sebrin is a newlywed, flower child, and travel-obsessed blogger. When she isn't traipsing the globe with her husband, you can find her curled up with a book, snuggling with her kitty babies, or binge-watching Netflix. Follow along her travels on her blog or instagram!
---