Support TFG by using the links in our articles to shop. We receive a small commission (at no extra cost to you) so we can continue to create helpful free content. As an Amazon Associate, we earn from qualifying purchases made on Amazon in addition to other retailers featured on the blog. Thank you, we appreciate your support!
Even though I'd been to the Vatican previously, re-visiting on my 10 day birthday trip to Paris and Italy last year was absolutely magical.
I felt so fortunate to have been linked up with The Roman Guy tours. Not only were there were only 3 people on my Vatican tour versus the groups of 25-50 around us but my guide Nina was a local fashionista! After the tour ended, she gave me the inside scoop on what to wear to the Vatican plus shared her tips on how to dress like an Italian woman. LOVED her!
These tips on what to wear to the Vatican are based on her fashion savvy Roman style. Keep reading to find out why they are!
---
What to Wear to the Vatican

---
Generally speaking when entering any religious building modesty should be considered. However, depending on varying factors this may or may not be enforced or practiced.
Per local guidelines, when visiting the Vatican please cover your knees and shoulders.
Even though Roman summers may be blistering hot, when you step inside the Vatican Museum and St Peters Basilica it is much cooler inside than outside so you don't have to worry about overheating. Here are a few ideas on what to wear to the Vatican in the summer heat.
Jacket | Dress | Bracelet | Blouse | Bag | Sandals | Pants | Scarf | Necklace
Vatican travel outfit ideas
The general idea is to wear a breezy long dress or trousers (for knee coverage) and pair with a light removable layer such as a denim jacket or cardigan you can wear to cover your shoulders once inside. Jeans and a cute sleeved top are perfect when the weather is moderate.
The rest of the year, you'll be fine with long sleeves and jeans. Just be mindful of low necklines, sheer fabrics, and clothing that's overly fitting in certain places.
Tip: Versatile is the key to a travel capsule wardrobe, pack items which you can easily mix and match!
About my Vatican Tour
If the name Roman Guy sounds familiar it might be because the owner proposed to his girlfriend on Travel Fashion Girl! Can you believe it? How cool is that!
I explored the Ancient City on my own when I visited Rome previously in 2008. This time around, I was happy to try a couple of city tours with The Roman Guy including a visit to the Vatican and their Golf Cart City Tour which I highly recommend – it helps save your feet from going into overdrive and it's a nice way to get your bearings around Rome!
This company specializes in intimate local group tours and their Vatican group has no more than a dozen people at a time (others had 40-50). It felt like I had my own personal guide. Plus, you get to go inside the Vatican a whole hour before it's open to the public. Kind of awesome!
I won't lie, though. My fashionable Vatican tour guide Nina did make it extra special because not only did she have a PHD in post classical archaeology and a master in Christian Archaeology but she is also extremely friendly and personable. It was like hanging out with one of your favorite gal pals!
Insider travel tips
March and October are Nina's favorite months to enjoy Rome. March because it's sunny but not hot and the end of September to early October has the best weather without the high costs or swarms of tourists.
She says that Cappuccino and Cornetto are the perfect roman breakfast or a simple Coffee and Croissant.
Her perfect travel outfit for the Vatican? What she was wearing that day: Denim Jacket, Maxi Dress, and Birkenstocks styled to perfection!
Remember: No matter where you go there are always travelers with varying levels of respect and courtesy with regards to their choice of clothing in religious sites. It is your decision whether or not you wish to adhere to or respect the clothing guidelines of other cultures on your travels. Please read this post for more ideas on how to dress stylishly for conservative countries.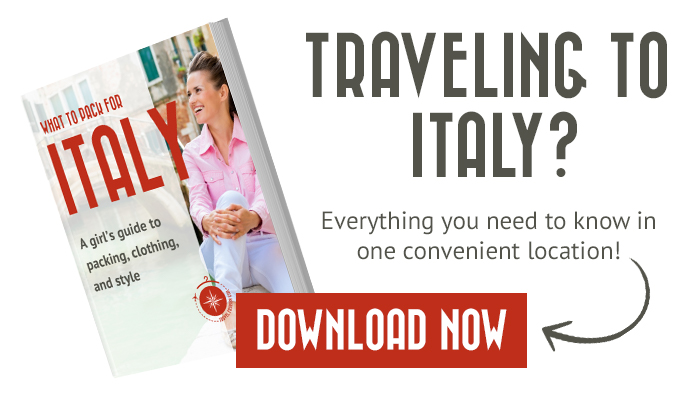 ---
What are your tips on what to wear to the Vatican? Comment and share below!
---
 For more Italy packing tips and ideas, please read:
Suggested travel resources:
---
Hoped you enjoyed this post on what to wear to the Vatican. If you found it helpful, please share it with your friends on Facebook, Twitter, and Pinterest. Thanks for reading!
---