Support TFG by using the links in our articles to shop. We receive a small commission (at no extra cost to you) so we can continue to create helpful free content. We earn from qualifying purchases made to the featured retailers. Thank you, we appreciate your support!
Planning a trip to the Big Apple? New Yorkers stick to a chic, sophisticated style that can take them from day to night. Follow their lead on what to wear in New York City throughout the year!
---
What to Wear in New York City
Written by: Renée Olson
---
Table Of Contents
New York City: the Big Apple, the City that Never Sleeps! New York is a hot destination for travelers all over the world and a city we all love. There's great food, cool new spots around every corner, and so much to see and do no matter what you're interested in.
This is one of the most versatile metropolises in the world, so naturally, potential activity combinations on a given day are limitless; you could cycle across the Williamsburg bridge, captain a boat in Central Park, pose with taxidermy elks in the Natural History Museum, and go hoarse at Mamma Mia on Broadway. And then there's the coffees, cocktails, brunches, diners, and all the other urban wonderland clichés that make New York New York.
Some of TFG editor's favorite cold weather essentials:  Thermals | Blondo ankle boots

What Should I Wear in New York?
The most important factors in planning and packing for New York are the activities you'll be doing on your trip AND the weather.
Always, always, always check the weather forecast before your trip. Once you've researched the weather, you can focus on creating a travel capsule wardrobe, which should easily fit in a carryon suitcase with the help of packing cubes to compress your clothing.
What to Wear in New York: Essentials
While we'll be sharing seasonal outfit ideas below, there are a few essentials you'll want to bring to New York regardless of when you visit.
Beyond these items shared below, you may need other essentials, depending on how you like to travel. This might include technology accessories, like chargers and a camera, and toiletries and styling tools.
Here's our tips on comfortable walking shoes for travel!
Blondo Villa Waterproof Ankle Bootie
Shoes
Comfort should be a top priority when it comes to footwear. The average New Yorker walks anywhere from 2 to 5 miles daily, and if you're doing your job as a tourist dutifully, you'll be hitting twice that. Keeping your feet happy is essential!
Find out why the Travel Fashion Girl readers and I love this comfortable boot for travel!
Best Ballet Flats For Travel: Hush Puppies
Of course, it can be tempting to prepare for the glamour of Manhattan panoramic nightlife with 7-inch heels, but we recommend bringing flats, which are more comfortable and packable than heels (or bringing a pair of foldable ballet flats in your bag).
Most Comfortable Walking Shoes: Go Walk 4 Pursuit Sneakers
Choose classic leather boots with a slight heel, flats with a great shape, or fashionable sneakers. Skip brand new shoes or shoes that are too tight, uncomfortable, or have been known to give blisters. In general, many New Yorkers skip wearing sandals.
These are the best waterproof leather boots recommended by our readers!
Rebecca Minkoff Julian Backpack
Travel Bag
Since you'll be out and about all day long, you'll need a great day bag that can take you from Brooklyn to Uptown and back again. They key is choosing a bag with great structure and style, not necessarily an expensive price tag.
Neutral colors work great, especially black, which won't show dirt as easily. This can be a leather tote or even a chic backpack, but just make sure it matches your outfits and has plenty of room. At TFG, we are huge fans of the Rebecca Minkoff Julian backpack. You can see our full review here.
Take a look at these other cute backpacks for city travel!
Day to Night Accessories
You may not have time to go back to your hotel to change, but that's okay. New Yorkers often head straight to happy hour from the office, so follow their lead.
Stash a statement necklace or earrings in your bag so you can be ready for dinner in a flash. Add a bold lip on your way to the restaurant for instant glam. When your outfits are simple and stylish, you'll be ready for anything.
Find out how to pack necklaces with these simple tips!
Oversized Polarized Sunglasses
Sunglasses
Sunglasses are the perfect way to add some mystery to your New York outfit, even if you aren't visiting in the sunny summer.
Even if rooftop lounging and skyline lamenting are not activities that appeal to you, you will at some stage take your cynical self from a subway station to your destination. These commutes can be 20 minutes of walking in blinding brightness.
Our vote always goes to sunglasses with polarization. Find out why!
Jacket | Blouse | Jeans | Necklace | Watch | Sunglasses | Bag | Shoes
What to Wear in New York in Spring
A lightweight jacket will save the day in spring when temperatures can be uncertain. Choose structured dresses and tops to celebrate winter's end. Open-toed wedges are comfortable for walking and will instantly add polish to any outfit.
Here are more tips on what to pack for New York in spring!
Sunglasses | Top | Shorts | Belt | Lip Balm | Earrings | Hat | Bag | Sandals
What to Wear in New York in Summer
Many New Yorkers escape to the beach in the summer, leaving the city extremely laid back. The temperature spikes in July with an average of 76°F / 25°C, but this can fluctuate and decrease at night, so you'll need to be prepared if you're out all day. That said, it can get very hot and humid in the city in the summer, and sometimes it stays hot into the night.
On top, think cropped camis, deep V halters, and blouses. Pair them with equally cool and comfy maxi skirts, culottes, and light denims. Playsuits and jumpsuits can be great, but avoid tight body cons of any design, as it's icky to get sticky when you're on the go for hours.
Easy denim with gorgeous sandals and a breezy top will be your uniform. Add dresses or skirts to the mix to keep cool.
Mid-summer Manhattanites are AC-crazy. This is the case for pretty much everywhere indoors, but is particularly pertinent when you're spending the day in and out of multiple freezing shops.
A light outer layer is essential; I opt for thin trench coats as they are equally cost/heat/trend effective, but a crew neck sweater or hoodie will do the job.
Take a look a the best sandals for travel this summer!
Jacket | T-shirt | Jeans | Lipstick | Scarf | Bag | Hat | Boots
What to Wear in New York in Fall
Fall fashion is a favorite in New York. Chic booties, dark denim, and a blanket scarf or cape will keep you warm. Pair dresses with tights for mild weather. Add other accessories like a wide brim hat or leather jacket for added interest.
Coat | Sweater | Scarf | Pants | Bag | Thermal | Gloves | Beanie | Boots
What to Wear in New York in Winter
Baby, it's cold outside! Walking from place to place can be brutal. Choose a neutral colored coat in a classic silhouette. A trench coat with a cinched waist will pair well with anything.
A scarf, gloves, and knit hat will keep you warm and accessorized. Dress in layers using wool, chunky knits, and even tights under jeans on a particularly chilly day. We love these thermals to help us stay warm no matter what!
Learn more about how to stay warm when traveling in winter!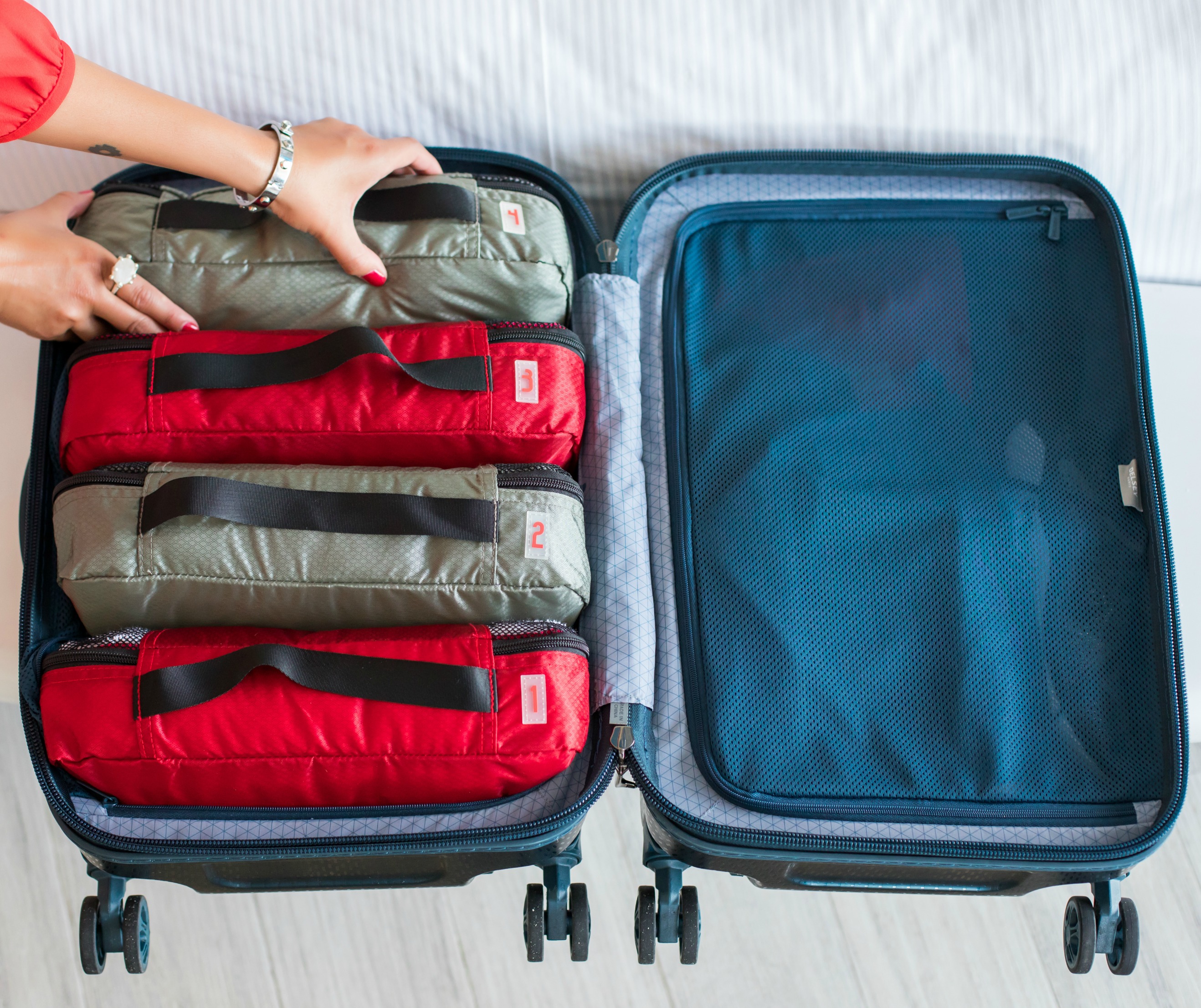 How to Pack Your Clothes
Packing cubes will change the way you travel. You can use them for your personal items and keep your belongings organized for your journey. We've designed our own brand of slim cubes with a unique color and numbering system, so it's easy to remember where you've packed everything, including your jacket!
Watch the packing tutorial here or on our YouTube Channel!
We put together a five-part YouTube series showing the different methods to use packing cubes for travel. If you use this specific packing strategy, packing cubes can also compress your belongings. This is the secret to traveling carry-on only!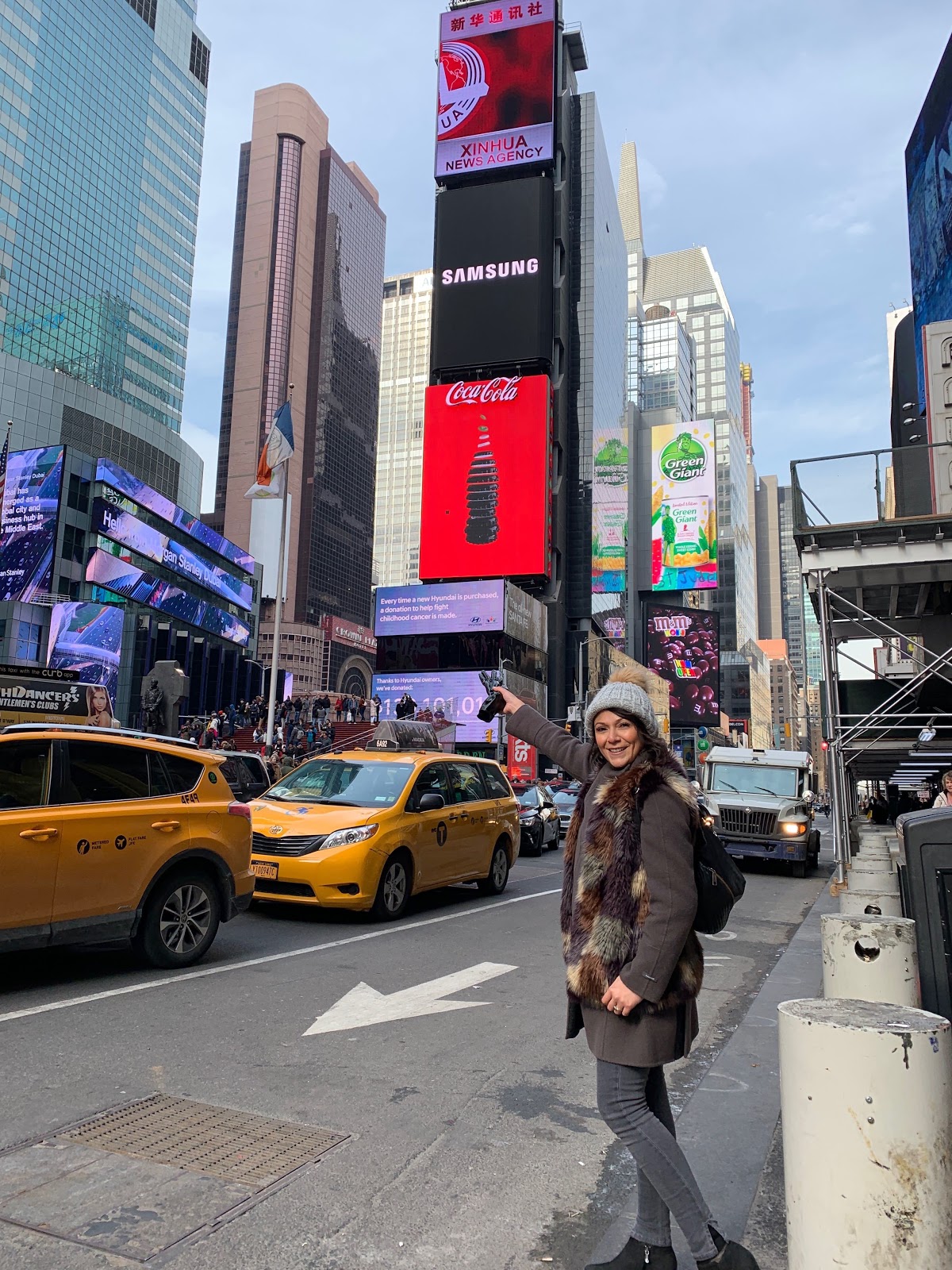 Shopping in New York
It's not a secret that New York is considered one of the world's best shopping destinations. The famous city line towers over you as you wander in awe about how a real Carrie Bradshaw felt when she stepped into the swanky city of Manhattan or how Gossip Girl's Blair managed to buy all of her heart's desire.
The Upper East Side is the place to go to for many designer fashion stores; this is the place where you can find the most elegant department stores for fashion and home goods.Renowned names such as Vera Wang has her flagship store located in the area, as well as other prominent designers in the city.
Like a contemporary fairy land to fashion and shopping enthusiasts, New York is the home to many iconic stores such as Macys, Bloomingdales, and every girl's favorite, Tiffany & Co. This is also the place to find other equally popular malls such as Saks 5th Avenue and Bergdorf Goodman.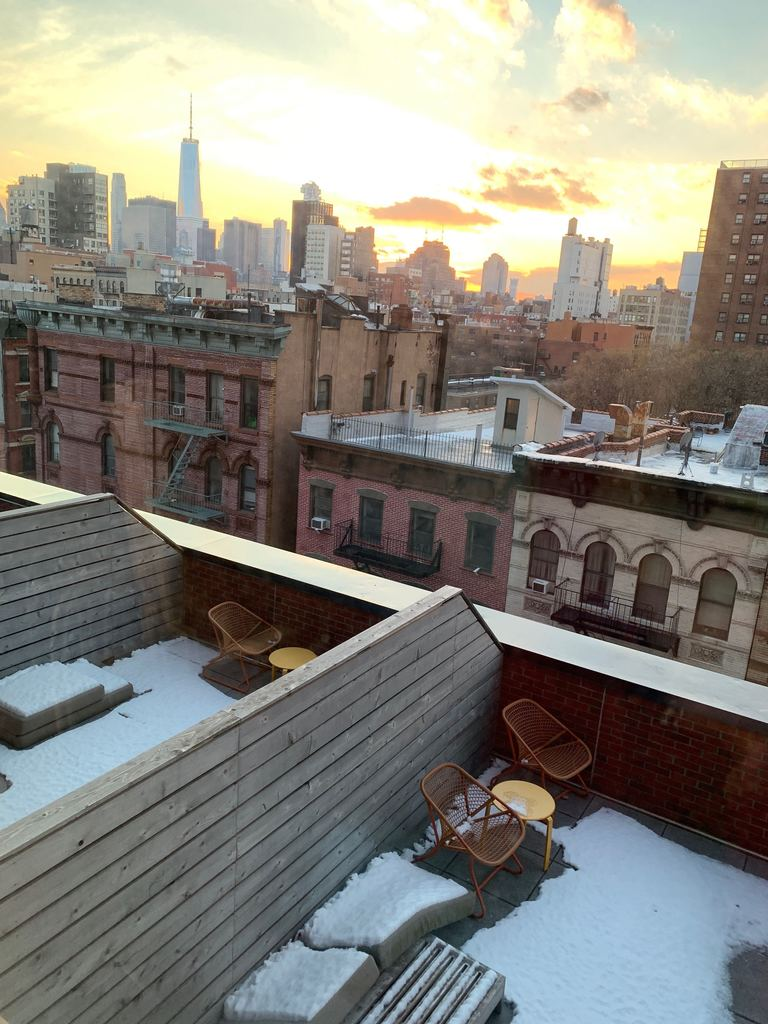 Accommodations in New York
We love Airbnb for accommodation in New York. Sign up here for a free $40 credit!
I prefer to book "the entire home" instead of opting for shared accommodation on Airbnb. Aside from safety, I also like to feel like I'm living in the destination. It's a small taste of local life plus you get more amenities than you would at a hotel such as a kitchen and washing machine.
Read these Airbnb tips for more info!
If you prefer the convenience and comfort of a hotel room, I like using both Agoda.com and Hotels.com. Tip: Hotels.com gives you a free night for every ten nights you book!
For hostels, we recommend Hostelworld and Hostelbookers. Always read the reviews before booking to get the best idea if the hostel is right for you. Some are quiet and family friendly while others are known for their party atmosphere.
Not sure about staying at a hostel? Read this.
---
New York City is one of the world's fashion capitals! If you're ever in doubt, stick to the classics. You'll be fashionable and beautiful in any season.
What are your style tips on what to wear in New York?
---
For more North America packing tips, please read:
Suggested travel resources:
---
LIKE THIS POST? PIN THIS PIC TO SAVE IT!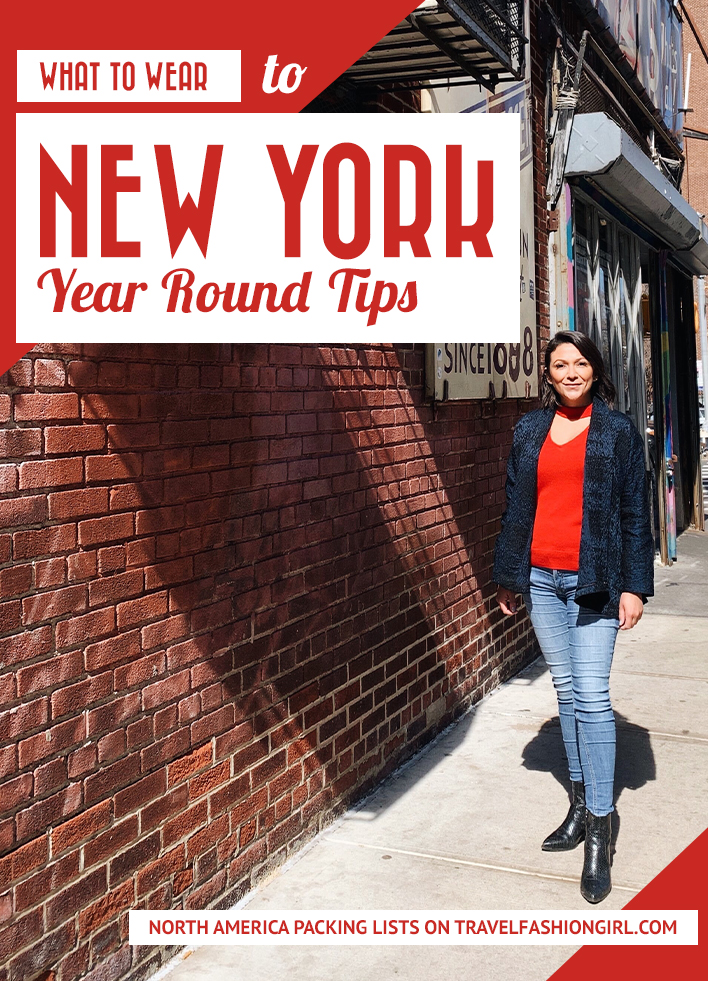 ---
We hope you liked this post on what to wear in New York City. Please share with your friends on Facebook, Twitter, and Pinterest. Thanks for reading!
---

Author Bio: Renée Olson is a freelance producer who spends her free time traveling with her husband, Matt. She loves great coffee, wine, and anywhere with a sandy beach. Follow her travel adventures on her blog, Avec Amour, on Instagram, or Twitter.
---