Support TFG by using the links in our articles to shop. We receive a small commission (at no extra cost to you) so we can continue to create helpful free content. As an Amazon Associate, we earn from qualifying purchases made on Amazon in addition to other retailers featured on the blog. Thank you, we appreciate your support!
When I visited the Anatomie headquarters back in March, I realized that I was clearly mistaken when I called their Skyler style the best travel pants for women – they have so many great styles to choose from!
For me, the pants are what makes this brand worth the splurge for travel so I tried on all the styles to give you my best feedback. All the notes below are based on my opinion along with the owner's customer feedback.
For your reference, I'm 5'2" 110lb with a curved hourglass figure and loved both the Skyler and Paola. I have to tuck in or have the length tailored but the overall fit is phenomenal!
---
Style Guide for the Ultimate Women's Travel Pants
---
Unless otherwise stated, all the below pants feature the exact same fantastic fabric as my favorite Skyler pants – that's what makes them so special!
All of Anatomie's women's travel pants are made using the latest technology with French and Italian microfiber fabrics. Ultra-light, machine wash, hang dry, wrinkle resistant, moisture wicking, anti-bacterial, and UV protective. They make the perfect women's travel pants because they're ultra-versatile, they're feather-light and dry very quickly which is great if you're constantly on the go.
Here's a guide on how to choose the best women's travel pants for you based on your body type. Which will you choose?
Slim Fit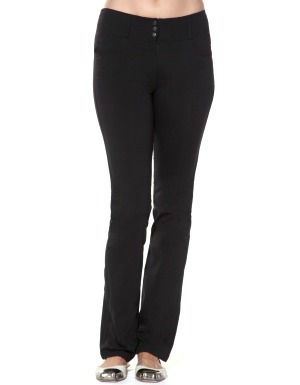 Find this item here.
Paola
This style is my second favorite to the Skyler! It has a similar tailored fit but the legs have more of a straight cut (slight boot cut) making them a more universal fit. They also boast a sophisticated cut for business travelers to wear with pumps or heeled boots.
If you like the idea of the Skyler but don't like the idea of a "skinny" pant, this one's for you!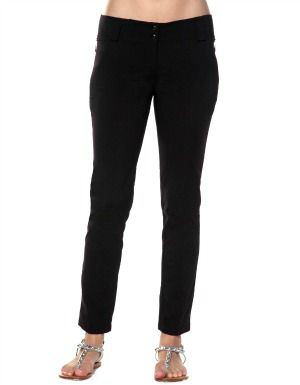 Find this item here.
Susan
This stretch woven, the slim fit pant is meant to be ankle length with sexy details for a modern twist to the average travel pant. It has a low rise and zippers at the back of the ankles.
I'd recommend this for someone on the taller side. Didn't work well on my 5'2" height!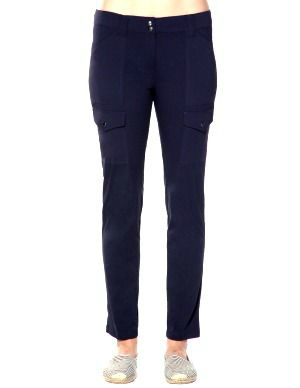 Find this item here.
Kate
Great for a woman with an athletic build, this pant will fit a taller traveler as a capri and a shorter one (like me!) at regular length. They feature a mid-rise with front and back flat pockets and would look good in flats, wedges, heels, or tucked in boots.
Keep in mind the pockets are more for detail than for function. The back pockets help accentuate your bum if you'd like a little extra padding 😉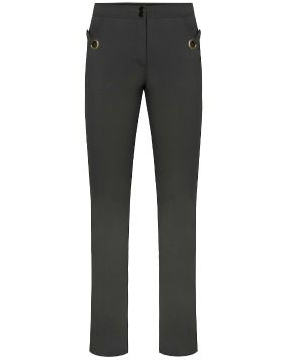 Find this item here.
O-Ring
Stretch woven and mid-rise, this new style is very slim and narrow ideal for a woman with a boyish, lean figure.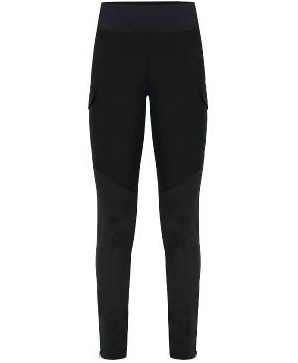 Find this item here.
Andrea
I LOVE these new pants! The fabric is different than the Skyler – they are fitted legging style women's travel pants with a hidden waist pocket. They have dual fabric at the knees, which allows for flexibility and comfort especially if you want to do the occasional yoga session.
It has a lycra "pull up" waistband so it is also pregnancy-friendly with flat front offering tummy control. It's the perfect length for short girls like me and Capri-style for the tall gals. Great update to the classic legging!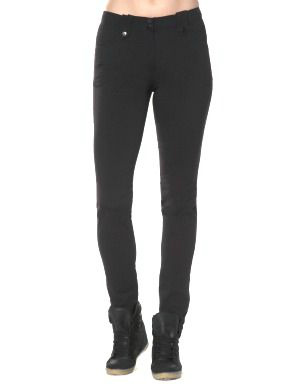 Find this item here.
Skyler
For me, these are the ultimate travel pants. They offer a superb tailored fit with a mid-rise that allows for a flattering mid-section. They don't work for all body types but when they do – they DO.
Please read my full review here on the best travel pants for women (or at least me!)!
Regular Fit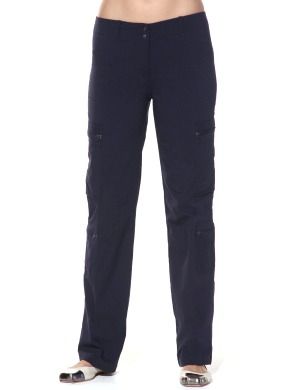 Find this item here.
Fiora
This style is preferable for a tall traveler that likes a high waist trouser. It's a stretch woven, straight leg cargo style pant with flat pockets on the sides of the legs.
It's a good alternative for women that are used to wearing North Face type convertible pants and want something more contemporary.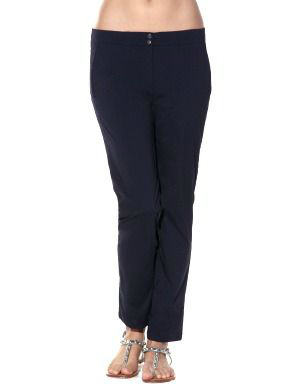 Find this item here.
Celine
I call this style the "mature" Skyler with a golf style look and a roomier mid-section. It's a stretch woven, high-rise, more conservative cut.
This is meant to be an ankle length pant but shorter women may find that it's a regular length for them.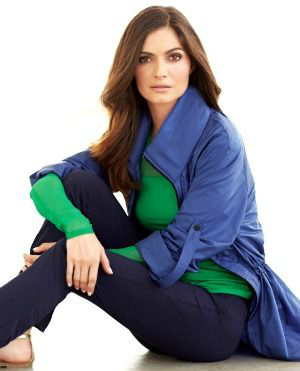 Find this item here.
Ramona
A fun summer pant, this style has a high rise, straight leg, and rushing at the bottom of the legs in the back.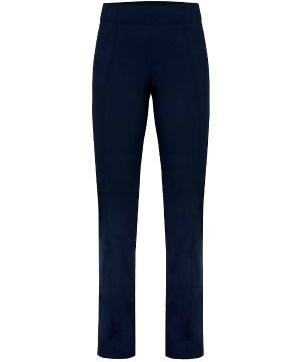 Find this item here.
Rosa
This is the only pair of Anatomie women's travel pants that features a thicker, more technical fabric. It has a side zip and more appropriate for a 50+ woman that prefers a conservative cut with a fitted waist.
It's appropriate for business travelers, too.
Wide Leg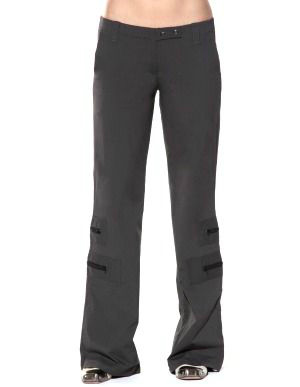 Find this item here.
Madonna
This style is Anatomie's original travel pants, which introduced their famous fabric to women around the world. They feature a low-rise with "boho" style flared leg.
Great for tall women with a flat tummy that prefers a relaxed trouser fit. Again, the pockets are more for detail than functionality.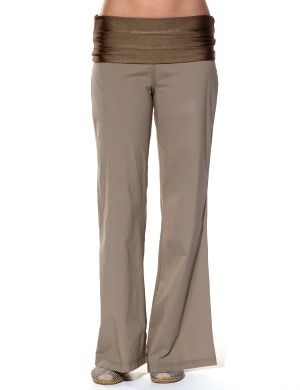 Find this item here.
Bianca
If you prefer nice stretch fabric in your tummy, this pull up wide leg pant is one to consider with its mid-high rise lycra fold down waistband. The fabric is slightly different than the traditional "Skyler" fabric and can be worn as contemporary, dressier loungewear.
Customers have commented that it's pregnancy friendly.
Many readers ask me if they're worth the higher price point but this is dependant on a few things:
You like designer denim or brand name clothing, you'll appreciate the craftsmanship when you travel
You're planning an extended trip and want the most options while packing light, you may value pants that offer versatility, durability, feather light, and quick dry. This is why they work for me, personally.
You believe in a selective wardrobe filled with items based on cost per wear versus disposable clothing.
You're a business traveler that wants to have clothing you can take from the boardroom to the mountain, you'll definitely love these pants.
If any of the above statements apply to you, find the style that best suits your body type and try them out. They have a great return policy so you have nothing to lose!
---
Try out the new Anatomie perfect women's travel pants finder for more tips on choosing the best fit for your body type. It's still in the testing stages but worth trying out. If you need help using the finder, go here for instructions.
Check out the entire Anatomie Style Collection.
---
Which style do you like best? Share in the comments!
---
For Anatomie reviews, check out these additional clothing options:
• The Best Travel Pants for Women
• Preliminary Anatomie Designer Travel Clothing Review
• Travel Jackets for Europe: Merika Review
• Leather Travel Jackets for Europe: Loretta Review
---
If you enjoyed this guide to find your perfect women's travel pants, please share it with your friends on Facebook, Twitter, or Pinterest. Thanks for reading!
---