Support TFG by using the links in our articles to shop. We receive a small commission (at no extra cost to you) so we can continue to create helpful free content. As an Amazon Associate, we earn from qualifying purchases made on Amazon in addition to other retailers featured on the blog. Thank you, we appreciate your support!
Planning a trip to Bangkok and Northern Thailand? Here are some of our best tips on what to pack!
---
What to Wear in Bangkok and Northern Thailand
Written by: Kelly Ella Maz
---
Bangkok and the north of Thailand pose a bit of a packing dilemma. In this area of Southeast Asia the temperatures fluctuate quite a bit between morning, afternoon and night – and your travel capsule wardrobe has to reflect that!
Multi-use items and layers are best, and I've got six must-pack items listed below. Keep reading to find out what to wear in Bangkok and Northern Thailand!
Pants for Visiting Temples
A pair of comfortable and airy pants are crucial for when planning what to wear in Bangkok and northern Thailand! There's literally hundreds of beautiful temples, all of which have very strict dress codes.
For women no knees can be shown (some say even ankles shouldn't be showing) so a pair of pants is the best thing to wear. I prefer a pair of pants that's lightweight because it can get very hot in Thailand and the last thing you want to do on a hot day is wear pants! Make it a little easier on yourself by choosing a comfortable pair.
TFG loves these awesome Athleta pants!
Likewise, Bring Leggings!
If the heat is really too unbearable for you and you just can't wear pants then follow me footsteps and throw a pair of leggings in your purse!
While sightseeing in Bangkok I wore a short cotton dress to stay cool and comfortable, but when it was time to visit a temple I threw on my leggings and wore my dress as a tunic with pants.
Find out the best leggings for travel!
When in Doubt, Pack a Scarf
A scarf is another item you'll want to pack when planning what to wear in Bangkok and northern Thailand. Use it to either cover your shoulders at a temple, or to use as an extra layer of warmth at night.
Chiang Mai and Chiang Rai in the north both get surprisingly chilly at night, and having a scarf (and leggings) will help you transition from hot afternoons to chilly nights.
The key to packing light is to use packing cubes to compress your clothing as shown in this video!
Stick to Light Fabrics
Yes, the nights can get cool… but I promise you the days will be scorching hot! After a day of sightseeing you'll probably be a hot sweaty mess, so do yourself a favor and only pack light, breathable clothing. Fabrics like cotton and so much better in this heat than polyester!
Find out what other fabrics are good for hot weather!
Athletic Clothes are Always Good
Athletic shorts, tank tops and t-shirts can look quite chic and still act very functional as well, and are a great alternative to cotton.
Check out Lorna Jane, Athleta, and Zella for stylish workout clothes that look like regular clothes. All brands carry everything from dresses to shorts that look like they're designed for lunch dates – not the gym! As an added bonus their sweat-wicking materials will keep you dry on hot days.
Comfortable Shoes to Last All Day
Not only will you do a lot of walking while exploring cities like Chiang Mai or Chiang Rai, but you'll also be walking on very uneven surfaces. Don't expect clean, flat sidewalks in this area of the world!
Although popular to wear in Thailand, flip flops are not only bad for your feet during this kind of travel, but they can easily break. Save your feet and wear a pair of casual shoes instead – like Toms, Crocs or Converse. Personally, I prefer something that's easy to wash so I stay away from white Converse.
Scared of Crocs? You have to read why this traveler thinks they're the perfect travel shoes!
These are the best travel shoes for Southeast Asia!
Thailand Travel Tips
Cheap Airfare
My favorite airline to fly economy to Southeast Asia is Japan Airlines and China Airlines has a very comfortable Premium Economy – it's more like business class!
I always browse for the cheapest dates to fly using Skyscanner.net then purchase my ticket on Travelocity.com or CheapOair.com.
 for the best deals. (Travelocity has a 24 hour refund policy for women that find it hard to commit to a flight, like me!)
Read this post for my five step process to find the best flight deals.
Accommodation
When traveling to less expensive destinations such as Southeast Asia or Central America, I prefer to stay in local guesthouses rather than Airbnb because they're more cost effective. I book guesthouses and hotels or resorts, using Booking.com or Agoda.com. Depending on how long you're traveling you can also walk around to find good deals upon arrival.
You can stay in a lovely place for under $30 a night depending on the location. Anything 1000-2000 baht ($30-$60) is more than enough. no need to spend hundreds of dollars on a hotel room. I would usually spend between 500-750 baht. you get alot of value for your money.
OR if you want to splurge on a four star hotel, you can stay at one here between $150 – $250. Many people do this for the last couple of days of their trip to experience a luxury hotel much cheaper than anywhere else in the world. I like the Conrad Hotel.
Suggested 2 Week Itinerary for Thailand (December – April)
Bangkok 2 nights – fly to Chiang Mai (4 nights) – fly to Phuket (4 nights) – Bangkok (1-2 nights)
In Bangkok: Khao San Rd is the party backpacker area but it's very convenient when you're short on time. You can find cheap eats, cheap shopping, convenient tours, and a good time if you're looking for one. See the Grand Palace nearby, visit the floating market, and then take a tour to Ayutthaya amongst many other things.
In Chiang Mai: Do a 2-night trek with family homestay. Book the trek in a travel agency there for cheapest price. Do this cooking class – it's INCREDIBLE. Be aware of animal tours as some hurt the animals. Book reputable companies by doing your research.
In Phuket: fly into Phuket BUT DO NOT stay in Patong (it's a shady area). From Phuket go to Krabi instead and visit beautiful Raleigh Bay. (Phuket is pronounced poo-ket.) You can also go to the Phi Phi Islands from here (pronounced pee-pee). The island itself might be busy but the boat tour around the islands is phenomenal! You can also scuba dive here, too.
Rainy season in the South lasts from May – November in the West Coast and December to April in the East Coast. Rainy season in the North (generally anything North of Bangkok) is from May to November.
Suggested 2 Week Itinerary for Thailand (May – November)
Bangkok 2 nights – fly to Chiang Mai (4 nights) – fly to Koh Samui (4 nights) – Bangkok (1-2 nights)
Follow the same tips mentioned above for Bangkok and Chiang Mai but instead of going to Phuket, go to the islands on the other side. You can fly into Koh Samui but you can also visit Koh Phangan (Full Moon Party) or Koh Tao (learn how to scuba dive).
Koh Samui is for families, honeymooners, and vacation-goers while the other two islands are more backpacker-oriented. Yoga is very popular in Koh Phangan. If you stay in Koh Samui, this sailing tour is AMAZING!
For more travel tips, check out the this Southeast Asia Packing List!
---
What are your tips on what to wear in Bangkok and Northern Thailands? Please comment below!
---
For more Asia Packing Lists, please read:
Suggested Travel Resources:
---
LIKED THIS POST? PIN THIS PIC TO SAVE IT!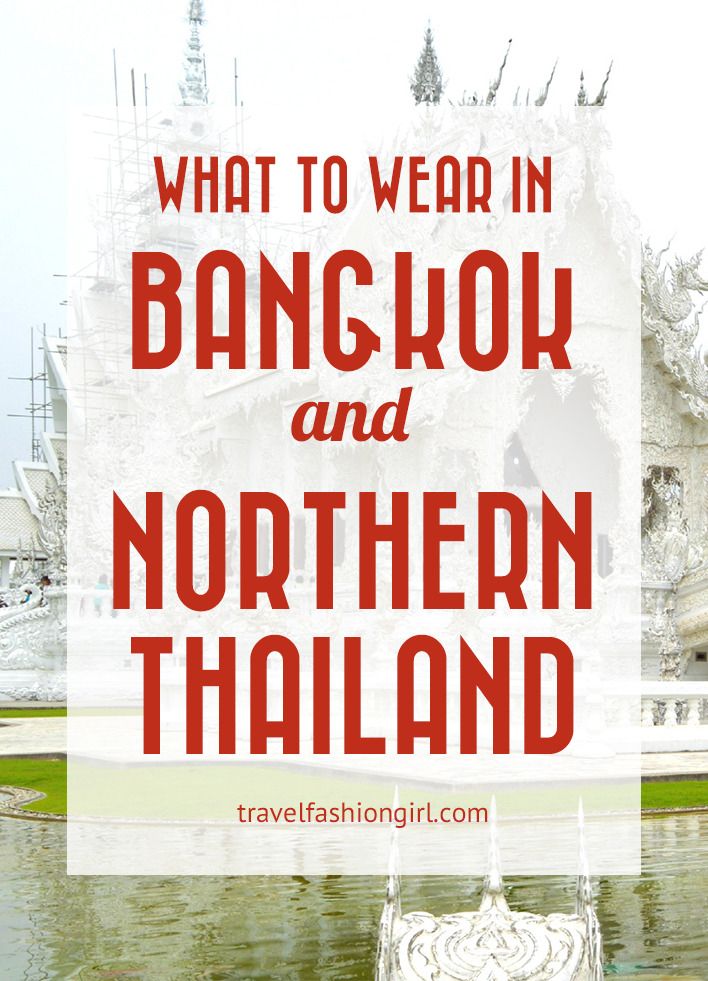 ---
I hope you liked these tips on what to wear in Bangkok and Northern Thailand. Please share with your friends on Facebook, Twitter, or Pinterest. Thanks for reading!
---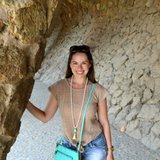 Author Bio: Kelly Ella Maz is Canadian travel writer. Her passion for travel and world-wide experience led her to starting her own travel planning business and blog. She recently bought a one-way ticket to Barcelona, where she'll be living by the beach and traveling around Spain. You can follow her travels at Kellyellamaz.
---