Support TFG by using the links in our articles to shop. We receive a small commission (at no extra cost to you) so we can continue to create helpful free content. As an Amazon Associate, we earn from qualifying purchases made on Amazon in addition to other retailers featured on the blog. Thank you, we appreciate your support!
Want to update your winter travel wardrobe on a budget? We've rounded up the best winter fashion under $100. Take a look!
---
Best Winter Fashion
Written by: Niki Landry
---
Stocking up on winter staples and adding to your capsule wardrobe for cold weather travel is not always easy on the pocketbook. Coats and boots can be very expensive, so finding affordable alternatives to stretch your budget is important.
Here are some tips on pack for cold weather:
In an effort to direct funds from your packing list to your actual winter vacation, I've compiled a list of stylish winter fashion and accessories with a price tag lower than $100: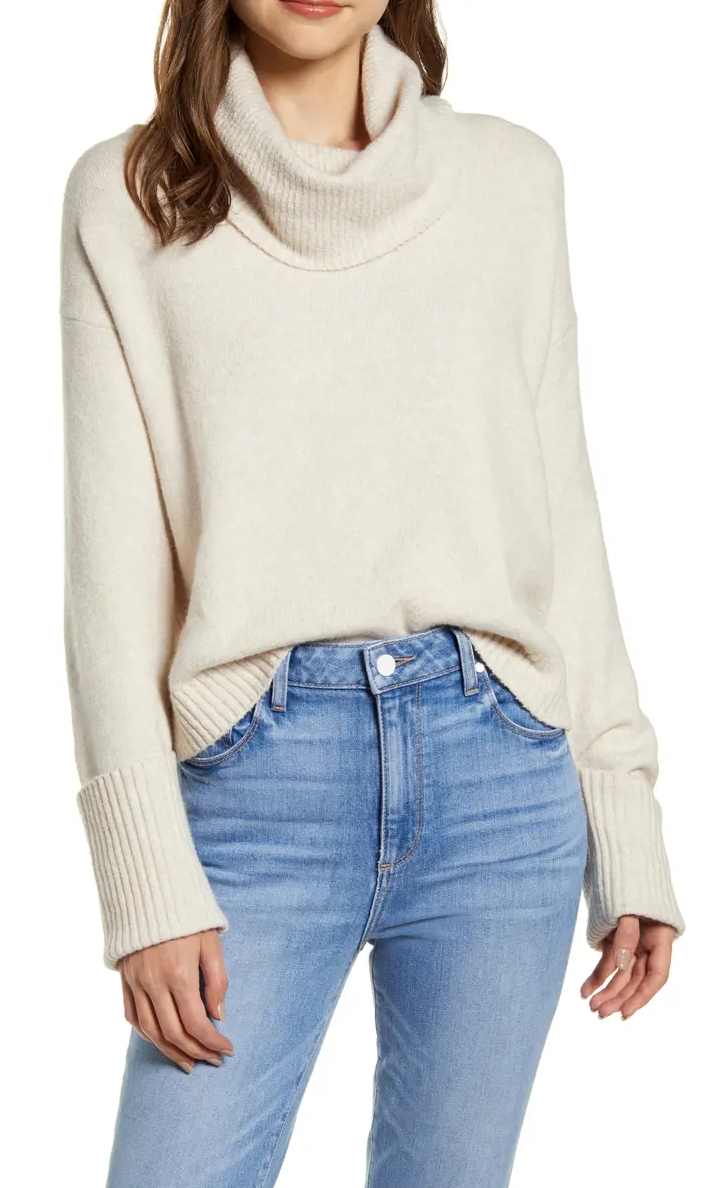 Sweaters
Worn alone or layered, sweaters are a hallmark of the season. Chunky cable knits, turtlenecks and tunic styles are all trending right now, so why not go for a piece that rocks all three?
Nordstrom always has a great selection of sweaters to choose from. Whether you opt for trendy, classic, or somewhere in between, there will almost always be a style available for you. We're loving their marled-knit turtleneck above!
Not sure how to layer them? Learn about cold weather layering.
Jackets
An essential layer for trips with mild winters, lightweight jackets are a great way to try new trends. They usually cost less than heavy winter coats, so you can take some risks and try different styles easily.
The leather jacket above is a great texture and flattering shape to throw on for a night out at your destination. Wearable over casual and formal outfits alike, you're sure to get plenty of usage from it on your trip.
Want more coats? Here are our some tips on how to choose the best travel coat!
Bess Bridal Plaid Blanket Winter Scarf
Scarves
A favorite of winter accessories, scarves can instantly elevate your cold weather travel outfit. Think fun patterns, interesting textures, and oversized styles this season.
Instead of the ever-popular infinity scarf, opt for a blanket scarf that you can make use of on your flight as well. Work it into your plane outfit and use it as either a blanket or pillow when you're looking to get some shut eye.
Here are a few more winter accessories for women to spruce up your look!
Beyove Sleeveless Draped Waterfall Cardigan
Vests
Vests are just one more layer to add dimension and warmth during the winter months. The puffer and sweater vest are classic choices, but look for updated details and cuts like the draped style above.
Super long vests are trending now, and the affordable option above is an inexpensive way to try it out for the season. These are great if you want to wear cozy legging-inspired pants throughout the season.
Here are the best leggings for women that travel!
Amazon Essentials Long-Sleeve Stripe Turtleneck
Tops
A light striped turtleneck is this seasons go to base layer. A simple top that pairs well under ponchos, sweaters, and vests. This is one versatile item that will be worn over and over during your trip. It's also a great way to pay up any solid bottoms you bring along!
Go for a classic white and black stripe to get the most usage. From Paris, Tokyo, Moscow and beyond, you can be certain this is one universally flattering piece.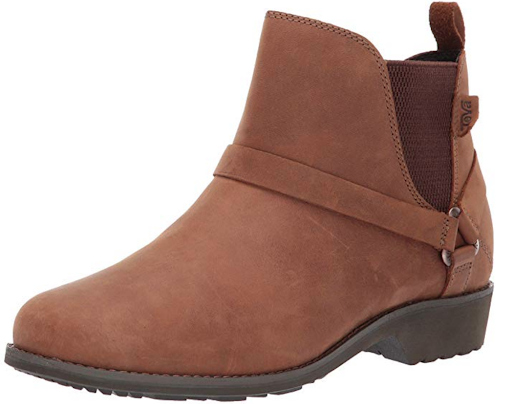 Boots
In addition to coats, boots can be one of the high-ticket items on your shopping list this season. The style above gives you a popular shoe look for a more affordable price tag.
Over the knee boots can be hard to pack, but if you plan on wearing them a lot during your trip then they may be worth the hassle. They can be really warm and provide extra leg coverage in super cold destinations. You can also get away with tall socks underneath to amp up the warmth.
Nothing beats the versatility of a neutral color, so opt for a pair in the shade above or similar. Just be sure to wear them on the plane to save space in your bag!
Check out the best ankle boots for fall and winter travel!
---
Gearing up this season doesn't have to break the bank, you just need to shop smart and take advantage of good deals when you find them.
Do you have any stylish pieces to add? please share in the comment below!
---
For more packing tips for winter travel, please read:
---
LIKED THIS POST? PIN THIS PIC TO SAVE IT!
---
Hope you liked this post on  best winter fashion. Please share with your friends on Facebook, Twitter and Pinterest. Thanks for reading!
---

Author Bio: Niki is an interior designer and artist from Louisiana. In addition to her design work, she writes for local and online publications sharing her experiences and passion for travel. Niki is currently adding stamps to her passport while building her design practice, Niki Landry Designs.
---