Support TFG by using the links in our articles to shop. We receive a small commission (at no extra cost to you) so we can continue to create helpful free content. We earn from qualifying purchases made to the featured retailers. Thank you, we appreciate your support!
Today is Travel Fashion Girl's 8-year anniversary! I'm feeling all kinds of emotions, but what I mostly feel is gratitude. It's because of you (the readers) that made TFG what it is today. 
In celebration, I thought I'd share my entire story, as many of you have asked about it time and again. Without further ado, here we go…
I used to work in the fashion industry for a very large corporation for almost six years. I won't mince words, it was an amazing job that I really loved. I was in my early 20's and had it really good, living a very comfortable existence in Los Angeles.
But in January of 2008, all of that changed; the recession in the US was quietly starting to take place. It really wasn't a thing yet, but companies were starting to do things internally. The company that I worked for began to downsize in a very quiet way and unofficial way. 
Here I was on the fast track, in fact, my boss had been grooming me for his position since I first started and one day he said to me, "The best way for me to move up in my job is to train you to take over my position." Though I'd been with the company for nearly six years, I'd only been in his department for about two years. 
"Alright, sounds great to me," I replied, agreeing to the training. I was eager and excited to move up in the ranks.  
Finally, the time came for me to be promoted because my boss was getting his promotion. Guess what happened? They did not give me that job. Instead, they made me train somebody else to take over my boss's position.
What that meant was they squeezed me out of my job. 
I was absolutely heartbroken. This was very deflating for me, and it was a huge insult to actually have to train the person to take over a job that I thought was mine. 
I couldn't shake my depression and eventually made the decision to quit my job. That wasn't an easy one as I loved my job, and had no intention of leaving. 
But devastated at how I was discarded, I felt betrayed, it was like going through a divorce. Though I hadn't experienced this personally, I could only imagine what it feels like, to have that kind of anguished separation after giving so many years to somebody else.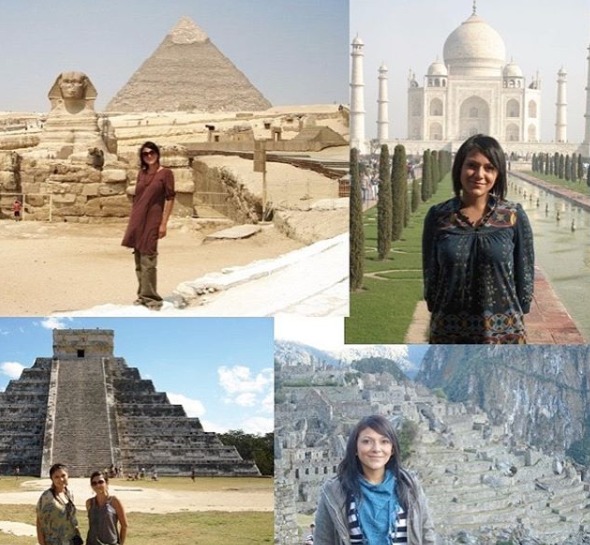 Seeing the Seven Wonders of the World in 2008!
When I quit my job, my boss's friend headhunted me. He said, "Well, if you ever quit your job, I would like to offer you one." So I left, and I had a new one already, and that felt really good. 
But I told him, "I really want this job with you, but I cannot start until April, because I need to take three months off to travel." 
You see, I had made a promise to myself. 
Years before on the one and only vacation my mom had ever taken in my adult life, we were in Hawaii and as I stood watching the crashing ocean, I pledged that if I ever quit my job, that I'd take three whole months off to travel. And I had every single intention of keeping that promise to myself.
Now, taking three months off to travel back then is not what it is now. There wasn't a wealth of travel information, blogs, Instagram influencers to follow. I just wanted to go traveling, but never even knew that going alone was even an option! As far as I knew, the world was a scary place, and a woman could never travel by herself. 
I waited for my friends to go on a trip with me. And of course, as many of you probably know, if you're waiting around for your friends or family to go traveling with you, you may as well wait forever. Sure enough, nobody really wanted to go with me due to their busy lives.
I was 25 at the time, about to turn 26. I didn't have a job (yet). I didn't have a mortgage. I didn't have kids. I wasn't in a serious relationship. I thought to myself, "Man. I've got to just go and make this happen. This is my only chance. When I am going to get three whole months off to myself to do anything in the whole world that I want?"
In those three months at the beginning of 2008, I went on three trips. I didn't do lengthy three-month traveling, but this is where I went. 
In January, I jumped on a last-minute flight and flew to El Salvador, where my grandma's from, and I visited her. So that was great. I had a chance to spend time with my grandma and be in this cool place, a country I didn't know, and it was fantastic to spend time with her.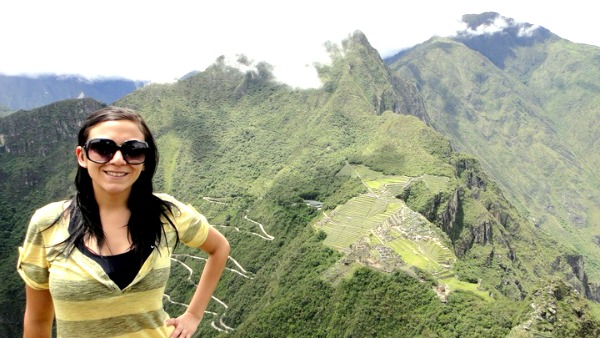 Machu Picchu in 2008, one of my dream destinations
In February, one of my friends said she would travel with me, but the only place she would go was Europe. I'd previously gone to Europe in 2007 with my grandmother, so I wasn't sure I wanted to go. I longed for somewhere so different and far away, because when was I going to get this opportunity to have all this extended free time when I started my new full-time job?
Turned out that Europe was a shorter flight than traveling somewhere like in Asia or Africa, so I went with my friend to Europe because I thought, "Well, this is going to be fun and be an adventure." And it was! Of course, Europe is fantastic and it's beautiful. We spent a couple of weeks backpacking there.  
However, two things happened on this trip. One, it was my first time spending time in a hostel. My friend and I met women traveling alone at this hostel, which was shocking. They were European women, not American women. We were confused. "How could you be traveling alone? Aren't you scared? What are you doing?" It was really interesting to meet other travelers and learn different perspectives about traveling.
And the second thing that happened is my friend overpacked an insane amount of stuff. She took this huge suitcase, and on the third day of our trip, the handle broke on her suitcase at an Italian train station as we were running around. I had to then lug around her giant suitcase for the rest of the journey, without a handle. This revelation is one of the reasons why I don't overpack today. 
Suddenly March came around, and I was getting ready to start my job, yet I decided to squeeze in one last trip. I looked online to see if there were any escorted tour groups. I recall when I traveled with my grandmother the year before, we went on a coach bus tour, and there were a couple of solo travelers on that tour. I thought, "I can go alone if I join a group. I won't be by myself, and I'll still get to travel."
As I researched online, there it was. A trip that was departing one week from that day to India. I knew nothing about India—all I knew was there was space and I was going to go. It was a yoga and spirituality tour with a Canadian tour company called Sacred Earth Journeys. It was an obscene amount of money for my 25-year-old self, but the urge to go was strong—I had to do it. 
I was so clueless that I had no idea that I needed malaria tablets, vaccinations, or that I needed a visa in advance to get into the country. So fast-forward… The following Wednesday, I was literally taking an overnight bus to San Francisco, a visa for India in hand, thankfully! I jumped on a flight to India the next day.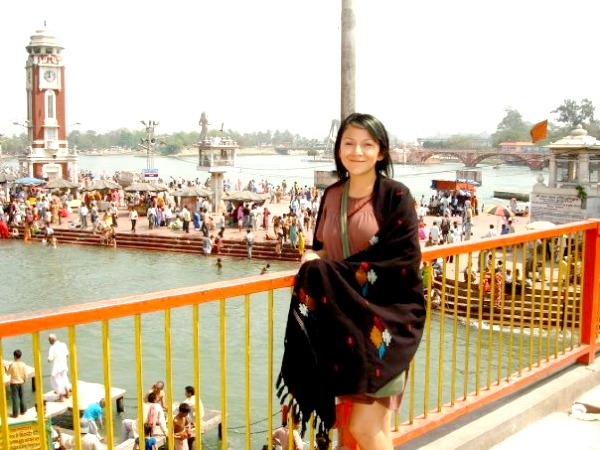 A life-changing trip to India in 2008
I was a bit struck that I made it happen. And thankfully I did because that trip to India ended up changing my life completely. If I hadn't jumped on that tour, I would still be working in the fashion industry or an advertising agency, which would be totally okay. Maybe I'd be a VP in a company now like I wanted to or have my retail conglomerate as I'd always dreamed I would. But it didn't turn out like that.
Why was a trip to India so impactful? I think this is one of those things, when you ask people, "Why do you love a destination? What's your favorite place?" It's less about the destination and more about your personal experience. 
First, I wanted to go somewhere totally different from what I was used to, I accomplished that—yay! But India itself. It's a destination that is full-on. The food, the music, the noises, the colors, the people, the setting. I was there during Holi Week and it was insane and simultaneously incredible. 
What was more life-changing for me were the local people that I met in India and also the people on my tour. Being there really made me reevaluate my priorities and ask myself, "What am I doing with my life?"
I questioned my purpose, my goals, and what I was working for. I felt like my eyes were opening to how others' lived and realized how different it was to what I was used to in comfortable Los Angeles.  
I have a striking memory that comes to mind. 
Even though I had a corporate job, I'd always worked part-time as well. And in one of my part-time jobs, I was promoting a video game at Best Buy. I remember witnessing this kid throwing a tantrum at their parents for not getting them the newest Xbox console and kicking at their parents in anger. 
Here I was in India, and this little kid approached and asked me for my sunglasses. I put my sunglasses on him which were totally oversized, and it was so adorable, I had to take a picture so he could see himself with my camera. He looked at his photo and laughed. After that, all the kids wanted to try on my sunglasses and get a photo—they were happy and laughing, enjoying something so simple that brought so much joy. Seeing them having fun and playing, and not with an Xbox, struck me deeply.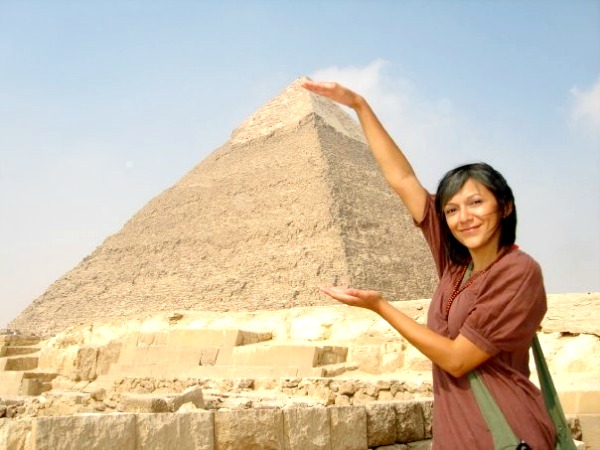 Sizing up the awe of Egypt in 2008
It made me think about my life in Los Angeles. If you don't have a fancy car there, you don't really belong. Status is more important than people or experiences. It dawned on me that the things I was working for, weren't the things that I should be working for.
And the other aspect about that trip to India that was really impactful were the women on my tour. During that time period, it was very unusual to meet a lot of Americans traveling. A lot of the people that I met were young backpackers or people from Europe, Australia, or Canada.
And with this particular tour in India, at 25, I was one of the younger people. The women on the tour had so much more life experience than me. Many shared stories about being in their second, but much more happy marriage. They shared their stories about traveling with their daughters around the world, going to places that I hadn't even dreamed of, like Machu Picchu, Great Wall of China, Africa on safari, and visiting ancient ruins in Mexico.
At this point, having gone to at least two continents, I thought I was well-traveled, but these women showed me that there was a whole other world out there. I felt so open and ready to receive… I wanted to see what they'd seen. I wanted to experience what they'd experienced. I wanted their life lessons. It was as though the whole world became available in a completely different way and my tiny world of Los Angeles was in the rearview mirror, instead of in front of me.
As I was going down the Ganges River on one of our activities, I made the decision that I was going to keep traveling. I wanted to see all Seven Wonders of the World, the ones that the women had described to me. 
It all made sense to me. I was not going to work, and I was going to quit my life and keep traveling. As I shared this exciting news to the tour group and the leaders, they said, "Maybe you should calm down, Alex. I think you're really excited. This is new to you, and you're really not thinking clearly." I was surprised. I was so motivated, in love with traveling, and they weren't really supportive.
But I didn't care, because I felt it with every single ounce of my body, that this was exactly what I needed to do. Before the trip ended, I had posted on my private Facebook profile and said, "If anybody wants to rent my car, I'm going to be going away for a couple of months. And if anybody wants to rent my apartment, please let me know." Turned out, nobody wanted to rent my apartment, so I actually ended up sending an email to my landlord, before even departing India, giving my 30-day notice. Definitely, no regrets!
But reality began to hit hard. The biggest fear I had was that I don't come from a wealthy family. In fact, I come from a very hard-working family, with parents that, through hard work and a lot of effort, moved up from lower to the middle class.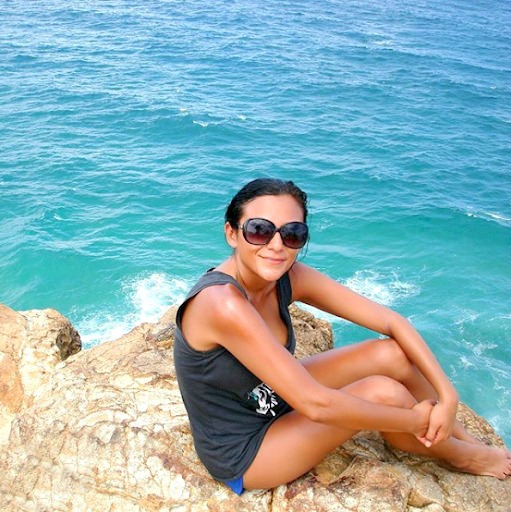 In Australia in 2010, one of the stops on my solo RTW trip
I remember growing up as a kid in this small studio apartment in Los Angeles and then 15 years later, my mom finally getting her house and white picket fence. She achieved the American dream. This was the example she showed me, which is another reason why I was so focused on my career. Even more so than marriage and kids, my career was always very important to me.
I felt very guilty about throwing away my mom and step dad's dream for me and take for granted everything they'd done and all their sacrifices. So choosing to travel and go gallivanting around the world wasn't an easy decision, because it came with a lot of guilt attached to it. 
I lucked out though because my parents never made me feel guilty. They were actually very supportive. They continue to be supportive, in the sense that they've always said, "If it makes you happy, then that's all that matters to us." Which is great, it's been wonderful to feel supported by them. 
But friends had a different reaction. I'll never forget. one of my best friends, saying to me over brunch one day, "Alex, what's wrong with you? Are you having a nervous breakdown?" She wasn't trying to be rude. And I think she, a hundred percent, had every right to ask me if I was feeling okay, because all of a sudden this hyper-focused career-minded person that she'd known for so many years was just throwing everything away, getting rid of her apartment, getting rid of her car, and going traveling. That was very questionable. 
People always have an opinion when you're doing something different, and traveling wasn't quite as common and prevalent as it is now. I knew I just had to forge ahead. I pushed aside the naysayers and fortunately had the blessing of my parents, and off I went. 
In 2008, I saw all the Seven Wonders of the World except the Great Wall of China. I also went to the only ancient Wonder of the World, which is the pyramids of Egypt. So that was a wonderful accomplishment! 
However, I was still apprehensive about solo travel and going alone. I mean, I'd seen that movie Hostel and surely I was going to get killed if I went traveling alone! So I kept on going on escorted tours. Only this time I found ones that were a bit more budget-friendly. 
I did a safari from Zimbabwe to South Africa, and then from South Africa to Cairo, and then did a three-week trip between Egypt and Jordan, and then I flew back home. 
Then I decided, "Okay. Now I'm going to plan South America." Then I went Central and South America, so I could then see Christ the Redeemer in Brazil, and Machu Picchu in Peru, along with some natural wonders in between. At the end of that year, I then went to Chichen Itza in Riviera Maya near Playa del Carmen, where I live now, and saw that wonder. 
As that year progressed. I started to gain more confidence and no longer felt the need to go on tours. I found out that the world was really much safer, nicer, and easier to travel than I had ever imagined. I realized that I could discover a city on my own, that I could meet other travelers and have last-minute adventures with them, and stay at hostels.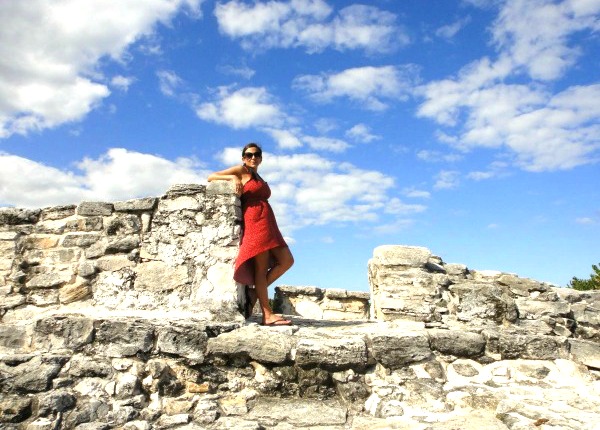 Traveling in Playa del Carmen in 2011
Another thing I discovered were these things called "gap years", these round-the-world trips that Europeans, Australians, and Canadians went on. For a whole year, they went traveling on a budget. And I thought, "That's what I want to do. I've been all over the world, but I want to do it properly. I want to do it on my own."
In January of 2009, I wrote an email to all my friends and family telling them that the following year I had every intention of going on a round-the-world trip. I told them everywhere I wanted to go, and if they wanted to, they could save money and join me on all or a part of the adventure. 
And guess what happened? Of course, nobody went with me. That was all the better because I got to go on my own.
So I started preparing to travel. I spent 2009 working hard, saving money. The job that I had in 2009 actually was a seasonal job. It allowed me to continue traveling, but in the US. I was working as a tour manager for a cellphone company, driving an Escalade around different cities, going to different events, having to set up, and working hard at these venues. 
This wasn't the only drastic change I made. I put items in storage. got rid of my cell phone, bought a cheaper, prepaid cell phone plan, sold clothes, shoes, or whatever furniture I was willing to let go of at that point. 
I moved back in with my parents. I actually slept on my friends' couches. Sometimes I even slept in my car. So that way I could not just work on that tour-managing job that I had, but I also took extra work wherever it was there, so I could save. 
In that year I managed to save about $15,000, which I then used to go on a round-the-world adventure all by myself in 2010.
The interesting thing about long-term travel is that it actually ends up being a lot more cost-effective than going on a short vacation. 
For example, on a one-week vacation, you might spend anywhere between $5,000, to $10,000 on that one week. Your hotel will be maybe $250 per night if you're going to a resort. If it's all-inclusive, you're likely doing the activities, having nicer things, because you're only going for a week and you want to make the absolute best of it. (Which totally makes sense!)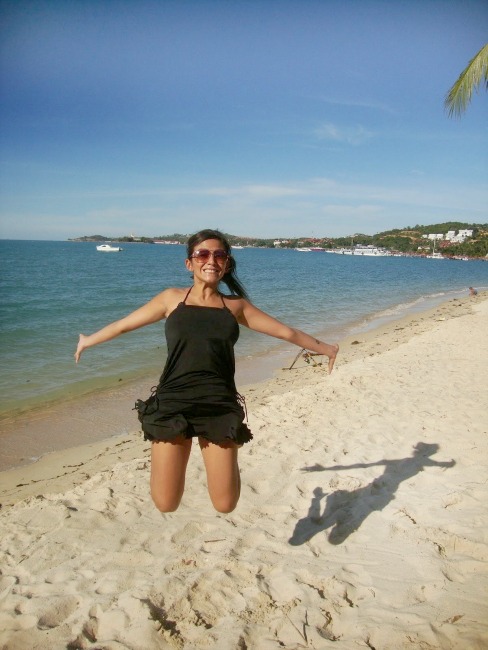 Where Travel Fashion Girl first began: Koh Samui, Thailand in August 2012
Because I was able to go traveling for nine months around the world at a budget, the most expensive part of my trip was the flight. My round-the-world flight was cheaper than my flight that took me from Los Angeles to Johannesburg, for example.  
I booked my round-the-world ticket with Air Treks. And, altogether, it was $3,200 (including insurance) from LA to Fiji, New Zealand, Australia, Thailand, Mumbai, and ending the trip in Kenya in Nairobi. For all those destinations, that was pretty awesome! 
That left me with about $12,000 to spend for the rest of the time. When I left in January of 2010, I spent less time in places that were more expensive comparatively. For example, in New Zealand, I spent three weeks. In Australia, I spent two weeks. And then in Southeast Asia, I spent three months because my daily budget would vary anywhere from $30 to $100. 
Overall, it makes a lot more sense as a long-term traveler to spend less time in places that were more expensive and more time in the places that were more cost-effective. And that's what allowed me to take that $12,000 and make it last for nine months. 
Something else happened on that solo adventure. I actually met my ex-husband towards the end of my trip. I met him in Southeast Asia and so he kind of changed my travels at that point. I ended up canceling the India portion of my round-the-world, and he ended up canceling the Australia part of his round-the-world so that we could spend more time together. 
He was from England, and I'm from the US, so if we wanted to stay together we actually couldn't work in each other's country, without being married or going through an insane visa process. So we decided just to continue traveling, which was way more fun and more cost-effective! 
As an example, for $1,000 I could live in Thailand and do a lot of activities, versus a thousand dollars would be my minimum rent in Los Angeles. So it made sense to continue traveling long term.
A lot of people wonder how I managed to travel a lot before starting Travel Fashion Girl. Between 2008 and 2013, I would go back home, work these seasonal jobs, and then save, save, save. Not eat out or go shopping. Then I'd go budget traveling, as I explained because long-term traveling can be much more cost-effective. I had fantastic experiences on a smaller budget.
So, just to put into perspective my jobs; I worked as a tour manager, promoted video games, and promoted cell phone companies. I'd be on the road across the US all the time or running back and forth between LA and somewhere else.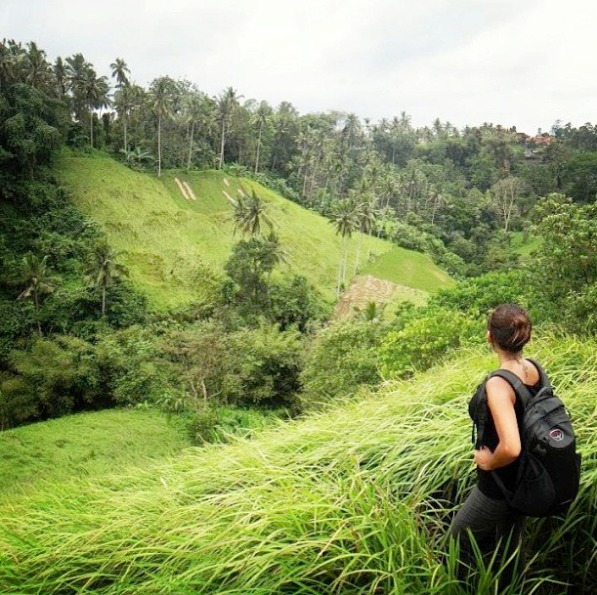 Taking in Ubud, Indonesia in 2013
I worked 20-hour days, sometimes seven days a week, being on my feet all the time, with few breaks, and some of the work was really heavy labor which involved lifting tons of things while being the smallest girl in my work team most of the time. 
It was difficult, but everything that I earned, I knew would just be an opportunity to see another part of the world. And every sacrifice that I made was well worth it. 
So there was no blog. There was no Instagram. There was no influencer stuff that happened. It was all really a result of saving money through hard work and working very long days. I kept my eye on the prize, and it was a wonderful experience, and I'm glad that I was able to have it.
I also saved money in a very important way, one that actually ended up being serendipitous and led me to create Travel Fashion Girl. I would do work exchanges by using websites like Workaway.info. 
A work exchange means you work for about 20 hours a week, not in exchange for money, but in exchange for room and board. I'd look up work opportunities in different places where I'd want to travel, like Guatemala or Borneo. And these work exchanges could be anything. Like volunteering at a language school, or working on an eco-garden or building, or whatever it was. There was a bunch of random work but this was so rewarding because it didn't matter if I wasn't making any money because I was actually living and traveling in different parts of the world.
The first work exchange I did was actually at an eco-lodge in the jungle in Guatemala. And this was so far away from anything in my comfort zone, it was unreal. We were in an eco-camp in the jungles of Guatemala, where there was no electricity. They had no television. They didn't know who Harry Potter was. The only way in and out of the eco-lodge was on a kayak or on a boat.
I was there for five weeks and had one of the hands-down, best travel experiences of my life. It cost me nothing. I actually made $50 in tips. I didn't spend any money nor did I make any money, but I had a lifetime of memories from that work exchange. 
I enjoyed it so much that I also decided, "Well, I want to go see if there's anything like this in Asia," and found this work exchange in the jungle in Borneo. This was nothing like the experience in Guatemala. The eco-lodge in Guatemala was incredible. It was on the Rio Dulce. If you ever want to go, Guatemala is actually one of my top five favorite countries in the world. Nobody even knows about it. It's so underrated. There are so many beautiful places to go and discover there. But we had such a great experience that we tried to replicate that in Asia.
The jungle camp that I then went on to volunteer and run in Borneo had nothing. It was the complete opposite of the one in Guatemala. In fact, the living conditions were really poor. As the managers of the jungle camp, it was embarrassing, because we didn't have food for them. I felt mortified when guests would come. It was quite bad and I made the hard decision to leave early because it was just unacceptable.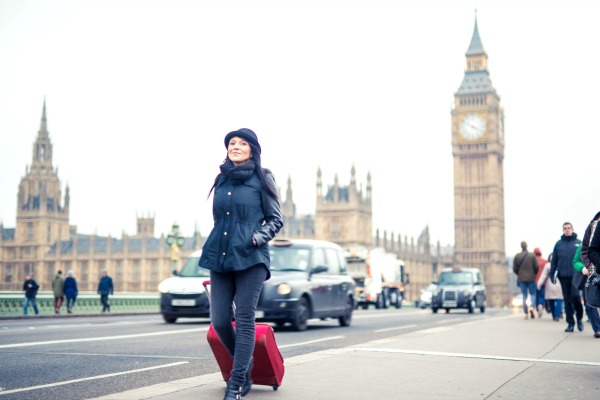 Traversing London in 2014
I had a downturn moment and remember sitting in a guesthouse in Borneo, thinking, "Man, maybe I'm done traveling." I thought to myself, "Maybe I should go back to Los Angeles. I really have this idea for Travel Fashion Girl, for this blog. I've been wanting to start this blog for a year, but website stuff is so confusing. I haven't been able to do it. Maybe I should just go back home and work on it."
And then it occurred to me that if I went back home to LA, I'd need to get a very high paying job if we were going to afford living there, because it would drain my travel savings in two seconds. So I thought, "Well, why not look to see if I can find a work exchange here in Asia, where I can try to work on this blog idea that I have?" That was such a defining moment in my life. 
All the stars aligned. I went on Workaway at that moment to see if there was anything in all of Southeast Asia that could possibly help build this blog idea I had; I found this opportunity with a digital marketing agency. They were basically bringing travelers onboard, giving them a free place to stay, and free breakfast, in exchange for them writing articles for their websites. I had no idea what a digital marketing agency was, or anything about online marketing. But I thought, "Man, if this is something to do with online, maybe I can meet somebody there that can help me launch this website. I really want to start this website."
I knew that I had this problem with packing, and it was SO frustrating for me. I'd asked other female travelers if they felt the same way, and they did. So I felt like I had to get this website up and running, because I needed to help other people. I wanted to help them avoid my packing mistakes. As luck would have it, digital marketing ended up being one of the most important things that I could learn.
This agency entailed a British couple that had a two-bedroom townhouse in Ko Samui, Thailand, one of my favorite places in the world because of my experiences there. I lived in a house with different travelers that were all trying to save money to continue traveling. They were also working on websites.
In fact, one of the guys that worked there was a web developer who ended up building Travel Fashion Girl's first website for free in exchange for me to write articles for his website. Another person at this work exchange was Brandy Lee Bell. She's a blogger from It's One World Travel, and she used to be a professional social media manager for a big company in California. She was so generous and willing to teach me how to use Twitter and Facebook to talk to people, and not feel embarrassed about talking to strangers online. 
These two people played such an instrumental role in helping me launch this blog that I hadn't started because I was technologically challenged, and it was so overwhelming. So as I said, the stars aligned and the right people came my way.
The last thing that was very life-changing about this particular work exchange is learning that digital marketing had everything to do with something called 'SEO', and I very much hated learning about it, but it was necessary.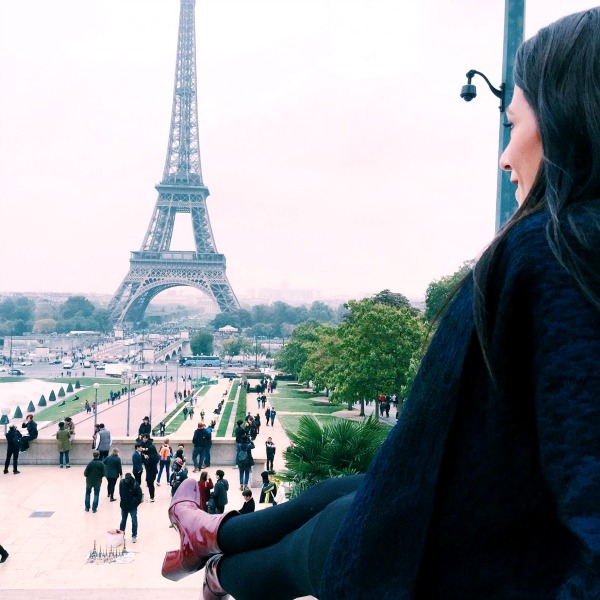 Enjoying the sights of Paris in 2015
However, SEO ended up being the key thing to having a website with traffic, which is exactly how Travel Fashion Girl grew to be the second-highest traffic travel blog in the world by November 2019, which was such a cool thing! Getting to that massive traffic accomplishment came from this one work exchange in Thailand that I went on hoping to find people that would help me build my little idea.
This blog really came about because I went from going on these trips by myself to then going on this round-the-world journey. To suddenly meeting this guy who I'm intending to travel with long-term. I had to figure out, how do you pack for a never-ending journey to unknown destinations? 
I started researching how to do that, and I found that online there wasn't really much information for women. I had no intention of gallivanting around the world in designer clothes, heels, and makeup necessarily, but I didn't want to look like a hiker, and I definitely wanted to look like myself. I used to work in fashion and I wanted to feel good. But I also needed to be practical, because I needed to be ready for anything.
It was trying to find a balance between all those elements, which included having the right clothes and shoes, to not lugging around a big, heavy backpack or suitcase while traveling. So I started tinkering and testing different things out. There are capsule wardrobes I've made and pictures I took that I've never shared! 
As I was going through this, I started interviewing women that I would meet at hostels or guesthouses (any women I encountered really!), and ask them about their packing. It was a relief to learn I wasn't the only one—it seemed that everybody struggled with the same thing. They packed things that they didn't like. And even if they were minimalist packers, maybe they wished they would've brought an eyeliner, because it was the one thing that made them feel like themselves. 
A lot of people felt like they had to transform their whole travel wardrobes, and shopping at places like The North Face or Columbia, in order to go traveling.
As I was getting this feedback from other people, I knew that there was a problem out there, and I really wanted to help. And that was always my intention with Travel Fashion Girl. It's genuinely still the same goal now, which is to help other female travelers not to make my mistakes.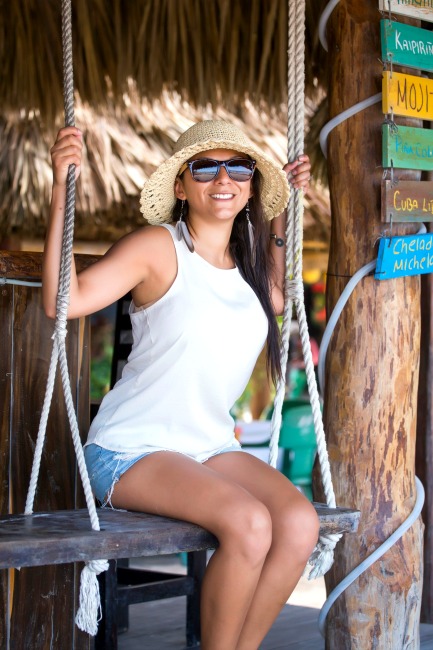 In Isla Holbox, Mexico in 2016
It's been so wonderful to watch the community grow and to see how everybody's been empowered through packing. Mostly, it's been amazing to see my initial goal, which was to help women not make mistakes packing turn into something much greater. I'm so grateful to be a part of it all.
Then, it hit me. As I was going over this story, I realized that I got my American dream. 
I ended up doing what I set out to do, what I had worked hard to do, even among ups and downs. And despite all that, I was able to still follow my heart on several occasions, ended up finding love, falling out of love, nurturing the blog, meeting new friends, discovering so many amazing destinations, and really just taking a chance.
Fast-forward to 2020 and the current situation that we're in now, it really has been very important to remember this story and honor where it all started, because it started with me quitting my life and jumping into the unknown. I feel like that's kind of where I find myself now. 
Although I've traveled to many beautiful places since starting Travel Fashion Girl, my journey will always kind of end where Travel Fashion Girl started.  
For me, traveling was really all about myself and about being present in the now. Back in 2008, social media wasn't as prominent as it is now, and in fact, I wasn't on social media really. I soaked in moment after moment and in a way, I still behave the same. 
If any of you follow me on Instagram, you'll see that I don't really post the places where I am, particularly so I can enjoy my travels and be there in the present. That's one of the things that I'm afraid is really getting lost now. Because one of the things I had to learn, as a solo traveler, is how to enjoy that moment for myself.
Let me tell one last story about me and a sunset…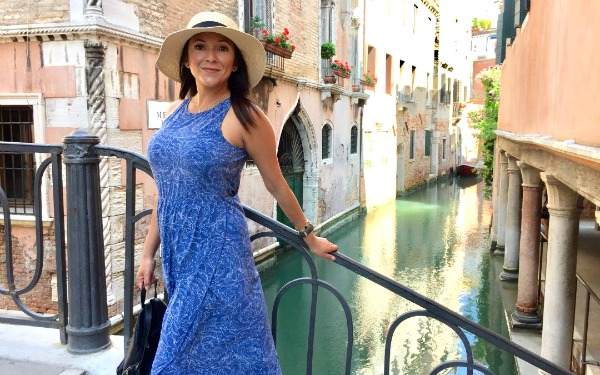 Soaking in Venice in 2018
In May 2008, I was in Egypt floating down a river in Felucca, on a Nile River cruise with G Adventures and as I sat there, the sun began to dip towards the horizon, a sienna burnt color that took my breath away. 
I was one of the only solo people on this tour; there were families, couples, and maybe just two other solo travelers. I sat there taking in the sunset and found myself thinking, "Man, I wish I had someone to share the sunset with. It's so beautiful."
And then I thought about my mom. It occurred to me that my mom's never traveled. She had me very young, and worked really hard all her life to give me a better life than the one she had. 
Right then, I decided to enjoy this sunset for my mom, and be grateful that I'm having this opportunity to even witness a sunset in Egypt, of all places. And then I pictured my grandma who always wanted to go to Egypt and Israel, but was never able to. I also decided to enjoy the sunset for her—through my eyes. 
And the last thing I realized which was incredibly important. "I'm going to enjoy this sunset for ME. This is my sunset, my moment, and my journey. I don't know if I'm ever going to be in this location ever again but I have to remember to be 'here' right now. To appreciate what's in front of me."
I'm so glad that I learned that lesson early on, and hold dear that all these trips are less about the destination and more about the experiences I had. All of them impacted me on a deep, personal level, which is why I may not have shared them until now, they were kind of my special lessons on how I grew into a woman.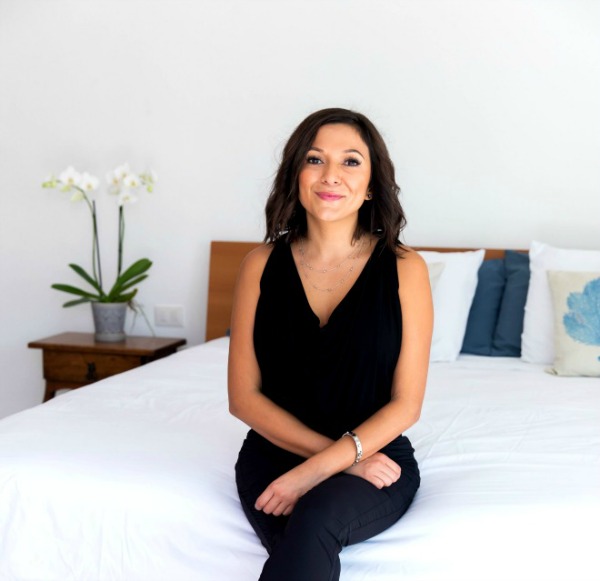 At home in Playa del Carmen in 2019
As a side note, why does Travel Fashion Girl not say Travel Fashion Woman? Because based on my experiences and me growing up through traveling, you really can't become the woman you want to be without remembering the girl that you used to be. So that's why Travel Fashion Girl is for all ages and for all women, from everywhere.
Which is why I'm grateful to be able to share my story with you. 
It's you, the readers, that remind me it really has come back full circle. That was my Chapter One, and now I feel like I'm starting my Chapter Two. 
And whatever chapter of life you're in, I'm SO grateful to support you, and humbled you've been with me throughout the years. Here's to 8 more! 
Safe and stylish (future) travels! ❤️
alex ?
---