Support TFG by using the links in our articles to shop. We receive a small commission (at no extra cost to you) so we can continue to create helpful free content. As an Amazon Associate, we earn from qualifying purchases made on Amazon in addition to other retailers featured on the blog. Thank you, we appreciate your support!
Stylish travel clothing is hard to find, but these companies do a great job of combining practicality and femininity too. Whether you're an avid globetrotter or a newbie nomad this is our essential list of the best travel clothing brands for women!
---
Best Travel Clothing Brands
---
Table Of Contents
Confession: I overpacked all the wrong clothes for 5 years before I finally started traveling carryon only on my long term travels.
I saw other travelers, predominantly male travelers, traveling around the world in a small little backpack, and I was envious of them – they seemed to move so freely without a bunch of baggage. I wanted to be like them. Traveling light.
However, my situation was the exact opposite. I was traveling with way too much stuff and somehow I never felt prepared for the destinations I was visiting. Based on limited packing advice online at the time, I chose clothing that was either too technical, low quality and consequently not practical for long term travels, or just not my style at all. To sum it up, I didn't feel like my best self.
If you also feel unprepared while traveling, check out my guide to stop overpacking.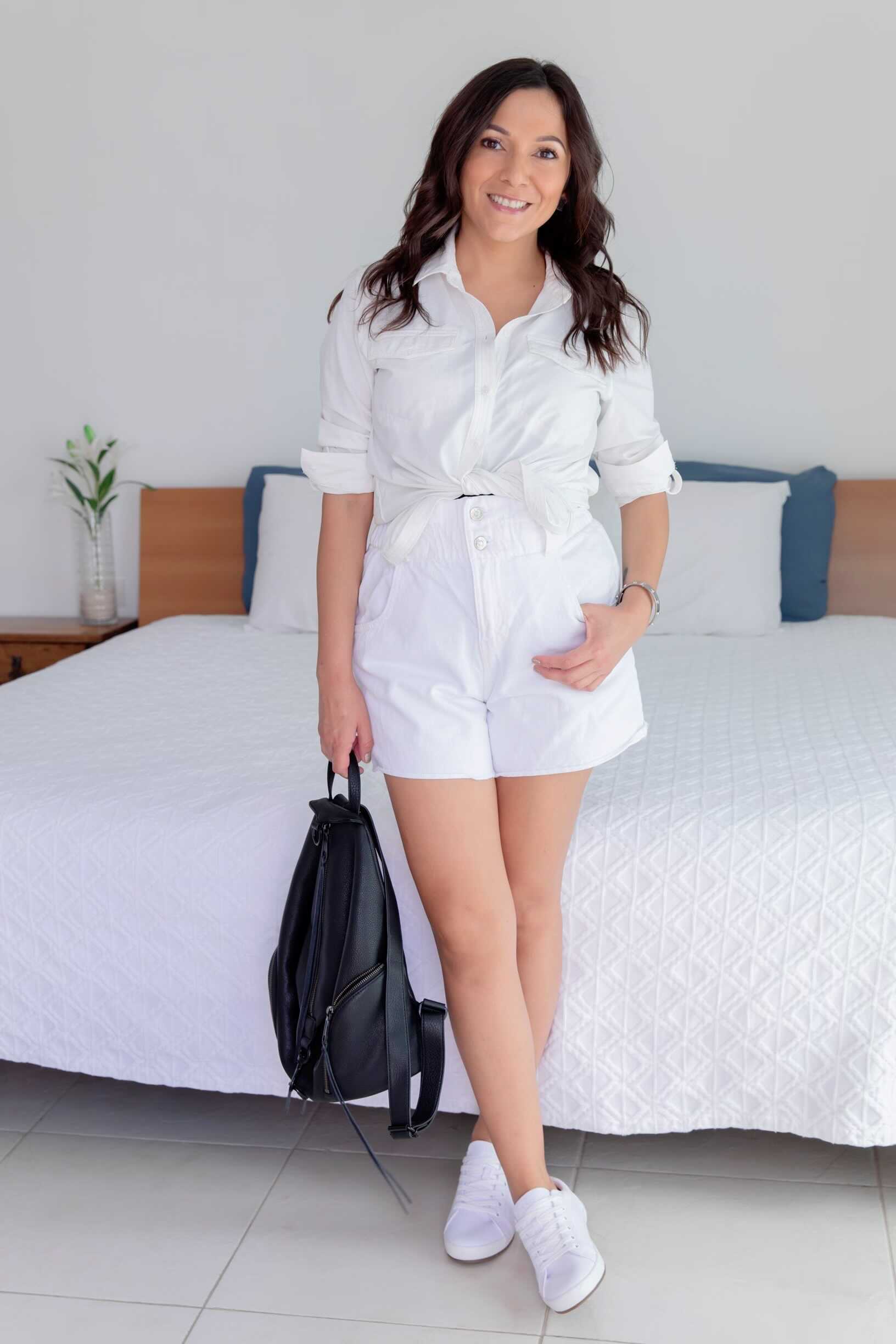 The Eddie Bauer Departure Shirt is lightweight and moisture-wicking, perfect for travel! Paired with Rebecca Minkoff Backpack and Taos Star Sneakers
In 2011, I set off on a mission to figure out how to choose the best travel clothing without sacrificing my personal style or skimping out on functionality. One year later Travel Fashion Girl was born. The idea was to show female travelers how they could be fully prepared on their travel while also feeling good about their clothes, too.
I made it my personal goal to start packing smarter, traveling lighter, and to bring the right things for my trips.
I eventually discovered that the secret to packing the right clothes for a trip was to choose things that were practical but things that also made me feel good about myself. The ideal trifecta for travel clothes are items that feature form, function, and fashion, too. While the majority of time you don't need specialty "technical, utilitarian clothing", travel and outdoor brands do offer so much functionality when traveling. Their fabrics tend to be lightweight, breathable, packable, wrinkle resistant, quick-drying, and so much more than your average garment.
Unfortunately, many times the designs leave alot to be desired for. They can be masculine, childish, or unattractive. The solution is to look for regular garments with technical features and combine those items with a few of the most fashionable travel clothing options available.
What are the best travel clothing brands?
Non-Travel Clothing Companies that Are Amazing for Travel
While stylish easy care travel clothes can be hard to find, I've found several companies that do a great job of combining practicality and femininity. Here's my list of the best travel clothing brands for women: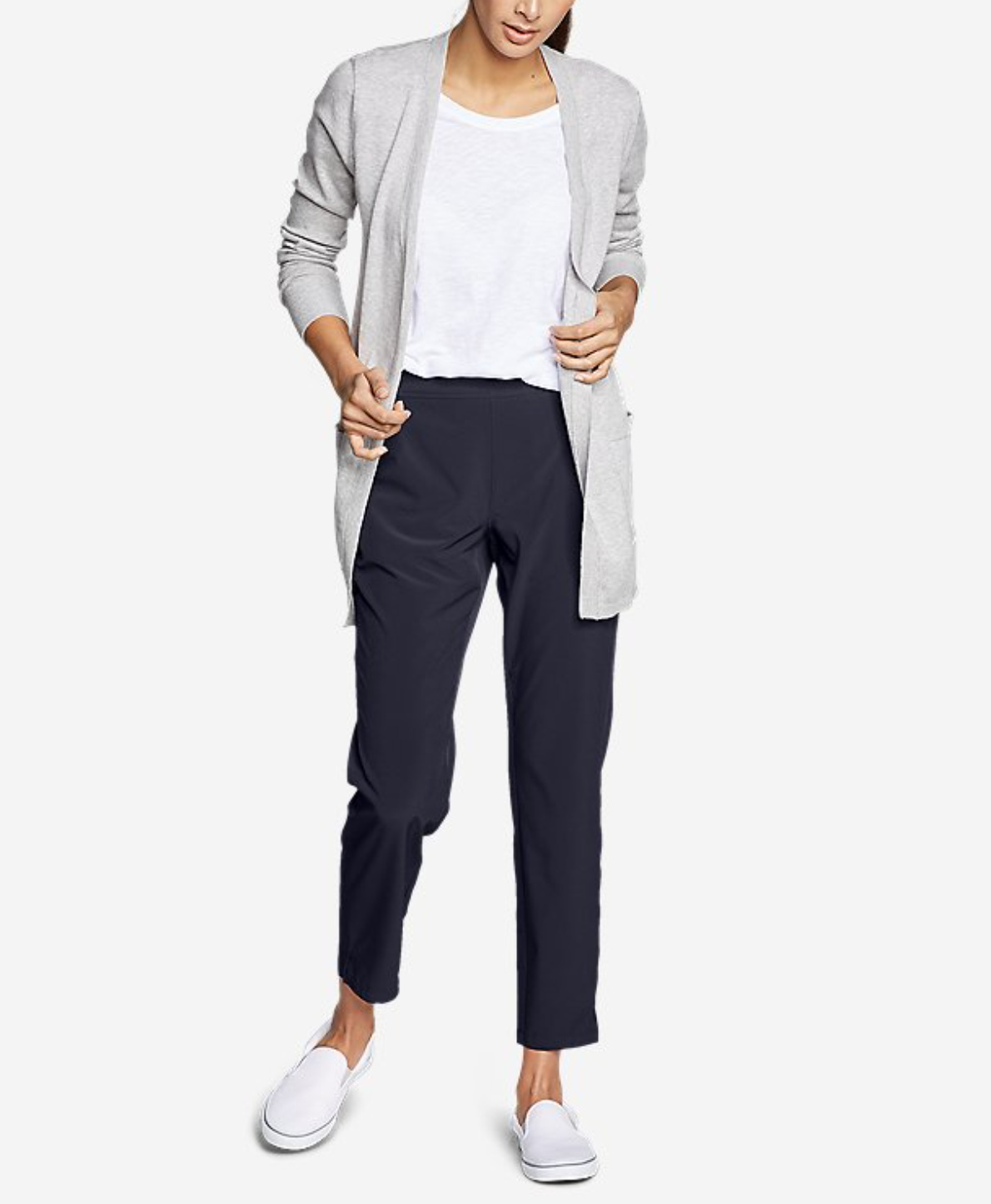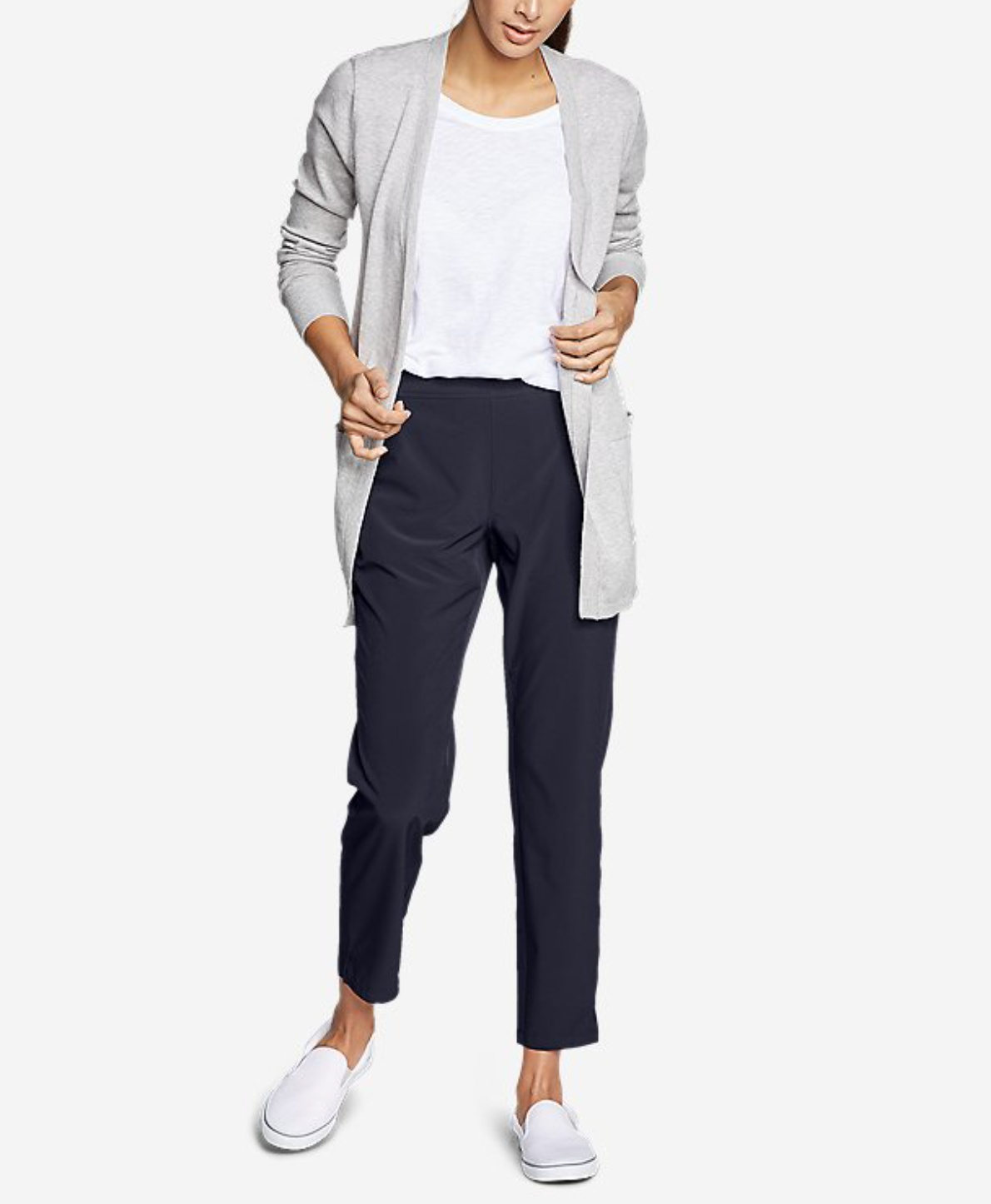 Shop Eddie Bauer: Sizes XS-XXL | Petite S-L | Tall M-XXL | Plus 2X-3X
Eddie Bauer
As I started researching hiking clothing for my various trips to national parks over the past year, I discovered Eddie Bauer, and this brand has quickly become some of the best travel clothes for women. I like many of their items for travel and every day, and so do our readers!
Readers have continually bought up the Departure Pants, which were a big hit during Amazon Prime Day! They're lightweight, don't retain moisture, have UPF protection, and a hidden pocket. The definition of perfect travel pants! 
Consider checking out the Departure Travel Clothing Collection, which includes the Departure Blazer, another TFG fave that works as a summer jacket with some polish. Or their ultra-lightweight and breathable summer dresses are a huge hit, such as their famous Departure Dress Collection.
Find out why TFG readers constantly choose Eddie Bauer shirts for travel in this review!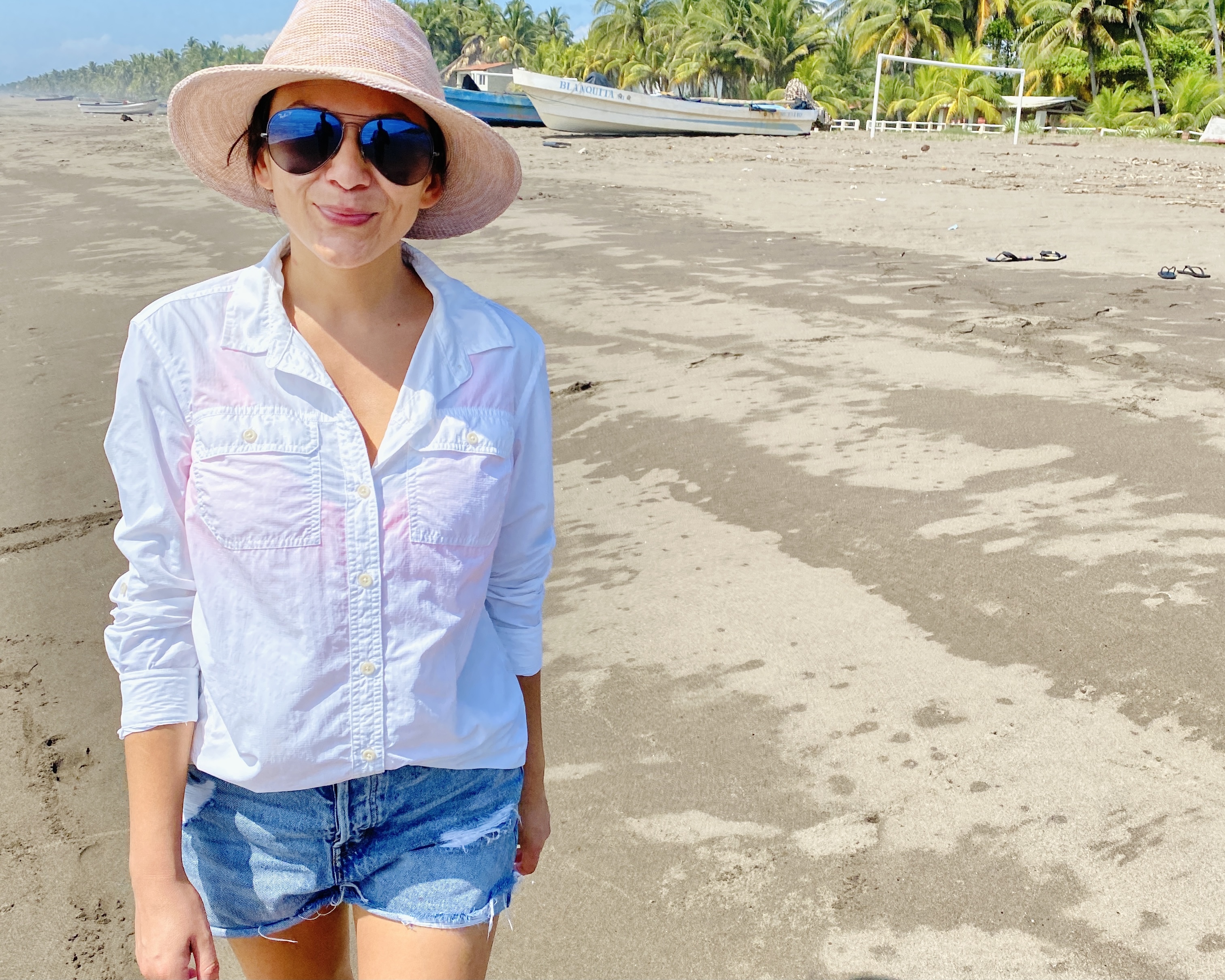 Eddie Bauer Ripstop Shirt worn with the best-selling Wallaroo Victoria Sun Hat 
I became a fan of their button-down tops immediately, including the Ripstop Shirt and the Departure 2.0 Long Sleeve. They're both versatile enough to be paired with denim shorts, worn as a beach cover-up, and tucked into my favorite jeans.  They also have cute outerwear like my Charly Waterproof Rain Jacket (highly recommend!) 
Eddie Bauer often has awesome sales, and they also offer a range of clothing sizes, including regular, tall, petite, and plus sizes.
Read this review to learn why we and our readers rave about Eddie Bauer's waterproof jackets, particularly the Charly Jacket.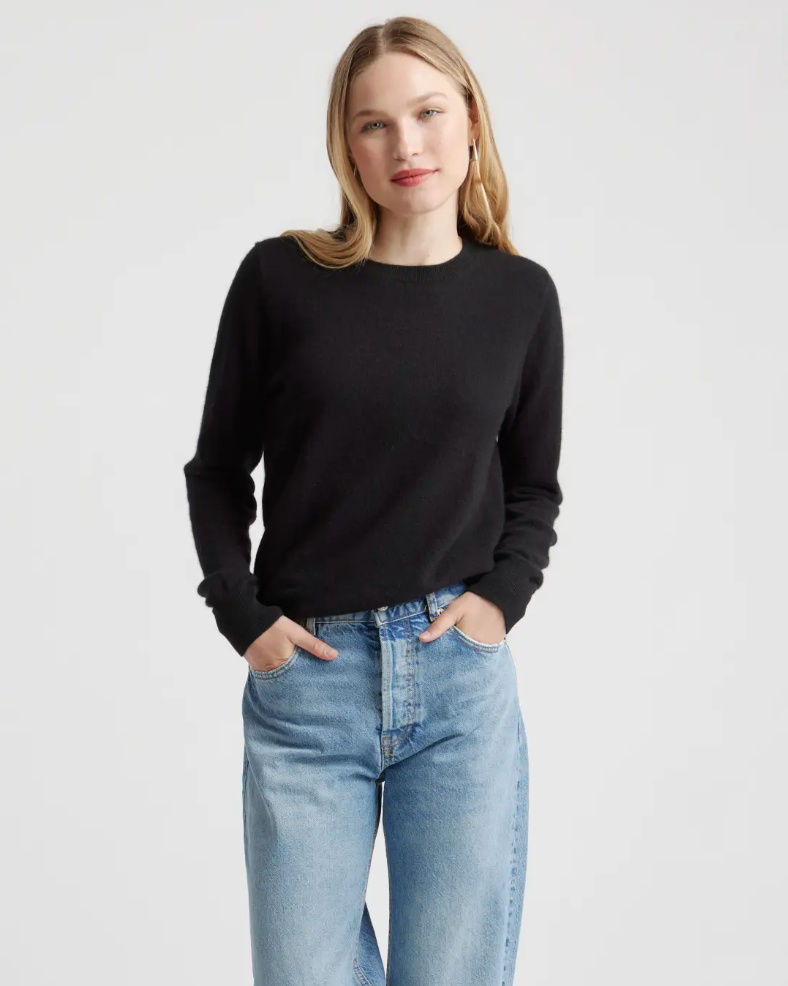 Quince Mongolian Cashmere Crewneck Sweater Sizes XS-XL
Quince
One of the top reader-favorite travel brands for key staples like pants, sweaters, and jackets is Quince. While they offer tons of great pieces, there are definitely a few faves that readers consistently rave about and recommend. Overall, they're a leader in high-quality yet affordable women's travel clothes that are washable and often wrinkle-resistant!
The most popular seller by far is the Quince Mongolian Cashmere Crewneck Sweater, which is super soft and versatile but still lightweight for fall and winter trips. Another reader fave is the Mongolian Cashmere Tee. Not only is it warm enough for layering, but it's perfect to wear year-round. If you love cashmere as much as the readers do, review the full Quince Cashmere Collection.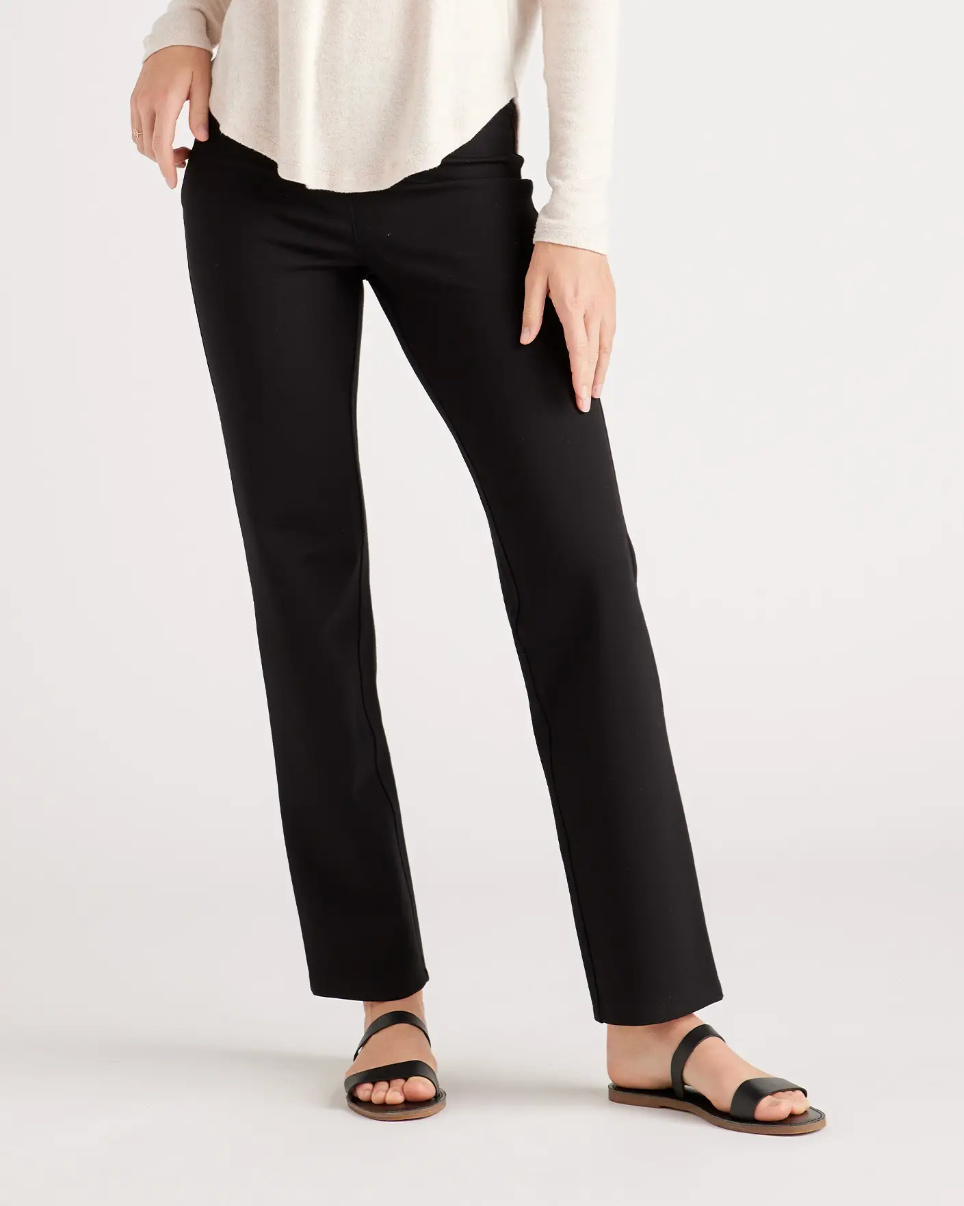 Shop Sizes XS-XL: Quince
Readers absolutely love their Ultra Stretch Ponte Pants to death! They're stylish but extremely comfortable, with the look of classic trousers and the feel of yoga pants! The four-way stretch and soft fabric make them a dream to wear. They can be worn with virtually any top and look great with flats, sneakers, and ankle boots.
Quince even has jackets, such as the lightweight but warm Down Puffer Jacket, which goes with so many pieces! It can be worn with jeans,  leggings, fleece-lined leggings, or even over your favorite travel dress. This jacket works in temperatures as low as 32° F. It's a perfect go-to for airplane outfits, as well!
Their Washable Silk Blouse is another popular pick that readers love for its crisp and polished look that's super low-maintenance. It's deliciously soft and flattering and comes in a wide range of colors. Check out their entire collection of Washable Silk Clothing that is easy to take care of when traveling and includes skirts, dresses, pajamas, and more!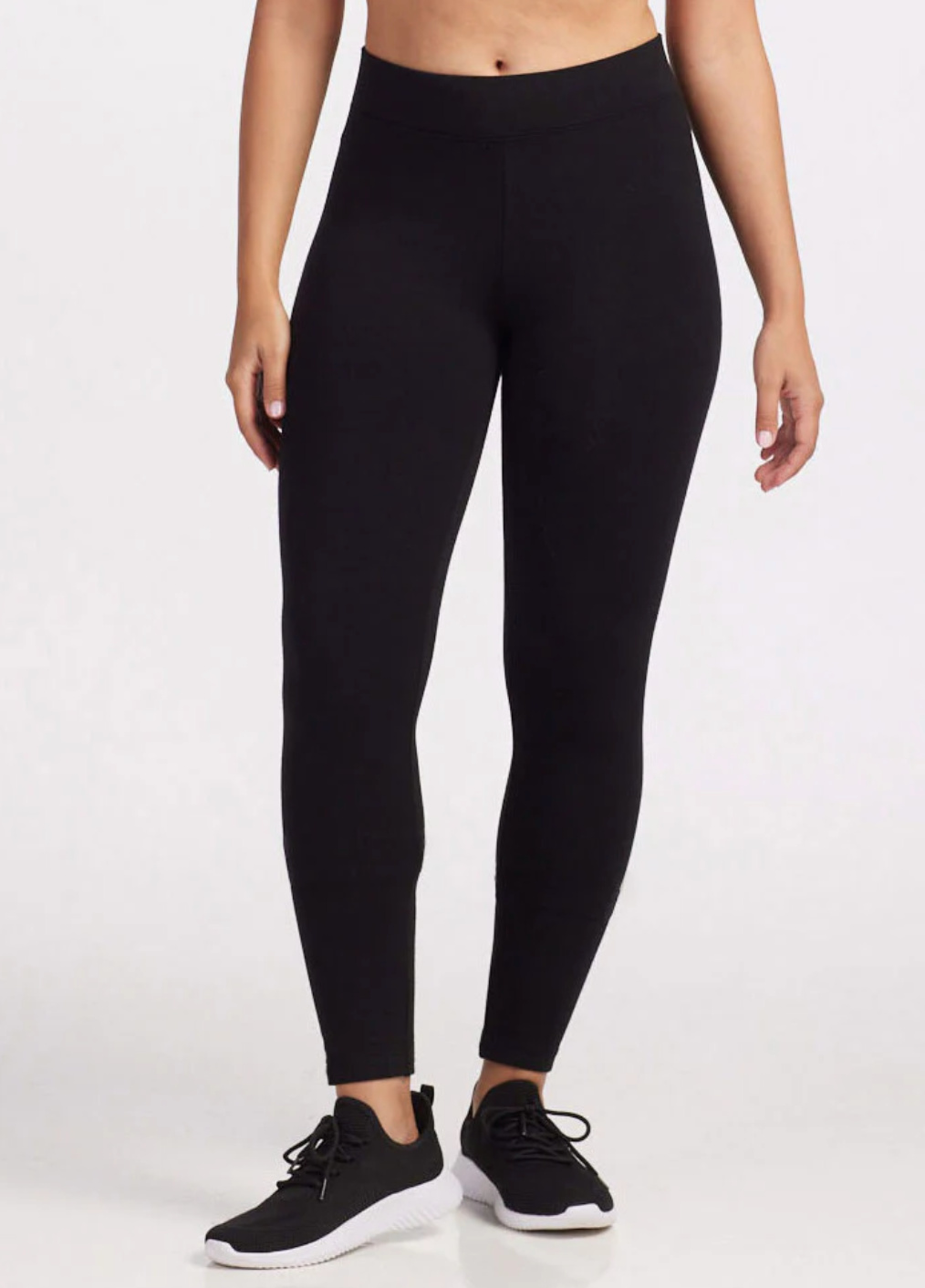 Shop Sizes XS-3X: Woolx Stella Leggings
Woolx
The merino wool brand Woolx is becoming a fast reader favorite due to their breathable, comfortable travel clothes that span everything from basics like tees and leggings to dresses and pajamas! 
The Peyton Turtleneck is prime to snuggle up in as winter looms, and you can even layer with the popular Mia V-Neck Tee.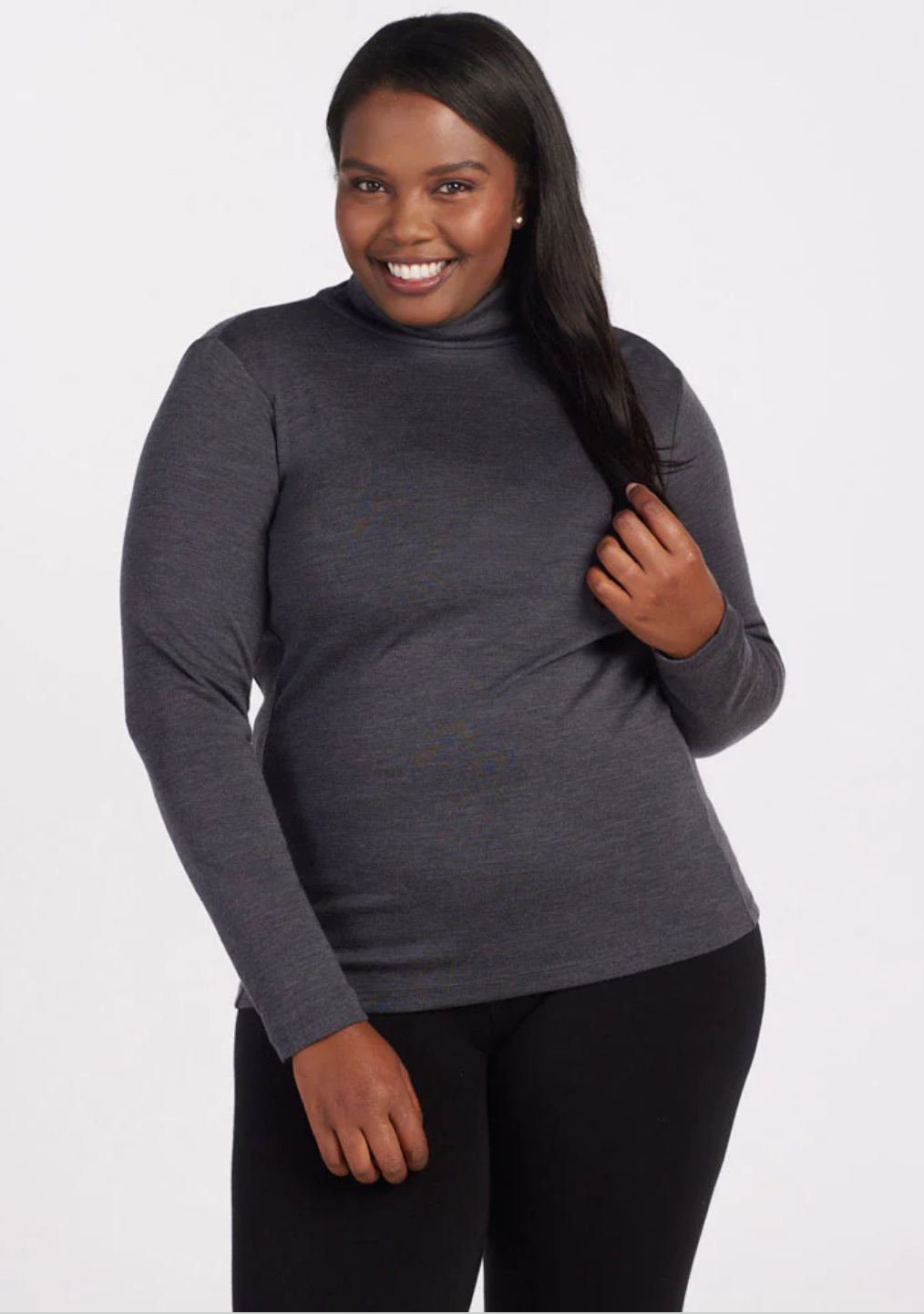 Shop Sizes XS-3X: Woolx Peyton Turtleneck Merino Wool Sweater
The Stella Leggings and Hannah Top are loved by readers for their cozy warmth and versatility. These thermals are made from merino wool, so they're soft, moisture-wicking, quick-drying, and temperature-regulating to keep you warm on freezing winter days.
And if you want even more cold-oriented clothing, the Callie Hoodie and Woolx bestseller, the Eva Tunic, look absolutely inviting to wear by a roaring fire. And we can't forget the ever-popular Lexie Dress, which is a short-sleeve number that can be a standalone dress or even a beach cover-up.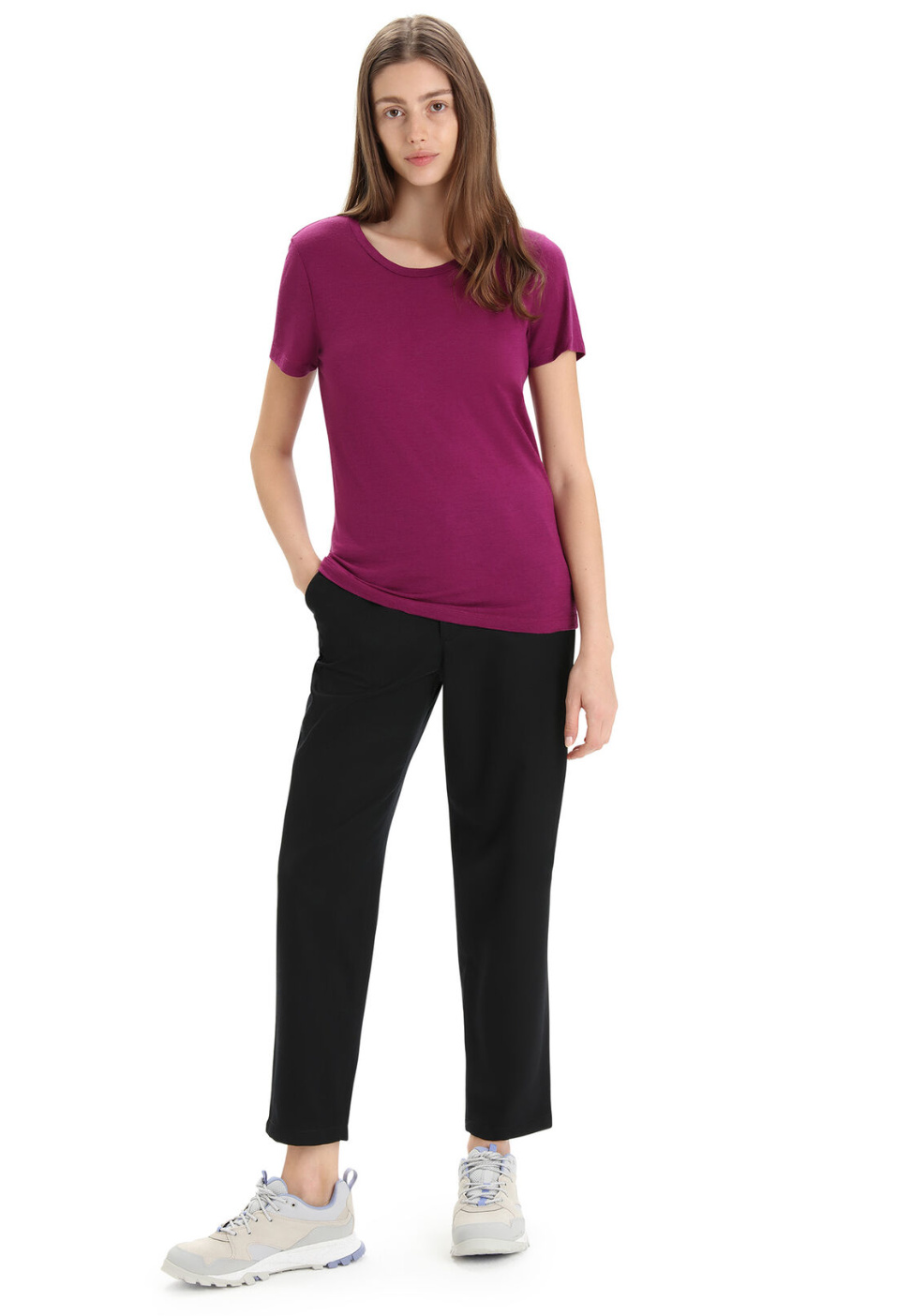 Shop Sizes XS-XL: Icebreaker Merino Tech Lite II Short Sleeve T-Shirt

Icebreaker
Icebreaker is a traveler and reader favorite for merino wool base layers, but this brand has other merino clothing (for both men and women), such as jackets, dresses, t-shirts, and even underwear! 
If you're traveling in cold weather, thermals are the secret to packing light and Icebreaker offers some of the best! (Trust me, I keep buying less expensive brands then I end up spending more money because I always come back to Icebreaker.) Specifically, merino wool is a miracle fabric for winter because it's moisture-wicking and odor-resistant to keep things fresh but also breathable.  
The most popular Icebreaker thermal bottoms are the Oasis Thermal Leggings and the Oasis Thermal Top, which can be layered underneath your winter clothing.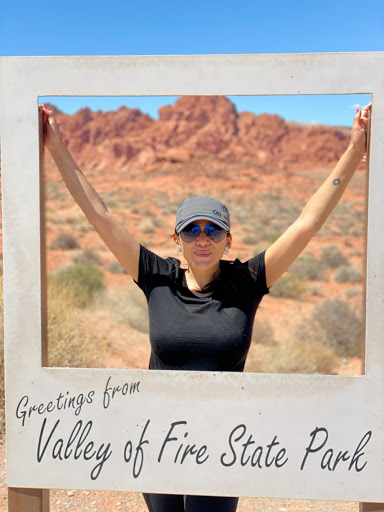 Icebreaker Tee, Outdoor Research Sun Cap, and Ray Ban Sunglasses
I also love their classic Icebreaker Tee, which can be worn casually to hike and camp or even tucked into a skirt and dressed up with jewelry and cute sandals.
Many female travelers also recommend dresses such as the Yanni T-Shirt or Tank Dress. Their price points are high but for the minimalist adventurer, these are a must!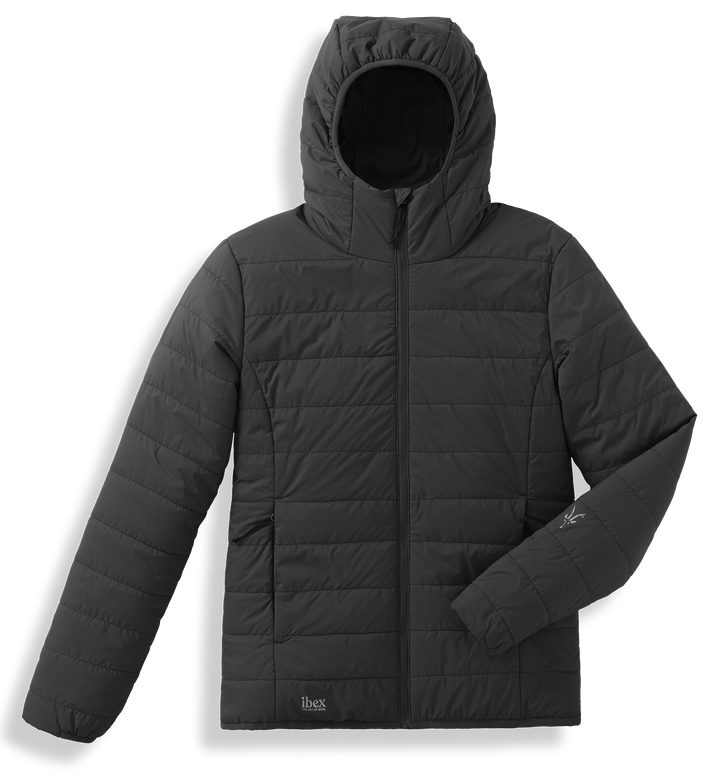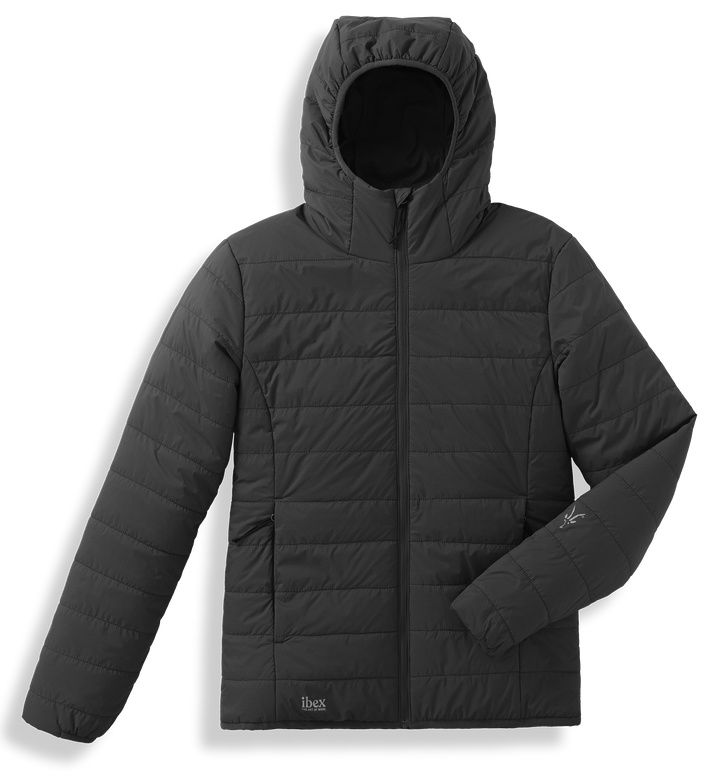 ibex Women's Wool Aire Down Jacket | Sizes from XS-XL
ibex
A second merino wool favorite is ibex. They not only have great base layers for winter travel but also sell other popular items like hoodies, tank tops, and tees.  
For top merino wool base layers, Woolies 2  is awesome for every kind of traveler! The Woolies Thermal Tops and Thermal Bottoms are reader favorites. They're super lightweight while offering that necessary insulation.
Their Sweatpants Joggers are also cozy due to the merino wool terry cloth fabric and will keep you dry as these won't trap moisture, so great for flights or staying cozy in your hotel room!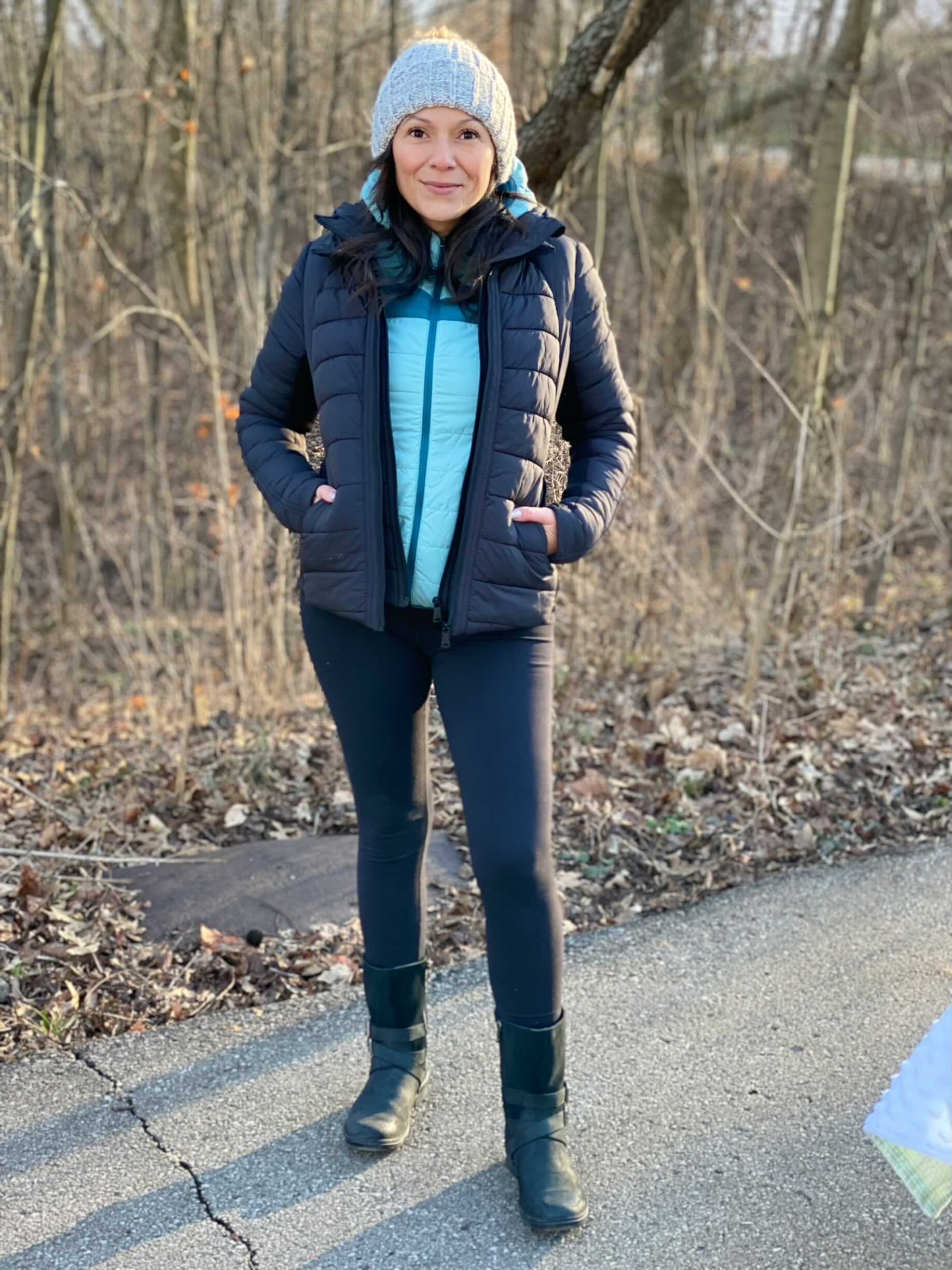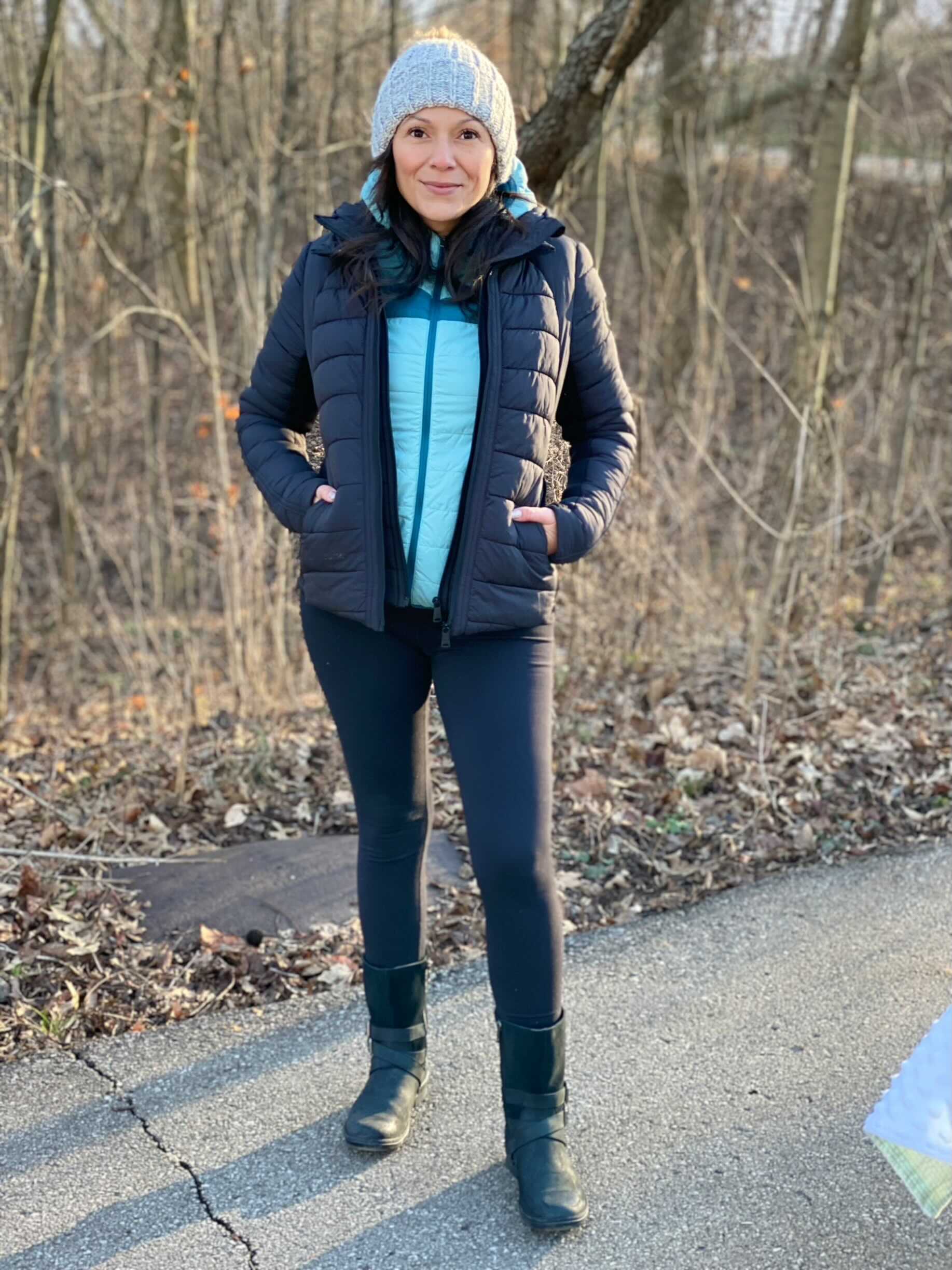 Wearing ibex Wool Aire Down Jacket, Bernardo Hooded Jacket paired with Zella Leggings and UGG Lorna Boots
The ibex packable down jacket is a new find I've fallen in love with. I was shocked at how warm I was in this jacket despite how thin and lightweight it is.
I've worn it in temperatures ranging from 25F – 40F and layered it only over a J Crew Tee and separately just over a merino wool thermal. I'm so impressed that I now take it with me everywhere whenever I need extra layers!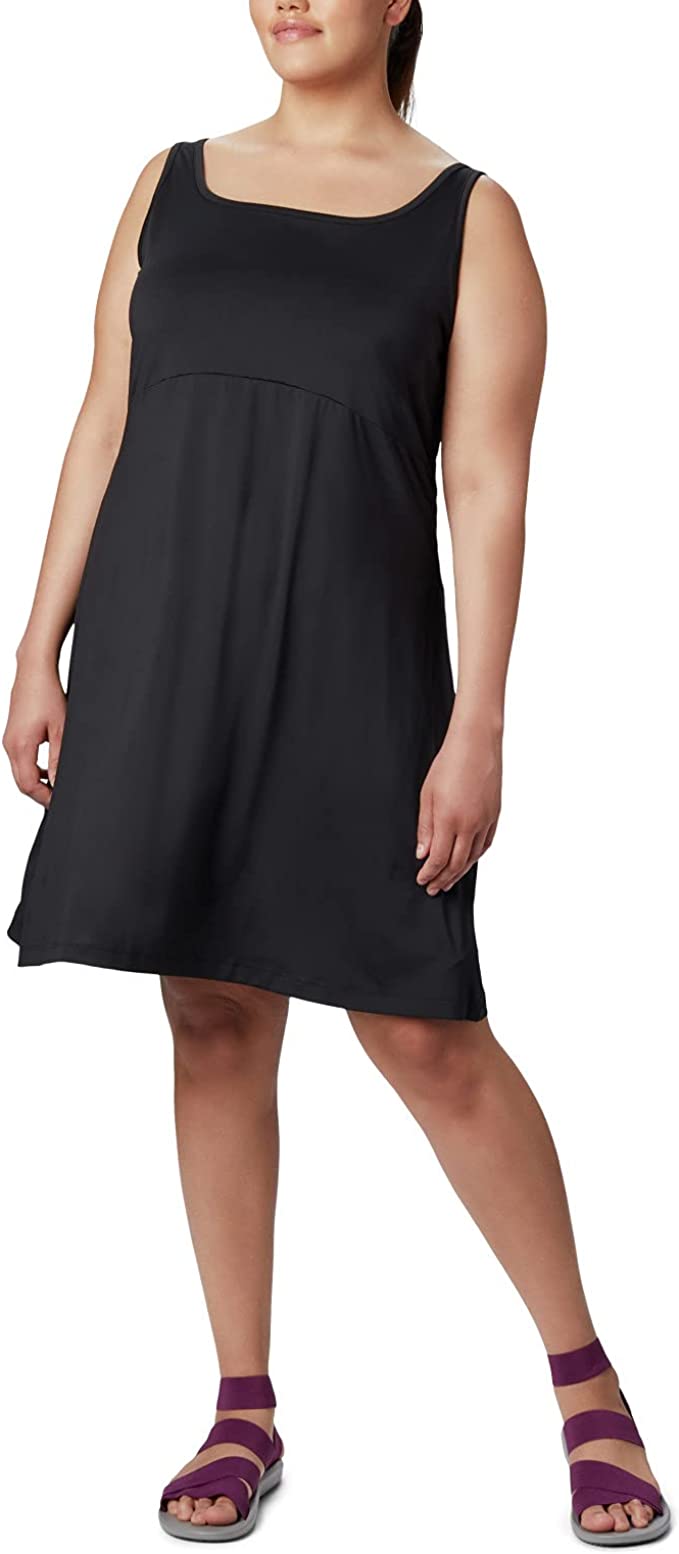 Shop Sizes XS-3X: Amazon | Columbia | Moosejaw | REI
Columbia 
Columbia makes popular travel wear for women who love the outdoors. They offer easy-care clothing that is functional, light, wrinkle-resistant, and quick dry. As a bonus, this brand has affordable pricing and a wide variety of sizes, such as regular, petite, tall, and plus.
TFGs particularly love their extensive selection of travel pants, including the Columbia Saturday Trail Straight Leg Pant and the bestselling Arcadia Rain Jacket. Our readers are also big fans of their easy-to-wear dresses, especially the Freezer Dress Collection, available in a range of lengths.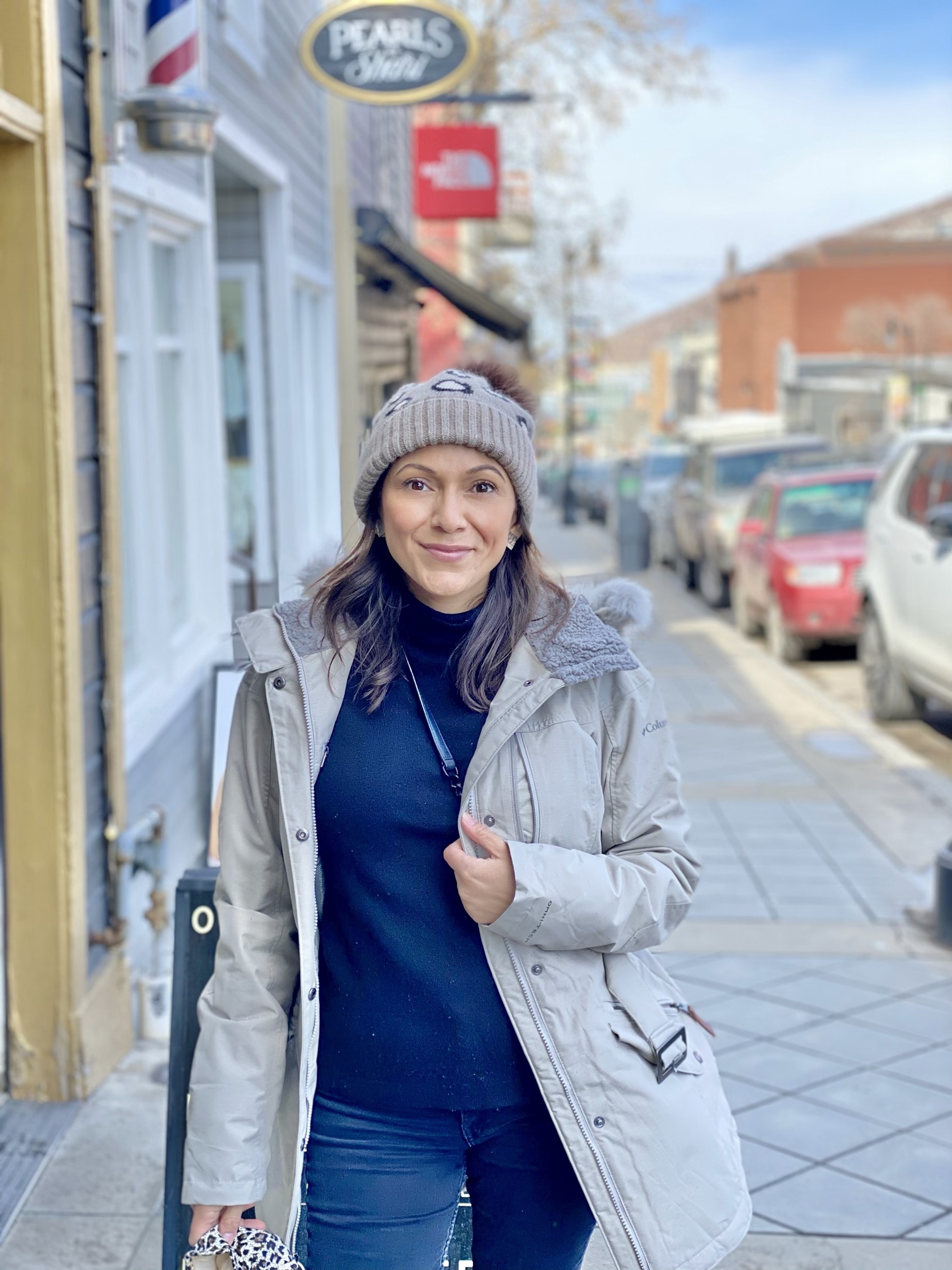 Columbia Carson Pass 2 Waterproof Winter Jacket
I like Columbia for their insanely warm yet affordable outerwear options. If I'm traveling in the winter, I want to stay dry and warm so I can spend all-day sightseeing regardless of the elements. The Carson Pass 2 Waterproof Coat is one of my all-time favorite winter jackets for home and travel. Read my full review of this jacket!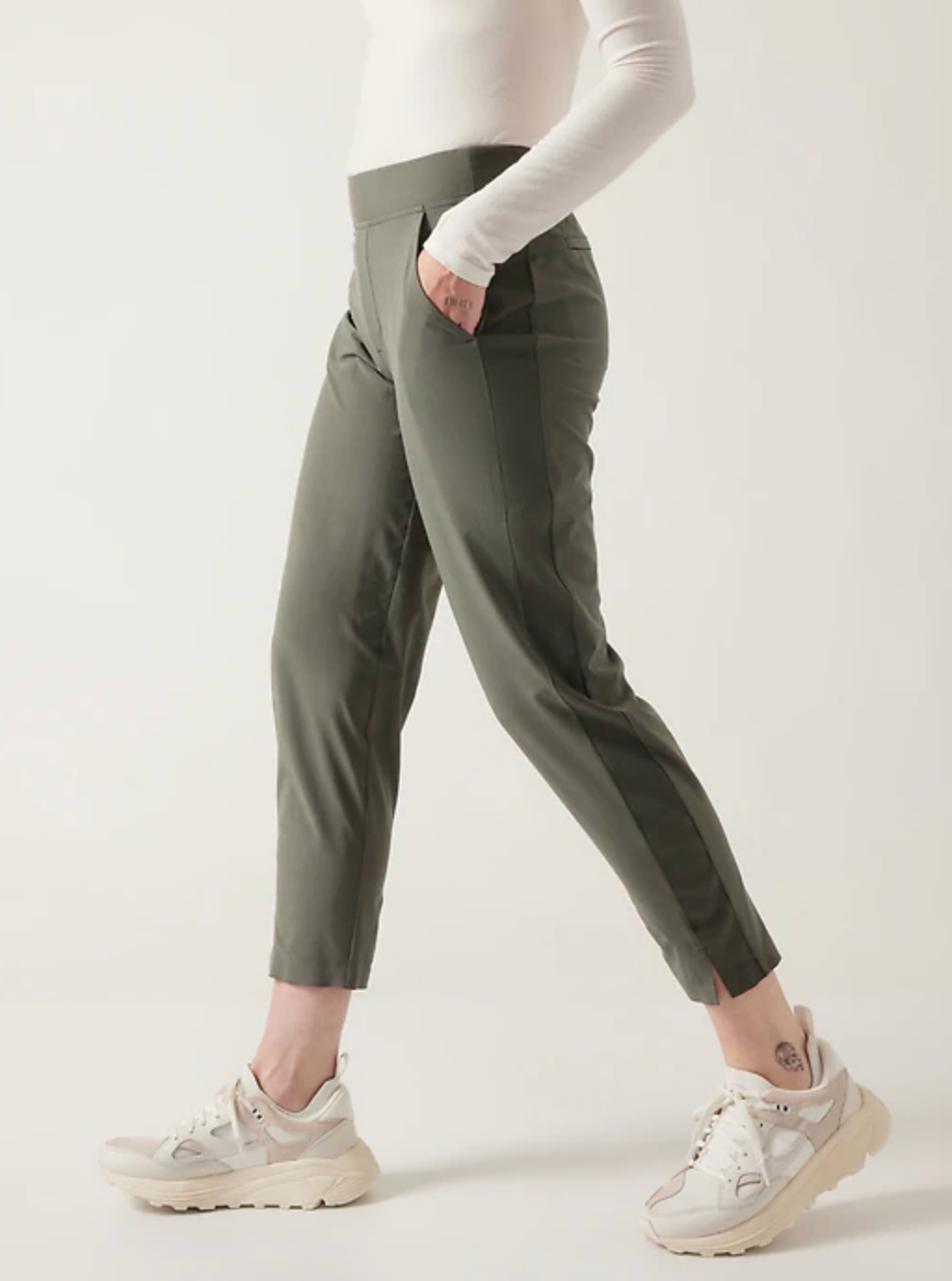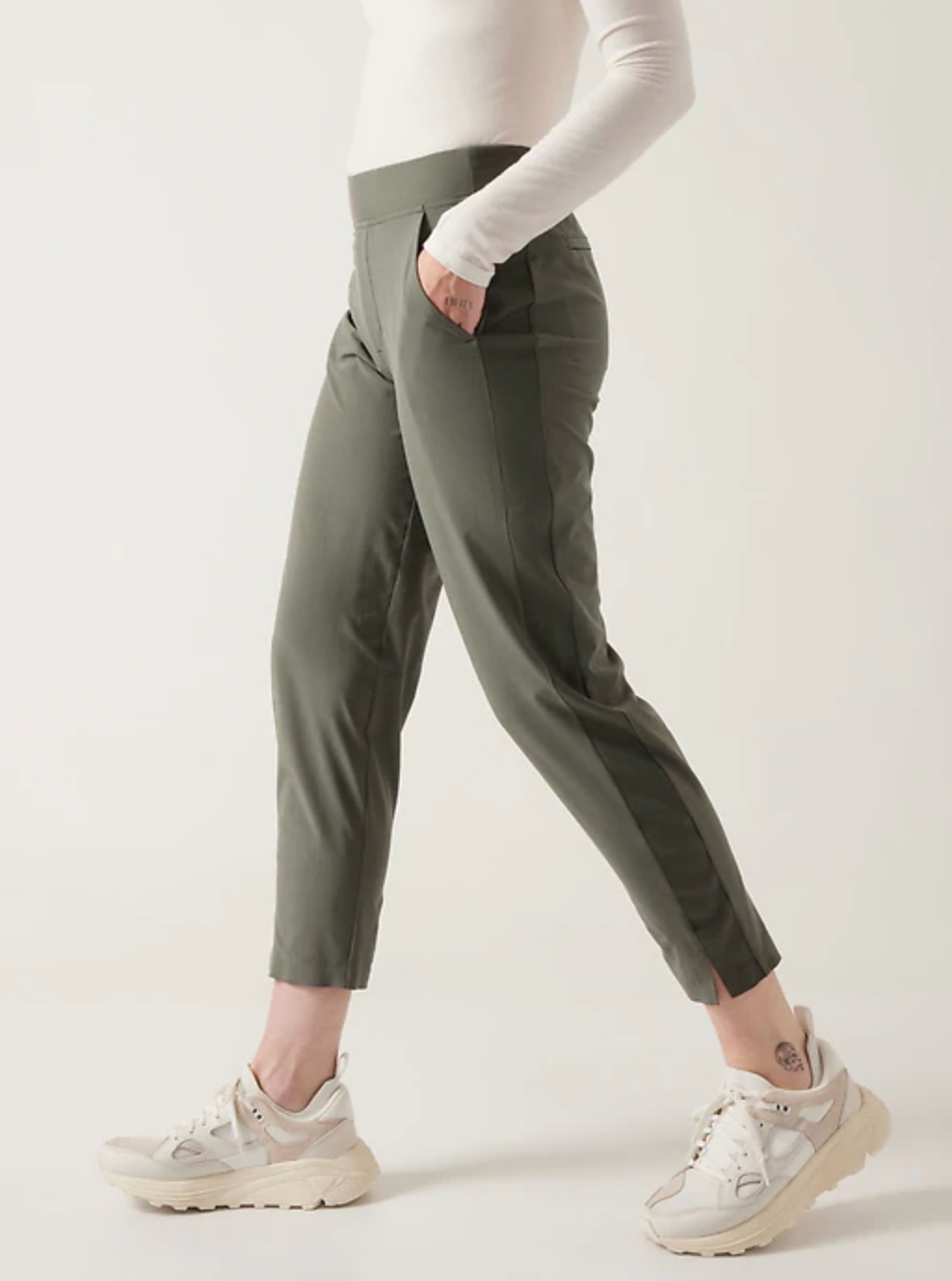 Shop Athleta: Regular 00-26 | Tall 00-16 | Petite 00-14
Athleta
Though Athleta is known for athleisure clothing, readers say they actually offer travel clothes women love for travel, and rave about a numbe of stylish and functional pieces! 
For instance, TFGs highly recommend the Athleta Brooklyn Pants. They're cute, comfy, and stretchy in all the right places and the ribbed waistband moves with you. And with several pockets, you can stash small essentials for a flight or a day of sightseeing.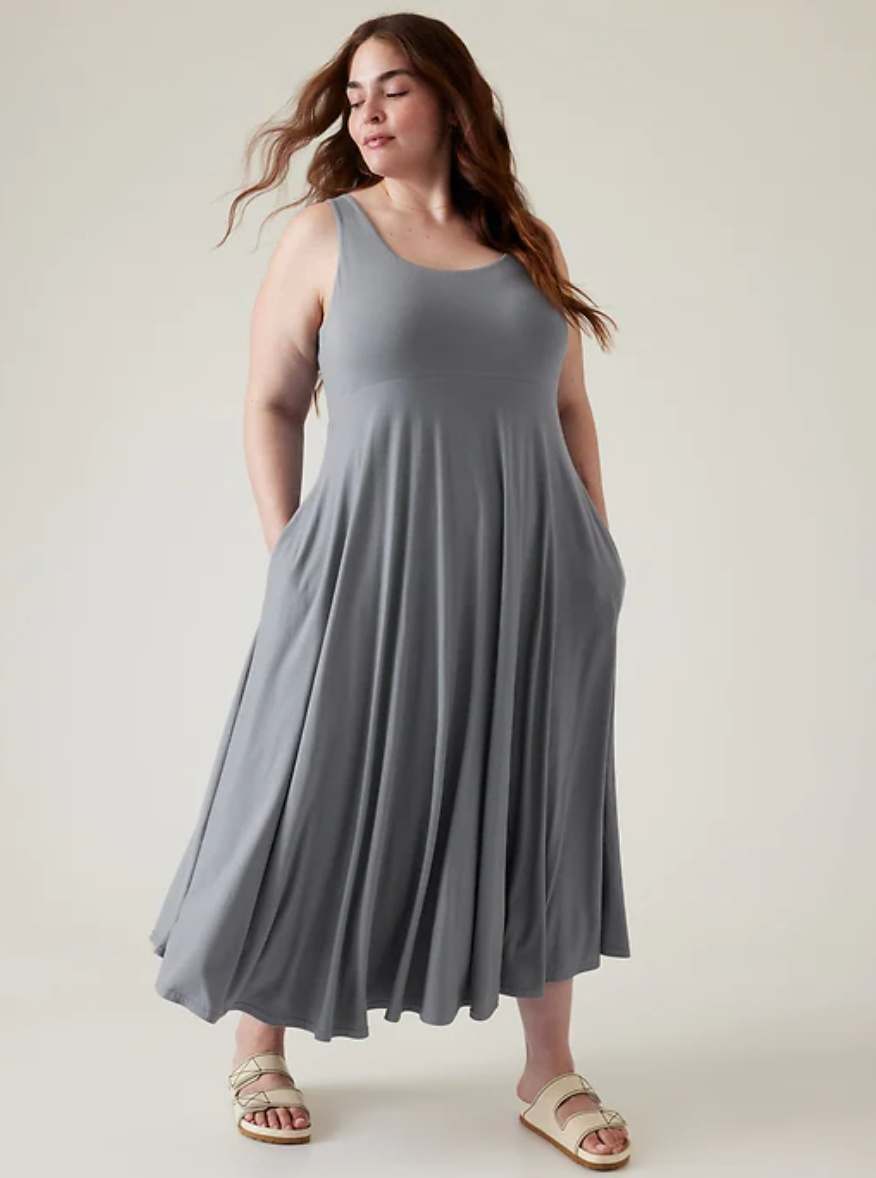 Shop Sizes XXS-3X: Athleta Santorini Midi Dress
Many readers also recommend the Santorini Midi Dress, saying it's a dream for trekking around in the blistering heat while staying cool, dry, and fashionable!
The Athleta Stellar Leggings are also a reader's top fave, made from a luxurious Italian fabric that is designed for movement, yet they have a flexible fit and feel smooth, and look flattering.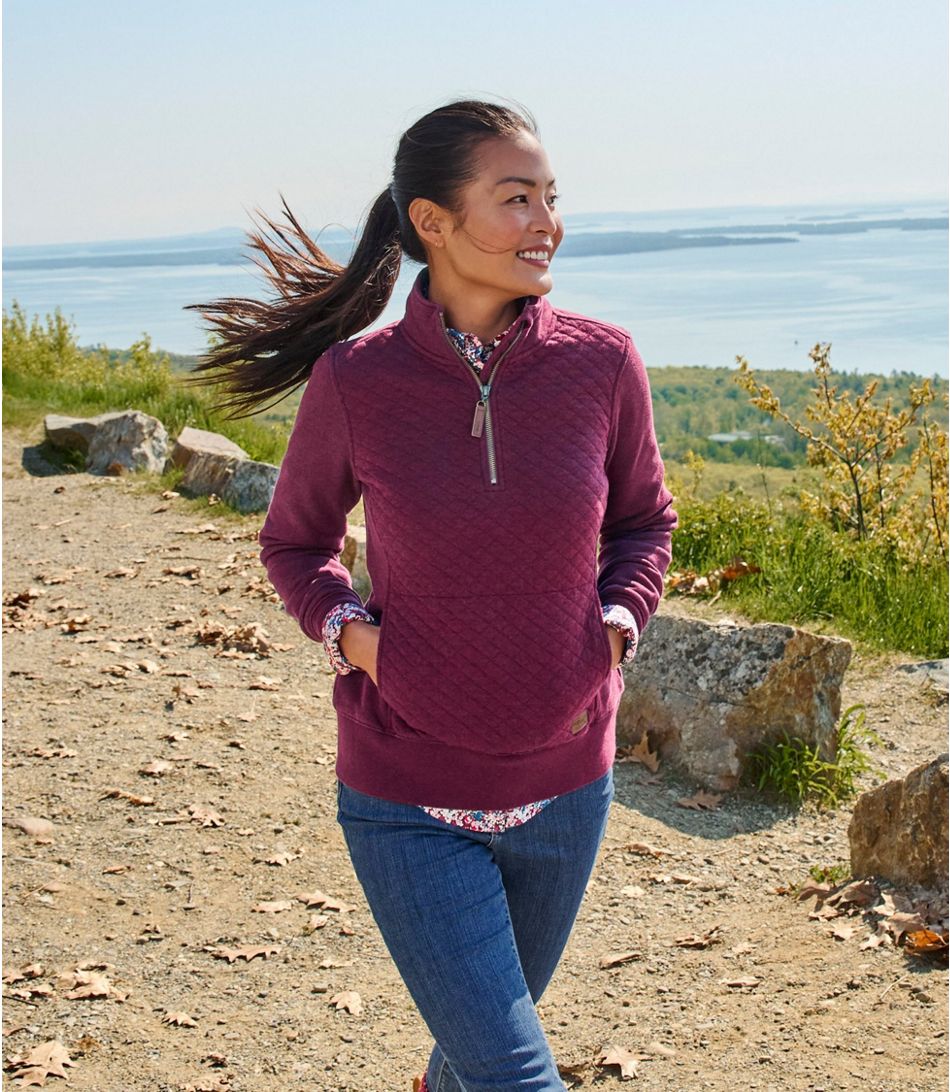 Shop Sizes XS-3X: Quilted Quarter-Zip Pullover

L.L Bean
A brand that makes reliable travel apparel is L.L Bean. They offer solid basics and standard, petite, tall, and plus sizing options.
If you plan on camping or glamping this summer, take the Quilted Quarter-Zip Pullover to stay warm, and also pack the  L.L Bean Linen Shirt as a comfy and airy choice. Readers also rave about their Tropic Wear Quick Drying Pants that are excellent for hiking excursions or a backpacking trip, and readers say they pack easily.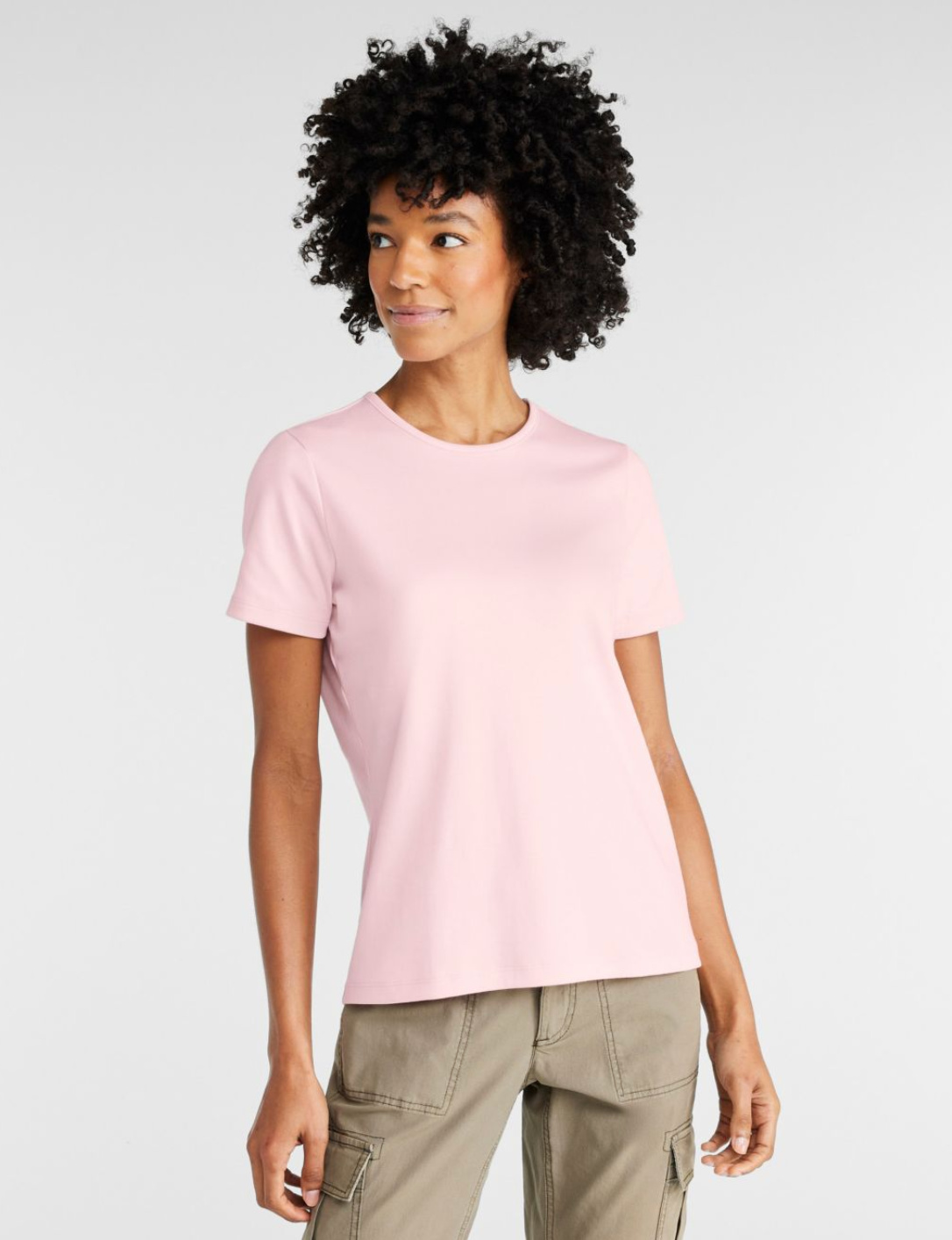 Shop Sizes XS-3X: Short-Sleeve Crewneck Pima Cotton Tee

The L.L. Bean Pima Tee is travel-ready and a huge seller! Made of Supima® cotton wrinkle-resistant fabric, it's a comfortable and sustainable shirt that also dries quickly. It's perfect for layering on chillier days.
If you're looking for layering items, the Silk Long John Top and Bottoms are popular for their comfortable feel, weightless warmth, and wide size range. Terrific to stay warm for a wintry trip!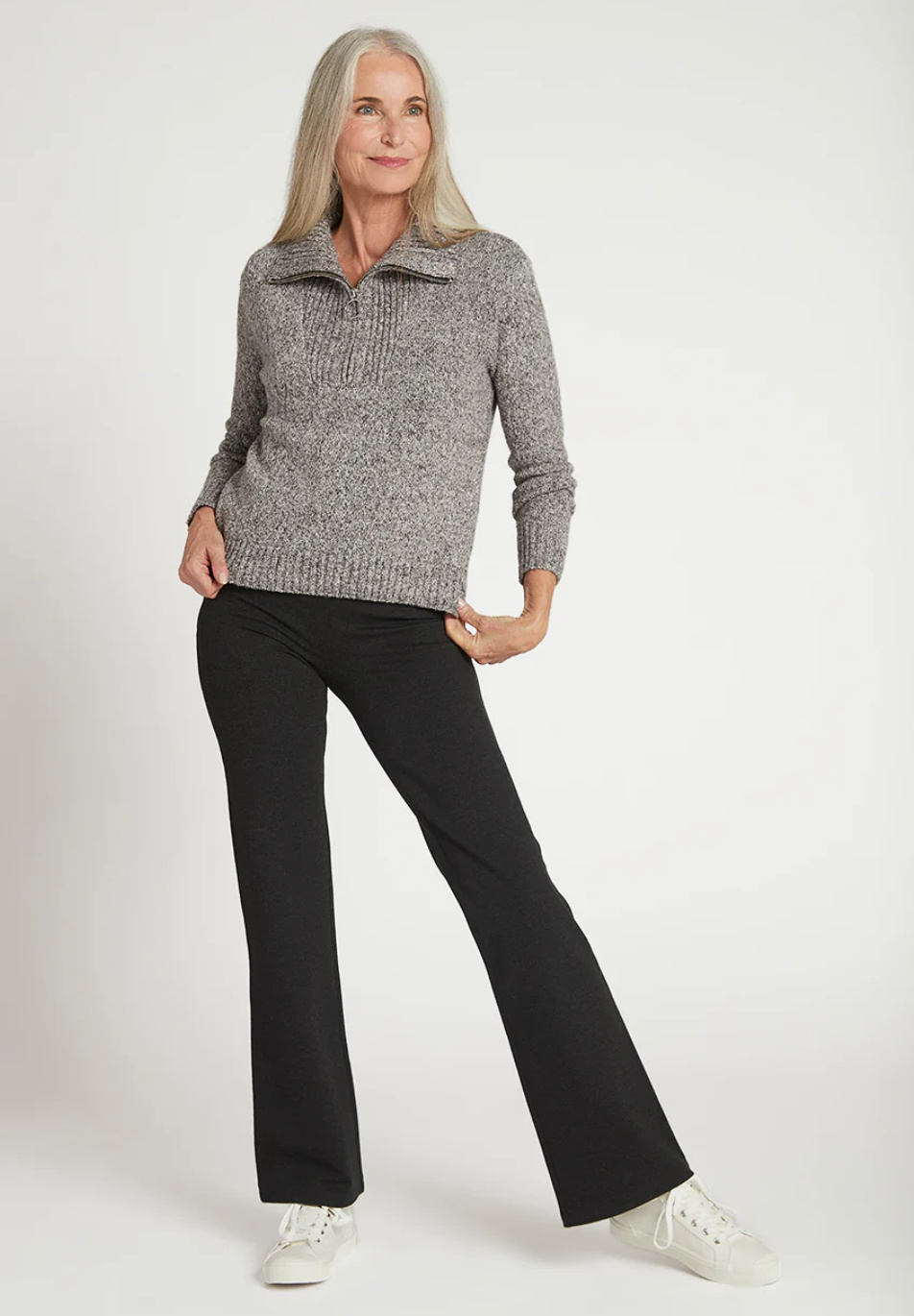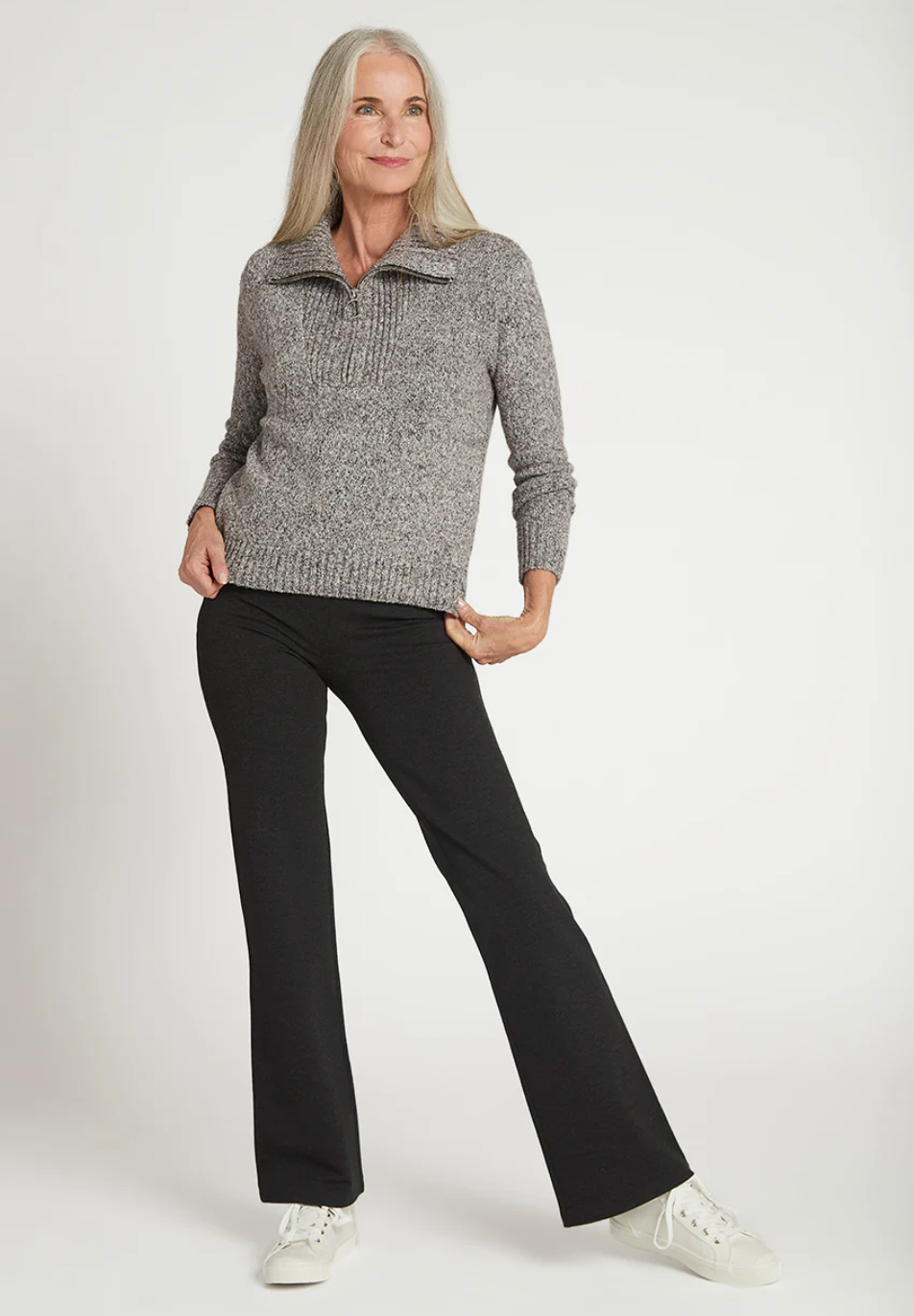 Shop Betabrand: Sizes XS-3X | Petite XS-3X | Short Petite XS-3X | Long S-3X
Betabrand 
Betabrand is best known for their Dressy Yoga Pants, which look polished but feel as comfortable as yoga pants! While the fabric is thicker than most traditional travel clothes, it's their durability and versatility that make Betabrand pants a good option for travel. 
In addition, their Canopy Dress is also popular for female travelers looking for longer hemlines, wrinkle-resistant fabrics, and a classic cut you can wear anywhere!  Betabrand has a vast size selection, including XS-3X Plus and their paints offer four inseam choices: regular, short petite, petite, and tall.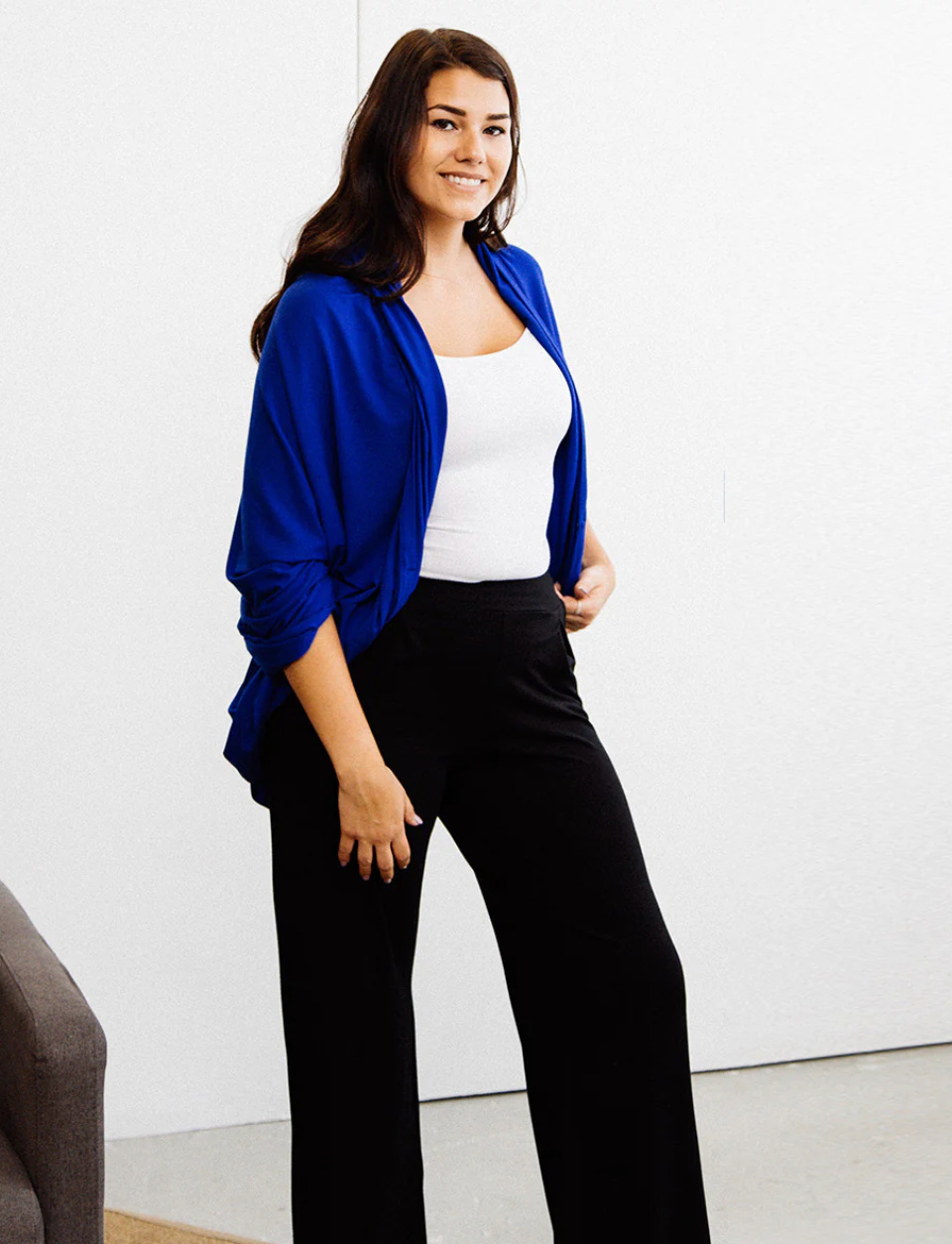 Shop Sizes Petite-Maxi: The Chrysalis Cardi Convertible Dress
Encircled
Encircled is a Canadian company that specializes in sustainable, stylish, and packable travel clothes that are versatile for everyday wear as well. You probably know them for their popular Chrysalis Cardi, a garment that can create 8 different looks, such as a skirt, dress, cardigan, or wrap. Talk about reducing how much you pack!
Read my Chrysalis Cardi Dress review!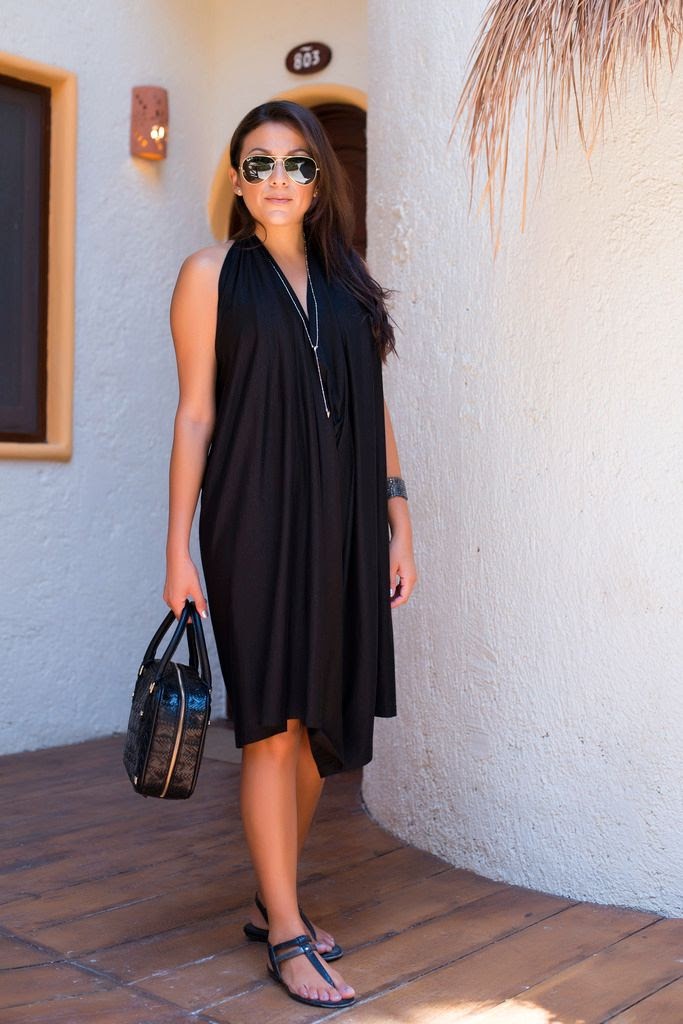 The Chrysalis Cardi with Comfort Sandals (similar)
Some of their other bestselling pieces are their Dressy Sweatpant Jogger, Evolve Top, and the Long Sleeve Revolve Dress.
Their travel clothing line has expanded to include shirts, blouses, pants, jumpsuits, skirts, jackets, and more!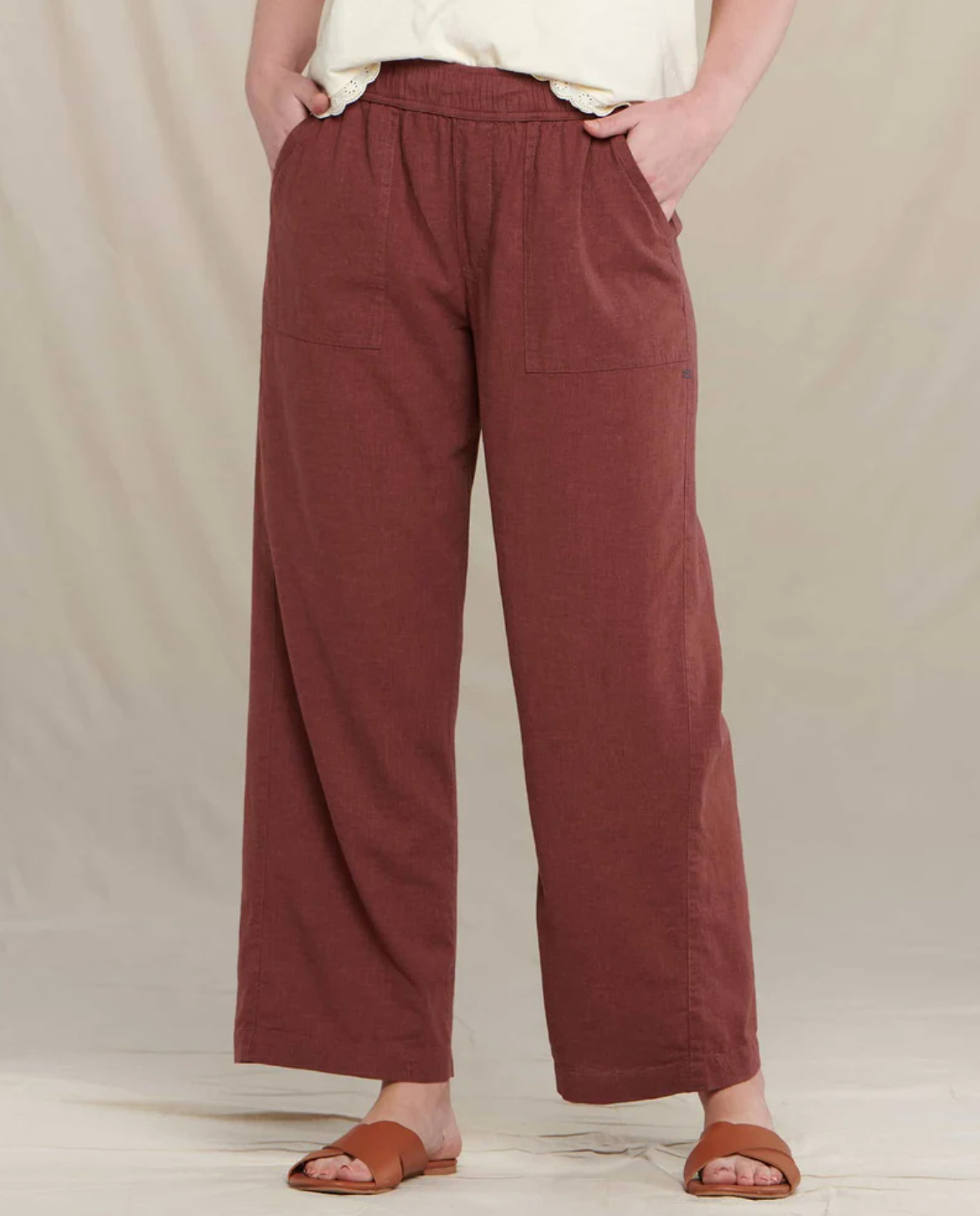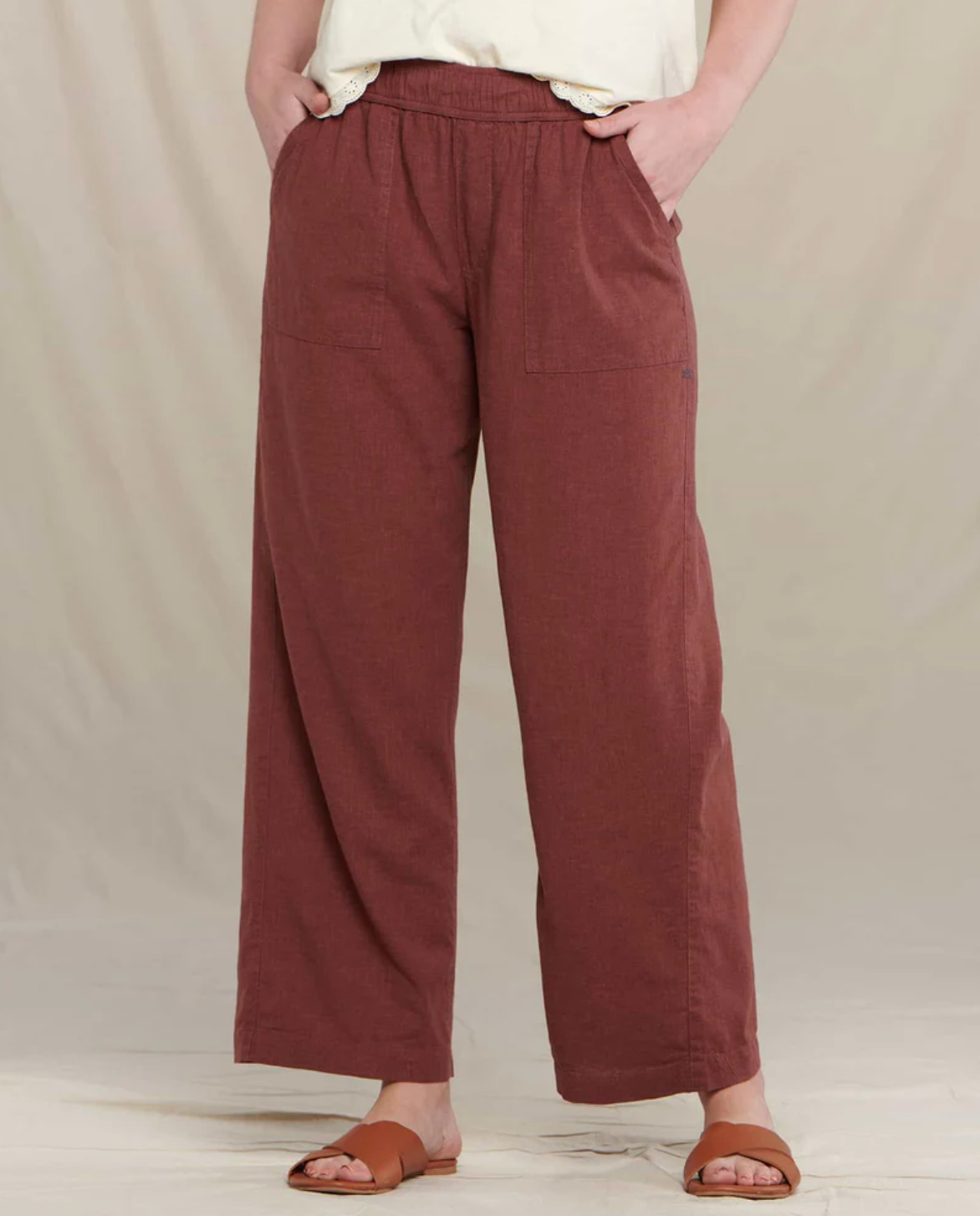 Shop Sizes XS-XL: Toad&Co | Zappos | Moosejaw
Toad & Co.
For some of the best travel clothing for women, Toad & Co. offers casual basics and vacation-ready dresses in breathable fabrics that are oh-so-comfortable.
The stylish Toad&Co Taj Hemp Pants have UPF 25+ for ultimate sun protection, so you won't need to overdo the sunscreen. And they're moisture-wicking and dry quickly in the heat, all hallmarks of travel pants worth packing.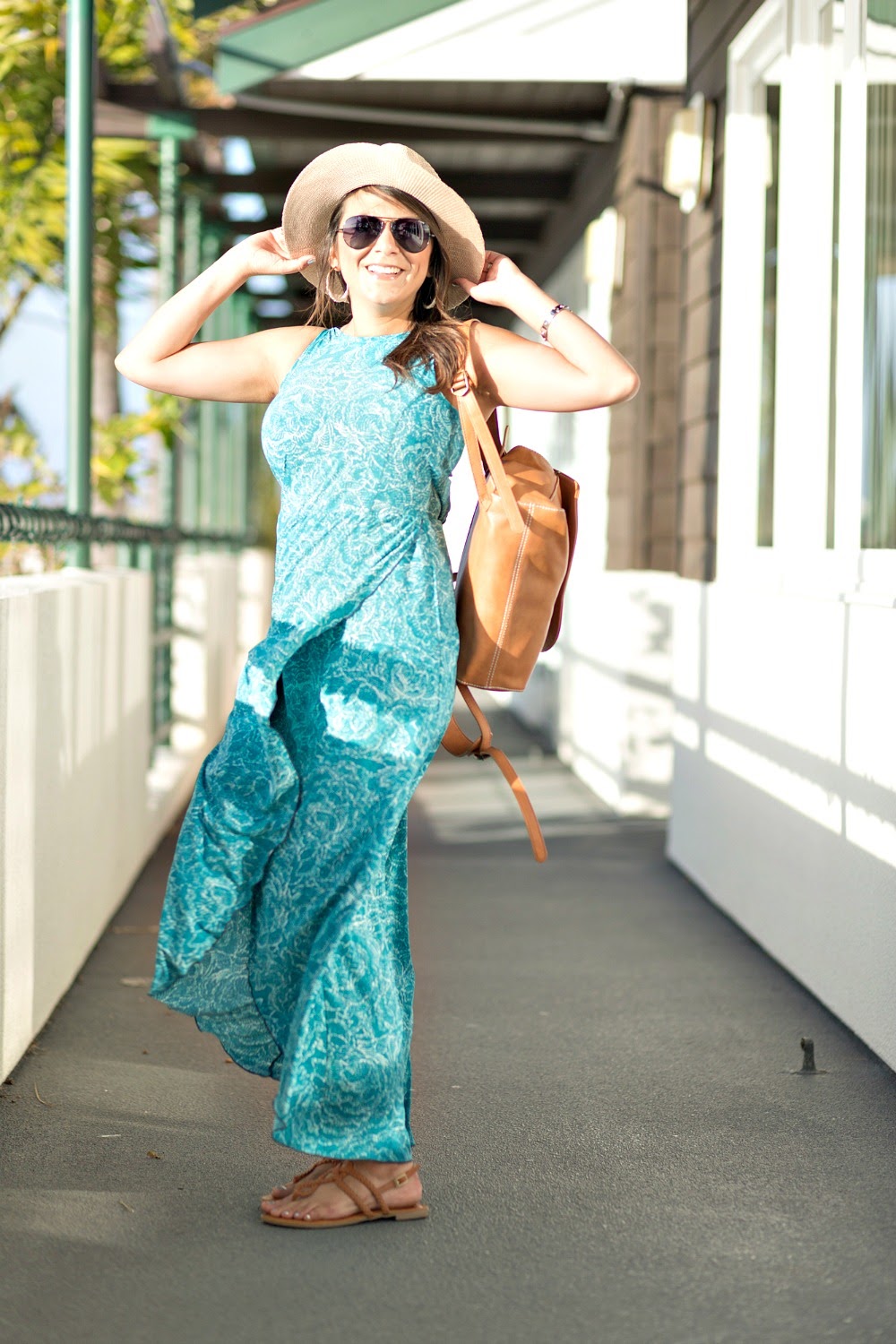 Toad and Co. Sunkissed Dress: Amazon | Moosejaw | Backcountry in Sizes S-XL
I've worn the Toad&Co UPF sun protection dress. The lightweight fabric is water-friendly, quick-drying, and moisture-wicking, plus it is UPF 40 protective. It's made from recycled polyester and waterless dyes, so you can rest assured you're doing your bit for the planet.
If you prefer a shorter length, the lovely Cue Short Sleeve Dress features cap sleeves, a tie at the waist, and a flowy skirt, making it a stylish and versatile option that still gives you the practicality you're looking for in a breathable dress. Their clothes ae endlessly unique but accessible for travel!
TFG Readers get 10% off on the Toad&Co website with the discount code: TRAVELWISE. Their clothing is also available on Amazon!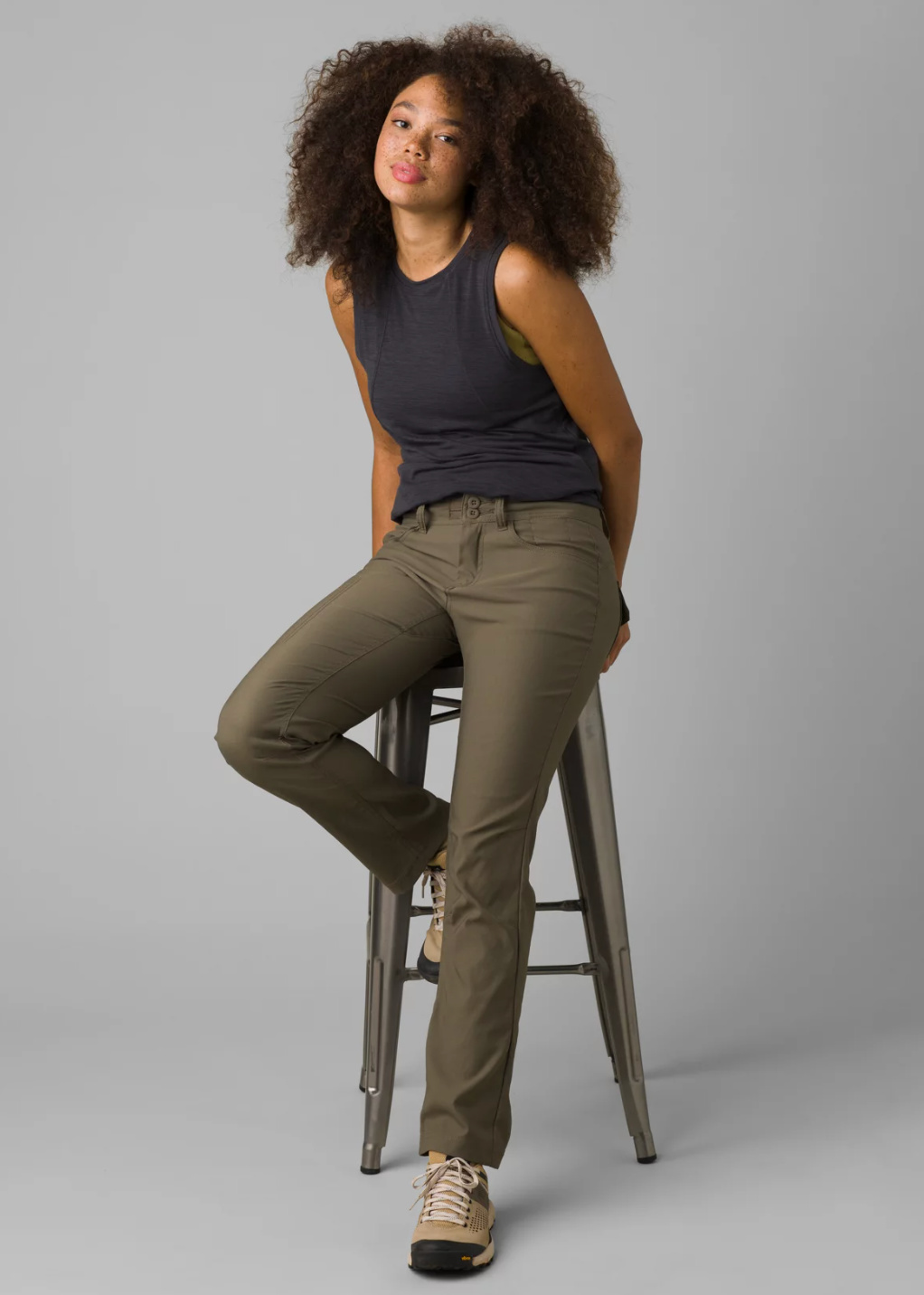 Shop Sizes 00-18 Petite, Short and Tall: Amazon | Prana | Moosejaw | Backcountry
prAna
prAna was first introduced as yoga wear, but it has since expanded into a line of comfy women travel clothes that come in a range of sizing, inseams, and moderate price points. 
Their best selling Halle Travel Pants  are endlessly stretchy, durable, and versatile for more activity or dressing up for dinner. If you're looing for a pair of convertible hiking pants, try their popular Monarch pants. Here's a full review of why these are great for outdoor excursions!

Shop Sizes XS-XL: Jewel Lake Dress
Another highly touted item that readers love are prAna's ultra-cute yet practical travel dresses, like the Jewel Lake dress! It features a comfortable high neck with criss-cross straps in the back, and the bust features an interior shelf bra with mesh lining.
So it makes sense they also make some of the greatest t-shirts, including their popular Foundation Short Sleeve V Neck Top.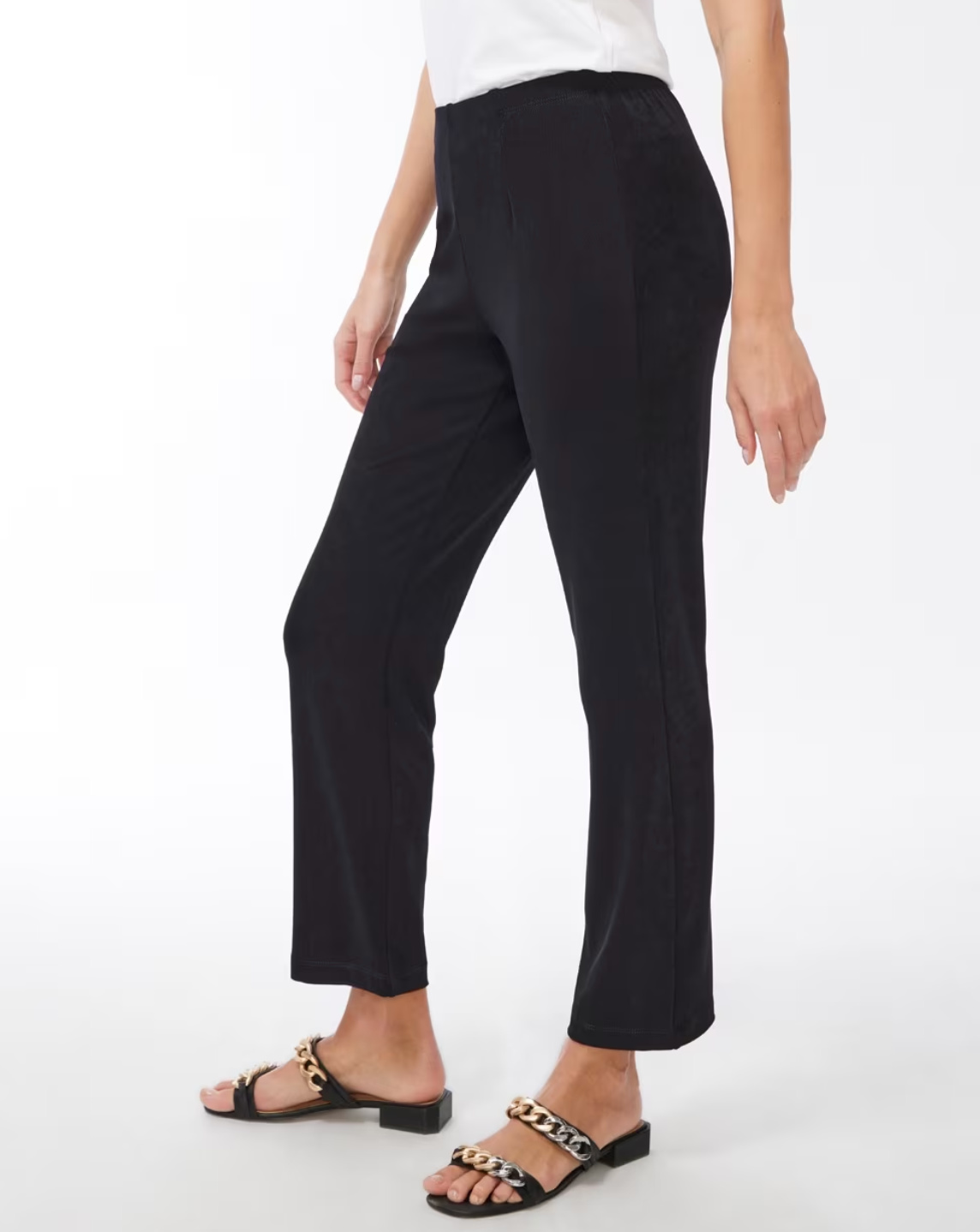 Shop Sizes XS-XXL: Chico's No Tummy Pants
Chico's
Chico's is a new favorite for their classic, versatile clothing. This brand has a dedicated Travelers Collection, with no-wrinkle, easy-to-pack fabrics. Some faves are the  Travelers Classic No Tummy Pants, which have a pull-on, elastic waist for an easy-chic look, and the Classic Short Sleeve Maxi Dress that's stylish and super versatile, and looks fab with white sneakers or sandals.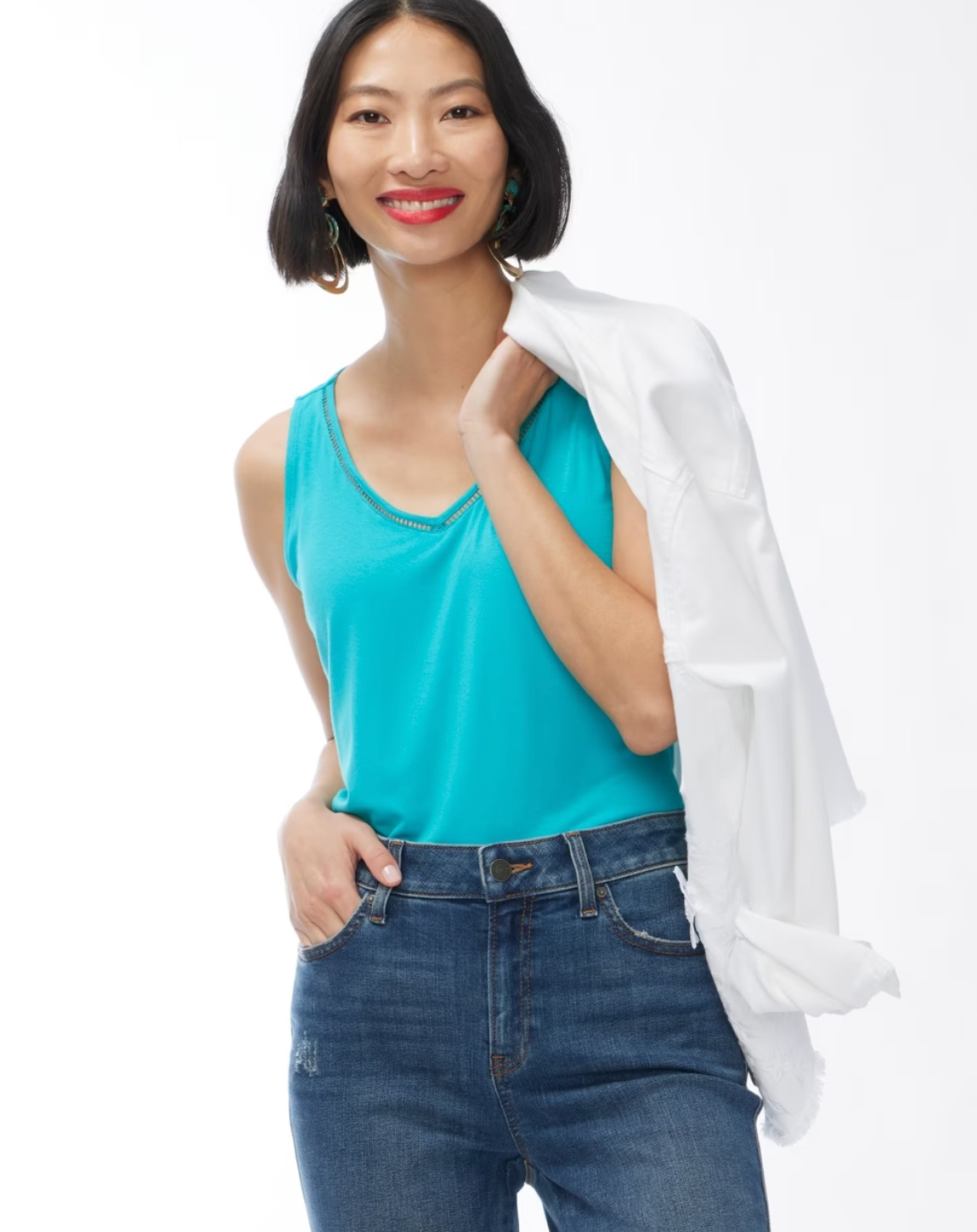 Shop Sizes XS-XL: Chico's Eyelet Tank Tops
Chico's Tank Tops are also popular and ideal for layering; they're versatle and soft to the touch. Chico's also has a No Iron Shirt Collection, so you can wear a blouse right out of your suitcase without annoying wrinkles to contend with! 
If you want clean lines and a more sophisticated look, this travel clothing brand is highly recommended!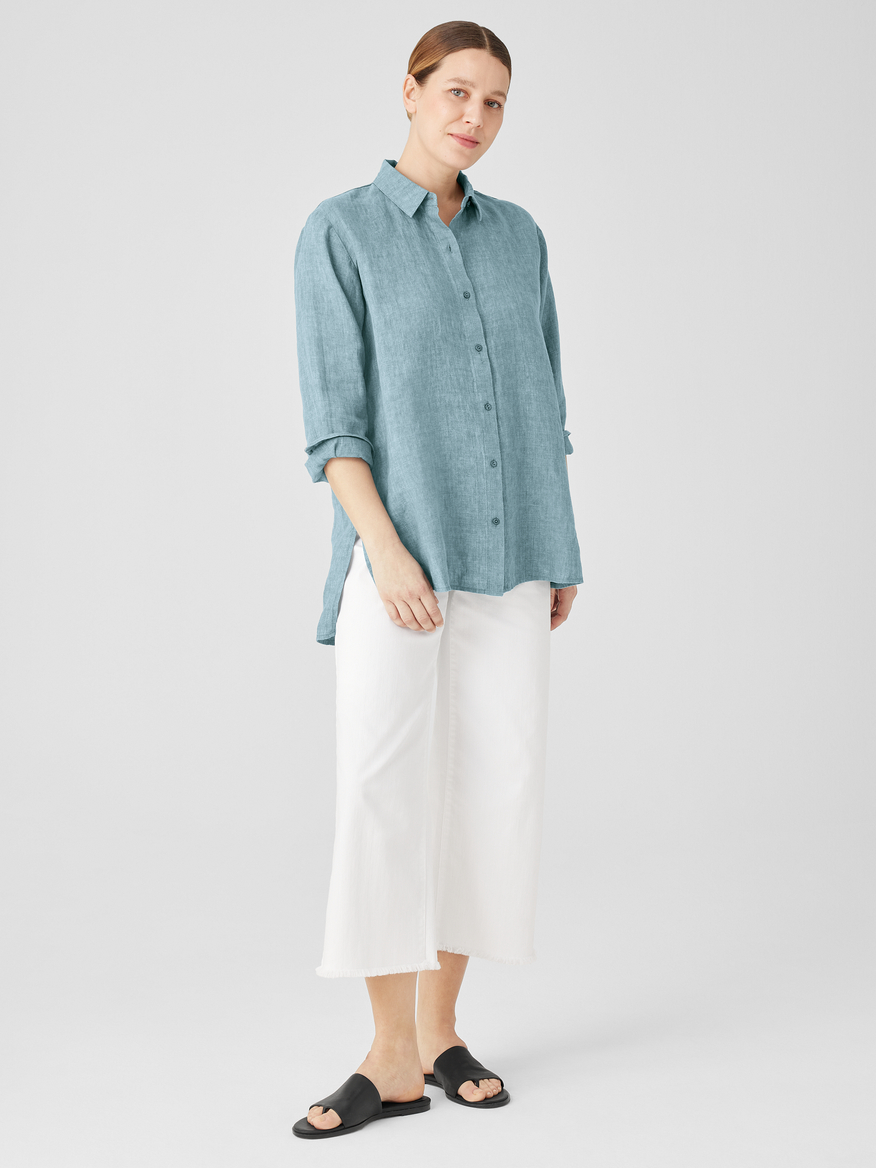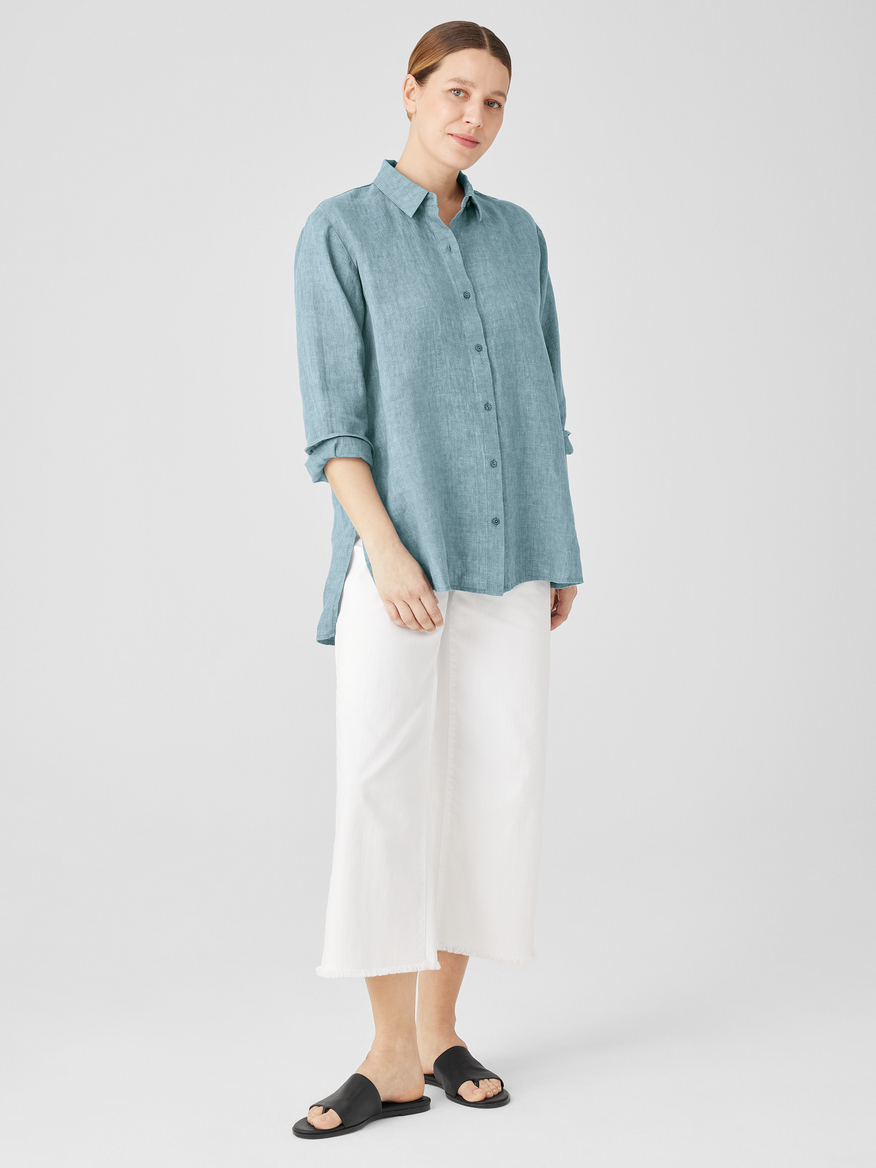 Shop Sizes PP-3X: Eileen Fisher
Eileen Fisher 
Eileen Fisher has been a long time favorite of the TFG readers, particularly those that are looking for functional yet elegant basics in longer lengths and wider designs. While I didn't own any of the brand's clothing despite how much the readers raved about them for travel, I finally got hooked when I bought their linen tunic shirts on sale!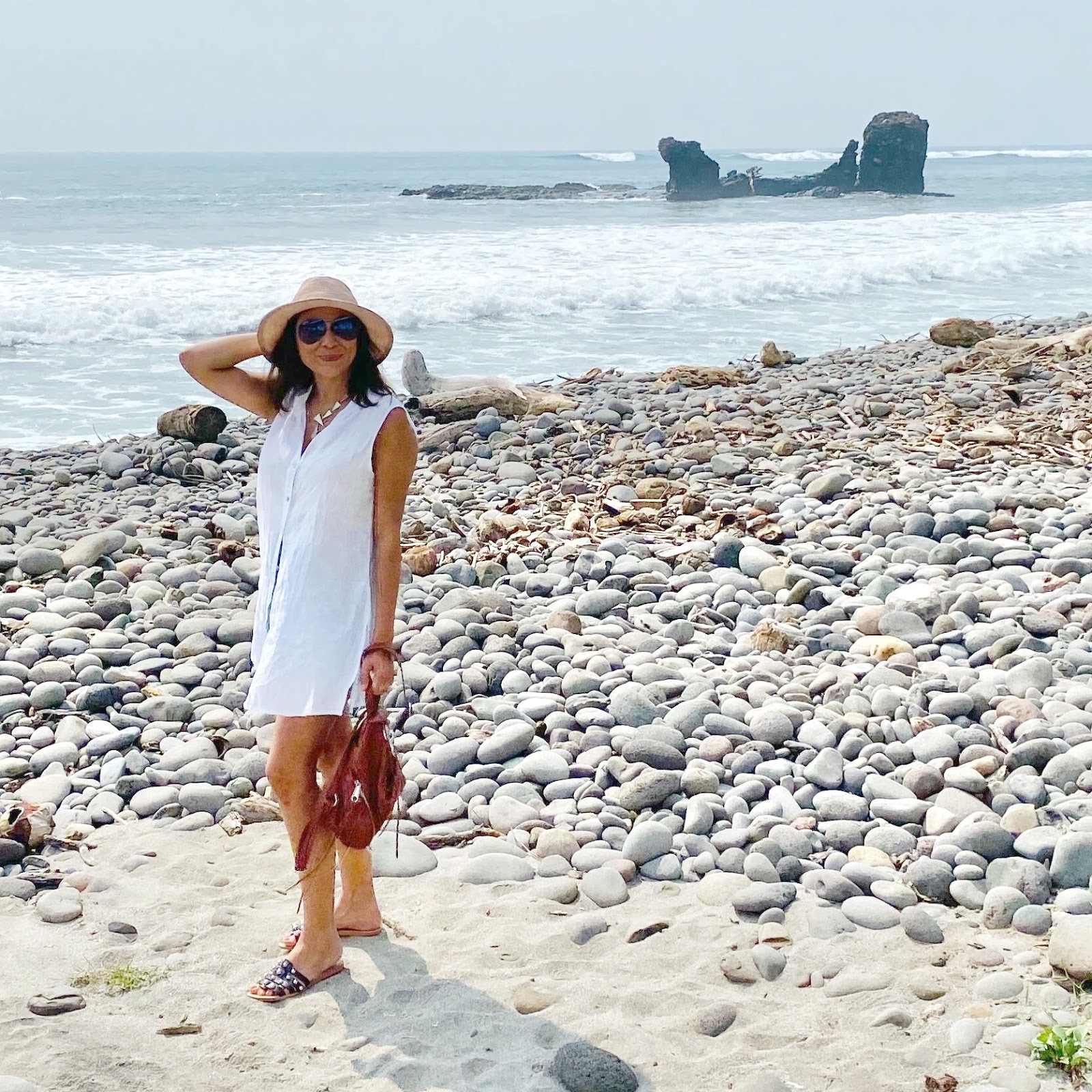 Eileen Fisher Linen Shirt with Wallaroo Sun Hat 
Like the Eddie Bauer button-down mentioned before, I discovered this Eileen Fisher linen dress and fell in love with it for hot and humid destinations! It's SO versatile and chic, and the best part, the linen keeps me nice and cool. I wear it as a blouse tucked into my denim, worn as a tunic over jeans or leggings, and as a beach cover-up dress.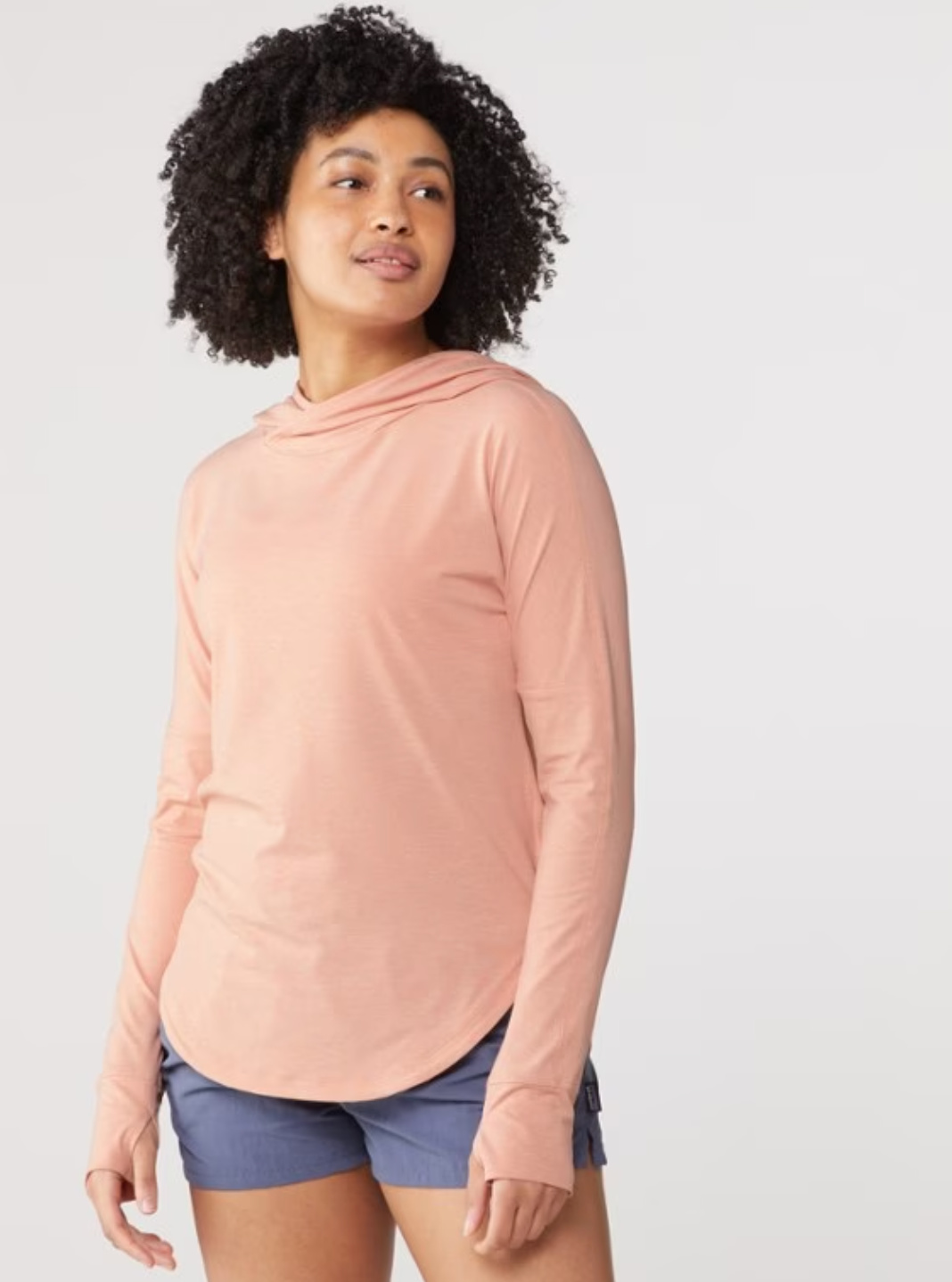 Shop Sizes XS-XL: REI Co-op Sahara Shade Hoodie 
REI
REI is a wonderful source for adventure travelers to stock up on comfortable clothing that's durable and lightweight, but overall, this retailer is fantastic for general travel gear—be it clothes, shoes, or backpacks.
A true hiking staple, the REI Co-op Sahara T-shirt wicks sweat, dries quickly, and shades you with solid UPF 30 sun protection. While the REI Co-op Sahara Shade Hoodie is built for the trail with a tech-tee-like knit that wicks moisture and provides shade.
REI is a wonderful source for adventure travelers to stock up on comfortable clothing that moves as you do, but overall, it's just a fantastic option to grab general gear for travel, be it clothes, shoes, or backpacks.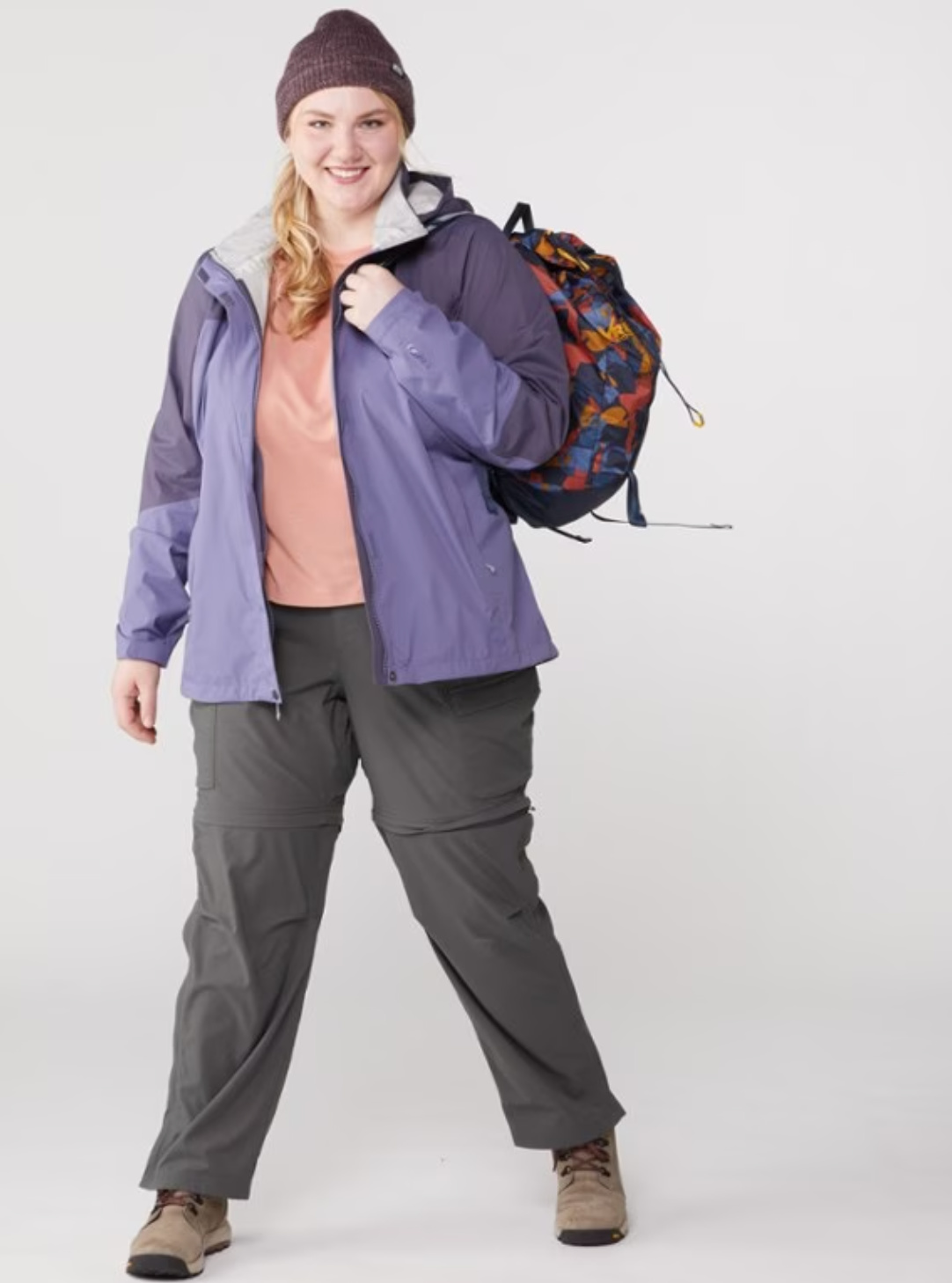 Shop Sizes 0-26W: REI Co-op Sahara convertible Pants
If you love rushing streams and tricky switchbacks, then REI Co-op Sahara convertible Pants are ideal. They even convert into shorts easily while on the trail! For airflow and freedom of movement, it's hard to beat a dress—especially one designed for hiking, like the cool, stretchy, multi-pocketed REI Co-op Sahara dress.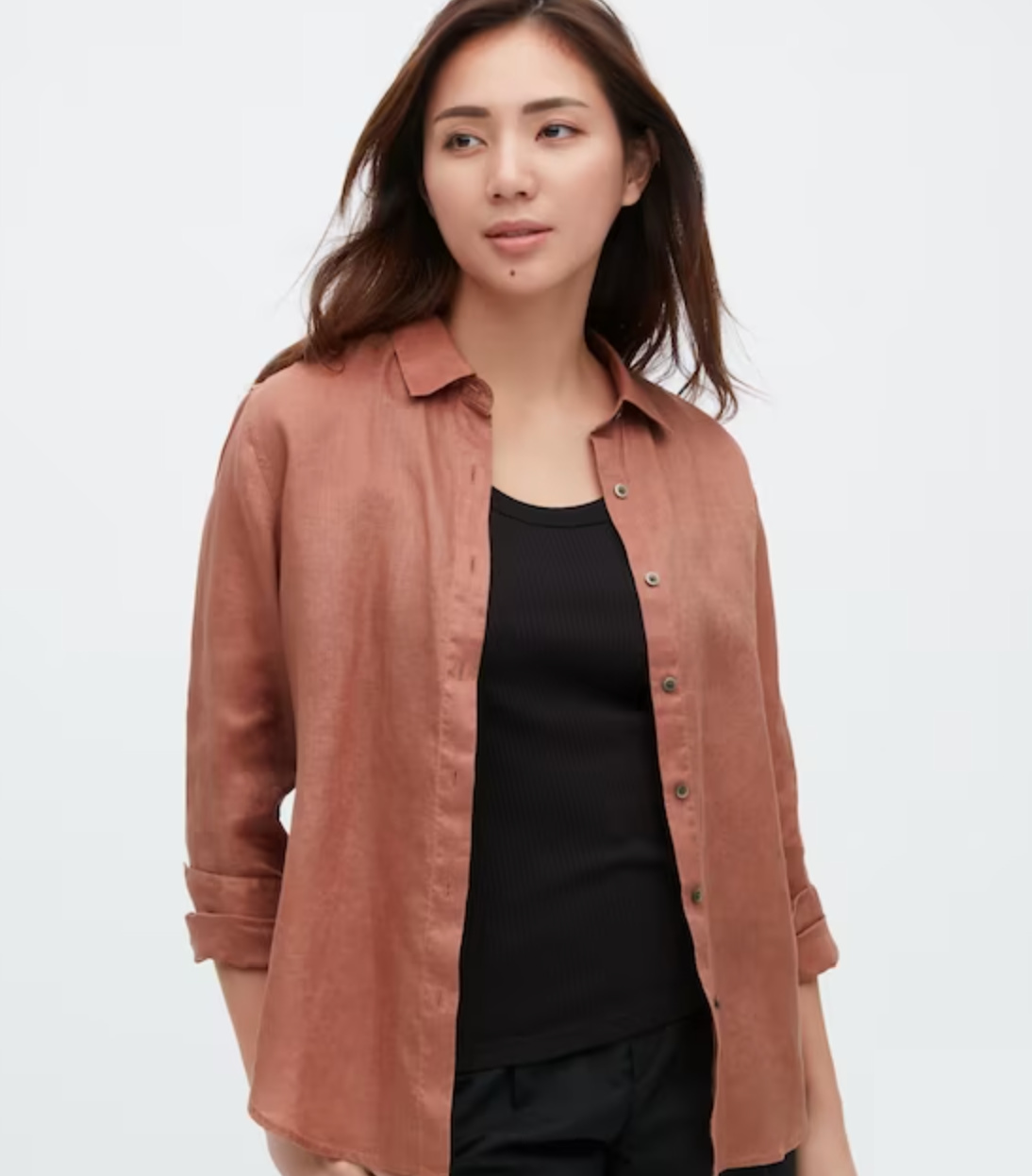 Shop Sizes XS-XXL: Uniqlo
Uniqlo
This Japanese brand is especially noteworthy for their AIRism and HeatTECH collections, which are available at a low price point. AIRism fabric is light, breathable, and quick-drying. Their tanks, camis, and tees are the perfect absorbent, anti-odor underlayer.
They take up almost no space, are easy to hand-wash, and dry quickly. There are also AIRism bras, panties, and leggings. HEATTECH innerwear has heat-retaining properties and is great to wear as a base layer in cold climates. 
One of TFG's writers likes wearing her HEATTECH tights under jeans during winter travel, and another loves their lighter layers. Read her review here!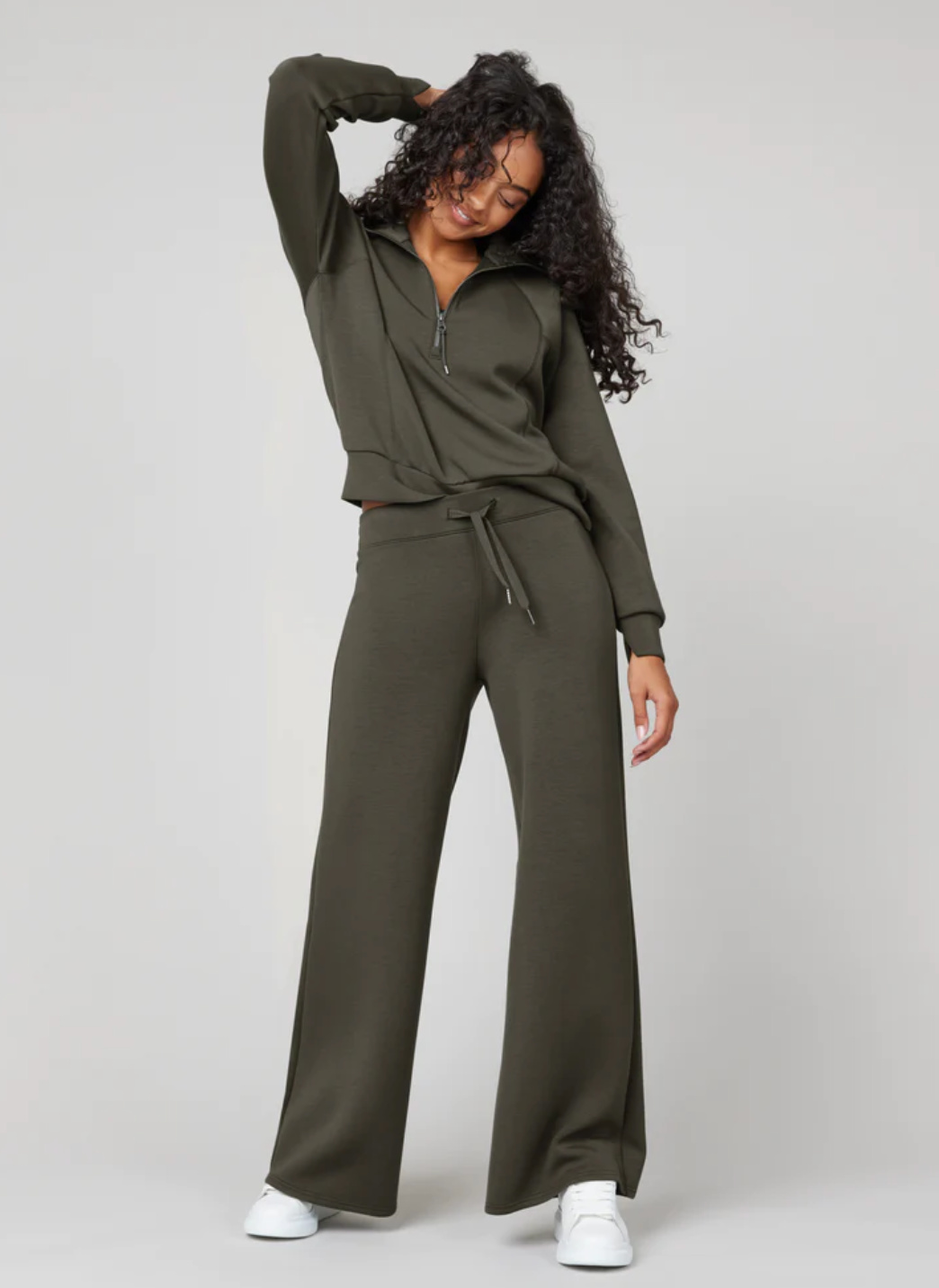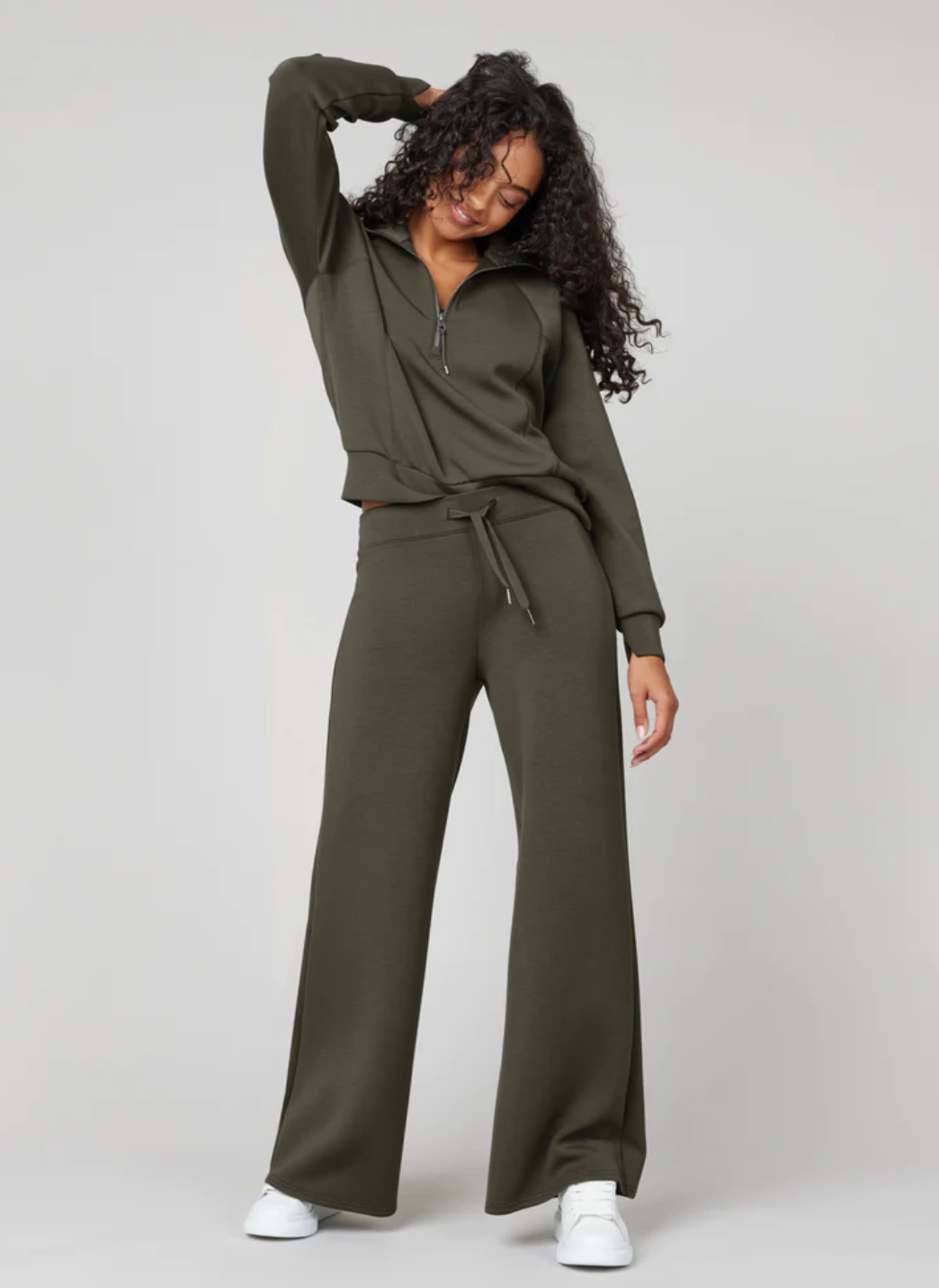 Shop Sizes XS-3X Regular, Petite & Tall : Spanx
Spanx
Spanx is previously known for shapewear, but they've since expanded into clothing that's functional, fashionable, and flattering!  
Readers particularly love their comfortable, lightweight pants, specifically the AirEssentials Wide Leg Pants, which are perfect for traveling in a car, plane, or train. Feel free to check out the entire AirEssentials Collection, especially the stretchy and cute AirEssentials Jumpsuit, which is an all-in-one outfit for travel!
In addition to AirEssentials, we can't forget the Perfect Pants, which are more polished but still have their famous stretch and comfort. The entire Perfect Collection is ideal for those wanting to travel to Europe due to its sophisticated, simple pieces or for frequent business travelers or remote workers.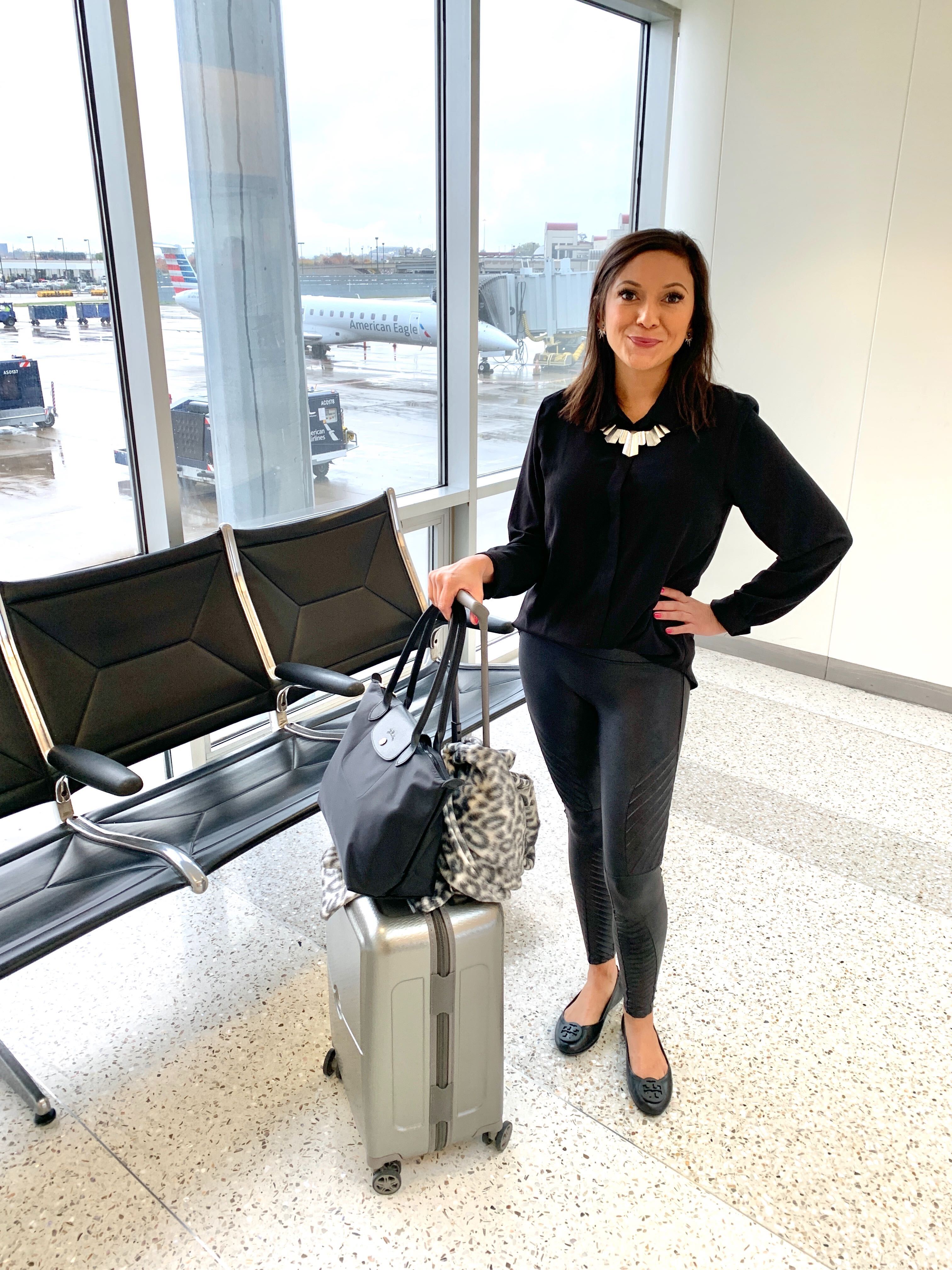 Shop Sizes XS-3X: Spanx Faux Leather Leggings
Other popular traveling pants styles are the Spanx Faux Leather Leggings. While leggings are not as in style as they used to be, they're still popular for travel overall. I love their faux leather leggings because they're comfy yet stylish and versatile—able to be worn dressed down or up. I wear them as a part of a plane outfit, all the way to sightseeing or dinner out. Here's my full review of them!
Non-Travel Clothing Companies that Are Amazing for Travel
In addition to travel apparel brands, there are certain regular brands that are absolutely amazing for travel, too.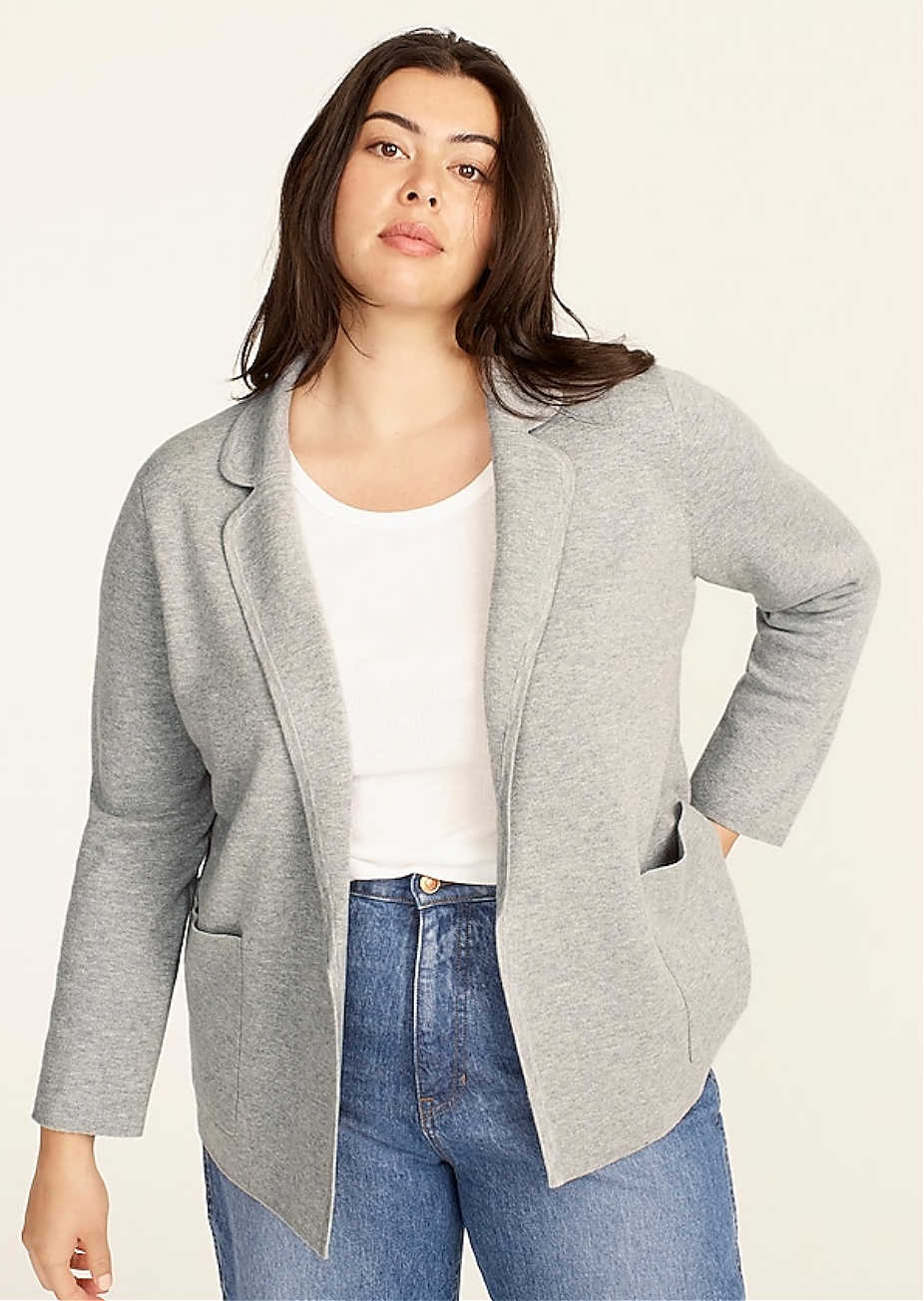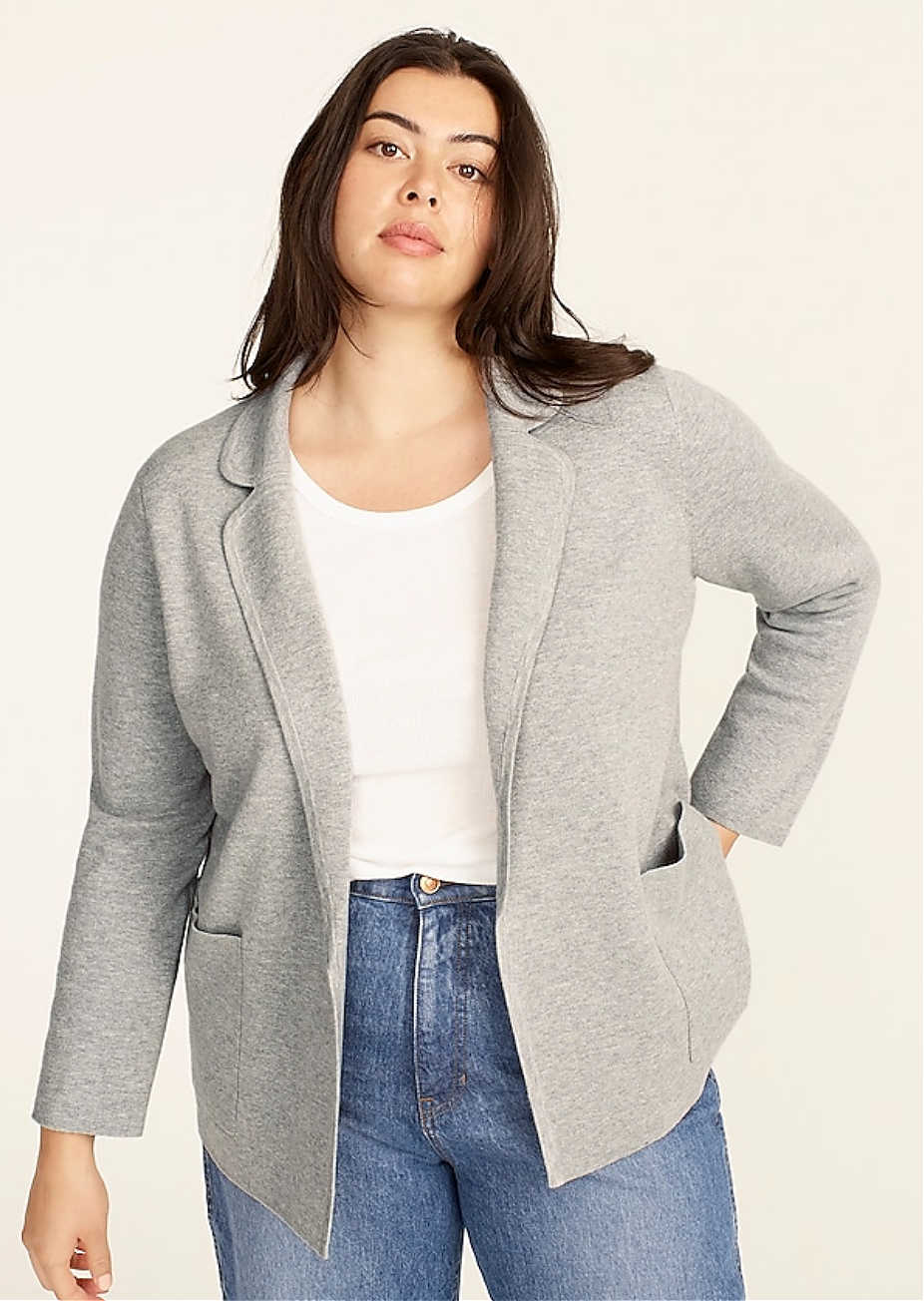 Shop Sizes XXXS-3X: J.Crew Eloise Travel Blazer
J. Crew
If you want chic women's travel clothes for Europe, TFG readers recommend J. Crew's classic styles and quality that will last for years. In fact, one of the recurring comments about their Classic Denim Jacket is its long-lasting quality.
This J.Crew Cecile Blazer is similar to the beloved Eloise Blazer and is made of a cotton and merino wool blend. While it's super cozy and great for layering during the fall and winter, it's lightweight and versatile for year-round wearing, yet the sophisticated look is balanced out by an easy, relaxed fit.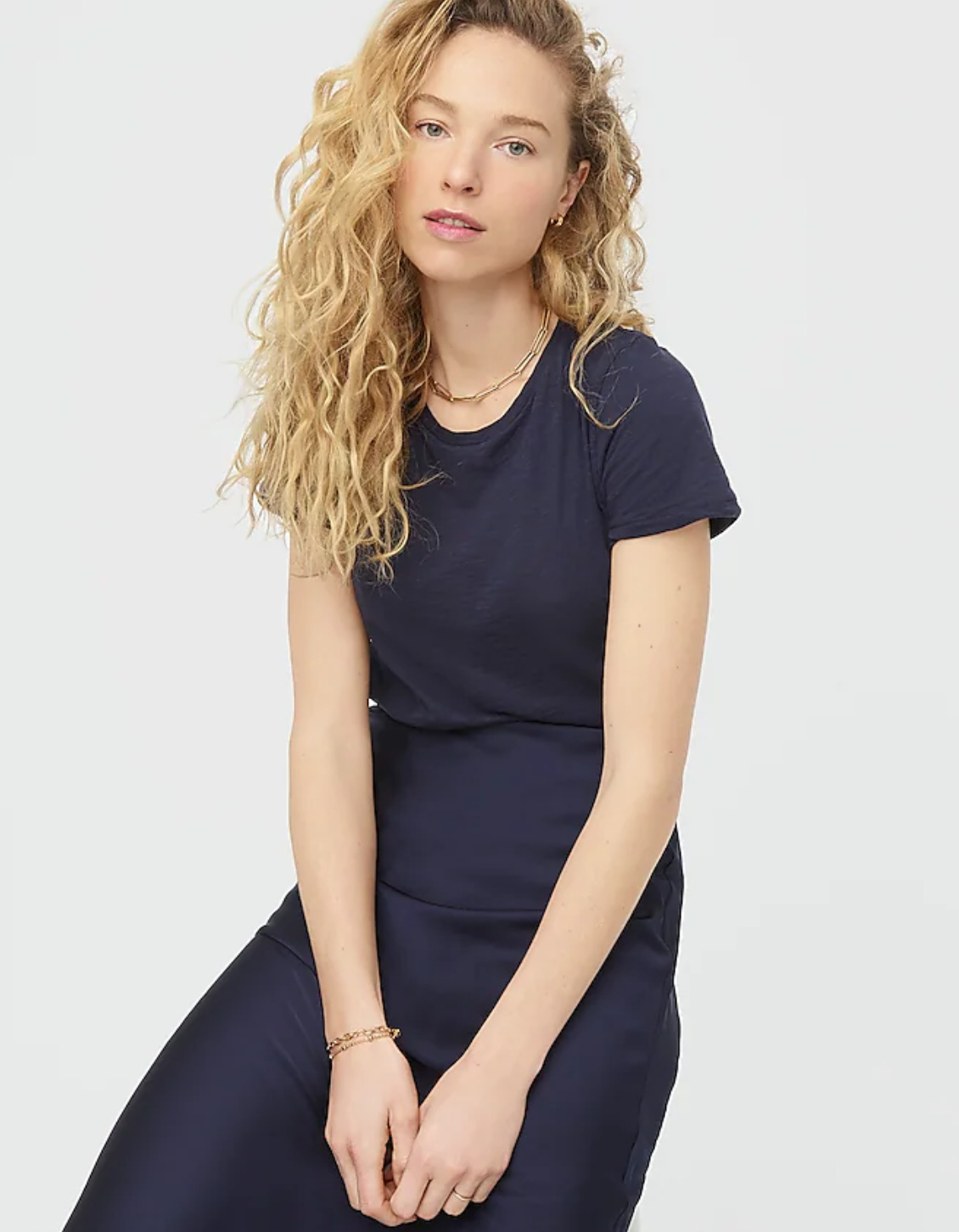 Shop Sizes XXS-3X: J.Crew Vintage Cotton T-shirt
The top selling Vintage Cotton T-shirt features a drapey fabric that's insanely comfortable, plus a figure-flattering slim fit. This is the perfect chic option to pair with cute pants and flats for a fashionable day wandering Paris.
And finally, peruse the J.Crew Dress Collection, because readers swear by their stylish selection for any season, but especially for spring and summer!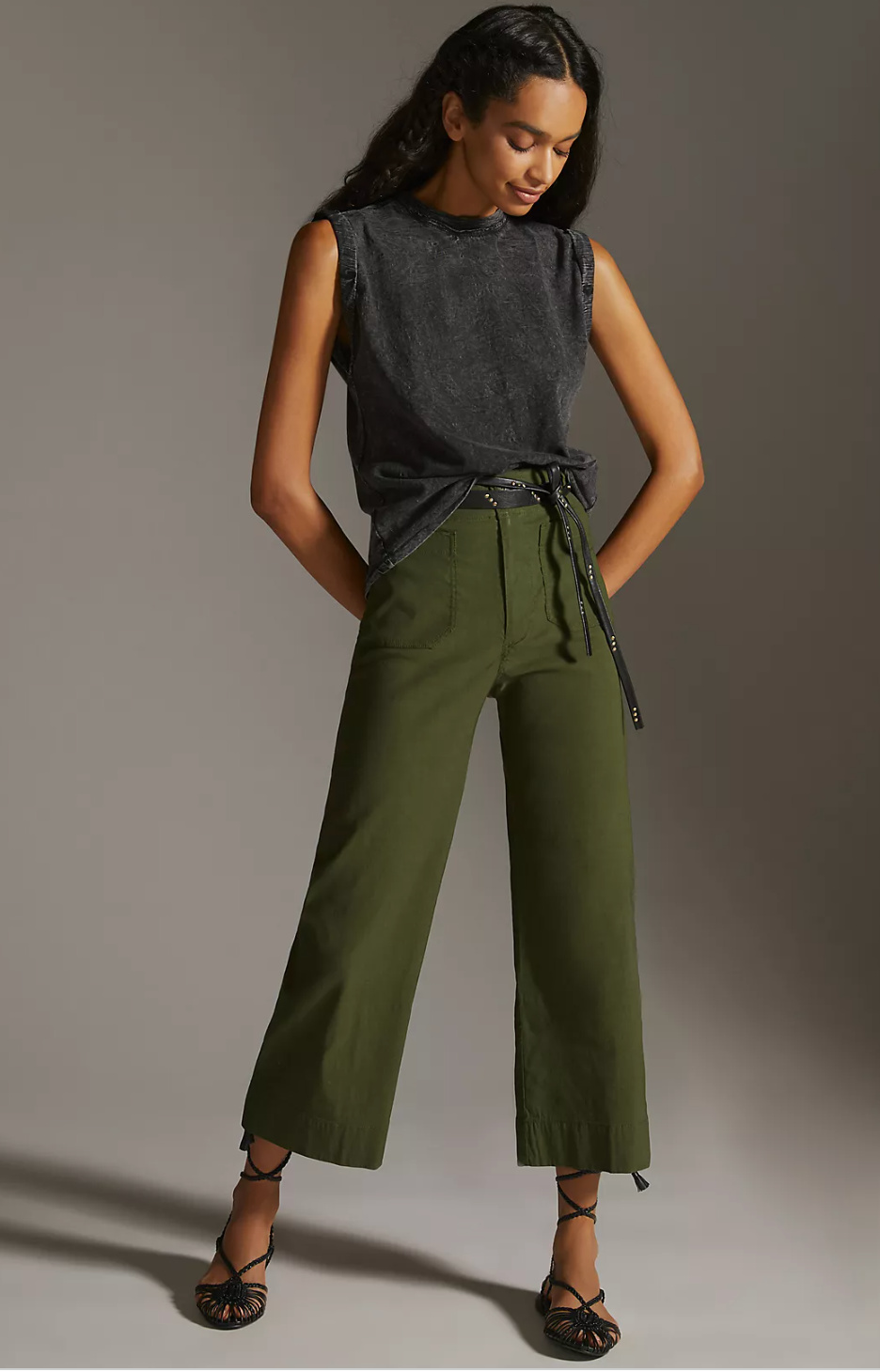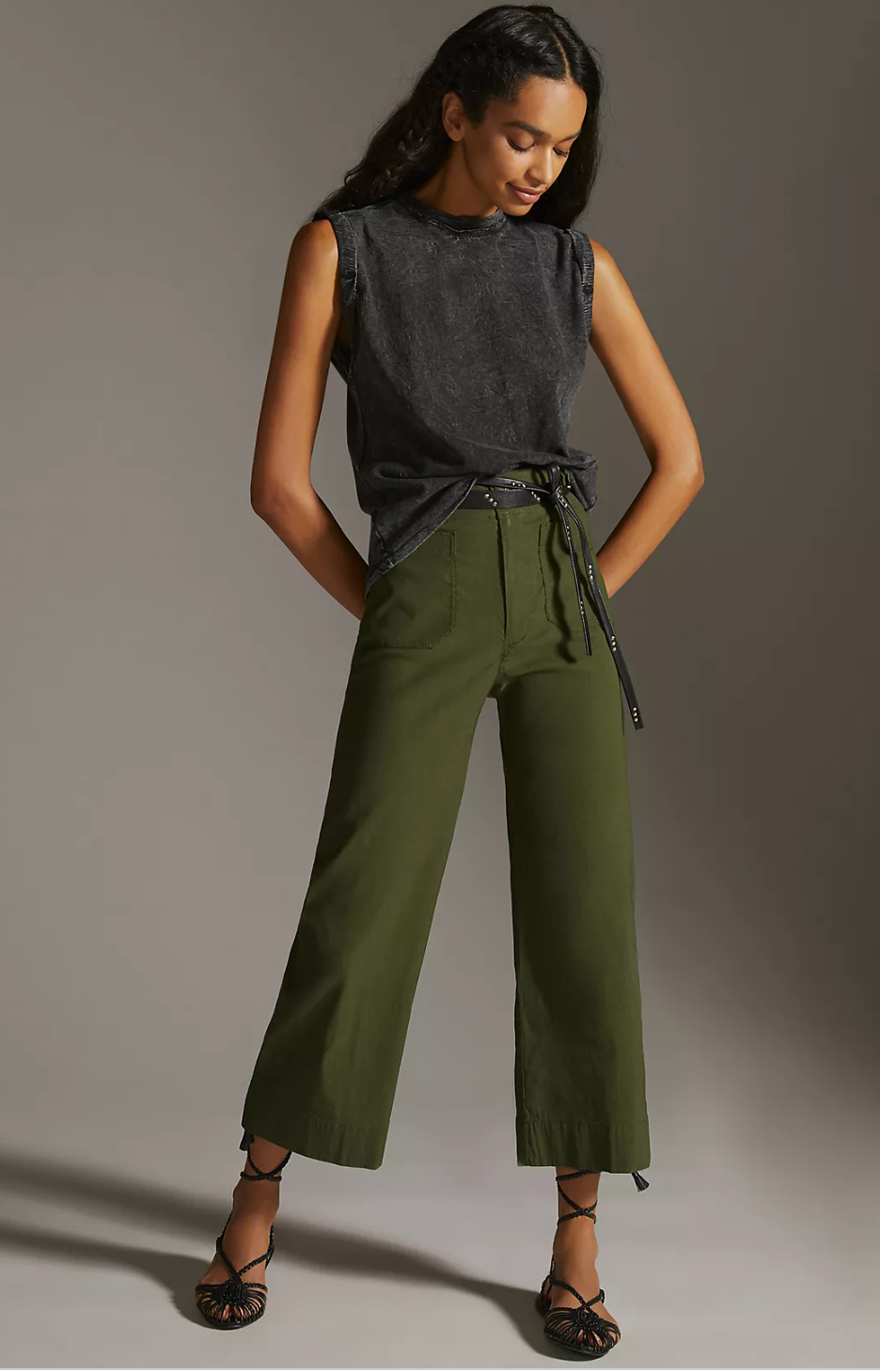 Shop Anthropologie: Sizes 23-34 | Tall 23-34 | Petite 23-34 | Plus 16W-26W
Anthropologie
While Anthropologie has a more trendy vibe, I've discovered a few pieces that I've fallen in love with. One is the Colette Collection by Maeve, which includes comfy pants and shorts that come in an endless variety of colors, fabrics, and inseam options. Furthermore, many brands carried at Anthropologie also have inclusive sizing, such as regular, petite, tall, and plus.
I own the Colette Linen Wide Leg Pants and wore them on a recent trip; I felt so put together for my travel day without sacrificing comfort — they were very airy, and seriously felt weightless!  They have the feel of sweatpants but look incredibly chic and polished and they've now become my go-to pant for everything – including travel, flights, conferences, and everyday wear.
 And while their Vacation Dress Collection has some on-trend pieces, there are also more simple lightweight choices that are ideal for a beach vacay or a hot destination!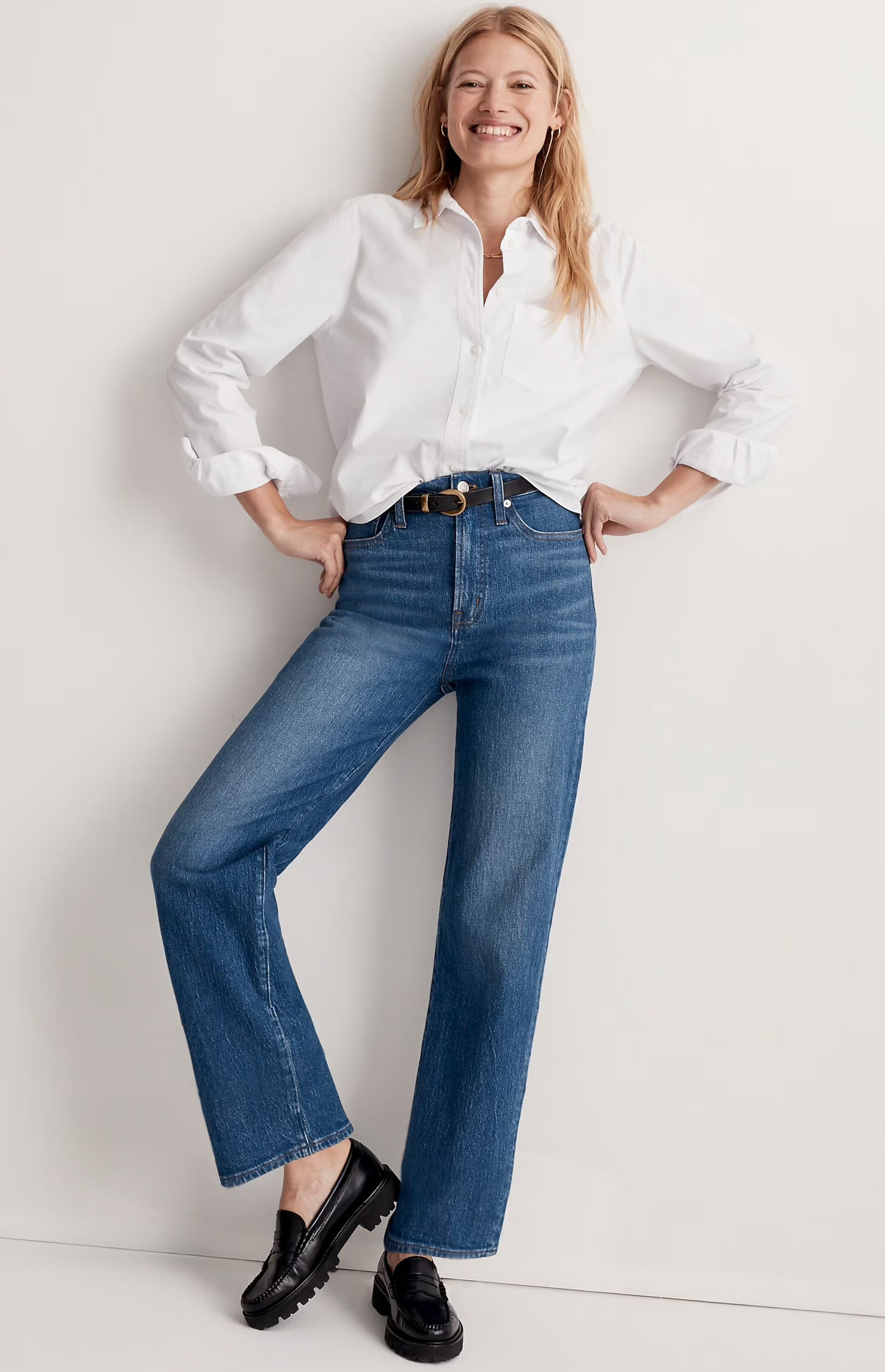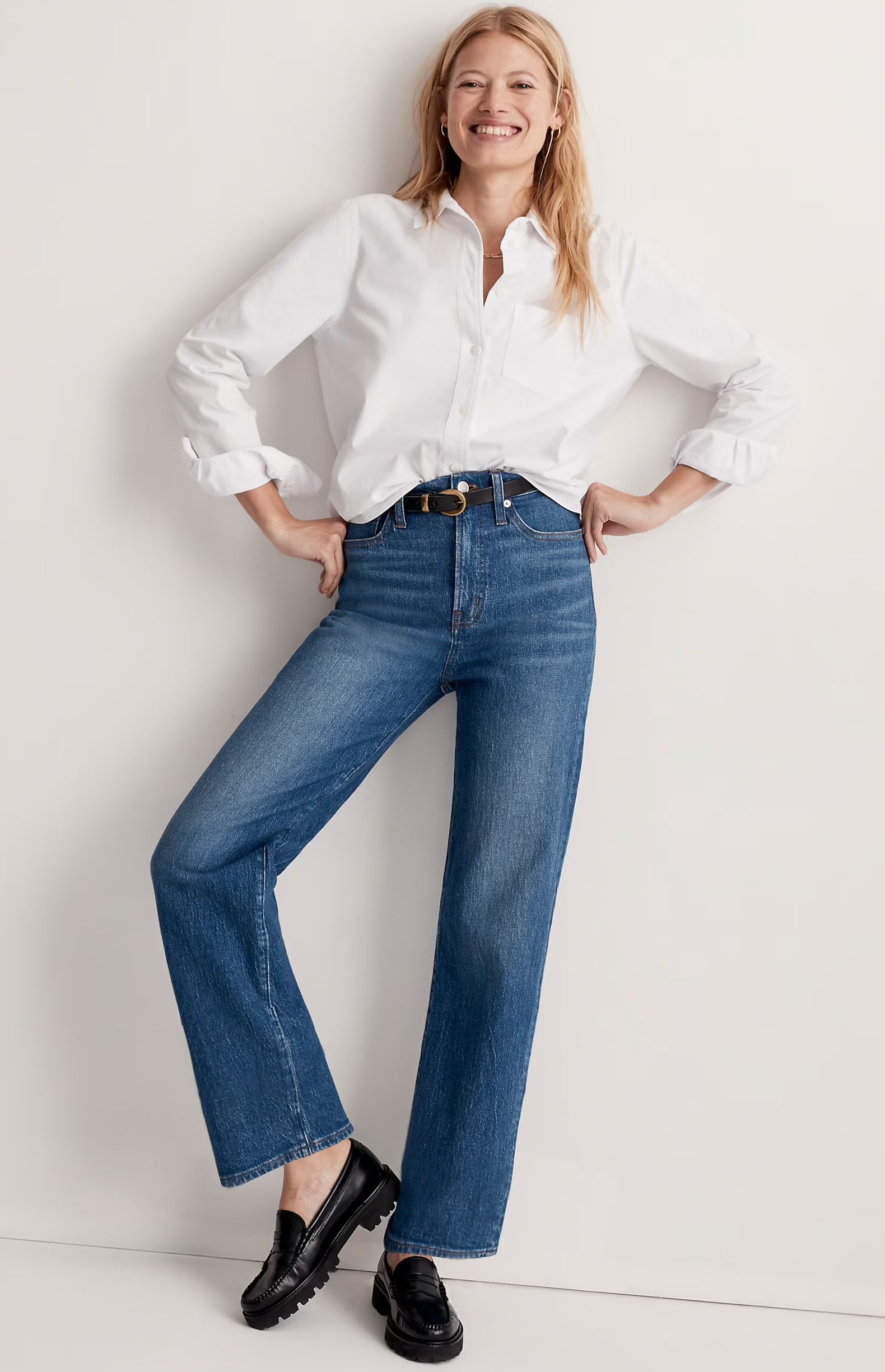 Shop Madewell Wide Leg Jeans: Nordstrom | Madewell (Sizes 23-33)
Madewell
Madewell is an eternal reader fave due to their sustainable, comfortable clothing and inclusive sizing. Readers love their Cropped Wide Leg Jeans, with one saying they're "so comfortable and so flattering and versatile".
Another reader-approved pick is the Madewell Wide Leg Linen Pants. They're airy but have a more polished look that can still be dressed casually.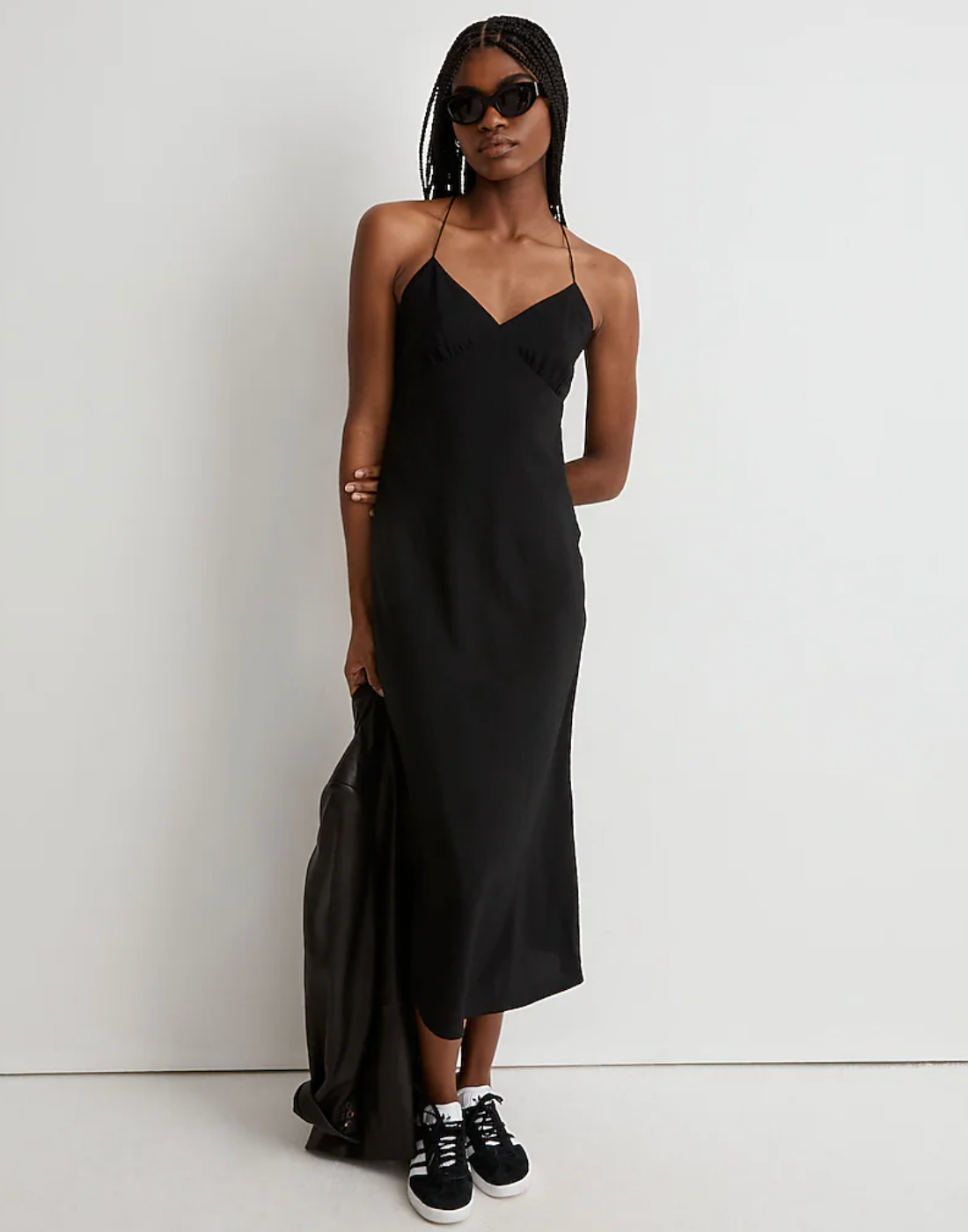 Shop Sizes 00-16: Madewell Layton Midi Slip Dress
While TFGs love Madewell for their pants (and lots more), it's their Dress Collection that they flock to during the summer. You can choose from short, midi,  maxi, and printed dresses. 
A great example is the chic and cute Midi Slip Dress pictured. While it's on-trend, the lines are still simple and versatile, and would look amazing with black sneakers, sandals, or wedges!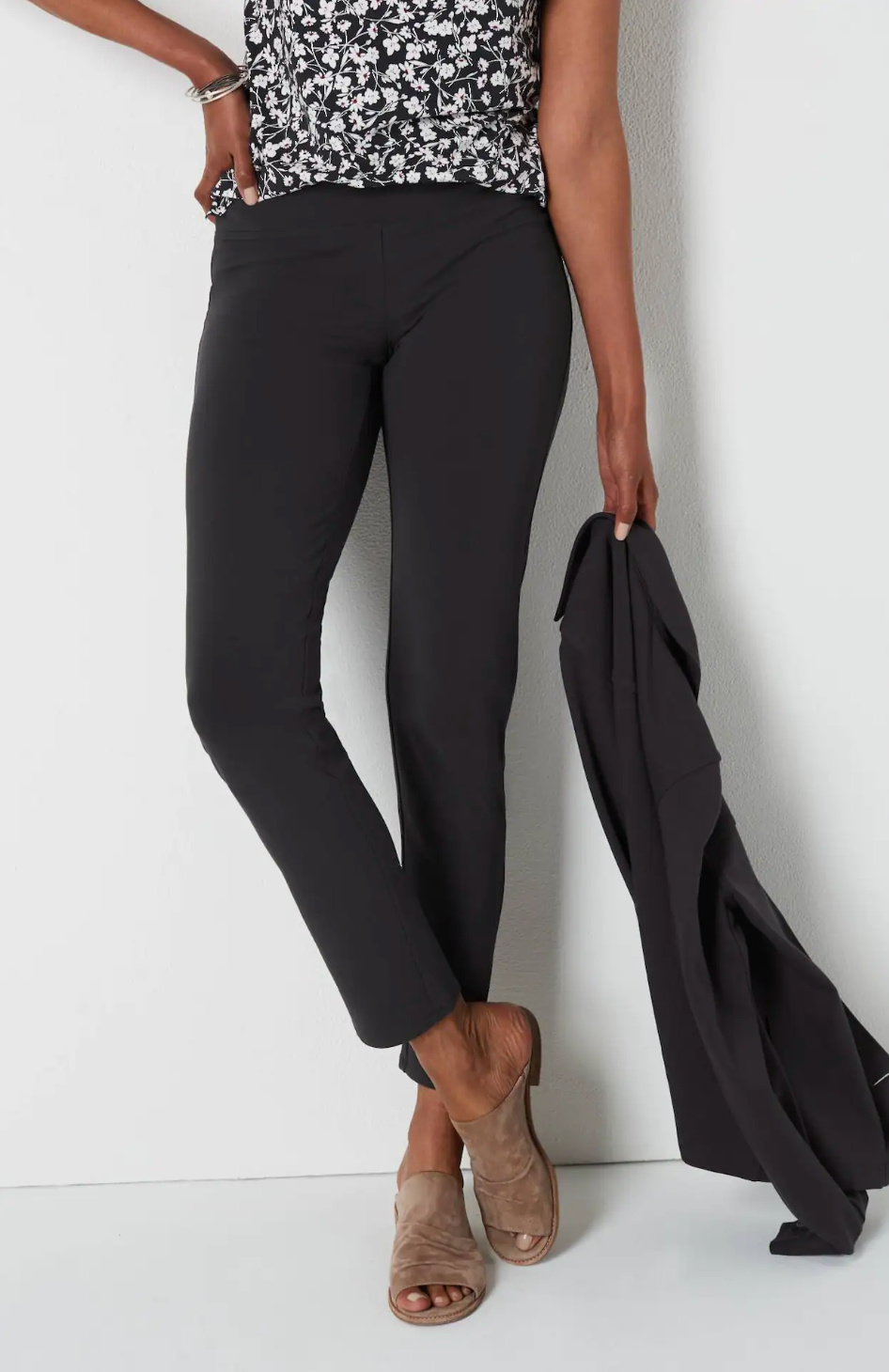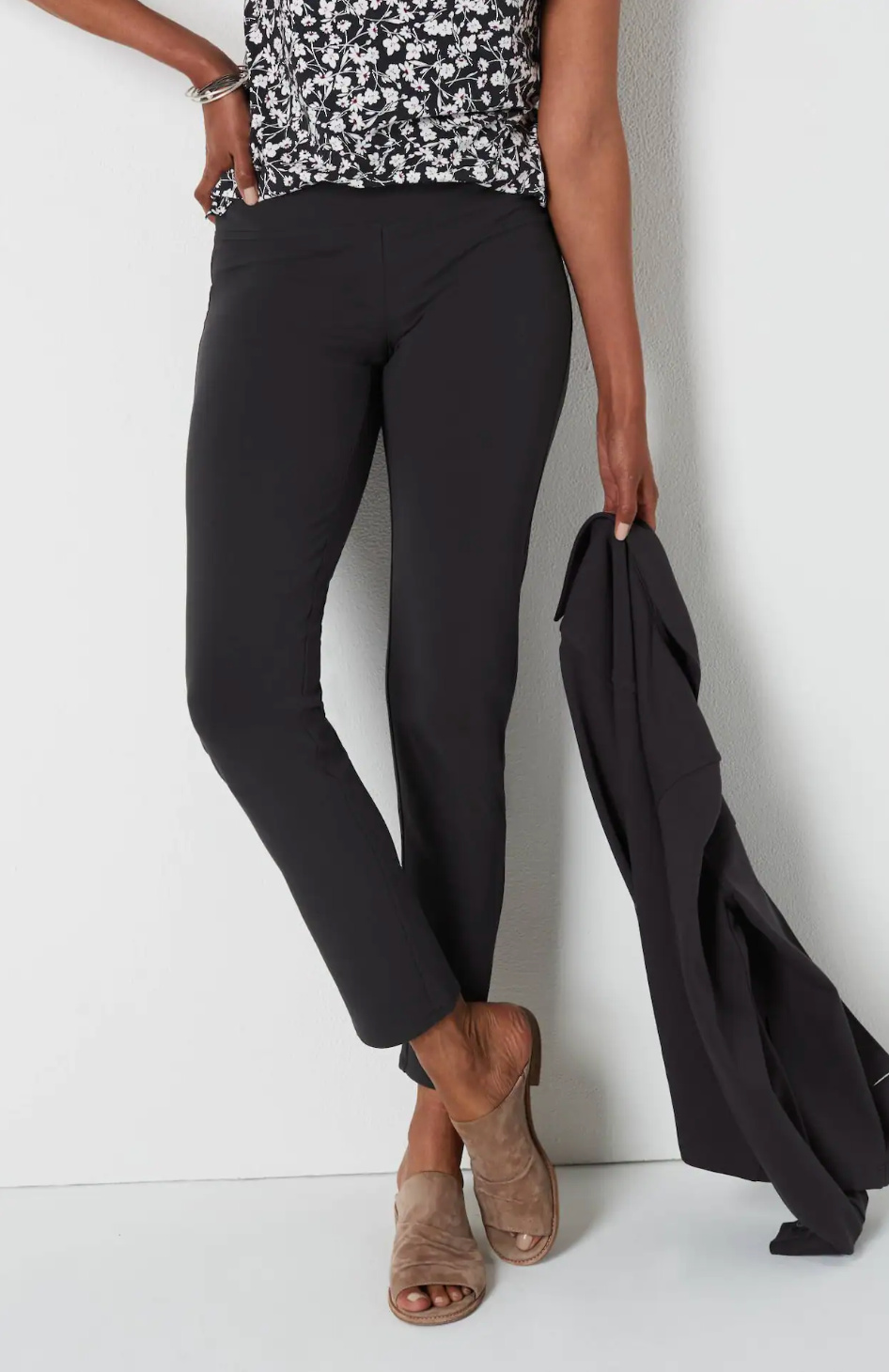 Shop J Jill: Regular XS-XL | Petite XSP-XLP | Tall ST-XLT
J.Jill
Readers love J.Jill for their timeless, mature clothing and bonus, they offer a broad size range including regular, petite, and tall. 
The Wearever Black Slim-Leg Pants are voted by TFG readers as some of the best pants for travel! They're knit, made with an elastic waist for movement and stretch, and create a flattering shape. 
They wash very easily, dry quickly, and are wrinkle-resistant. A must-have travel pant!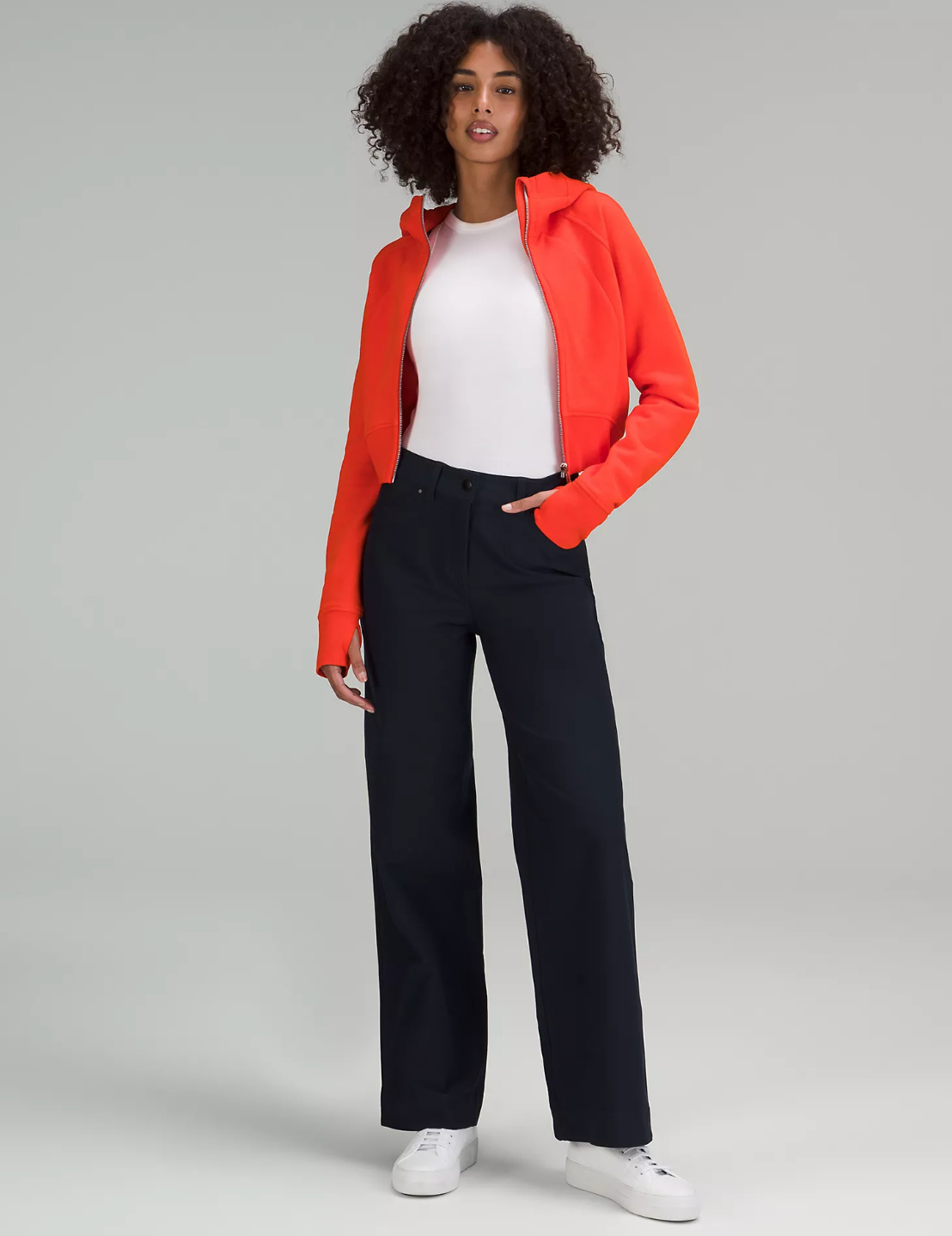 Shop Sizes 24:33: Lululemon City Sleek 5 Pocket High-Rise Wide-Leg Pant
Lululemon
Lululemon isn't the most affordable brand, but many women swear by their apparel. They don't just make amazing athletic wear for the gym, but they also make comfortable clothing that's perfect for traveling and long-haul flights. Readers say investing in a pair of Stretch High Rise 7/8 Pants are worth it! They're comfy, cute, and will last years. 
These Lululemon Comfortable Travel Dresses are also a great pick because they're wrinkle-resistant, sweat-wicking, and have quick-drying properties, so you can wear them throughout your trip and stay fresh!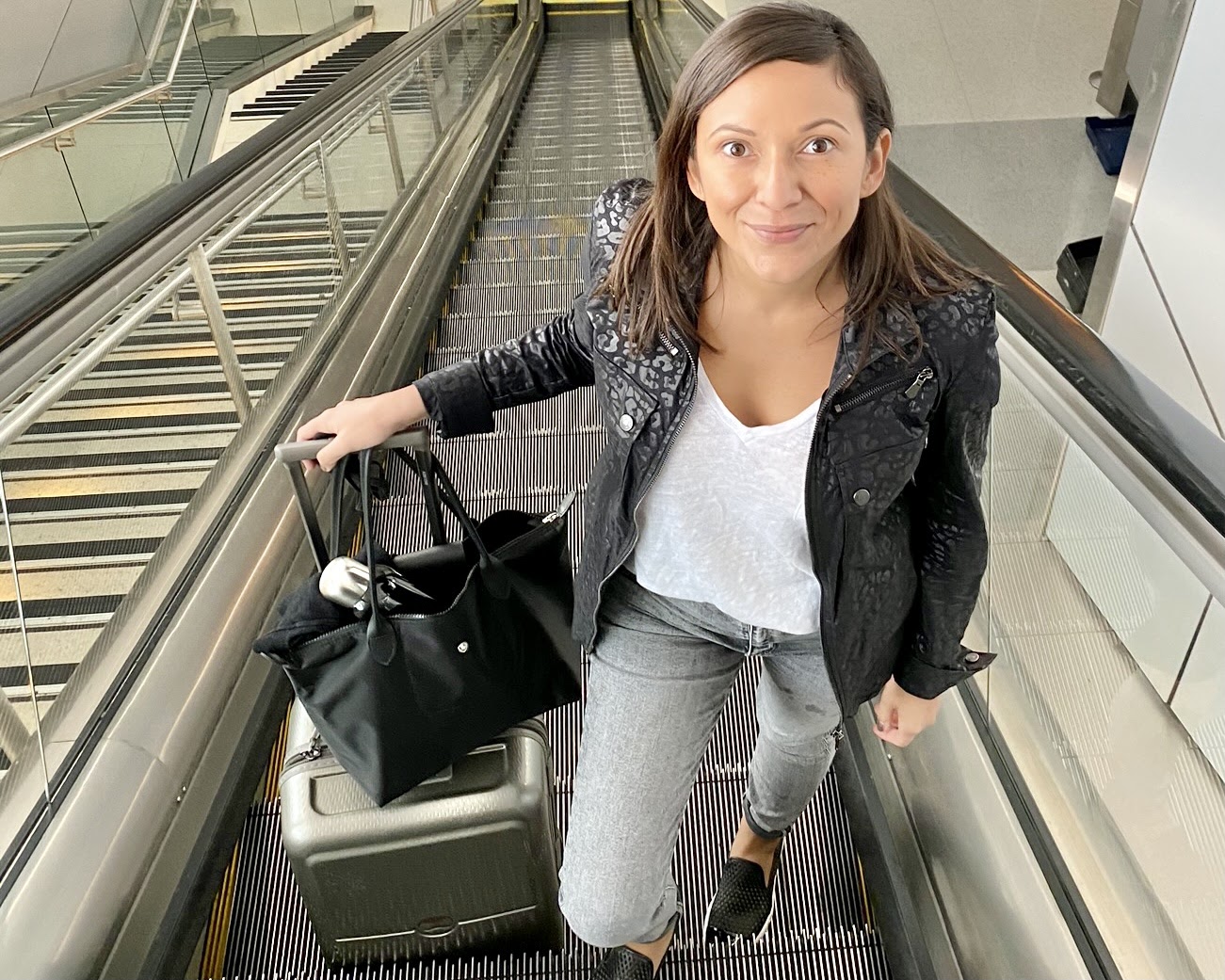 Do you really need "travel" clothing?
For most types of travel, you won't ever need specialty travel clothing. You just have to follow some simple guidelines to shop your own closet. (Download my free guide here.) On the other hand, there are some trips that require clothing with more technical fabrics and construction such as active adventures, long-term travel, or round-the-world trips.
If you're going on vacation, certain types of travel clothing can also help you pack lighter and more efficiently, too. Many times, the fabrics in the clothing are breathable, quick dry, compact, and lightweight. Others offer clever ways to get more use from your clothing such as reversible features or multi-way styles.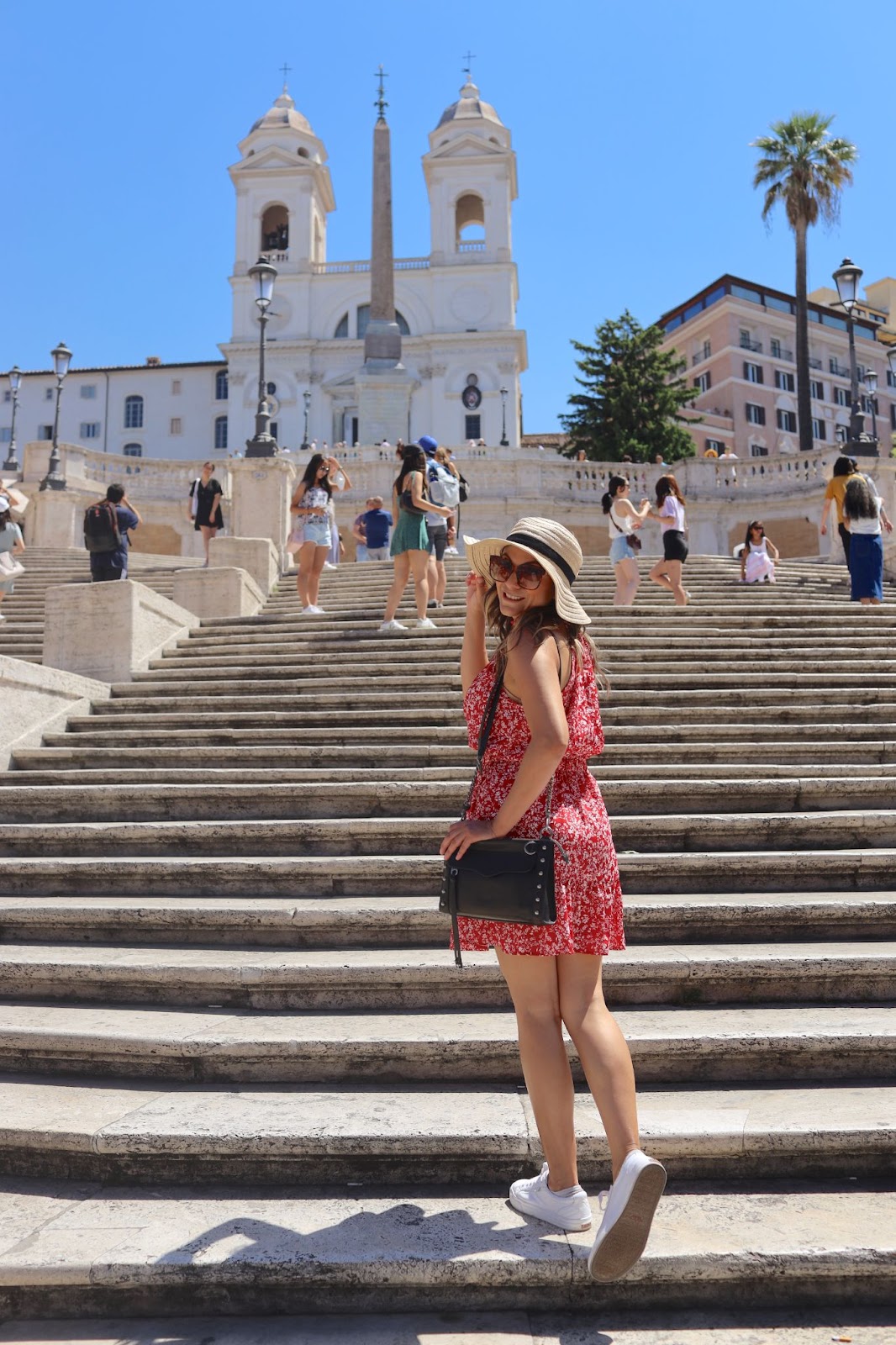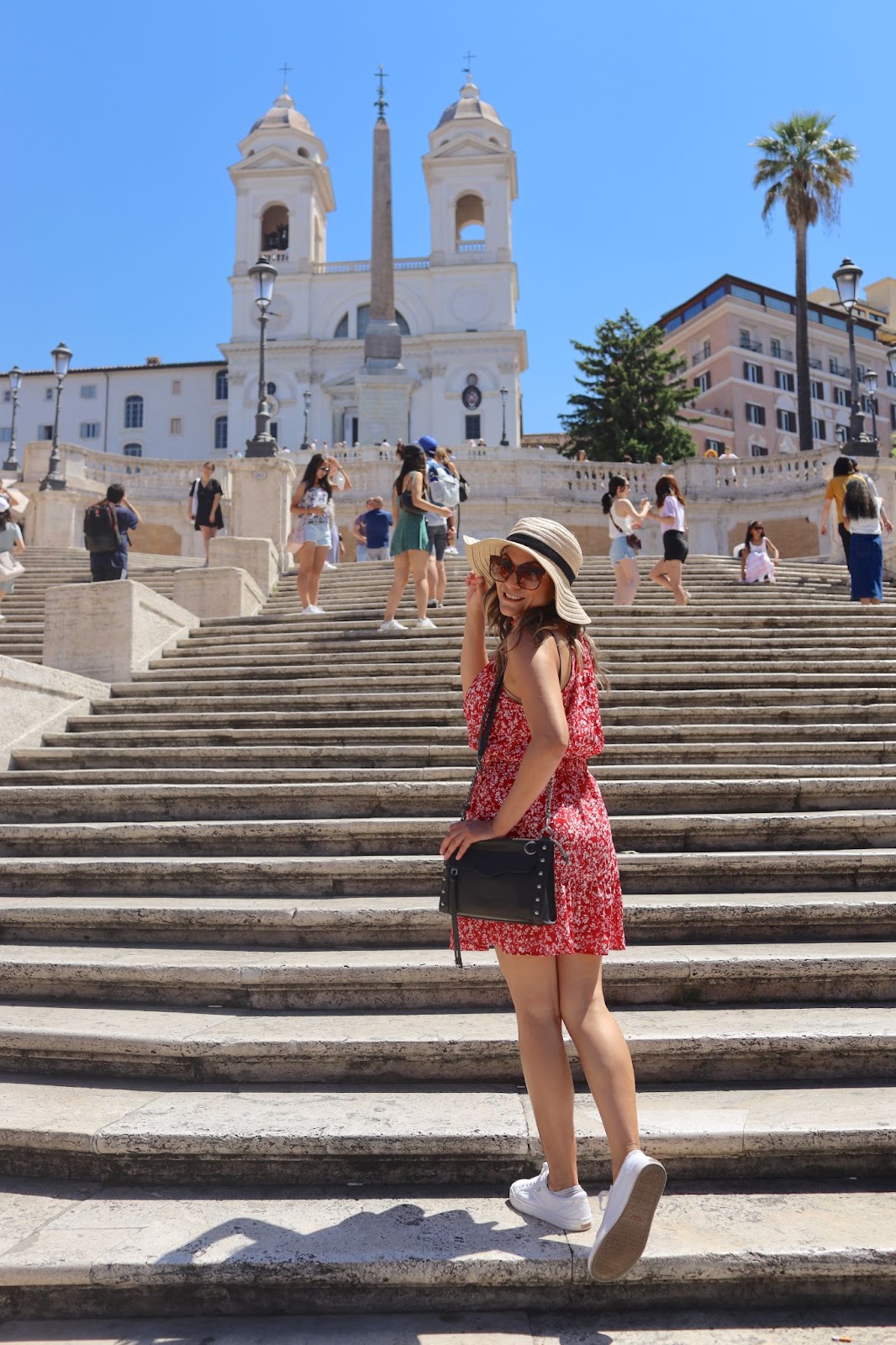 Enjoying Rome in my Gevomir Halter Summer Dress with my Rebecca Minkoff Crossbody Purse and Taos Plim Soul Sneaker
The challenge is that most of the brands that create functional clothing forget to think about the needs of the woman wearing the clothing. Sometimes I think they forget the woman part entirely and just make smaller versions of mens clothes.
Over the years, I've tried just about every brand out there, in search of the trifecta of fashion, form, and function and I've found that some work far better than others. That's why you'll hear so much about certain brands repeatedly on the blog – they're just so good in comparison to the rest. And that's also why you never read about certain other brands – I'm not a fan of gimmicks and I know you aren't either.
Want to pack light, find out how packing cubes can maximize the space in your bag here!
---
What do you think are the best travel apparel brands for women? Share them with us in the comments!
---
For more travel clothes and packing tips, please read:
---
LIKED THIS POST? PIN THIS PIC TO SAVE IT!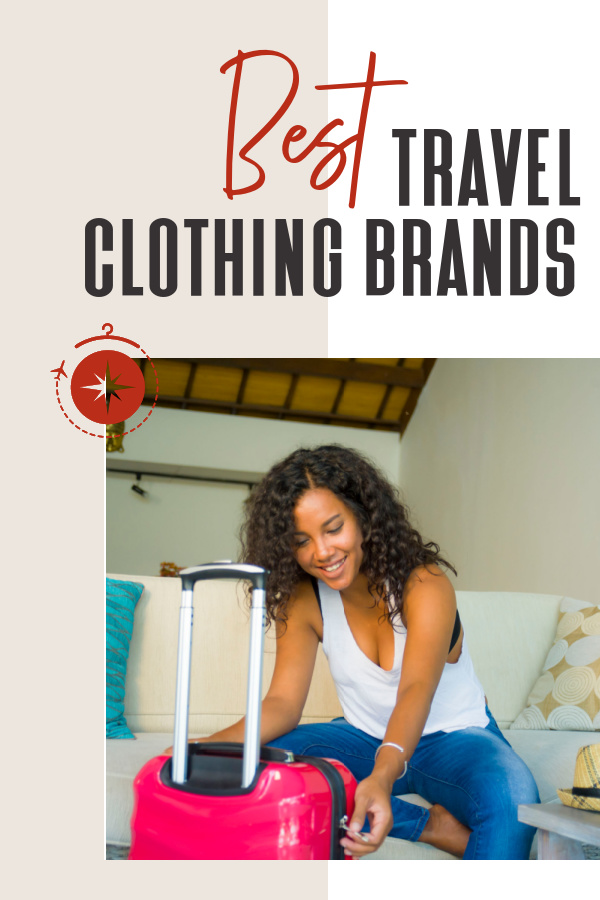 ---
Hope you liked this post on the top travel clothing brands for women. Please share it with your friends on Facebook, Twitter, or Pinterest. Thanks for reading!
---