Support TFG by using the links in our articles to shop. We receive a small commission (at no extra cost to you) so we can continue to create helpful free content. We earn from qualifying purchases made to the featured retailers. Thank you, we appreciate your support!
Growing up in Los Angeles was a great location from which to explore the West Coast, including California. From farms to cities, surf to snow, mountains to lakes, and volcanoes to deserts, this state has so much to offer! Keep reading to learn more about what to pack for California!
---
What to Pack for California
---
Table Of Contents
The most popular destinations in California include: San Diego, Los Angeles, San Francisco, and the epic PCH (Pacific Coast Highway) road trip along the gorgeous coastline.
Let's not forget our beautiful national parks like Big Sur and Yosemite or the family-friendly theme parks in Southern California.
You can spend your whole vacation visiting this entire state or just a weekend break exploring one of the places mentioned above. (Click any of the above destinations in red for packing tips specific to that area.)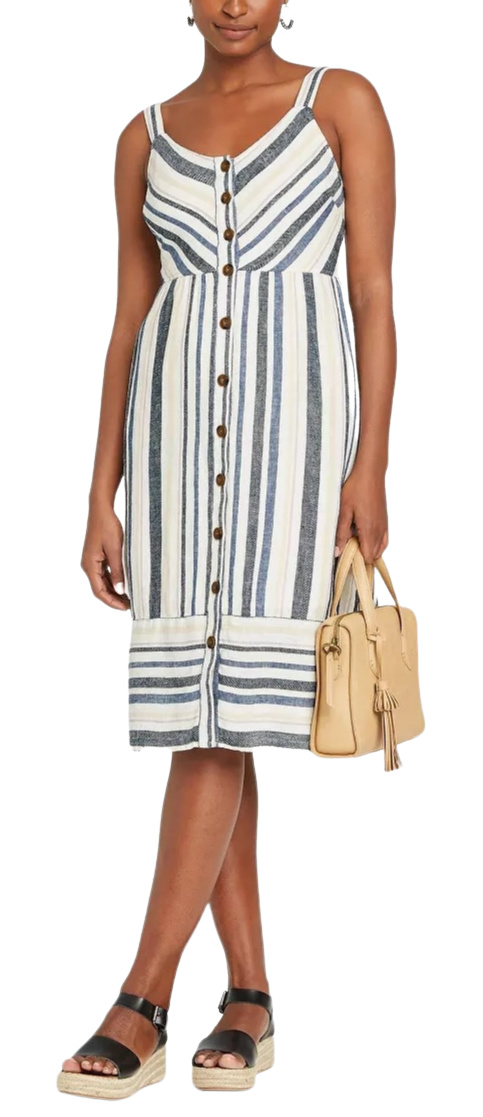 Sleeveless Button-Front Sun Dress
Clothing Style
Generally speaking, anything goes in California. You can dress however you want, practically wherever you want. Each area has its own personality and each city is filled with a variety of characters, but one thing's for sure: Californians are pretty easy-going.
Just like our attitude, our clothing is also casual and laid back. Denim is an everyday staple, sneakers and flip flops are normal, and the way these items are worn will vary from person to person.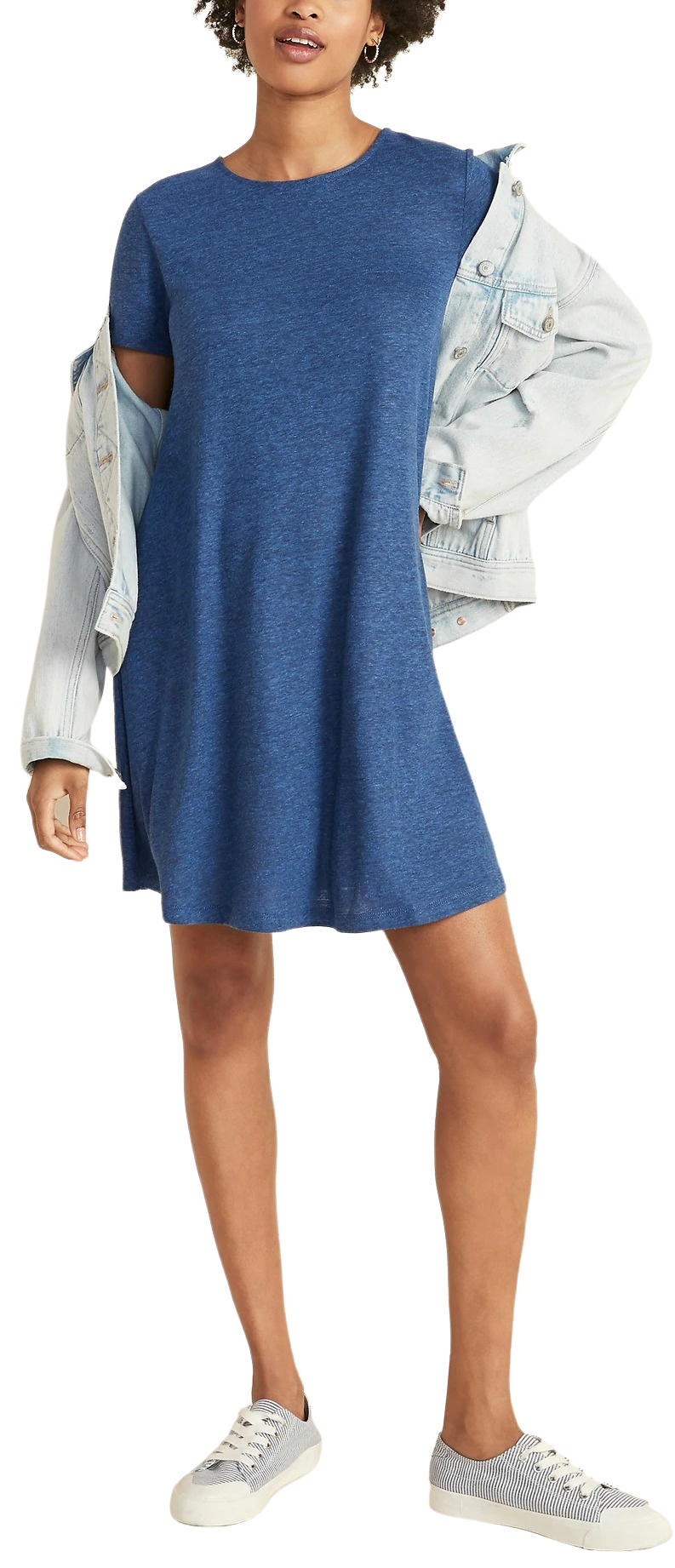 Linen-Blend Jersey Swing Dress
Weather
The biggest thing to think about when you plan what to pack for California is the weather. This is an expansive state with a diverse ecosystem and weather conditions.
Regardless of what time of year you visit or which activities you have in store: expect to experience a variety of weather throughout the state.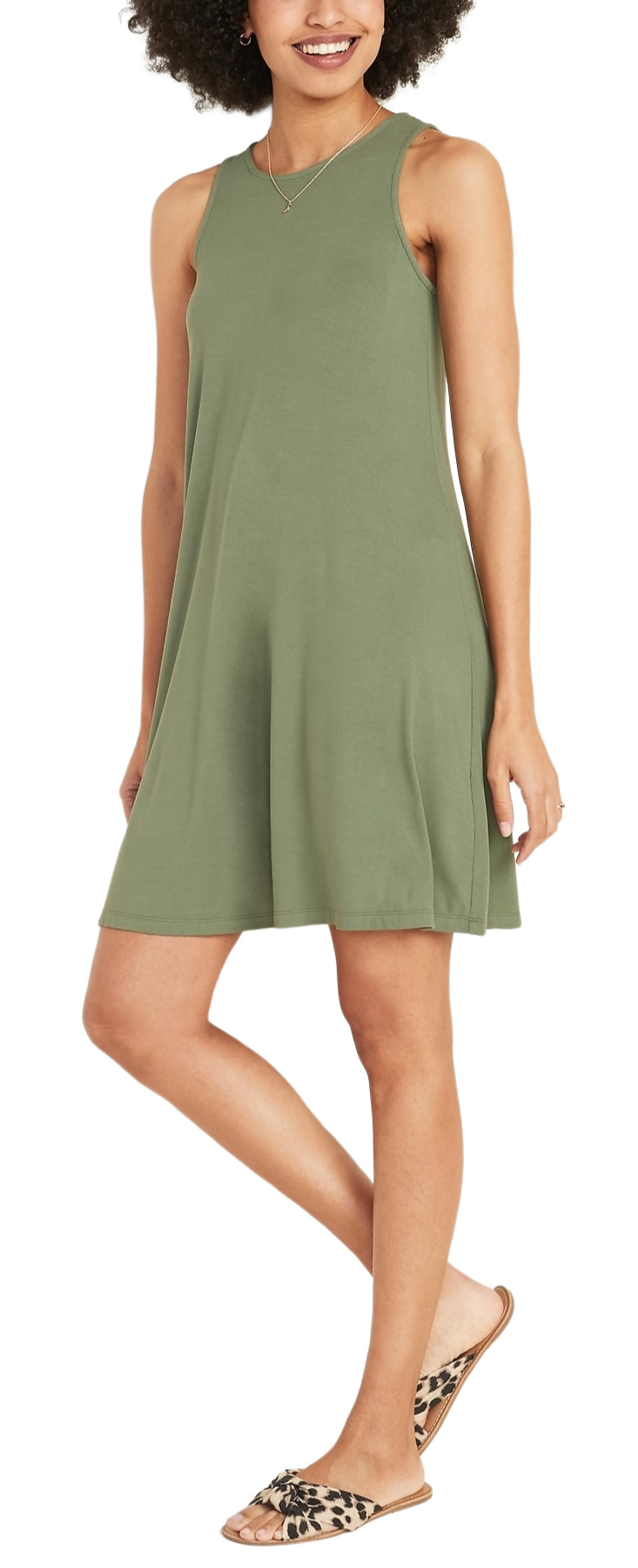 Sleeveless Jersey Swing Dress for Women
Don't make the mistake I made when I traveled from Los Angeles to San Francisco for work in November many years ago and encountered a less than sunny welcome.
Always check the weather forecast before you go. Once you've researched the weather, you can focus on creating a travel capsule wardrobe, which should easily fit in a carryon suitcase with the help of packing cubes to compress your clothing.
In January, the average high in Los Angeles is a sunny 68°F, but it's a crisp 58°F in San Francisco.
In July, the average high in Los Angeles is a steamy 83°F but it's a comfortable 72°F in San Francisco.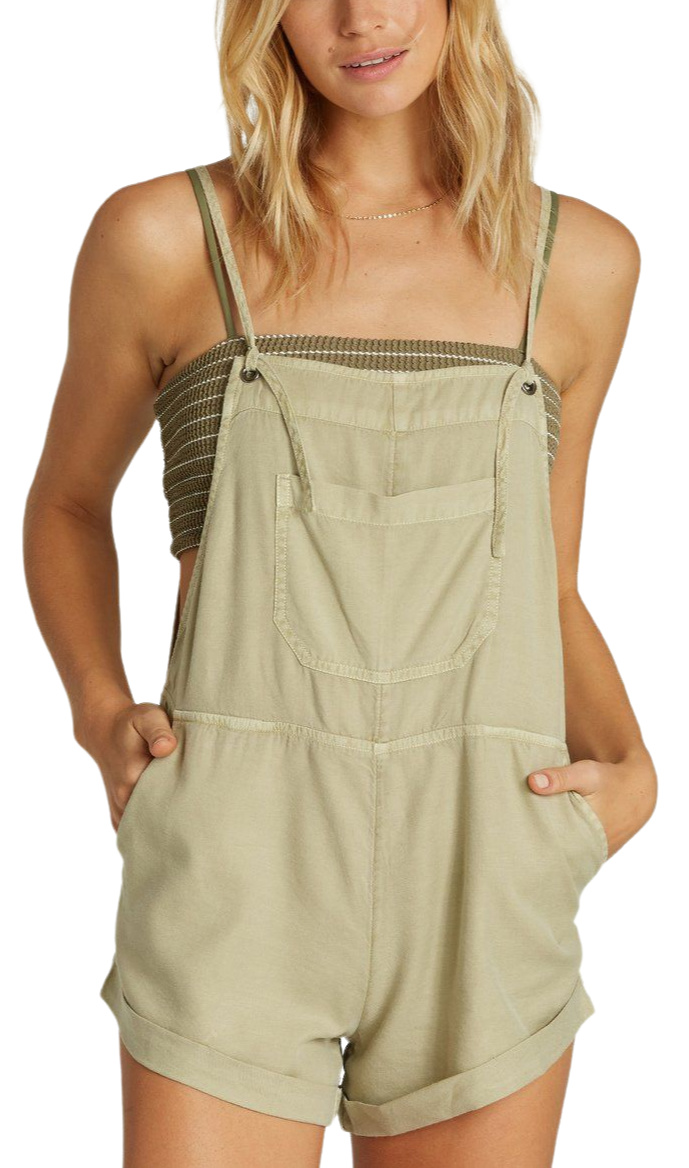 Billabong Women's Wild Pursuit Short Overall available on Amazon and Nordstrom
Remember, the weather will also vary depending on where you're visiting:
Heading to the desert for Coachella Music Festival in April? Expect +100°F temps in the day and a massive drop to 50°F in the night.
Making a weekend out of Southern California theme parks? It will probably be sunny year round, but you'll need a sweater or hoodie in the evenings no matter how warm it was during the day.
Planning a surf trip in sunny San Diego? Know that the coast is always about ten to twenty degrees cooler than inland areas.
Eager to enjoy the Fourth of July fireworks in the San Francisco Bay? Don't be surprised if you can't see them due to the cold fog.
Always dreamed of a getaway in Lake Tahoe? Ski in the snowy wonderland in the winter and paddleboard in the lovely lake in summer.
If you're visiting only one destination in California, check the weather specifically for that place, and if you'll be making several stops on your trip, check the weather for all of them!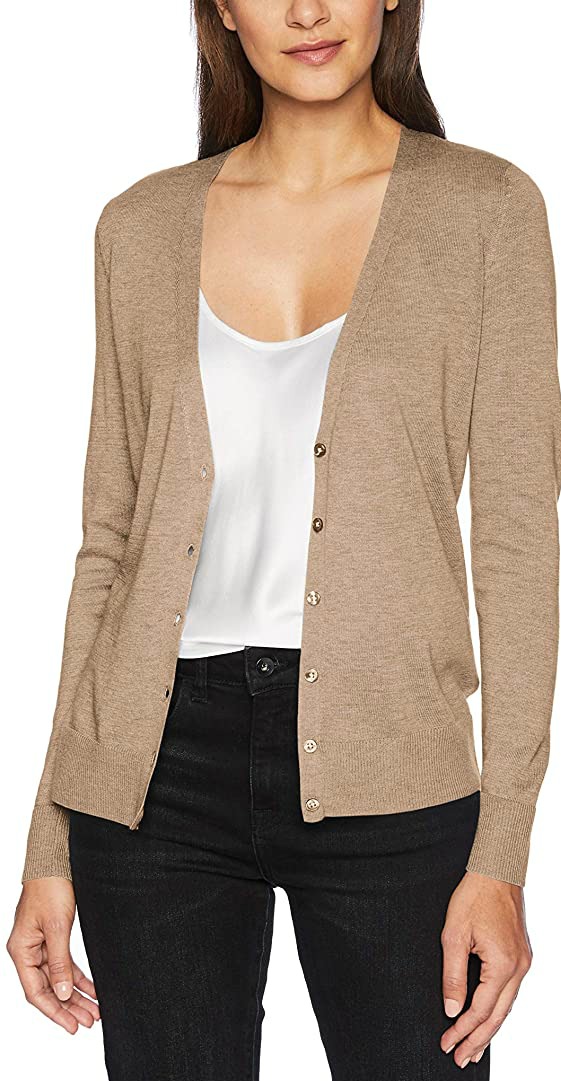 Lightweight Longsleeve Cardigan
Layers
Due to the variation in weather and types of destinations, plan to pack layers. The below tips are based on city travel. Here's our California national park packing list.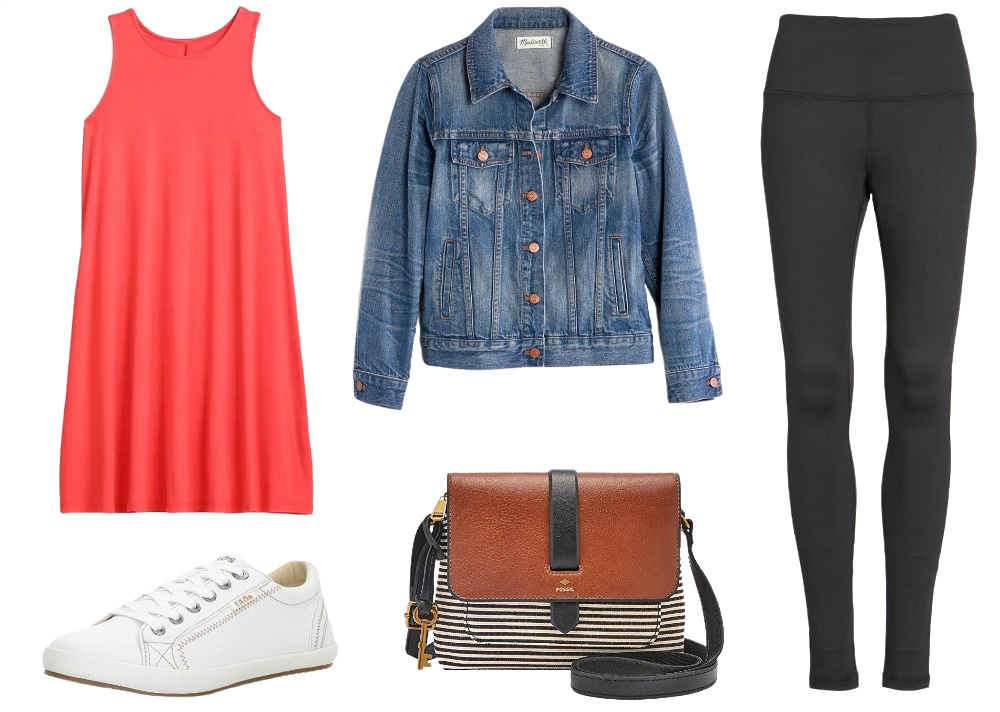 Dress | Jacket | Leggings | Sneakers | Crossbody
What to Pack for California: Summer
In summer, plan for hot weather clothing plus light layers suitable for a cool spring day. Think sundress, sneakers, and a denim jacket for San Diego, and then add leggings and a light sweater as you make your way north.
For the most part, the weather's sunny but dry and you'll find that it's much cooler by the beach than inland. Throw a denim jacket, cardi, or hoodie in your bag before you head out sightseeing for the day.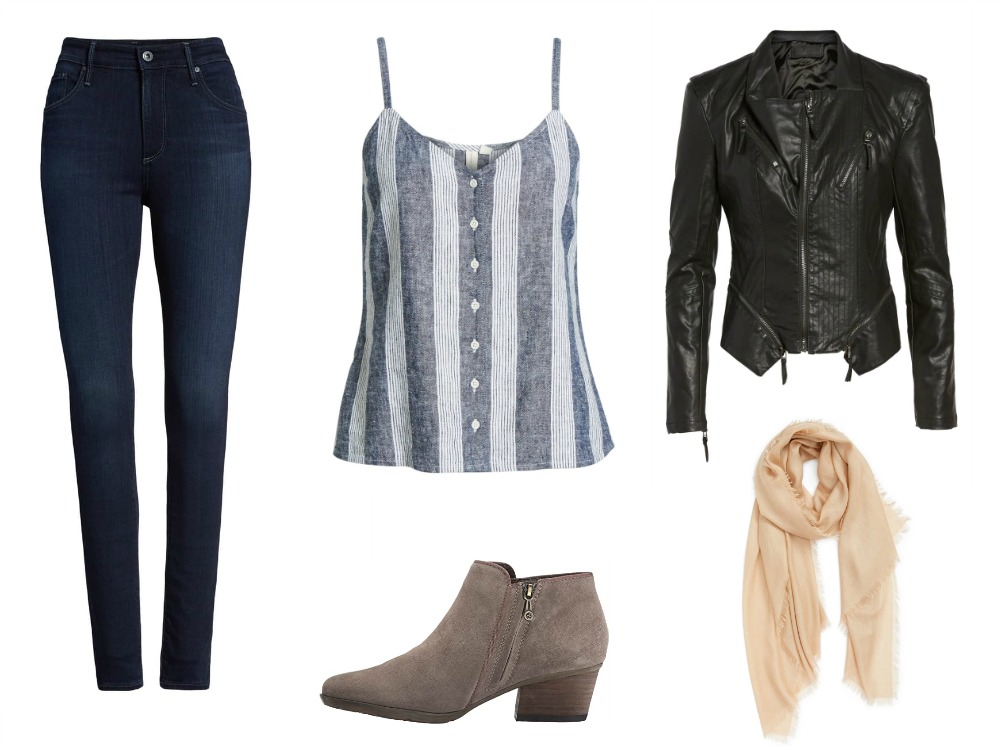 Jeans | Sleeveless Top | Jacket | Boots | Scarf
What to Pack for California: Spring / Autumn
In spring/autumn, plan for sunny days with warm layers to keep you toasty when the temperature drops at night. Because of the sunny weather year round in Southern California, don't forget to bring sunblock and sunglasses any time you visit.
Think skinny jeans, ankle boots, and a sleeveless top for daytime, and add a scarf plus leather jacket at night. This is a great time to visit this state!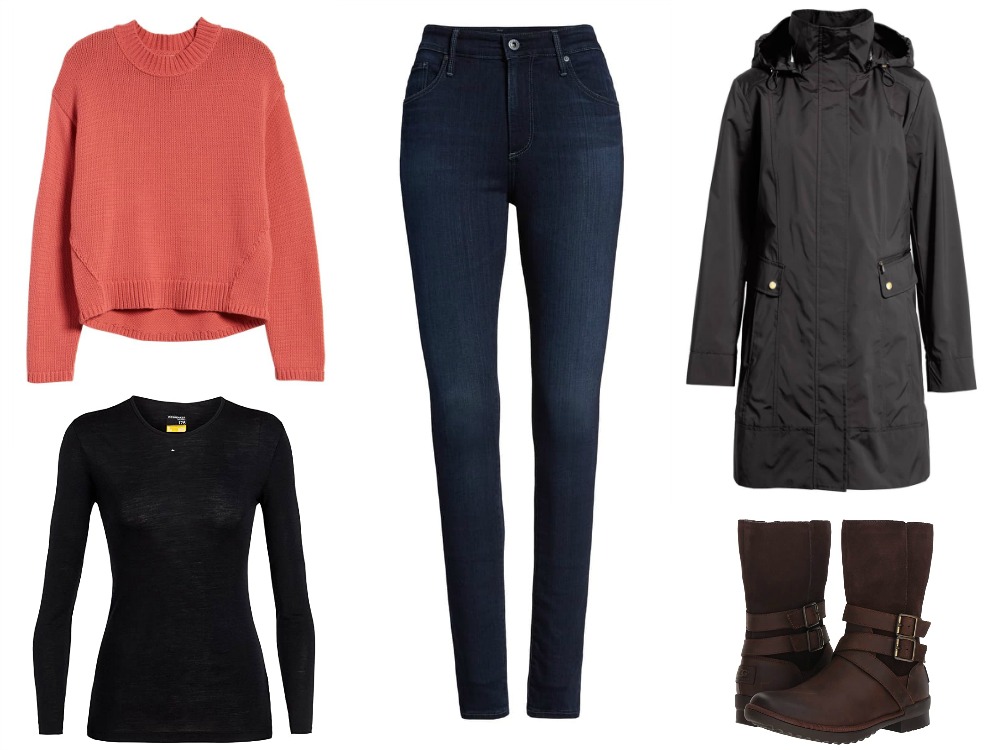 Sweater | Jeans | Raincoat | Thermal | Boots
What to Pack for California: Winter
In wintertime, expect the sun and rain. The northern part of the state tends to see more rainfall than the south but some weeks (or just a few days) can get quite wet in San Diego and Los Angeles, too.
Think skinny jeans, mid-tall boots, and a short sleeve to long sleeve top. Depending on how cold and rainy it is during the day and/or night, bring either a regular coat plus a warm layer to wear underneath.
This post on how to stay warm in cold weather is actually inspired by Los Angeles residents who have a nervous breakdown when the temperature drops under 50°F. (Hey, I can say that. I'm from LA!)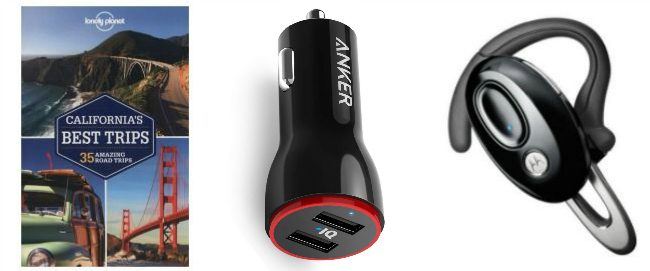 Lonely Planet Travel Guide | Dual USB Car Charger | Bluetooth Headset
Travel Tips and Other Essentials
One of the best ways to explore California is by taking a road trip. I'd suggest flying into San Francisco and out of Los Angeles or San Diego or vice versa to make the most out of your time and money.
When planning what to pack for California on a road trip, bring these essentials. If camping's an option, take a look at my Jucy Campervan review.
Even if you're not planning a road trip, a car rental is a convenient way to explore major destinations especially when you want to pack in as many activities as possible on one trip.
I love renting a car with Alamo, especially because they have a super easy self check-in and free shuttle at the airport. I've used them to book rentals in LA on three different occasions now for a total of six weeks. I can't recommend them enough. Book here!
TIP: It's illegal to drive while talking on the phone so bring headphones or grab a bluetooth headset.
Hotels are pretty expensive and motels under $100 can be a bit scary, so one of the best accommodation options is Airbnb. Rent a private house for the cost of a hotel room and see what it's like to be a local. You can also find hostel beds from $30-$50 per person night. I book them with HostelWorld.
For more inspiration, read this travel guide on California's Best Trips, but for the most thorough details, take a look at region guides for Northern and Southern California.
---
What are your tips on what to pack for California? Comment below!
---
For more USA packing lists, please read:
Suggested travel resources:
---
LIKED THIS POST? PIN THIS PIC TO SAVE IT!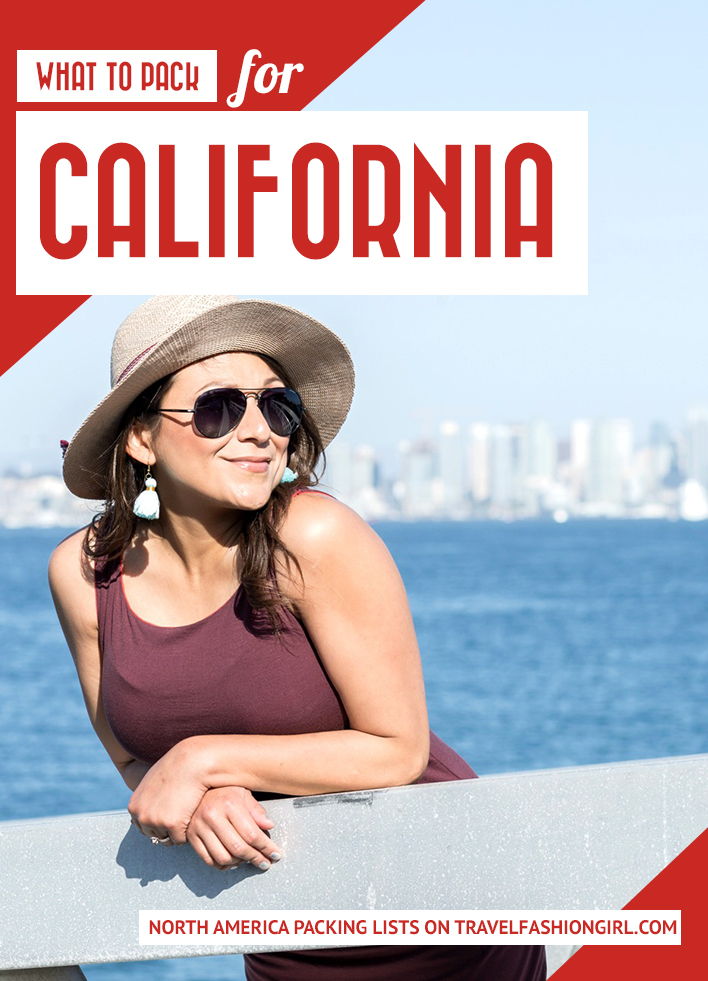 ---
I hope you liked this post on what to pack for California. Please share with your friends on Facebook, Twitter, and Pinterest. Thanks for reading!
---