Support TFG by using the links in our articles to shop. We receive a small commission (at no extra cost to you) so we can continue to create helpful free content. We earn from qualifying purchases made to the featured retailers. Thank you, we appreciate your support!
My assumption about what to wear in Australia couldn't have been further from the truth. It is no where near as laid back and casual as I thought it would be. Well, not everywhere.
Yes, Byron Bay and Surfer's Paradise fit this stereotype – but Sydney? No way. Packing for Sydney is different than packing for other Australian cities. The same goes for The Outback and The Northern Territory.
Lucky for you we've got heaps of tips after living here! Find out what to pack for Australia year round!
---
What to Wear in Australia
Written By: Kelly Ella Maz and LC Haughey
---
Table Of Contents
Backpackers are so prevalent in Australia that as a local, you can almost sniff them out. Except you don't need to–their clothes tend to give them away. So, what do you wear when you want to blend in with the locals? That's what we're going to explore in this guide.
Australia is quite obviously a huge country and so, the climate is varied. On the same day that people are shivering on the streets of Melbourne, the residents of Far North Queensland will be frolicking at the beach.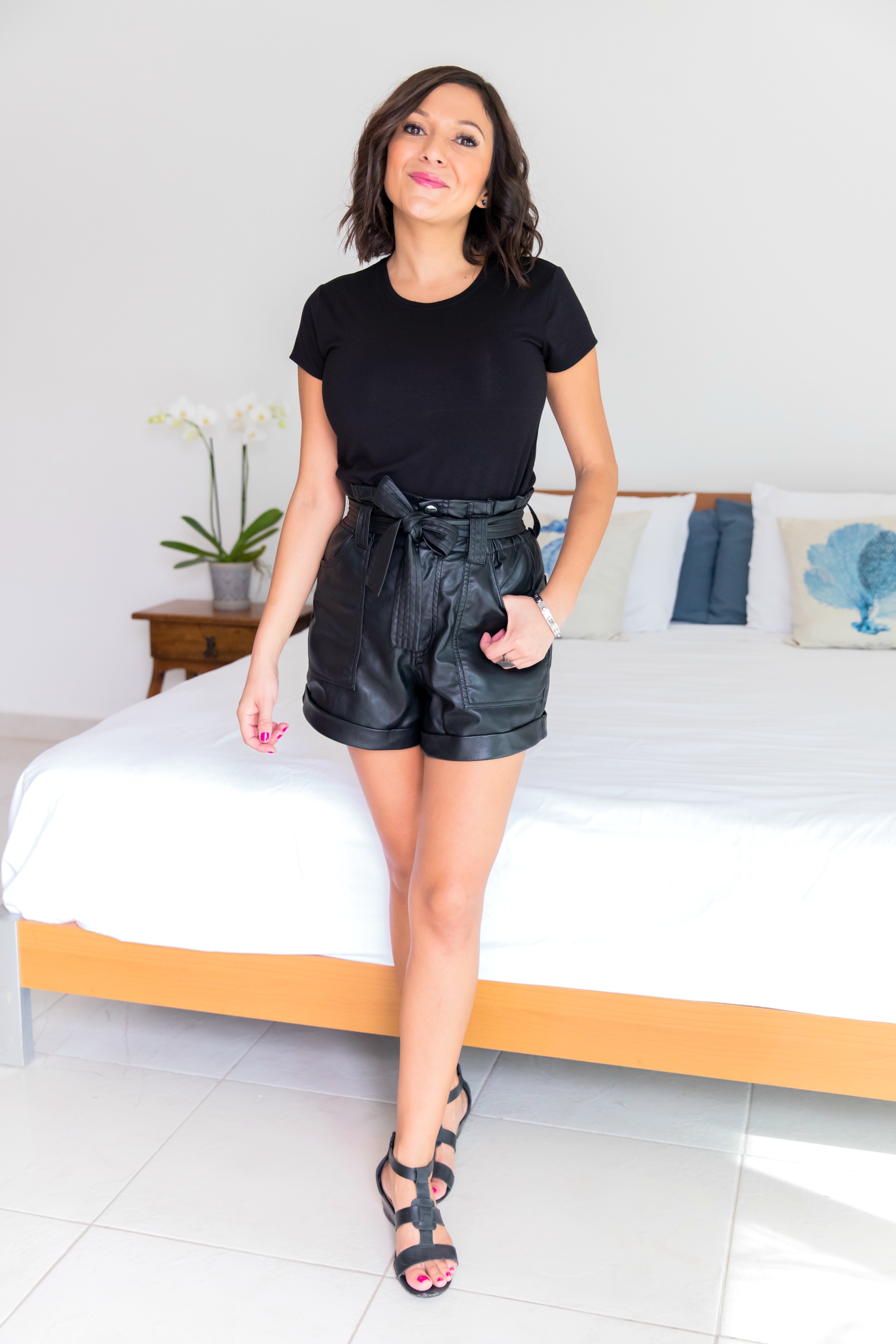 J.Crew Tee | Leather Paperbag Shorts
What to Wear in Australia: Sydney
Sydney has some of the best weather in the world, with hot summers and mild winters. Locals and travelers alike flock to the city's famous beaches in the warmer months. In the winter, you can get away with wearing jeans and a t-shirt, with a light coat in the cool of the night.
Women in Sydney pride themselves on being well-dressed and healthy. In the early morning hours and late afternoon you'll see Sydneysiders everywhere, jogging through the streets and sipping on green smoothies.
Planning to run when you travel? This running fanatic shares her go-to running clothes to jog on the go!
If you're traveling to Syd in the warmer months, pack a few decent pairs of shorts, some nice tops, and a good pair of sandals for the day. And bring your hottest heels if you're planning a night out.
I made the mistake of wearing flat sandals out for drinks one night by the Sydney Harbor. I felt very out of place when I realized I was the only woman in flat shoes in a sea of model-like women all wearing designer heels.
Public transportation is excellent in Sydney, so don't worry about walking far in the city! Pull out your best stilettos for a night out in Sydney and don't underestimate style when planning what to wear in Australia.
You'll get a lot of wear out of a great pair of shorts – especially in the hot summer months.
Just remember what I said about dressing up in Sydney! Opt for a pair of dressy shorts with wedges when planning what to wear in Australia and leave the denim cut offs and rubber flip flops at home if you're traveling in the city. The heat gets pretty intense here, so I'd pick a lightweight fabric for your shorts, and a pale color – like white or beige.
Tip: The key to packing light is to create a travel capsule wardrobe which can easily fit into a carryon suitcase with the help of packing cubes!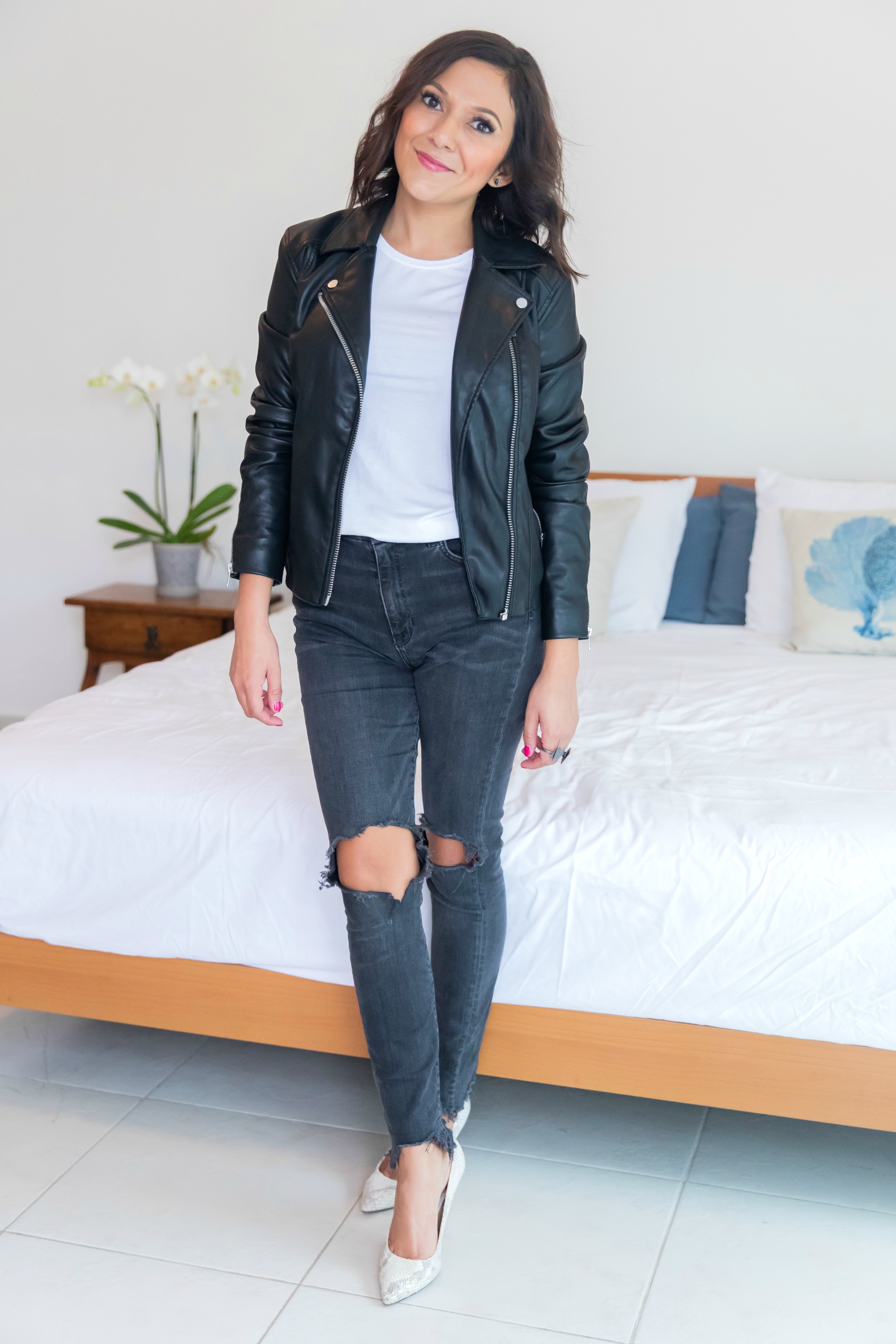 Biker Leather Jacket | J.Crew Tee
Swap out most of the shorts for jeans or leggings in winter (I'd keep at least one pair on hand for the odd warm day), paired with some nice blouses or t-shirts and cardigans.
Ankle boots are always in fashion, as are short-skirted dresses with long sleeves. Bring a nice party dress and high heels for nights out on the town.
Heading to the spring races in Sydney? A fascinator is an absolute must!
In Sydney, who wears the best hair accessory is a bigger deal than which horse wins the race. Horse racing events are definitely more about the fashion than the horses – with women wearing gloves, hats and color-matching shoes with their designer dresses.
Of course, the city beaches are pretty spectacular, so don't forget your bikini.
Suits from Amazon Swimwear are all the rage here, but any classic bikini with a few luxe touches will fit in perfectly. Accessorize your bikini with a matching Turkish towel – which are uber popular at hot-spots like Bondi Beach and Manly Beach.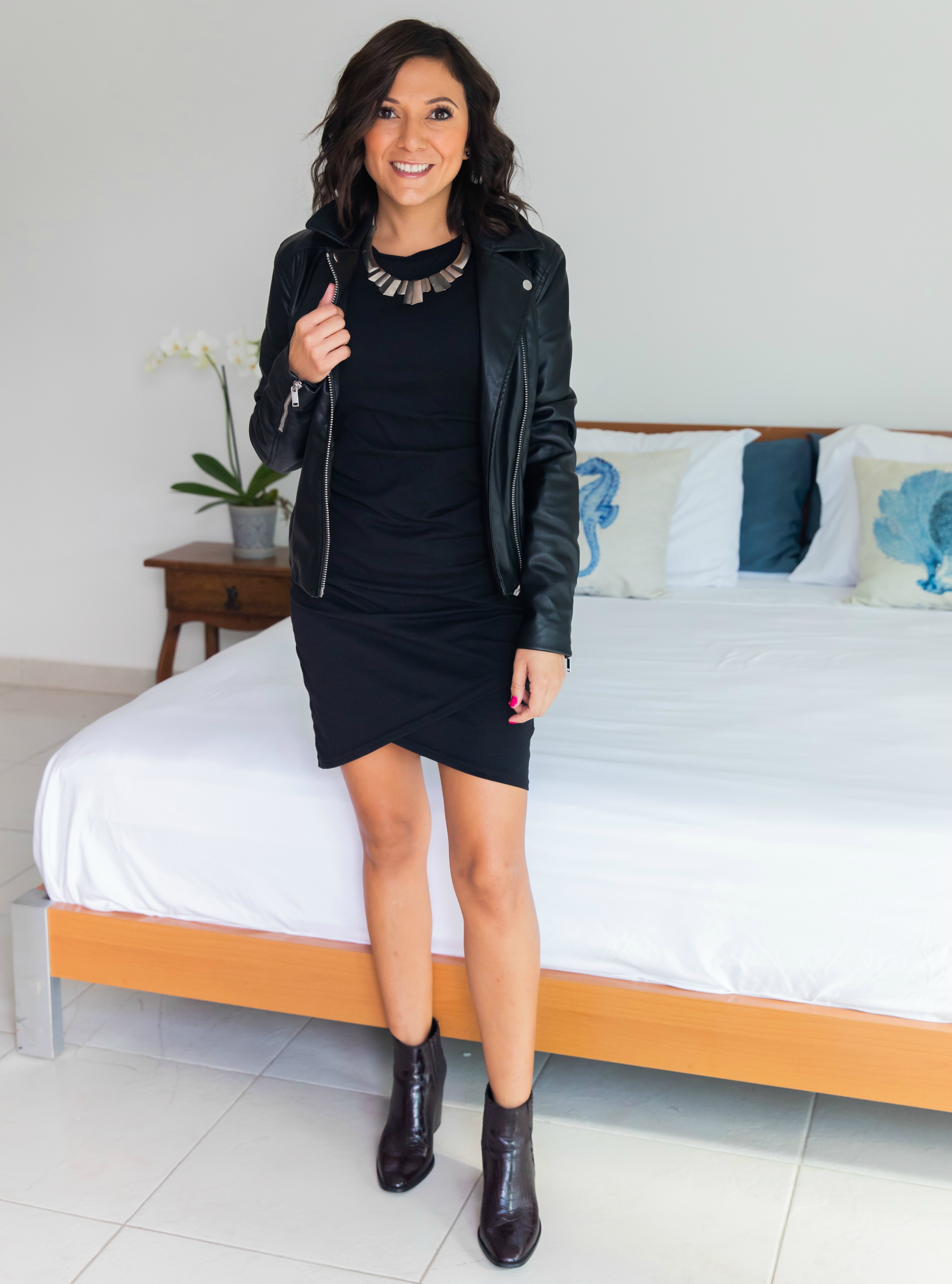 Biker Leather Jacket | Leith Tank Dress
Just because Sydney has tons of amazing beaches doesn't mean the dress code is "beach casual".
I was shocked to discover the residents of Sydney tend to dress up more than other cities I've been to. Leave the casual clothes at home and put your best foot forward in high quality, fashionable clothes to fit in here. You can never be overdressed in Sydney – even when I think I'll be overdressed I usually arrive to party feeling underdressed.
One thing to keep in mind is that it rains an awful lot in Sydney, in contrast to the popular belief of it being a constantly sun-soaked city. Be sure to pack an umbrella or light raincoat and a waterproof pair of shoes like these stylish leather boots.
It's not uncommon to have a beautiful hot morning only to have hurricane-like rain come from no where around 5pm. Enjoy your sunny mornings at the beach, but throw a travel umbrella in your purse so you're never caught off guard!
Read these tips on what to wear on a rainy day!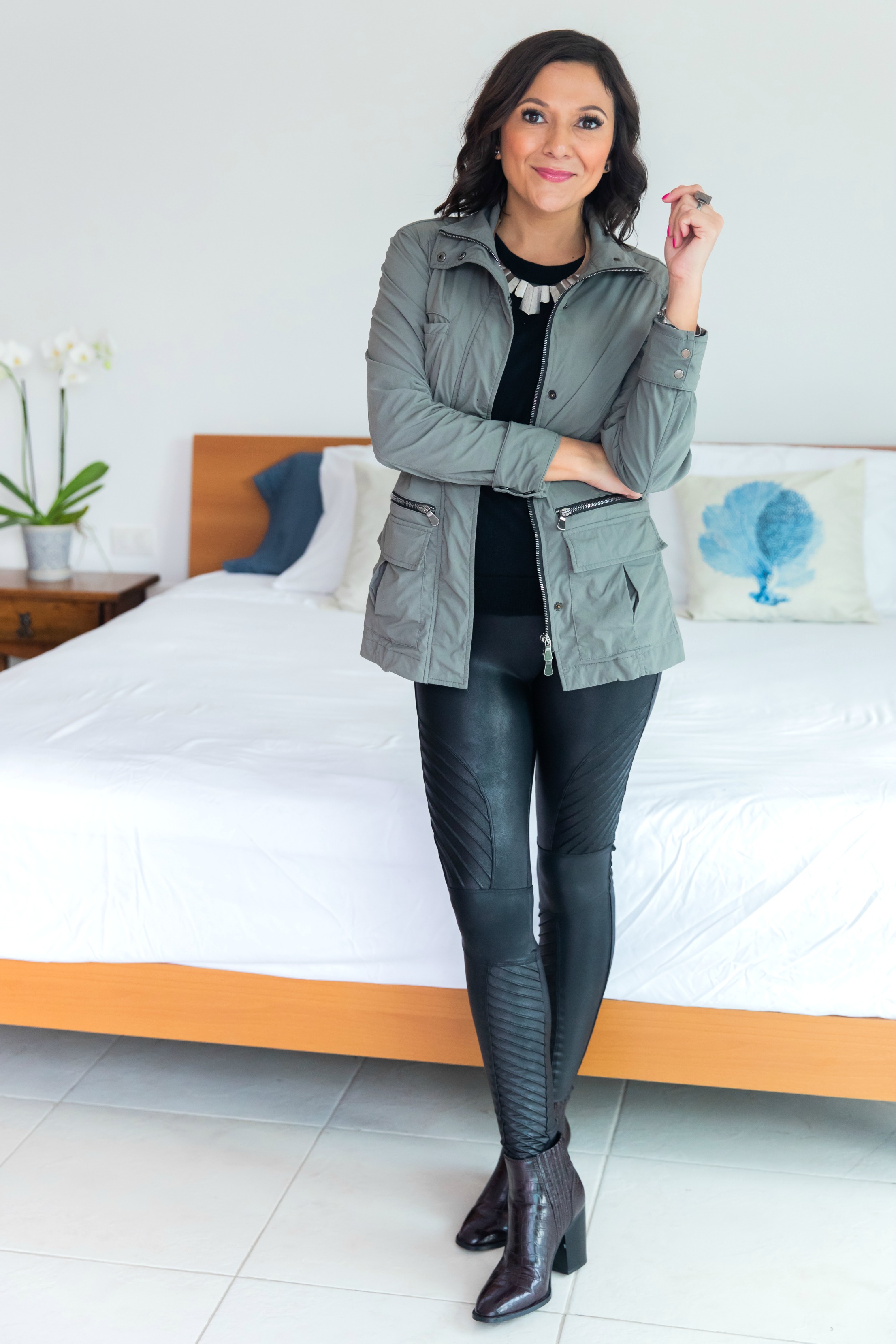 Tippi Sweater | Spanx Moto Leggings
What to Wear in Australia: Melbourne
Melbourne is arguably the fashion capital of Australia, with the city's inhabitants taking the content of their wardrobe very seriously. Summer wear in Melbourne is quite similar to that of Sydney's–it's in the winter months that the city really comes into its own.
Shop Sizes XS-4X: J.Jill
In the shoulder seasons in particular, Melbourne can experience a range of weather, with temperatures changing in a matter of hours. The day can start off warm and sunny with a cold front hitting in the early afternoon before the city gets drenched in a deluge of rain. It's best to be prepared for anything and everything.
Check out the easy packing solution for trips with both cold and hot climates!
The trick to surviving Melbourne's temperamental temperatures is layering. Black is a popular color, with many women opting for skinny jeans or leggings.
Oversized sweaters with simple white linen shirts are popular in the winter, teamed with a brightly colored beanie. A scarf will be your best friend–you can keep it in your bag, whipping it out when the weather turns cool.
Read these tips on how to avoid boring all-black outfits when you travel!
Timberland Sutherlin Bay Mid Back Zip Boot
It might seem tempting to wear canvas shoes, but they won't be able to cope with the sudden changes in weather. I recommend a sturdy pair of boots (both my Timberlands and Doc Martens serve me well) or a pair of black or brown leather boots. Try to sway away from suede–it'll get soaked within seconds.
Find out why leather boots are some of the best shoes for travel!
Columbia Women's Pardon My Trench Rain Jacket
You'll want a coat that is cute, practical, and goes with everything. I alternate between my black leather jacket and black wool coat, because once again, black goes with everything, darling
On a rainy day, I wear my bright yellow 66°North raincoat. I figure that something of Icelandic design can probably withstand Melbourne's weather and then some!
Take a look at the most popular waterproof jackets for travel!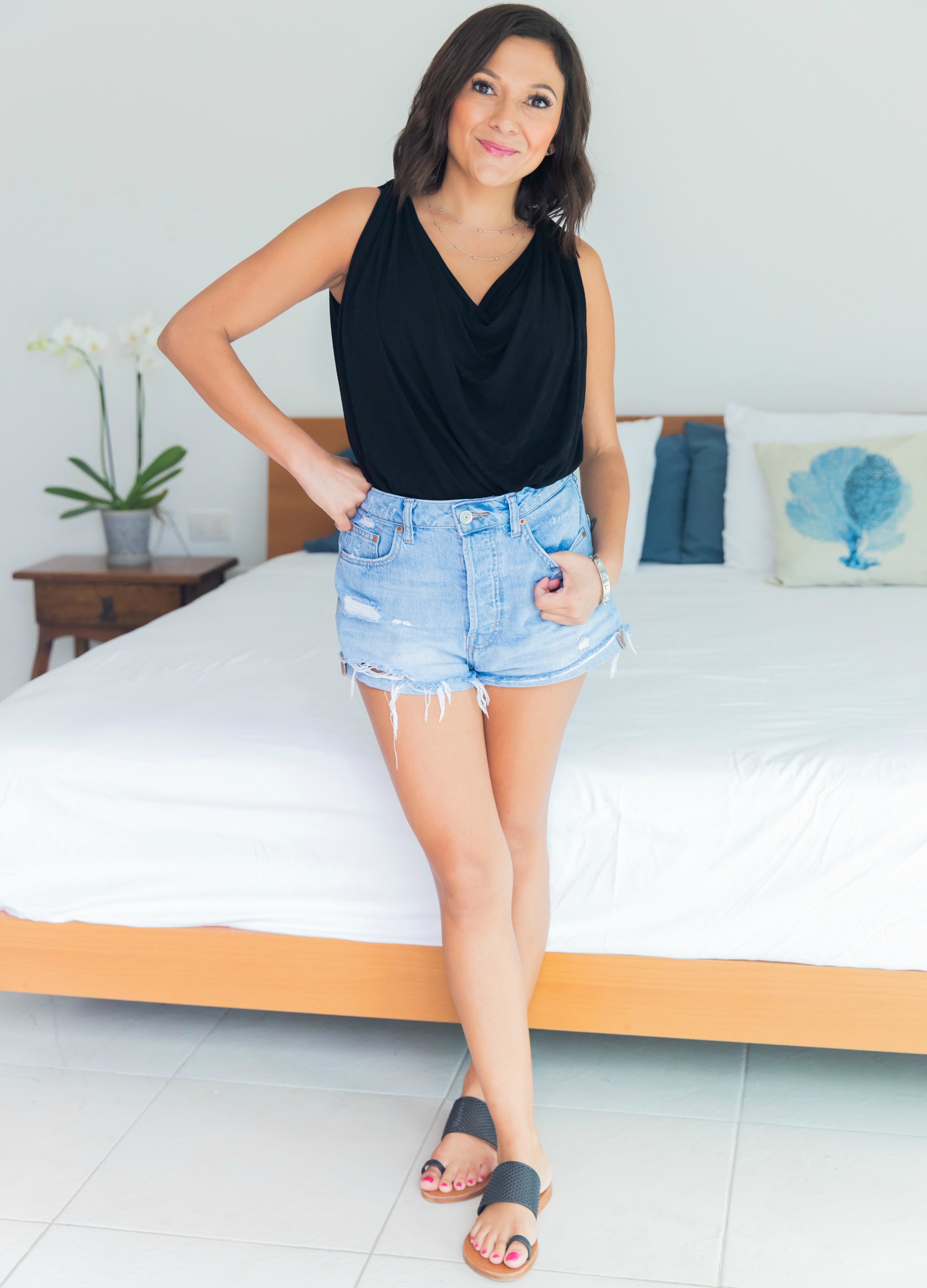 Michael Stars Drape Top | Denim Shorts (similar)
What to Wear in Australia: The Northern Territory
The Top End, also known as the Northern Territory, has what is probably the oddest weather of the entire country.
Towns like the capital of Darwin have only two seasons, known as the "Wet" and the "Dry". The Dry is far more preferable and takes place in the winter months, from around May to September. Temperatures are usually around 70-89°F (21-32°C), which is quite similar to summer temperatures elsewhere in the country.
In the summer, or the Wet–things get tropical. The Top End is ravaged by thunderstorms (and the odd cyclone). Humidity is high. You'll start sweating the second you step outside.
Aussies who call this region home live in shorts, t-shirts, tank tops, and flip-flops (we call them "thongs"). Your best bet will be to avoid clothes with synthetic materials; stick to cotton.
Traveling to a hot weather destination? Take a look at the best flip-flops and sandals our readers rave about!
If you're visiting during the Wet (which is gorgeous, apart from the humidity) bring a change of clothes. You'll find you'll sweat through your t-shirt before you know it!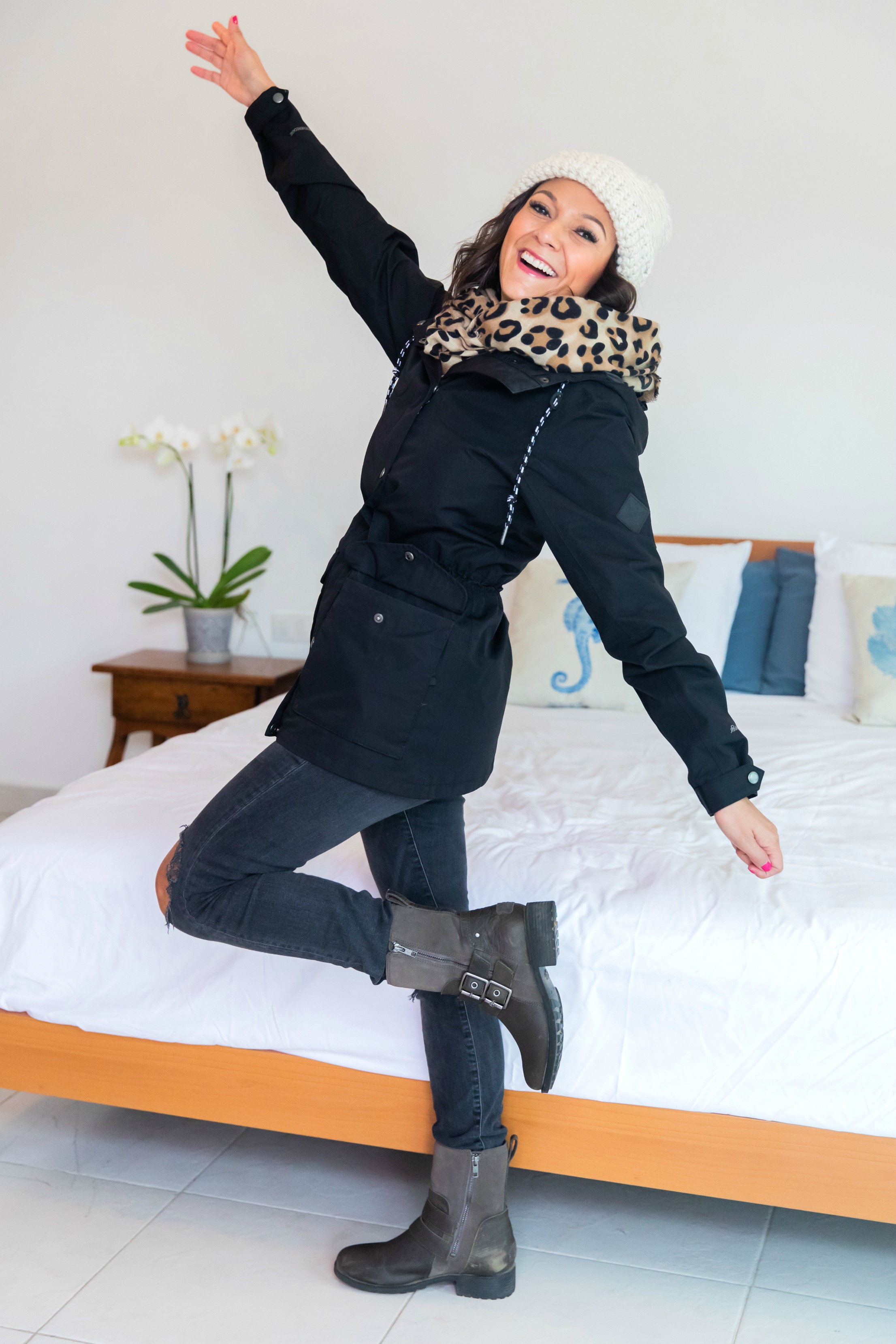 Eddie Bauer Charly Jacket | Ugg Wilde Boots
What to Wear in Australia: Tasmania
Tasmania's climate is pretty close to that of Europe's. Summer is mild and the winters are chilly. Snow is not uncommon in the cooler months.
Calvin Klein Chevron Packable Coat
I would pack similar clothes to that of Melbourne, with an emphasis on layering up, again. Bring a sturdy jacket, no matter which time of the year you choose to visit. In the winter, pack ALL your winter woolens!!
Start by reading these general tips on packing for winter travel:
Icebreaker Oasis Longsleeve Crew
Start with a base layer of thermals (merino wool is warm and dry) and wear jeans or leggings and a long-sleeve t-shirt over the top. Consider packing a fleece and jacket, too. Accessorize with a beanie, gloves, and a warm scarf.
Enhance your basics with color and texture using these winter accessories and find out why thermals are a must for traveling light (and staying warm) in winter!
Columbia Newton Ridge Plus Waterproof Hiking Boot
Don't forget to pack a sturdy pair of hiking boots, as Tasmania has some of nicest hikes in the country, patronized by travelers and locals alike.
Find out how to choose hiking boots and the top styles TFG readers voted as their favorites!
What to Wear in Australia: The Outback
May through September is winter in Australia, and the prime time for visiting any of the sights in the Australian outback. The temperatures are quite nice during the day and tend to plummet at night. I wouldn't advise visiting the outback during the summer months, unless you're a big fan of searing heat, humidity, and flies.
The dead center of Australia is also known as the "Red Centre". It's home to two of the most famous sights of the country: Kata Tjuta (or "The Olgas") and Uluru. Visitors to this region tend to stay on site in a small town known as Yulara, which was built for access to Uluṟu-Kata Tjuṯa National Park. It features hotels at a range of different prices, as well as a hostel and a campsite.
During the day
Temperatures during the day in the Red Centre range around the high 60°s to low 70°s F (low 20°s C).
For this region, I recommend bringing several t-shirts, a long-sleeve shirt, leggings, a pair of jeans for the evening, and two pairs of shorts (one for exercise and one denim) in case the weather warms up in the middle of the day. A light sweatshirt might be needed during the day, too.
If you're staying at a hotel in the nearby town of Yulara, bring your swimsuit in case you fancy a dip in the pool.
Here are the best one-piece swimsuits of the season!
When I did the Uluru Base Walk, I wore workout clothes–my normal joggers with Teeki leggings, which are made out of recycled plastic water bottles. (This pair are certainly appropriate for a desert climate).
Dr. Martens Women's Flora Leather Chelsea Boot
Bring a pair of boots with you. They don't need to be hiking boots, as most of the walks around Kata Tjuta National Park are fairly tame. I brought my Doc Martens and was perfectly happy in them, day or night. I paired them with thick socks when the day cooled.
These are the best waterproof leather boots recommended by our readers!
If you have a pair of adventure sandals pack them, too. They come in very handy.
Occasionally water adventures require special shoes. Find out which water shoes to wear for which activities!
During the evening
If you're camping in the outback, you'll be roughing it, but there are many opportunities to indulge in a little luxury here and there. This is mostly in the form of delicious dinners, where you may want to dress up a bit more.
In this instance, I'd wear jeans along with a nice shirt or blouse. It doesn't have to be too fancy–this is the outback, after all.
Don't forget to bring a coat. It doesn't have to be of Nordic weather proportions, just ensure it will provide you with a little extra warmth on those cold summer nights.
From sporty to bold and colorful, find the most stylish and practical down jacket for your cold weather travels!
Nighttime
Duofold Mid Weight Wicking Thermal Shirt
It may be surprising to hear that the outback can get quite cold at night. Ridiculously so–around 37°F / 5°C or lower once the sun has gone down!
The amount of clothing you bring should correlate with the type of accommodation you choose. All the hotels in Yulara are heated, with extra blankets available for those who like to snuggle up under their duvet. Bring along your winter pajamas (mine are a mixture of flannelette and thermals) and a pair of bed socks, just in case.
If you're camping, I thoroughly recommend bringing not only a good pair of thermals (merino wool is the best fabric) and a fleece but your coziest sweatpants, too. You can wear them around the campsite and they'll double up as pajamas at night.
Thermals are the secret to packing light! Here are our top picks for thermal underwear!
Don't forget to pack a pair of gloves and a beanie. You'll end up using them, I promise you–particularly during those crisp, early mornings!
Use Packing Cubes to Organize Clothing
Packing cubes will change the way you travel. You can use them for your personal items and keep your belongings organized for your journey. We've designed our own brand of slim cubes with a unique color and numbering system, so it's easy to remember where you've packed everything, including your jacket!
We put together a five-part YouTube series showing the different methods to use packing cubes for travel. If you use this specific packing strategy, packing cubes can also compress your belongings. This is the secret to traveling carry-on only!
General Australia Travel Essentials
The most important packing tip is to bring and use sunscreen year round. I'm talking SPF 60+ here.
UV levels here are significantly higher than other areas of the world thanks to a hole in the ozone layer directly above the country. I can tell you that as a girl who previously lived in Spain and rarely wore sunscreen, the sun here is a killer. 20 minutes outside without sunscreen and I'm red as lobster. Pack your sunscreen!
If you're planning on going to the beach (which I bet you are) use an organic sunscreen to avoid spreading toxins into the ocean. It wouldn't hurt to use a facial BB cream with some SPF, too.
Read these after-sun skincare tips to help you rejuvenate dull, dry skin!
Ray-ban55mm Polarized Sunglasses
Don't forget your sunglasses either (they're known as sunnies in Australia) and a sun hat!
Insect repellent will also serve you well, particularly in the summer months. Look for products that contain DEET – this is one of my favorites!
What are the best accommodations in Australia?
We love Airbnb for accommodation in Australia. Sign up here for a free $40 credit!
I prefer to book "the entire home" instead of opting for shared accommodation on Airbnb. Aside from safety, I also like to feel like I'm living in the destination. It's a small taste of local life plus you get more amenities than you would at a hotel such as a kitchen and washing machine.
Read these Airbnb tips for more info!
If you prefer the convenience and comfort of a hotel room, I like using both Agoda.com and Hotels.com. Tip: Hotels.com gives you a free night for every ten nights you book!
For hostels, we recommend Hostelworld and Hostelbookers. Always read the reviews before booking to get the best idea if the hostel is right for you. Some are quiet and family friendly while others are known for their party atmosphere.
Not sure about staying at a hostel? Read this.
---
What are your best tips for what to wear in Australia? Comment below!

---
For more Australia packing lists:
Suggested travel resources:
---
LIKED THIS POST? PIN THIS PIC TO SAVE IT!
---
Hope you enjoyed this post on what to wear in Australia. Share it with your friends on Facebook, Twitter and Pinterest. Thanks for reading!
---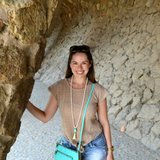 Author Bio: Kelly Ella Maz is a writer and full-time traveller. Originally from Canada, she left her home to chase summer around the globe. She's currently living in Sydney, Australia where she spends her days exploring new cafes and hidden beaches. You can follow her travels at www.kellyellamaz.com.
---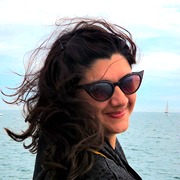 Author Bio: LC has lived in Australia, Qatar, and the UK. Her interests include long road trips, bonfires, beach bumming, horse riding, bird watching, and dog cuddling. You can follow her adventures on her blog or in real-time on Facebook.
---