This post contains affiliate links. Visit our Disclosure page for details.
---
Need tips on what to wear somewhere else? For a full listing of all our destinations, please visit our packing list page!
---
Wondering what to wear in Paris in winter? We've compiled our readers' top tips to help you prepare for the trip of a lifetime. Plus, they'll help you travel carry-on only even with cold weather. Keep reading to learn more!
Traveling later in the year? Download our eBook What to Wear in Paris in Summer!!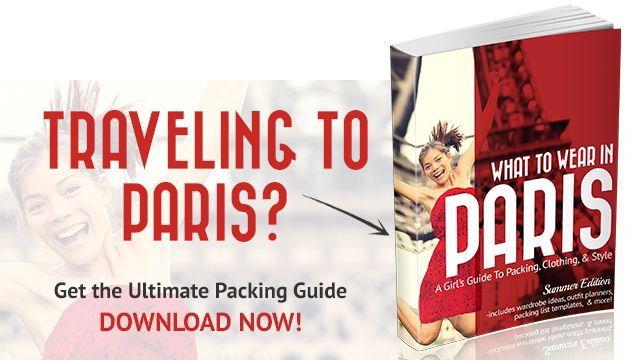 ---
What to Wear in Paris in Winter
---
Travel Fashion Help!
Reader Asks:
I'm going to Paris in January and I want to look really good and be prepared for the weather! What clothes would you suggest packing for this trip? I want to add some color to my wardrobe not just dress in all-black. Can you please tell me what to wear in Paris in winter?

WEATHER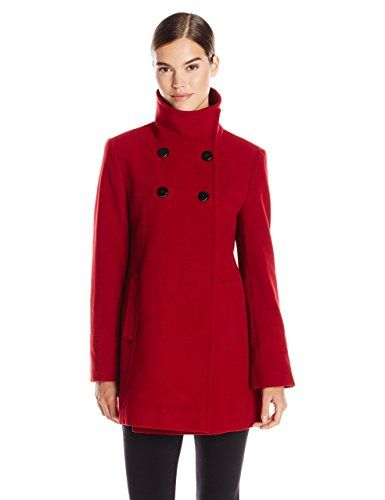 The winter in Paris runs from December through March and has a reputation for being dark, wet, and gloomy. While you can easily get caught up in this gloomy look by wearing only dark colors, try and add a splash of color to your wardrobe by choosing an accent color for a mostly neutral palette.
These are the best winter coats to breathe life into a neutral winter wardrobe!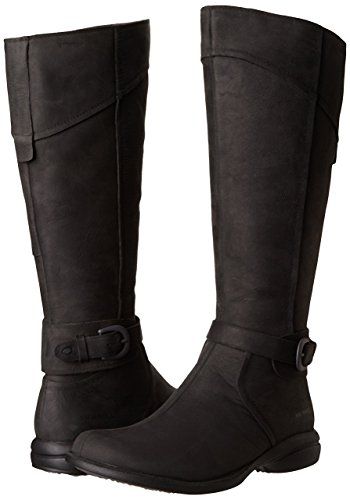 Captiva Buckle-Up Waterproof Boot
Winter markets and museums are a great way to enjoy Paris in the winter and there's something magical about winter lights in a European city. Like most cities in Europe, the weather in Paris is unpredictable but it will almost certainly involve rain at some point.
Although it doesn't usually snow, you should keep track of the forecast so you can be prepared for different climates. Be aware that some sites may close if it does snow so plan other activities for your trip and bring appropriate clothing so you don't freeze.
Read these tips on how to pack for cold weather to ensure you stay stylishly warm!
ESSENTIALS
Paris is a popular vacation destination, so we decided to find out what our readers thought were the most essential items for a trip from December – March. Here are their suggestions on what to wear in Paris in winter:
Traveling later in the year? Download our eBook What to Wear in Paris in Summer!!
1. Dark Jeans
Midrise Skinny Ankle Jean / Vixen Sassy Skinny Ankle Jean
Even though they don't dry quickly, jeans are ideal for winter travel because they keep your legs warm and can be worn repeatedly easily mixing and matching with all your tops.
Don't bother with light colors in winter. Darker colors show less dirt and you can get away with not washing them for the duration of your trip. Plus, dark jeans are more stylish than lighter colors for Europe and they can also be dressed up or down.
Stay warm without the bulk by using this layering strategy for jeans!
2. Ankle Boots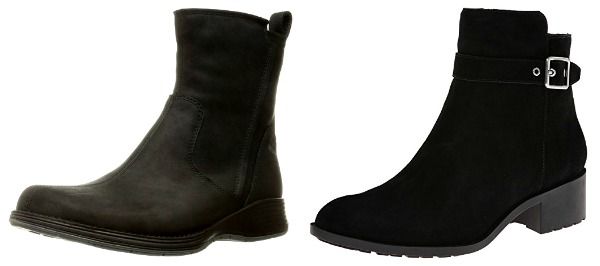 Waterproof Snow Boot / Short Waterproof Boot
When planning what to wear in Paris in winter, keep in mind that women's leather boots are an absolute must for a European winter vacation. You can pretty much wear them year round in many destinations although an ankle length would be more suitable for spring – autumn.
Shop the best ankle boots of the season!
Since the weather in Paris is so unpredictable, you should always be prepared with a pair of waterproof boots that will keep your feet dry when the rain starts to fall.
If it's not snowing when you visit, opt for ankle or chelsea boots instead of tall boots to save suitcase space. If it is snowing or you'd prefer to wear tall boots, make sure to wear them on the plane but only bring one tall pair.
Whether you're wandering around museums or exploring the city, comfortable shoes are the most important thing you can pack for a trip to Paris. 
These are our best tips on how to choose travel shoes!
3. Waterproof jacket
Waterproof Down Parka / Single-Breasted Trench / Single-Breasted Classic Trench
Almost everyone will be wearing a trench-style coat in Paris. These are not only fashionable, but practical enough to keep you dry. Pick something lightweight so it packs easily in your suitcase.
While you may want something dark to avoid showing signs of dirt or wear, creams and khakis are popular in the city. Another alternative to black is olive green. Here's how to wear it.
Want more ideas? Here are the most stylish travel raincoats for women!
4. Colorful Accessories
Windowpane Wool & Cashmere Scarf / Cashmere Feel Winter Scarf
Dark clothes are good for winter travels as they are likely to stay cleaner longer and easily mix and match without the need to overpack. However, wearing all-black outfits can make you look and feel really dreary, especially if the weather is dull.
These are tips on how to avoid getting in an all-black outfit rut!
If you usually wear black pants or skirts, add a pop of color by throwing in a scarf or hat. Not only will this add extra warmth to your outfit, but it will make you feel instantly brighter and more stylish.
As you plan what to wear in Paris in winter, remember that while it's true that Parisians love wearing the color black, they don't just stick to this one color. Instead, they wear an array of neutral colors like these.
Here are the best winter accessories to shop now!
5. Umbrella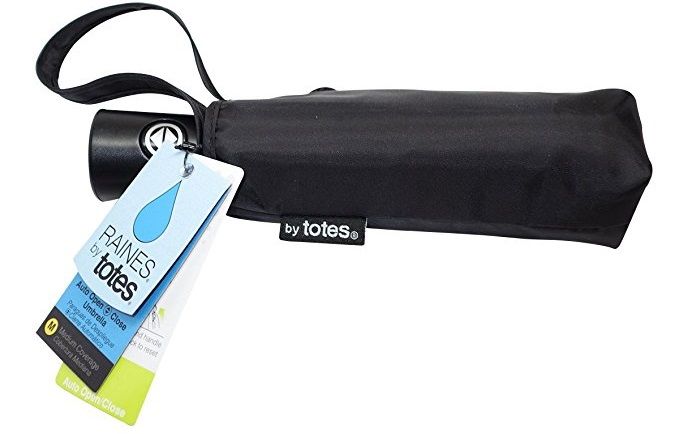 While some people like to have their hands completely free, you should always carry an umbrella in your purse when traveling in Europe. If you're wandering around on a sunny day only wearing a light jacket, you could easily get caught in unsuspected rainfall.
Tip: save the museums for rainy days so you can use your sightseeing time when it's dry outside. We highly recommend doing a free Paris walking tour like this one  – they're a great way to see the city and save money, too. Because the tour guides (mostly students) work for tips, they go above and beyond and give you a great experience!
For an authentic Parisian shopping experience, try seeing the city with CJ Shopping Tours! Don't forget to wear comfortable shoes for any walking tour.
Here are some tips on what to wear on a rainy day when traveling!
6. Crossbody purse
Marc Jacob Scallop Crossbody Bag /  Travelon Anti-Theft Signature Crossbody
A crossbody purse is a fantastic way to carry all of your belongings when exploring a city like Paris in winter. Choose a bag that's big enough to carry things like an umbrella and water bottle.
This is why female travelers love cross-body purses!
While an anti-theft bag may be helpful it's not necessary. As you choose what to wear in Paris in winter, opt for a purse that doesn't scream "tourist" as handbag theft is common in busy tourist areas. The benefit of having a crossbody is that you can keep it securely around your body, not hung loosely on your shoulder. Make sure to keep hold of it and wear it towards the front of your body not behind you.
While Paris may not be as busy in the winter as it is in summer, you will still come across crowded areas, so it's essential that you keep an eye on your possessions at all times. A cross-body purse allows you to have everything you need within direct sight.
Learn more about how to keep your valuables safe while traveling!
7. Layers
Ibex Woolies Crew Shirt / Ibex Woolies Bottom
It may be pleasantly warm in Paris at this time of year, which means you don't want to be overheated while enjoying the sites. Light layers like long sleeve tops and sweaters can help you prepare for changing weather conditions, as you can adjust your outfits according to the temperature on that day.
Consider taking another lighter jacket for those days when it's too warm for a coat. And do not forget to bring thermals to keep you toasty without the bulk! Here's how to choose them.
Traveling later in the year? Download our eBook What to Wear in Paris in Summer!!

---
What are your tips on what to wear in Paris in winter? Share in the comments below!
---
LIKED THIS POST? PIN THIS PIC TO SAVE IT!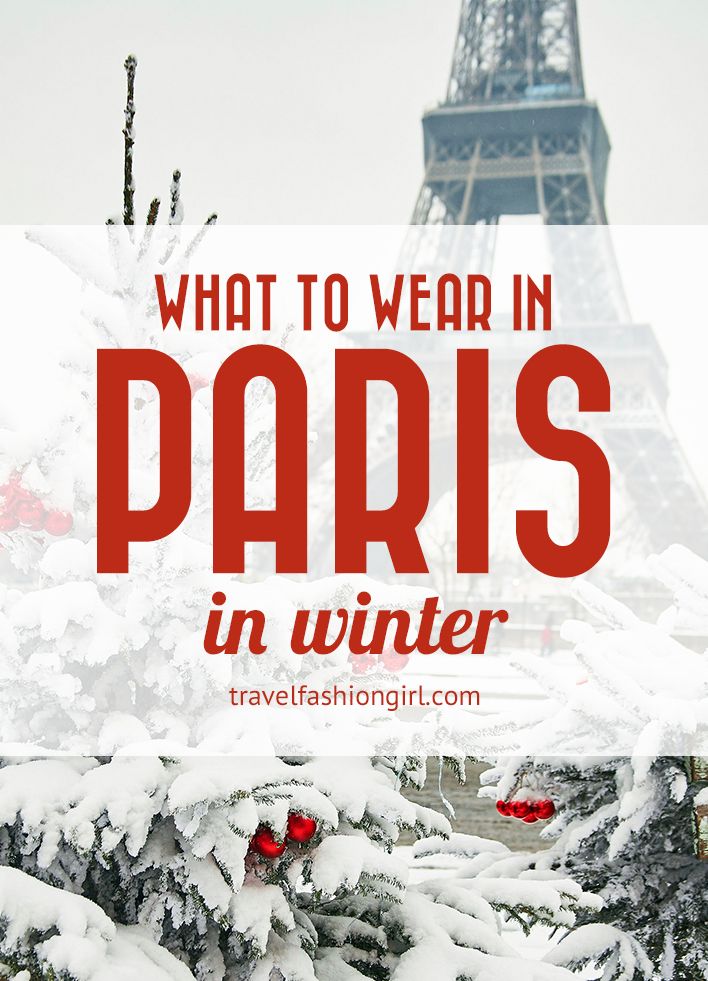 ---
For more Paris packing tips, please read:
---
I hope you liked this post on what to wear in Paris in winter. Please share it with your friends on Facebook, Twitter, and Pinterest. Thanks for reading!
---

---
Liked this article? Check out similar posts: