Support TFG by using the links in our articles to shop. We receive a small commission (at no extra cost to you) so we can continue to create helpful free content. As an Amazon Associate, we earn from qualifying purchases made on Amazon in addition to other retailers featured on the blog. Thank you, we appreciate your support!
When it comes to choosing the best clothing, fabric is one of the biggest factors you need to consider. Merino wool is the ultimate travel fabric, but for some, it's too expensive or too delicate, or they're allergic. If merino wool isn't your style or isn't in your budget, keep reading our guide to find that perfect alternative.
---
Best Alternative to Merino Wool
---
Table Of Contents
Travel Fashion Girl help! A reader asks:
Everyone recommends merino wool for layering and winter wear, but I am allergic to wool. Any suggestions on merino wool alternatives?
Merino wool is perfect for travel, as it is super light for packing and comfortable for keeping you nice and toasty when sightseeing. But merino wool is not to everyone's taste, and when traveling during the harsh winter temperatures you still need to choose fabrics that will protect you against the cold without feeling or looking too bulky.
Start by reading these general tips on packing for winter travel: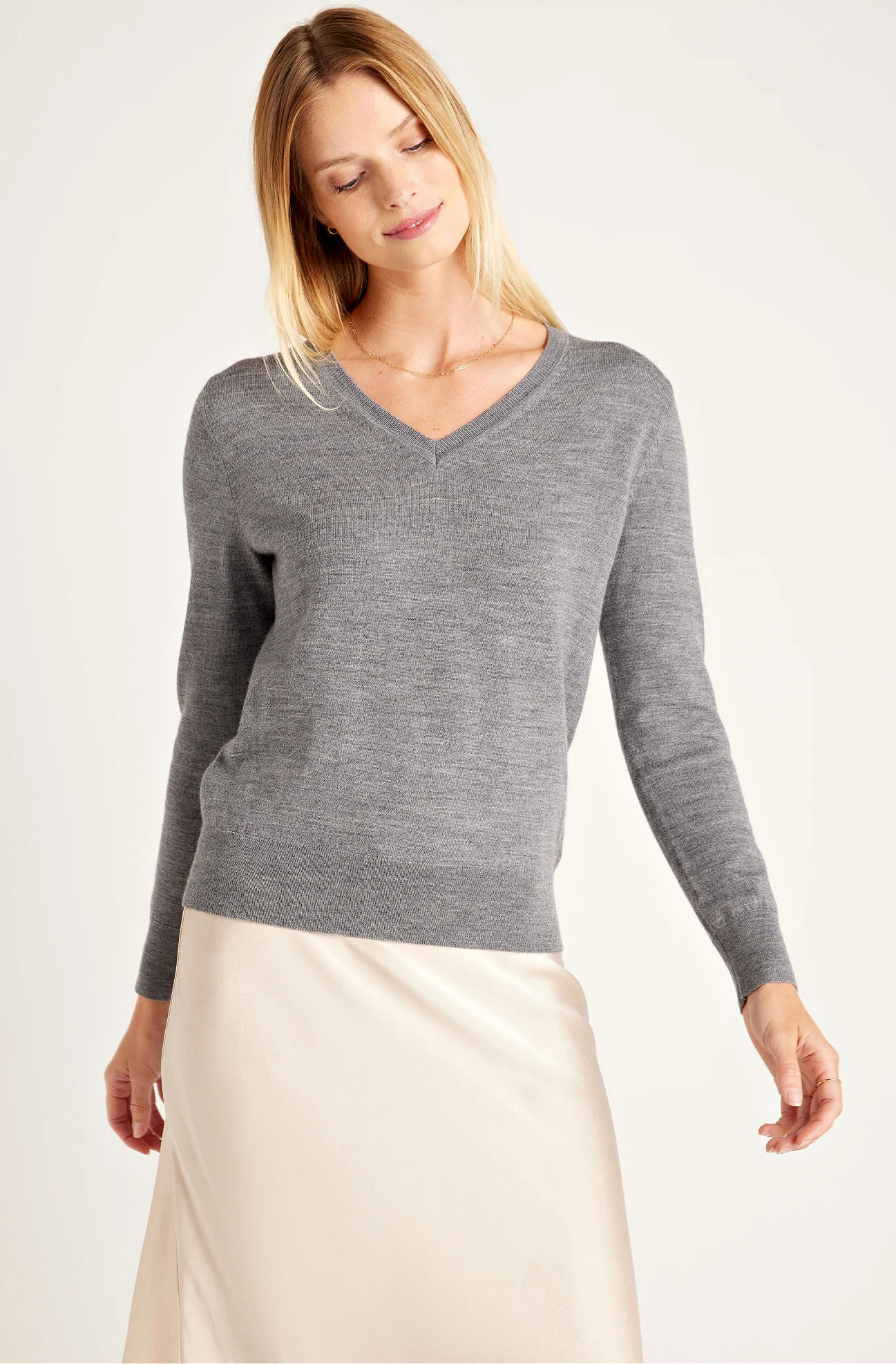 Quince Merino Wool V-Neck Sweater | Sizes XS-XL
What are the Benefits of Merino Wool?
Merino wool is a popular fabric and recommended for travel because it wicks away moisture, and is lightweight and ultra warm. It's long lasting, durable, and versatile and you'll only need a few items so helps you pack light!
Another great benefit of traveling with clothes made from merino wool is that they can be reworn several times without washing.
To get a full list of choices, here are our readers picks for merino wool sweaters, merino wool t-shirts, and merino wool leggings!
You'll want to look your best when you travel! Read my travel tips to Pack Light Stylishly!
Are There Fabric Alternatives to Merino Wool?
When traveling to a cold destination, your clothing needs to protect you from the low temperatures and keep you warm. As one reader said, "some of us are allergic to wool or have super sensitive skin and merino wool is itchy."
Another reader added how "Merino is a short staple wool. If you find it's itchy, you might be having an issue with the staple length and you would need to find a longer staple yarn."
If merino wool is not suitable because you are allergic or just because you want a fabric that is softer on your skin, then you need an alternative that is just as great for keeping out the cold on your vacation.
The Best Alternative Fabrics to Merino Wool
If you are allergic to merino wool or just want a suitable alternative, then read on to learn the best fabric alternatives to merino wool and why they are so great.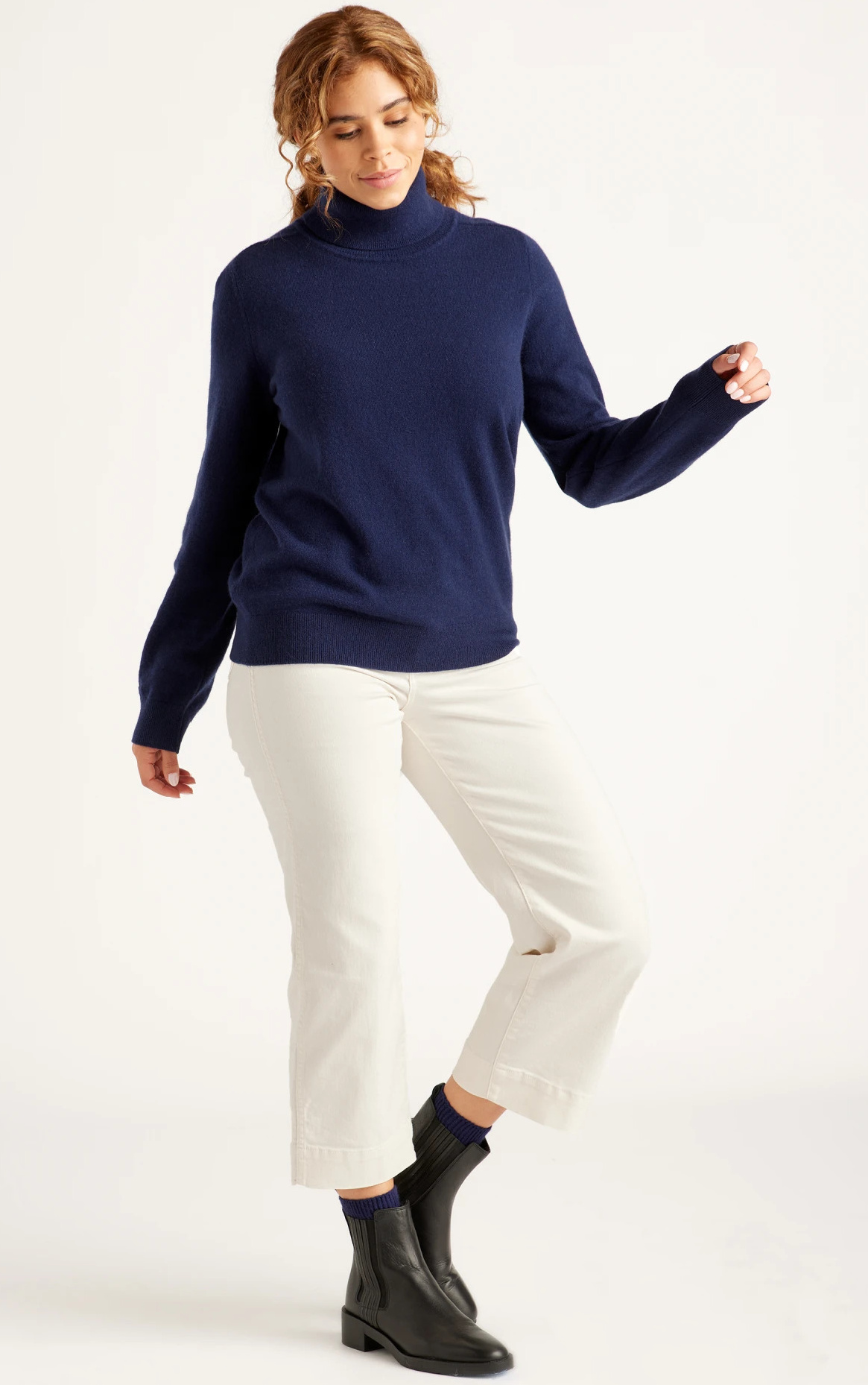 Quince Cashmere Turtleneck Sweater | Sizes XS-XL
Synthetics
Synthetic fabrics are those made from chemicals that consist of better properties than natural fibers like cotton or silk. Common synthetic fabrics include polyester and acrylic. They are a less expensive option, especially when compared to merino wool, hard wearing, and great for wicking moisture.
As one reader says, "Polyester gets a bad rap but I like that it's affordable and durable. Instead of full polyester, I like a blend of fabrics." This sweater from Quince is made from Mongolian cashmere, making it a soft and durable style.
Want more ideas to stay warm? Check out these thermal tops and leggings!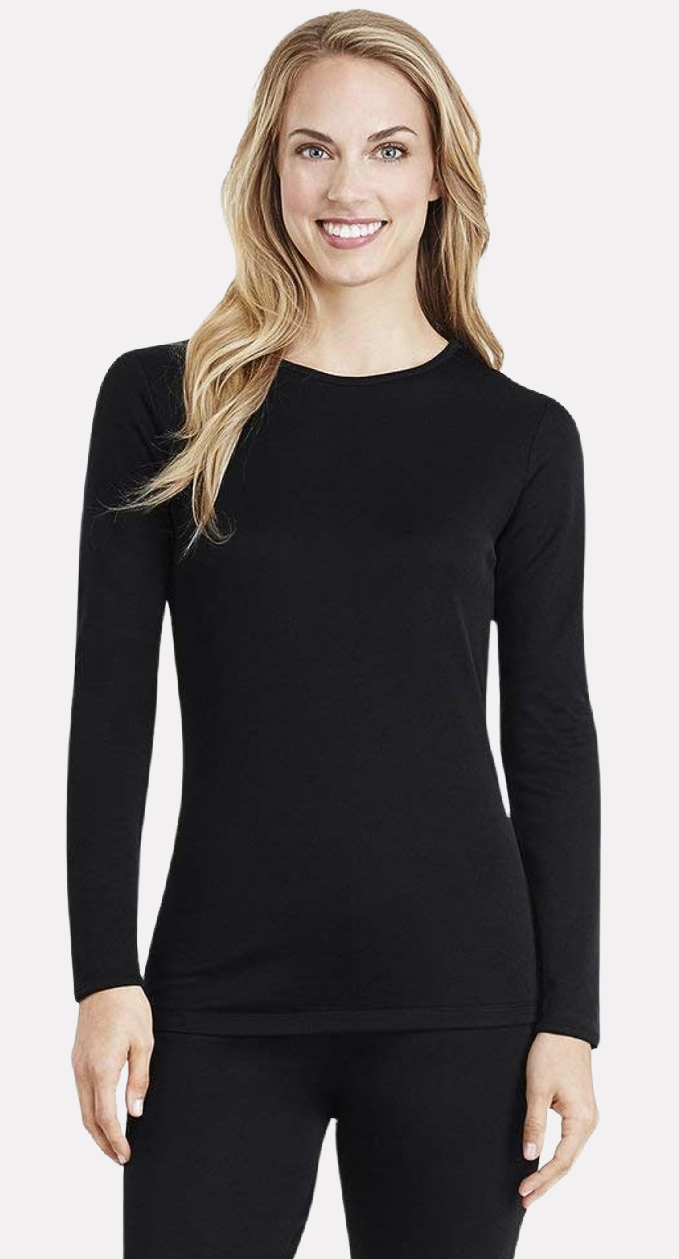 Cuddl Duds Long Sleeve Crew Neck Top | Sizes XS-XL
Modal
It is a type of rayon fibre and is super soft and comfortable. It is also a great moisture wicking fabric. One reader said that "modal is a man-made fiber from cellulose, it has similar properties as cotton." Another adds, "it is quite a thin fabric, so it's great for layering" while a third reader says "Modal can dry fast and not feel sweaty."
Several of our readers recommended Cuddl Duds, saying "It's fantastic for a base layer." Cuddl Duds is a brand that specializes in cozy clothing and offers winter wear that is perfect for providing warmth without being too costly!
Here's our readers' tips to avoid over heating in cold weather!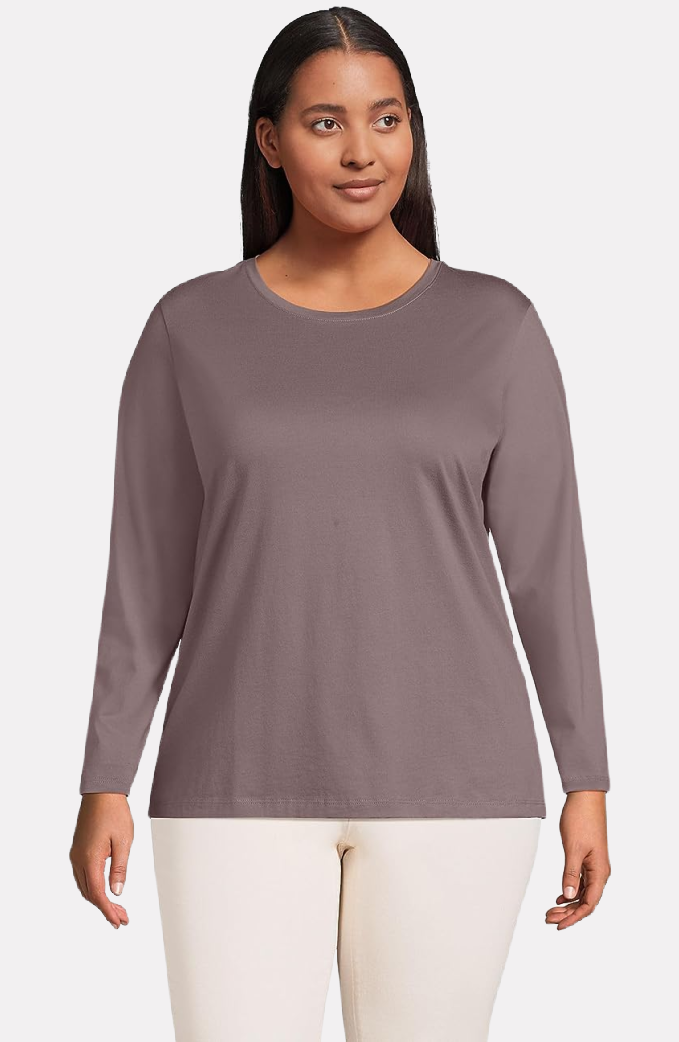 Lands' End Supima Cotton Crewneck T-Shirt | Sizes XS-3X
Cotton
Cotton is hypoallergenic and one of the best options for people with sensitive skin. The natural fibers won't aggravate dry skin or cause any reactions. So if you are allergic to merino wool, cotton may be the perfect choice for comfort when traveling.
One reader suggested Land's End Supima Cotton as a great line of quality cotton clothing. Land's End uses supima cotton, which makes their items naturally softer and more luxurious to the touch.
Another reader adds, "Land's End has tremendous quality cotton clothing for women. It's one of my favorite manufacturers."
Note: Keep in mind that cotton is the least effective fabric for winter layers, such as thermals. It absorbs moisture, preventing your clothing from helping you stay warm.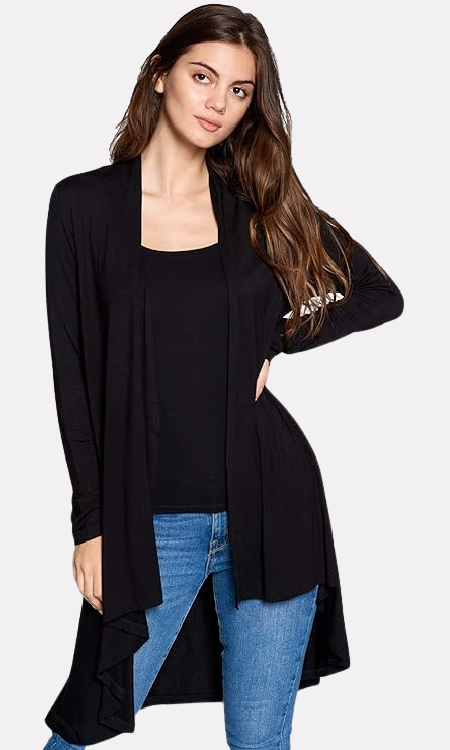 RENEEC Natural Bamboo Cardigan | Sizes S-5X
Bamboo
Bamboo fabric is beneficial for its moisture-wicking qualities, and it's a much tougher fabric that provides a closer fit than merino wool. It feels nicer against the skin without any of the itching feeling.
One reader says "I love bamboo clothing, as it's great for travel," While another adds that the "bamboo feels so nice on the skin. It is nice and cool yet still warm in cooler weather."
Here are some more top-rated cotton, cashmere, and women wool cardigans!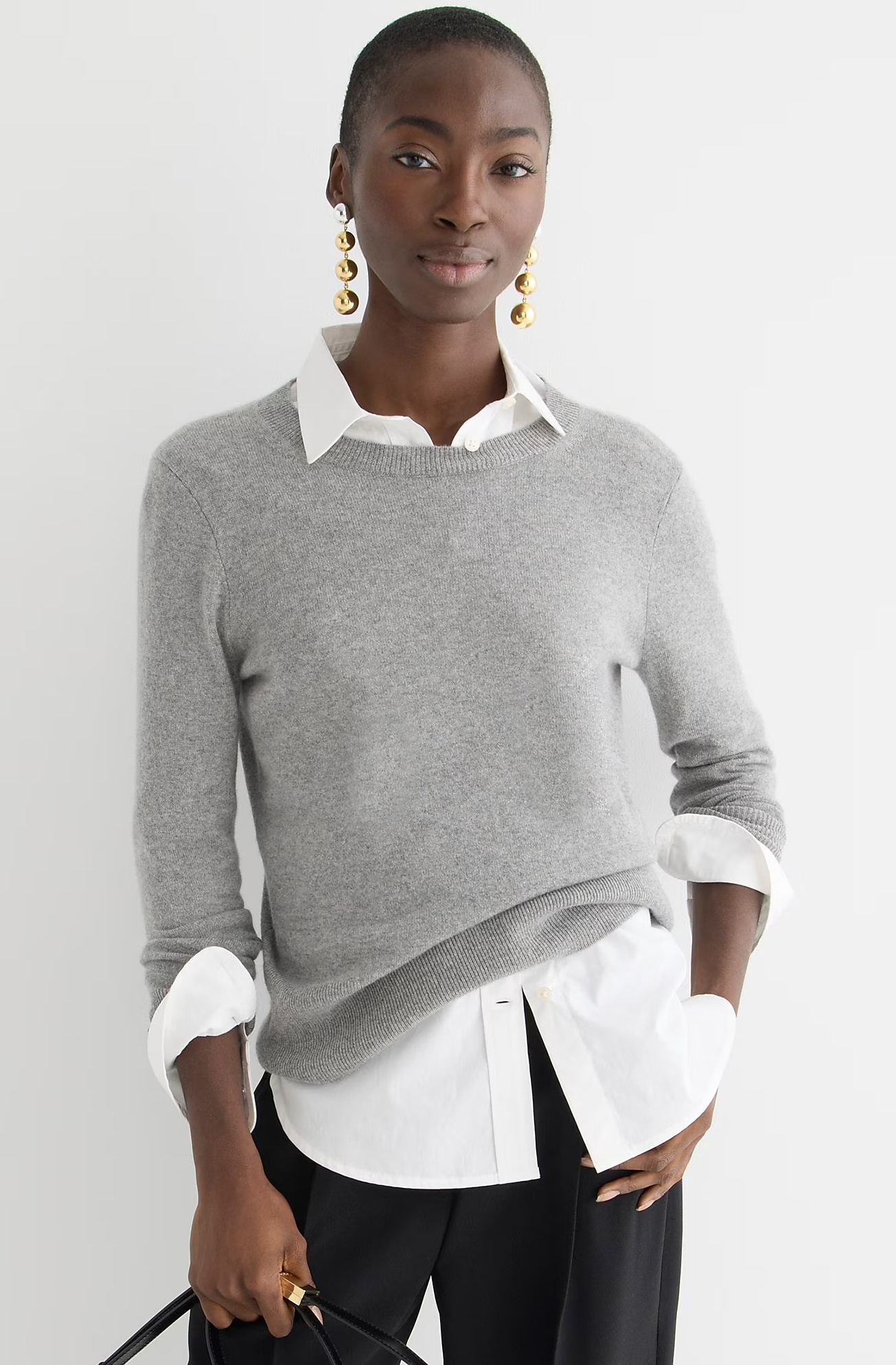 J. Crew Cashmere Crewneck Sweater | Sizes XXXS-3X
Cashmere
Cashmere is a luxurious fabric that keeps you warm in the cold without the bulk. It looks lovely and packs light. The downside is that it does tend to be expensive and you have to be extremely careful with it.
One reader says, "Cashmere. I love it. It's warm, soft, and offers a touch of luxury." Another reader recommends cashmere for outer clothing, saying, "Try cashmere. It's not cheap, but it's light, warm, and packs and washes brilliantly."
Cashmere may be costly but many readers swear it's worth the investment And it seems things are changing with new brands emerging and offering products with these natural fibers at relatively affordable price points.
Readers love these cashmere sweaters for their polished and timeless look, incredible warmth, and versatility.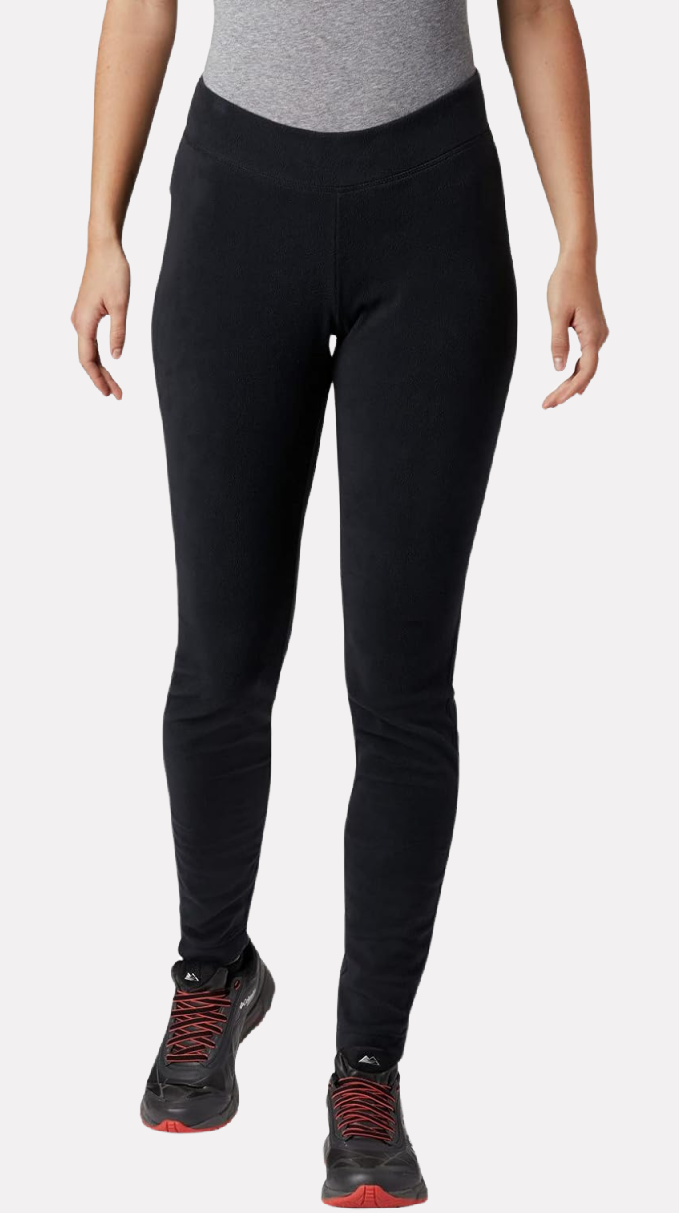 Columbia Glacial Fleece Leggings | Sizes XS-3X
Fleece
Fleece clothing is one of the warmest fabrics you can add to your winter wardrobe. A high-tech synthetic fabric made from recycled bottles, it's a good alternative for people who don't want to wear fabrics made from animal by-products.
Fleece is lighter than wool and offers better insulation, yet remains warm when wet and dries fast. One reader says, "Fleece is great for warmth!"
Several of our readers particularly recommended fleece leggings as being a great base layer. These fleece lined leggings are perfect for the cold winter months, providing warmth without adding extra bulk.
Looking for the warmest fleece leggings? Take a look at this post!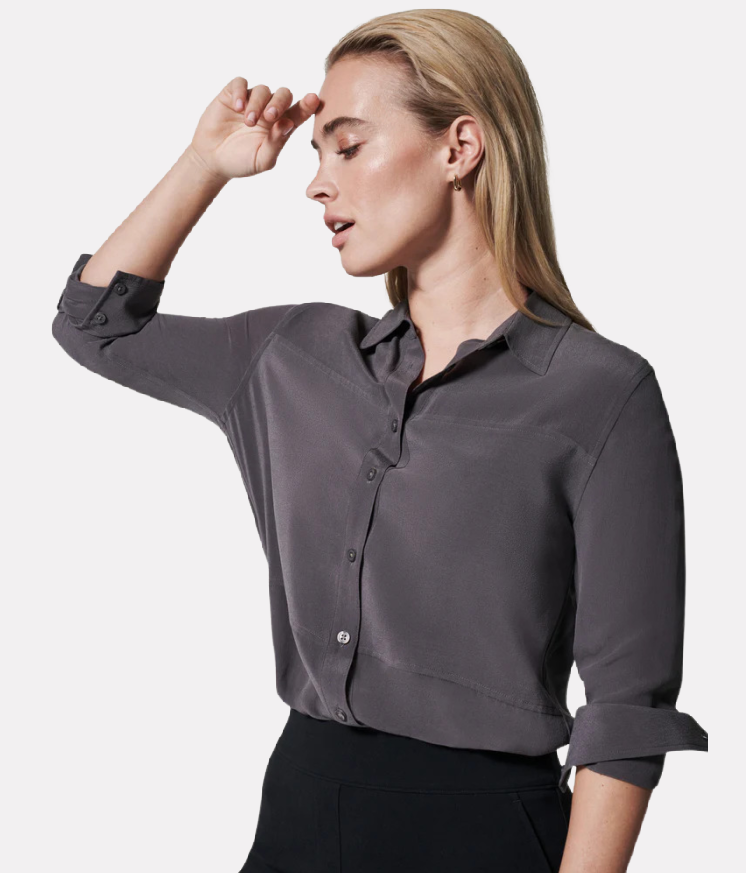 Spanx Silk Button Down | Sizes XS-3X
Silk
Silk is a luxurious fabric that keeps you warm in the cold and cool in the heat. It looks beautiful and packs feather light. The cons to silk is that it's expensive and stains are extremely impossible to remove.
One reader recommends "silk base layers. They're a bit thinner than merino wool but work the same!" Another reader adds that, since she is allergic to wool, "silk as a base layer works well."
A silk long-sleeve blouse from Spanx is great for when you need a little bit more warmth and is perfect for an extra layer without adding bulk. One reader stated how you can find "great silk tops from LilySilk, which are trendy and very packable."
Silk thermals, such as these, are popular for their incredibly lightweight, breathable insulation, and deliciously soft feel.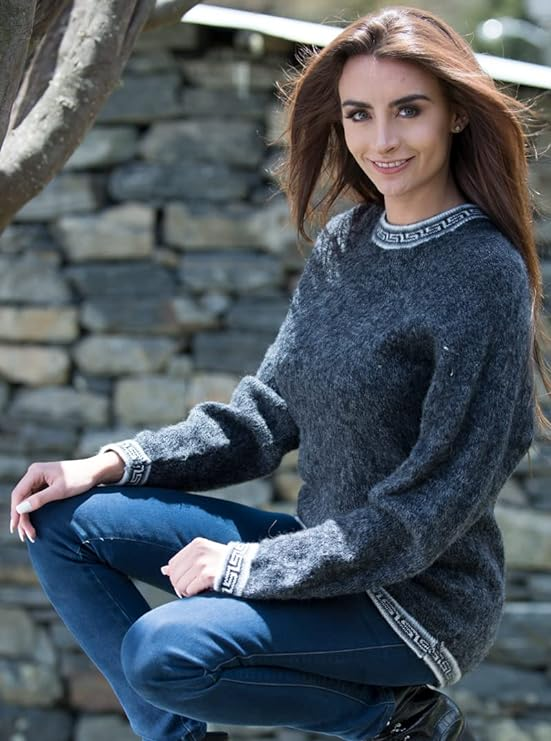 Gamboa Genuine Alpaca Sweater | Sizes S-XL
Alpaca
Although it's a less common option, alpaca is just as warm as merino wool!
One reader suggested alpaca as being a great fabric for alternatives to merino wool, saying "Alpaca is really light and warm, and while I cannot wear wool, I can wear this." Another reader adds "My alpaca sweaters are always a top layer in my winter wardrobe."
This sweater from Gamboa is made from genuine alpaca, meaning it's hypoallergenic, light, and warm. Its fibers contain microscopic airbags that make the garments light and delicate while acting as excellent insulators.
Check out these stylish and cozy reader recommended picks for the ideal winter dresses!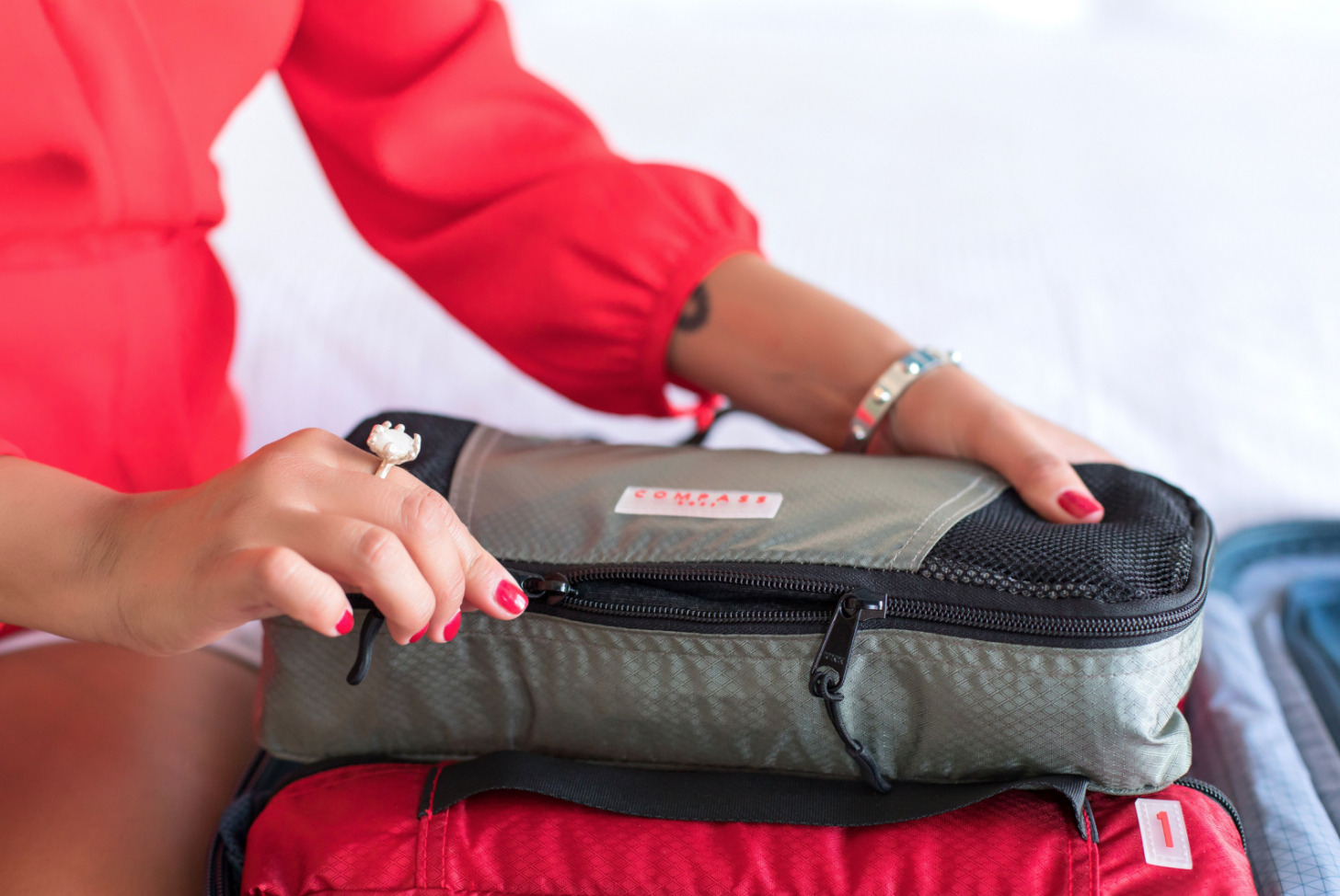 How to Pack Your Sweaters
Packing cubes will change the way you pack. We designed our own brand of slim packing cubes, with a unique color and numbering system, so it's easy to remember where you've packed everything—ESPECIALLY your sweaters! The video below demonstrates packing cubes more.
o
Learn our packing hacks with packing cubes in the video above!
We also put together a five-part YouTube series showing the different methods of using packing cubes for travel. If you use this specific packing strategy, packing cubes can also compress your belongings. This is the secret to traveling carry-on only!
---
Do you have a recommended fabric as an alternative to merino wool? Share and comment below!
---
For more ideas on how to stay warm in cold weather, please read:
---
LIKED THIS POST? PIN THIS PIC TO SAVE IT!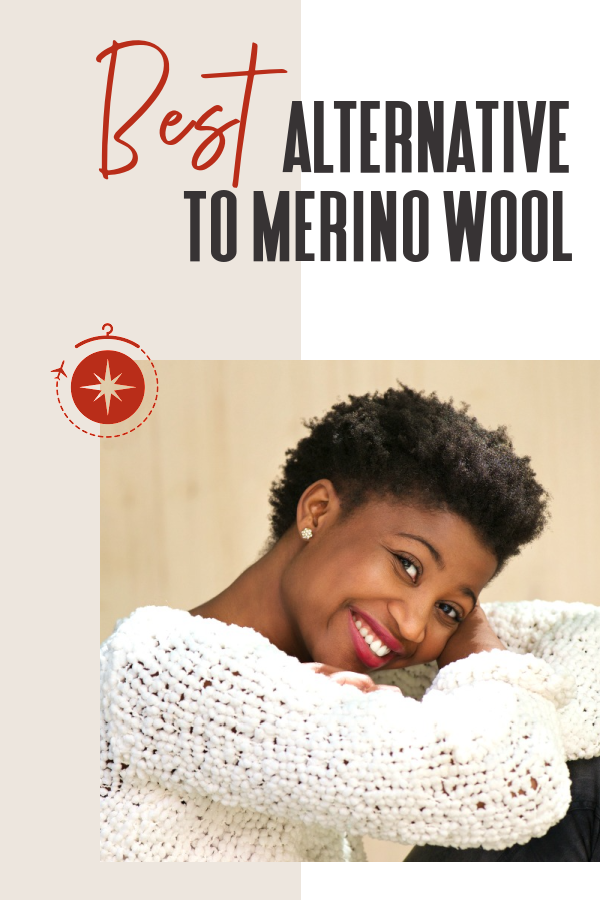 ---
We hope you liked these tips on the best alternative to merino wool. Please share with your friends on Facebook, Twitter, and Pinterest. Thanks for reading!
---