Support TFG by using the links in our articles to shop. We receive a small commission (at no extra cost to you) so we can continue to create helpful free content. As an Amazon Associate, we earn from qualifying purchases made on Amazon in addition to other retailers featured on the blog. Thank you, we appreciate your support!
Traveling to a destination with subzero temperatures? Read these tips on how to choose the best arctic clothing to find out the best below zero clothing and gear for women!
---
Extreme Arctic Clothing Brand Ideas
by Anubha Momin
---
Table Of Contents
My name is Anubha and I am a writer, blogger, and ice cream enthusiast who lives Iqaluit, a remote Arctic town in northern Canada. Iqaluit is the capital of Nunavut, Canada's newest and largest territory, and home to about 7000 people.
Finding temperatures are below freezing eight months of the year, meaning Iqalummiut (people who live in Iqaluit) are really, really knowledgeable about extreme cold weather gear.
Start by reading these general tips on packing for winter travel:
How long have you lived in the arctic?
I moved to Iqaluit almost two years ago from my hometown of Toronto, Ontario. Wow, time flies fast when you're having frozen fun!
ibex Woolies Tech Base Layer Bottoms
What was the most surprising thing you've learned about extreme cold weather clothing for women?
The most important fact about dressing for sub-zero temperatures is a Travel Fashion Girl mantra as well: choose the best fabrics. Bulky fabrics won't necessarily make you feel warmer! 
You have to choose the right cold weather fabrics and layer your items strategically as explained below. Wind-proofing, for example, is vital; if you can cut out the wind, you can reduce the feeling of coldness.
Minus33 Merino Wool Women's Ossipee Midweight Crew
The best winter clothes for women are made of high quality fabrics, like GORE-TEX (a windproof, waterproof, breathable material) or Merino wool is key.
While these premium products are sold at an equally premium price, it is worth it for your safety and comfort, and well-made garments will last you for years.
You can still pack your travel capsule wardrobe in a small suitcase even when traveling in cold weather by using packing cubes to compress your clothing shown in this video.
The North Face Jump Down Parka
What are people's biggest misconceptions about arctic gear clothing?
People always assume that warm clothes for women always have to be big, thick, and bulky.
While it is impossible to avoid some weight, you are much more likely to feel warm, and comfortable, if you wear several lighter layers, rather than one heavy coat. This also gives you the opportunity to remove or add layers as needed.
Learn more about layering and why thicker fabrics aren't always warmer!
Arctix Women's Insulated Snow Pant
How do you layer extreme winter clothing?
This depends on the climate, temperature, and activity, but for our coldest days, my extreme weather clothing layers include:
Note: If I'm not going to be outside for long, then I omit the snowpants and run to my car.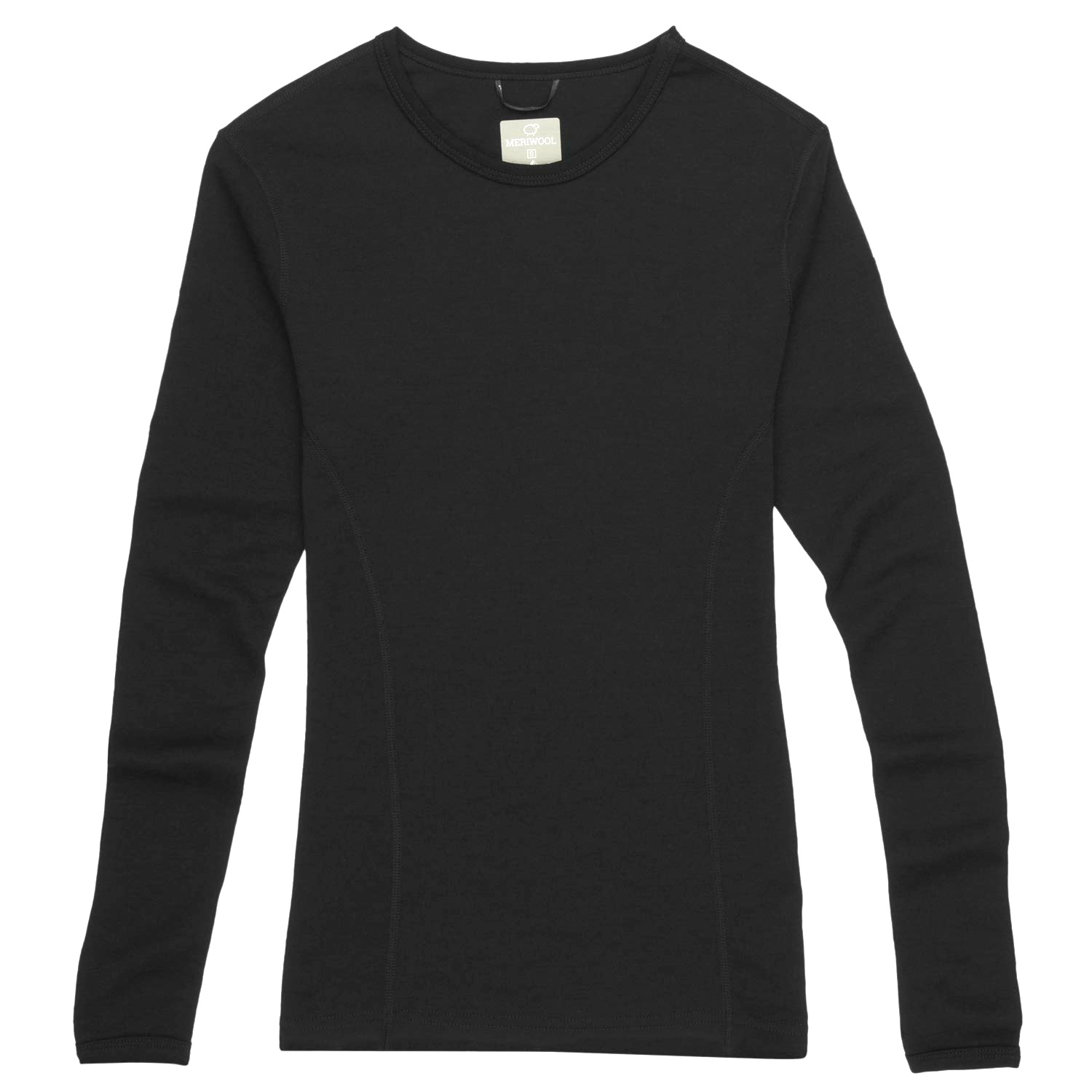 Meriwool Merino Wool Midweight Baselayer Crew 
At WITS14, you spoke about how much you love merino wool. Why does this fabric make cold weather clothes for women so special?
Merino wool is sort of like a miracle fabric: it's lightweight but insulating, natural but quick-drying. Perfect for arctic clothing!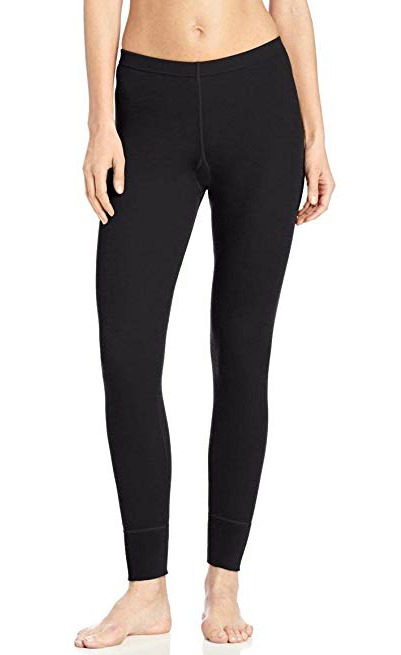 Merino Wool Franconia Midweight Bottom
The wool is also breathable and has anti-microbial properties, which means you can wear your Merino wool long underwear for days without worrying about scaring off your cabin or tent mates!
Learn more about why merino wool is the best fabric for travel!
Icebreaker Merino Women's Oasis Long Sleeve Crewe
Can you recommend specific winter gear for women?
For base layers, I recommend purchasing 100% Merino wool tops and bottoms from Icebreaker. I've found Icebreaker products perform very well in terms of fit, durability, and temperature regulation – I've had no problem throwing them in with the laundry!
I would also recommend their socks and undies, if you want to go for a full-wool ensemble. They're some of the best options I've found for arctic clothes.
These are our readers top picks for merino wool t-shirts, perfect for women on the go.
Icebreaker Women's Everyday Leggings
In terms of style and weight, I find myself reaching for the Icebreaker Everyday Long Underwear Leggings in 200gm and the Oasis Long Sleeve Crew in 200gm. If I could add anything to my Icebreaker collection, it would be the Tech Top Long Sleeve Half Zip."
These are our readers favorite merino wool leggings they love to pack for traveling!
Eddie Bauer CirrusLite Hooded Down Jacket | Also Available Here Too
What are the best womens winter coats for extreme cold?
Another amazing layering piece is a down-filled jacket. These jackets are light, thin, super warm, and perfect for wearing under other coats when you need an extra bit of warmth.
I've found the Hooded CirrusLite Down Jacket from Eddie Bauer to be some of the best winter coats for extreme cold, because they're streamlined and very easy to roll up and squish into a backpack.
Having the option to add or remove a layer of your extreme cold weather gear is key when you're out on the land so that you can accommodate temperature fluctuations and adjust your outfit to suit various activities.
Columbia Lay D Down Ii Mid Jacket

Another popular one that's a bit longer and robust is the Columbia Lay D 550 down fill parka which has Omni-heat (a heat reflective coating), which is lightweight and keeps the body toasty in even the harshest of weather. 
Having the option to add or remove a layer of your extreme cold-weather gear is key when you're out on the land so that you can accommodate temperature fluctuations and adjust your outfit to suit various activities. You can also check out this article for more down parkas!
Find out the most stylish and practical options best down jacket for your cold weather travels!
What extreme cold weather shoes do you recommend?
I have several pairs of arctic boots to accommodate Iqaluit's varied temperatures and terrain. Not surprisingly, they are all from Canadian companies!
SHOES FOR EXTREME COLD WEATHER
Impact by Baffin Boots are rated to -100C/-148F*, meaning they will keep your toes toasty until about -40C. I've worn these for prolonged periods of time in the dead of winter, when temperatures dip well below -30C, and my feet have been passably comfortable at worst, and warm most of the time.
Columbia Ice Maiden Shorty Snow Boot
SHOES FOR MODERATE COLD WEATHER
I love these arctic shoes. They're rated to about -32C/-25F. These are incredibly comfortable and the waterproof construction and thick, non-slip rubber soles also make them ideal for dealing with over rough terrain, or anytime you need a little more agility in your heels. This article covers even more top winter boots that the epitome of warm and protective.
SHOE SIZING
I would recommend purchasing a pair that is slightly larger than your regular size, as tight-fitting shoes will not work to keep your feet warm.
Just a note about temperature ratings: There is no industry standard method to rate boots or jackets, thus, the temperature rating is the manufacturer's estimate of the degree to which the article of clothing will be able to keep out the cold.
Minus33 Unisex Merino Wool Cuff Beanie Hat
What extreme cold weather accessories do you recommend?
Accessories should include a warm hat which is key; look for something that has a fleece lining for extra coziness and warmth. At Arctic temperatures, it's often necessary to also wear a face mask or balaclava.
Icebreaker Glove Liner Handwear
When it comes to your hands, layering again is key, especially if you want to maintain the option for dexterity. For very, very cold temperatures, I would recommend thin, Merino wool gloves that you can fit under very warm mitts.
This layering will give you the ability to perform more finite movements, like opening a container or tying rope, without exposing your skin to the elements.
Terramar Thermasilk Glove Liner
My favorite cold-weather mitts are made from wolf skin, but if wolf mitts are in scarce supply in your town, look for something that has good insulation and long cuffs, like this pair from Terramar. Again, make sure your mitts are not tight, or you will risk freezing your fingers.
Sealskinz Full finger gloves Ultra Grip Gloves
If the weather is a warmer but still below freezing, try your hand at a pair of SealSkinz gloves (not actual sealskin, which is also super warm).
The Ultra Grip Gloves have three layers: an outer shell that allows for grip and movement, a middle layer that is totally waterproof, and a built-in Merino wool liner for warmth and comfort. These are the best gloves you can own if you need to work outside in the cold.
They can also be worn under big winter mitts (just make sure the mitts are big enough to accommodate the SealSkinz and your hands without cramping).
What are the top five essentials you recommend for someone traveling to an extremely cold destination?
Without question if you're living in or traveling in the arctic, my essential extreme cold weather gear includes:
Layered arctic clothing: This includes base layers, but also mid layers and other garments that allow for maximum heat retention.
Chapstick: I mentioned this in my arctic survival gear post, but I never leave home without some kind of lip balm. Look for something that is moisturizing and also contains SPF.
Sunscreen: Just because it's cold out doesn't mean you can't get sunburnt! Choose a solid sunscreen, like this one from Neutrogena, because liquid sunscreen will freeze. 

Or review this

full roundup

of sunscreens!

Fur: Without question, fur provides a ton of warmth and protection from the elements. In Nunavut, fur from coyotes, wolves, polar bears, seals, and other animals are used as trim for hoods and material for jackets, mitts, pants, and boots.
Sunglasses or goggles: As I stated earlier, the wind is your worst enemy, so it is absolutely imperative that you have some way to protect your eyes from the gusty onslaught. Make sure they're polarized to reduce glare and prevent snow blindness. 

See this

post

for a list of durable, polarized sunglasses!
Any additional tips to share about sub zero clothing or accessories?
The tips and tricks listed here aren't only applicable to extremely cold arctic weather; they can also be used for very cold city weather!
Merino wool base layers and down sweaters are very, very thin, and so can be worn under most clothing. I've tucked mine under skinny jeans and peacoats, allowing me to maintain a sense of style without compromising comfort.
I may use these items as arctic clothing but you can also use them for other cold weather destinations too – just wear less layers!
Here's a list of our favorite thermal layers to ensure you pack light and stay warm!
---
What extreme cold weather gear do you recommend? Share in the comments below!
---
For more ideas on what to wear in cold weather, please read:
---
LIKED THIS POST? PIN THIS PIC TO SAVE IT!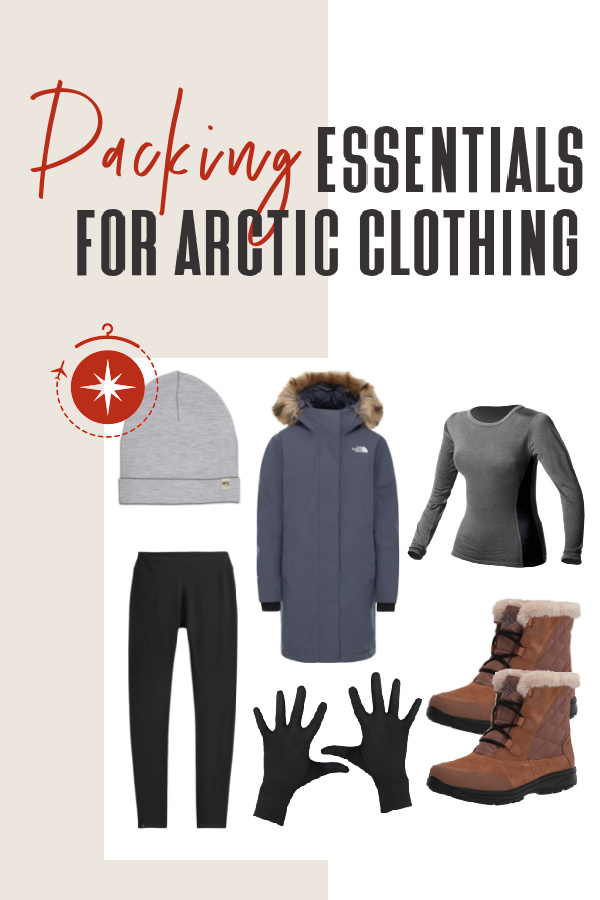 ---
Hope you liked these tips on arctic wear and how to choose extreme cold weather gear. Please share it with your friends on Facebook, Twitter and Pinterest. Thanks for reading!
---