Support TFG by using the links in our articles to shop. We receive a small commission (at no extra cost to you) so we can continue to create helpful free content. Thank you, we appreciate it!
When Anatomie offered up some of their designer travel jackets for review I thought it would be a great idea if TFG's UK correspondent did the job to give you the best feedback on how they hold up in the cold weather. Read on to find out what Chantelle Mallin thinks about Anatomie's travel jackets and if they make the cut for a European winter:
---
Review: Anatomie Travel Jackets
---
I am very new to the Anatomie brand, so was very excited when I found out I had the opportunity to review their Autumn/Winter collection. Living in the UK means warmth is the no.1 factor for me when choosing a winter  jacket, only just beating out waterproofing and quick drying – it rains A LOT!
Features of the Anatomie Travel Jackets that stood out to me:
High quality hard wearing fabric – majority sourced from Italy and France
Quick dry fabric – great for travel where you have limited access to dryers

Wrinkle resistant – No iron? No problem
Lightweight, yet durable – takes up little space in your luggage.
Fashionable – Stylish travel clothes, YES!! – Low maintenance easy-to-achieve style.
Versatile – Can easily be dressed up or down for many occasions.
I can see why this brand is popular with wanderlust females out there.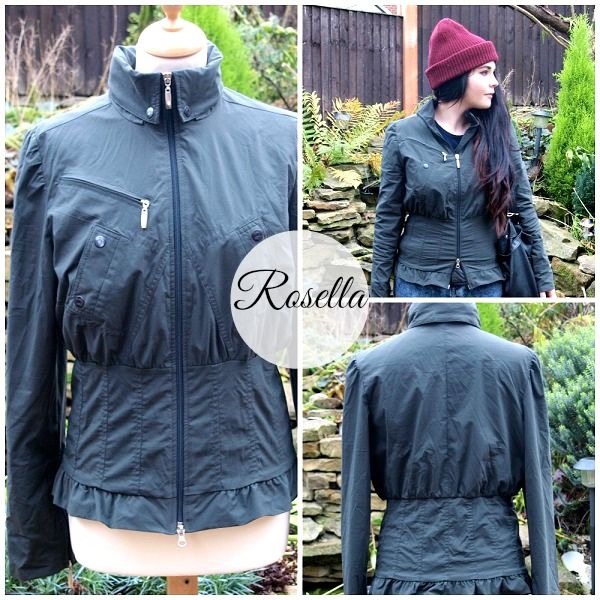 Rosella Ruffle Travel Jacket
I was slightly worried about the thin feel of the jacket; would it really keep me warm in the middle of winter? With a thick long sleeve top worn underneath, the jacket provided sufficient warmth on an early fall morning. Mind you, if you are not used to cold weather, you may need an extra layer or two.
The lightweight fabric means the garment is travel friendly, taking up little space in your luggage. It's the perfect transition jacket, from spring to fall and then late winter to spring, you're sure to get your yearly wear!
The super cute jacket features a corset style waist, creating a feminine silhouette, the double front zipper means that you can adjust the bottom when sitting etc. to increase comfort and stop the jacket 'lumping' up.
The jacket is crafted from a nylon stretch moisture-wicking fabric, making it movable technical PE coating means the jacket is water resistant; it stood up well against a mid-morning autumn shower downfall.
The hidden hood in the collar is a major bonus, however I found it to be slightly an odd shape, a little too small to fit comfortably over my mane of hair.
My only negative point on the Rosella jacket is the snug fitted fit, however this is down to personal taste. I prefer looser fitting garments (hence my love for the Merika Rain coat), so if you love figure hugging and silhouette enhancing jackets, this one's for you!
COST: $299
LEARN MORE: Rosella by Anatomie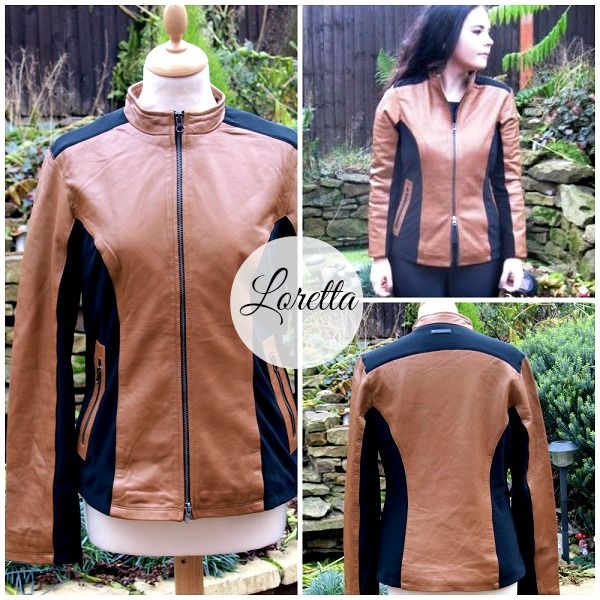 Loretta Leather Jacket
I was so pleased when I opened my Anatomie parcel to find the Loretta Leather Jacket, the 100% lambskin leather jacket.
After wearing the Loretta out for a bite to eat I was amazed at how soft and comfortable the jacket was. The main thing I look for in a leather jacket is comfort (who doesn't hate stiff leather). The functional stretch Lycra panels allow you to move with ease, elimination the bulky restricted feel of a classic leather jacket.
The Loretta jacket is lightweight and easily packable, fitting into shoulder a backpack or carry-on suitcase.
The jacket features simple zipper detailing that gives the garment a modern, edgy feel, appropriate for both day and night wear. It is available in two colors – black and tan, both are neutral enough to style with a variety of outfits.
COST: $600
LEARN MORE: Loretta by Anatomie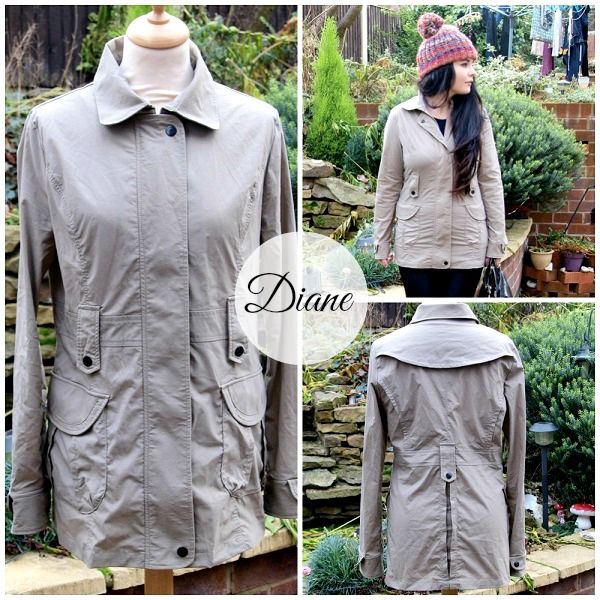 Diane Travel Jacket
The Diane Travel Jacket is chic, featuring a belt loop style wait, dual patch pockets, a sweet rounded collar and a cape style back, the Diana wins some serious style points with me.
Made from super lightweight nylon / Lycra fabric the jacket is guaranteed to take up minimal space in your travel luggage. It's the perfect jacket to have in your bag to chuck on in case it gets cold.
I paired it with a long sleeve sweater and thick wool scarf to ensure I stayed warm in the bitter weather. It's probably a jacket more suited for spring/early fall weather.
The Diane has a soft texture and moisture wicking fabric making the jacket super comfy to wear. The high performance fabric is engineered for quick drying, perfect for A/W showers. After being caught in a lunch time drizzle the jacket was dry again in no time after being left in a heated room on a hanger.
The neutral colors available work well with any color scheme, meaning you can easily mix and match your travel wardrobe, eliminating the need to bring extra items to match specific outfits.
COST: $265.00
LEARN MORE: Diane by Anatomie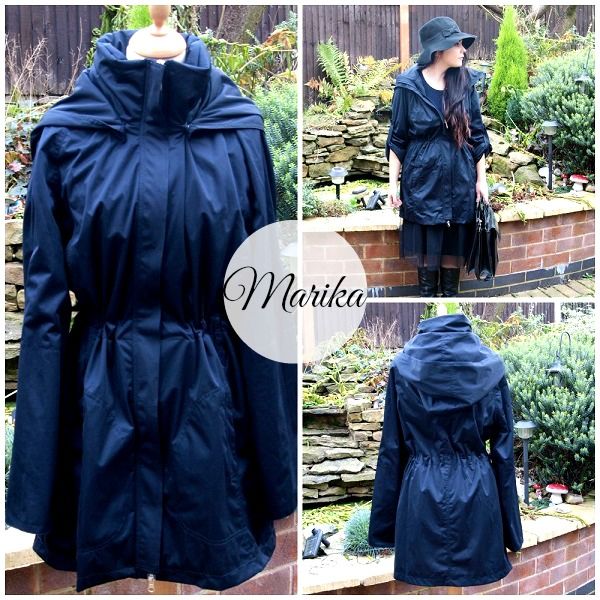 Merika Windbreaker
The Merika Windbreaker is ideal for people looking for a longer length travel jacket. The garment is crafted from an uber lightweight fabric, meaning it takes up minimal precious space in your luggage and weighs next to nothing – more room for souvenirs!
This is my favorite of the travel jackets because it's more suitable to my personal style. The hidden pull chords allow you to subtly enhance the waist of the jacket (finally, a stylish windbreaker that doesn't look like a sack) and the adjustable sleeve length makes the coat versatile for most yearly weather.
The jacket scored top marks on the comfort scale. I wore it recently on a crisp autumn morning on a packed rush hour train and was surprised by how comfortable I felt. The fabric has awesome breathability meaning I could move with ease.
The UK is definitely a good destination to test the warmth of a garment, the winter weather has well and truly hit. I was eager to try out the jacket on a cold darkened morning, expecting the worse with the thin fabric.
I was pleasantly surprised, the jacket retained my body heat ensuring I remained toasty and warm. Effective water resistance is a must for winter coats in the UK. Did I mention it rains a lot?
I left the coat to dry overnight on an unheated radiator and came down in the morning to a completely dry garment; with the radiator on the coat dried in a matter of minutes!
The jacket is great for countries with diverse location climate or if you are planning on visiting several countries on your trip, button down sleeves and release the convertible collar and stowaway hood for chillier climates.
My only fault with the Merika is the hood; I found it rather large and ill fitting, regularly falling over my eyes and flapping around in the wind.
COST: $285.00
LEARN MORE: Merika by Anatomie
Additional Details
NOTE: Being slightly vertically challenged (at 5" 3) the sleeves came up slightly long on all of the jackets, I had to under roll each up to get the perfect fit.
Anatomie offers a great free shipping and returns service on all sales, a pre-paid returns label is provided with your order, so if you're not completely satisfied returns are stress and hassle free, bonus!
It's safe to say Anatomie has gained a new fan with me.
---
For more details, learn about designer travel clothing from Anatomie.
---
READ MORE ABOUT ANATOMIE DESIGNER TRAVEL CLOTHES
---
PLEASE SHARE THIS TRAVEL JACKET REVIEW WITH YOUR FRIENDS ON FACEBOOK, TWITTER, AND PINTEREST. THANKS FOR READING!
---
---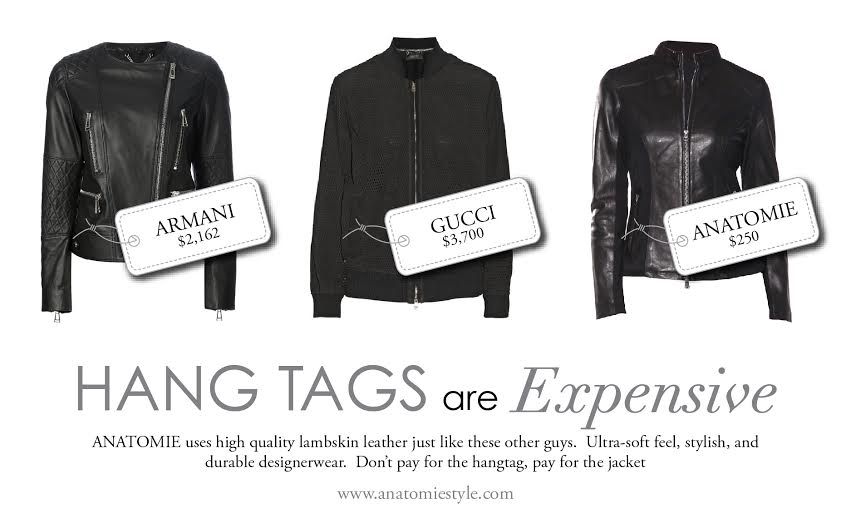 Let's go shopping!
---
 *This post is a review not advertorial and expresses the personal opinions from one individual. TFG did not receive compensation for this post but did receive one complimentary jacket.
---