Support TFG by using the links in our articles to shop. We receive a small commission (at no extra cost to you) so we can continue to create helpful free content. We earn from qualifying purchases made to the featured retailers. Thank you, we appreciate your support!
The waterproof Eddie Bauer jackets womens styles are a TFG reader favorite for foul weather when traveling, and the Charly jacket is particularly popular. Read more in our review! 
---
Eddie Bauer Jacket Womens Charly Review
---
Table Of Contents
The Eddie Bauer women's Charly Jacket is a huge reader and travel favorite for rainy-day travel. The waterproof fabric will repel the elements, and the breathable and comfy quality will ensure you stay dry and warm all day, even throughout nonstop rain. It literally covers all the bases. 
Sounds like a lot to live up to, but check out the full review below where we get into all of the details!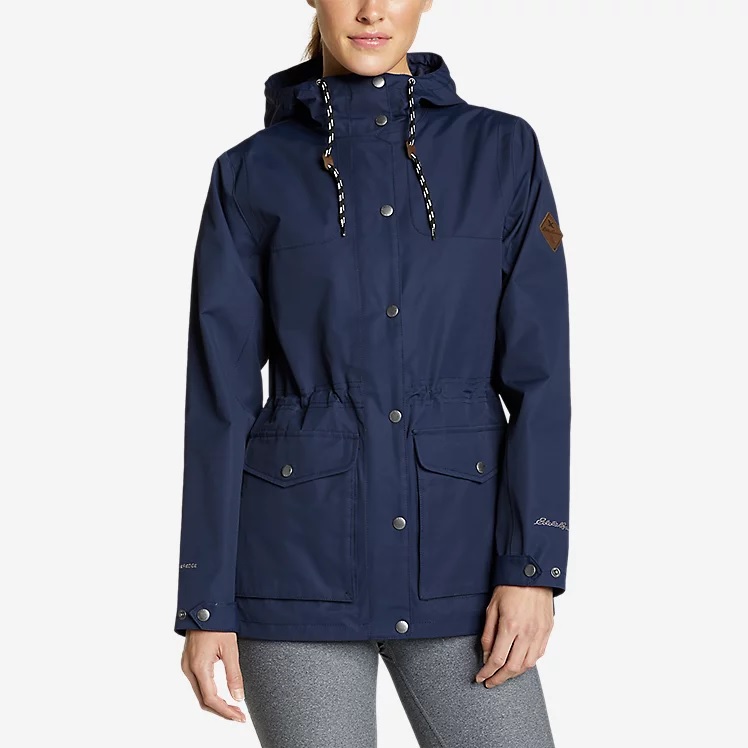 Eddie Bauer Charly Rain Jacket in Med Indigo
Eddie Bauer Charly Jacket Specs
Brand and Style: The Charly Eddie Bauer Jacket Womens Waterproof Style with hood
Sizes: Available in regular (XS to XXL), petite (XS-XL), tall (S-XXL), and plus sizes (1X-3X), with a wide range in each category. 
Fabric: This jacket is 62% cotton and 38% nylon
Features: Waterproof and breathable fabric, adjustable hood, cuffs, and waistband, two front pockets and a secure interior pocket, and a stylish look. 
Colors: Available in a total range of six colors, including marigold yellow, light blue, and alder green
Weather: Weatherproof and windproof, this jacket can handle the stormiest of weather. Best in the 50-60℉ (10-15°C) temperature range, though you can certainly layer with this jacket for colder temperatures
Travel Type: Great for hiking and camping, as well as sightseeing in cold and rainy cities
Eddie Bauer Charly Jacket Features
Eddie Bauer Charly Jacket with UGG Wilde Boots and Rebecca Minkoff Backpack 
Durable and Practical
Eddie Bauer is a TFG favorite because they make their clothing with travel in mind. The Charly jacket is super durable. It's well-constructed with high-quality material, so it's sure to hold up in harsh weather conditions and last you a long time. 
The Charly Eddie Bauer Jackets women's style is perfect for a wide range of activities too and has you covered from sightseeing in rainy cities to chilly nature adventures! Its StormRepel technology ensures that you stay fully protected from the elements all day long. Wearers say that rain beads off and doesn't penetrate the shell.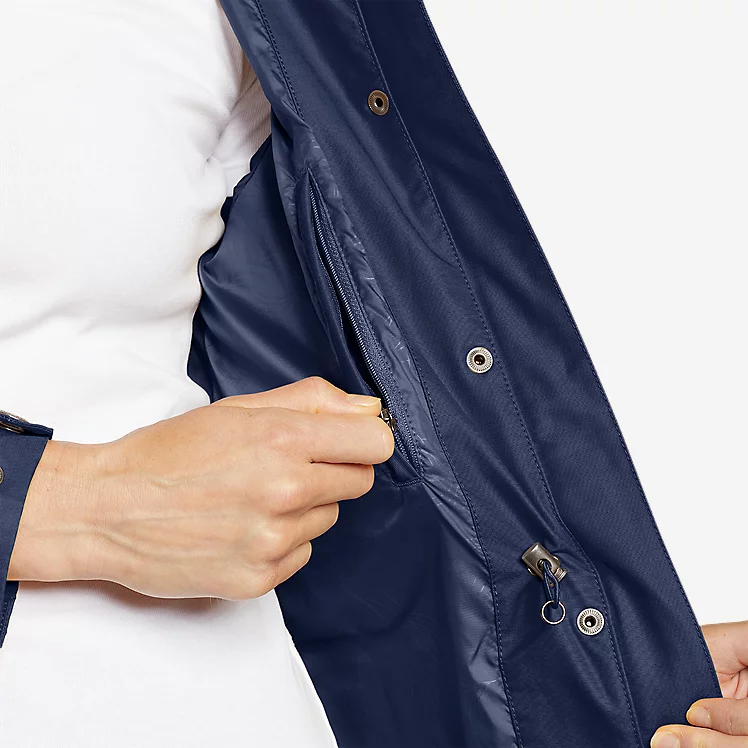 One happy wearer says, "I could not resist getting this lovely jacket, just from the style of it, but was even more impressed with the quality when I took it out on a wind advisory day with rain. The rain beaded off amazingly! Didn't get chilled by the high winds! Looked quite stylish hiking a nature trail." 
The jacket has two front pockets with both top and side access. The secure interior pocket can fit a credit card, ID, and cash, and it zips closed, so it's absolutely perfect for those times when you don't want to carry a purse. One user says the "large pockets are great!"
You'll want to look your best when you travel! Read my travel tips to Pack Light Stylishly!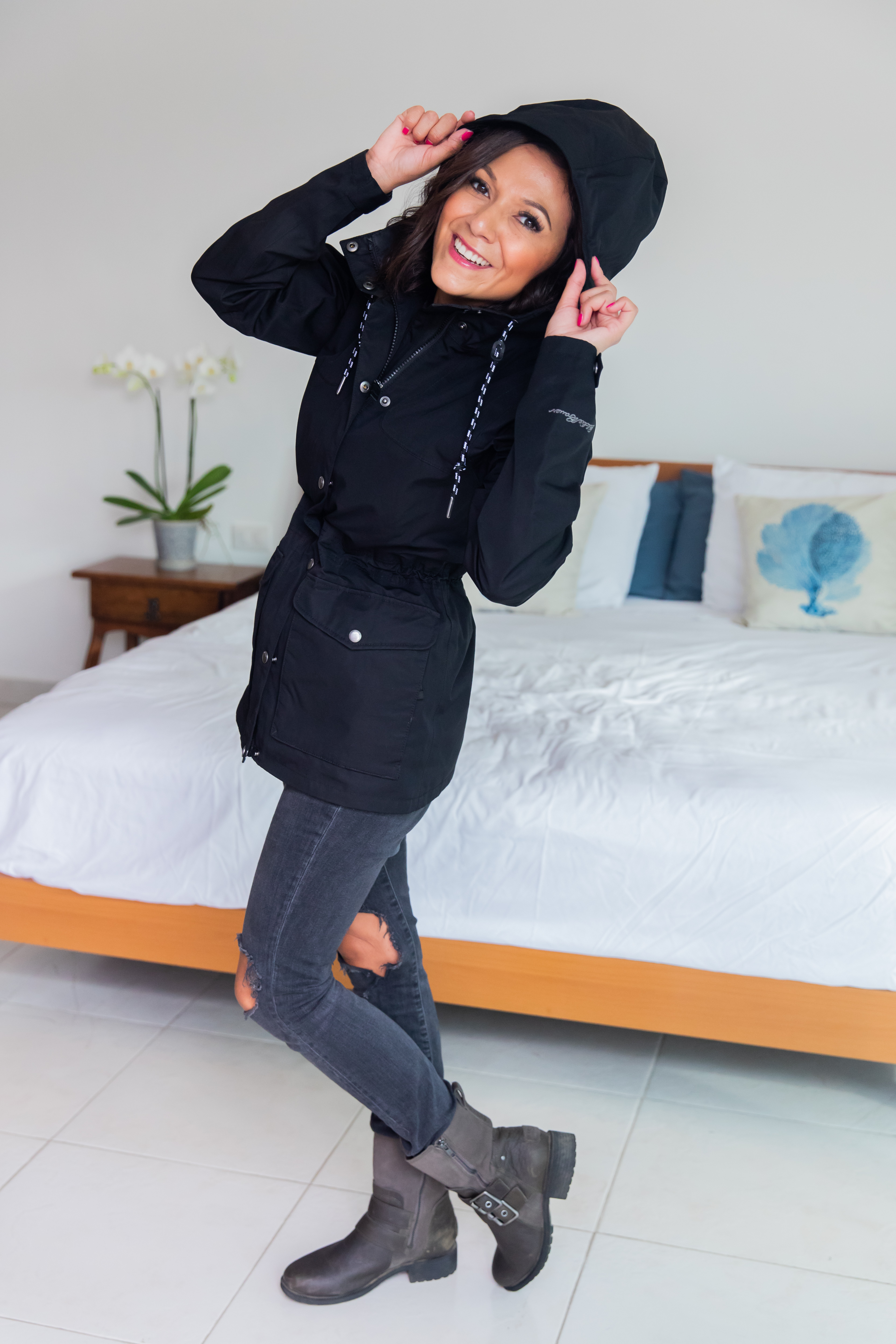 The hood is cozy in the Eddie Bauer Charly Jacket
Comfortable
A common issue with waterproof jackets is that the material makes them feel uncomfortable and feels stiff. This is not at all the case with Eddie Bauer's Charly Jacket. It's constantly described as super comfortable, and the lining on the inside is breathable, yet warm. A happy user says, "It's so comfortable and lightweight. Keeps you dry during a rainy paddle!"
This womens Eddie Bauer jacket is fitted but allows for ample movement and mobility. It's great for layering on colder days, and the cinched waist counters any bulkiness, keeping a feminine shape.  
One reader says, "Wore this jacket for two weeks of hiking and walking in Iceland. Stayed warm and dry, even through some steady rains. Great fit, good size pockets, functional hood."

Readers say the Charly Jacket fits true to size
Fit 
Wearers say the Eddie Bauer Charly Jacket fits great, undoubtedly due to the wide range of available sizes. A huge plus with this jacket is the buttons on the sleeves, which help keep the sleeve length right where you need it. 
One of the best features of this raincoat is the drawstring waist. Rain and winter coats tend to be bulky and shapeless, so the option of having more definition with the cinched waist is nice.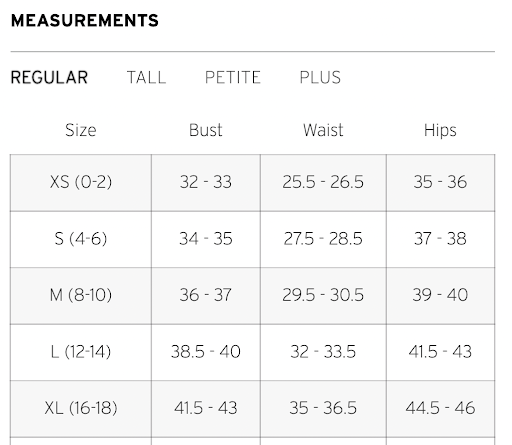 Eddie Bauer Jacket Size Chart
The Charly Jacket Eddie Bauer offers a wide range of sizes as well, from XS to XXL and additional tall (S-XXL), petite (XS-XL), and plus sizes (1X-3X). One TFG reader shares, "I'm a size 1X for coats and they are very comfy around the chest and arms and zip easily. Great integrated packing pockets and no wrinkles."
A petite-sized wearer says of the fit, "I'm a small person, and have trouble finding clothes that are not baggy. This petite XS jacket fits perfectly, leaving a little room for a long sleeve shirt or lightweight sweater underneath."
Another wearer who wears tall sizes says, "This jacket is perfect. It fits me well – the sleeves hit me at the wrist, there's room for layers, and the jacket comes down over my tush to keep it dry."
Overall, most happy users say "the fit is true to size and comfortable enough for a layering piece underneath."
Learn how to pack a bulky winter jacket in this post!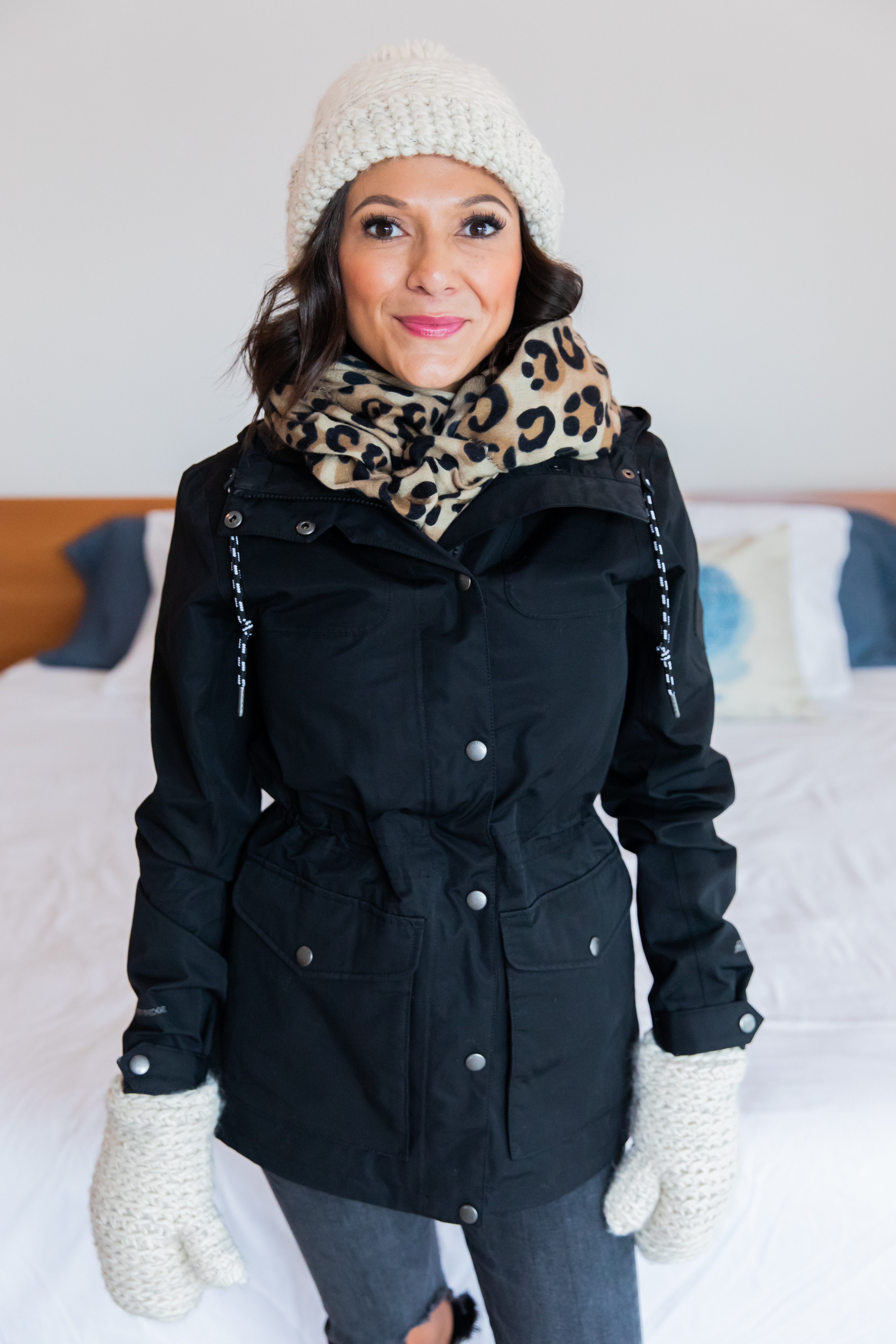 The Charly Jacket looks fab with gloves, a scarf, and a hat!
Style
A lot of readers wonder are Eddie Bauer Jackets good for casual or more polished occasions? One reader says, This is classic, so, stylish!"
I was actually complimented the first time I wore mine out, and readers have said the same! It has all of the practical elements you would want in a raincoat and also has a very cool, stylish look. 
Also, it's super versatile and can be worn at virtually any destination. One wearer reports, "Keeps me dry and warm but super breathable and not restrictive. It works well for everything from biking to work, to going out in the rain, to snowshoeing (with a layer underneath). Gotten loads of compliments." 
Another wearer says, "You can 'style up' the Charly with scarves and hats." 
The jacket has really nice gunmetal hardware, which is hard to come by with most coats. The Eddie Bauer branding on the sleeve is pretty subtle, too, which is another nice touch.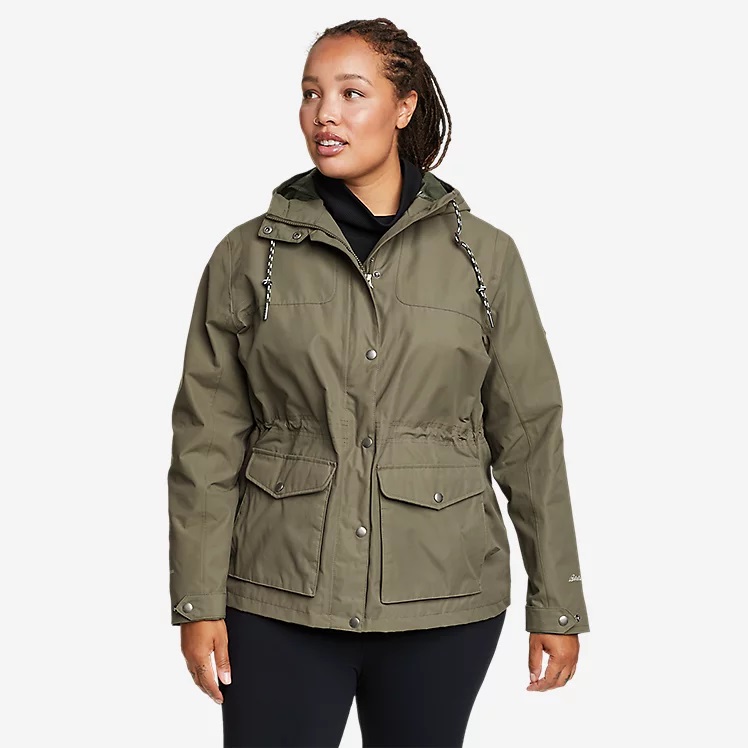 Eddie Bauer Charly Jacket in Sprig
Pros
We've already touched on the cinched waist, but it's such a nice feature that it deserves yet another shoutout. You won't look bulky with the Eddie Bauer Charly, no matter what you have on underneath. It has a fashionable, polished look to it. If you're searching for a waterproof jacket that won't make you look like you're about to trek through the wilderness (even if that's what you're doing!), then this jacket is a great choice. 
Beyond the stylish features, many readers love how practical it is. The hood is really great and it's protective, yet it won't fall into your face and eyes—even for those of you with smaller heads. The waterproof and windproof fabric ensures you'll be snug and dry throughout the chilliest and rainiest of adventures. 
The Eddie Bauer jacket sizing is really inclusive too, which is another major plus. With the wide range of colors and sizes, as well as the adjustable waist, sleeves, and hood, this jacket is made for everyone! 
One happy reviewer says, "I have been searching forever for a jacket like this—flattering, comfortable, neutral color, and functionality, and it didn't cost a small fortune! I was lucky enough to buy it when it was on sale, but even at full price it's a good value."
Want a bit more warmth? See our picks for the best packable down jacket!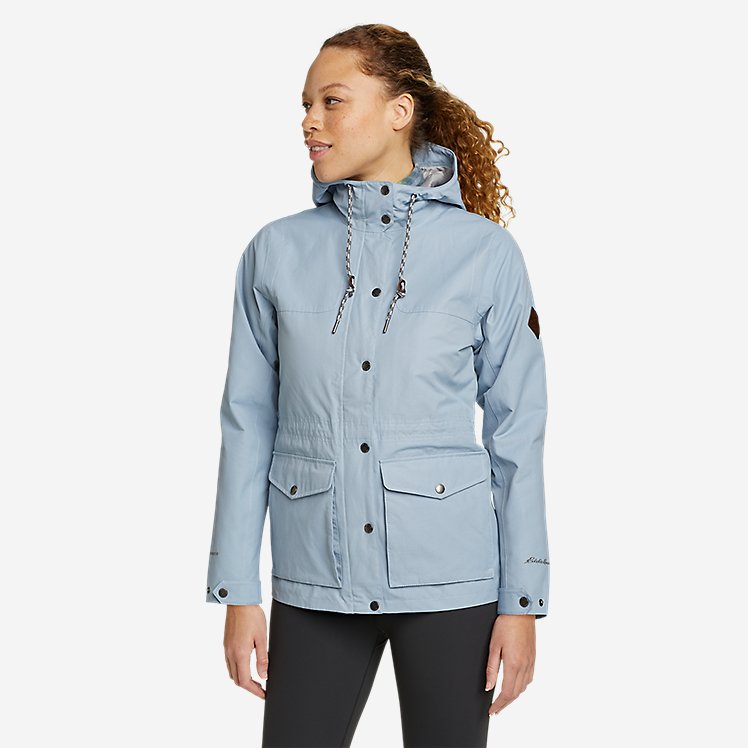 Eddie Bauer Charly Jacket in Blue Smoke
Cons
Even though this is a popular jacket, there is some feedback from users. One small drawback to this jacket is the drawstring pull for the hood, which has a black and white contrast pattern and looks a little bit like a shoelace. For me, it would have been a bit chicer if the drawstring was a solid, dark color, but it's not a dealbreaker for me at all.  
Additionally, some wearers have reported that it can be a bit tight in the hips when zipped up. One reviewer mentions, "It doesn't allow for very much movement through the hips which is a little disappointing as I don't think it will work well for biking." 
Another thing to note is that the customer service from the Eddie Bauer website was not very reliable. I actually never ended up receiving the jacket I ordered from their website. I would recommend ordering from Amazon for quick and reliable shipping, which is where I got mine.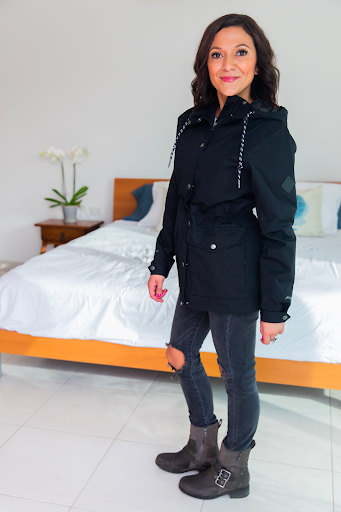 Is the Charly the best waterproof jacket for travel?
Verdict
Overall, the Eddie Bauer Charly Jacket is a winner for rain protection and for travelers. it's comfortable, keeps you dry, protected from wind, and many say it fits well overall.
One traveler really took it to the test on a vacation, "Wore this on a week-long sailing trip in the San Juan's in Washington. Kept me warm and dry!" Another user says, "Versatile jacket that can be dressed up or down."
However, some users think this jacket is a little ill-fitting. But one reader recommends, "I love Eddie Bauer clothes and have learned to order up a size." 
And while not the warmest Eddie Bauer jacket, you can actually get this in a parka version, but many also say it's easy enough to layer beneath the Charly with a merino wool sweater.
Personally, I feel like I hit a gold mine with this one! It's comfortable, breathable, warm, and also really cute. The Eddie Bauer Charly jacket is a perfect pick for your next wet, chilly destination!
See our Charly Jacket video to learn more about it!
Video: Eddie Bauer Charly Jacket Review
Check out this video review where I share my thoughts on why the Charly jacket is excellent for rainy destinations and is a stylish way to stay dry!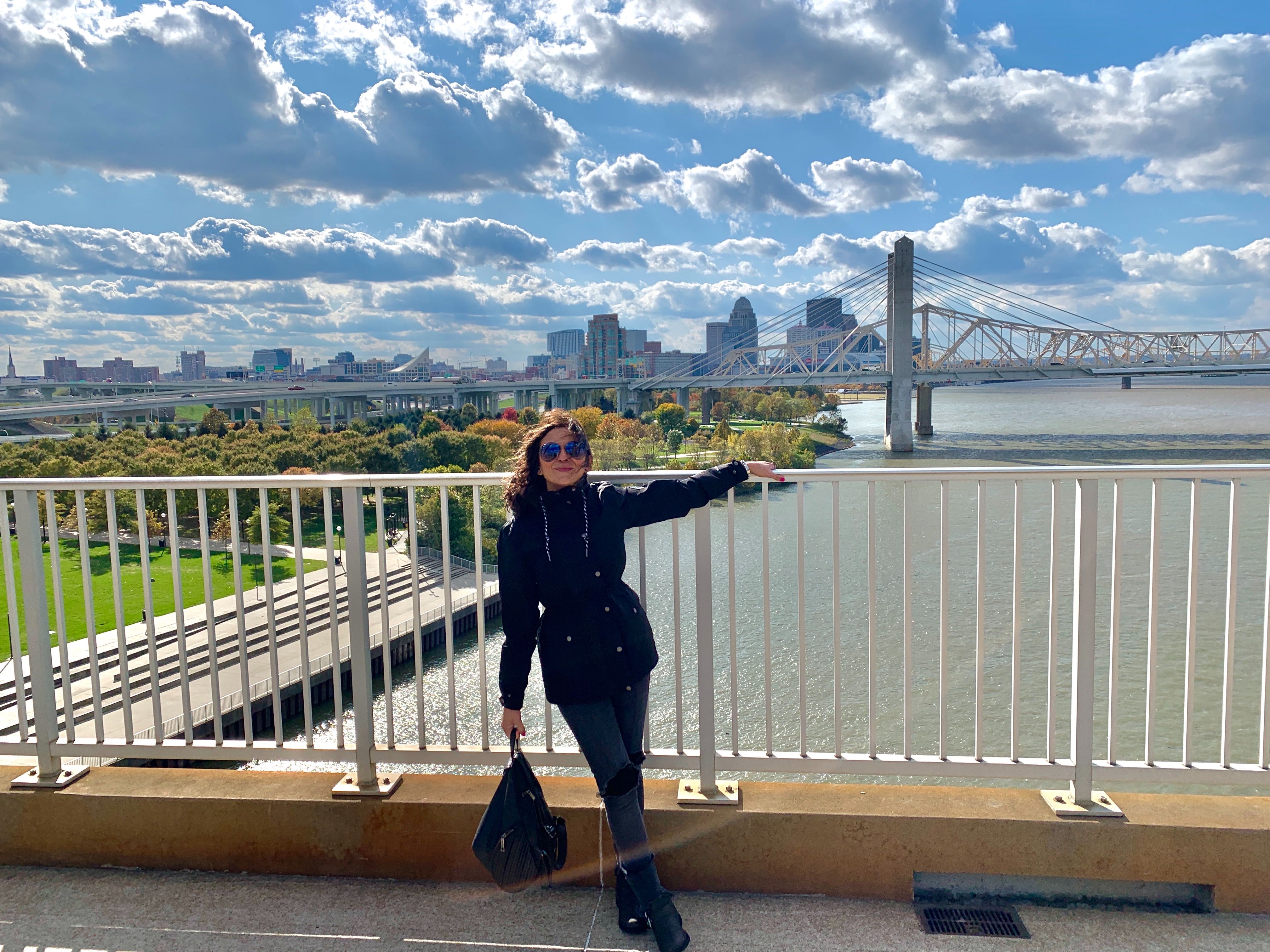 Where to Buy Eddie Bauer Jackets
Eddie Bauer is available on Amazon and directly from their website. A lot of readers recommend getting Eddie Bauer jackets on sale, and with events like Prime Day, it's definitely worth buying then to stock up. But the Eddie Bauer site also has frequent sales too, so watch there as well!  
Amazon seems to be the most popular source to grab Eddie Bauer jackets for women as some have felt their customer service department isn't as fluid. However, the main site at Eddie Bauer can have a lot more color selection, so it comes down to where you feel the most comfortable shopping!
Additional Eddie Bauer Jacket Reviews by Readers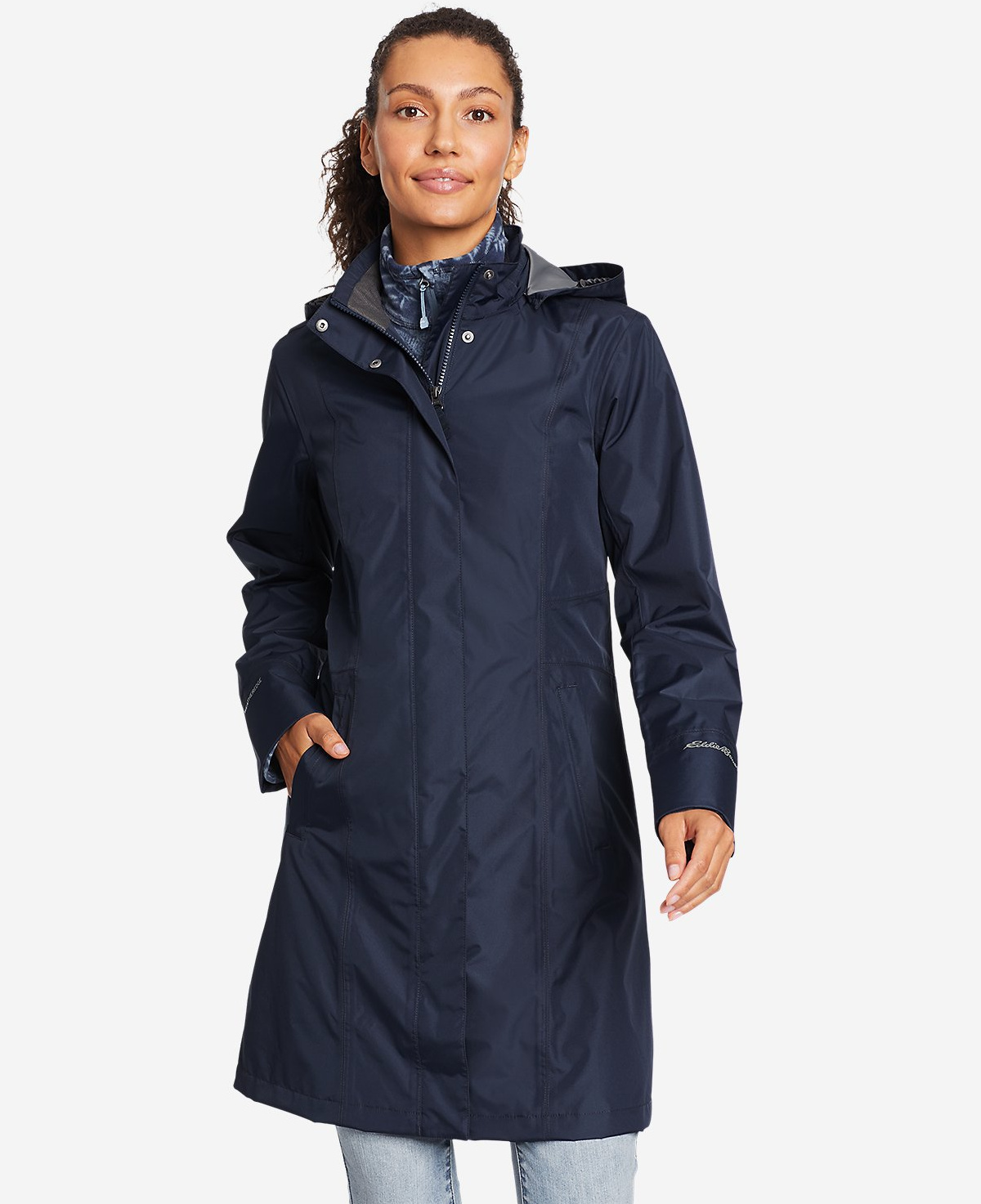 Girl on the Go Trench Rain Coat
Readers' Top Pick: Girl on the Go® Rain Trench Coat 
The Girl On The Go Trench Coat is an Eddie Bauer jacket women love and has consistently been a major TFG favorite. The modern style has a zipper closure, unlike the traditional buttons, and secure zipper pockets, making it more convenient and easier to slip in and out of. Its DWR finish sheds moisture, so you needn't worry about being caught in the rain, and it has a removable hood too. 
One TFG-er shares, "I've been wearing it constantly and find it comfortable and lightweight. The water beads up on the coat in the rain so the coat does not feel wet. It is perfect for my frequent travels to many different climates." 
Available in regular (XS-XXL), petite (XS-XL), tall (S-XXL), and plus sizes (1X-3X) at Eddie Bauer and is also purchasable on Amazon.
You can also get this same jacket but in an insulated version if you want a bit more warmth!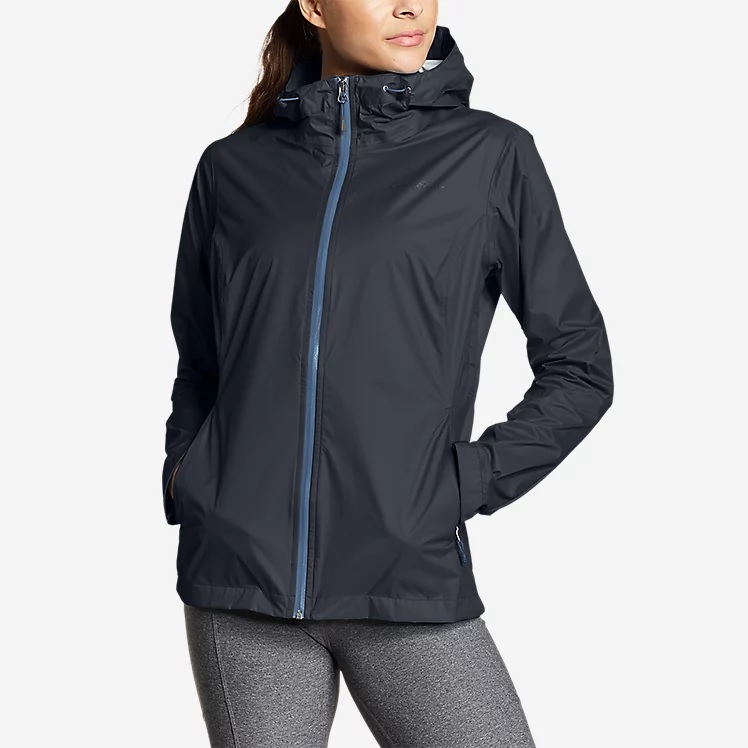 Eddie Bauer Cloud Cap Rain Jacket
Best for On-the-Go: Cloud Cap Lightweight Rain Jacket 
The Cloud Cap is another amazing women's Eddie Bauer find. This comfy, waterproof jacket is an incredible on-the-go pick, because it's lightweight, great for layering, and folds down into one of its own pockets! 
One reviewer sums it up, "The jacket is a great fit, a good weight for travel and packing, an adjustable hood, and Eddie Bauer reliable quality!"
You can grab this in several colors and in regular (XS-XXL), petite (XS-XL), tall (S-XXL), and plus sizes (1X-3X). Also available at Amazon.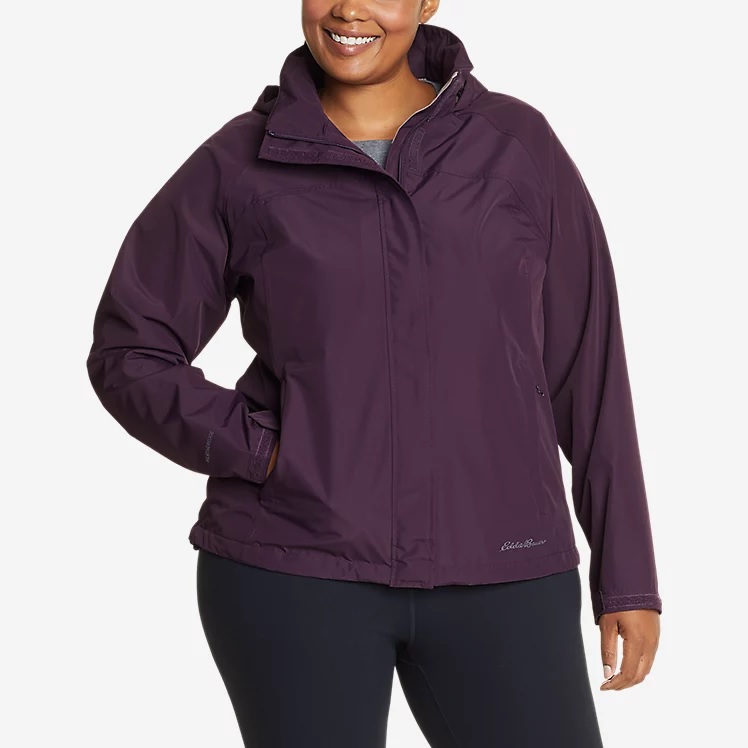 Eddie Bauer Rainfoil® Packable Jacket
Best for Layering: The Rainfoil Jacket
This Eddie Bauer jacket women's option is another great packable option for wet weather destinations. It packs down small, features a stowable hood, and is incredibly versatile. 
The jacket is said to be excellent for layering as it can run a little big. One reviewer says, "For travel and at home, this jacket will keep you dry with enough room to layer underneath."

If you want a more snug fit, users recommend sizing down. Choose from many colors and decide between regular (XS-XXL), petite (XS-XL), tall (S-XXL), and plus sizes (1X-3X). Also available on Amazon.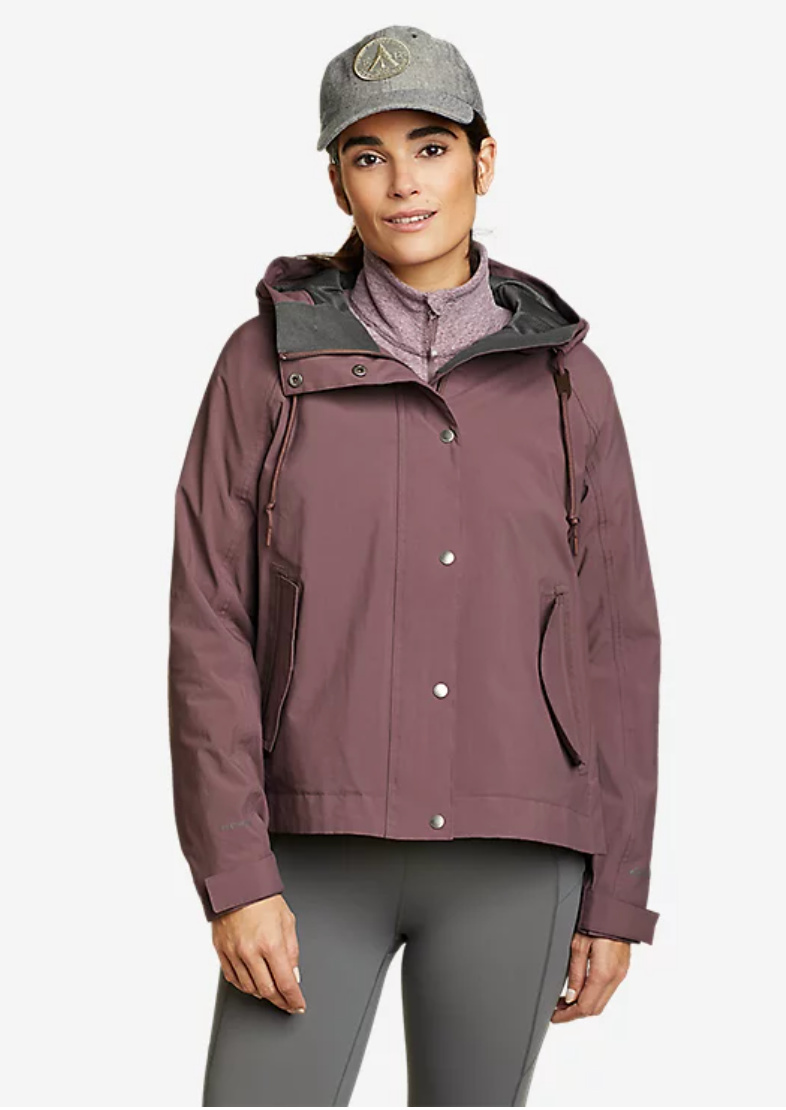 Eddie Bauer Port Townsend Jacket
Best for Outdoor Adventures: Port Townsend Waterproof Jacket
The best Eddie Bauer jackets women choose for sportier activities is the Port Townsend. It's a waterproof, breathable, and suitable for immediate rain protection when out hiking, trail running, or climbing. With snap-flap hand pockets and side hem zips for enhanced comfort sitting or moving.
One wearer shares, "I'm really glad I bought this jacket. It's so comfortable and I love the color (yellow). I've never owned an item of clothing that has gotten as many compliments as this jacket. It was a wee bit pricey but, now that I have it, it was worth the cost.." This is available in sizes XS-XXL.
Check out our selections of lightweight fall jackets for your next trip!
---
What would you add to our Eddie Bauer Charly jacket review? Share with us in the comments below!
---
For more travel jackets, please read:
---
LIKE THIS POST? PIN THIS PIC TO SAVE IT!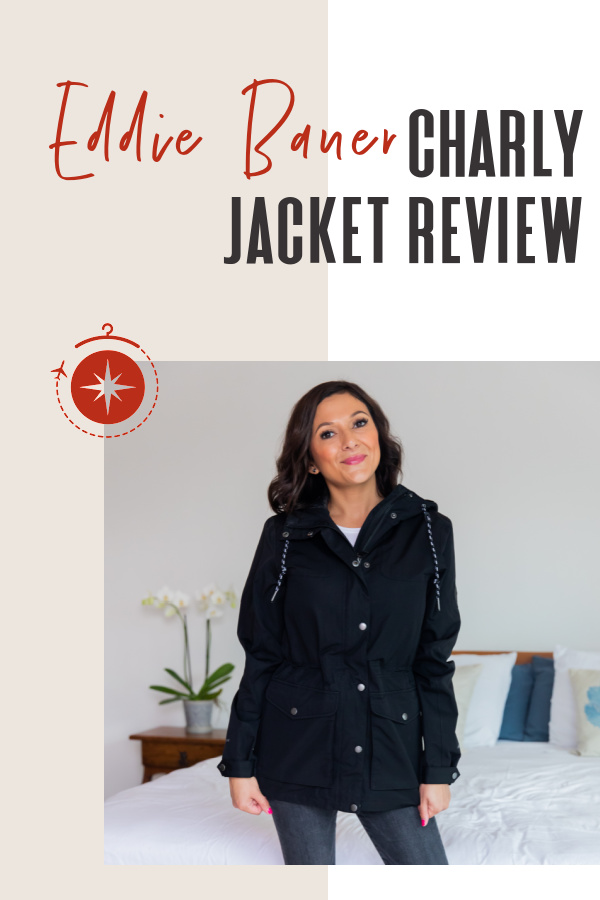 ---
We hope you liked this review of the Eddie Bauer Charly jacket! Please share this post with your friends on Facebook, Twitter, and Pinterest. Thanks for reading!
---