Support TFG by using the links in our articles to shop. We receive a small commission (at no extra cost to you) so we can continue to create helpful free content. We earn from qualifying purchases made to the featured retailers. Thank you, we appreciate your support!
I was so excited when I found a jacket that kept me insanely warm in Paris and London in the winter (and while living in England), so I knew I had to recommend it to the readers who also had a great experience with it.
Check out our Columbia Carson Pass II jacket review, which features my input along with feedback from the experts – our readers of course! Find out why it is THE best winter jacket, ever and where you can purchase it for the best deal!
---
Columbia Jacket Review
---
The Columbia Carson Pass II jacket is perfect for winter and for those trips where there's a distinct drop in temperature, no matter the season. This is a good quality winter coat that is perfect for keeping you warm and dry while traveling anywhere there's a chill in the air.

Columbia Carson Pass Jacket Specs
Brand and Style: Columbia Women's Carson Pass II Jacket
Sizes: Available in sizes ranging from XS up to 3X 
Fabric: The shell is 100% nylon twill and the jacket lining is 100% polyester. 
Opening Type: Zipped and buttoned-down front.
Features: This jacket is Omni-Heat™ thermal reflective and insulated. It features a removable belt, faux fur lining, adjustable storm hood, comfort cuffs, media and travel pockets, and Omni-Tech™ waterproofing. 
Colors: It's available in black, tan, purple, light grey, white, khaki green, and navy.
Weather: Perfect for cold or rainy weather.
Travel Type: Casual, hiking, outdoors, or anytime you need to bundle up. 
Destinations: Wear in winter and rainy destinations or chilly mountain or forest terrains.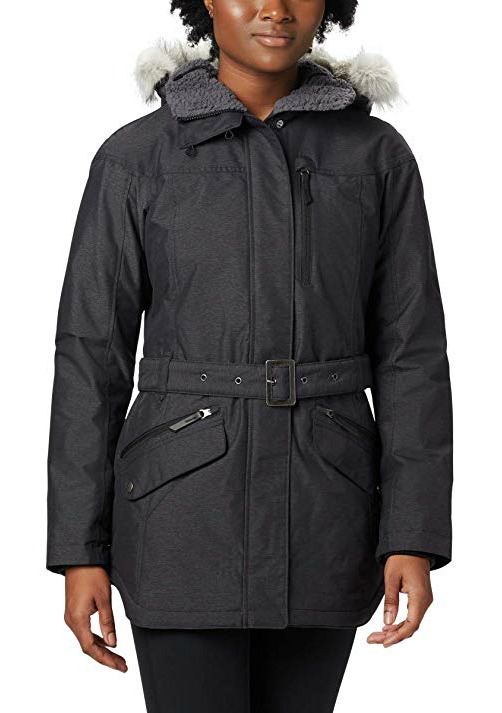 Columbia Women's Carson Pass II Jacket
Durability
The Columbia Women's Carson Pass II Jacket is very durable and water-resistant, which makes it perfect for adventurous trips and cold, wet weather. It's light and won't drag you down in the snow or rain.
The fabric is reinforced, so it won't easily rip or snag, and it will always look close to new. The faux fur lining is removable, so you can wash it separately.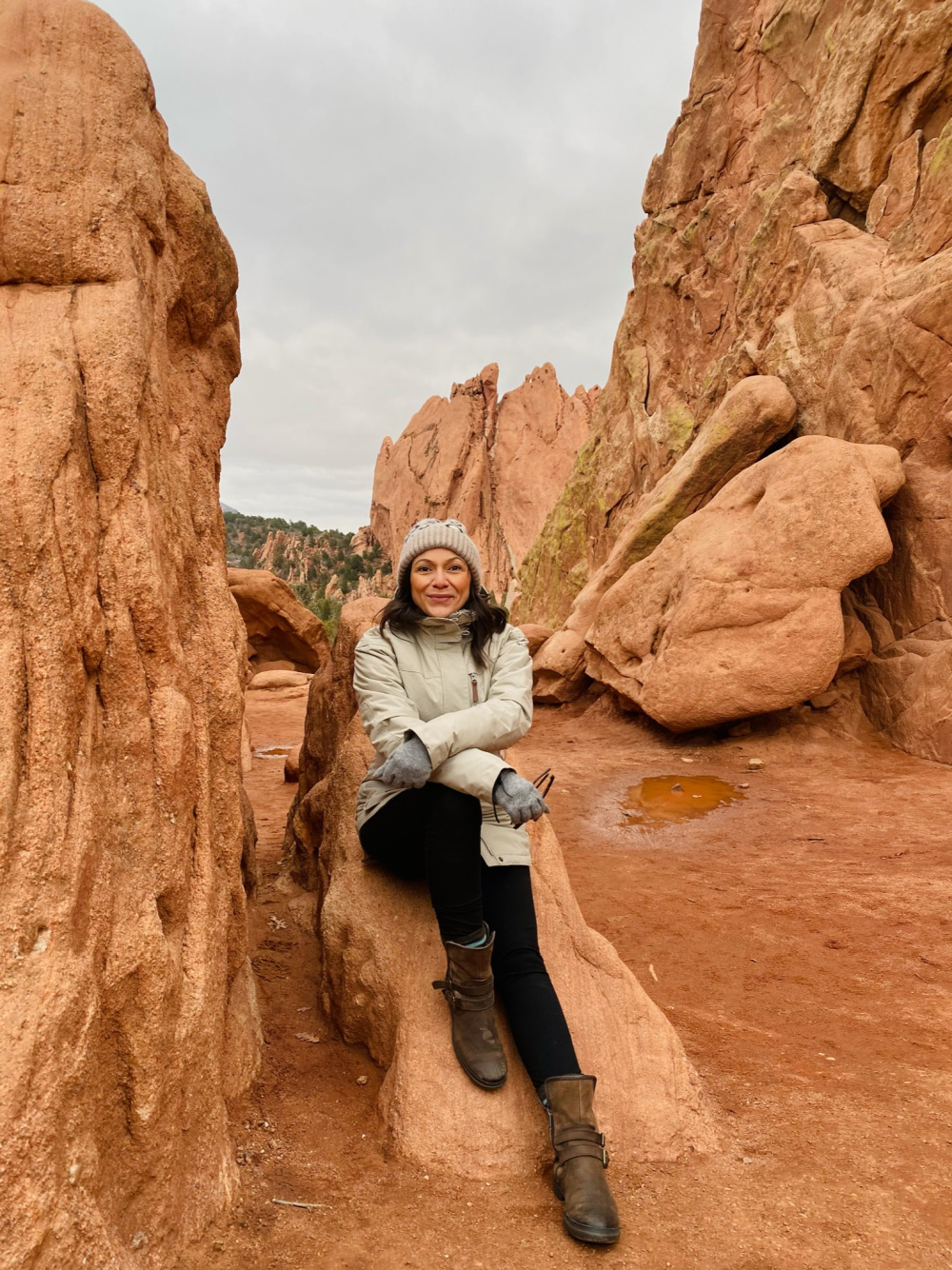 It's such a versatile piece that you'll be able to downsize your closet! Enjoy this coat for a long time—the high-quality material and construction ensure it is built to last.
One reader says, "I have this jacket and LOVE it. It kept me warm in Montana over Christmas, dry during a couple of rainy weekends in Portland, and it's my go-to on our coldest days here in the San Francisco Bay area."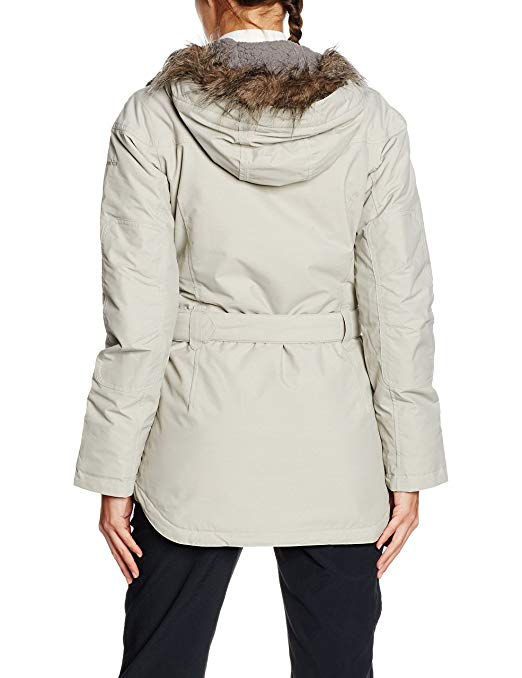 Comfort and Mobility
You should feel unencumbered while wearing a winter jacket—it needs to be comfortable to move around in and keep you protected against the elements at the same time. The Carson Pass II Jacket has a modern but classic fit, which means it's suitable for a range of motion and is ideal to wear for taking part in sports.
It's waterproof and breathable at the same time, so it doesn't feel too heavy to wear, and the adjustable storm hood keeps you covered, but you can easily remove it on those sunny, but chilly days. 
One reader raves about the comfort of Carsons womens coats, saying, "They keep me warm even with windchill temperatures in the single digits, and repels both rain and snow."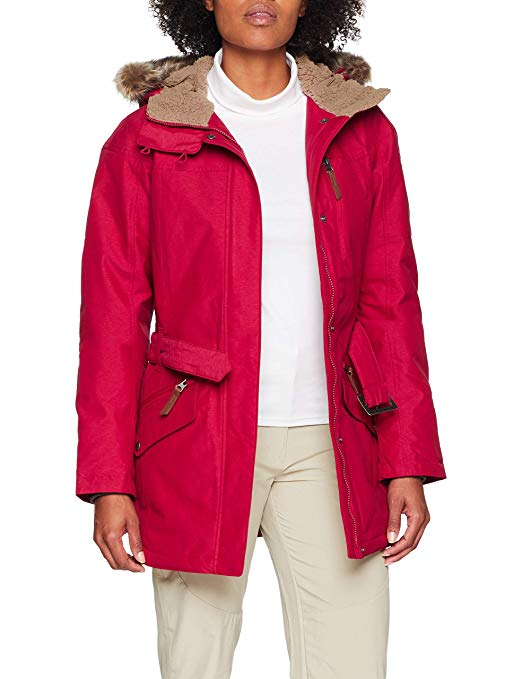 Style
The Columbia Carson Pass II Jacket has a removable belt which is useful when you're dealing with a thicker jacket. For those wearers who are on the shorter side, a straight winter coat can make you look like a snowman—puffy and shapeless. The belt here cinches you in at the waist, helping to define your figure while giving you a secure and comfortable fit. Multiple zipped pockets including handy travel and media pockets and a vertical zipped pocket on the front chest offer plenty of storage, which is always nice when you want to keep your hands free.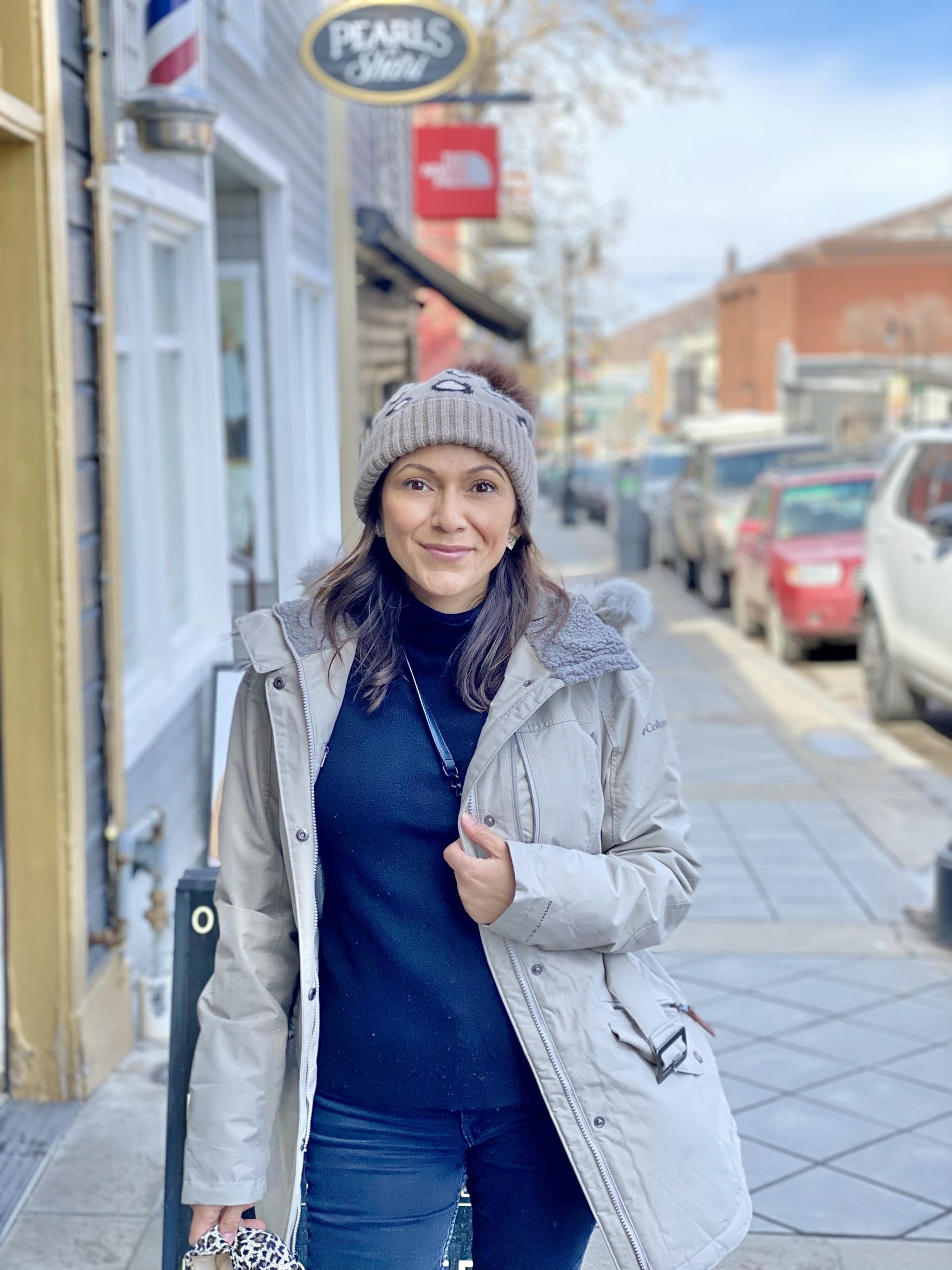 Inside, Omni-Heat™ fibers keep you warm, thanks to thermal technology, and the hood's faux fur lining is made from a soft fleece material.
One reader says, "I chose this jacket because I didn't want to wear something that was too outdoorsy. I appreciate that it offers the right balance of functionality and a classic look, which is perfect for me."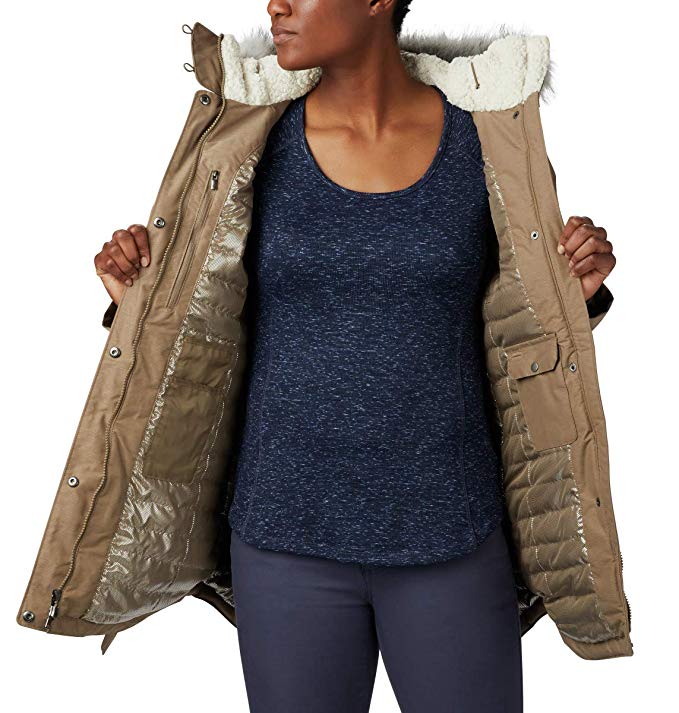 Pros
You've heard us mention the Carson Pass II's Omni-Heat™ lining earlier in this article, but it's worth mentioning again because it really does its job of keeping you warm. The jacket offers excellent mobility and it's available in a wide range of colors.
One reader says what sold her were the coat's many pockets. "There are eight or nine on this bad boy, one with RFID protection. I was able to walk around Copenhagen without a bag," 
Another adds the belt is the "cincher" for her. "It keeps me from looking too puffy."
Beyond some of the coat's fashionable features, many readers love its versatility. One says, "I live in Florida where winters are like summer, and this jacket is still great for me. It's thin but still warm when it needs to be."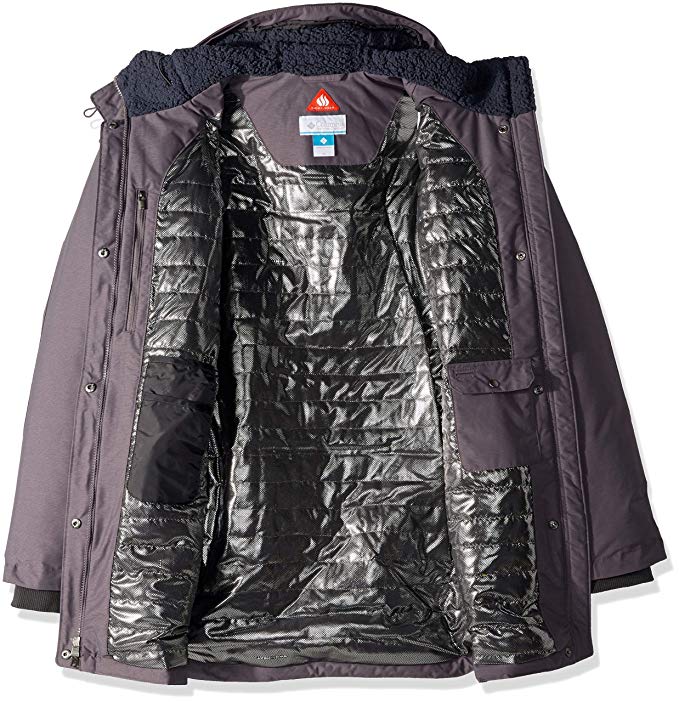 Cons
The only real drawback to this jacket is that it's not packable—you can't fold it or stuff it into a small bag because it just won't fit! It's better suited for cold weather trips, that way you can wear it much of the time without having to worry about packing it.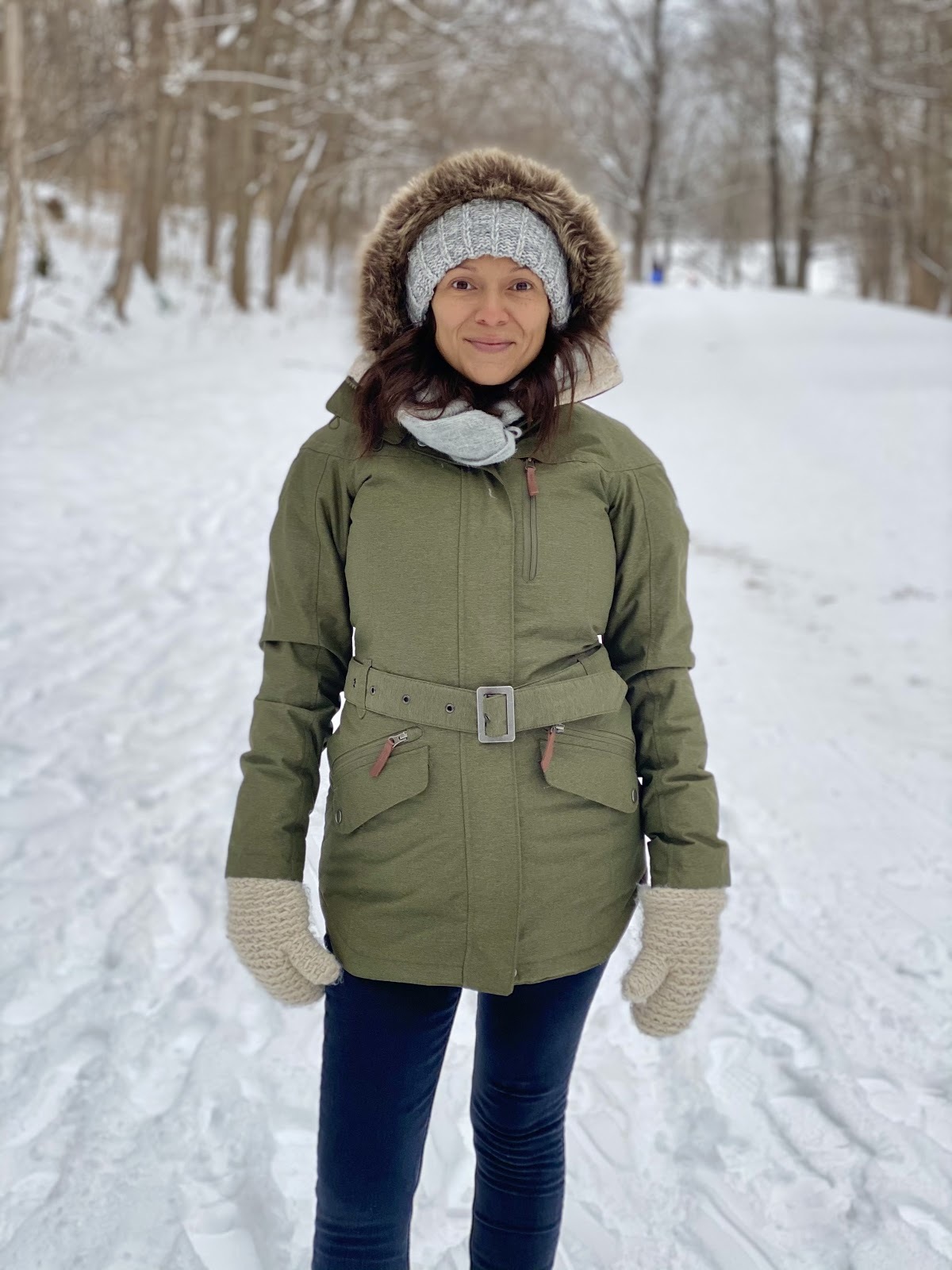 Additionally, some readers aren't in love with its faux fur trim. One says, "The trim is not great in the rain, but it does zip off." If you find yourself in the same situation, just remove it and toss it in the wash or let it air dry.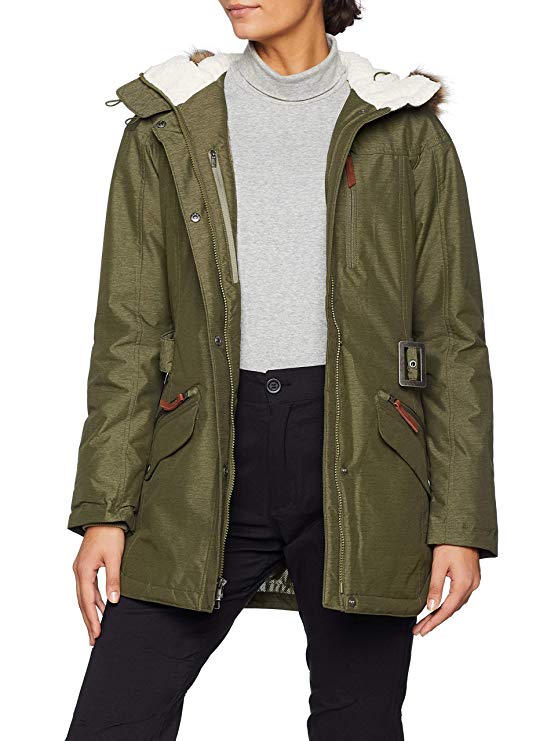 Final Verdict
Overall, we're huge fans of the Columbia Women's Carson Pass II jacket, and of the Columbia brand, especially their rain jackets. This one is fantastic when you're expecting anything from mild fall weather to heavy rain and chilly temperatures.
Check out our initial Columbia jacket review, where the jacket's best features are discussed!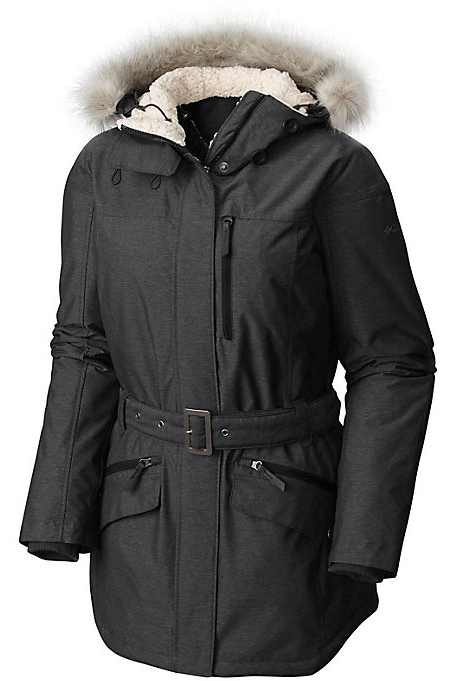 Columbia Carson Pass II Jacket 
Where to Buy the Columbia Carson Pass Jacket
You can purchase the Columbia Carson Pass™ II jacket—women's style on Amazon, and directly from Columbia in regular and plus sizes. 
You may also want to check out this Carson Pass Ic jacket which features a three-in-one design with an outer shell and removable, insulated liner!
Additional Columbia Jacket Reviews by Readers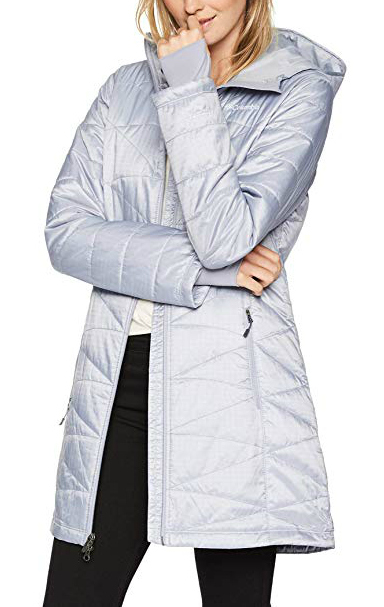 Columbia Mighty Lite Hooded Jacket | Sizes XS-3X
Warmest Columbia Jacket to Shield Natures Harshest Chills
Our main review was on Carson's womens winter coats, but Columbia has so much more to offer. Take for example the Mighty Lite Jacket. If you're taking a few weeks to travel through Eastern Europe, you know you'll run into some inclement weather at some point on your journey. 
When you do, this jacket will be a lifesaver for those temps between 40 and 65 degrees. One reader says, "It's super warm and the longer length makes it very flattering."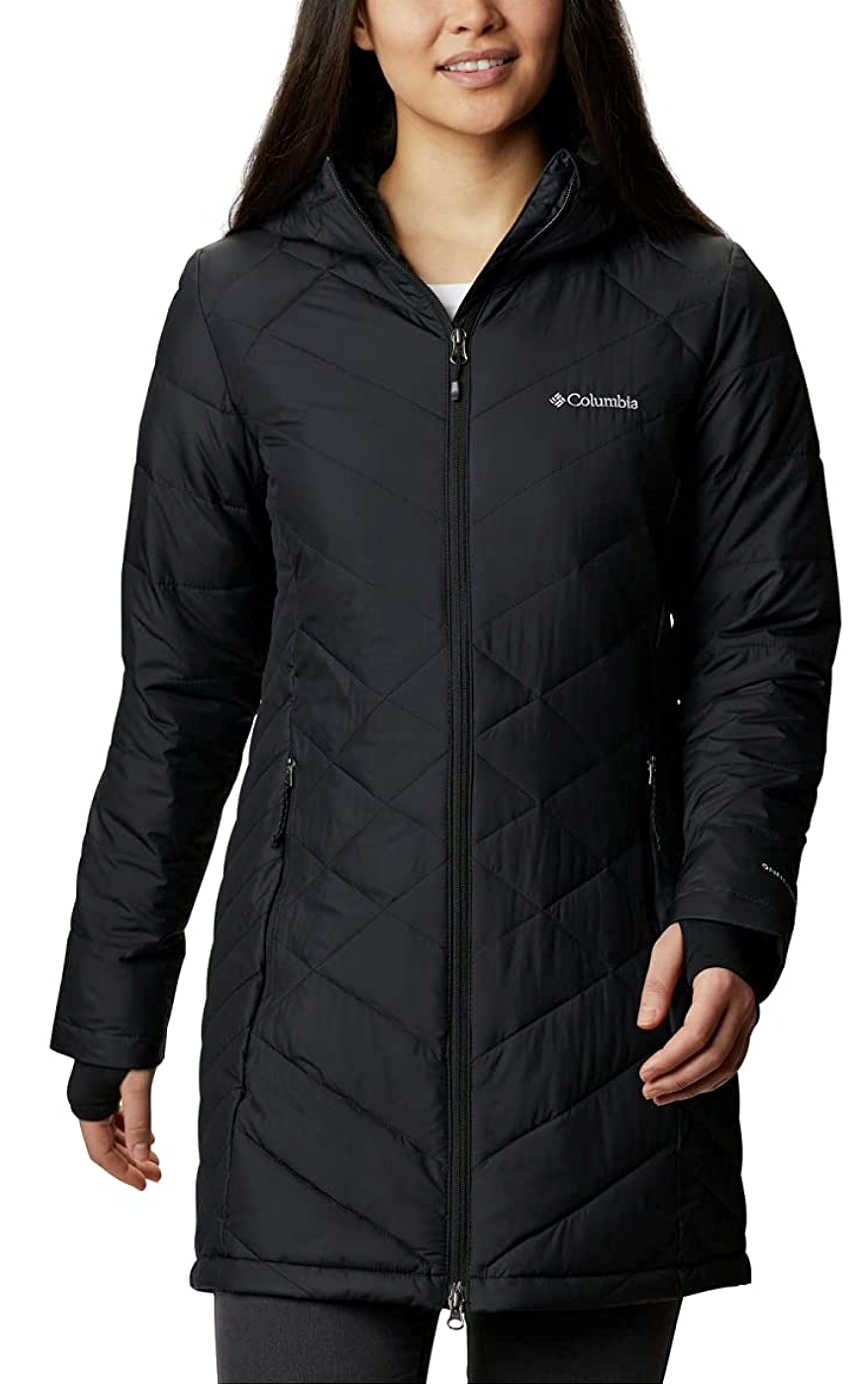 Columbia Heavenly Long Hooded Jacket | Sizes XS-3X
Our Readers' Favorite Columbia Jacket for Cold Weather
This pretty long jacket hits all the marks for wearers who want warmth but still want to look fashionable. It's light, but packs a coverage wallop and is roomy enough for you to bring on the layers. 
It's perfect for one reader, who says:  "I prefer a coat that comes just above my knee and its Omni-Heat™ material makes you feel like you have your own personal heater."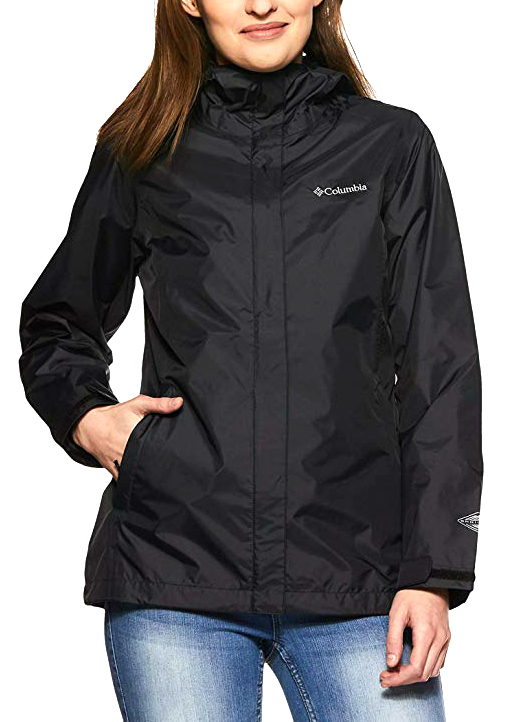 Columbia Arcadia II Jacket | Sizes XS-3X
Pile on Layers Underneath This Roomy Columbia Jacket 
As you read in our review above, Carsons plus size coats are available and that includes the Arcadia II, which also comes in a range of sizes from XS – 3X. 
It's also super roomy, so you can pile on the layers when the chilly temps call for it, and when it rains, the water rolls off this coat, rather than soaks it in. One reader describes it as "affordable and effective."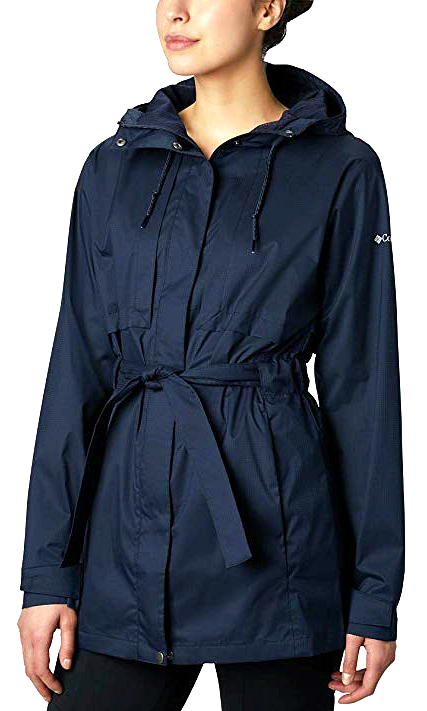 Columbia Pardon My Trench Rain Jacket | Sizes XS-3X
A Perfectly Packable, Stylish Coat for Any Wet Weather Adventure
While it's not seam-sealed, the Pardon My Trench offers ample coverage. When the sun is out but there's still a chill in the air, the sleeves can be rolled up, and the hood removed. One reader says, "It's a great coat for general use. I love the look and fit and I don't find it too hot to wear."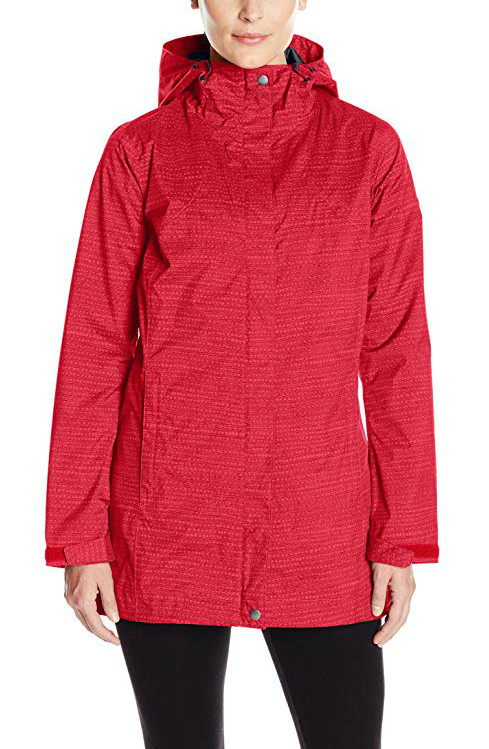 Columbia Splash a Little Raincoat | Sizes XS-3X
You'll Welcome Rain in This Cute Columbia Raincoat
With its adjustable sleeve straps, hood, and longer length, readers say you won't have to worry about getting drenched in this Splash a Little Raincoat. 
It's lightweight enough to be comfortable when it's warm out and windproof enough to be cozy when it's cold. As a plus, it's fitted and doesn't look bulky.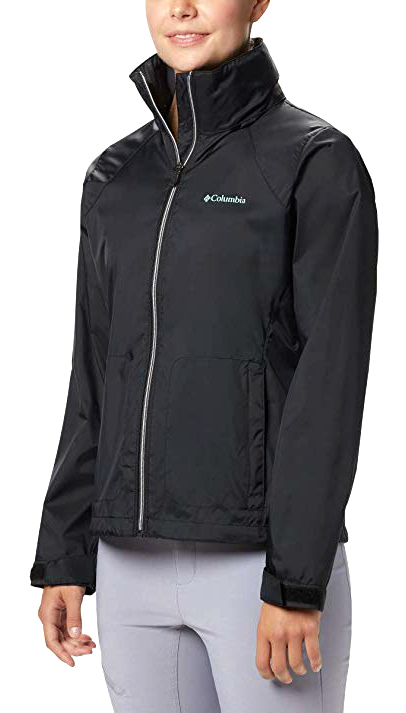 Columbia Switchback lii Jacket | Sizes XS-3X
Switch Gears for Rain in the Short, but Ample Switchback
Sporty and with a shorter length than the other jackets on this list, the Switchback sits right at the hips. Don't let "short" fool you, this is a solid wet-weather piece with mesh zipper pockets and a hood that is stored in its collar. 
This cute coat comes in plus sizes and plenty of colors. One reader says, "It worked great for my mom in the British Isles."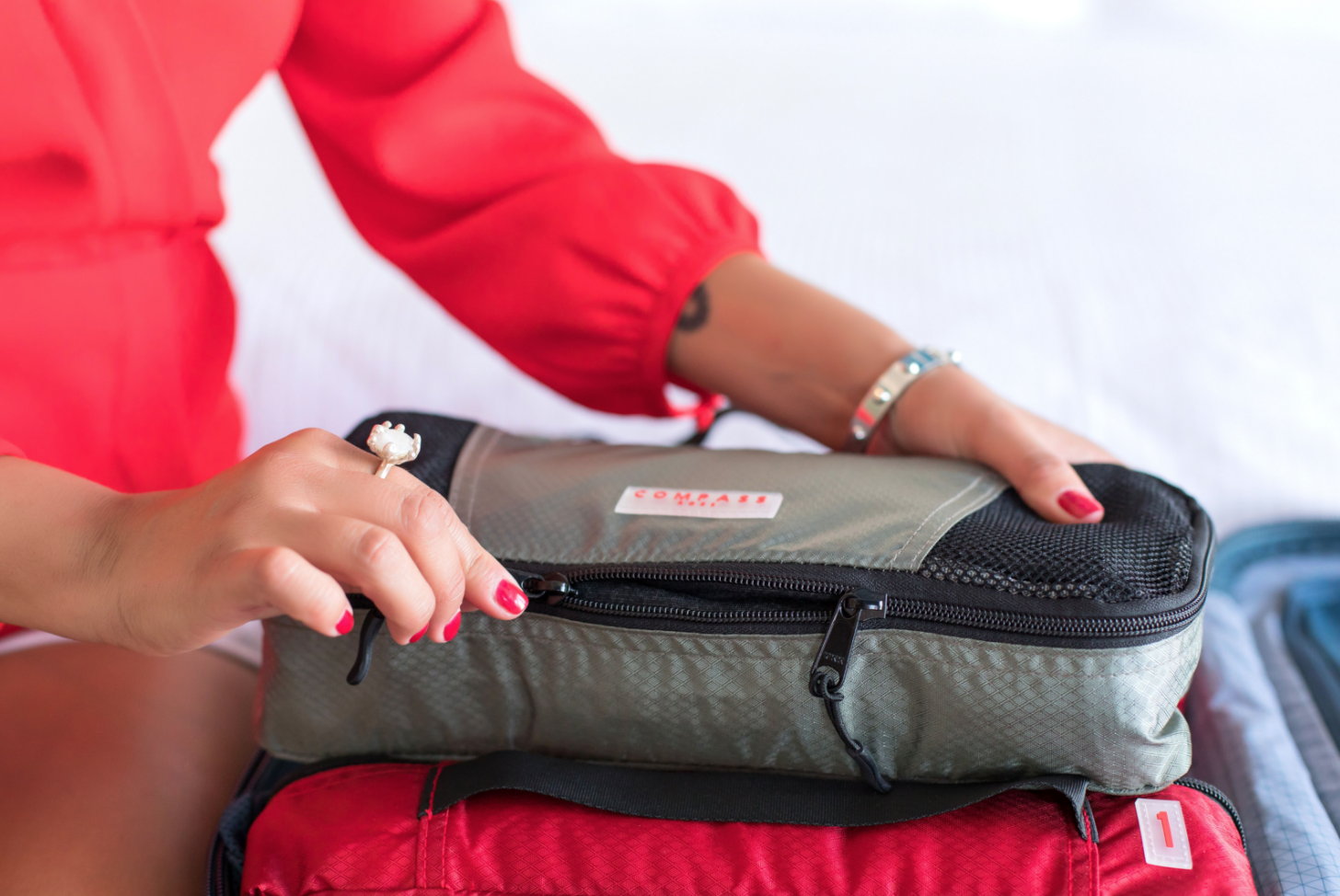 How to Pack Your Jackets
Some jackets don't pack as easily as others, and these packing cubes will help compress many of them down to fit inside a smaller suitcase. We designed our own brand of slim packing cubes, with a unique color and numbering system, so it's easy to remember where you've packed everything. You can learn about our packing cube compression hacks in the video below!
Aside from using packing cubes, check out more tips on packing winter jackets!
---
What would you add to our Columbia Carson pass ii jacket review? Share in the comments below!
---
For more waterproof jackets, please read:
---
LIKED THIS POST? PIN THIS PIC TO SAVE IT!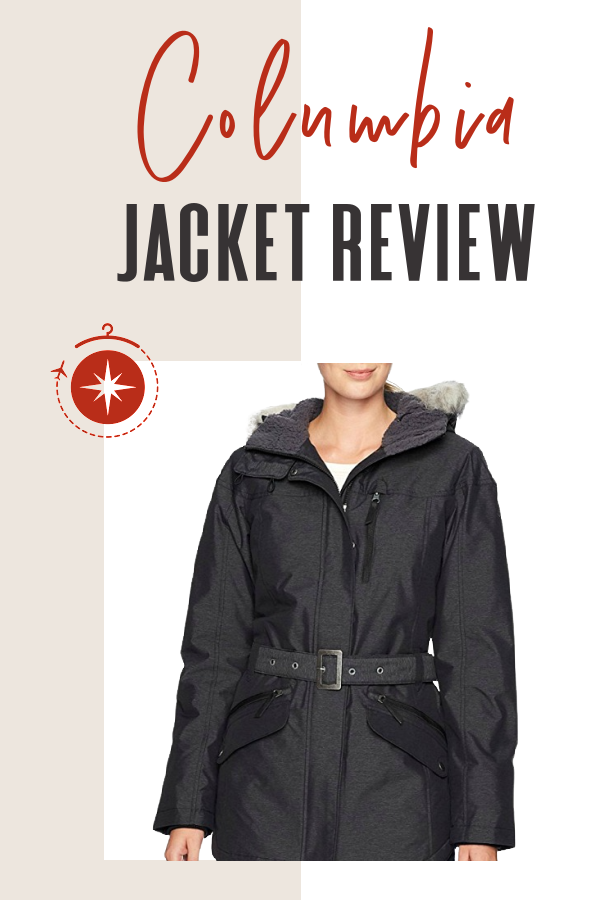 ---
We hope you liked this review of the Columbia Carson Pass II jacket. Please share this post with your friends on Facebook, Twitter, and Pinterest. Thanks for reading!
---