Support TFG by using the links in our articles to shop. We receive a small commission (at no extra cost to you) so we can continue to create helpful free content. As an Amazon Associate, we earn from qualifying purchases made on Amazon in addition to other retailers featured on the blog. Thank you, we appreciate your support!
Vionic shoes are a go-to for TFG travelers. Check out this Vionic shoes review to find out why readers can't get enough of this highly popular comfort brand! 
---
Vionic Shoe Review
---
Table Of Contents
Whether it's sandals, sneakers, or boots, readers are constantly recommending Vionic as the absolute best travel footwear. With super cute styles, incredible support, and overall great reviews from readers, Vionic shoes tick a lot of boxes for many women with foot issues or those in need of supportive shoes. Find out why readers love this brand and see their favorite picks!
Best Features of Vionic Orthopedic Shoes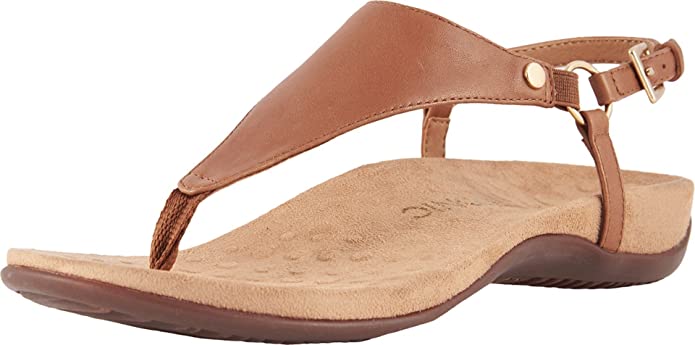 The Kirra T Strap is the #1 selling sandal on the blog!
They're Comfortable
The #1 reason readers flock to Vionic shoes is comfort! (The fashionable styles are just an added bonus!) Every style features Vionic's signature orthotic footbeds, which offer stability, comfy cushioning, and great arch support. Their famous footbeds were not only designed by podiatrists but boast the American Podiatric Medical Association Seal of Acceptance.
One reader speaks to their comfort, sharing, "I'm just ending a 21-day trip and wore three different pairs of Vionic shoes and never had sore or tired feet!" 
Another great feature is they're offered in wide sizes. Many readers have emphasized that getting the right size in your Vionics is essential and makes a huge difference in comfort for long-term wear, and having the option of a wide size makes that much easier! One thing to note is that readers recommend sizing down half a size in sandals, which reportedly run a little big.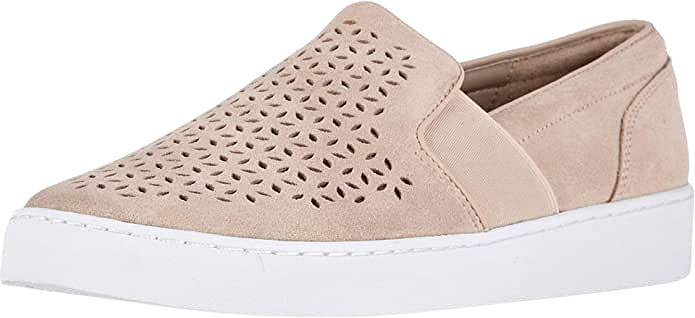 The Kani Slip On Sneaker is a reader fave for its cushioned insole!
They're Supportive
Vionics are highly beloved for their incredible arch support. Technically considered orthopedic shoes, they've helped many readers get rid of foot pain, promote healthy alignment, and keep their feet happy throughout long days of sightseeing. One shares, "I love Vionic; they cured me of my plantar fasciitis." 
With such a firm and supportive insole, Vionic shoes are best for mid to high arches. Some flat-footed readers have reported loving them, but many others say they can be a tad too high for their feet, so they aren't able to wear them for long periods of time. 
A reader with flat feet reports, "Vionics hurt my feet. They're too hard." While another flat-footed reader says, "If it's your first pair, you have to break them in. Wear them for an hour or so the first day and gradually increase daily. I have flat feet, and I've worn them since I had a bout of plantar fasciitis." 
Another reader with high arches loves the support so much that she uses the Vionic insoles in her other shoes, too! She says, "I use Vionic inserts in several other shoes, including my cheap slippers, and they are great. I need the arch support, so if I find a shoe that works, I use the inserts, and it works for me."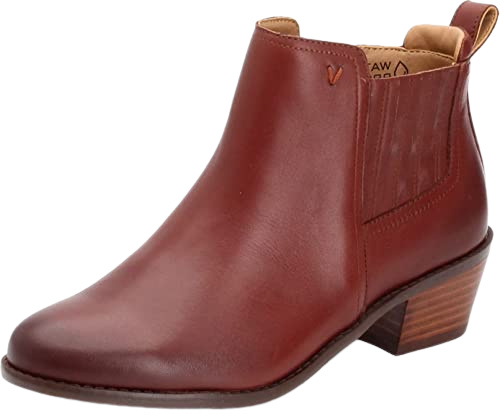 The Joy Bethany Waterproof Ankle Boots have seam sealed technology!
They're High Quality
Many readers say that Vionic shoes are made of quality and durable materials that are dependable. TFGs have shared that they wear nothing but Vionics and they have held up incredibly well over the years and throughout many travel journeys. One TFGer says, "I have a pair of Vionic sandals I bought last summer. Wore them in Europe walking 10 plus miles a day, and they are still in great condition." 
After comparing Vionics to another shoe brand, one reader declares, "When holding and examining each shoe, you can clearly tell that the Vionics are higher quality and made with more care. I feel that they'd last longer too."

Readers declare Dillion Flip Flops perfect for a beach trip, and with support built in!
They're Well Priced
Readers say Vionics are priced equal to their incredible support, excellent quality, and pretty designs. All of their shoes are under $200, with sandals around $70, sneakers around $120, and boots around $170. This may seem a bit high, but many readers consider a quality pair of shoes a worthwhile investment – including when it comes to getting the most out of an exciting trip! 
One reader shares her take on the prices, "I resisted buying Vionic for a while due to the price. In reality, I wasted time and money on cheaper shoes. I should have tried them a long time ago."
Another TFGer reiterates their attractive cost, "For sure, the built-in arch support is well worth the cost of the shoes and a huge reason to not go with a cheaper, flatter knock-off."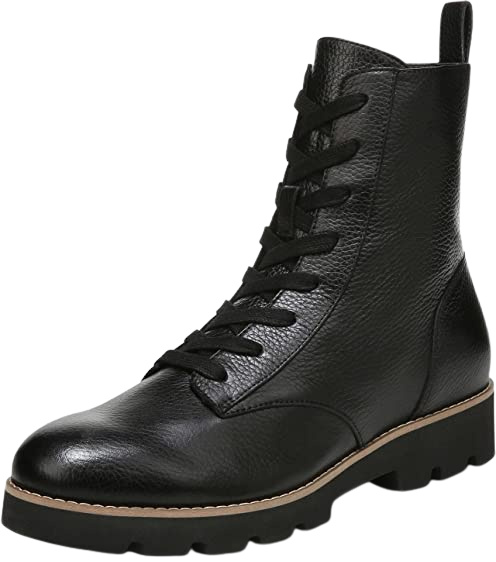 These trendy Lani Combat Boots are a TFG favorite!
Pros and Cons
Vionic shoes hit all the marks for comfort and support, durable materials, and super cute styles. It's no wonder readers are Vionic-obsessed! They're amazing for walking and sightseeing. One reader says, "Vionic are the only shoes I wear on vacation," and another reader raves, "I've done Disneyland and France in Vionics – walking 30,000+ steps per day! Love them!" 
With options ranging from flip flops to slip on sneakers to heels to booties, you'll be able to find a comfy pair for every occasion and destination! Not to mention the choice between regular and wide widths to add to their awesome comfort. 
Their unparalleled arch support is often commented on as well; however, some do say the arch is too high for them. One TFGer notes, "I don't have flat feet, but Vionics hurt my arches. Too much support for me."
Another common concern is the sizing, which tends to be a bit different depending on the style of shoe. While some wearers report that getting the right size can be a struggle, the overall consensus is that once you find the right fit, you'll never want to take them off! 
Let's take a look at more popular Vionic styles that readers absolutely adore and recommend!
Vionic Boot Reviews
by Readers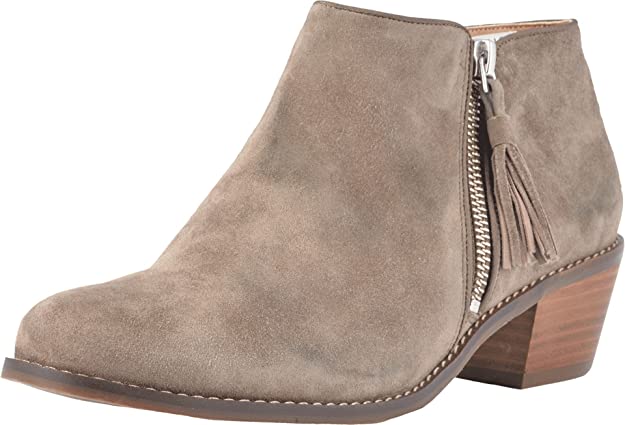 Joy Serena Ankle Boot 
The Joy Serena waterproof ankle boot is made of weather-treated suede that comes in three pretty colors. With a low heel, great traction, and snug yet flexible fit, these booties are uber-functional with a feminine flair. Even with the slight heel, many readers love these for walking and can comfortably spend a whole day sightseeing in them!
One reader impressively shares, "I wear them all the time and average six to seven miles daily in New York City."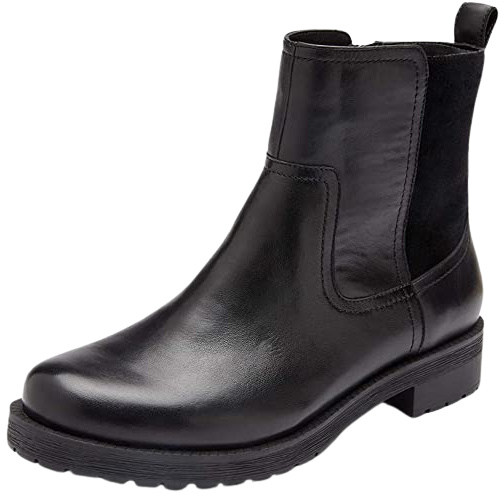 Shop: Amazon
Brynn Mid-Calf Waterproof Boot
The Brynn boots will seriously go with everything and will add a sleek and slightly edgy element to your outfit! They're waterproof with a grippy lug sole, so they're a perfect fall and winter boot to stomp through puddles and look stylish while doing it. 
A reader says, "I have high arches and plantar fasciitis. They have good support and are comfortable for walking multiple miles on uneven streets."
Many of the world's travel destinations may be in the middle of winter weather! See our picks for the best waterproof boots for women!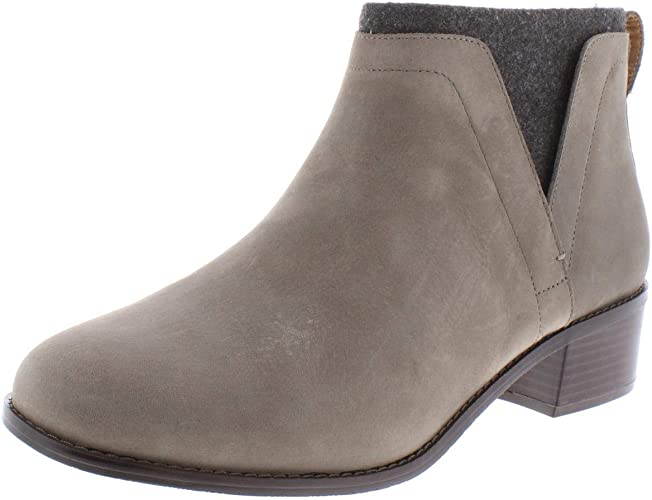 Shop: Amazon
Joslyn Waterproof Ankle Boots
Made of waterproof suede with a wool accent, these Joslyn ankle boots will keep your feet warm and cozy in the chillier months without being too hot or stuffy. They're great for walking, can handle inclement weather, and with Vionic's trusty footbed, they'll keep your feet happy all day long! 
They're super cute, too! A traveler says, "I purchased these boots for a trip to London In October. After doing many miles of walking each day, the boots were very comfortable. My feet stayed warm and dry! These are my to-go-to shoe when I have lots of walking to do!" 
If you want to check out more Vionic boots, check out their Amazon page!
Vionic Flats Reviews by Readers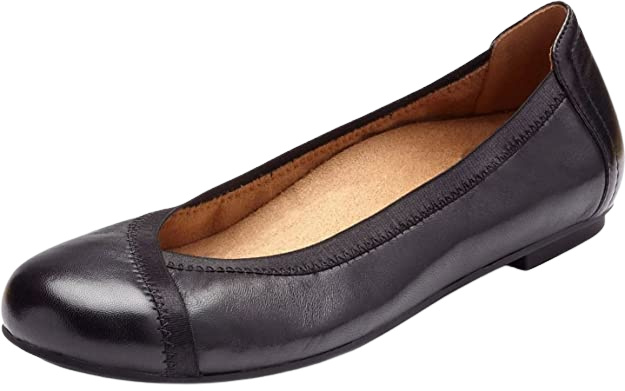 Spark Caroll Ballet Flat
While lightweight and extremely flexible, the Spark Caroll flat still has the incredible support you'd expect from a Vionic shoe. Readers love them for everything from flights to nights out on the town to sightseeing! Simple, chic, and overall amazing for travel. 
One wearer reports, "They're structured enough to hold their shape, and you don't feel every pebble on the ground."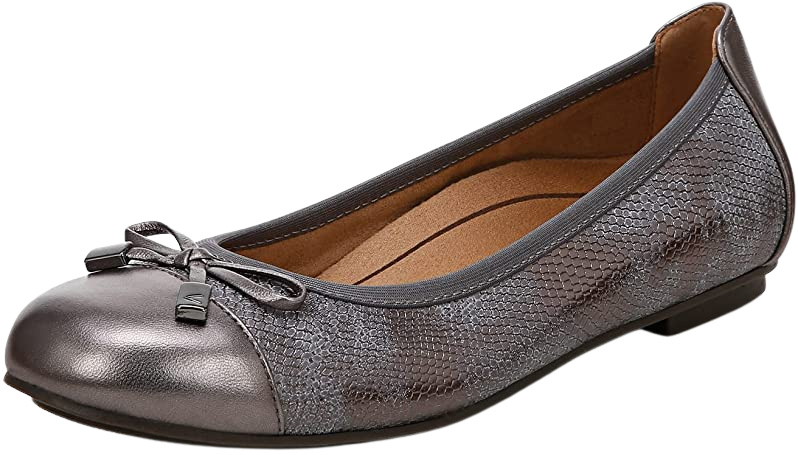 Spark Minna Ballet Flat
The Spark Minnas are sure to add some pizzazz to your travel looks while easing foot pain and offering support. They come in a variety of snazzy patterns that'll pair well with jeans and a tee by day or a cute dress by night. Readers say they're comfy to walk in, too! 
One TFG reader says, "With all of their support, I can wear them all day and evening with no problem."
Here are our readers recommendations for the most comfortable travel flats! They're cute and stylish, too!

Spark Robyn Ballet Flat
The Spark Robyn flats feature stylish dreamcatcher cutouts and comfort you can feel with every step! Readers say they fit super well, always stay on while walking, and have a durable rubble sole that can handle uneven ground, including cobblestone streets. 
A reader offers a review, "Fashion and quality! I wore them all throughout our trip to Italy. Not one complaint."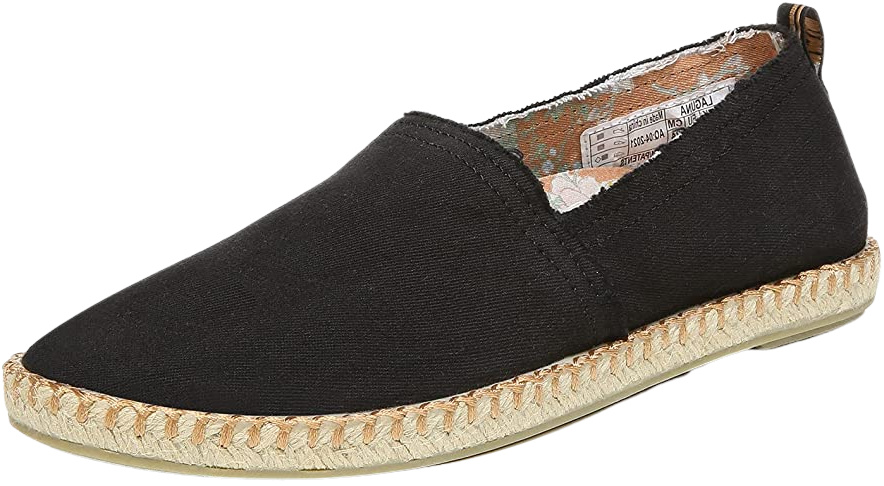 Shop: Amazon | Zappos | Vionic
Beach Laguna Flat
Perfect for a dreamy beach vacation, the Beach Laguna flats are made of durable and breathable cotton canvas with a chic jute sole. They help your feet feel supported and cool as you explore under the sun. They're available in a range of colors, including some fun bright ones! 
One wearer raves, "These are the most comfortable shoes I have ever owned. I wear them all the time. I can walk all day in these, and my feet don't hurt, and they're so cute!" 
If you want to check out more Vionic flats, go to their Amazon page!
Vionic Sneaker Reviews
by Readers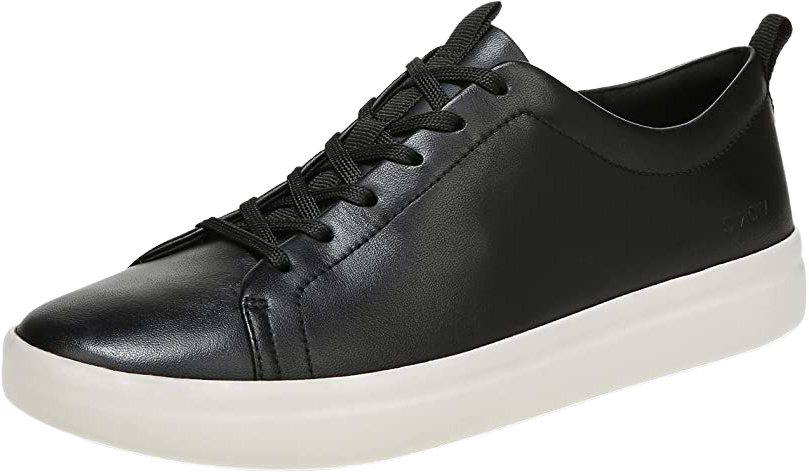 Shop: Amazon | Nordstrom | Zappos | Vionic
Paisley Sneaker
The Paisley is one of the most popular Vionic styles among readers, and it's no wonder why! They provide comfort and natural alignment and are ideal for spending days on your feet sightseeing or walking lost distances. The leather upper and classic silhouette makes them incredibly stylish too – the cherry on top! 
A TFGer says, "I love my Vionics and can't wear anything else. The style I love taking on vacation the most is Paisley. They're cute and can be paired with jeans, shorts, or dresses. I can wear them from morning until night"!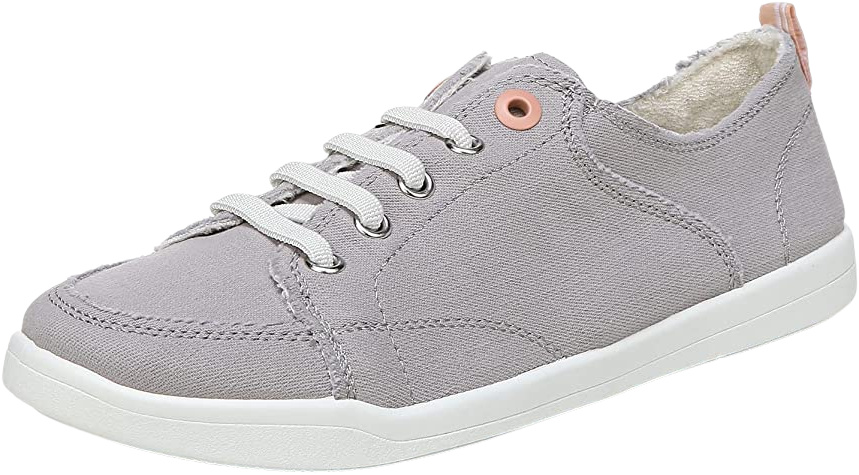 Shop: Amazon | Nordstrom | Zappos | Vionic
Beach Pismo Sneaker
The Beach Pismo sneakers are a sporty pair that's perfect for hot weather travels. With a lightweight canvas upper and a flexible yet sturdy sole (both sustainably produced!), you can comfortably walk around for miles in them. A comfy and easy travel staple! 
One reader reports, "I have both the Vionic Pismo and Malibu (slip ons) and have worn them on multiple trips this month. Totally fantastic comfort-wise." 
Womens casual sneakers are everywhere this season and we have on-trend styles that you'll want to shop now!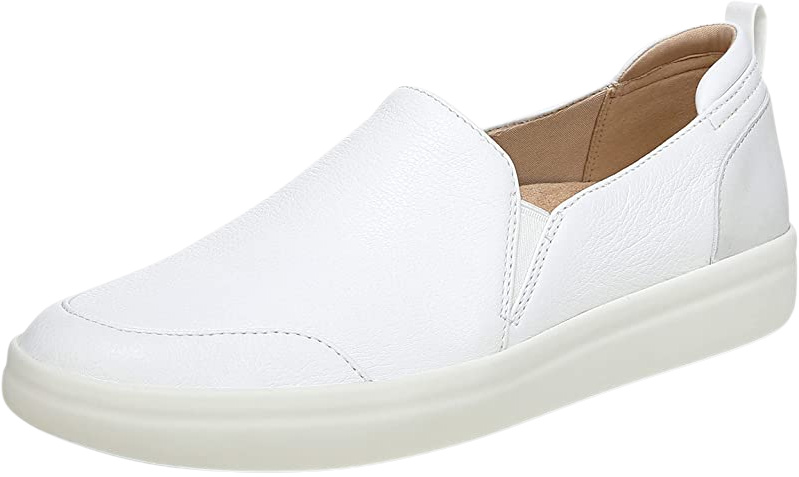 Shop: Amazon | Nordstrom | Zappos | Vionic
Penelope Slip On Sneaker
Slip into the Penelope sneakers for lasting comfort and effortless style. These shoes have a timeless design that are comfy for sightseeing, airport days, and even dressing up for dinner! And they're super versatile which is a must for travel. 
A TFGer says, "Love them. I had a pair of these on my trip to Ireland. Walked 67 miles that week and my feet never hurt once. So comfortable."
If you want to check out more Vionic sneakers, go to their Amazon page! 
Vionic Sandal Reviews
by Readers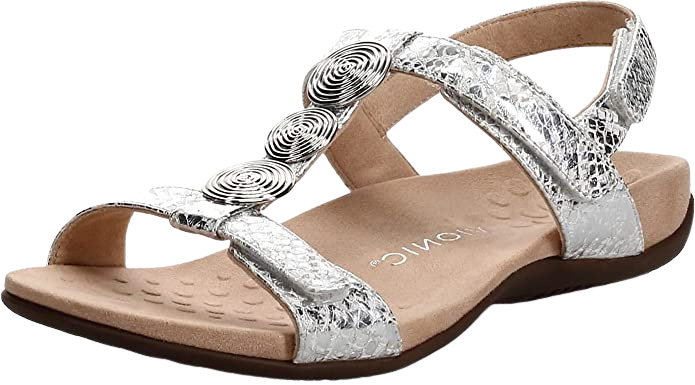 Rest Farra Sandal
The charming Rest Farra backstrap sandal is perfect for walking around during the day and dressing up for dinners at night on a trip. With three adjustable straps, it's easy to create the right comfy fit, and you can choose from a wide range of colors to suit your style. Readers also love that the decorative middle strap is removable, which gives it a completely different look! 
One reader who loves this pair for sightseeing notes, "I traveled through Italy for two and a half weeks without an issue in these shoes. So super cute, and my feet were comfortable even on a day that I walked almost 13 miles."
See the best slide sandals women pack for vacation!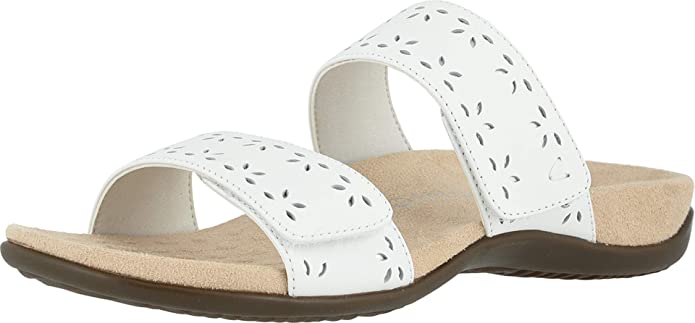 Shop: Amazon
Rest Randi Slide Sandal
The Rest Randi is a slide like no other. The adjustable straps make sure they stay securely on, and while they look perfect for lounging, the support and durable outsole make them great for strolling around. Feminine and summery, readers simply love this pair!  
A wearer shares, "I bought these for a trip to Hawaii and wore them walking five to six miles each day, then on the beach, then out to dinner. I have very high arches and require a lot of support from my shoes, and these deliver!" 

Shop: Amazon | Nordstrom | Vionic
Tide II Toe Post Flip Flop
You can never go wrong with a flip-flop during your sunny travels, especially when they're equipped with orthopedic support! The Tide II toe post sandals are comfy, and durable, and look a lot more sleek and stylish than your average flip flop! Plus, readers with foot issues like plantar fasciitis, flat feet, high arches, and bunions swear by them! 
One user says, "This is my second pair of these shoes, and I love them. The high arch support doesn't compress with wear, which I love. I've done a lot of walking while traveling in these and plan to do much more!"

Shop: Amazon
Hightide Wedge Flip Flop
For the same supportive and comfortable fit but with some added height, try the super cute Hightide wedge sandals! They can take you from lounging poolside to walking around for miles! The neoprene lining is great for hot weather, and the strong rubber outsole has good traction! 
"I bought these for my travels to India – I walked literally miles in these – they're cushy, rugged (over unpaved uneven, rocky streets), and can be cleaned with a splash of water. I will buy more for my next trip!"
Find out more of the most recommended comfortable wedges for travel!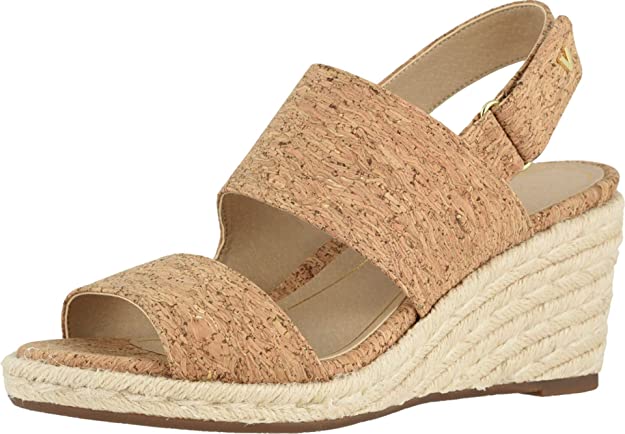 Shop: Amazon
Brooke Wedge Sandals
The Brooke wedge sandals will be your summer go-to's when you want to kick things up a notch without the pain of traditional heels. Readers love them for their versatility (pair them with a maxi dress or some straight-leg jeans for a fashion-forward look), and for their stability during short bouts of walking. 
One wearer gushes, "Such great padding on the sole. I have a wide foot, and these shoes are soooooo comfortable!" 
If you want to check out more Vionic sandals, go to their Amazon page!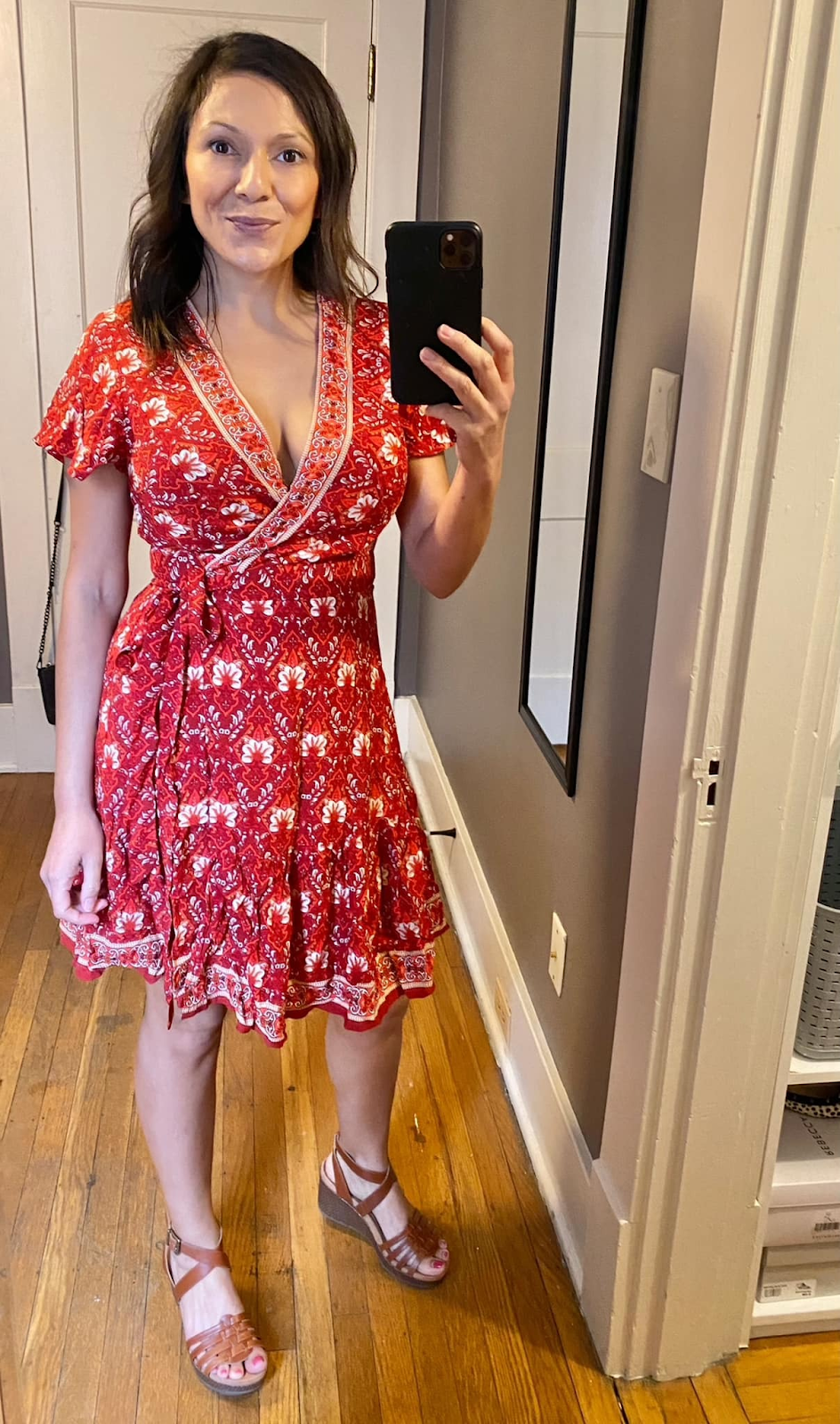 ZESICA Floral Dress in Red with Vionic Clarisa Wedges
Where to Buy Vionic Shoes
You can shop these reader faves (and many of other options!) at Amazon and Nordstrom. Or, if you want to buy from Vionic direct, go to their website.
---
Now it's your turn. Share your Vionic shoes reviews in the comments below!
---
For more comfortable travel shoes, please read:
---
LIKED THIS POST? PIN THIS PIC TO SAVE IT!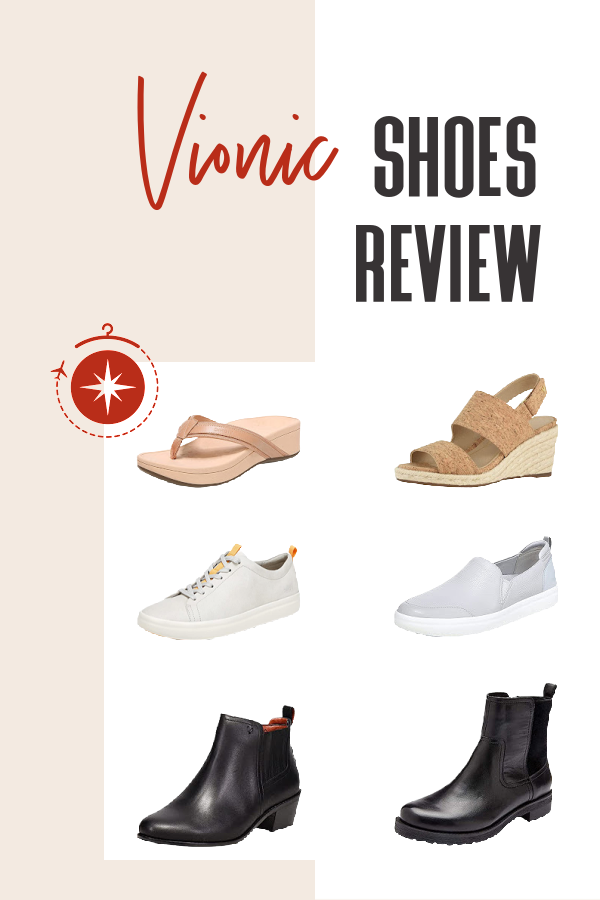 ---
Hope you liked this
Vionic shoes review
. Share this post with your friends on Facebook, Twitter, and Pinterest. Thanks for reading!
---