Support TFG by using the links in our articles to shop. We receive a small commission (at no extra cost to you) so we can continue to create helpful free content. As an Amazon Associate, we earn from qualifying purchases made on Amazon in addition to other retailers featured on the blog. Thank you, we appreciate your support!
Traveling with carryon luggage only means traveling without any difficulties, long waiting times, and no concerns of losing your belongings. But even though these points are always advantageous, it can become a nightmare when you go through customs.
Many restrictions can easily become huge hurdles, especially when you are not used to the problems that might arise. Believe us…unpacking your luggage in front of other people is fun for everyone…except you!
---
Top 7 Carryon Luggage Packing Tips
---
Hey there! We are Anka, Alex, Nelly and Livia from Style in Shots.  As travel addicts and frequent flyers, we would like to share our top 7 packing tips for women, on how to make your business or weekend travel as smooth as possible while still traveling in-style.
No Sharp Objects
Remember that you are not allowed to bring any sharp items, like pointed nail files, pocket knifes or anything else that could be considered a weapon on the plane…one item like this and you will have the pleasure of sharing your undies with everyone else. So please make sure that you leave that stuff at home.
TFG Suggests:  this cute rounded travel nail file to avoid trouble and stay well groomed.
Humangear GoToob 3-Pack Travel Bottle
Travel Size Containers
In order not to get in trouble while going through customs you should prepare your beauty and cosmetics products before you pack. Here, probes of perfume or lotion can be helpful, but also there are small travel size containers
available for you to refill with your beauty products. Moreover, you should buy a see-through beauty case/bag, so that the contents are visible instead of re-packing everything into a plastic bag provided at the airport.
TFG Suggests: these humangear GoToob travel size containers are a popular choice.
Travel Sized Refillable Perfume Spray Dispenser
Beauty and Makeup Samples
Some cosmetic lines offer small pumps and phials, which allow you to take smaller portions of your favorite fragrance with you. Ask makeup counters for small samples of your favorite products – they're the perfect travel size for worry free travel.
TFG Suggests: alternatively, get a refillable fragrance atomizer for your favorite perfume.
Use All Available Space
In order to save space, you should put your heels and shoes in travel shoe bags, fill the empty spaces and the shoes with socks, tights and leggings you are planning on packing anyways. The travel shoe bags will also protect your shoes and your clothes.
Not sure how much space you have? This carry on size chart has a full break down by airline.
TFG Suggests: this is a cute travel shoe bag from Miamica.
Compass Rose Compression Packing Cubes
Roll don't Fold
When it comes to packing your clothes, keep in mind that you should pack clothes you can easily mix and match and…. in order to travel wrinkle-free you should roll your clothes very tightly saving up some space at the same time.
Watch the packing tutorial on Youtube!
In 2017, I launched Compass Rose Travel Accessories and my very first product was a 4-Piece Set of Carryon Packing Cubes. These are the only packing cubes sized to fit the exact width of a carryon suitcase and they also have a unique color-coded and numbered organization system – the only kind currently available anywhere on the market.
I put together a five-part YouTube series showing you the different methods to use packing cubes. If you use this specific packing strategy, they can also compress your belongings. This is the secret to traveling carryon only!
Flight Comforts
Wherever you go, always bring a cover up for the flight; planes can be extremely cold and trusting the weather forecast for your destination might often not be the best idea. Also, an inflatable travel pillow and a sleeping mask should be in your luggage. You just never know when you will need it and confident women are always prepared.
TFG Suggests: a pashmina shawl offers warmth and style to your flight travel outfit.
Travelpro Luggage Maxlite 2 20″
Suitcase
Lastly, some airlines only allow one carryon bag and nothing else. So, if you buy a carryon suitcase make the right choice! (1) Good wheels, (2) lightweight, (3) should have additional space for easy access to your personal belongings like Wallet, Cell and Passport etc.
TFG Suggests: this is a sleek, light, and functional carryon suitcase great for business or leisure travel.
So next time you go on a trip, be prepared, travel safely and ENJOY!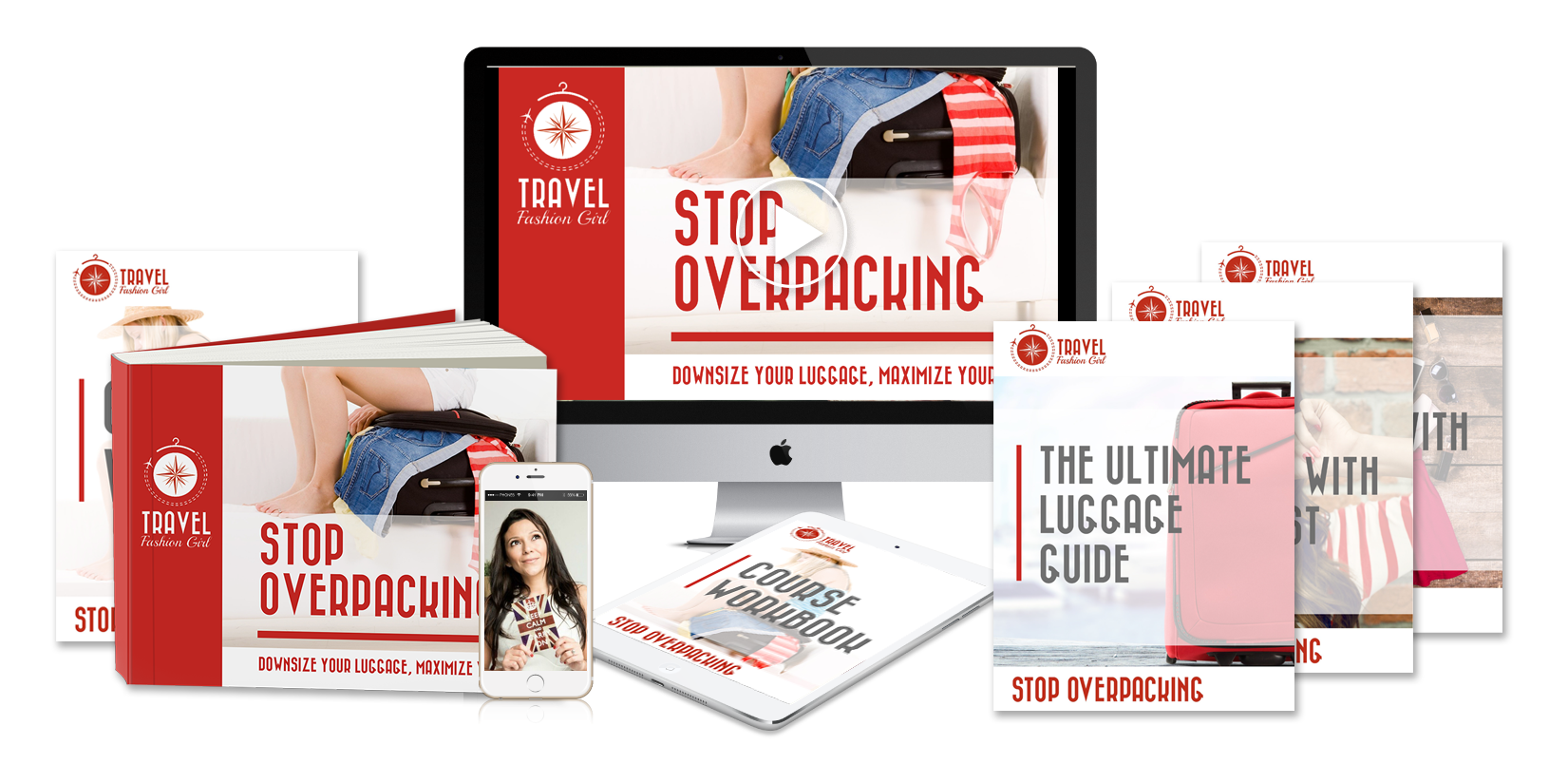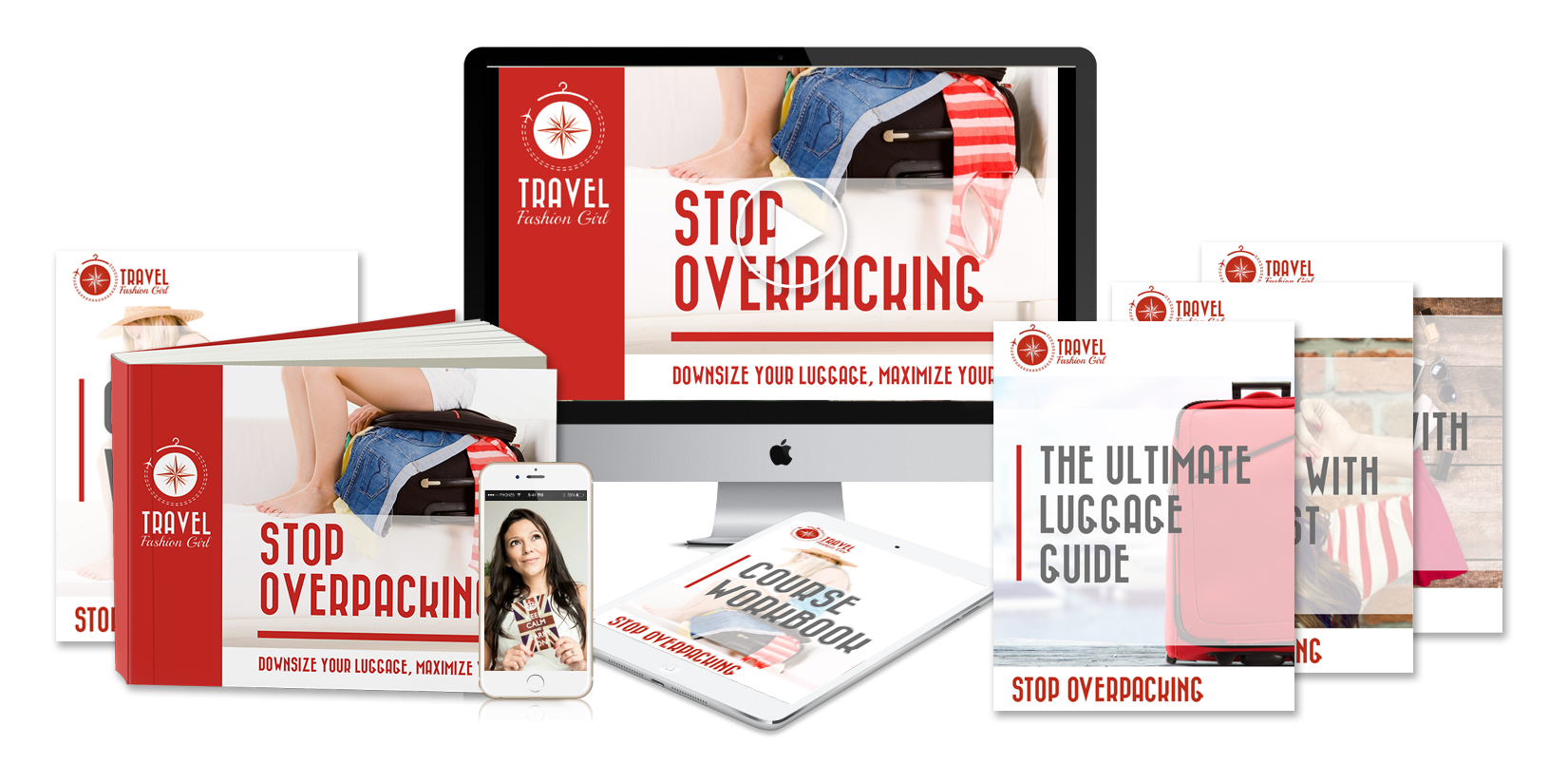 And for every single trick in my packing book, read my full course "Stop Overpacking". I created the STOP OVERPACKING program to teach you my exact packing process. Every secret, every detail, nothing is spared.
Learn more about Stop Overpacking here!
---
Thank you so much for these helpful packing tips! Don't forget to  find out more about Anka, Alex, Nelly and Livia on their blog Style in Shots. Also, check out this post to see how I packed with only carryon luggage on Europe's Budget airlines.
---
Don't forget to share this post on Facebook, Twitter, and Pinterest! Thanks for reading!
---