Support TFG by using the links in our articles to shop. We receive a small commission (at no extra cost to you) so we can continue to create helpful free content. We earn from qualifying purchases made to the featured retailers. Thank you, we appreciate your support!
Both Longchamp and Rebecca Minkoff are known for offering travel-friendly bags, and it may be hard to choose between the two when looking for the perfect accessory. TFG readers have their favorites, and they're willing to share what they love about both in this comparison review!
---
Le Pliage vs. Julian Backpack Review
Written By: Michelle Nati
---
Table Of Contents
If you've been reading TFG for a while, you know certain brands are popular with our readers. We've reviewed Longchamp and Rebecca Minkoff bags extensively and have known for a while that neither can be beat in terms of durability, style, and spaciousness—both accessories are universally lauded as everyday use and travel-worthy bags.
But if you could have just one, which one would you pick? We asked TFG readers which backpack they recommended, and while they had strong points for each, there are distinct differences to both. Check out what they had to say!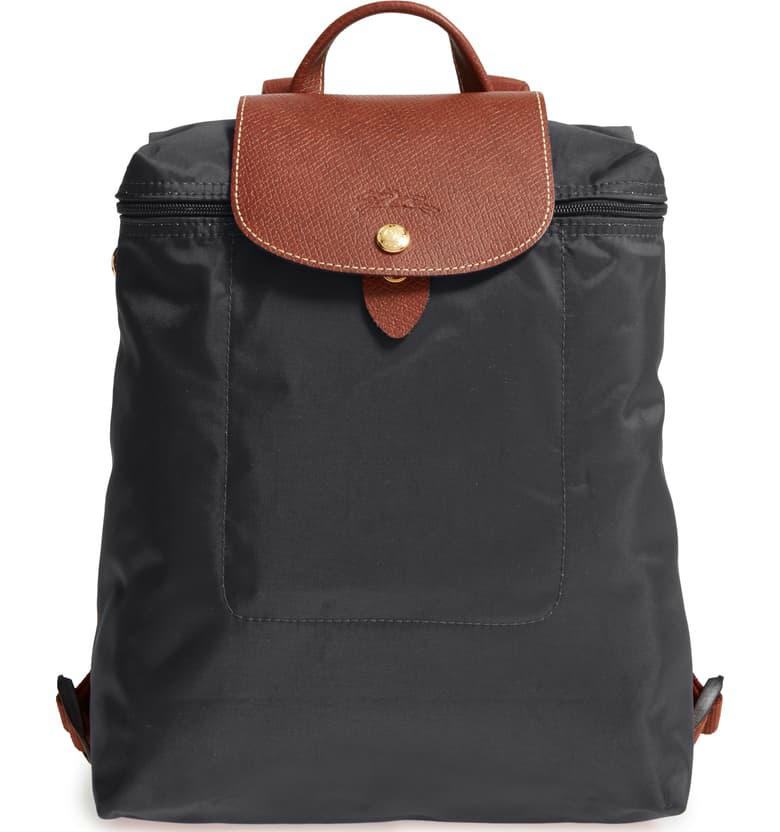 Longchamp 'Le Pliage' Backpack
Longchamp Le Pliage Backpack Basics
Style: Longchamp Le Pliage
Dimensions Folded: 6″x6″
Dimensions Open: Regular Size: 10" W x 12" H x 3 3/4" D / Large Size: 11" W x 13" H x 6 1/4" D
Material: The bag is made of Polyamide canvas with a water-resistant coating on the inside. Its trim is leather cowhide, and the adjustable straps are made of a webbed fabric with plastic attachments
Weight: Two sizes—regular size is 0.6lbs pounds and the large is 0.8 lbs. 
Color: Black or gunmetal
Opening Type: The bag opens at the top with a zipper, which is covered with a decorative leather flap and has a metallic gold snap and beige stitching
Features: Inside there is one small pocket (5.5″W x 6.5″H) at the very top near the zippered opening. The pocket fits a cell phone, business cards, or perhaps a bus pass and lip gloss
Security: There are no enhanced security features with this bag. It does close with a zipper and a snap on the covered flap
Travel Type: Perfect for carry-on, luxury, vacation, business, and city break traveling
Read our full review of the Longchamp purses here!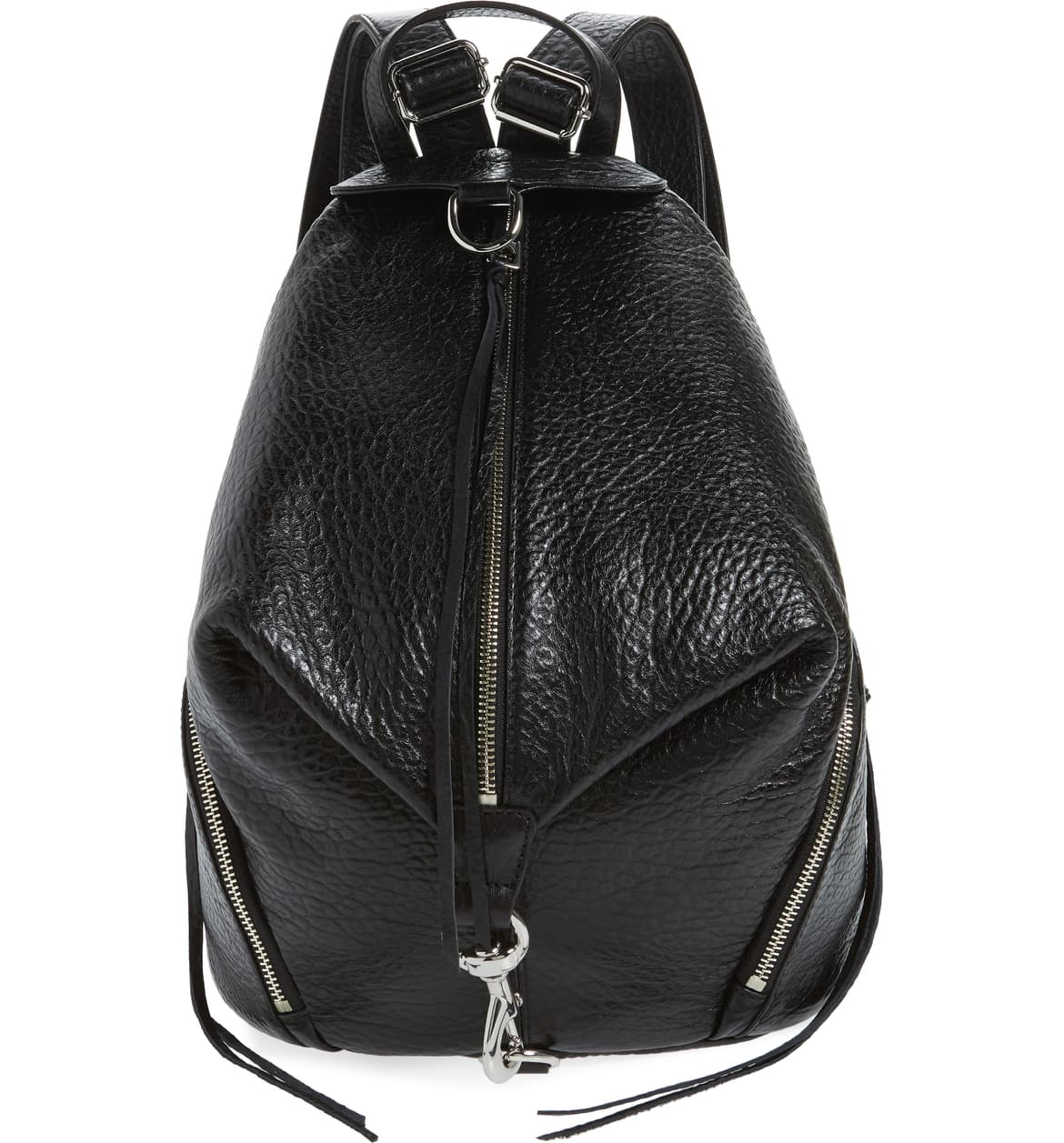 Rebecca Minkoff Julian Backpack
Rebecca Minkoff Julian Basics
Style: Rebecca Minkoff Julian
Dimensions: Regular Size: 11.25" W x 12" H x 6" D / Medium Size: 6" W x 10" H x 5" D
Weight: Two sizes—regular (large) size is 1.9 pounds and the medium is 1.0 lbs. 
Color: Lots 
Opening Type: Front loading
Features: Three exterior pockets (with one secret compartment) and three interior compartments
Security: Exterior latch has the option to cover main zipper access when locked at the top ring, unofficial "secret" back pocket
Travel Type: Perfect for carry-on, vacation, business, and city break travelers
Read our full Rebecca Minkoff Backpack review here!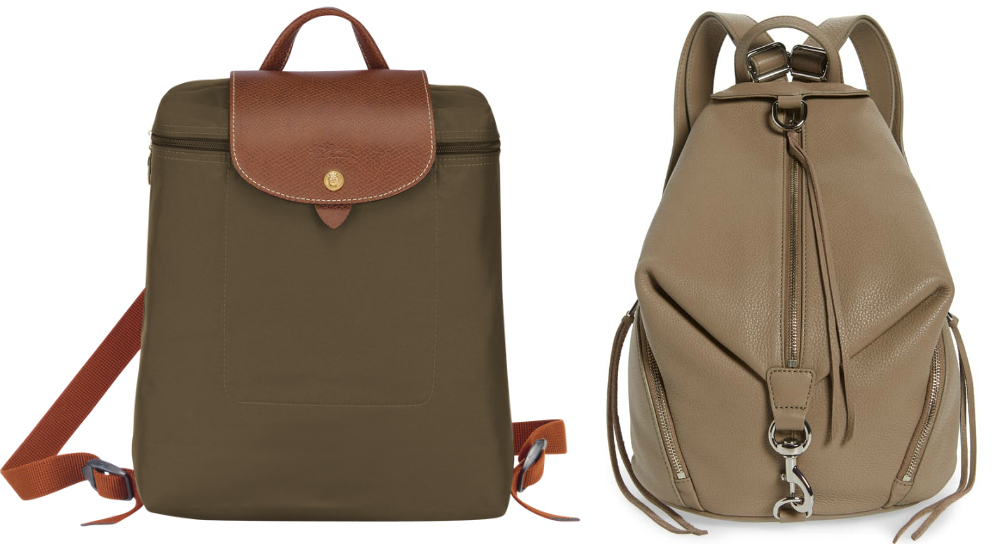 Longchamp 'Le Pliage' Backpack | Rebecca Minkoff Julian Backpack
Longchamp Le Pliage and Rebecca Minkoff Julian Features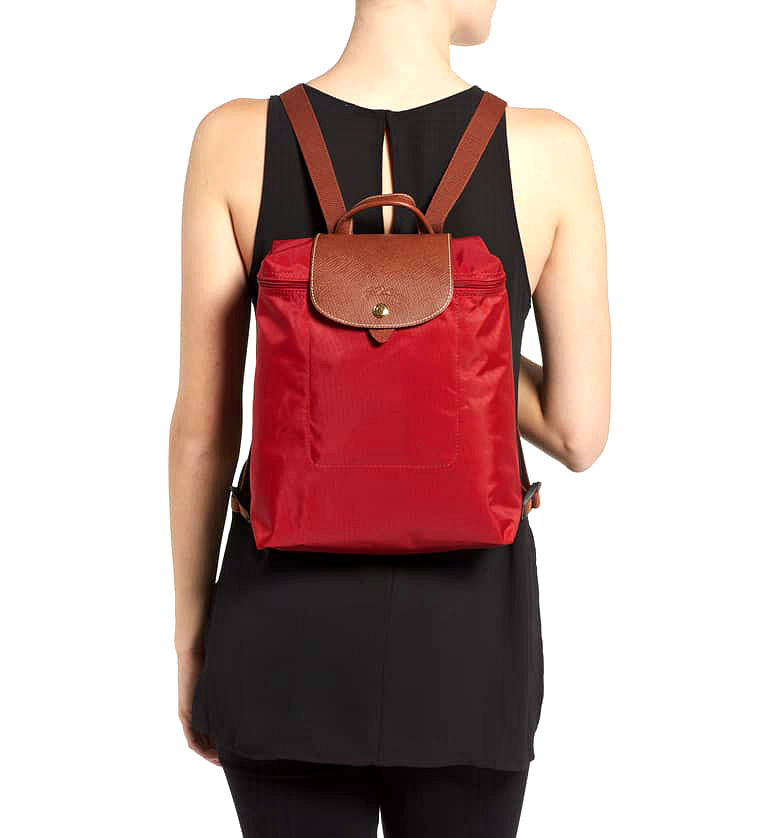 Size
Our readers are spilling the beans on how these bags fare on trips all around the world, and they say both have their merits. The Longchamp gets high marks because it is water-resistant, packable, and lightweight, weighing at less than a pound for both the regular and large size. There are two sizes of the Rebecca Minkoff bag—the regular (large) size is 1.9 pounds and the medium is 1.0 lbs. 
One reader, who has owned both, said their weights influenced her decision on which one she'd ultimately stick with. "I had the Longchamp backpack and the medium and large Minkoff bags, but they were heavy and the buckle on the straps used to dig into my shoulders, so I sold them. The Longchamp is much smaller than the Julian, and I love how lightweight it is, as I have neck issues."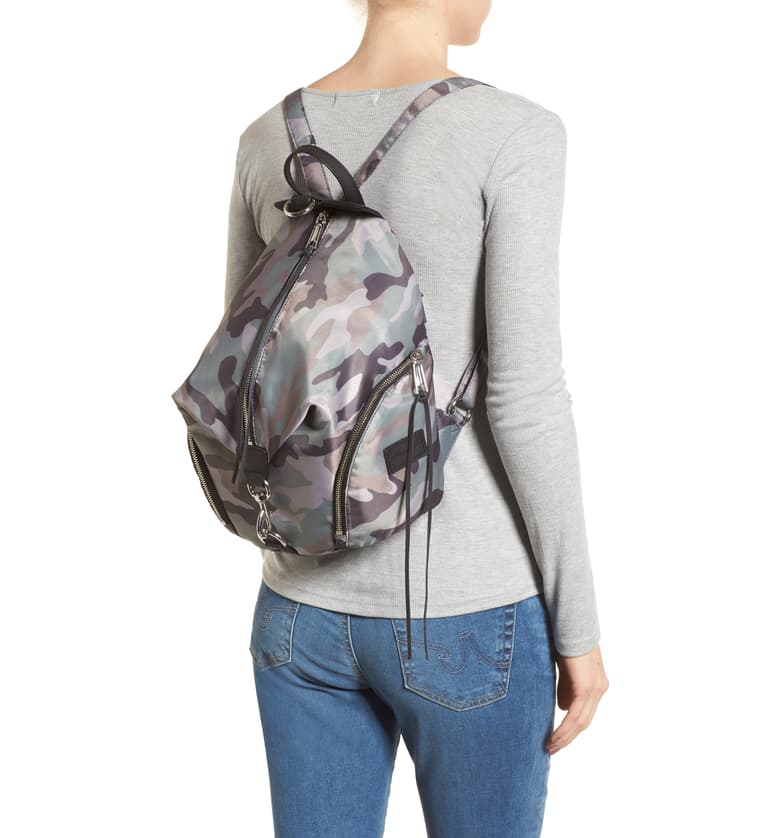 Another reader also shares her experience, saying, "The Rebecca Minkoff is, in my mind, living up to all the reviews and hype. I can carry a little or a lot in this bag and if anyone is worried about weight. I recommend getting the medium one. The other thing is the bag is more structured and feels better to me against my back."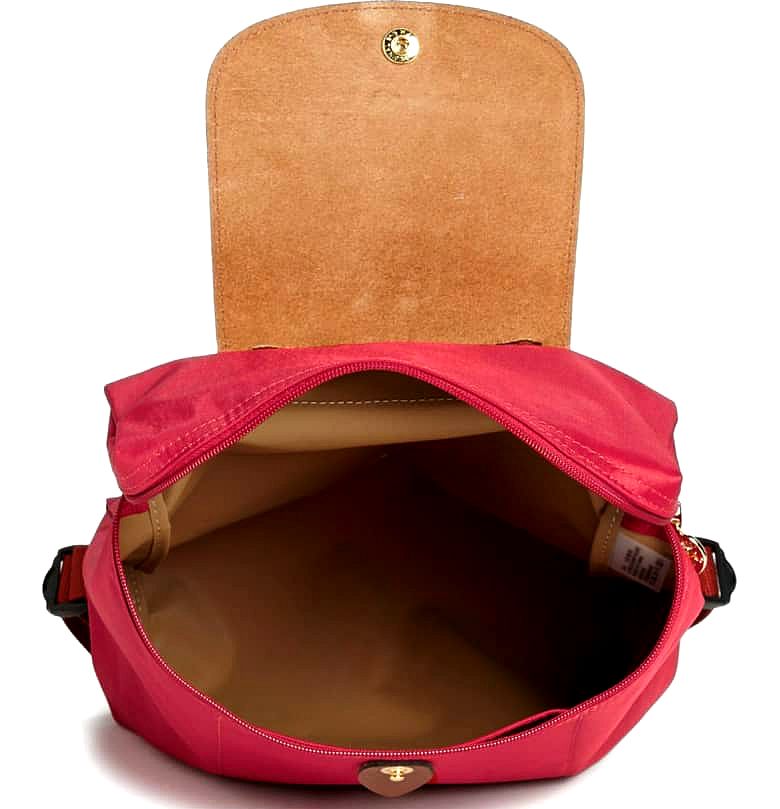 Compartments


While roomy, the Longchamp has no actual compartments, other than a single pocket. That means if you're looking for something small, you'll likely have to rummage around for it. One reader says, "I do love my Longchamp, but it totally only has one small pocket (for phone and eyeglass-sized) for storage."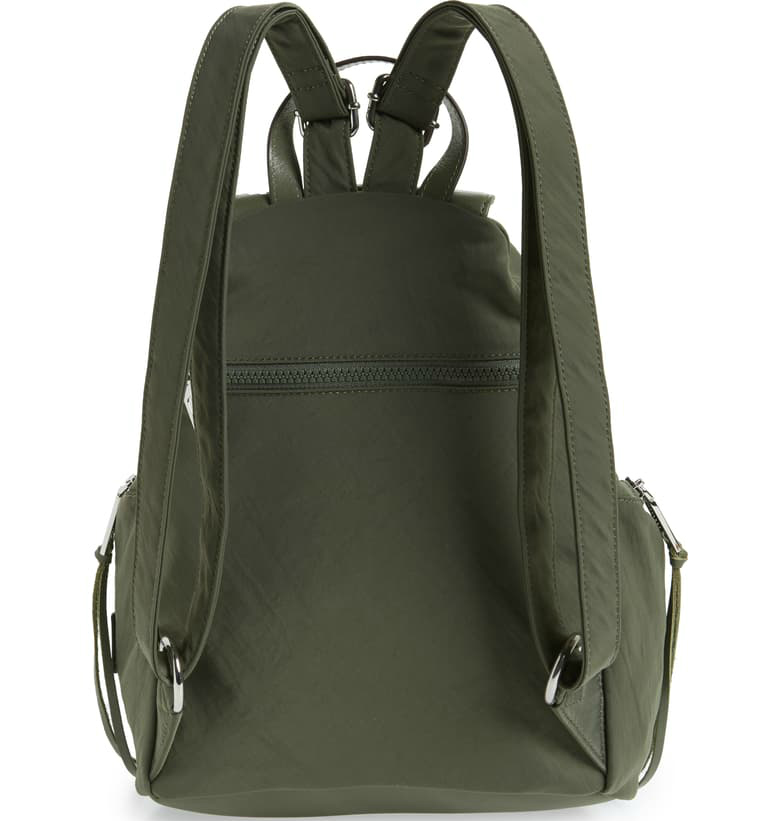 The Minkoff bag has three exterior pockets (including one "secret" pocket that sits flush against your back) and three spacious interior compartments, which makes looking for your essentials easy.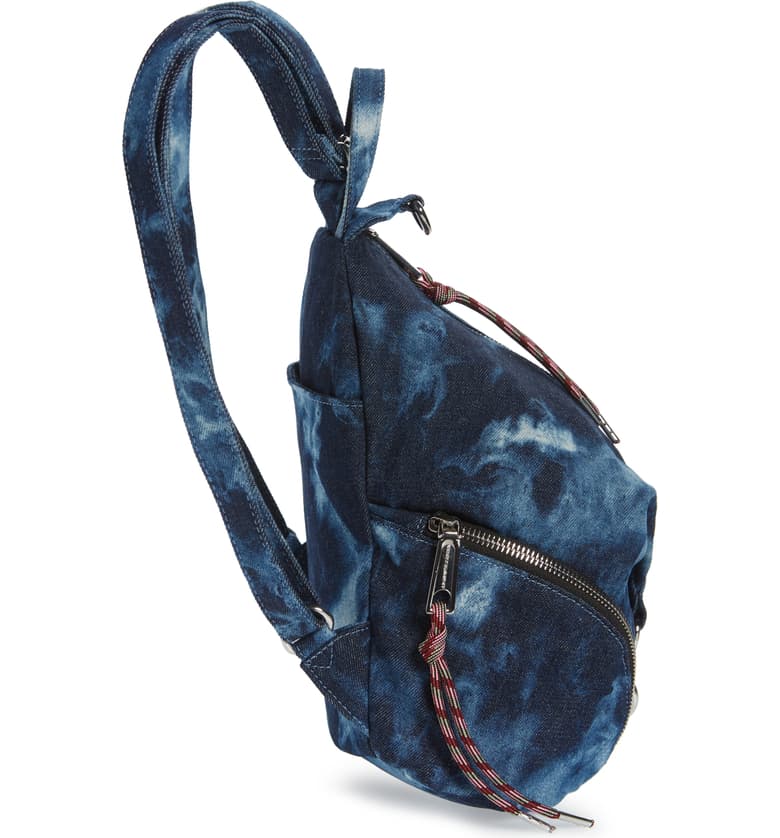 One reader says both have their merits. "I use my Minkoff almost every day and tend to go for it over other bags. However, when my carry on is full and the airline only allows one item on board, I use the Longchamp.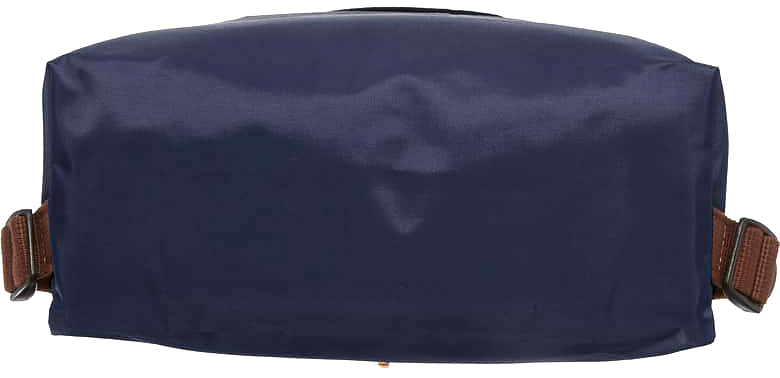 Fabric
The main body of the Longchamp bag is made from Polyamide canvas with reinforced internal seams covered with seam binding, making it extremely durable. The Julian comes in two fabrics — leather or nylon. While leather is a favorite of readers and equally durable, many have chosen the nylon bag due to its lighter weight, affordability, and the added benefit of being washable.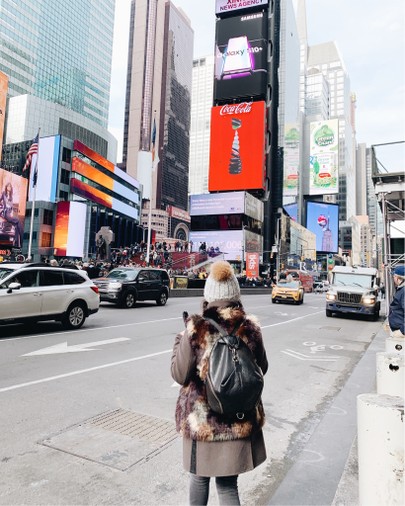 Safety
When it comes to safety, readers say the Rebecca Minkoff bag has an edge over the Longchamp bag, which is said to have no safety features. One reader says, "There is no way to secure it; if that's what you're looking for. It opens only from the outside."
These are the top anti-theft purses for travel!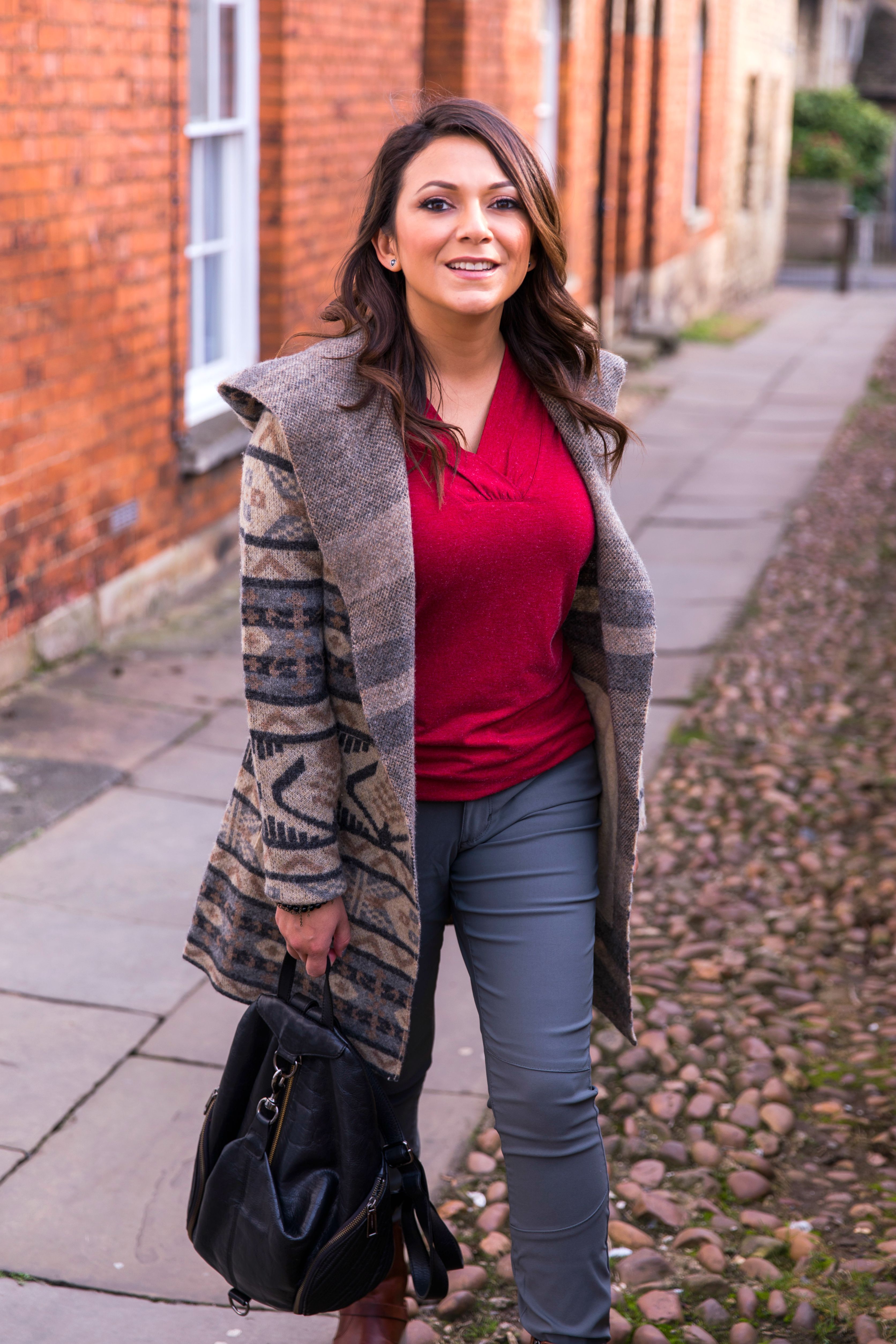 The Minkoff bag has a hook clasp and a secret compartment for all your travel essentials, with straps thicker than the Longchamp bag. One reader says, "My passport, wallet, and cell phone are in that zippered compartment. If a thief wants to take the time to undo the clasp, unzip the main compartment, and take my non-essentials (comb, umbrella, tissues, bandaids, lipstick, etc), so be it."
Watch the Fashionista's Guide to Ultralight Minimalist Packing video!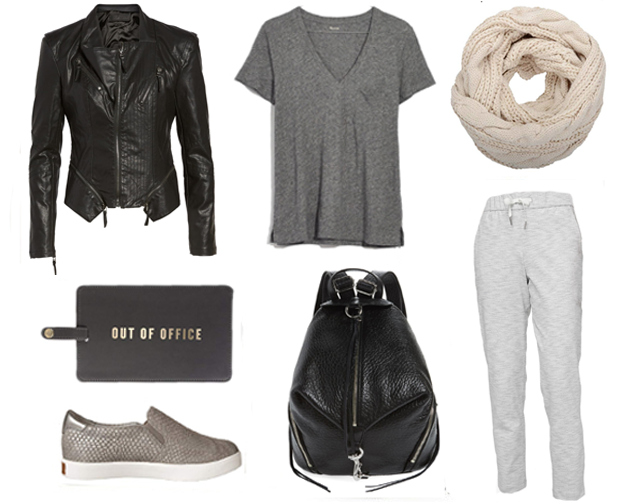 Jacket | Tee | Tag | Pants | Scarf | Backpack | Sneaker
Style


When it comes to aesthetics, both bags are an elegant addition to any travel outfit. The Julian, in basic black, has a classic look that never goes out of style. The nylon version also comes in fig and camouflage colors, should you decide to change things up for a -more fun, lighthearted look, particularly in the spring and summer months.
Check out these affordable bags similar to Longchamp Le Pliage Tote!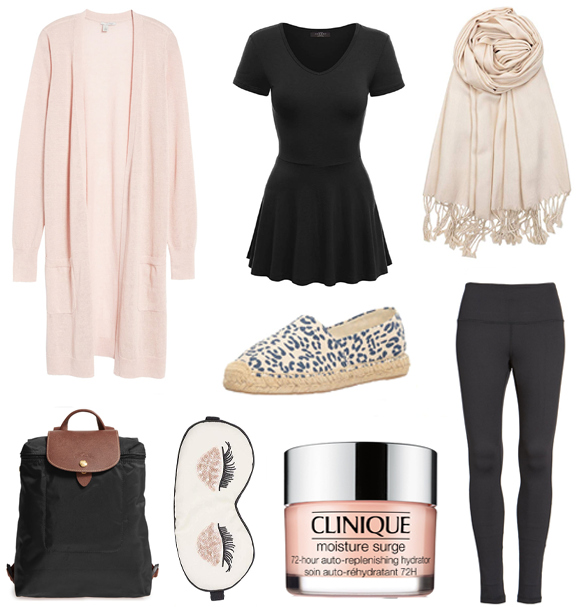 Cardigan | Eye Mask | Scarf | Backpack | Peplum Top | Flat | Moisturizer | Leggings
The Longchamp bag is the very definition of simple, understated chic. It comes in both black and gunmetal options and looks equally stately at a bustling cafe or while catching a train from Paris to Bordeaux.
Find out how to choose the best travel day bag!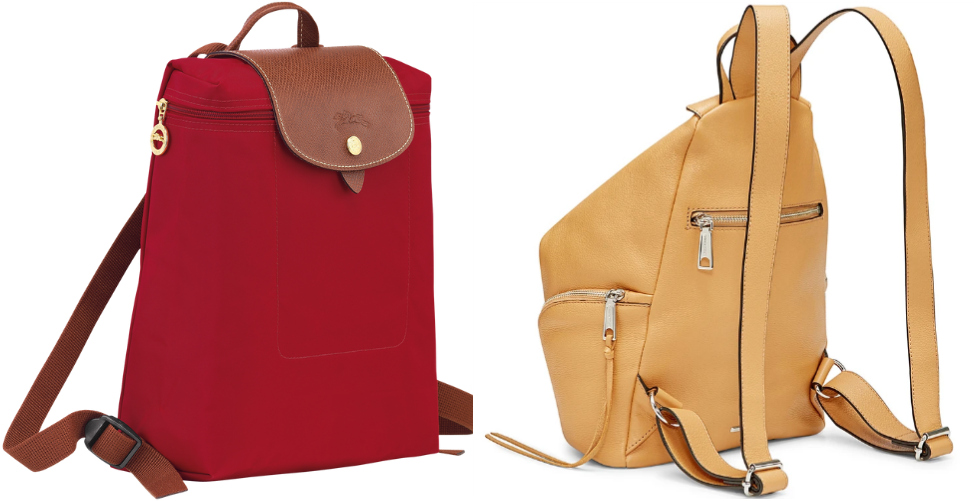 Longchamp 'Le Pliage' Backpack | Rebecca Minkoff Julian Backpack
Verdict
For everyday use or an on-board personal bag option, the Longchamp is a lightweight and elegant accessory. However, when traveling longer or to certain destinations where security is of the utmost importance, this is where the Rebecca Minkoff backpack takes the prize, along with the stylish leather and nylon options that are available.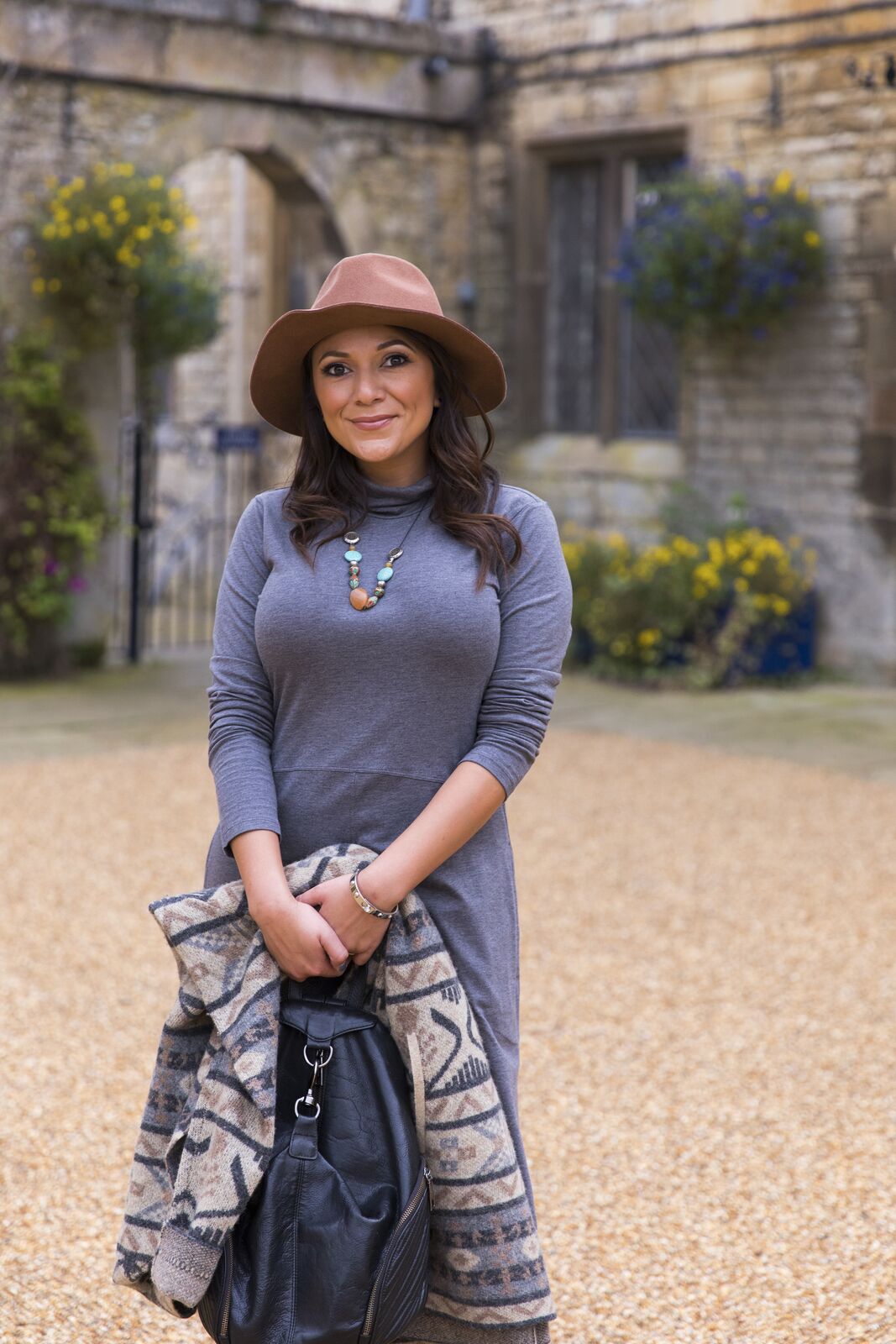 Essentially, there's no clear cut winner when it comes to these two bags, as readers ultimately recommend choosing based on your needs, personal taste, and type of travel you like to do.
You'll want to look your best when you travel! Read my travel tips to Pack Light Stylishly!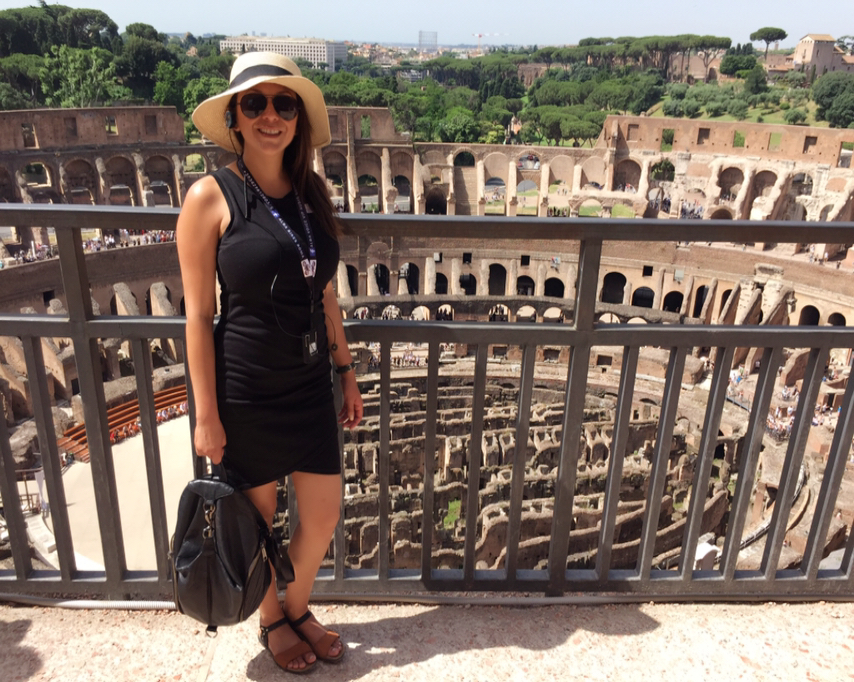 Where to Buy
You can purchase the Longchamp and Rebecca Minkoff bags at Nordstrom online.
You can also buy the Rebecca Minkoff purses directly from the Rebecca Minkoff website, Amazon, and Zappos, there are a variety of styles available, and different ones go on sale throughout the year. 
TFG Editor with
Rebecca Minkoff Julian Backpack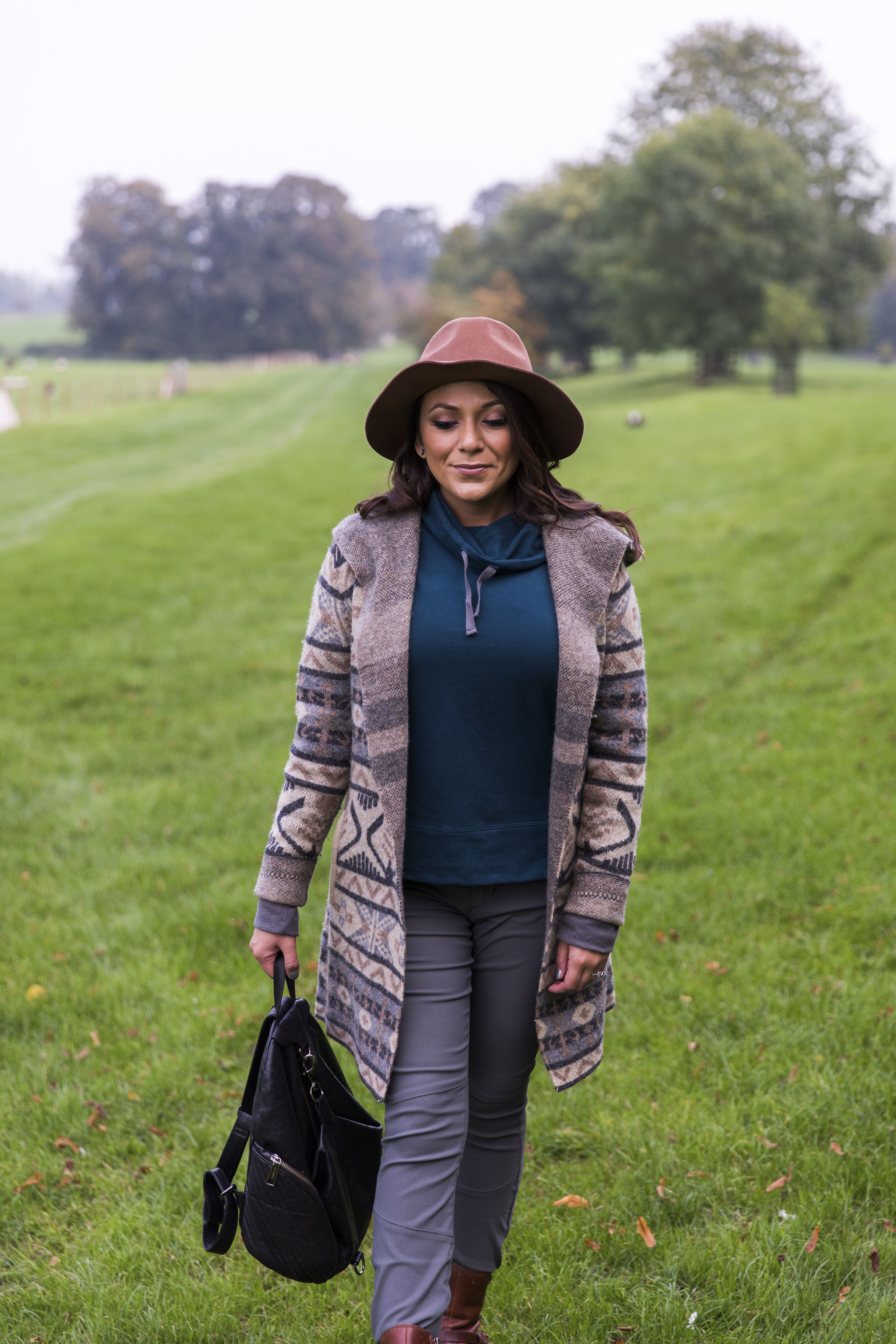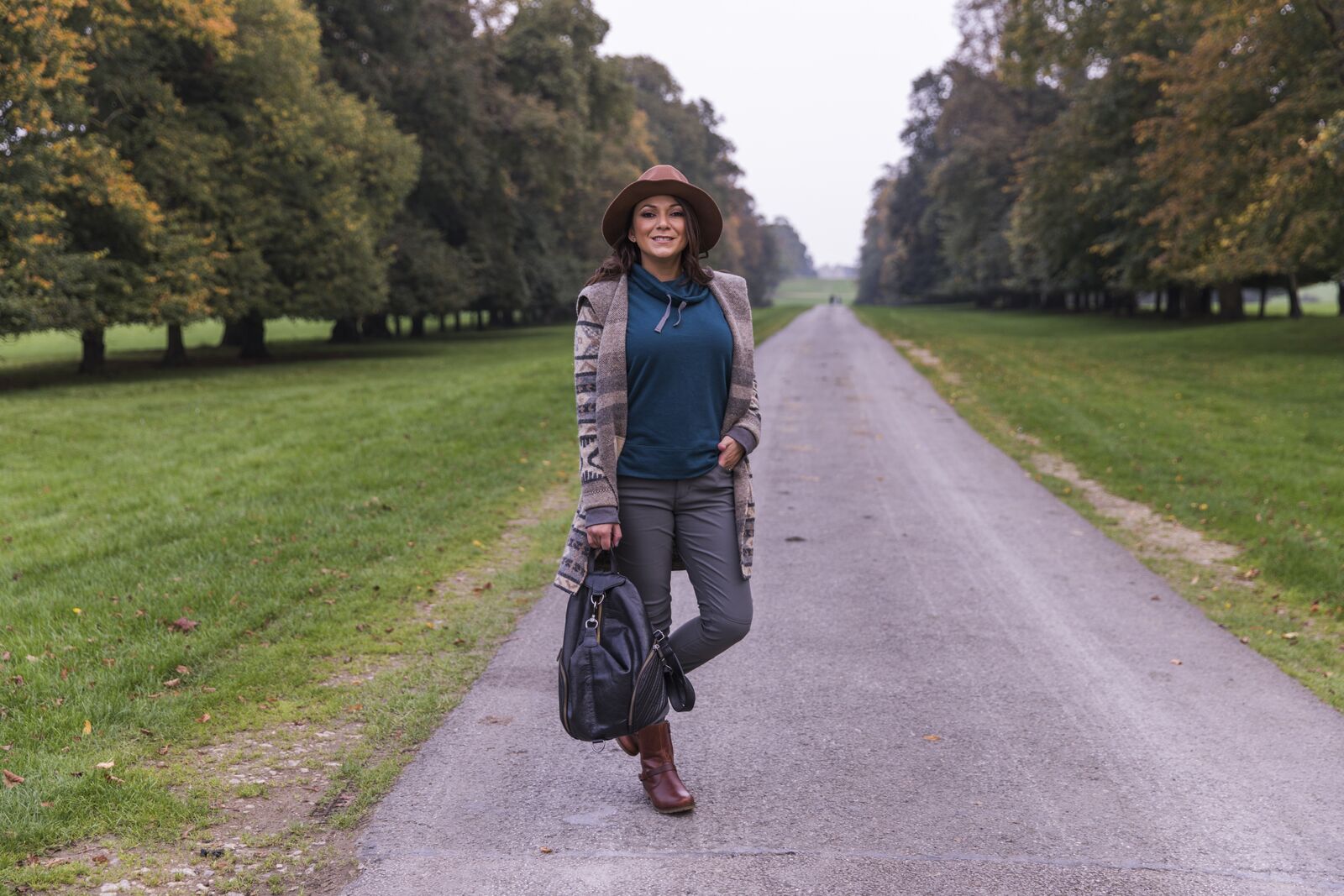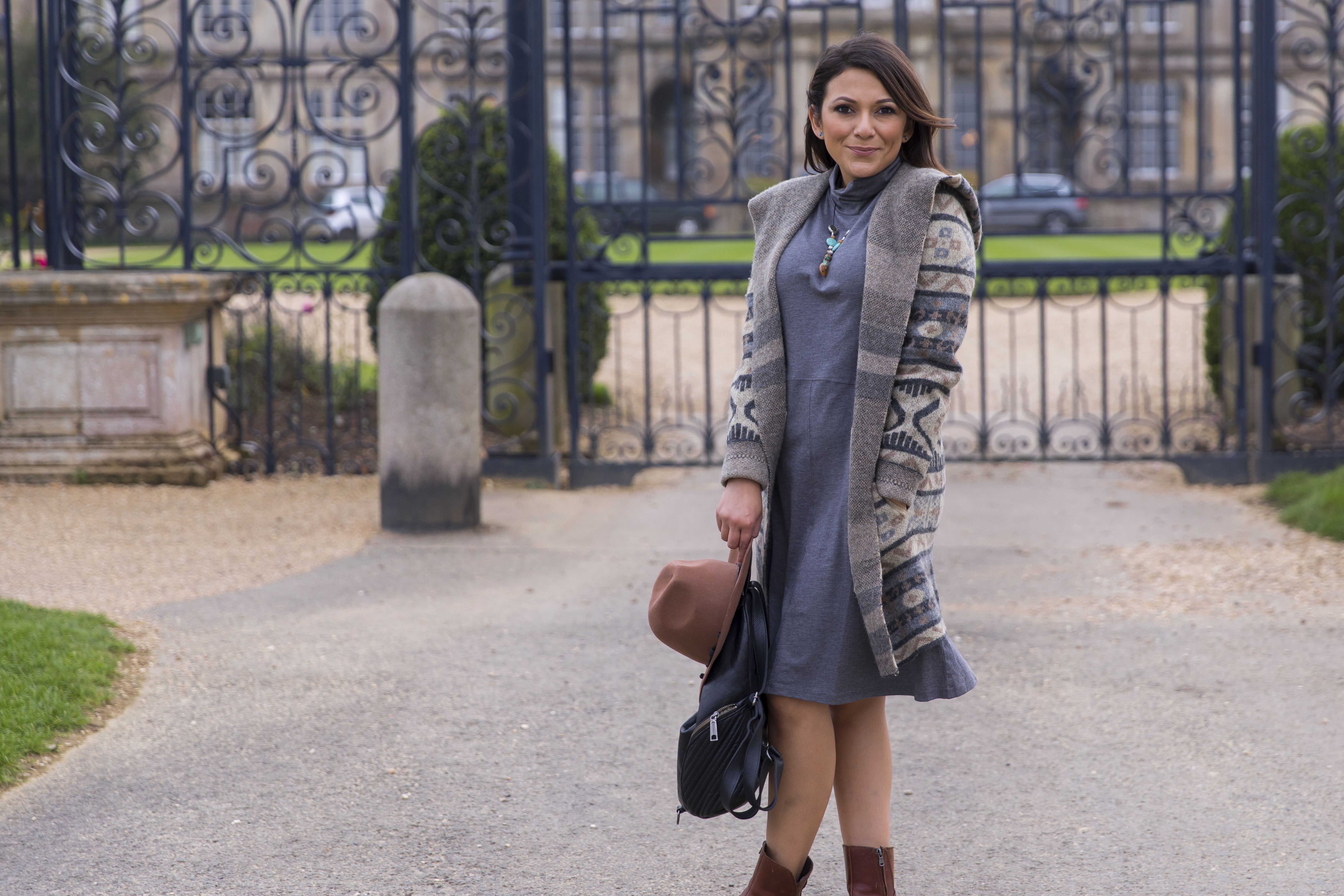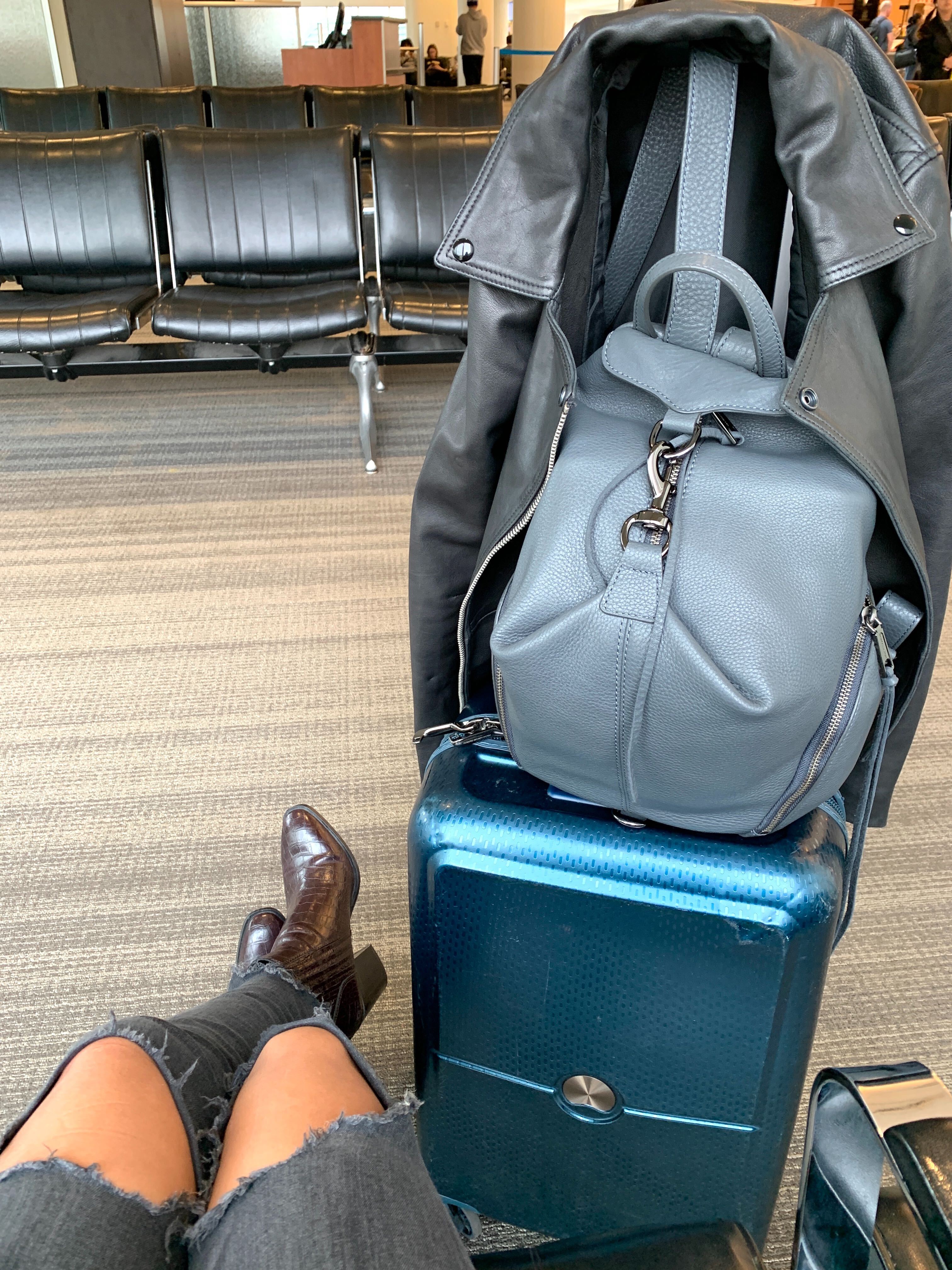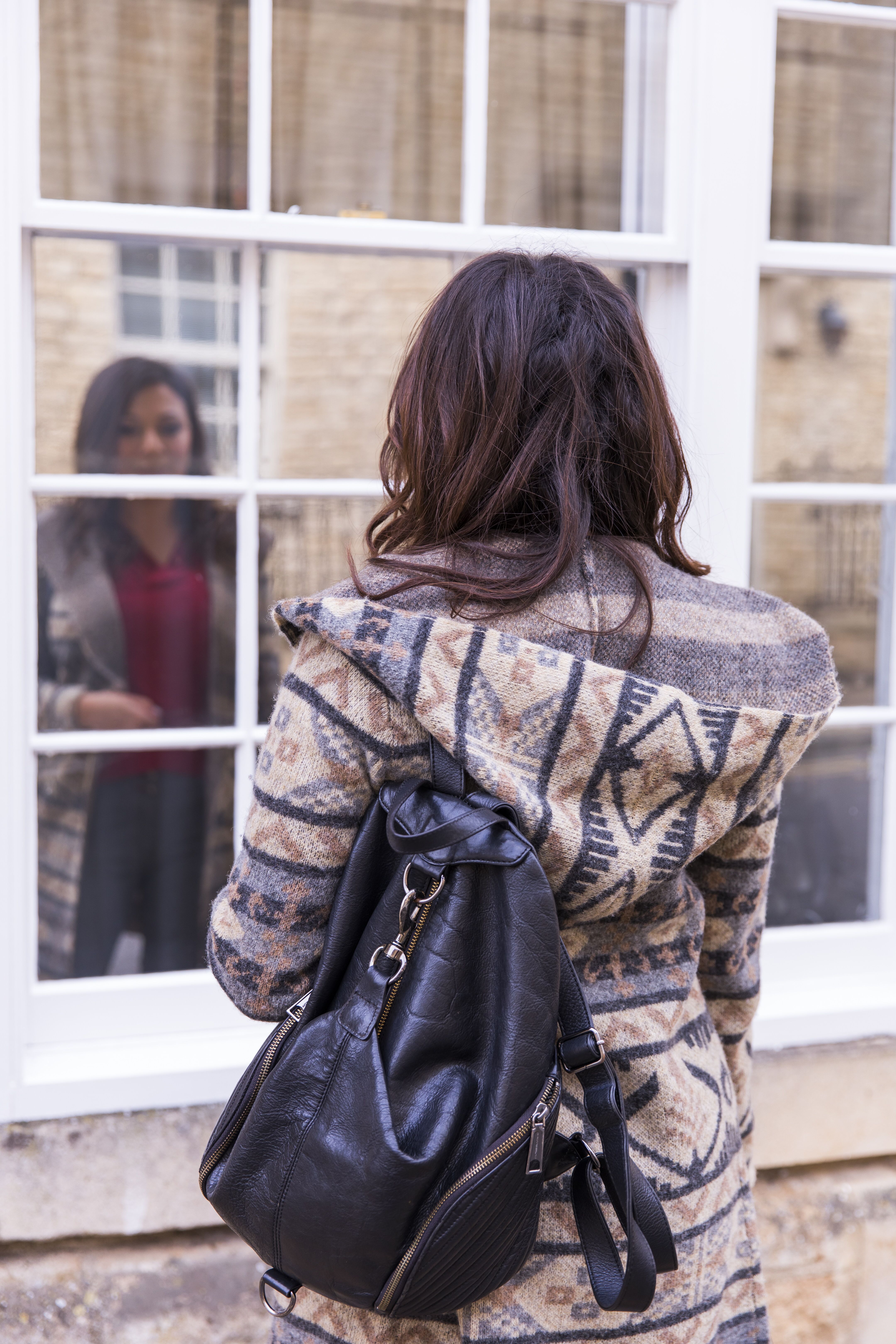 ---
What's your comparison of the Le Pliage vs. Julian backpack? Let us know which one you use and why below!
---
For more travel bag options, please read:
---
LIKE THIS POST? PIN THIS PIC TO SAVE IT!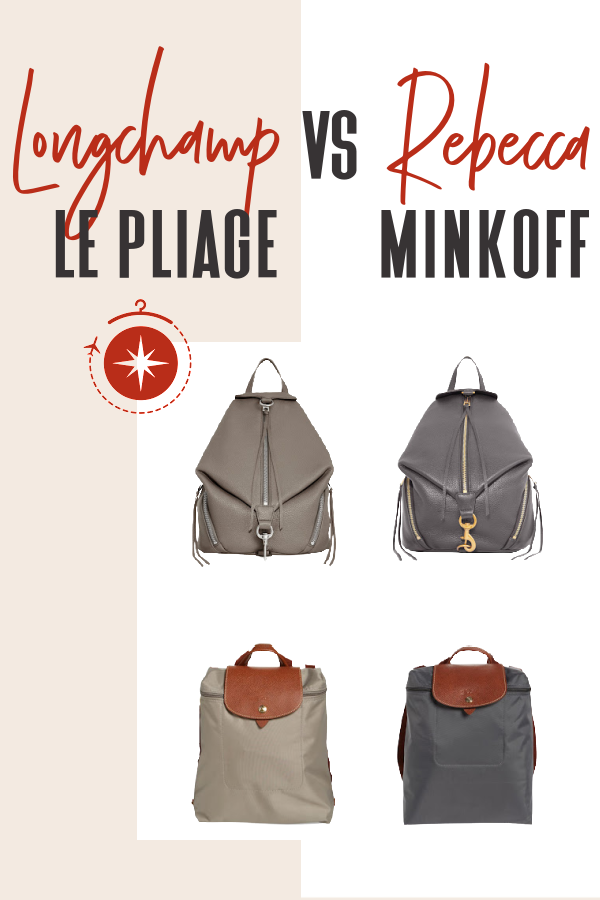 ---
We hope you found this Le Pliage vs. Julian backpack review helpful. Please share with your friends on Facebook, Twitter, and Pinterest. Thanks for reading!
---