Support TFG by using the links in our articles to shop. We receive a small commission (at no extra cost to you) so we can continue to create helpful free content. We earn from qualifying purchases made to the featured retailers. Thank you, we appreciate your support!
Lo and Sons bags are frequently a hot topic of conversation amongst TFG readers because they're so well-built for travel AND stylish. Find out what readers have to say about this popular brand, and see their favorite pieces!
---
Lo and Sons Reviews
---
Table Of Contents
If you're looking for a great travel bag, many TFG readers would be quick to suggest Lo & Sons, who thoughtfully designs their bags with travel in mind. From sleek leather crossbodies to spacious nylon carry ons, Lo & Sons offers a wide range of styles for every kind of traveler.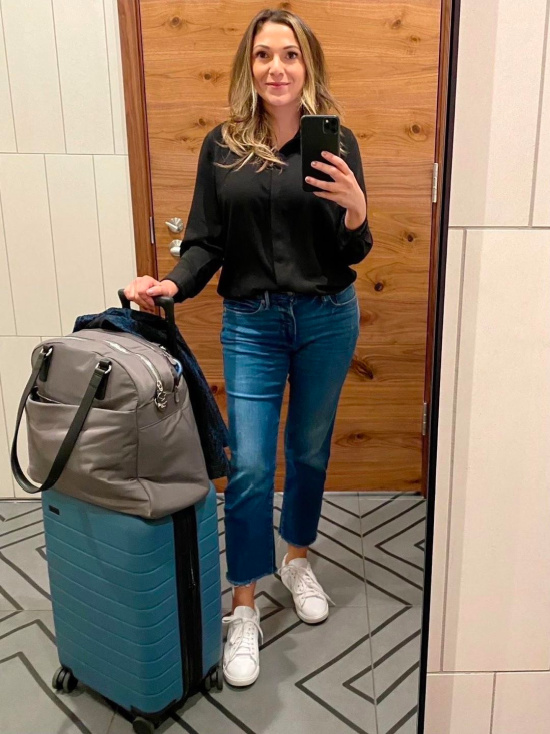 With my Lo& Sons O.G. Tote, Away Carryon Suitcase, and wearing Agolde Jeans with Nike Sneakers
The TFG community talked incessantly about the O.G. 2 Tote Bag due to its trolley sleeve, many organizational pockets, and 13" laptop sleeve. I decided to try it out myself before attending a conference in Nashville, and bought the O.G.2 tote in the Grey/Silver Azure color in the Large size. 
Now, are you ready to check out the full Lo and Sons bag review? Read on to learn why readers love their products! 
Best Features of
Lo & Sons Bags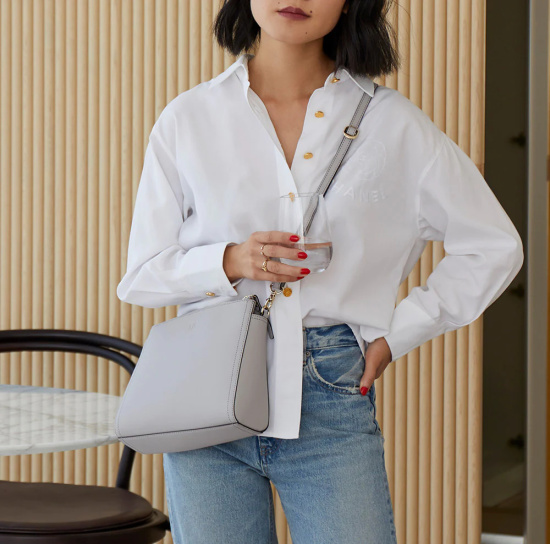 The Pearl Cross Body is a top seller with readers: "It's a perfect size and elegant design and goes with any fashion!"
They're Well Designed and Easy to Organize Essentials 
Readers love the practical designs of Lo & Sons bags. Many of their larger bags offer amazing features like a bottom compartment for shoes, laptop compartments, trolley sleeves, and various pockets for staying organized, while their smaller bags also boast useful pockets and make chic accessories! 
One reader speaks to the functionality and versatility of her Lo & Sons the Pearl women's leather crossbody bag, sharing, "It's my fave crossbody to put in a carry on and use as my purse once I get to my destination. It holds way more than you think it will. I love the convertible straps that allow you to use it crossbody, shoulder, or even a clutch!" 
Another reader speaks to the Pearl's versatility, sharing, "Love! I've taken it to Italy and Germany and it's fantastic if you travel light during the day, and it was also the perfect evening bag."
Here's a round-up of what the readers have chosen as their all time favorite cross body purses for travel!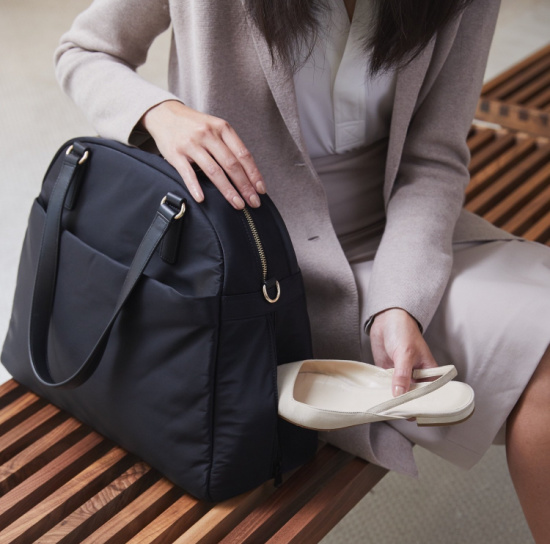 The O.G. 2 Tote has a shoe compartment, so you can be even more organized!
For flights, their carry on and personal item bags are hugely popular with readers for flying, such as the O.G. 2 bag, the Rowledge backpack, and the Catalina Deluxe tote. These bags are a dream for travel days, offering tons of space, plenty of secure and functional pockets, easy carrying, and, to top it off, quite stylish looks!  
A reader shares about her Lo and Sons backpack, saying, "I'm really impressed with the thoughtful design so far. There's a removable insert, a side pocket for a water bottle, and a waterproof zipper track surrounding the laptop pocket, etc. Plus, I can already tell it will be better for my back!" Another reader adds, "I love the feet on the bottom which keep it upright so it doesn't get super dirty." 
Readers feel a Lo and Sons travel bag will keep your travel essentials safe and organized at all times, making for extra smooth travels!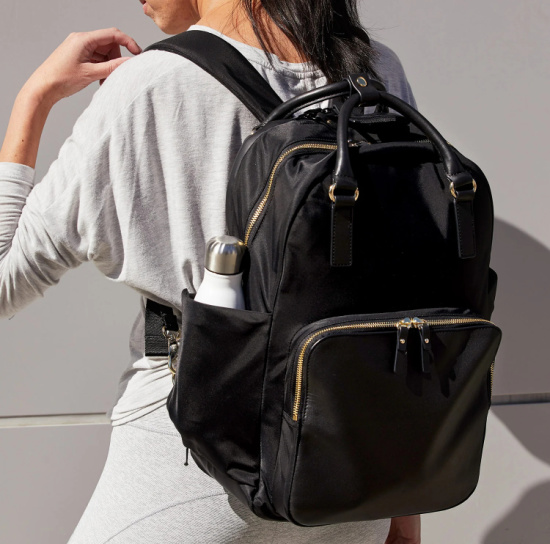 A Rowledge backpack review: "It's stylish, functional, and quality construction in one backpack!"
They're High Quality and Durable
Lo & Sons bags are made of superior high quality and sturdy materials that can totally handle the wear and tear of travel. Readers share that even after years and years, their Lo & Sons travel buddies show very little signs of wear and don't damage easily! 
One TFG shares a Lo and Sons purse review, "I got the Pearl in saffiano leather a few years ago and it's held up incredibly well. No scratches or worn-looking areas. It's even gotten wet in light rain showers and had a drink spilled on it in a bar, and wiped off perfectly!" 
Another reviewer is in love with her Rowledge backpack and says, "I bought this backpack a few years ago and it's still going strong! I use it most weekdays and it doesn't show much wear and tear at all. Definitely worth the price!"
And with other materials like eco-friendly canvas that's soft and sturdy, recycled poly that's structured and water-resistant, and premium nylon that's sleek and easy to keep clean, there are plenty of options for your perfect travel bag!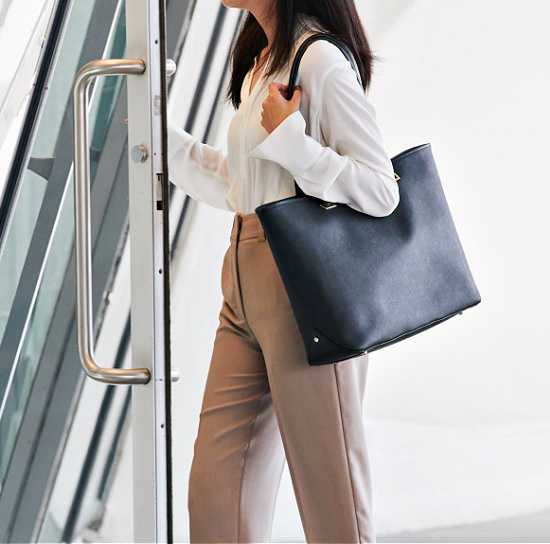 "Lightweight, great style, lots of flexibility, zippers in all the right places!," says one review of  the Seville tote.
They're Stylish and Classic
While function is at the forefront of the Lo & Sons designs, they're certainly not missing out on style! These bags are timeless and sure to elevate your travel ensembles. Their simple and classic designs will always be in fashion, but they do have a modern edge that keeps everything ultra-useful and versatile. 
Readers can't say enough about their designs. One gives a Lo and Sons Seville review. "Oh my gosh, the Seville is such a sleek and beautiful tote! It has a lot of pockets for organization, yet a chic design. I use it for work and travel." 
Whether nylon, polyester, canvas, or nylon, all of their materials are sleek and high-end, accentuated with quality metal hardware.
TFG readers have weighed in with the best tote bags for travel, which are not only practical but also stylish!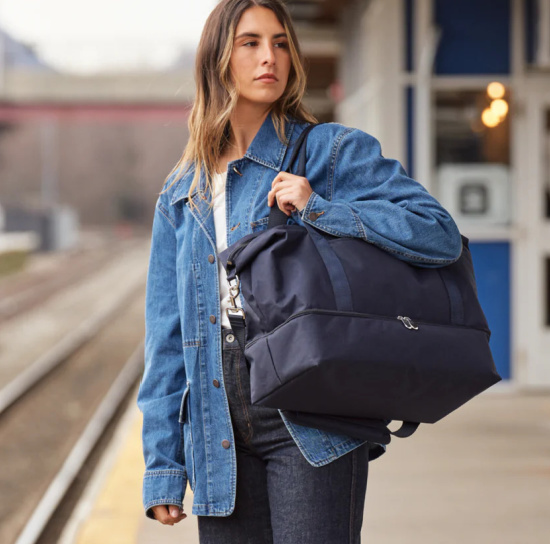 A Lo and Sons Catalina review: "Great for weekend trips or when I have a lot to bring on a day trip. Worth the expense!"
They're Worth the Price
While Lo & Sons prices can be a bit higher than other luggage brands, TFG readers see them as a worthwhile investment that's sure to last for many, many trips to come! A lot of readers share that they've had their bags for years, which definitely helps to justify the cost. 
One reader shares her Lo and Sons Catalina Deluxe tote review, "I think their bags are worth the price. My Catalina Deluxe has been on a half-dozen flights and/or road trips and still looks new!" 
Another gives her Lo and Sons Pearl review, "I've had my black Saffiano Pearl bag for about six years and it looks brand new. Beautiful bag." 
Many readers have shared similar experiences with their beloved Lo & Sons bags, confirming that they'll hold up well after both daily use and tons of rigorous travel, and they'll never go out of style or stop being useful! 
(You could also wait for a sale, which is what many readers like to do!)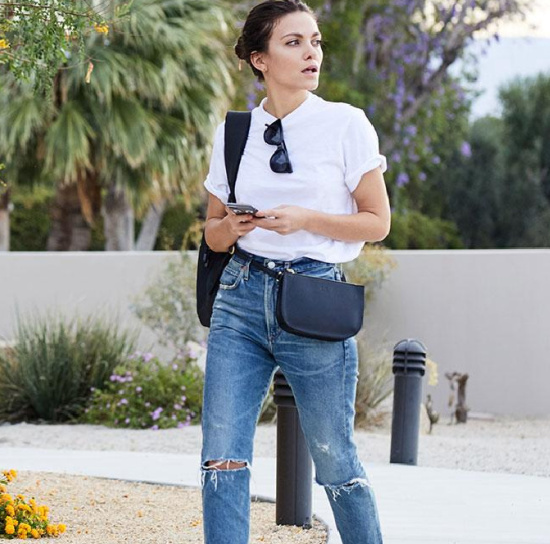 A reader shares a Lo and Sons Waverly 2 review: "I've taken this on many cruises. Cute, minimalist, and elegant!"
Pros
Lo & Sons bags are durable, polished, and amazingly functional for all kinds of travel. They hold their value incredibly well and will be a long-time travel companion! 
Readers also rave about their incredible customer service. In a Lo & Sons review, one reader shares, "Lo & Sons is the BEST!!!! I got their O.G. bag and eventually, after a few years, the strap broke off (I put everything in that bag and traveled with it all the time). I emailed them to ask how they'd recommend I fix it, and they SENT ME A BRAND NEW BAG. Love love love that brand." Another raves, "LOVE my bag!! And the company is fantastic; some of the best customer service I've ever experienced!" 
One reader sums up her experience with her Lo & Sons bag, "I use it every single day as my work bag. The shoe compartment holds my charging cables, laptop cord, etc. I zip up the trolley sleeve and use it as an extra pocket. I also travel for work a few times a month and it's simple to throw in my toiletry bag, packing cube, and a sweater/scarf and use it as my personal item. I love the way the bag looks and it works perfectly for my needs."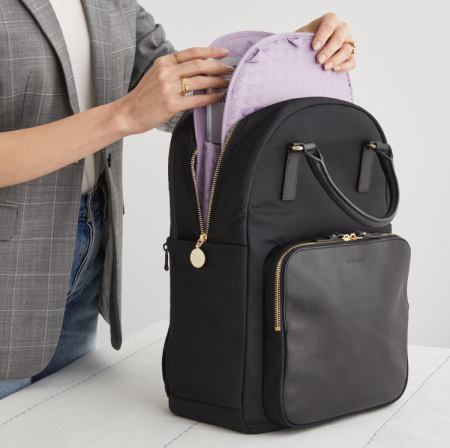 One reader's critique of the Rowledge, "I find I have more room when I don't use the provided insert."
Cons
While readers love the Lo and Sons weekender bags, personal item bags, and carry ons for travel days at the airport, some consider them a bit too heavy for use as a day bag. Many readers attribute this to the durable materials, secure padding for laptops, and organizational features, and add that it can be easy to overpack them which makes them a bit difficult to carry for long distances. 
One reader shares, "I had the small Catalina Deluxe bag and I loved it until I got to the airport and my destination. It's heavy! It holds a lot but the canvas fabric weighs a lot and it's not comfortable to take for a beach day or walk around a village for a day. The bag itself has great features, but I needed a bag that would do double duty and be a great day bag as well as a great personal item for travel." 
One reader shares another common issue, as well as her solution, saying, "My Rowledge backpack is very padded and you just lose too much space trying to give yourself more pockets. (I have several Lo & Sons pieces and this is a common issue across many of their items.) I use it without the insert and it's MUCH better. After adjusting my expectations I find that it fits my needs really well for a versatile work/travel option, and I love the style!" 
Overall, most readers agree that the incredible quality, travel-friendly designs, and beautiful looks make these bags huge winners! 
These women's sling bag styles will keep your must-have essentials close at hand as you embark on your exciting trips. 
More Recommended
Lo and Sons Travel Bags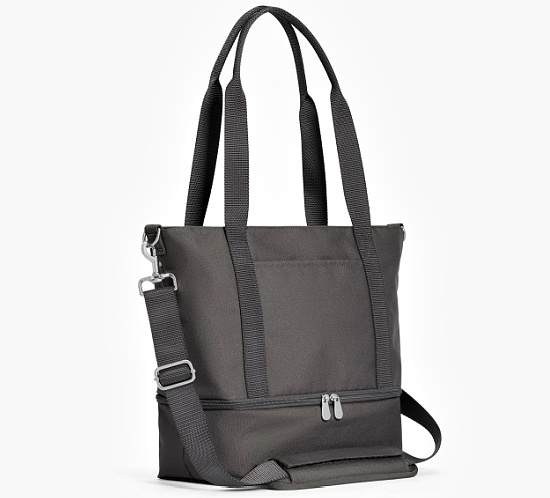 Catalina Day Tote
If you're packing for an overnight stay or want a roomy tote to keep your things organized on a flight, readers say the Catalina Day tote is fabulous. With plenty of handy pockets, there's a place for everything in this bag, and readers especially appreciate the separate bottom compartment for storing shoes!
The Catalina Day tote and its slightly larger counterpart, the Catalina Deluxe Tote, both qualify as personal items, but they're also offered in a Deluxe Small and a Deluxe Large which make awesome carry ons and weekender bags! 
A reader shares, "I have this and love it! I also have this bag in a larger size for other trip purposes. The tote is a great personal item size. I love the canvas and it's held up great and washes well." 
Be sure to check out their packable tote, too, which readers adore for shopping excursions or transporting souvenirs back home!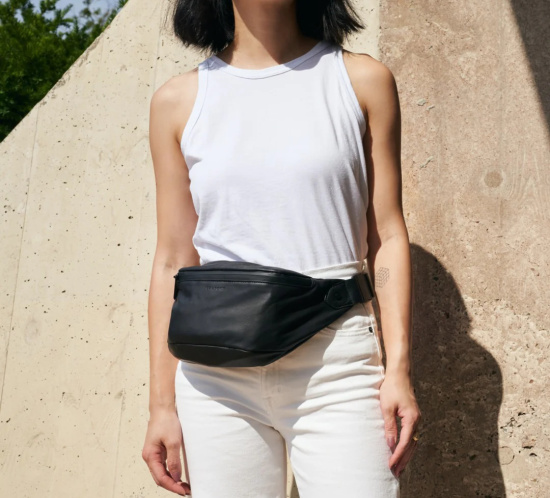 Bond Sleek Fanny Pack and Sling Bag
The Bond Fanny Pack
TFG readers love traveling with a fanny pack to keep things light and convenient as they explore – especially when it looks as cool and sophisticated as this one! The Bond Lo and Sons belt bag is lightweight, constructed with sheepskin leather, but is also available in recycled poly and Tyvek. Readers say it's comfy to wear, whether on your waist or as a sling bag and that it's super roomy, too! 
One reader reports, "I bought this specifically before a trip to Europe. The leather is super soft and it has so many compartments, pockets, and zippers. I like that it has a mix of easily accessible pockets and ones that feel a bit more secure and take some effort to get to. It securely held everything I needed for a day of exploring."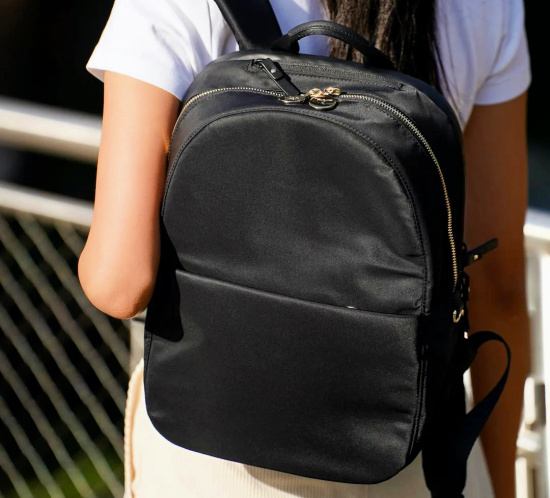 Beacon Backpack
The Beacon has a simple, clean look and a host of incredible features. The main compartment features two mesh pockets, a zippered pocket, three smaller slip pockets, and a larger slip pocket for documents or books, plus there's a separate 13" laptop compartment. It's cute, compact, and perfect for holding all you need for a flight and for a day of sightseeing when you arrive!
One traveler shares, "It makes a great personal item for traveling. The compartments are well thought out and super functional. The aesthetic is chic and classic. The quality is always top notch!"
Here are the most functional and cute laptop bags that women use again and again!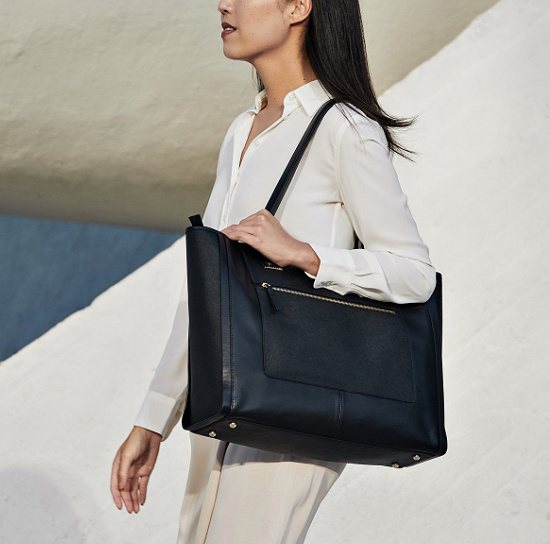 Seville Prima Water-resistant Tote
Seville Prima Tote
The Seville Prima Tote is amazing for business travelers or for those who just like to keep extra organized. With a laptop compartment, a large front pocket, and TONS of interior pockets, there's a place for everything in this sleek tote. The sleek leather exterior features a mix of (water-resistant) Saffiano and Nappa leather, making this functional bag quite a stylish accessory, too! 
And what makes this tote unique is that you can switch things up with their interchangeable shells that you can buy separately in various colors and materials! Check out their exterior shells here! 
One reader shares, "I love this bag! It is perfect for all my needs, especially with a heavy travel schedule. There is truly room for anything and everything you need, but the bag holds its shape well when not packed full. It is functional, beautiful, and high quality."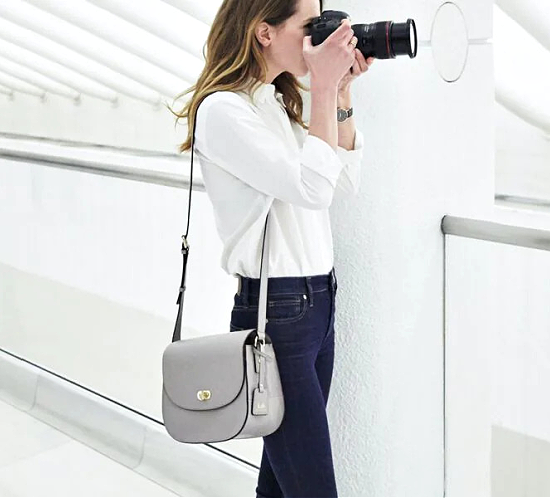 Claremont Camera Cross Body Bag
If you love to take photos, then the Claremont Lo and Sons camera bag is amazing for travelers or who like to keep extra organized. With SD and camera compartments, and a secure back pocket, any amateur or professional photog is set! 
The neat aspect of this bag is it's constructed of full grain leather, so it looks like a regular purse, yet the durable polyester interior can handle the weight of a camera. 
One reviewer says, "I wanted a camera bag that looked stylish and this is perfect! I can fit my vintage, mechanical film cameras without worrying that they will be damaged. This protects my equipment and the compartments and zippers keep my valuable items secure. I get many compliments when I use this!"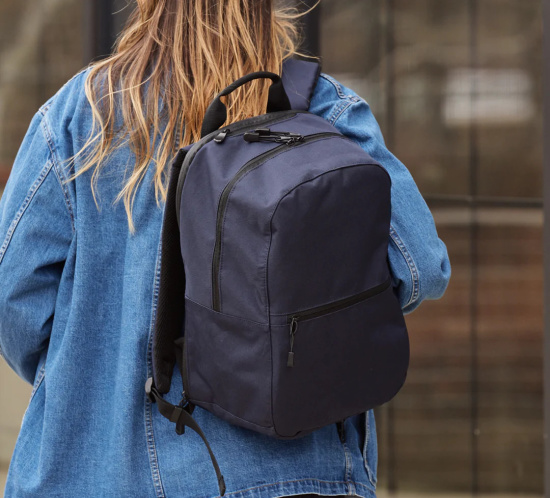 Hanover 2 Backpack
The Lo and Sons Hanover backpack is truly ready for any adventure! It's robust yet lightweight and is covered with variously sized pockets to fit everything you could need and keep it all as organized as can be. You can fit a ton in this handy pack, and the memory foam-padded straps keep it comfy. 
Its sturdy exterior is water-resistant and sustainably made from recycled plastic water bottles, too! One Lo and Sons Hanover review says, "I have to take frequent trips to NYC and needed a backpack that's functional, durable, and comfortable. It's small but roomy with so many inner compartments. The straps are just the right width and it's very lightweight. And I appreciate the option to take out the insert to make this a normal backpack for a weekend trip." 
See these reader recommendations for the best women's convertible backpack purse!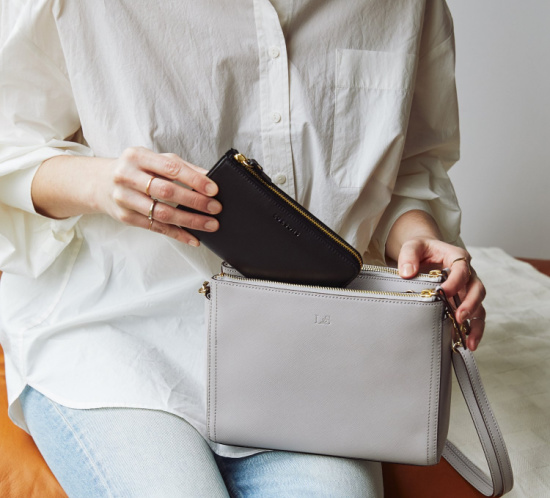 Leather Wallet
Lo & Sons also makes a gorgeous Leather wallet that has tons of card slots and multiple compartments for keeping things organized. It's slim yet roomy inside—perfect for slipping into one of the many pockets of any of their bags! 
One reviewer says, "I love that it fits all my cards, cash, and coins! It's a nice, sleek wallet that isn't too big, or too small. I'm a huge fan."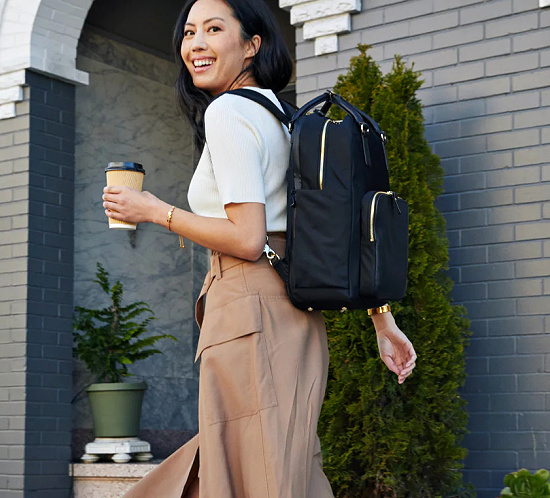 The Rowledge Backpack is widely loved by readers and travelers
Where to Buy Lo & Sons Bags?
Lo & Sons has an exclusive website for all their products and TFGs say their customer service is excellent and responsive! 
---
Now it's your turn. Share your thoughts on your favorite Lo & Sons bag in the comments below!
---
For more travel bag reviews, please read:
---
LIKED THIS POST? PIN THIS PIC TO SAVE IT!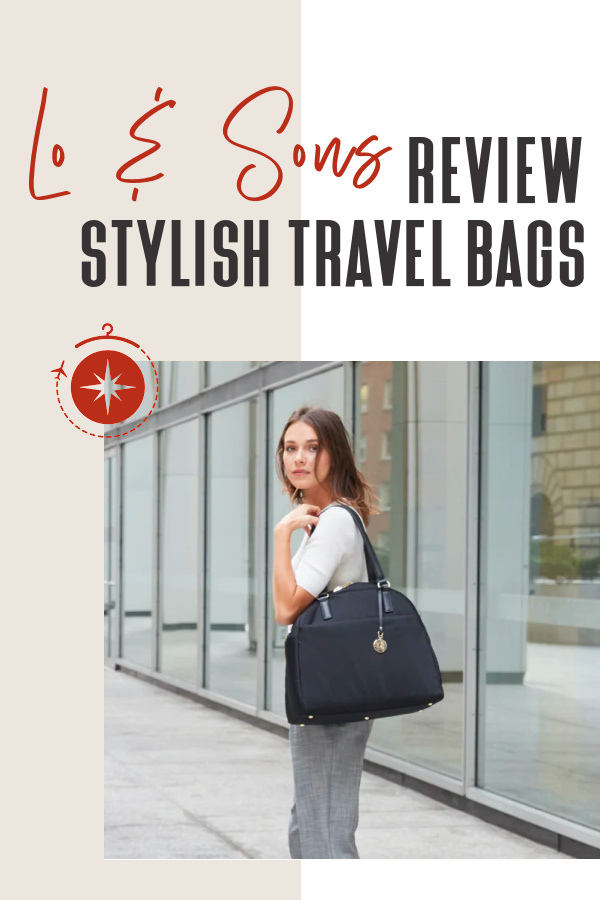 ---
We hope you liked this Lo & Sons bag review. Share this post with your friends on Facebook, Twitter, and Pinterest. Thanks for reading!
---