Support TFG by using the links in our articles to shop. We receive a small commission (at no extra cost to you) so we can continue to create helpful free content. As an Amazon Associate, we earn from qualifying purchases made on Amazon in addition to other retailers featured on the blog. Thank you, we appreciate your support!
Becoming a beloved item for travel by the TFG readers and myself, the Nomad Lane Bento Bag is specially designed to be versatile for multiple purposes including a weekender bag or for business travel. But does it measure up? Find out in our full review! 
Special offer for Travel Fashion Girl readers: Save 10% off with the code: TFG10. 
---
Nomad Bag Review 
---
Table Of Contents
For a few years, a true traveler's bag was whispered about among the community and that's when I and many others discovered the Nomad Lane Bento bag. 
It's marketed as a versatile accessory that can be used for an onboard personal item, business travel bag, or weekender bag. 
But does all the hype add up to a superior bag for travelers? Find out more in our review!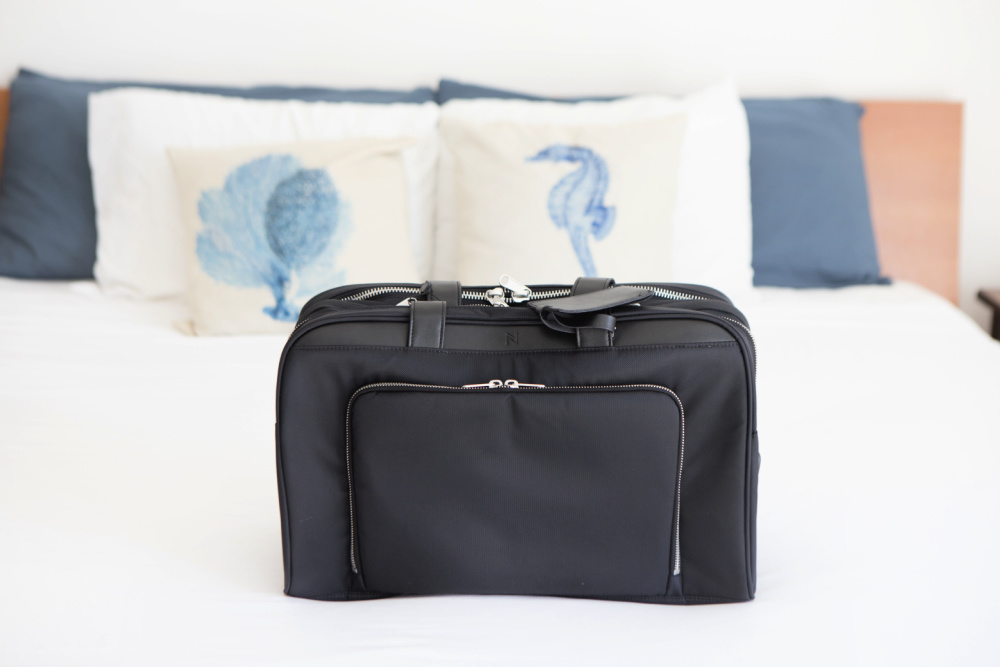 Nomad
Travel Lane
Bento Bag Specs 
Brand and Style: Nomad Lane Bento Bag
Dimensions and Weight: 17" W x 8" D x 10" H and weighs 2.9 lb (1.3 kg). Has a volume of 24 L, which accommodates a carry-on size for most airlines (double-check with your airline though)
Fabric: Nylon and vegan leather
Features: Opens in the middle like a suitcase, has specially designed pockets including two top pockets for toiletries and tech accessories, along with a padded laptop pocket. It also had two top handles and a shoulder strap that can be worn across the body as well
Colors: Jet Set Black/Bronze, Jetset Black/Silver, Nomad Navy/Bronze, Nomad Navy/Silver, Juniper Green/Bronze, and Postiano Plum/Bronze. They also offer several specialty colors, go to the main link to review
Travel Type: This is suitable for an overnight or weekend trip, business travel, or as an onboard personal item for a flight 
Nomad Lane Bag Features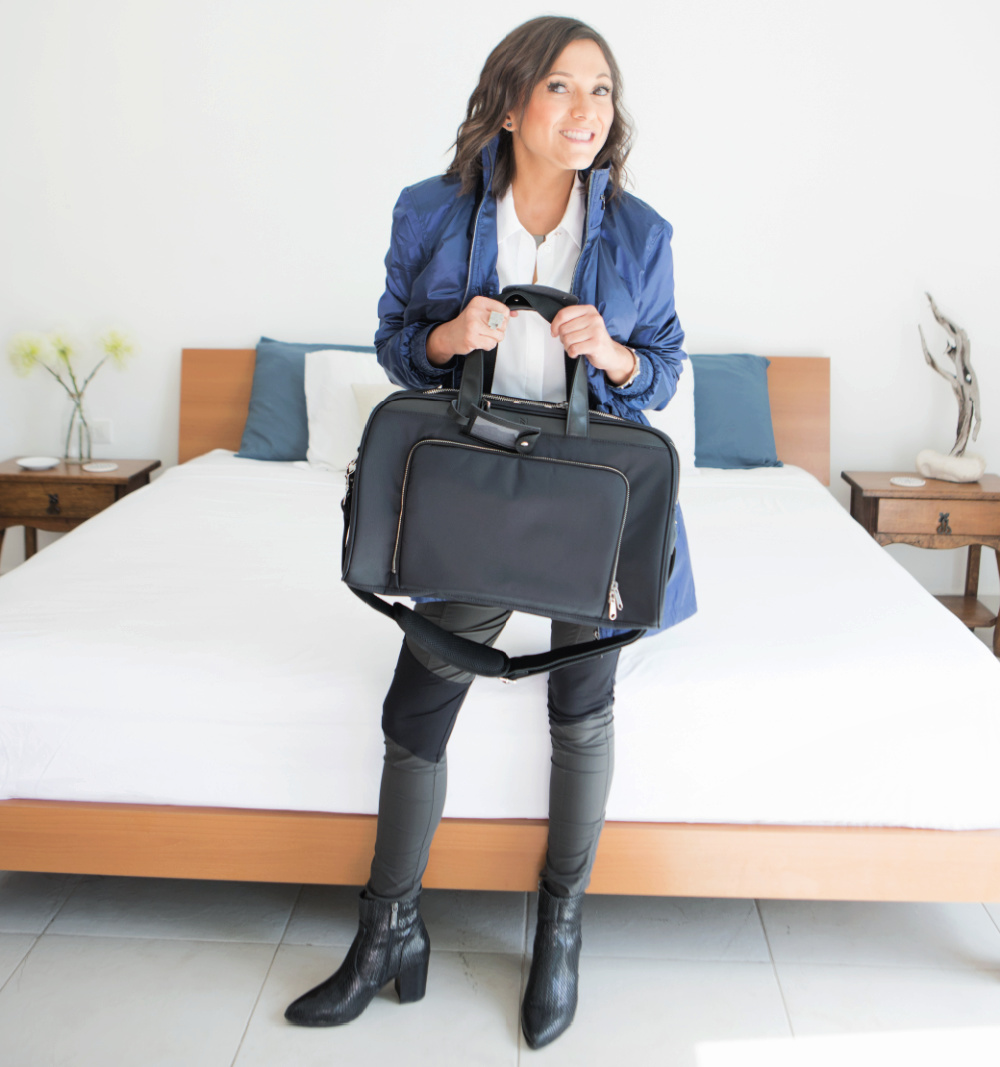 Size and Material
The Nomad Lane Bag is 17" x 10" and weighs 2.9 lb, which is a small enough bag to fit under the seat, a hugely popular feature for many readers (and me!). There are two handles at the top which are made of vegan leather and the cool thing is they clasp together so it's easier to carry via the handles.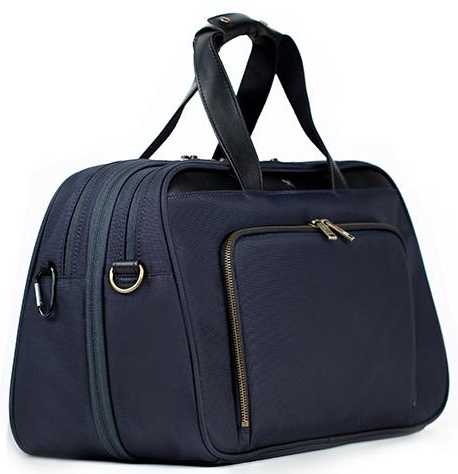 Clasp for handles on Nomad Lane Bag in Nomad Navy/Bronze
It has a trolley sleeve too that goes over the handle of your suitcase. The rest of the bag is made of a very durable nylon material. I've traveled with it for over a year now and found it to be sturdy, taking the rigors of travel. 
One reader chimes in about the sizing and how well this fits under the seat. "It really does fit under the seat. I've only had one situation in which it was a little tricky but that's because the under-seat space was reduced by some mechanical equipment. I can't say enough good things about the bag. My other totes and even my Tumi backpack rarely gets used since I got it."
As for my own experiences, It has fits under the seat on all the planes I've flown, even on small domestic planes!
Read these tips on how to pack for 5kg baggage allowance!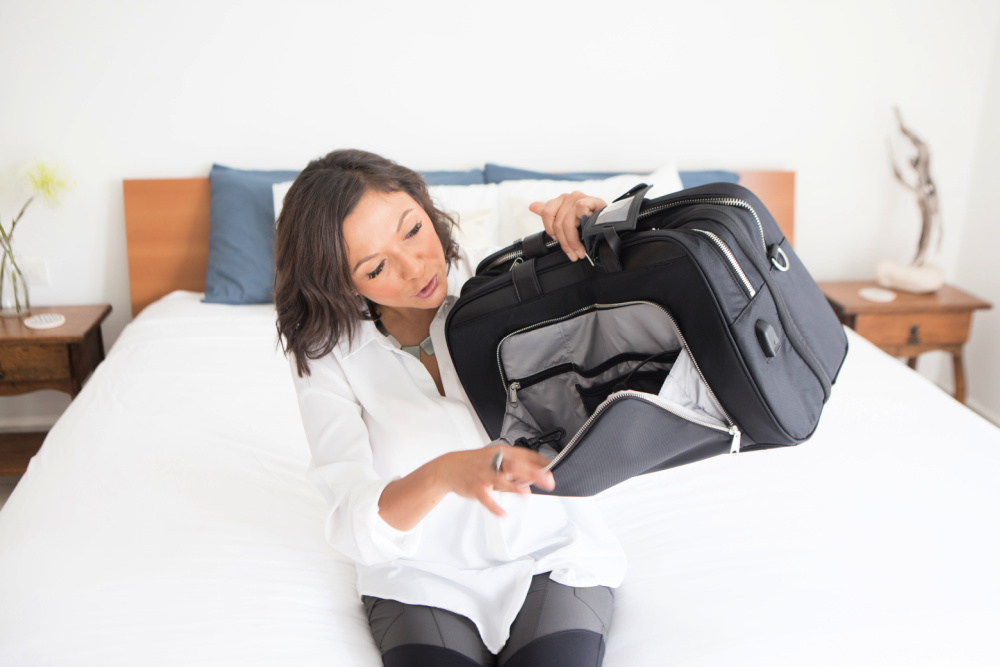 Storage and Organization
What I noticed right away was at the front of the bag, it has an external pocket and it has different organizational compartments inside. One is a little mesh pocket. And then there are some other three little compartments and some pen pockets. Finally, there is a little zip pocket as well, which is nice. The ability to organize small items in the front seems great–with pens, papers, and so on.
Besides the front external pocket, it also has two smaller zippered pockets on the top that can fit things like your tech accessories or toiletries. What's awesome about these pockets is they're easily accessible anytime, but especially useful while going through airport security when you have to remove things like tech items.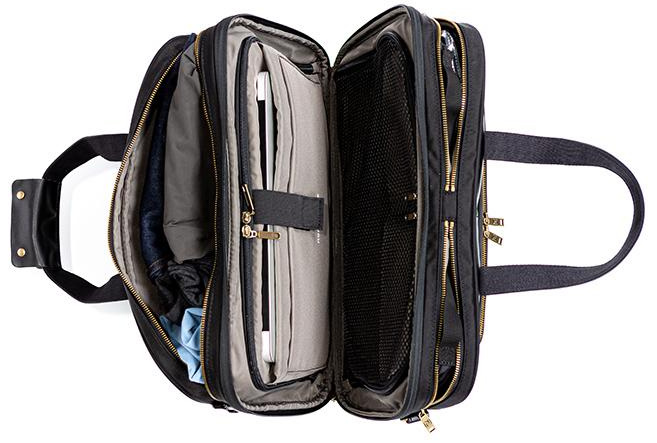 Organizational view of Nomad Lane Bag in Jet Set Black/Silver
The trolley sleeve itself also has a zippered pocket too (right on it), which is super nifty! This pocket seems like the ideal space to store a boarding pass, or even your passport while you're in the airport, so you can be more hands-free and pull out what you need at a particular moment, especially when boarding the plane.
Next, the center section has two zippers, both of them access the middle portion, where you can put in items such as clothes or shoes.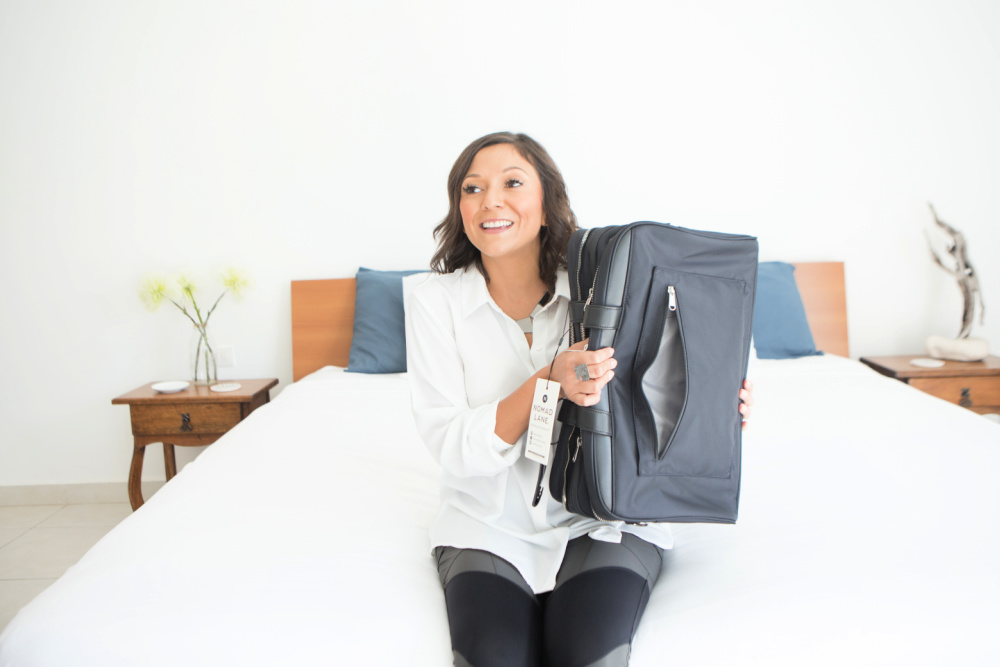 Trolley sleeve and it's pocket in Nomad Lane Bag 
By the way, when I checked out the zippers I found them to be sturdy! These are YKK zippers, which I also built into the Compass Rose Packing Cubes. YKK zippers are good quality zippers and are durable, which is something important in a bag. 
It for sure has a lot of ways to organize items and be able to find things. This reader agrees, saying,  I've found it to be really well organized and super easy to access my stuff on the plane."
You'll want to look your best when you travel! Read my travel tips to Pack Light Stylishly!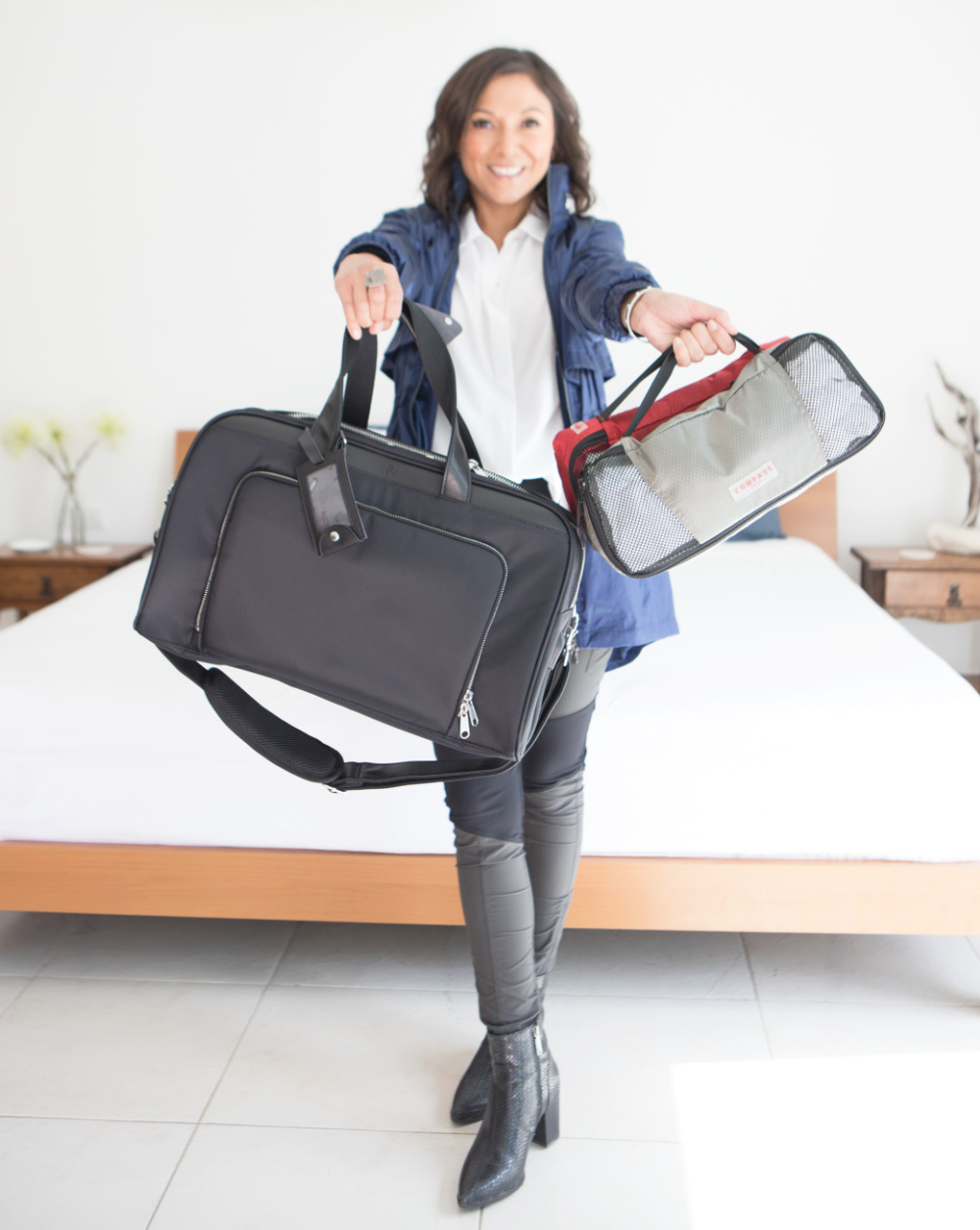 Packability 
The most unique feature of this bag is that it opens in the middle like a suitcase does which means it can pack like one too.  
Since there are two center zippers, I opened up the one that has a mesh compartment first and believe that is meant to hold shoes, but it could also store other items. The mesh feels sturdy which I should know about mesh since I tested out a gazillion samples of mesh when I made the packing cubes. It would seem that the mesh internal compartment houses two shoe bags, but if I don't use that space for shoes, at least one extra packing cube fits.

Adding one packing cube to the mesh compartment
Then there is a well-made padded laptop sleeve to accommodate a laptop up to 16". Which in theory could hold other things if you weren't taking a laptop with you. 
And on the other side of the laptop pocket is the second zippered compartment that is meant to fit a small set of clothes, but it has no mesh enclosure. As for what this open compartment can fit, I was able to fit in two Compass Rose Packing Cubes!!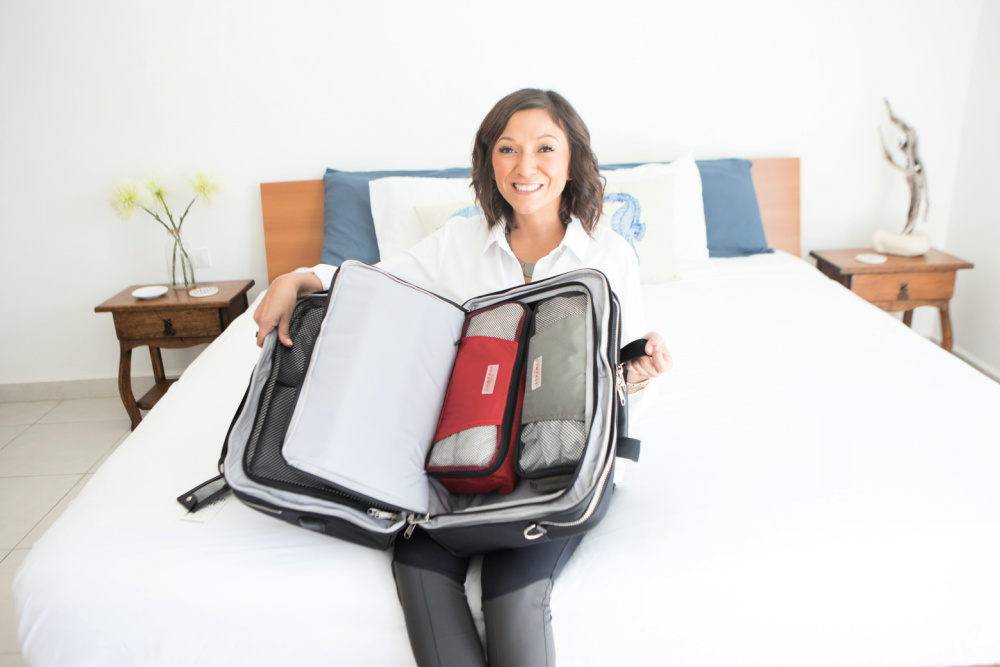 Adding two packing cubes in the other middle compartment
And one reader echoes this, saying, "One of my favorite features is that Compass Rose Packing Cubes fit perfectly inside. You can fit a TON in it!"
Overall, in terms of capacity, it's much more spacious than it actually looks. When I first got the bag I thought, wow, that's so tiny and compact and then I was pleasantly surprised.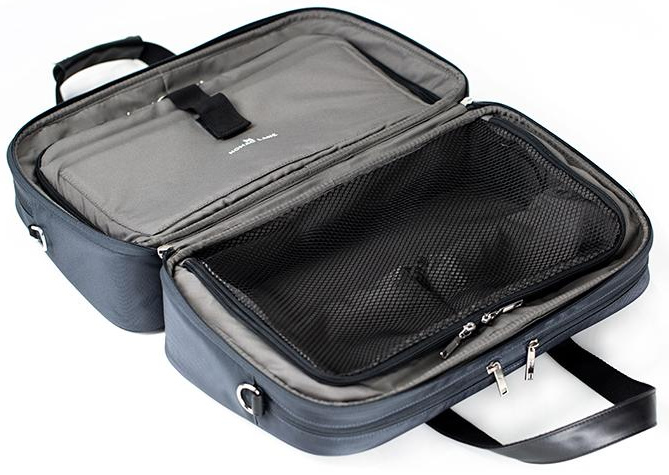 Open view of Nomad Lane Bag in Sport Navy/Silver
Tip: try to travel in the bulkiest shoes on your flight. For example, in the photos, I've got on the shoes that I typically wear on a flight, along with wearing a sample in-flight outfit; a button-down blouse, and leggings, super comfortable for a flight. So you could be wearing the bulkiest shoes as you travel and have a more lightweight pair in the Bento bag.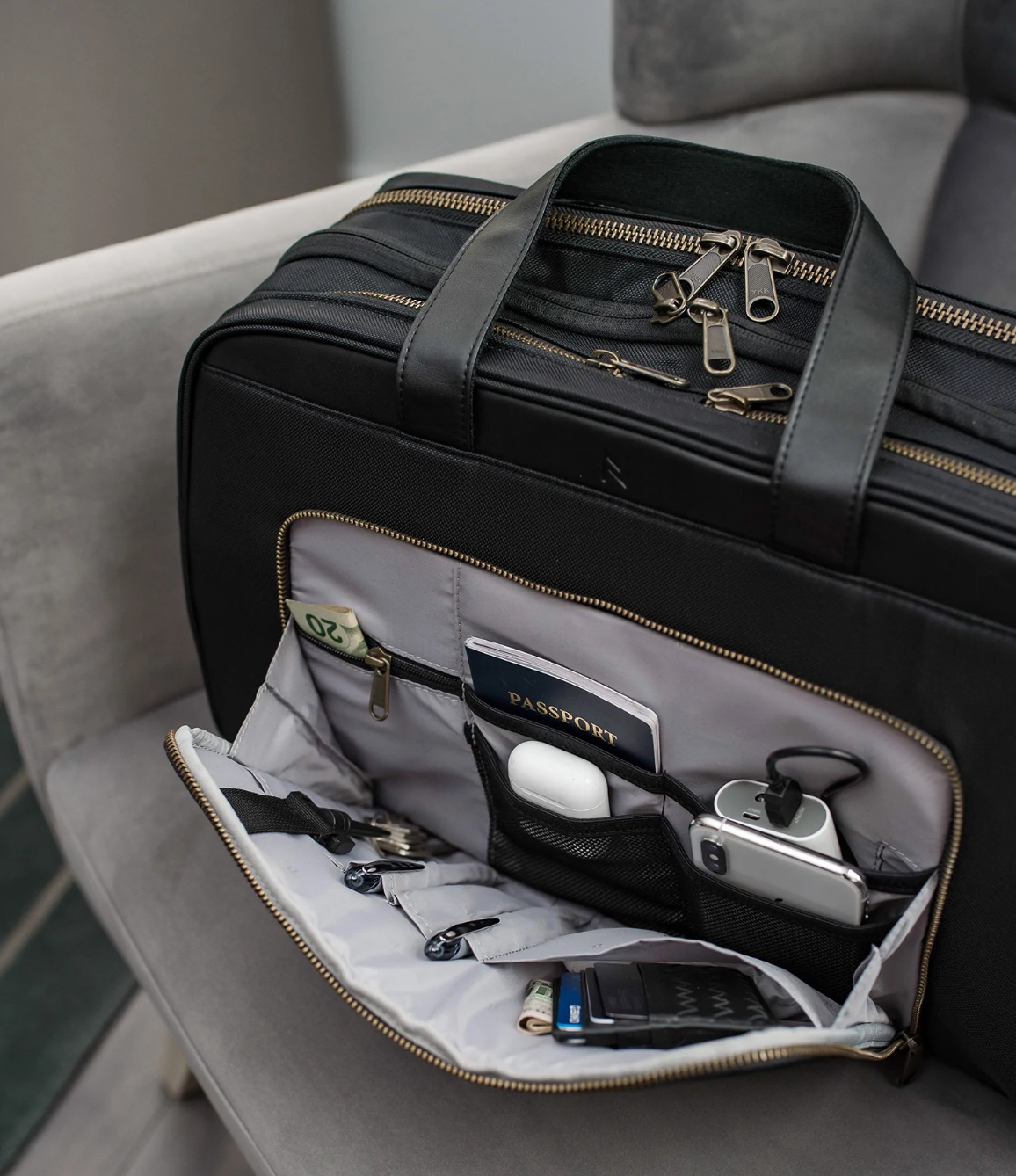 External front pockets of Nomad Lane Bag (Jetset Black/Bronze color)
Extra Features 
It's pretty incredible the number of extras that come with the Nomad Lane Bento Bag. Within the front pocket are four stretchy pockets, 1 passport pocket, 3 pen slots, a zippered cash pocket, and an attached key leash. It also has accessory loop to secure larger items (e.g. water bottle, noise cancelling headphones, travel pillow).
Besides the numerous compartments, they also have a bag cover for storage when not in use. If you'd prefer to pack a toiletry bag, check out the best toiletry bags here .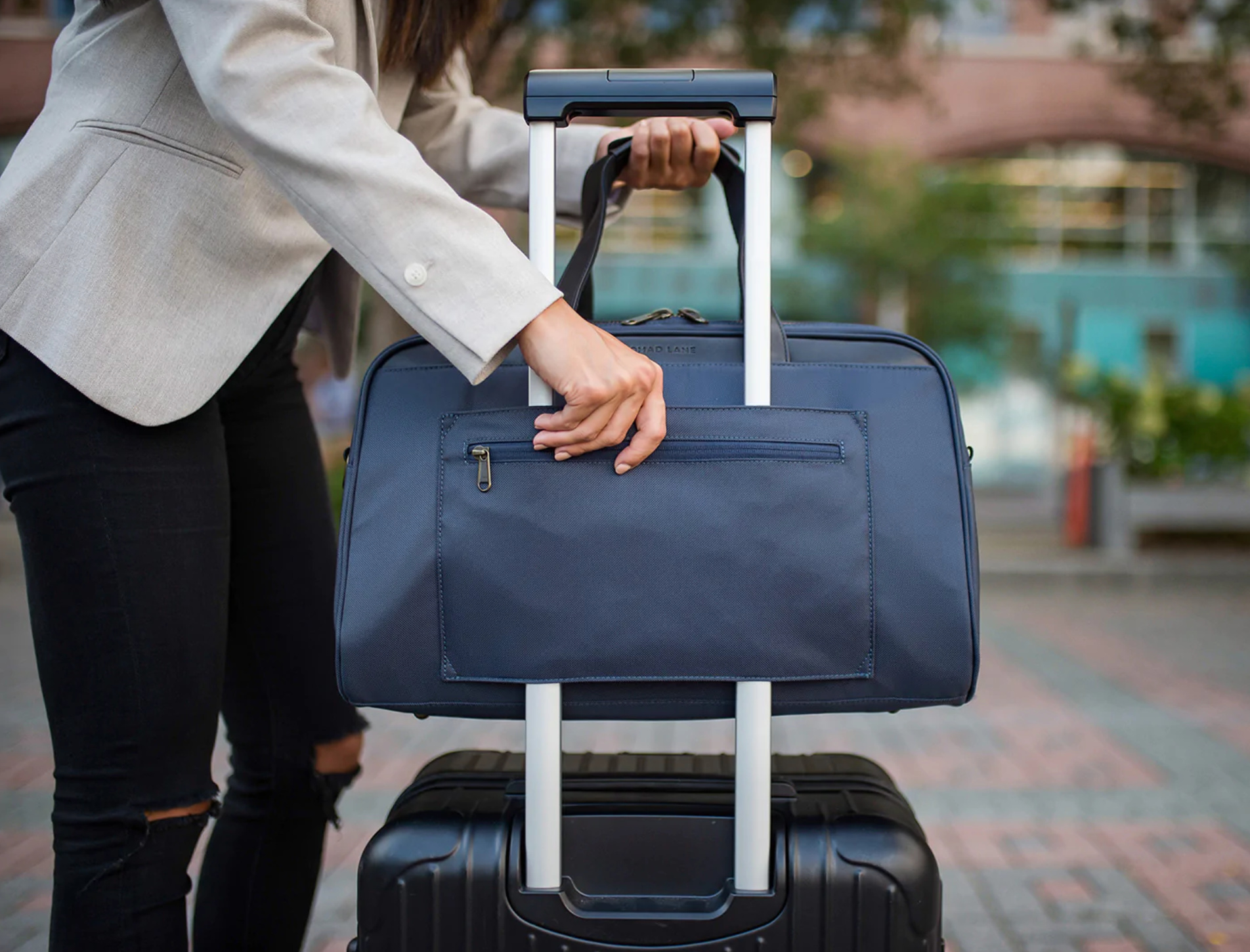 Convenient trolley sleeve of Nomad Lane Bag, making long airport treks seamless
I feel the best thing has to be the trolley sleeve, which allows the bag to sit on a suitcase. You can put it on the handle and that's key, but what's also really cool is that it's not just wasting space.  
Finally, the piece de resistance is the detachable, adjustable shoulder strap that's padded. I can carry this either by the handles or use the shoulder strap if I want—a really terrific feature for travelers.
Read this post to find out the best bags with trolley sleeve for travel!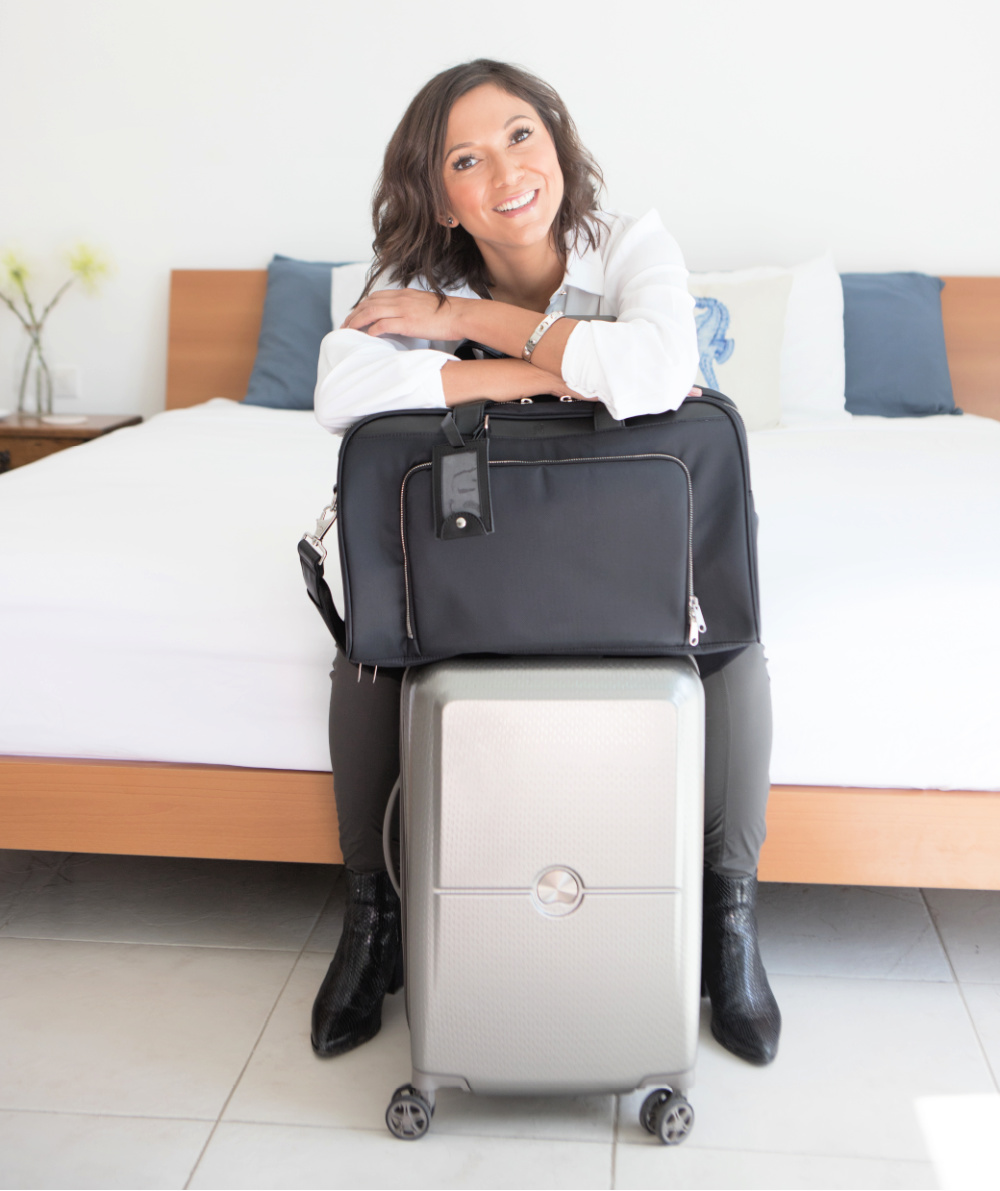 Pros
The Nomad Bento bag offers many uses. For example, it can hold all your in-flight essentials, maybe be utilized for an overnight trip or a weekend trip, depending on how light you're traveling, and also whether or not you plan to bring a laptop and electronics. 
It's a quality-made bag that will have longevity and can be used frequently without it breaking or wearing out too quickly. A TFG'er who is a devotee of Nomad Lane says it can hold a ton. "I've used it now for a couple of years and I absolutely LOVE it. It can hold a lot and has now become my go-to bag for a trip of five days or less. I can fit my laptop, two PACKED Compass Rose Packing Cubes, my toiletries, water bottle, and a pair of shoes in it, plus other miscellaneous stuff. And I love how easy it is to fit on the plane itself."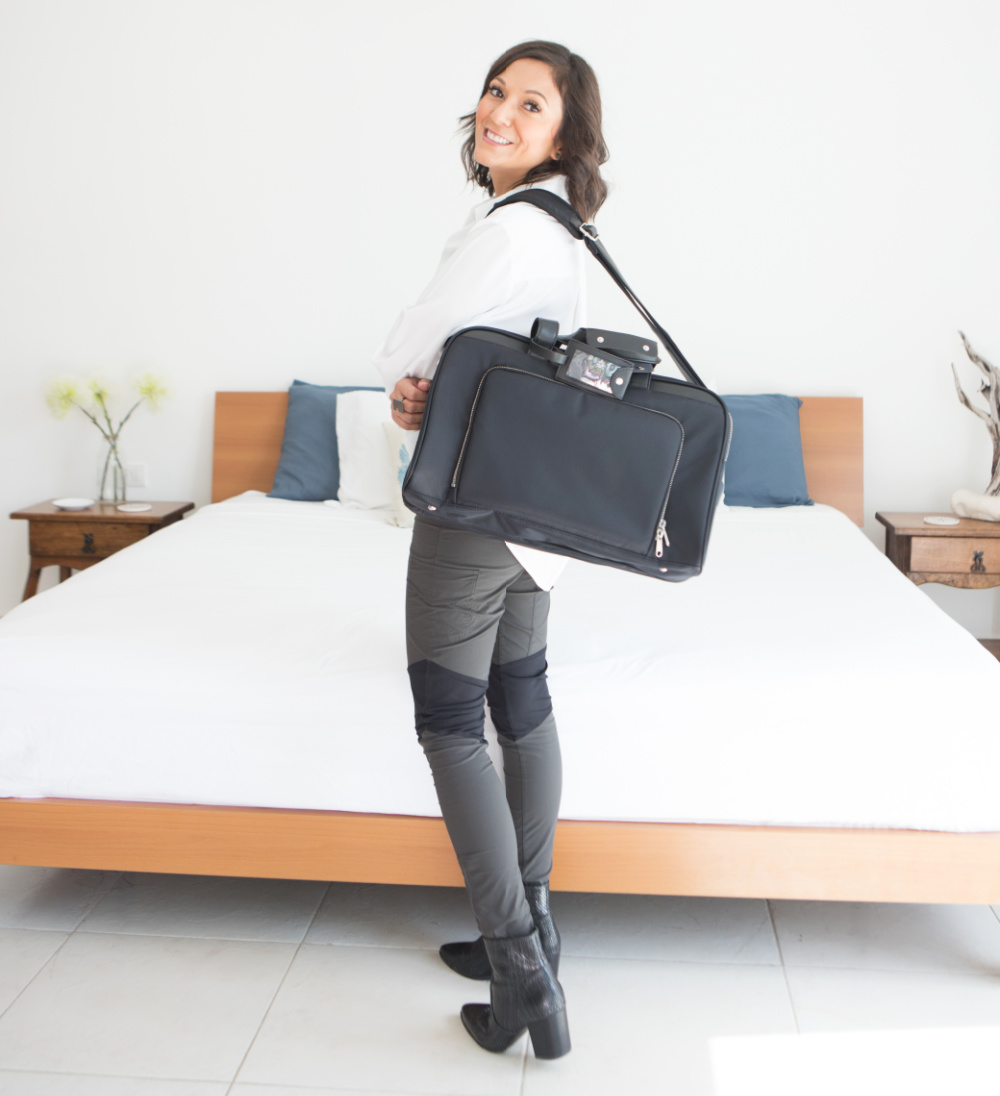 Cons
While the price tag of the Nomad Lane Bento Bag may seem steep, it really has a ton of features that not many bags of this kind don't offer. 
However, one thing to note is that users say it can get quite full fast if one isn't thoughtful enough on what to bring for a shorter trip. A TFG reader weighs in on this, "I'm a big fan of this bag and I choose it before others when I have a short trip because I really like everything in its place. If you have to pack a laptop or large tablet it'll make it harder to stuff real full. It's helped me be more responsible about what I take with me. When we traveled to Mexico I was actually able to pack my snorkel gear, a change of clothes, my toiletries, makeup, and other miscellaneous things in case my suitcase didn't arrive with me."
The last thing to consider is this bag is most suitable for travel, it's not recommended as an everyday item as it's bulkier than the average day bag. However, one reader concedes that "some people take a ton of stuff to work, including gym clothes and things like that. As an all-in-one for something like that I could see it being useful."
Read this post to find out some common items female backpackers longed for on their extended trips!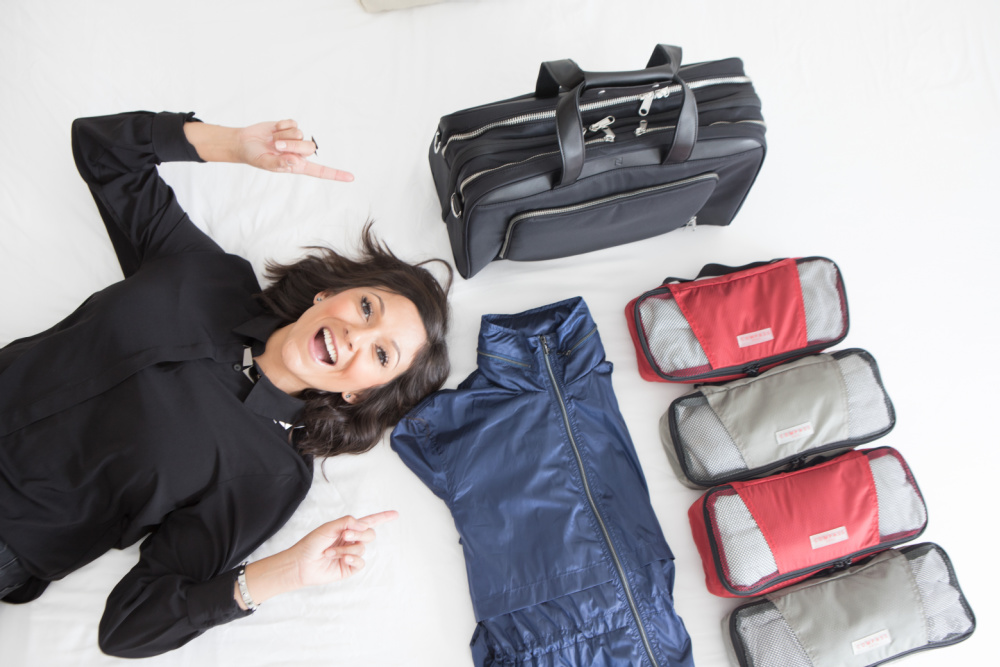 Verdict
I definitely love this bag. It's practical enough, not just to carry in-flight essentials but it's a perfect overnight or weekender bag as well. I want my personal item or my under-seat carry-on to actually do a lot more for me and be very practical and versatile I can carry clothes in here, my laptop, toiletries, and more. That's a big, big plus. 
The material and strong zippers mean this bag will last for a long time. One TFG reader absolutely adores hers. "I LOVE my Bento bag and I love traveling with it. It holds a ton and is so incredibly thoughtfully designed."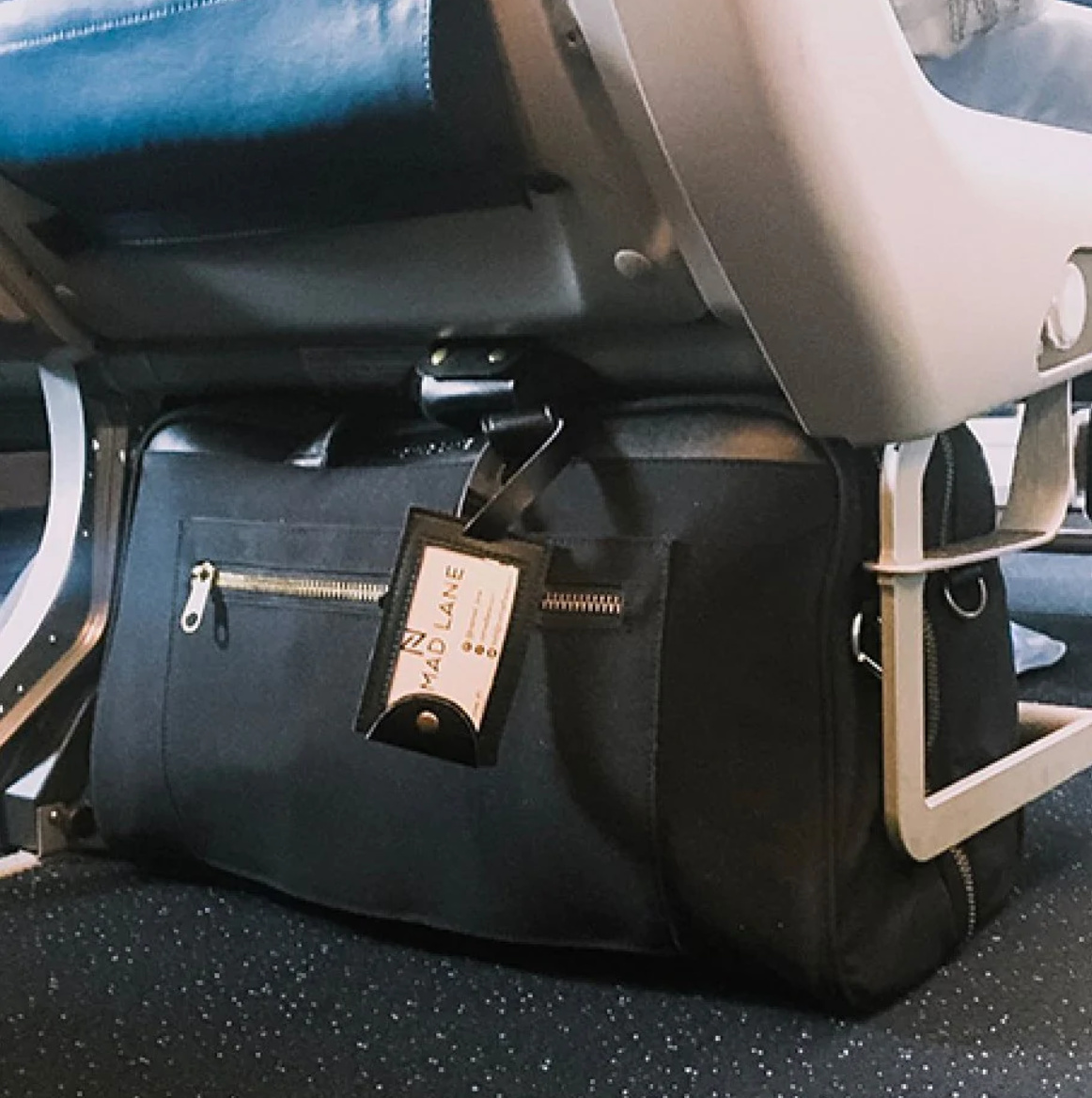 Designed to fit under the airplane seat in front of you, so you'll have easy access to in-flight essentials when mid-air.
While the price tag is higher than others in the market, the quality and care into how this bag works for travelers is impressive when you factor in function and all the accessories. As one happy reader says, "I love my Nomad Lane Bag and if this is $228, that's a solid price point for me. I've been impressed with the quality, design, and hardware on this bag."
This bag is a definite investment and while it may not be for everyone, those who are fans are rabidly in love with it and say they use it very frequently for short trips or as an in-flight personal item. A must-have for travelers!
Video: Nomad Lane Bag Review
The Bento bag has for sure become a favorite of mine and is the ideal size for a personal item and looks so sleek—matching the rest of my luggage perfectly. My pick was the Jet Black color with silver hardware but you can also grab it in plum or rich green or different hardware, such as bronze. I was SO excited to receive mine that I did an unveiling video! Check it out!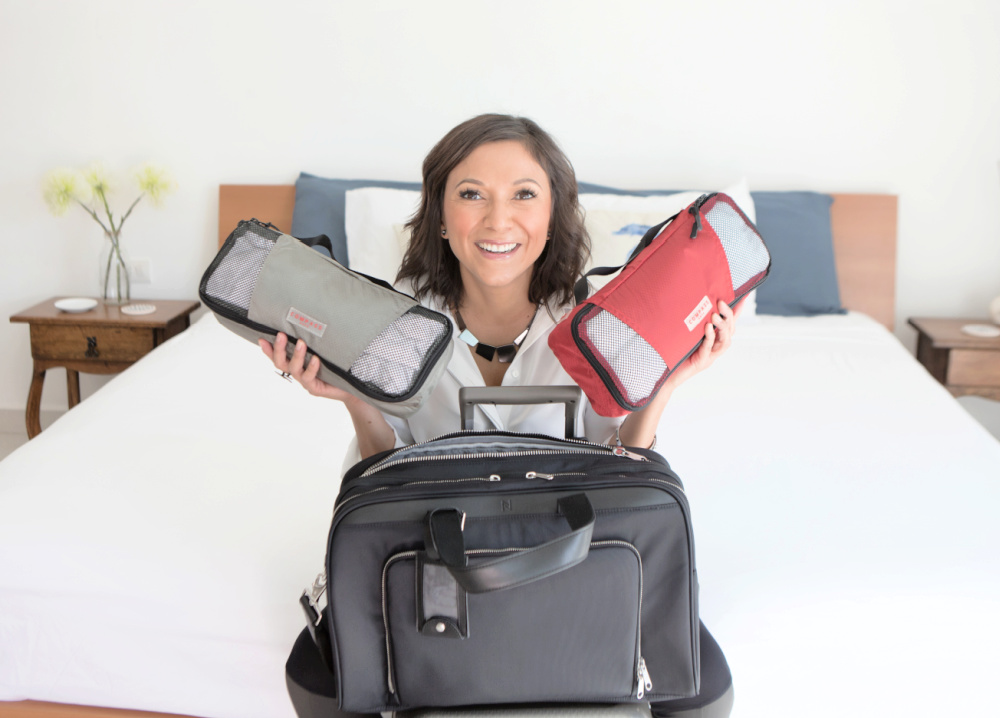 How to Pack Your Bento Bag
As I was saying, this bag can fit at least up to three packing cubes, which is awesome! However, if you're new to using these great organizational space savers, the video below offers a thorough tutorial.
Learn our hacks with packing cubes in this video!
We also put together a five-part YouTube series showing the different methods to use packing cubes for travel. If you utilize this specific packing strategy, packing cubes can also compress your belongings. This is the secret to traveling carry-on only!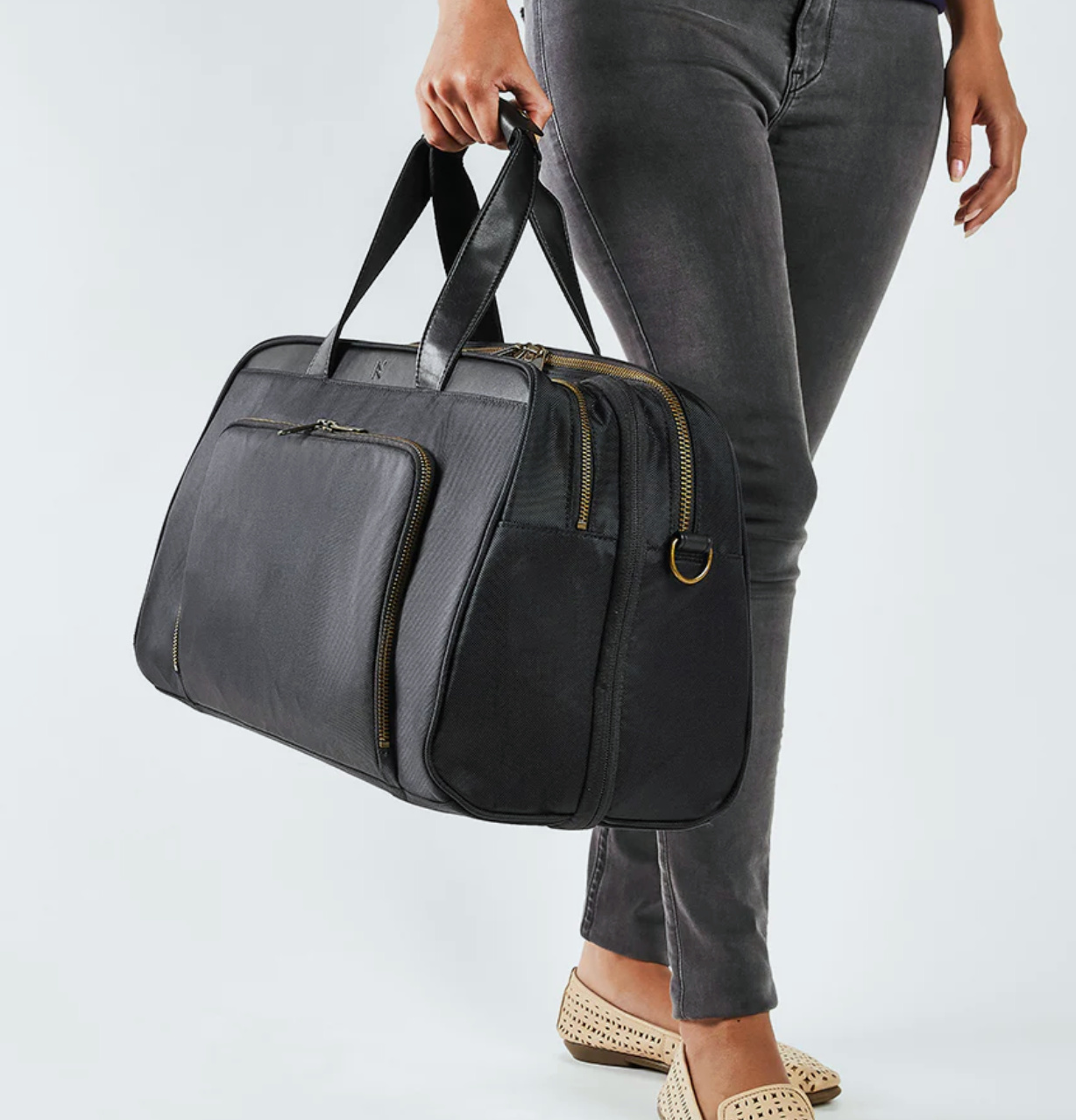 Nomad Lane Bento Bag in Jetset Black/Bronze
Where to Buy the
Nomad Brand
of Bags
You can grab this popular bag directly from Nomad Lane's website or at our shopping page, just look under the Accessories section for the link!
---
What's been your experience with the Nomad Lane Bento Bag?  Share your thoughts below!
---
For more travel bags or luggage, please read:
---
LIKE THIS POST? PIN THIS PIC TO SAVE IT!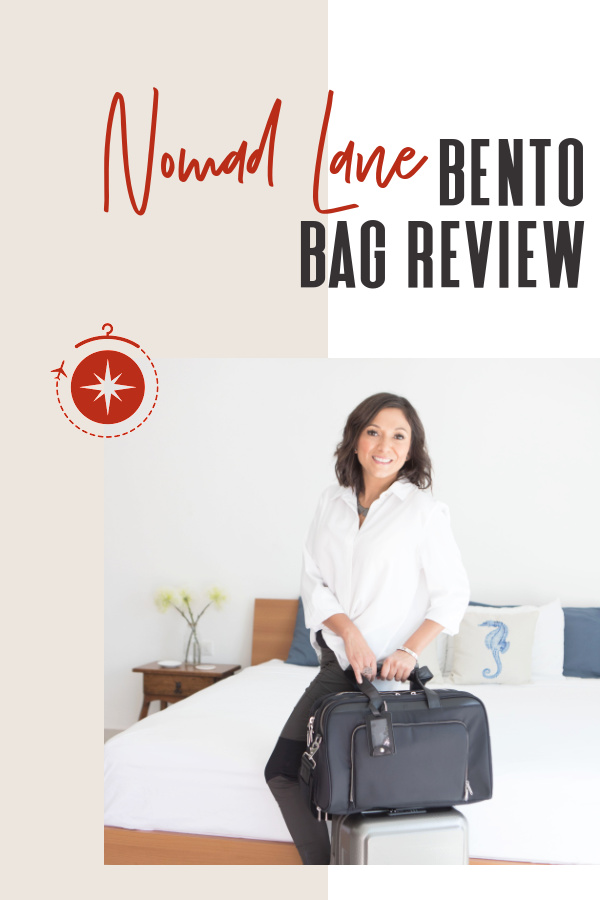 ---
We hope you found this Nomad Lane Bento Bag review helpful. Please share with your friends on Facebook, Twitter, and Pinterest. Thanks for reading!
---