Support TFG by using the links in our articles to shop. We receive a small commission (at no extra cost to you) so we can continue to create helpful free content. We earn from qualifying purchases made to the featured retailers. Thank you, we appreciate your support!
Aside from their popular suitcases, Tumi makes durable and stylish bags of all shapes and sizes to bring along on your travel adventures. Find out what readers think of this popular brand, and see their top Tumi luggage bag reviews!
---
Top Tumi Reviews from Readers
---
Table Of Contents
If you're a travel aficionado, you've no doubt heard of the wildly popular luggage brand Tumi. And while they make some incredible suitcases, they also offer all kinds of travel bags, from packable totes to laptop backpacks to purses! Take a look at TFG readers' reviews on Tumi bags and some of the most popular picks!
Best Features of
Tumi Bags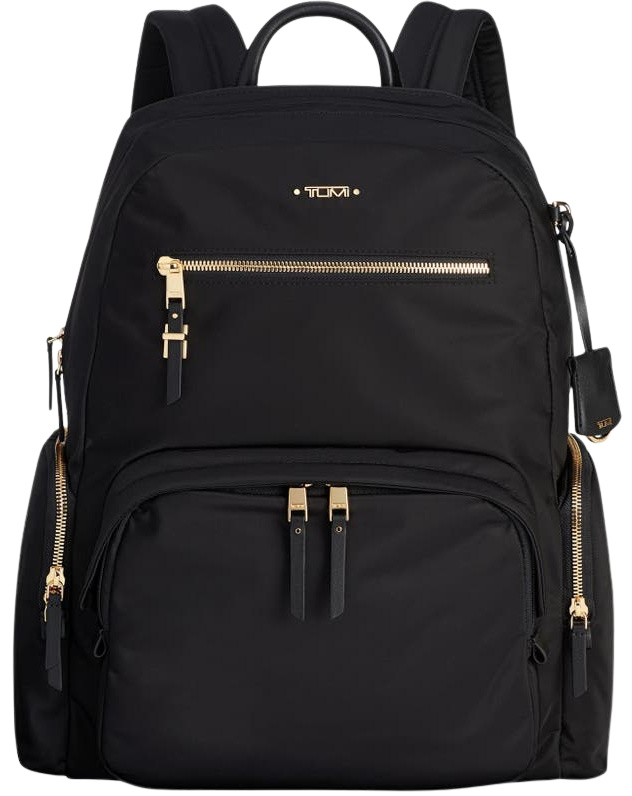 The Tumi Carson Backpack is one of the top-selling backpacks on the blog!
They're Versatile and Easy to Organize Essentials 
Readers love the versatility and convenience of Tumi bags. Almost all of their bags and backpacks have trolley sleeves, so if you're traveling with a suitcase, you can roll along to give your back and shoulders a break! And when you do need to carry them, readers highlight their comfort, especially with Tumi backpacks! 
Tumi bags are ready for all kinds of travel. They can be used as an onboard personal item, a sightseeing bag, or even just an everyday bag! A lot of readers have purchased a Tumi bag for travel and loved it so much that it became their daily go-to! 
One reader with a Tumi laptop bag shares, "I have a convertible crossover backpack. I bought it three years ago specifically for travel, but have used it every day since purchase, and it's as good as new. I love Tumi!" 
The stellar organization Tumi bags provide adds to their versatility. They'll keep your travel essentials secure and at the ready, with packable space and plenty of pockets. These features make them the perfect work bags or day bags, too! 
You can also opt to use a purse organizer in a Tumi purse or bag, to keep all your essentials in their designated places.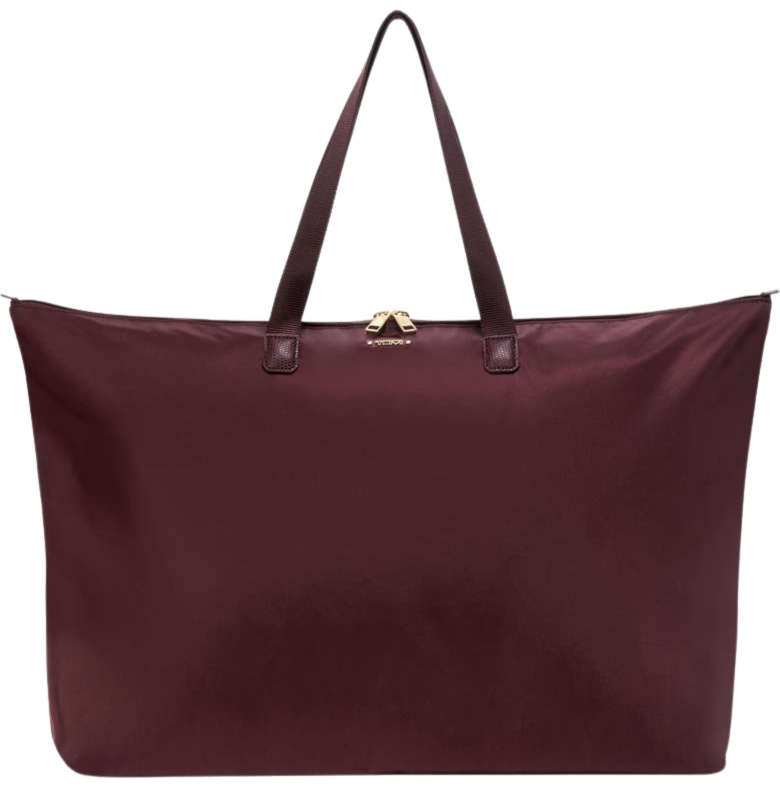 The Tumi Just in Case Nylon Tote is perfect for an onboard personal item or a walk-around bag!
They're Well Designed and Durable
One of Tumi's standout features is the high quality and durable design. Many readers have shared that their Tumi bags have lasted them years of both travel and daily use and still look amazing!
One reader gives an impressive Tumi review, "Tumi certainly seems to stand the test of time. I have a convertible crossover which I purchased for travel but have used it every day for a year and it still looks like new!" Another readers expands this sentiment, "I have a few Tumi products I love and have worn endlessly without damage."
In addition to their solid construction, Tumis are designed to be incredibly packable. Readers report being able to efficiently pack a ton into their bags with ease — even smaller ones — and carry them comfortably. Tumi laptop bags are especially great for business travel, safely and efficiently storing your work gear. 
One reader shares about her Tumi Hilden backpack, saying, "True to Tumi, it's a clown car of pockets and zippered compartments both hidden and in the open. Easy to keep everything organized. And while not specifically a security bag, I dare pickpockets to figure out where the goods are. It's very durable." 
As a bonus, Tumi offers a great first-year warranty and additional years, depending on the bag purchased, as well as great customer service overall!
Read this post to find out what we think the best business backpack is for your next adventure!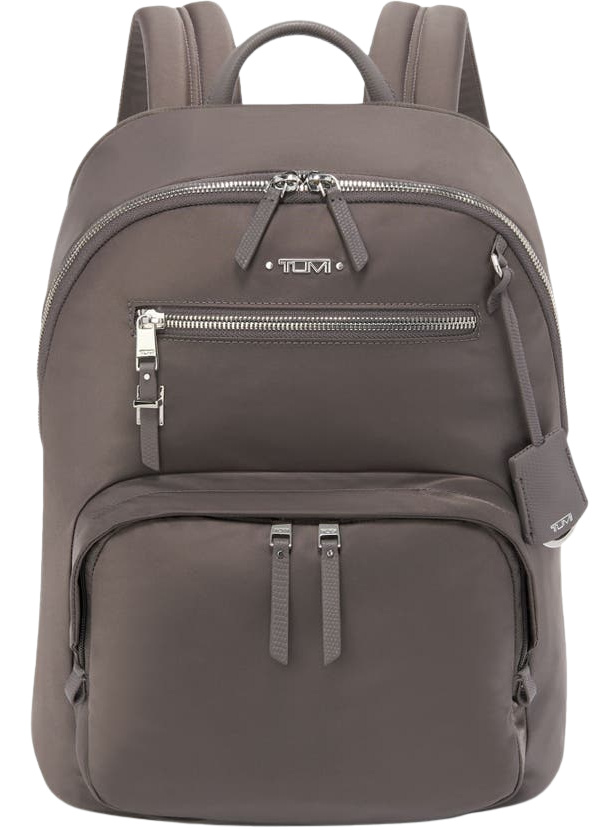 The Hilden makes a chic day pack for sightseeing
They're Stylish and Classic
Tumi bags are beautifully designed, with simple yet stylish details that make them both elevated and functional. When recommending Tumi, readers frequently describe them as sleek, fashionable, and classic. 
TFGs love that their Tumi travel bags are polished enough to take from the airport to a business meeting to dinner. The gold and silver hardware and the leather accents add subtle sophistication, and the nylon fabric is high quality and super durable, too, so it'll stay looking beautiful for years! 
One reader who shares a Tumi backpack review, "Very chic and elegant (even though it's a backpack!)," and another describes her Tumis as, "Classic bags that will never go out of style."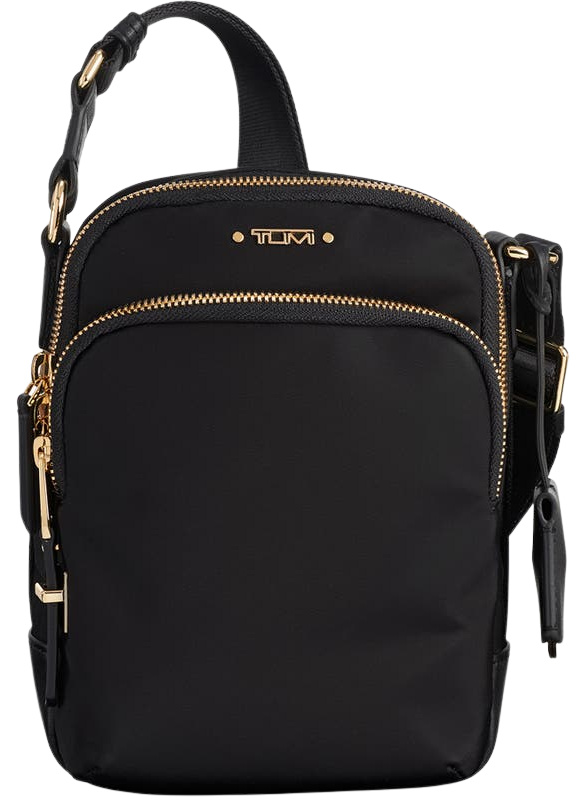 The Voyageur Ruma Nylon Bag is $100+ but users say it's lightweight and classic!
They're Worth the Price
Tumi is a higher end travel brand, and their products are definitely priced as such, with bags ranging from around $100 to over $300. Even though they're quite pricey, readers say that given the quality, lasting durability, and timeless designs, they're well worth the investment. 
With Tumi, readers confirm you'll definitely get your money's worth, with one saying, "Tumi is high quality, great design, and indestructible. Honestly, my small backpack/purse looks new after six years!"
Another reader agrees, "I used a Tumi Voyageur Carson backpack daily when I was also flying weekly for work. It took a ton of abuse/spills, etc., and cleaned up great. Years later, it still looks nearly new. Very worth the money." 
Many more readers share similar stories of their beloved Tumi bags holding up amazingly well after lots of traveling and daily use! They'll never go out of style and are dependable for years to come.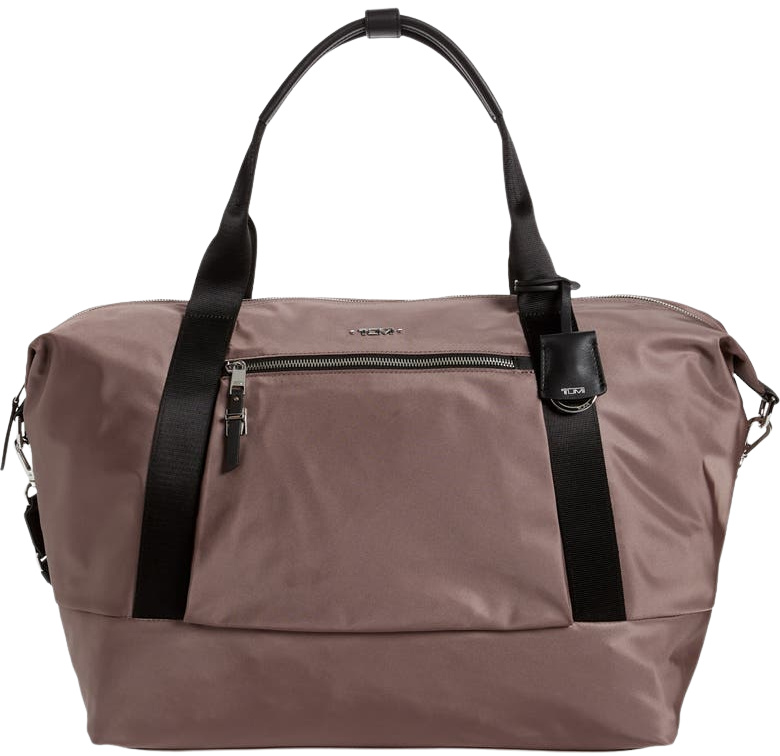 The Voyageur Dumont Duffle has plus/minuses, but users love its size and versatility overall
Pros and Cons
So many TFGs adore Tumi bags for their travels and day-to-day life, especially because of their incredible durability and ability keep things organized. One reader shares an impressive Tumi Calais backpack review, "Not only does it look sleek, it's bigger than it looks and fits my laptop perfectly. Mine has traveled for multiple weeks to Italy, Portugal, Japan, and Argentina and has weathered rain, sweat from hiking, snow, and scorching hot weather. Best backpack ever!" 
Aside from holding up extremely well under the rigors of travel, readers say Tumi bags are super easy to care for and clean, too. 
While the bags are definitely sturdy, some readers have expressed that this makes them a bit too heavy and less functional than they could be. One reader shares, "I agree with others, too heavy. Tumi quality is good, but they're behind the times on lightweight materials and construction." Though other readers disagree, loving the durability and the pockets that lend superior organization. 
The higher price point is also a common deterrent for many readers. One reader shares, "I love Tumi. Just wish they weren't so expensive! Quality is second to none." 
Another concern is that while these bags are undoubtedly stylish and sleek, for some readers, this is actually something they don't necessarily want to show off, especially in places where theft is common. One reader explains, "I try not to travel in high crime cities with my Tumi since that's a clear sign to would-be criminals that I have money for them to steal. I bring the cheapest backpack and non-flashy bags when I travel." 
With all these considerations, the biggest fans of Tumi say its superior packability and organization and sturdy construction will be dependable for years to come, it's no wonder many readers adore these chic travel bags!
Check out their choices for the best duffle bag to bring along on your trip!
More Recommended
Tumi Purses
, Backpacks, and Bags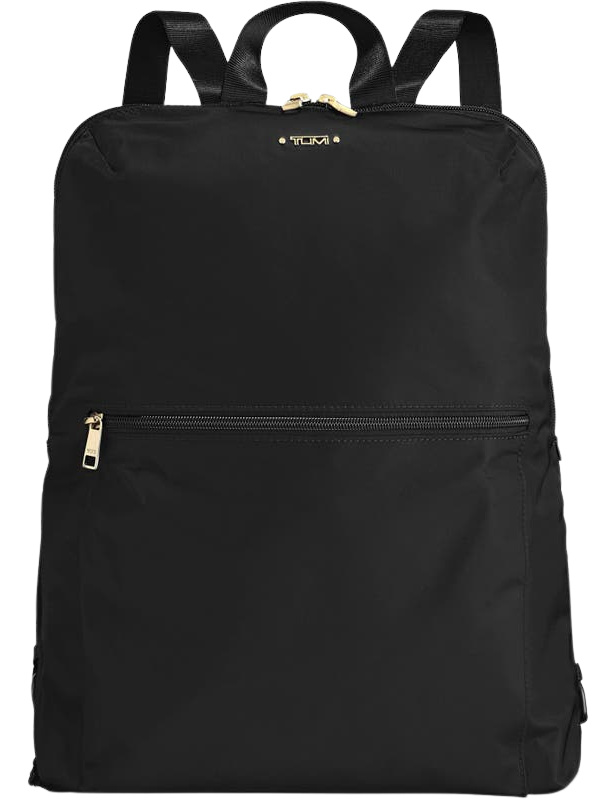 Just in Case Nylon Travel Backpack
Voyager Just In Case Backpack
The Just In Case backpack is incredibly functional, yet still rocks a style conscious appeal. It's made from durable nylon fabric that folds flat, and it's super packable while being a perfect medium size that's easy to carry. The trolley sleeve is a bonus, and it comes in other colors, including this cute dusty rose option! 
A reader shares, "It folds down into this flat storage bag for your suitcase. I'm using the backpack as a lightweight alternative for touring around on this trip and to keep my small items organized. And it has a trolley sleeve."
This adorable backpack is also available on Amazon here!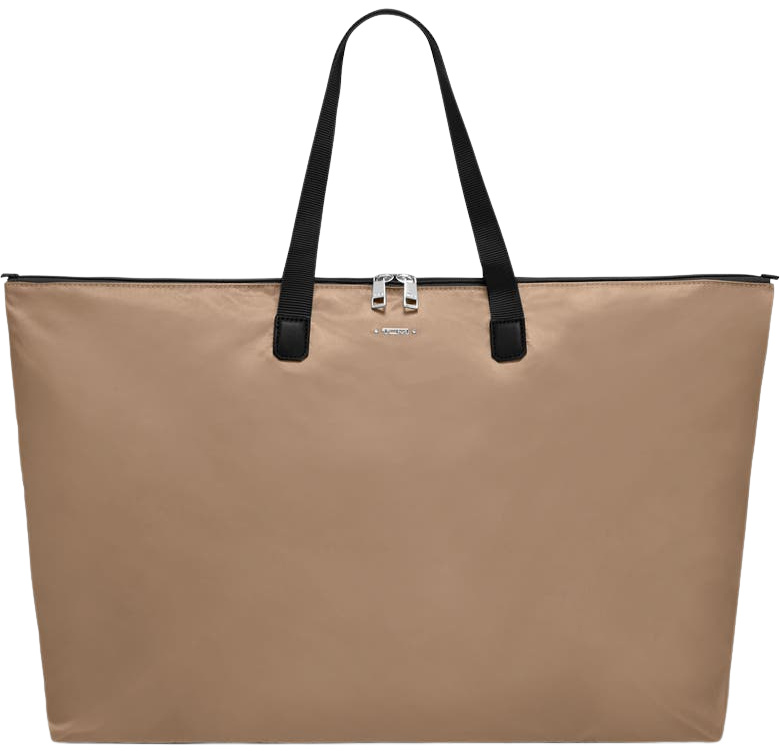 Just In Case Tote
Tumi's packable totes are incredibly popular with readers. The Tumi Voyageur Just In Case tote is unique in that it's nylon with leather detailing at the straps, giving it an elevated look and extra durability. Even with the chic leather accents, it still packs down easily into a teeny pouch, making it the perfect travel buddy if you need to do some souvenir shopping! 
You can roll it along with your suitcase using the trolley sleeve, too! One TFG says, "I love it! It's big but so lightweight, and folds small!"
This highly popular tote can als be found at Amazon.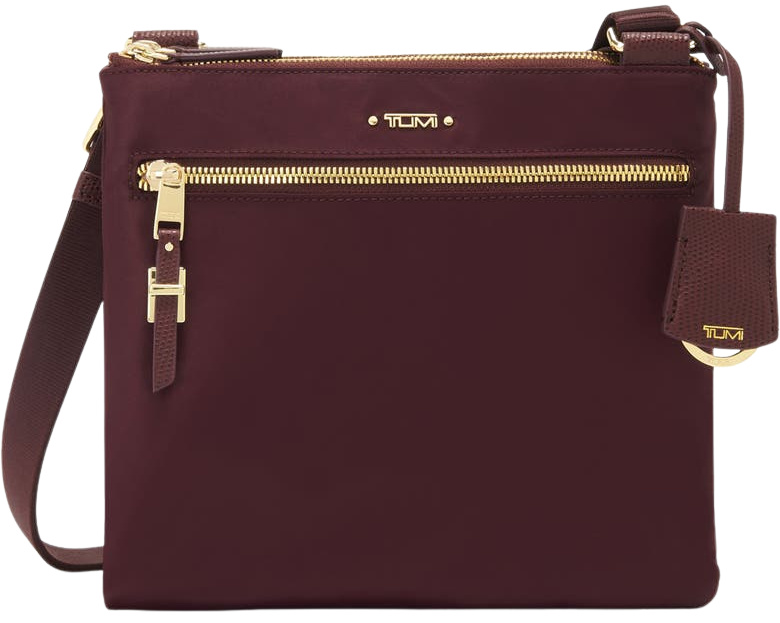 Tula Nylon Crossbody Bag
Readers adore Tumi handbags and crossbody purses! The Tula crossbody bag is a chic little day bag that will safely (and stylishly) store the essentials as you explore your destination. It's also handy for travel days when you'll need easy access to your passport, boarding pass, and phone. 
As a bonus, it comes with a Tumi Tracer in case it ever gets lost or stolen. This bag comes in black, too!  
A reader who loves her two crossbody Tumi travel purses says, "The pocket on the front is great for plane tickets and passports when flying. I use both as everyday bags as well. I love them because they can dress up or down and look great for work travel or personal travel. And mine have taken a beating and still look great. I also know from other bags that they stand by the warranty."
This nylon crossbody is also available on Amazon here!
Here's a round-up of what the readers have chosen as their all time favorite cross body purses for travel!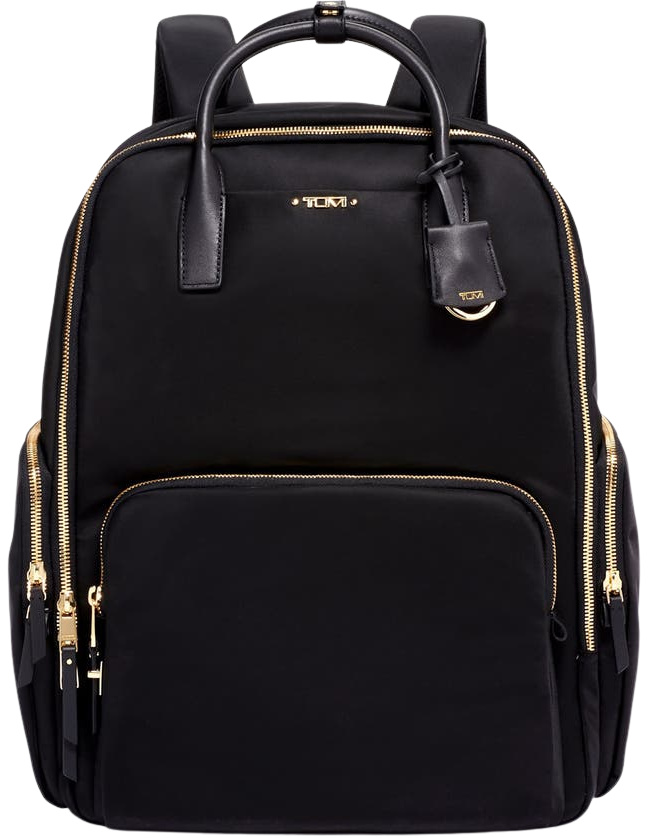 Uma Backpack
Among the Tumi laptop bags women love for business travel and for any kind of travel where you'll need your computer is this cutie. The Uma women's Tumi laptop bag has a minimal design, yet definitely delivers on function. A padded 15" sleeve, inner pockets, and exterior front and side zip pockets store the necessities, while the nylon fabric with leather trim keeps it durable. This can also be purchased on Amazon, at this link!
Readers adore Tumi laptop backpacks, with one reader saying, "I got my Tumi backpack as a gift and I don't go anywhere without it. I'm a recently retired flight attendant and have used many different options for my 'personal item' and this is my fave."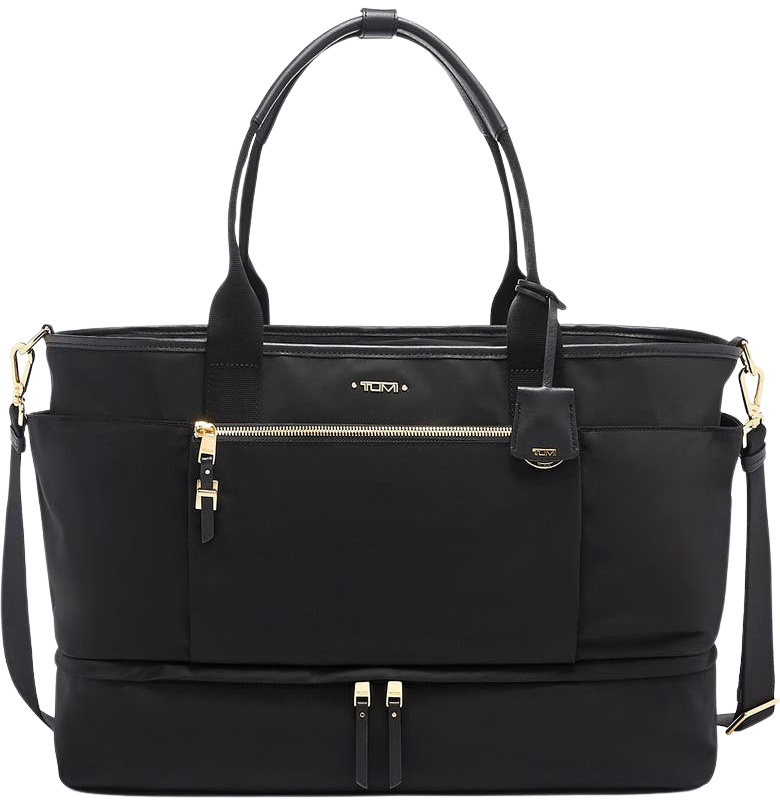 Tumi Voyageur Cleary Duffle Bag
Voyageur Cleary Duffle Bag
Perfect for a weekend getaway or a carryon for a longer trip, the Cleary duffle can hold a ton, keep everything organized, and look fab while doing it! This bag is equipped with a laptop sleeve, tons of pockets, and a handy bottom compartment that's great for storing shoes. 
Readers do note that these Tumi duffle bags can get a little heavy on the shoulder if packed to the brim, but the trolley sleeve can help with that! For peace of mind, it comes with a Tumi Tracer, too! 
A reader reports, "The black Tumi bag is within personal item size and fits neatly under the seat (and has a bottom compartment accessible from the outside that can be used for shoes, but I used for pillow and another blanket). Plus it has a trolley bag strap and a secret phone/passport compartment." Also available at Amazon.com.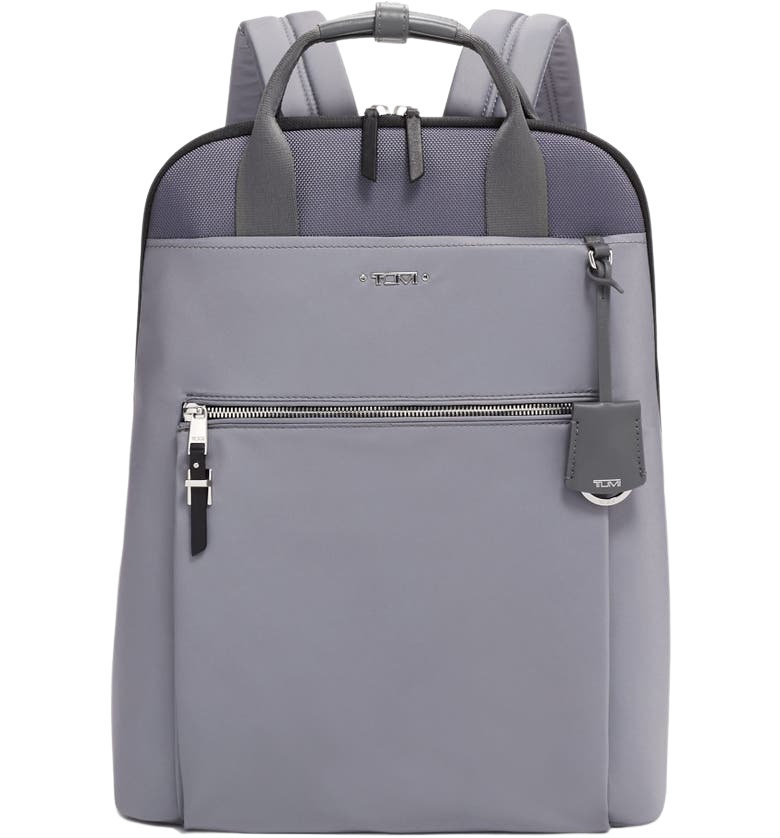 Essential Backpack
This Tumi women's laptop bag is aptly named the Essential backpack, with everything you need for smooth travels. It features multiple pockets and a padded laptop sleeve for 14" laptops, as well as comfy, adjustable straps and a trolley sleeve for versatile carrying.
A super cool feature is the antimicrobial design to repel odors and keep it feeling fresh! This bag has a handy Tumi Tracer, and it's available in black, too! And you can get this on Amazon, as well, at this link.
A TFG says, "I have that style in black. It checks all the boxes for me–backpack, trolley sleeve, pockets, computer compartment, spacious, secret pocket, and good-looking in my opinion! I use a TSA lock sometimes."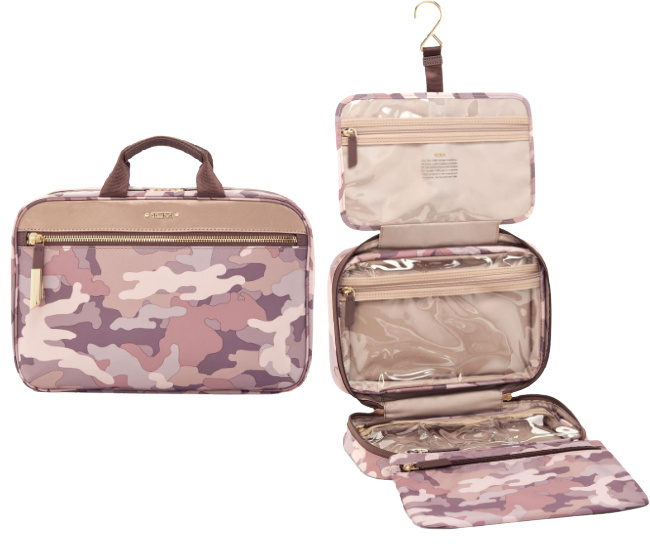 Voyageur Madina Nylon Cosmetics Case
Readers love hanging toiletry bags for efficient packing and storage on their trips! Tumi's Madina cosmetics case will keep your toiletries super organized, with four zippered compartments, including a detachable zip pouch that you can throw in your purse for the day! The nylon fabric makes it easy to clean, and the leather trim adds some style. 
One traveler says, "It holds an absolute ton, yet still travels and stores very compactly. It fits perfectly in my carry on and works both filled to the brim for a two-week vacation or a weekend getaway. I love it!" You can also get this in a sleek black color. Or if you prefer to shop on Amazon, grab it here!
For more options, see this list of the best hanging toiletry bags that travelers use time and again!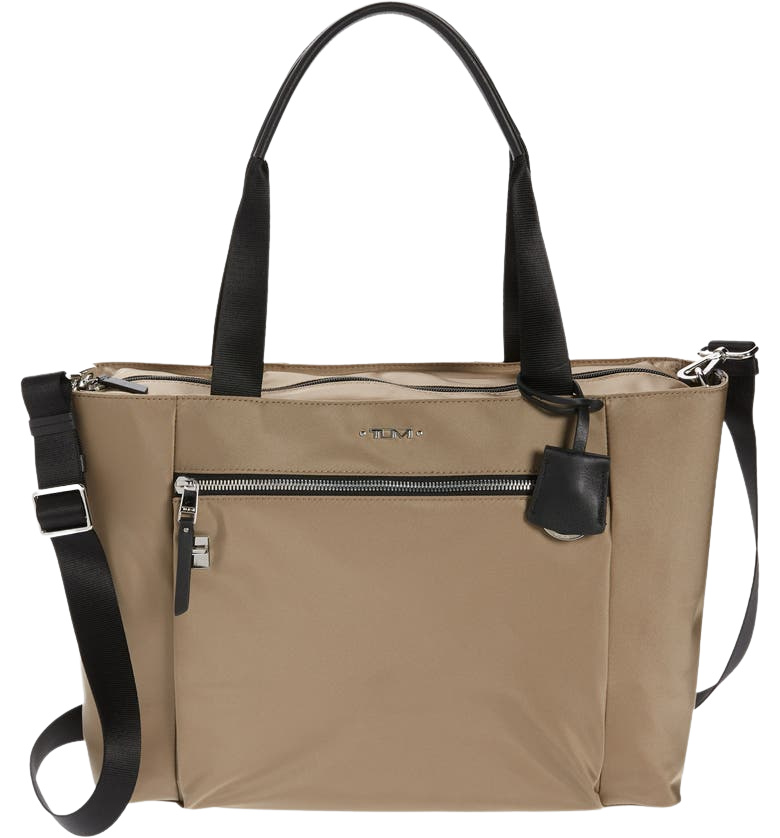 The Marietta Tote Bag has amazing organization!
Where to Buy
Tumi
Handbags & Purses
Or Backpacks
You can find Tumi luggage and bags on Amazon or Nordstrom. And at times, Amazon has discounts available during non-sales events, but you could also wait for Prime Day or Black Friday. For Nordstrom, the best time to save big is during the Nordstrom Anniversary Sale.
---
Now it's your turn. Share your thoughts on your favorite Tumi bags in the comments below!
---
For more travel bags, please read:
---
LIKED THIS POST? PIN THIS PIC TO SAVE IT!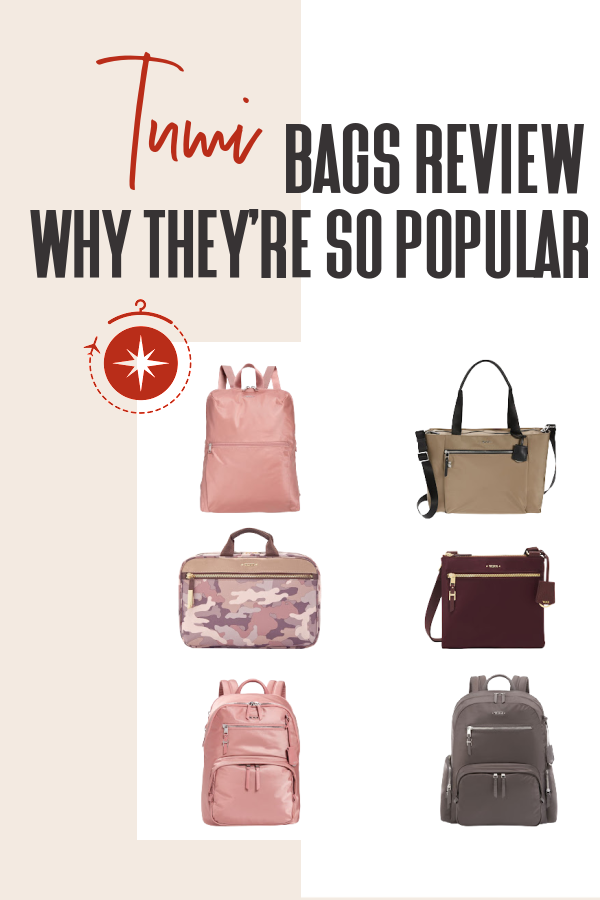 ---
We hope you liked this Tumi bag review. Share this post with your friends on Facebook, Twitter, and Pinterest. Thanks for reading!
---