Support TFG by using the links in our articles to shop. We receive a small commission (at no extra cost to you) so we can continue to create helpful free content. We earn from qualifying purchases made to the featured retailers. Thank you, we appreciate your support!
I recently came "home" to LA after a 9 month trip. As a long term traveler on a budget, I stay with friends and family when I visit so my closet space is usually pretty limited.
My solution: packing cubes!
Although I've sold most of my belongings I still keep a few boxes of clothing in storage space for my return visits. The problem is transferring the boxes of clothing back to whichever place I might call home until I leave again.
To control this mess and make the best of my limited living space, I'm using packing cubes as make-shift drawers. Not only will these help me maximize but also organize plus I'll be able to pack everything right back in storage ready to go for my next visit. Love it!
These particular packing organizers I am using for clothing storage are a bit deeper than the packing cubes I normally use for travel.
Packing Cubes featured:
---
TravelWise 3 Piece Packing Cube Set
---
Packing Cube #1: Small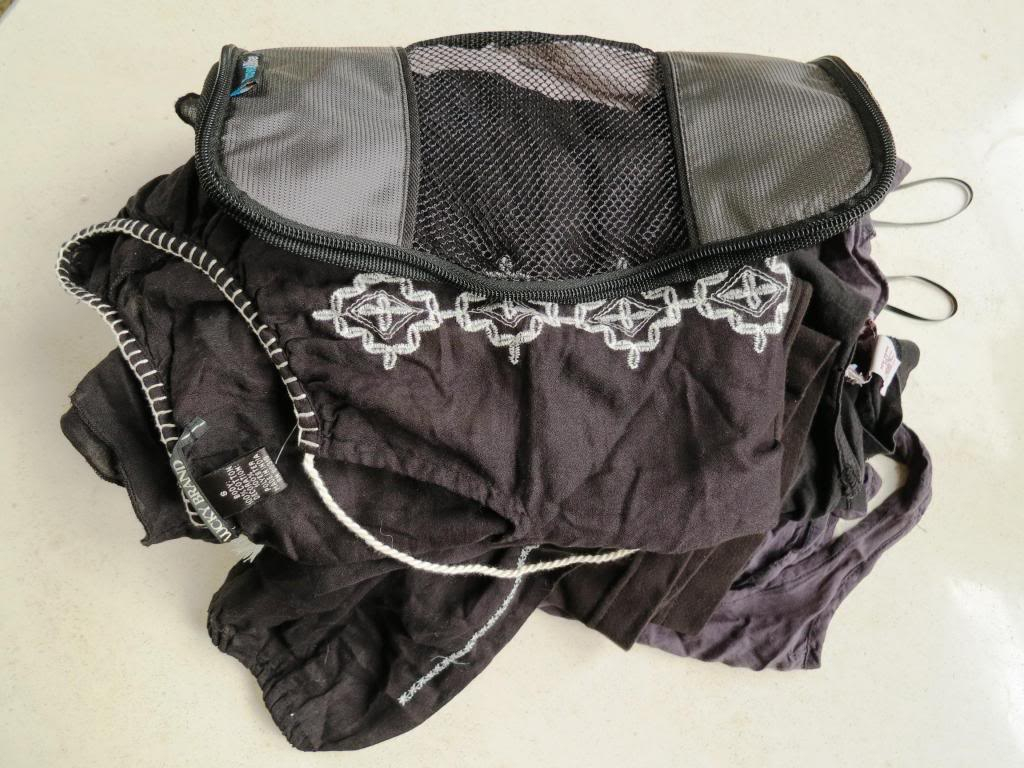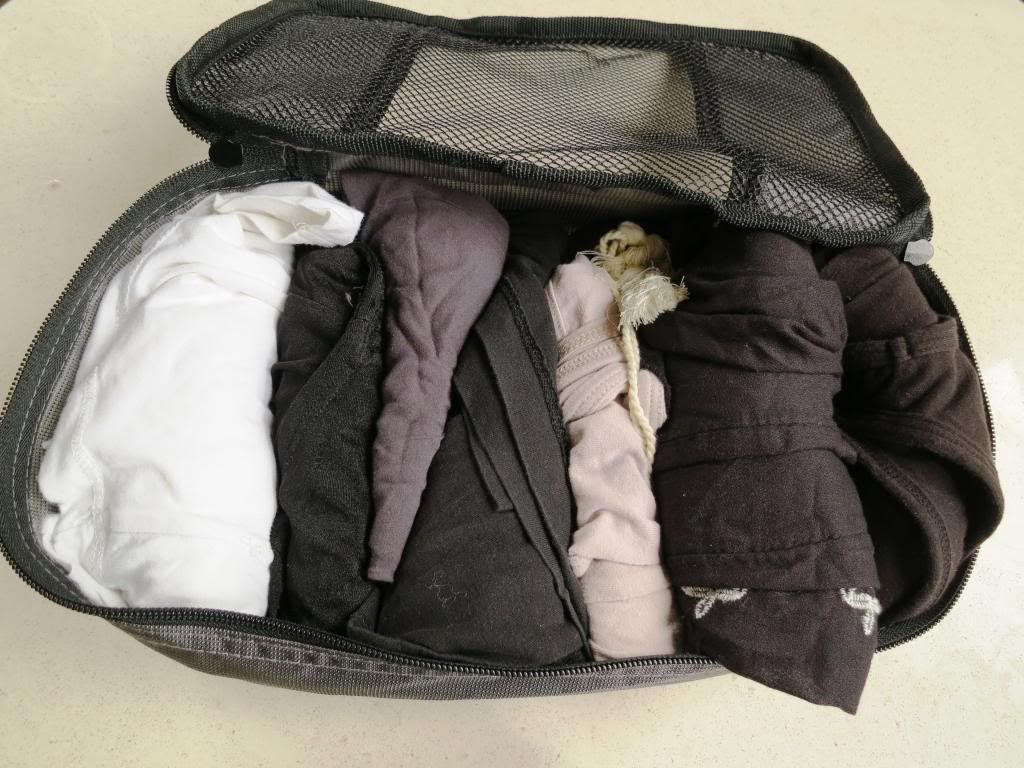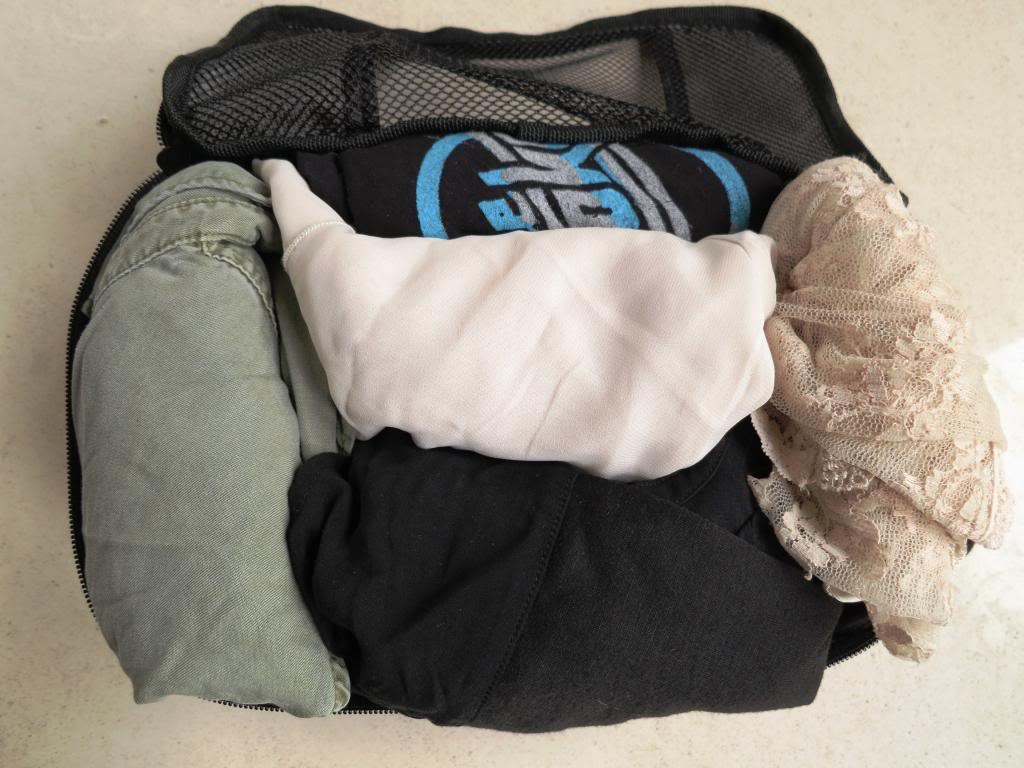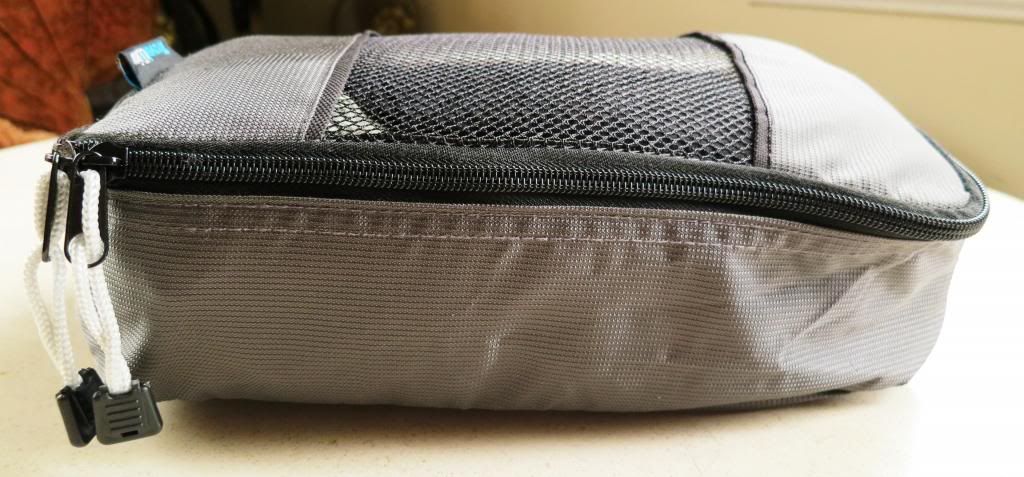 Tops
In this small size packing cube, I managed to squeeze in 12 size small tops of varying sleeve lengths and materials.
As you can see I first packed in 8 pieces horizontally then 4 additional pieces on top of those vertically and horizontally. The final result is neat and compact!
Packing Cube #2: Medium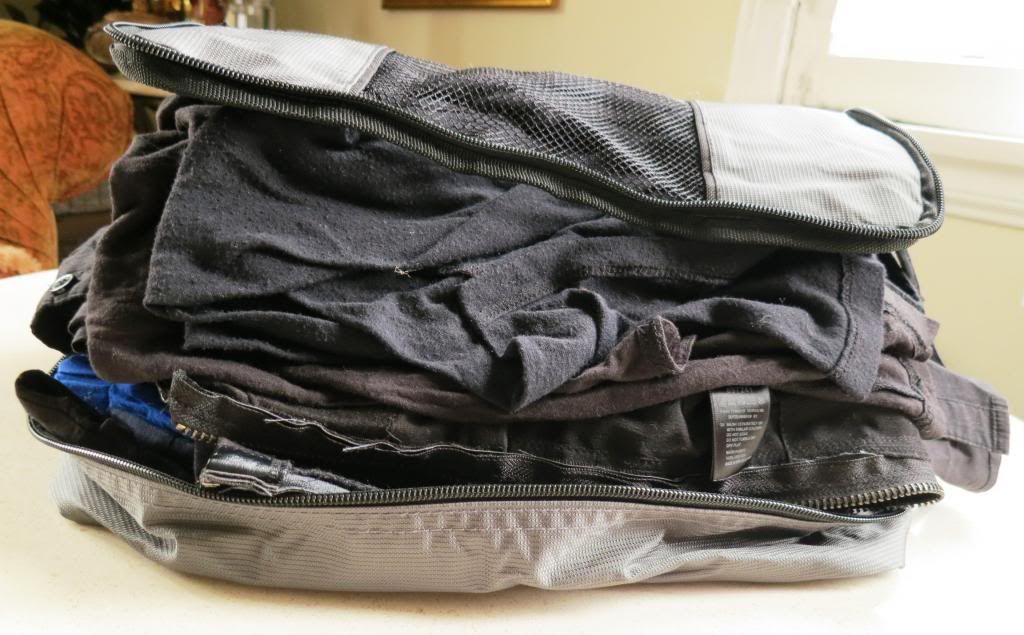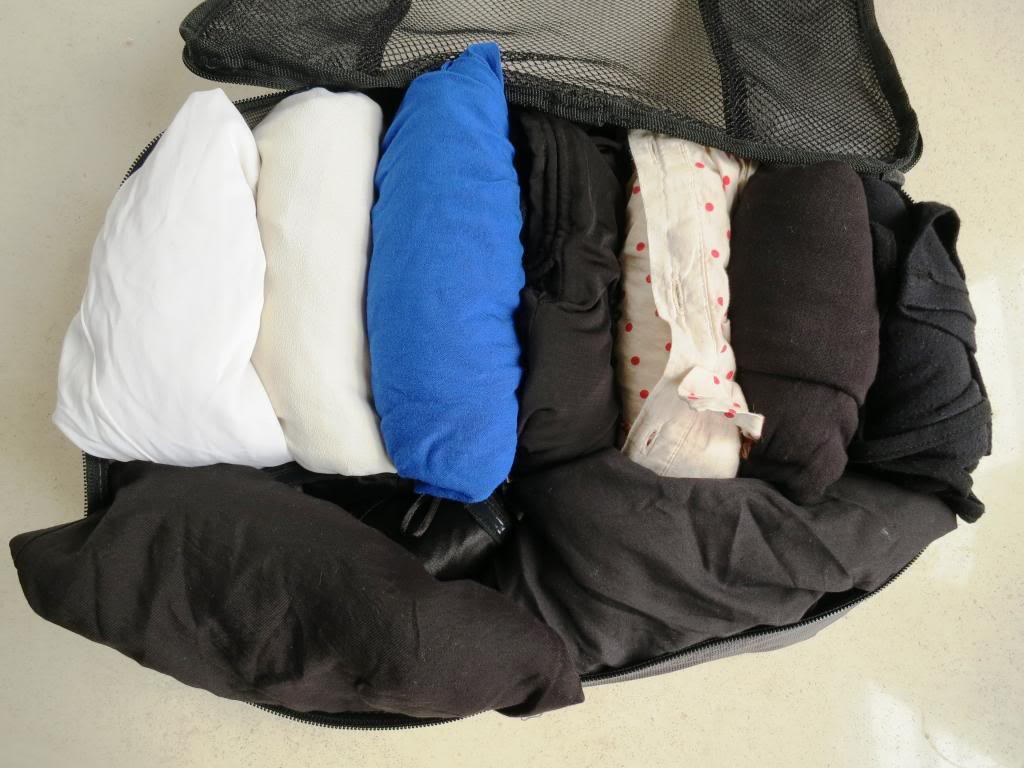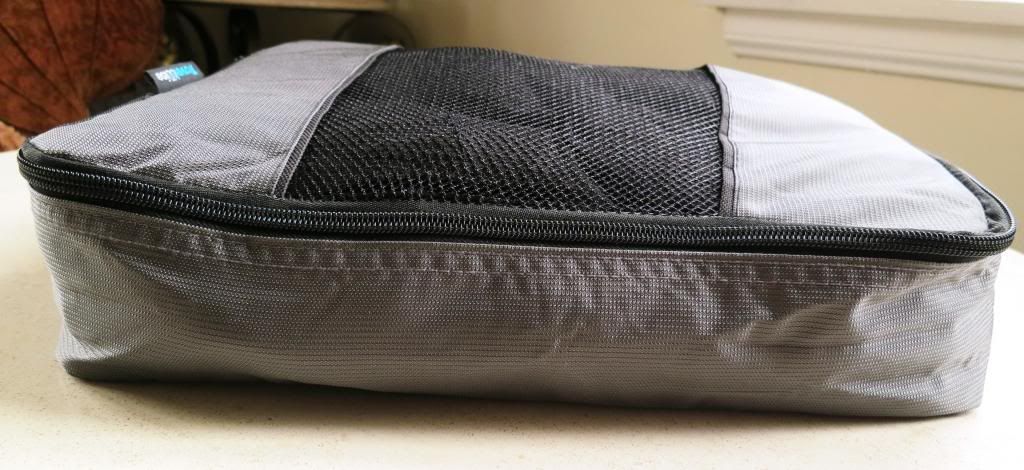 Dresses
As you can see, my dresses are pouring out of the size medium packing cube. I didn't know if I was going to be able to fit them all in. To my surprise, everything fit!
I packed in 11 dresses with 10 rolled horizontally across; 2 vertically on the side, and one folded on top all in size small. Not only did everything fit but the dresses take up so much less space in the packing cube.
Packing Cube #3: Large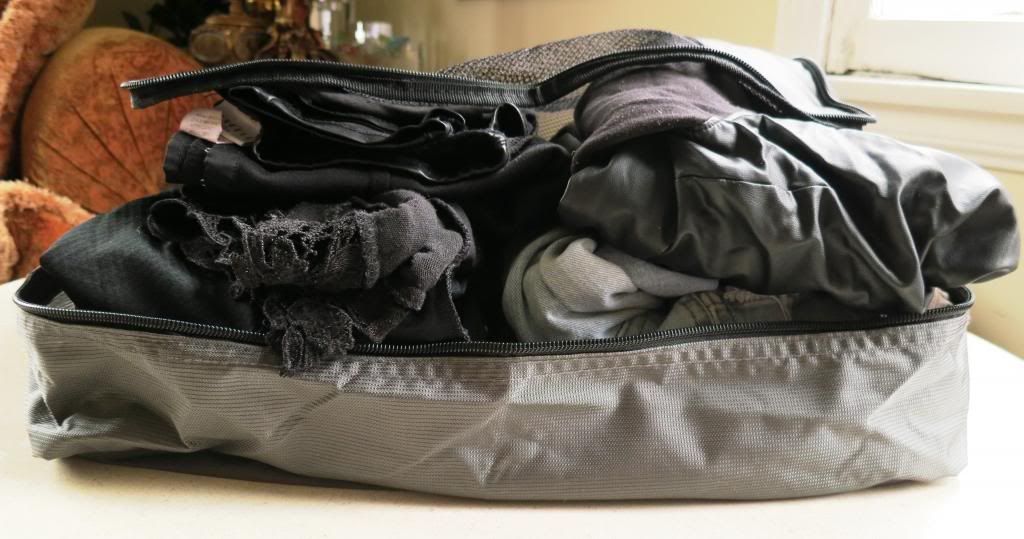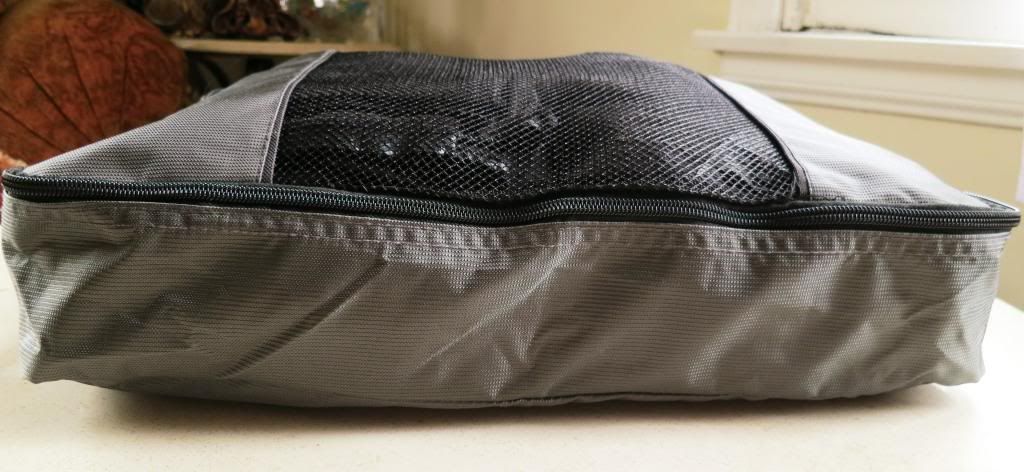 Bottoms and Outerwear
To be honest, because the large packing cube is so spacious and I didn't have much clothing to fill it with, I just left everything folded as is and zipped it right up. This cube acted more like an organizer than a space maximizer but that also works.
This packing cube fit 1 jeans, 2 leggings, 2 sweaters, and 3 jackets (including denim and leather) size small or 4. It seems the more clothing you have, the more you can compress, the smaller the cubes get. Not bad!
Carry-On Size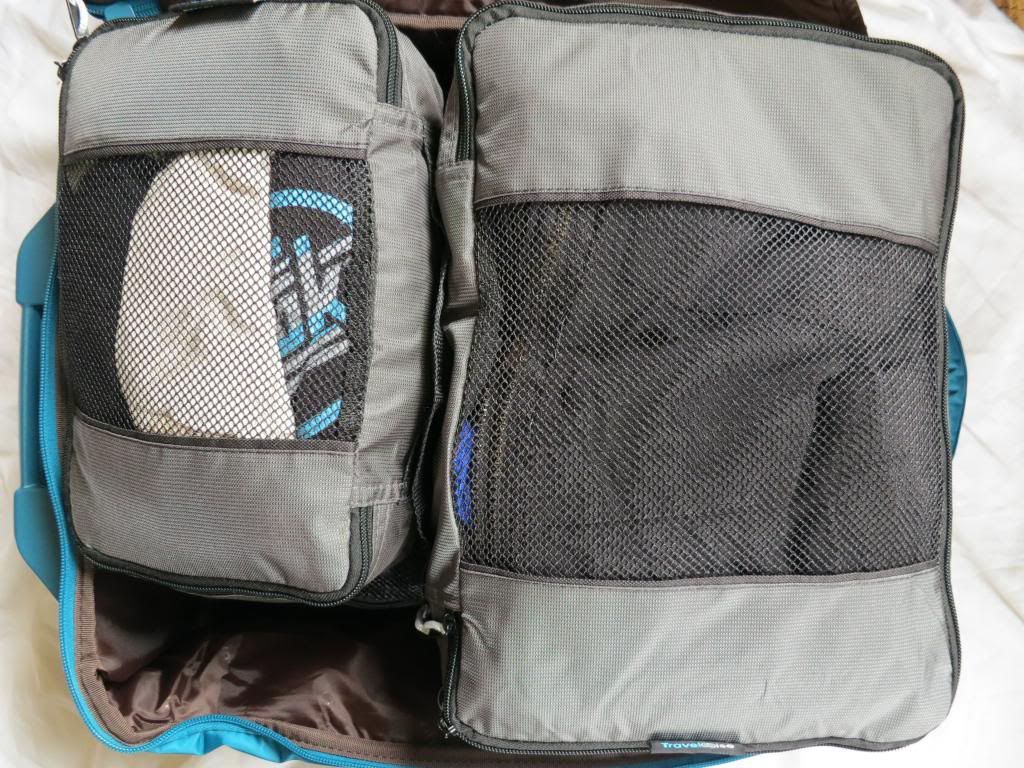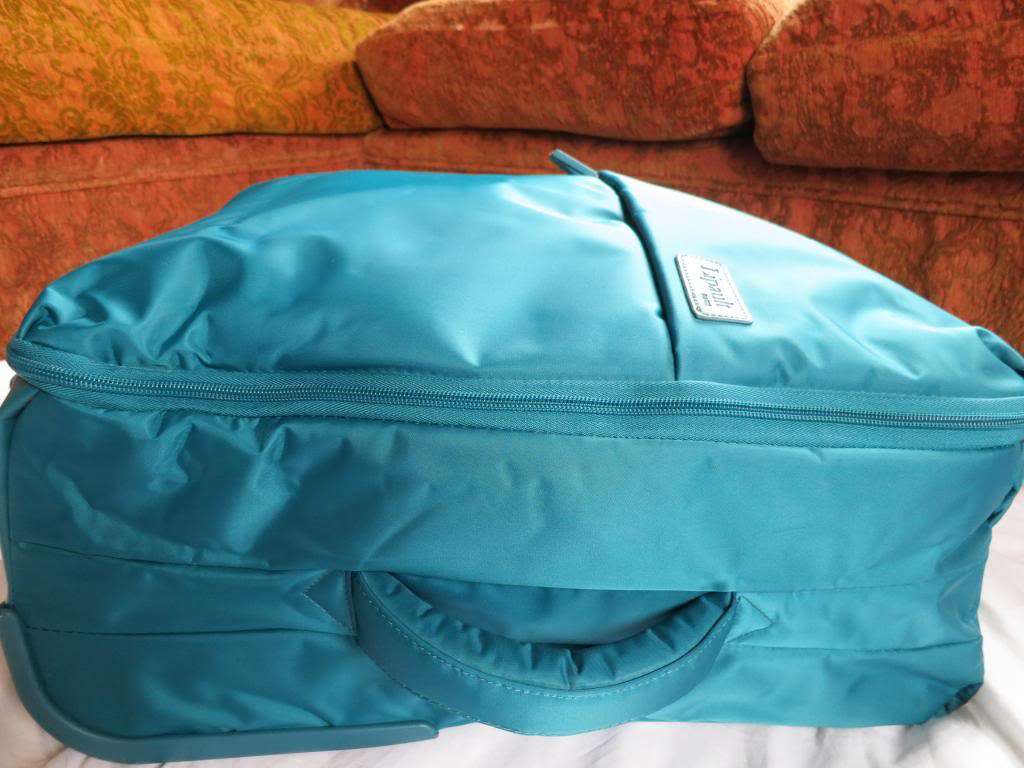 While I don't recommend packing this much clothing on a trip, all three packing cubes do fit into my Lipault Paris carry-on suitcase with room for 1-2 pairs of shoes (but not much else). You see, packing cubes do make it possible to travel carry-on only!
Need smaller options? Try these packing cubes instead.
Dimensions
For your reference, these are the dimensions of the packing cubes I used.
Small 11.5" x 6.75" x 3.75"
Medium 13.75" x 9.75" x 3.75"
Large 17.5" x 12.75" x 4"
BUY on Amazon
Not only did the packing cubes help me maximize my limited closet space, they also helped me organize. In addition, as I move living locations, I can also transport my "drawers" with ease.
The packing cubes featured in this post were sent to me complimentary by TravelWise. Their the new 2014 3 Piece Set which is available in 5 colors and includes three sizes: small, medium, and large.
Because these are larger than what I need for my travel capsule wardrobe, I'll continue using my Amazon Basic 4- piece packing cube set while keeping these at home for storage (and any future trips of course).
(Sorry about the wrinkled clothing in the pics – they've been in storage for 9 months and I iron as I use!)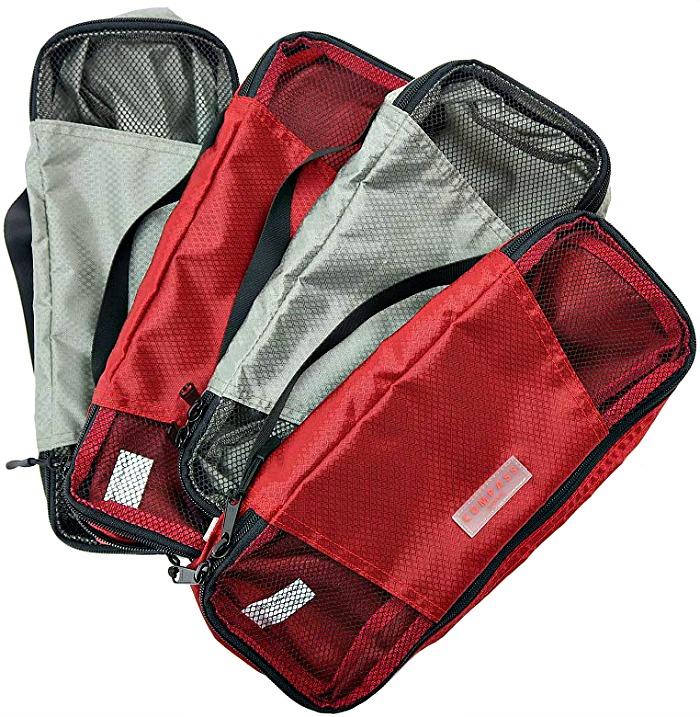 Compass Rose Compression Packing Cubes
In 2017, I launched Compass Rose Travel Accessories and my very first product was a 4-Piece Set of Carryon Packing Cubes. These are the only packing cubes sized to fit the exact width of a carryon suitcase and they also have a unique color-coded and numbered organization system – the only kind currently available anywhere on the market.
I put together a five-part YouTube series showing you the different methods to use packing cubes. If you use this specific packing strategy, they can also compress your belongings. This is the secret to traveling carryon only!
Buy Compass Rose Packing Cubes here!
---
Do you have alternate uses for your packing cubes?
---
For more packing tips, please read:
---
Hope you enjoyed this post on alternate uses for packing cubes. If you found it helpful, please share this post with your friends on Facebook, Twitter, and Pinterest. Thanks for reading!
---