Support TFG by using the links in our articles to shop. We receive a small commission (at no extra cost to you) so we can continue to create helpful free content. Thank you, we appreciate it!
Looking for a little slice of beach heaven for relaxation, architectural ruins, natural features, and good food? The Caribbean beaches in Mexico are a little slice of heaven just a short flight from the US! Keep reading to find out what to wear in Tulum!
---
What to Wear in Tulum
Written By: Niki Landry
---
As you plan what to wear in Tulum remember that you can get by with very little when visiting this beach town. Its easygoing laid back atmosphere doesn't require much preplanning. Just show up and start soaking up the sun and sea. Packing is pretty simple. Go with lightweight, breezy, pieces that can transition from beach to casual outdoor eating easily.
You'll want to look your best when you travel! Read my travel tips to Pack Light Stylishly!
Dress / Romper / Swim Top & Bottom / Shorts /  Tank / Crop Top / Clutch / Bag / Sandals / Flip Flops
For this packing list I've chosen two bottoms (a skirt and short), two dresses, and one romper. Add five tops that can be combined with both bottoms. Any of these outfits can be worn over your swimsuit as a cover up.
This is more than enough to get you through a trip without laundry. You can absolutely get by with less; just plan on hand washing a bit. The denim bottoms are great because you go a long time before they need a wash.
If you intend on doing yoga, which is offered at a few hotels, I would bring along an extra bottom for this purpose. One pair of athletic or soft shorts or cropped yoga pants should do the trick. They can double for sleepwear.
The same goes for diving. If it's on your itinerary, you will need to make space for your gear. Just south of Tulum you can snorkel with turtles in Akumal. Bring your own snorkel set to ensure that you don't get a flimsy rental.
Use slim packing cubes to save space in your suitcase and travel carry-on only.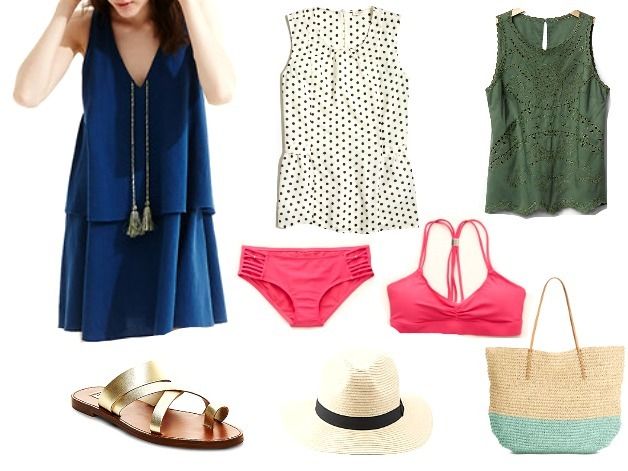 Dress / Swim Top & Bottom / Sleeveless Top / Top / Bag / Sandals / Hat
I like to pack two swimsuits that can be mixed and matched, and one extra swim top that can be worn with both bottoms. You get six combinations out of this set up, which is more than enough. Add a lightweight hat and glasses for sun protection and a bag to complete your beach essentials.
I've also added a small clutch to carry when heading to dinner or drinks at night. It's not absolutely necessary, but it doesn't hurt to have a something to keep your room key, money, camera, and lip balm.
When planning what to wear in Tulum, make sure to leave your high-heeled shoes at home. There is no reason to bring heels or even wedges on this trip, and you will look out of place if you do. Everything is casual.
Pack flip-flops like these for the beach and water activities, and sandals for everything else. You can get away with two pairs of shoes, but why not bring a third if you have the room.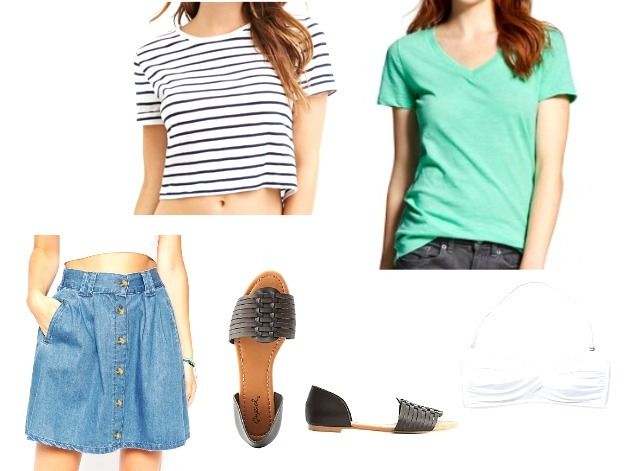 Crop Top / Skirt / Tee / Sandal / Swim Top
Don't worry about packing a hair dryer or lots of makeup. Biodegradable sunscreen (necessary for cenotes or eco-parks), tinted moisturizer, and chapstick will do the trick. Also, mascara and lipgloss is an option if you want to feel extra special at night.
If you have long hair a detangle spray might be helpful after a day at the beach. In addition to your hat, a small headscarf or band is nice to keep unruly hair out of your face.
Don't forget to bring and apply your mosquito repellant!
---
---
Tulum is one of the easiest trips to pack for and there is no reason to tug along a bulky suitcase. Do yourself a favor and keep your clothing light, simple, and practical.
What are your tips on what to wear in Tulum? Share in the comments!
---
For more Mexico packing tips, please read:
Suggested Travel Sources:
---
Hope you liked this post on what to wear in Tulum. Please share with your friends on Facebook, Twitter and Pinterest. Thanks for reading!
---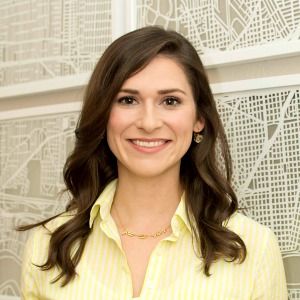 Author Bio: Niki is an interior designer and artist from Louisiana. In addition to her design work, she writes for local and online publications sharing her experiences and passion for travel. Niki is currently adding stamps to her passport while building her design practice, Niki Landry Designs.
---