Support TFG by using the links in our articles to shop. We receive a small commission (at no extra cost to you) so we can continue to create helpful free content. As an Amazon Associate, we earn from qualifying purchases made on Amazon in addition to other retailers featured on the blog. Thank you, we appreciate your support!
Wondering what to wear in Palm Springs, California? Whether you're in town for a festival or a sunny weekend getaway, find out our year round must have essentials for this laid-back desert town!
---
What to Wear in Palm Springs
Written By: Sebrin Elms
---
Table Of Contents
Just a two-hour drive from Los Angeles, Palm Springs has always been a popular Southern California getaway. In recent years, it's become known for its new, Vegas-style scene with a younger demographic filling the city that used to be more known for its large retiree population.
And thanks to the growing music festival scene and the slew of artistic showcases that take place here, Palm Springs is more popular than ever! (If you're headed to a music festival, find out what to wear to Coachella).
No matter what time of year you come, expect an epic throwback of the "Midcentury Modern" variety.
Palm Springs Clothing Style
It feels like all the palm trees wave and welcome you upon arrival in Palm Springs, California. You can feel the mix of past and present from the moment you get off the plane and walk out of the airport.
Palm Springs fashion has a vintage vibe, and you can expect to see a similar clothing style to that of Los Angeles with a retro twist. In fact, some of the best vintage stores can be found in Palm Springs! When wondering what to wear in Palm Springs, don't be afraid to choose bold and colorful clothes to add to you capsule wardrobe.
The key to packing light is to use packing cubes to compress your clothing as shown in this video!
Sleeveless | Tank | Blouse | Top | Long sleeve | Shorts 1 | Shorts 2 | Maxi Skirt | Maxi Dress | Dress | Shawl | Scarf | Sandals | Slides | Swimsuit | Bag
What to Wear in Palm Springs in Spring
This fun and exciting desert escape is hot year-round with spring being the most cool and comfortable time to visit. Surrounding city locals from LA and San Diego flock to Palm Springs to get their much-needed tan on in a place that basically feels like summer already.
Don't be surprised for the thermometer to read between the 80's and 90's by April. Plus, you'll find hotel rates significantly lower before Memorial Day Weekend.
Start by reading these general tips on packing for spring travel:
Palm Springs Packing List: Spring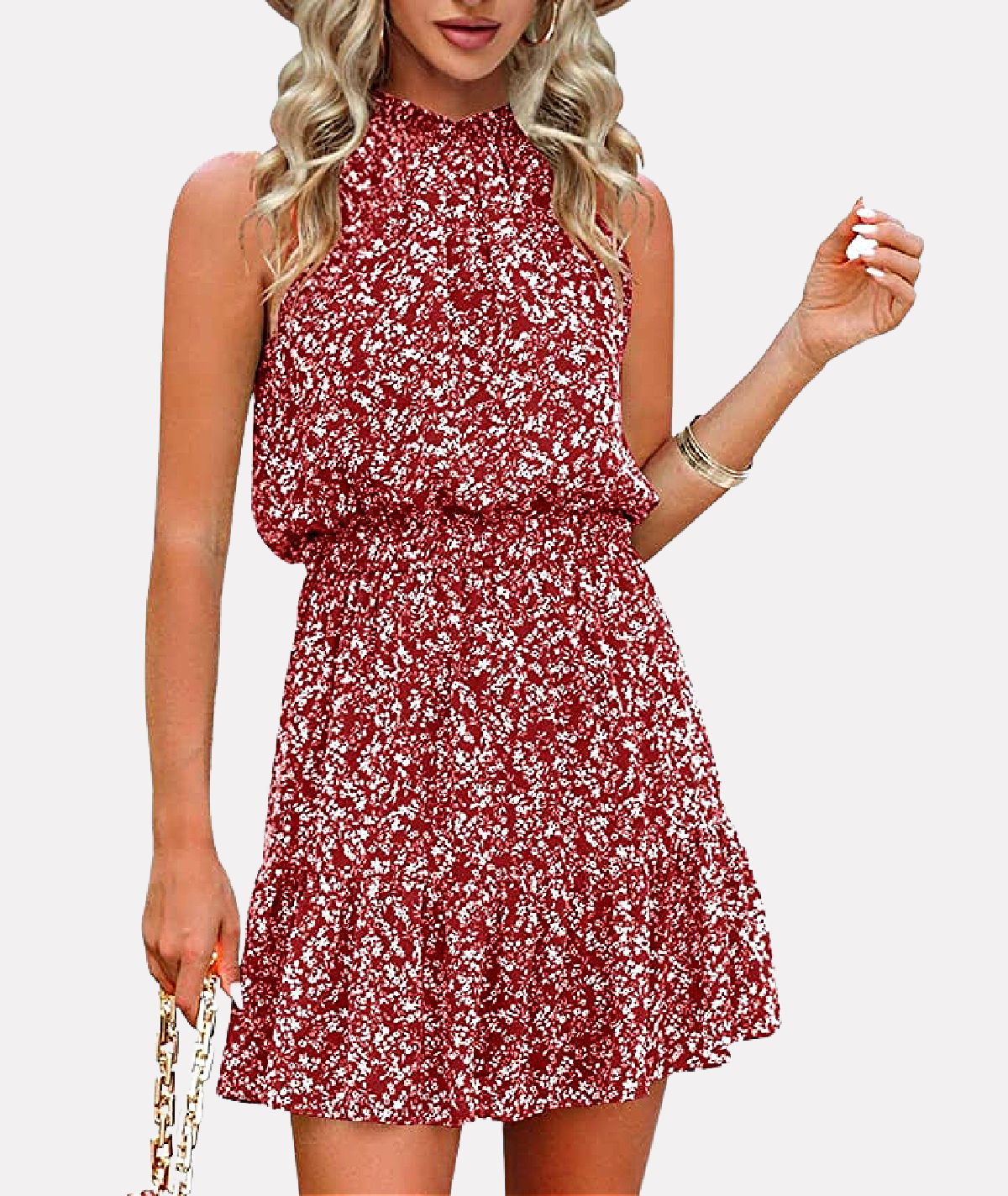 Gevomir Summer Halter Dress | Sizes S-XXL
Since spring is a time of rebirth and renewal, Californians are all about bringing in lots of color to their spring wardrobe. You'll find Palm Springs full of bright whites, colors, and rainbow flags year round, but now's the time to celebrate after a cold-ish winter season.
Make sure to bring lots of colorful tank tops for lounging by the pool, shorts, floral or colorful dresses, and of course a few swimsuits.
We have rounded up our favorite travel dresses that will help you pack light and stylishly!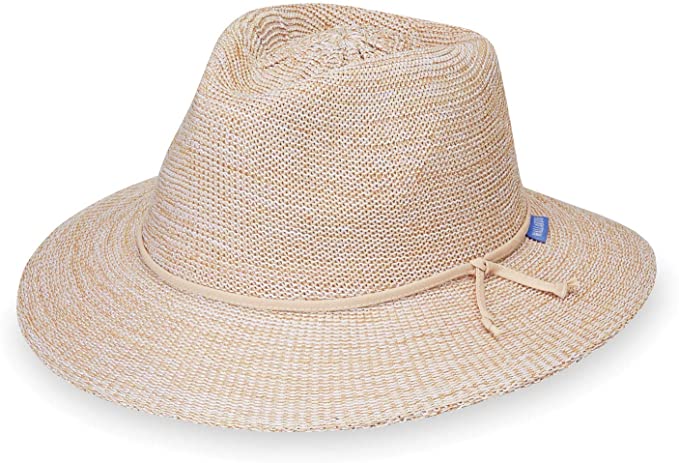 Victoria Fedora Sun Hat UPF 50+
Unless you run on the cold side, odds are that you won't want to bring any pants or jackets to keep you warm. If anything, a shawl or wide scarf will do as a casual cover up. Of course, big sun hats and vintage sunnies are an absolute must here.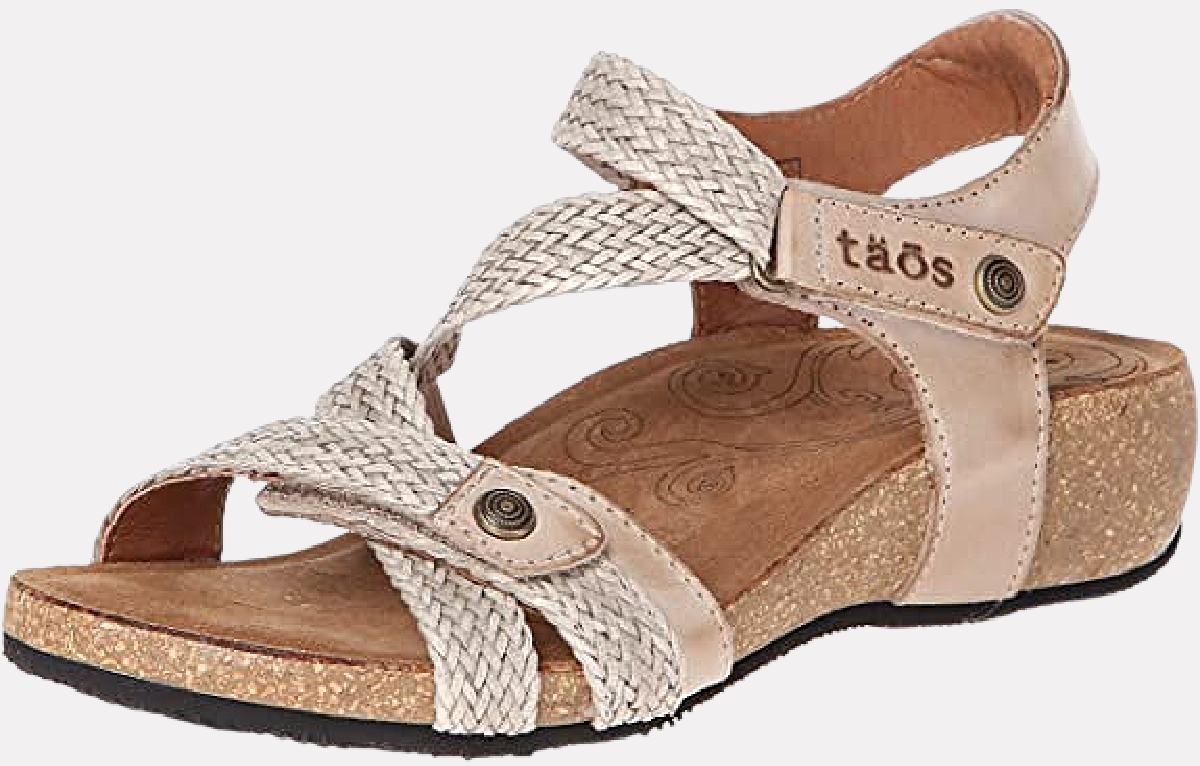 Sandals and flip flops work perfectly here. Dress to the nines with some of your most fashionable shoes, so long as they're not stilettos or clunky boots.
Find out why fashion sneakers for women make cute and comfortable shoes for travel!
V-Neck | Camisole | Crop Top | Sleeveless | Cami | Shorts 1 | Shorts 2 | Skirt | Sundress | Dress | Hat | Sunglasses | Sandals | Wedge | Swimsuit | Bag
What to Wear in Palm Springs in Summer
In many California cities, I say that summer is the best time to visit. In the case of Palm Springs, I'm not completely sold on that fact. Despite the fact that this is the warmest time of the year, it's almost uncomfortably warm.
With highs in the mid 100s and lows in the high 70s, you're basically a sweating machine. It's also the most varying in temperature throughout the day. You will not see a 30-degree swing within a single day during any other season in Palm Springs.
Since most visitors don't consider this fact when booking a trip to Palm Springs, it's not only hot but ridiculously crowded. Still, us Angelenos can't get enough of this desert getaway and will sporadically visit during this time of year anyway.
Start by reading these general tips on packing for summer travel:
Palm Springs Packing List: Summer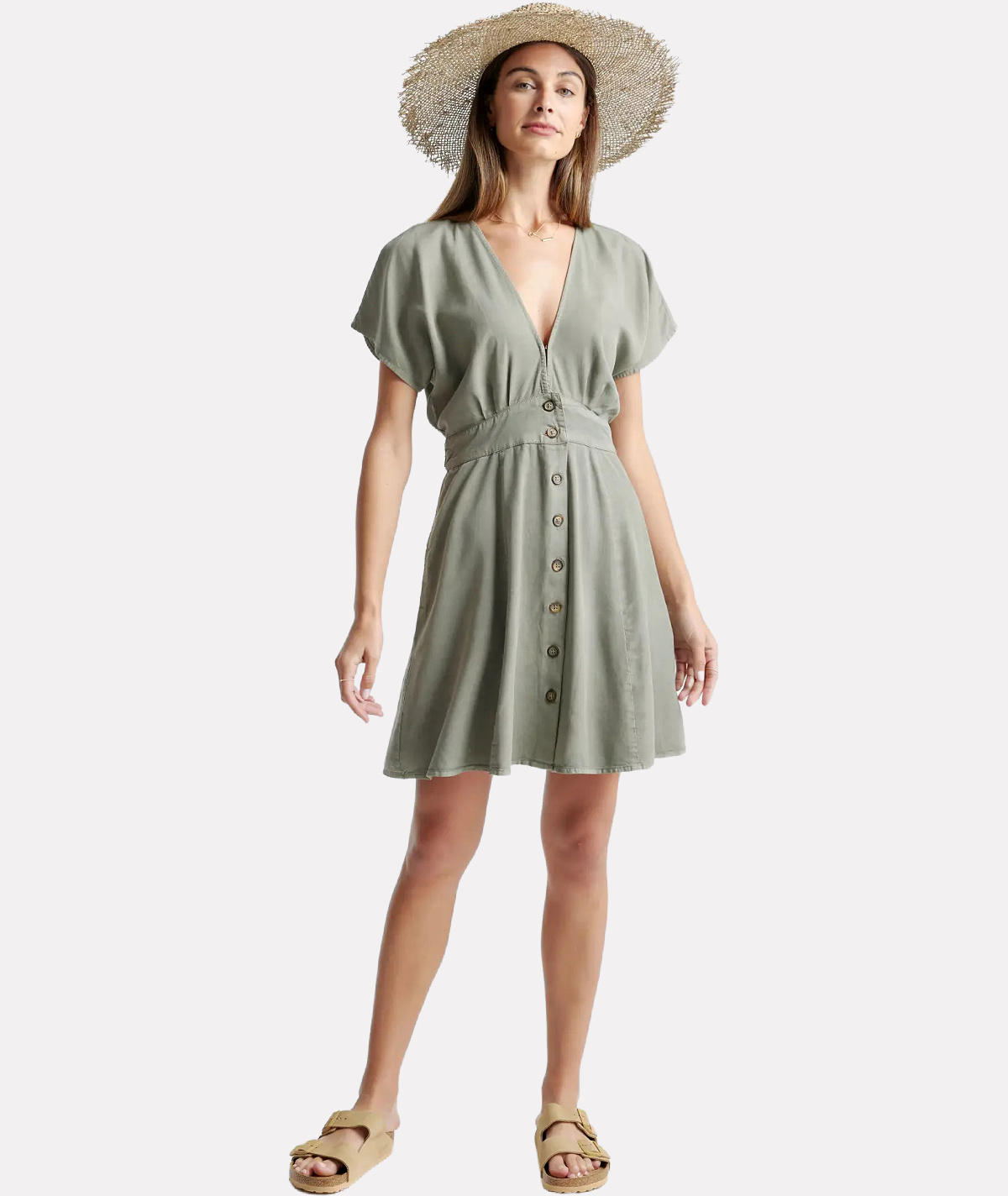 Quince Vintage Wash Tencel Dress | Sizes XS-XL
The only way to keep cool is to dress as skimpy as possible (with class, of course). You can never have too many swimsuits, breezy dresses, shorts, rompers, and tank tops. The name of the game is to show skin only for the sake of keeping cool during the intense heat wave.
If you can, get a little retro. Palm Springs is known for its 1960s architectural and artistic influence, so feel free to rock a little late-Mad Men style, like bell sleeves, rainbow colors, and mod accessories.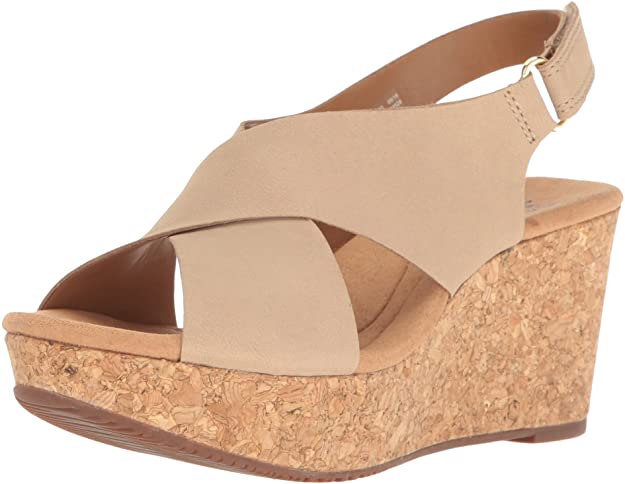 Clarks Annadel Eirwyn Wedge Sandal
Despite the pool party scene in Palm Springs, it's more trendy than it is dressy. If you plan on wearing heels, make sure they're casually strappy or wedges as stilettos are just overkill.
Personally, I hate wearing extra accessories in the heat. But sunglasses and some delicate jewelry would pair well and not feel so clingy during this time of year.
See the best one-piece swimsuits as well as our favorite underwire, bra-sized swimwear!
Top | Tee | Blouse | Sleeveless | Tank | Skirt | Shorts 1 | Shorts 2 | Dress 1 | Dress 2 | Coverup | Cardigan | Sandals | Gladiator | Swimsuit | Bag
What to Wear in Palm Springs in Fall
When visiting Palm Springs in the fall, you might notice the weather cools down at an unbelievably rapid pace, like from the mid 100s in September to the mid 70s in November.
While the temperature is similar to that of springtime, you might notice a serious lack of crowds. While the buzz about town might be dwindling, the prices make it another great time to visit the desert.
Palm Springs Packing List: Fall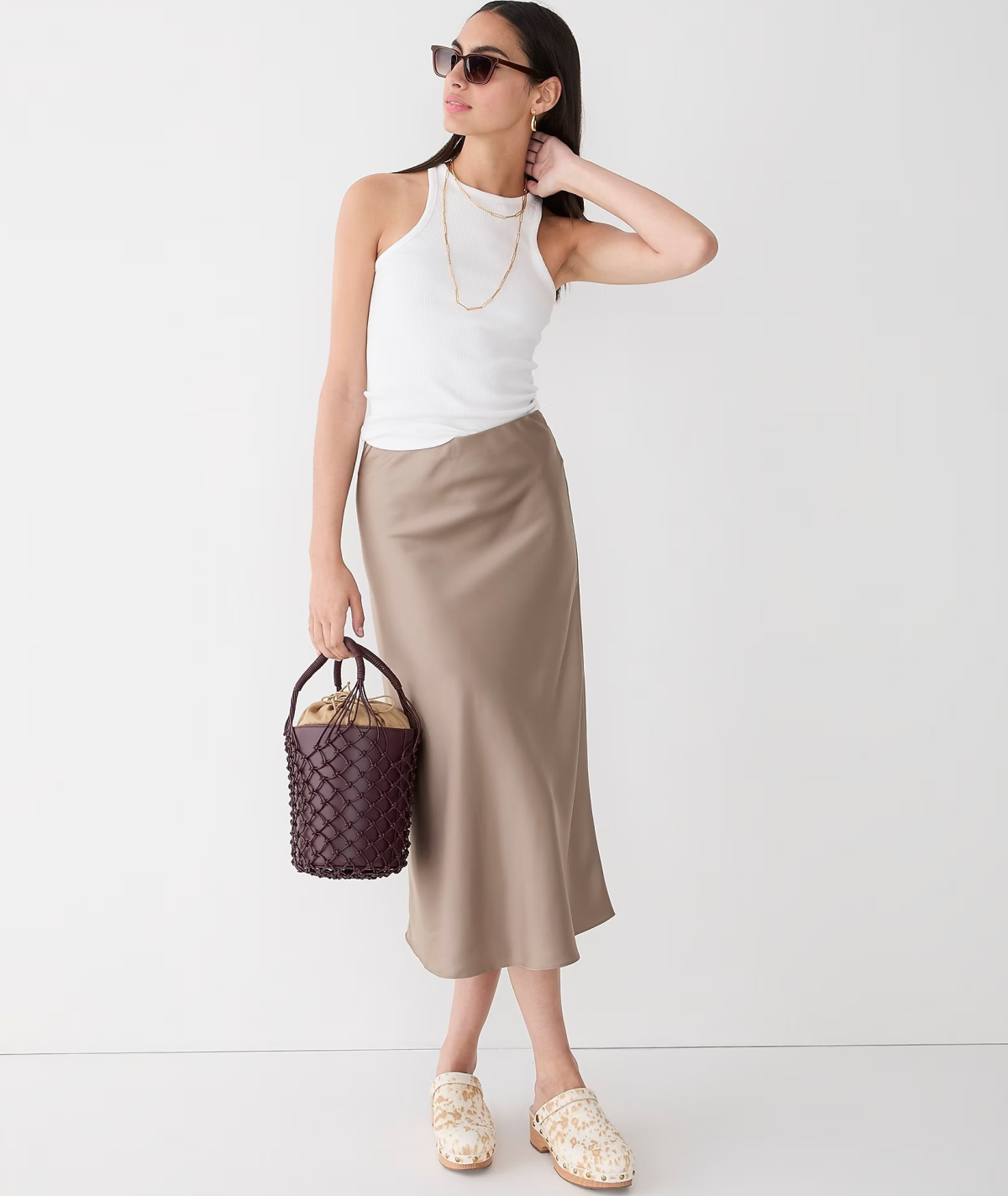 J.Crew Gwyneth Slip Skirt | Sizes XXS-3X
Palm Springs is still just as bright and cheery in the fall, but you'll notice a shift in the color palette. Darker blues, all shades of brown and an occasional autumn red is present in the wardrobe.
And unless you're visiting in November, you're still going to want to dress in breezy dresses, skirts, shorts, and tank tops.
We've picked out some of the best travel skirts in a variety of lengths that are perfect for packing light!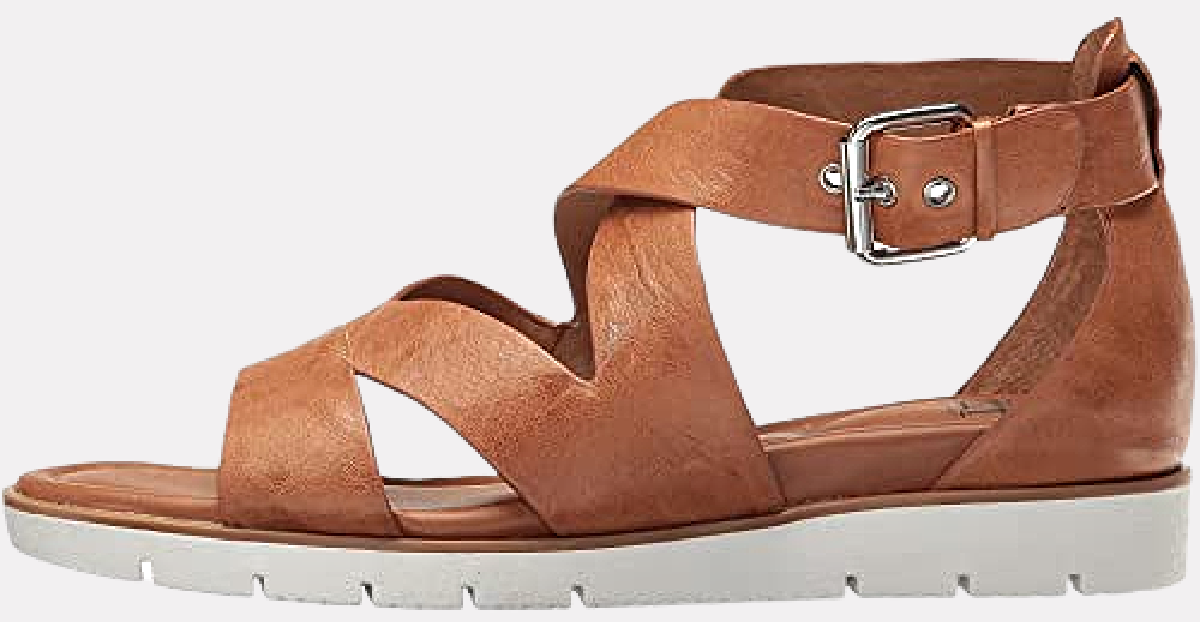 To keep in line with the fall theme while still remaining cool, go for a maxi dress with a slit or a denim skirt with a trendy tee. Pair this with strappy or chunky sandals and you'll definitely fit in with the locals. Bring at least one swimsuit to lounge in!
Here are the most comfortable walking sandals for travel!
Blouse | Tee | Long sleeve | V-Neck | Tank | Shorts 1 | Jeans | Shorts 2 | Dress 1 | Dress 2 | Cardigan | Kimono | Sandals | Boots | Swimsuit | Bag
What to Wear in Palm Springs in Winter
Palm Springs is known as a winter getaway spot because of its incredibly warm temperatures. Winter is still surprisingly comfortable, with highs in the mid 70s. However, it's the desert nights that will slowly creep up on you!
Lows usually fall in the mid-low 40s, but the desert breeze will make it seem a lot colder than that! Though rainfall is practically non-existent in Palm Springs, its wettest months are January and February.
Palm Springs Packing List: Winter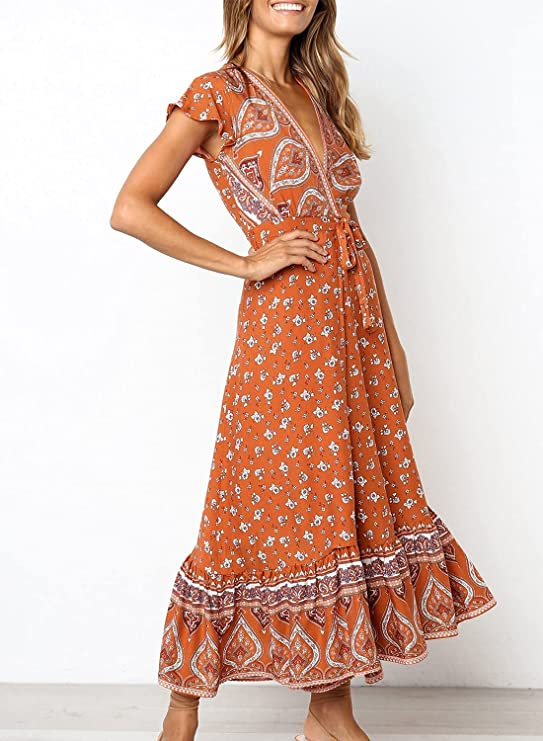 ZESICA Bohemian Floral Maxi Dress | Sizes XS-XXL
Odds are you're here to relax and get away from lots of snow if you're visiting Palm Springs in during the winter season. Therefore, you'll need some resortwear and a couple of outfits to go around town.
This includes some swimsuit coverups, swimwear, shorts, a couple of tees, and a maxi dress for nights out on the town. This bright and sunshiny city is still full of color even if the rest of the Northern Hemisphere looks a tad gloomy, so make sure your ensemble matches.
Here's a collection on what to wear for a beach resort vacation!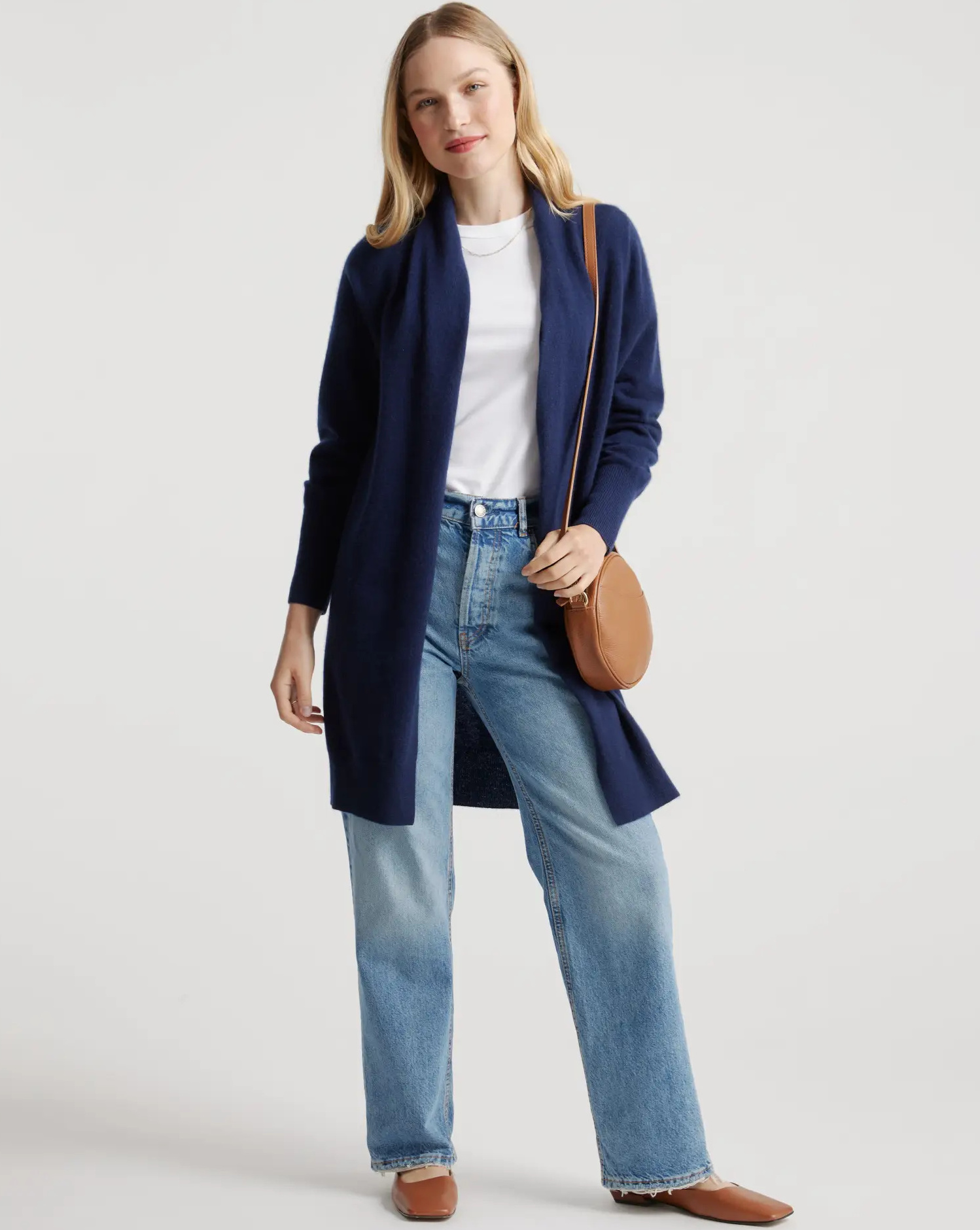 Mongolian Cashmere Duster Cardigan | Sizes XS-XL
Of course, cooler nights mean you should definitely bring a pair of jeans and a pullover of some kind, but you won't need anything heavy. A knit or cashmere sweater will do just fine.
As far as shoes go, a pair of sandals is always necessary for the pool. Bring some sneakers or booties for exploring the town as well.
Check out the best packable and beautiful cardigan sweaters that you'll want for your next trip!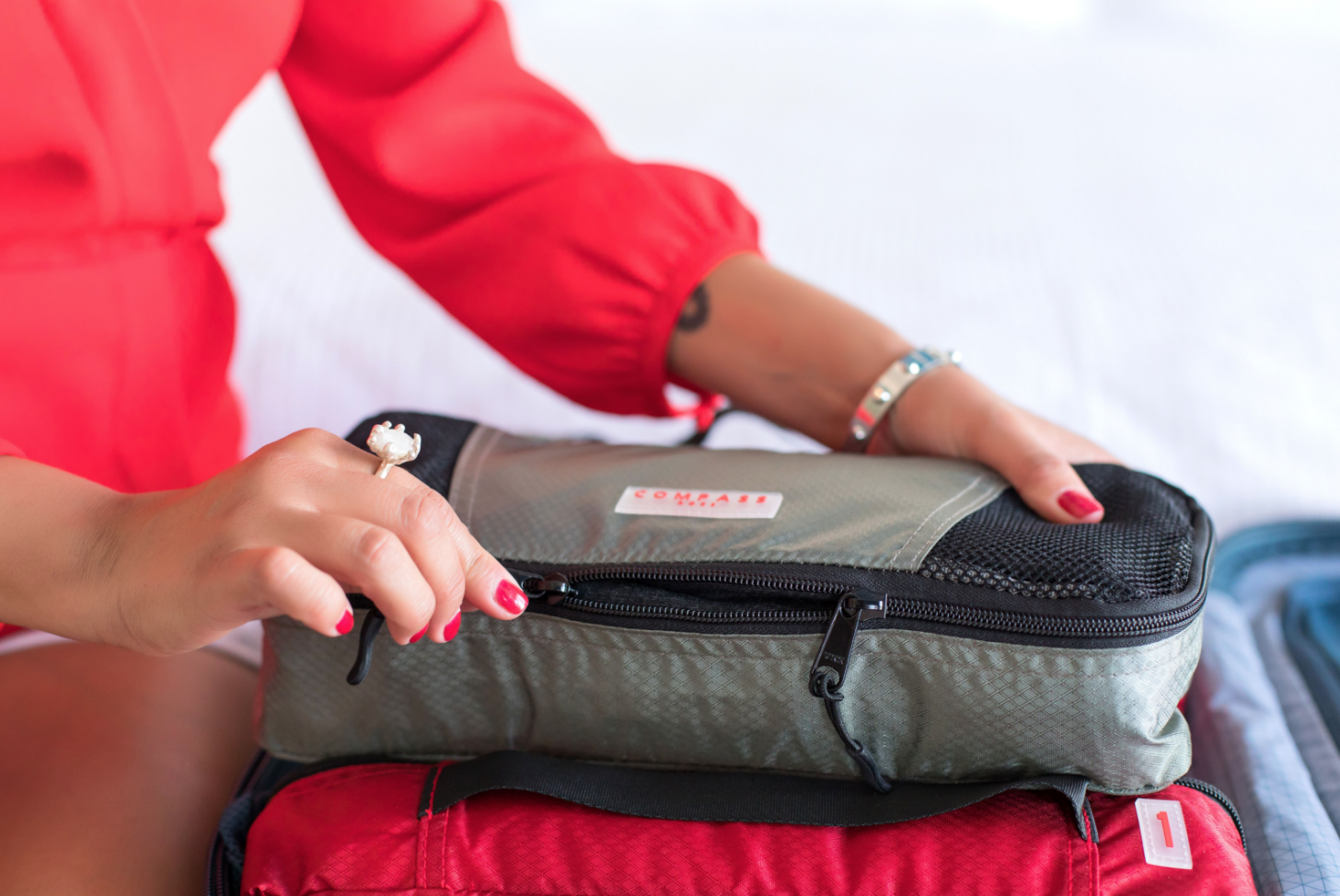 How to Organize Your Clothing 
Packing cubes can help organize all the layers you have in mind for winter travels. We designed our own brand of slim packing cubes, with a unique color and numbering system, so it's easy to remember where you've packed everything. The video below shows you how! 
Learn our hacks with packing cubes in the video above!
We also put together a five-part YouTube series showing the different methods to use packing cubes for travel. If you use this specific packing strategy, packing cubes can also compress your belongings. This is the secret to traveling carry-on only!
---
What are your tips on what to wear in Palm Springs? Please share in the comments below!
---
For more tips on what to pack in California, please read:
---
LIKED THIS POST? PIN THIS PIC TO SAVE IT!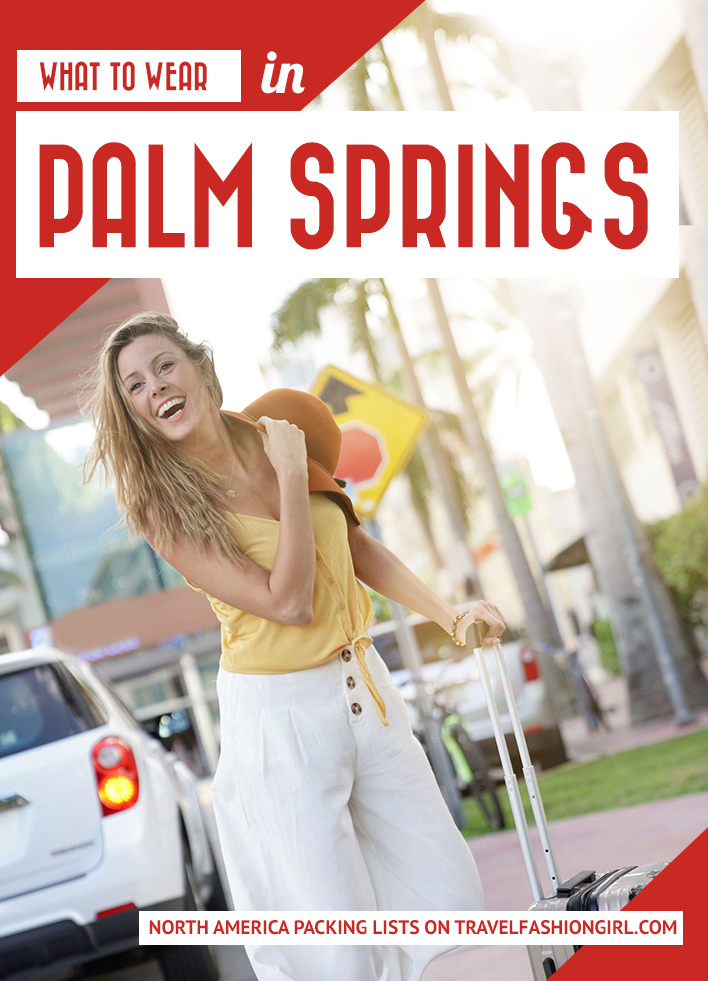 ---
We hope you liked this post on what to wear in Palm Springs. Please share with your friends on Facebook, Twitter, and Pinterest. Thanks for reading!
---
Author Bio: Sebrin is a newlywed, flower child, and travel-obsessed blogger. When she isn't traipsing the globe with her husband, you can find her curled up with a book, snuggling with her kitty babies, or binge-watching Netflix. Follow along her travels on her blog or instagram!
---