Support TFG by using the links in our articles to shop. We receive a small commission (at no extra cost to you) so we can continue to create helpful free content. We earn from qualifying purchases made to the featured retailers. Thank you, we appreciate your support!
The capital city of Mexico is a bustling place, filled with more people than any other city in North America. It's a hotspot of fabulous museums, architecture, and oh wow—the food! Read on to discover our tips on what to wear for a trip to Mexico City!
---
What to Wear In Mexico City
Written By: Katie Melloh
---
Table Of Contents
Mexico City is quickly becoming a hit with all types of travelers: backpackers, art and culture lovers, foodies, and history buffs.  As a metropolitan capital city, it's also very fashion-forward, especially in some of the trendy neighborhoods where you'll find yourself grabbing an amazing meal or enjoying cocktails on a rooftop.

Because of the altitude, Mexico City does not get as hot or humid as other parts of Mexico, even during the summer months. Daily highs reach the low 70s in the winter months and 80s in the summer. The temperature also drops quite a bit at night, with lows of 45°F, so layering is key for when you're looking to transition from daytime exploring to dinner and drinks at night. It can feel humid during summer, and this is when you experience more rainfall.
So how should you pack for your Mexico City trip? And where are the best hotspots to see!? 
We've asked some CDMX locals for the top tips on what to wear to explore Mexico City—check em' out!
What to Wear in Mexico City by Activity
In this vast and vibrant city, there's almost too much to see, do and enjoy! It is a BIG city with tons of museums and cultural festivals, so like any destination you need to make plans before going on your trip, as otherwise, you might miss out!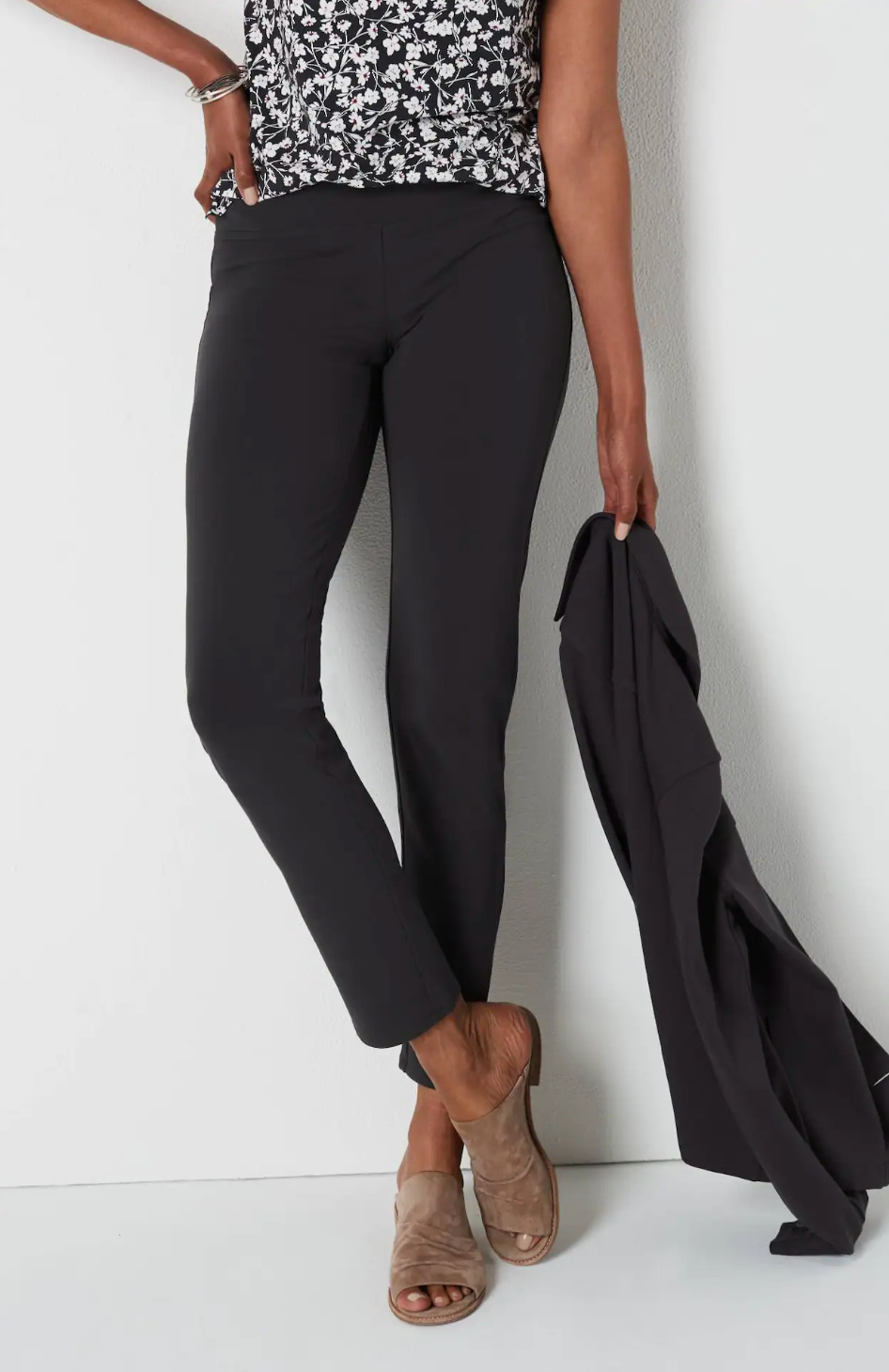 Shop Sizes XS-4X: J.Jill
Museums and Chapultepec Park
Mexico City has more museums than any other city in the world, overtaking Paris, with over 150 to explore, at the last count. In other words, you'll be doing a lot of walking! So you're best off being as comfortable as possible. 
Pack your favorite pair of pants and a few blouses that work for both day and night, along with a lightweight and neutral cardigan or sweater. Pants should really be durable, stretch when you do and are easy to wash on the go.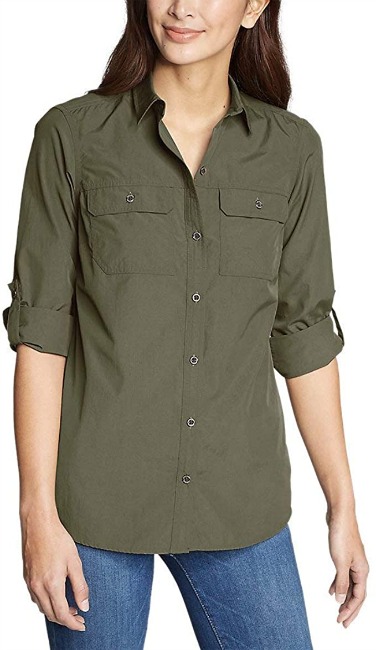 Eddie Bauer Ripstop Long-Sleeve Shirt: Sizes XS-XXL
Same thing with a blouse. Consider getting something that is moisture-wicking and doesn't wrinkle too easily. Even though Mexico City isn't as hot as other areas of the country, you'll still work up a sweat walking around!
And you can use it for double duty by tucking it into some nice pants or a skirt for the evening.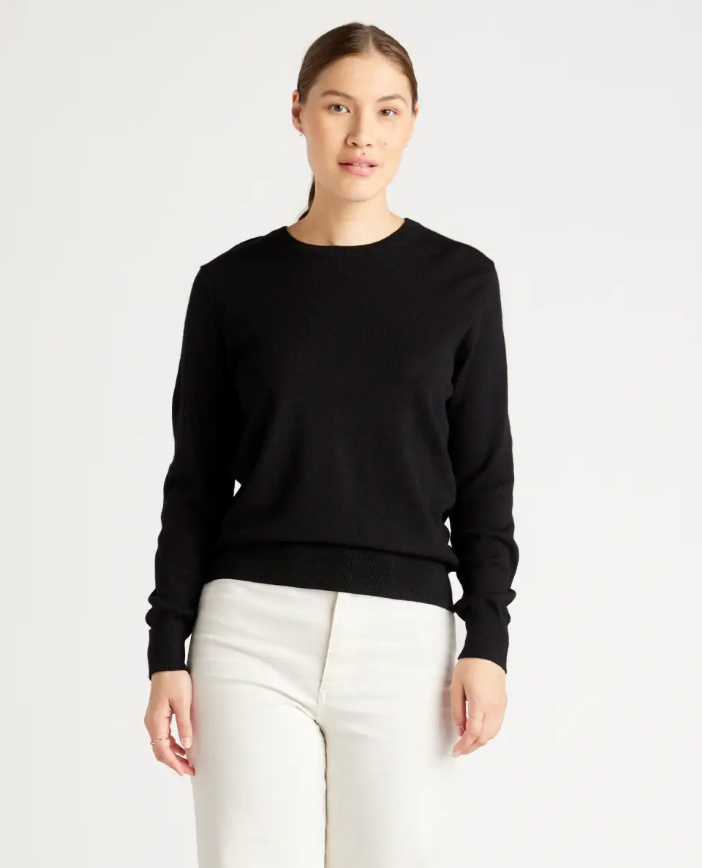 Quince Australian Merino Wool Crew Sweater: Sizes XS-XL
In terms of a layer, aim for a merino wool sweater as it'll keep you warm or dry as this miracle fabric doesn't retain moisture. Plus, you can wear it multiple days without having to wash it because it won't retain odors!

When visiting the museums and park you want to be wearing flat shoes as you'll be doing a fair bit of walking. Layers will also help as you'll be heading from outdoors to inside, walking around the park and through the air-conditioned museums. 
A comfortable but light rain jacket will be perfect, or if you want to suit the city feel, a moto style could be an alternate option.
Find out what to pack for Mexico from cities to beaches!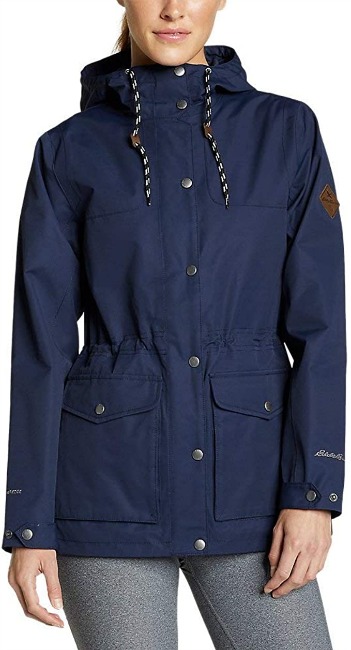 Eddie Bauer Charly Rain Jacket: Sizes XS-XXL
You'll want to check out the Museum of Modern Art (Museo de Arte Moderno) is in the center of the Chapultepec Park, (which is also a nice place for a stroll – and visit the Castillo de Chapultepec). The museum is circular and has an expansive golden dome inside. It shares works from both Mexican and international artists. 
Also within the Chapultepec Park area is the National Museum of Anthropology (Museo Nacional de Antropología), which TFG Editor-in-Chief Alex describes as "amazing!".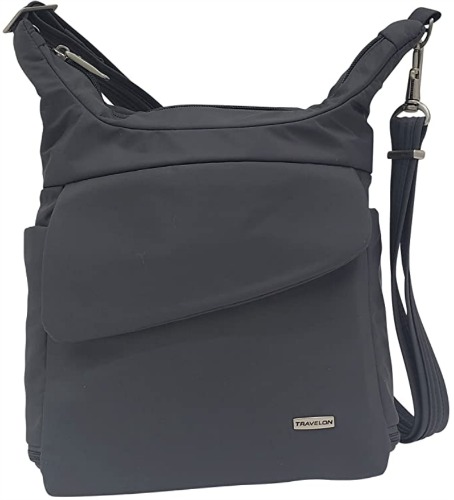 Travelon Anti-Theft Crossbody Bag
You'll also want a bag to keep your things in, as you don't want things in your hands when wandering the exhibits plus some museums won't let you in with food and drink, so your bag will allow you to keep things stashed away. A cute yet functional crossbody bag that has anti-theft features is perfect! 
Look for one with a slash-proof strap, roomy interior, and tons of organizational compartments, and RFID blocking tech built-in. You'll be able to keep things like your camera, water bottle, or sunglasses close at hand!
Though I never felt unsafe or threatened in Mexico City, it's a large city and petty theft is a risk, just like in all big cities.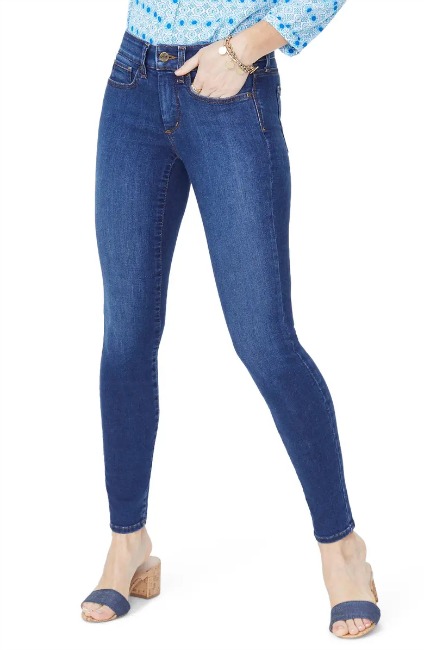 Madero Street and Plaza del Zocalo
In downtown Mexico City you'll find Madero Street, a pedestrian-only street packed with bars, cafes, and stunning European style architecture. It's a great place to eat, drink and you can even try the popular 'pulque'—an alcoholic drink traditional to central Mexico. 
The downtown is fast-paced and pretty fashionable, so stick to stretchy, skinny jeans and a comfortable t-shirt. The great thing about both is their versatility; you can mix and match either for different occasions. But in this case, you'll look grand for a night of eating and drinking!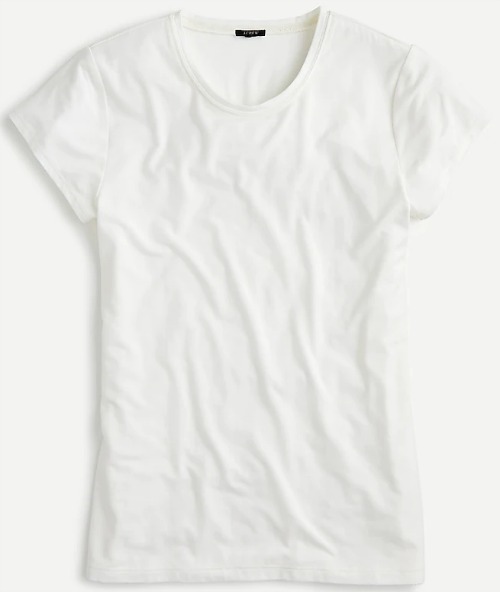 J.Crew Vintage Stretch T-Shirt: Sizes XXS-3X
Madero Street leads to the Plaza del Zocalo, one of the biggest plazas in the world.  It's home to a number of artistic and cultural events, with daily performances from street artists putting on impromptu shows, from Aztec dancers dancing to drums to musicians and acrobats.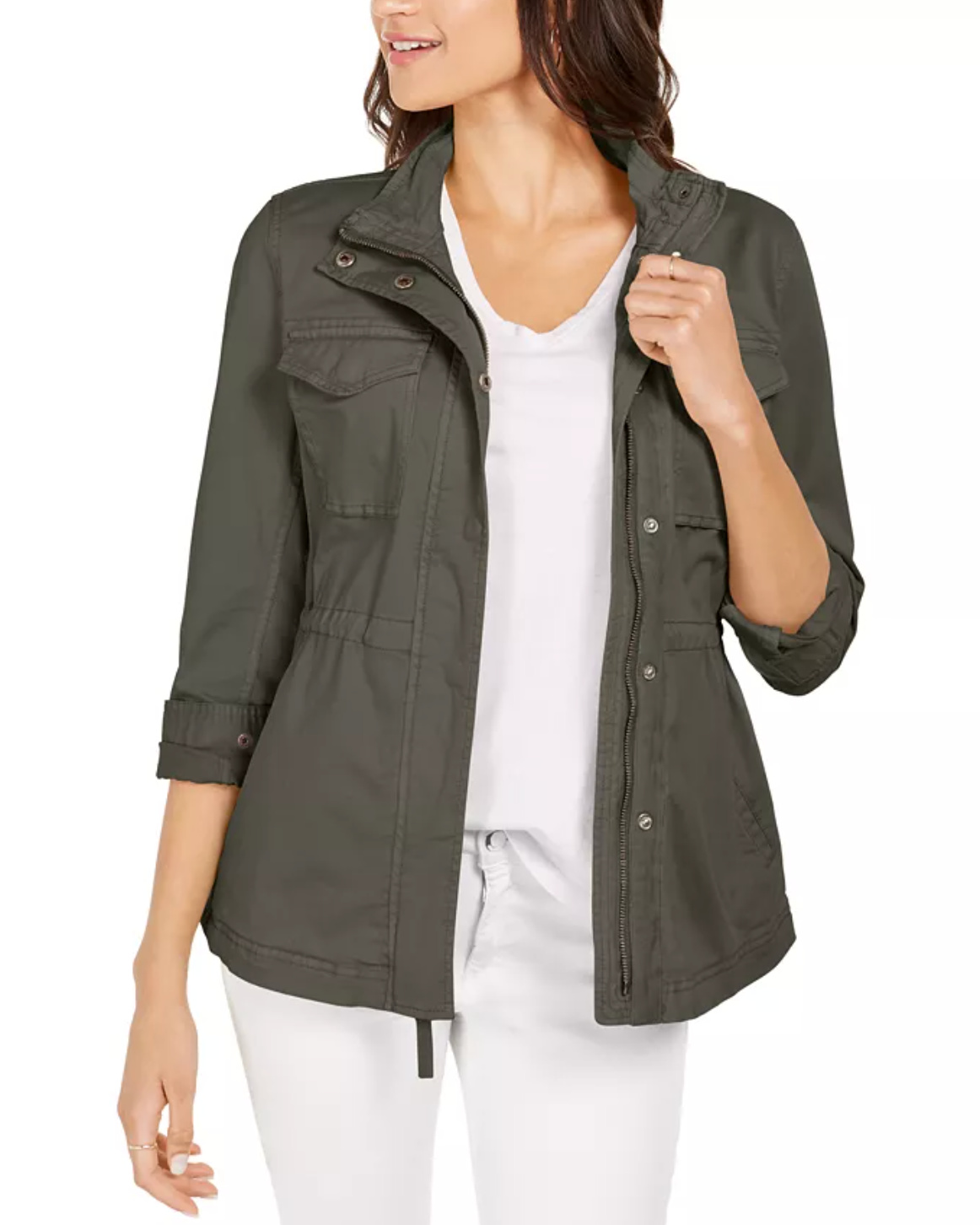 Shop Sizes XS-XXL: Style & Co Safari Jacket
As you tour this famous street, don't forget a versatile, comfy jacket that you can wear alone in spring/summer, or layer a bit in the fall. We recommend bringing at least two jackets, so your second one should be less functional and more fashion (but still practical!).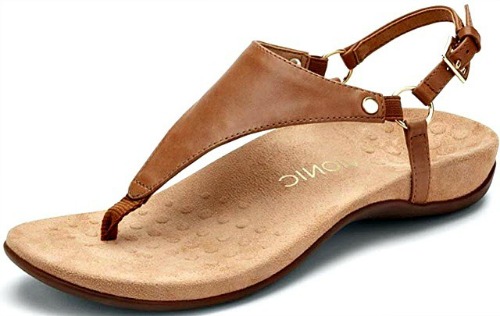 If you're going in the summer, be sure to pack some sandals, ones with some decent support, grip, and cushion so you can hop from place to place without foot pain. 
Around this area, you can also go up to the Latin American Tower, to see some great views over the city. There's an entrance fee to get to the top, but you can also visit the bar up there for a few drinks. 
Find out our best packing tips for Bacalar—the Lake of Seven Colors!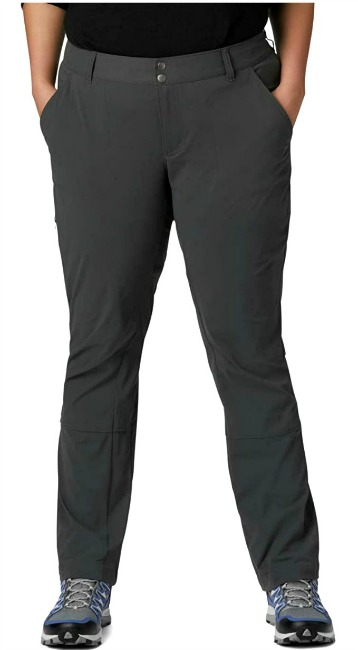 Columbia Saturday Trail Pant: Sizes 2-16
Archeological Sites
Mexico is famous for its archeological sites and famous ruins. In the center of Mexico City, close to the Zocalo, you'll find the Ruins of the Main Temple (Ruinas del Templo Mayor). It's an incredible site in the heart of the city that was discovered during construction in the late 1970s. 
Further away, and a day trip out of the city, you can find the awesome Teotihuacan ruins (described as another "must do" by TFG editor Alex!). It's one of the most visited archaeological sites in Mexico, and a UNESCO World Heritage site, featuring the huge and awe-inspiring pyramid of the sun. 
For those faraway treks from the city, you may want to don a pair of hiking pants to move about the ruins with ease. You could choose ones that can roll up or down, to get cool or cover up against bugs.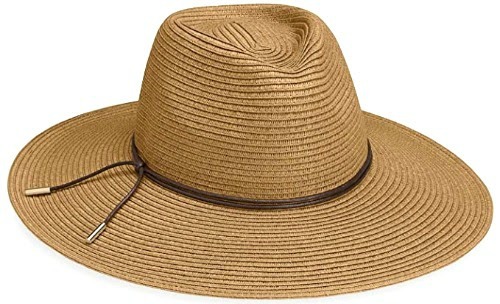 When visiting this site you'll need to remember to wear a large brimmed hat and sunscreen, as it gets hot quickly, and there aren't many places with shade or to sit down. You'll also want to take along some water, as you'll get thirsty climbing to the tops of the pyramids in the afternoon heat.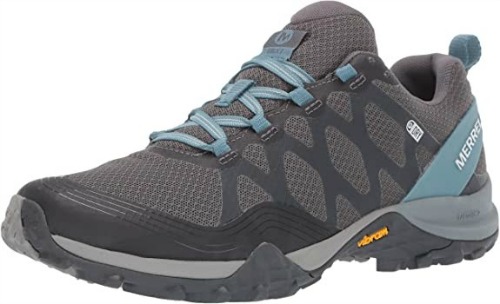 In the fall or winter, you might want to wear hiking shoes to keep your feet covered and consider wearing merino wool socks so your tootsies can breathe. Look for shoes with good grips as there can be loose rocks or gravel near ancient sites.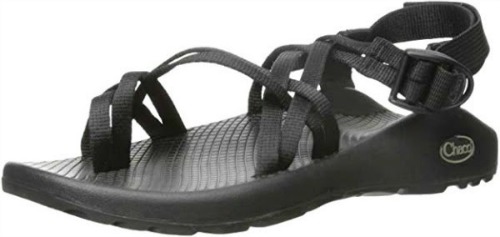 If you hit the ruins in the summer, bring hiking sandals to explore this expansive site. Archaeological sites tend to be large areas to cover and you'll be walking a lot so comfort matters! (But come on—there's also SO much to see!)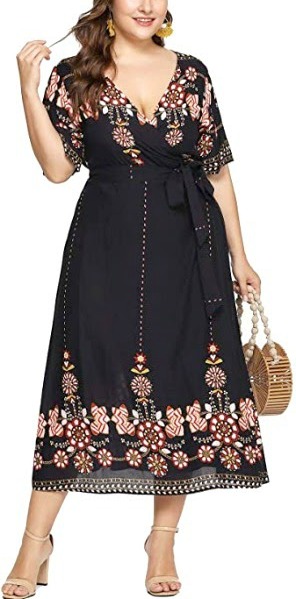 Milumia Bohemian Midi Dress: Sizes L-3XL Plus
Nightlife
If you want a fancy night out, go to the Condesa area, especially around Tamaulipas Avenida, where there are tons of options.
Aim for a modest, yet pretty midi-length dress not only is it a trendy style but also somewhat more conservative for exploring the city overall too (especially its various churches and convents).

To dance Salsa like the locals, in a hidden place that you won't find on the tourist maps, try Mama Rumba, in the Roma area of the city. It has Latino music to dance the night away too—but it WILL be hot and sweaty inside—especially once you've hit the dance floor! 
Read on to find out what you need for your Cozumel packing list!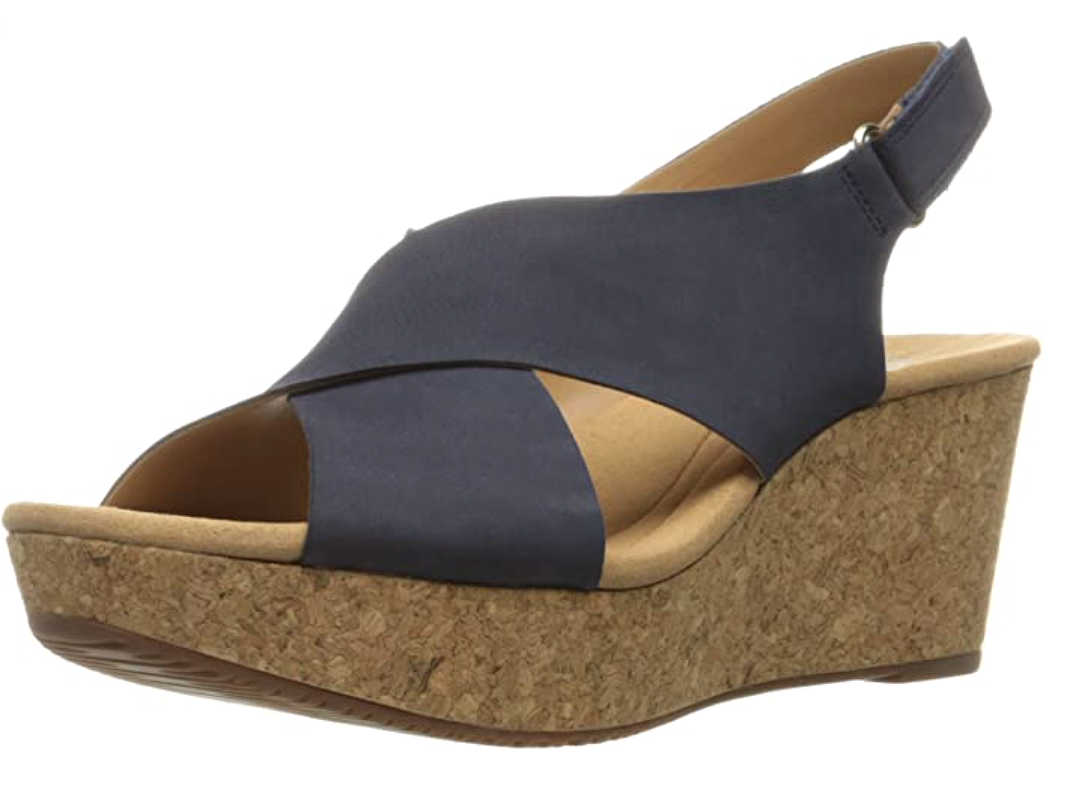 Locals from Mexico dress up here, with heels being the norm (just make sure they're comfy enough for salsa steps—we recommend wedges!). After that, you can make your way to Insurgentes Avenida where you'll find the popular Pulqueria Insurgentes, a trendy three-story bar, with live music and DJs.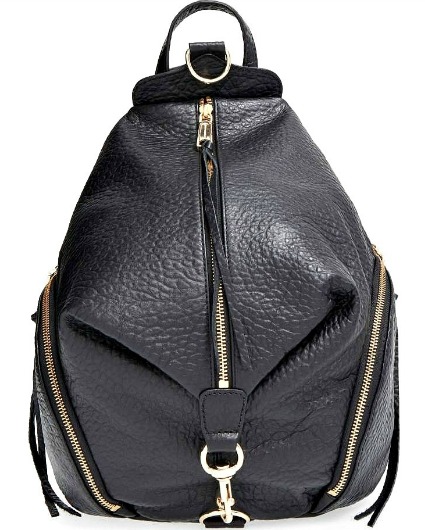 Rebecca Minkoff Julian Backpack
Accessories 
As for other accessories, I recommend a zipped backpack as a secondary option for city exploring. Something that clips like the one pictured with enough components to hold essentials can be a versatile item!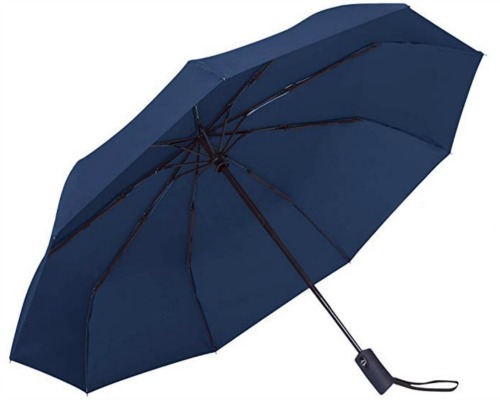 It's fairly common for the city to experience some heavy rain in the summer, especially at night, so consider bringing a small umbrella to accompany your rain jacket.
Overall, picking breezy fabrics and pieces that can be worn and layered together will give you the most options while being fashionable and culturally appropriate.
Here's your packing list for Isla Holbox!
What Should I NOT Wear in Mexico City
It's important to note that you won't find many women wearing short shorts in the city, so I recommend steering toward jeans and comfy dresses if you're looking to blend in with the locals. 
Where to Stay In Mexico City
TFG editor-in-chief Alex always stays in the Condesa region of the city, as it is central to most places and has a wide range of restaurants and bars to visit too. It's a fashionable neighborhood with so much to see and do, you might not make it to elsewhere in the city. 
When staying here, you can find an Airbnb, or an alternative is to find a hotel room, using a site such as Booking.com. There are a lot of different options in Mexico City, from small boutique inns to large well-known chains. 
For backpackers or travelers on a budget, you might also want to check out a hostel; there are lots to choose from, with private rooms as well as shared occupancy available. 
Other Vital Things to See or Do In Mexico City
Here are more insider tips:
See the town by bike

–

Another way to explore Mexico City is with an ECOBICI. It's a government-run bicycle scheme, where you can rent a bike from one of the many stations located around the city. Simply pay a one, three, or seven-day fee and you can ride one whenever you like, with 45 minutes to explore before returning it to another cycle station. It's a great way to venture through the touristy areas of the city: Reforma, Museum Castillo de Chapultepec, Museo Tamayo, Condesa, Roma.
Food

–

Mexico City is famous for having incredible food. You can get anything here, with local Mexican cuisine for a couple of dollars, to premium restaurants with international flare and food to rival any Michelin level chef. It depends on your tastes and budget.

A place you should visit is "Bosforo", it's a fave of TFG team member Rebecca! Here you can try a handcrafted mezcal with delicious typical cuisine from Oaxaca.
Coyoacán Centro

–

Further south in the city, you'll find the area called Coyoacan. It's known as the historic centre. Here you can visit the Frida Khalo Museum, one of the most famous Mexican artists of all time. There are lovely cafes which pepper the streets where you can enjoy traditional desserts like churros and street food, like creamy esquites. Café de Jarocho is a local favorite – their mocha donuts are delicious! You can also visit the Artisan Market too for some locally produced handicrafts!
Palacio de Bellas Artes

– The Palace of Fine Arts (Palacio de Bellas Artes) is one of the most eye-catching and grand buildings in the historic center of Mexico City. (It's the building from the cover of this article!) The architecture itself is wonderful, with its magnificent domes and resplendent facade. Inside it has beautiful murals, by some of Mexico's best artists.

It's also home to cultural shows and events, including dance, theatre, and opera.
Xochimilco

–

Xochimilco, another suburb of Mexico City is also worth a visit. Here the area is characterized by the famous canal system which has long colorful

boats called "trajineras"

that are ready and waiting to give tourists a ride around the area.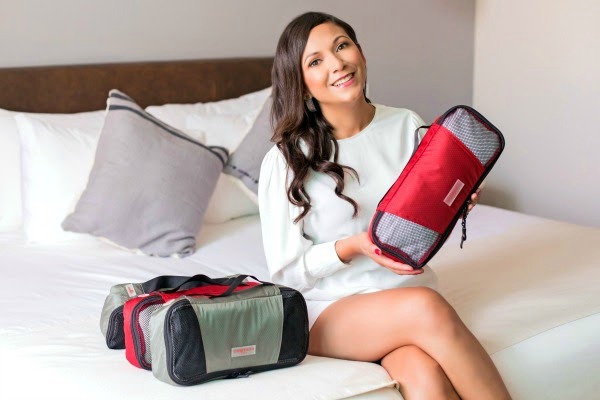 How to Pack Your Mexico City Vacation Clothes
Now that you have some wonderful ideas for a packing list, packing cubes are a great way to organize and compress your clothing; they will change the way you pack! We designed our own brand of slim packing cubes, with a unique color and numbering system, so it's easy to remember where you packed everything. The video below demonstrates how to use packing cubes in more detail.
Learn our hacks with packing cubes in the video above!
We also put together a five-part YouTube series showing the different methods to use packing cubes for travel. If you use this specific packing strategy, packing cubes can also compress your belongings. This method can help you travel carry-on only! 
---
Follow these tips to fit right into the fashion scene and be sure to leave a bit of room in your suitcase for anything you may discover in the trendy boutiques!
What are your tips on what to wear in Mexico City all year round? Share below!
---
For more Mexico packing tips, please read:
Suggested Travel Resources:
---
LIKE THIS POST? PIN THIS PIC TO SAVE IT!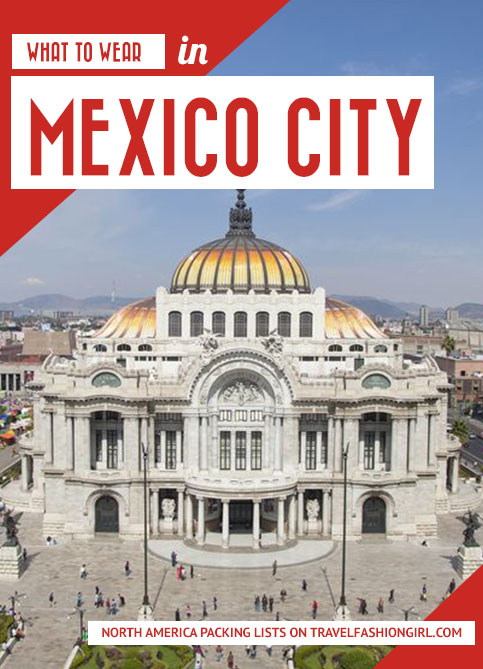 ---
We hope you liked this post on what to wear in Mexico City in summer. Please share with your friends on Facebook, Twitter, and Pinterest. Thanks for reading!
---
Author Bio: Katie Melloh is a travel addict (30+ countries and counting!) who is currently pursuing her master's degree in international development. Other interests include: fair trade coffee, exercising her taste buds as a cheese-obsessed vegetarian, and reading historical fiction. She writes for her blog Her World Over and for Unearth the World, a social enterprise for ethical volunteer trips.
---