Support TFG by using the links in our articles to shop. We receive a small commission (at no extra cost to you) so we can continue to create helpful free content. As an Amazon Associate, we earn from qualifying purchases made on Amazon in addition to other retailers featured on the blog. Thank you, we appreciate your support!
Get the coverage you need while keeping cool in hot and humid destinations. Find out the best cleavage cover with our tried and tested reviews!
---
Best Cleavage Cover
---
Table Of Contents
Travel Fashion Girl help! A reader asks:
"How do you deal with tops that are too low-cut? It seems like almost everything I try on is so low cut that it shows cleavage … especially lightweight tops for hot weather.
I don't want to wear a cami underneath because it defeats the purpose of a lightweight top. Bralettes don't work, because I need more support. Any advice?"
When you're traveling in hot and humid weather, you want to add fresh and airy clothing to your travel capsule wardrobe, but many cute clothing styles also have low-cut necklines and armholes. Not to mention, the endless array of beautiful backless tops that are just not an option for women who need support.
You might be thinking, "Just wear a camisole underneath!" But who wants another constricting layer under clothes in hot, humid climates?
So, what's a girl to do when she needs to wear lightweight clothing in hot weather, yet everything seems too low-cut?
We asked the TFG Facebook Group this question and received some fantastic options! And one of our editors personally tried some of these solutions, so keep reading to see the results!
Tip: Packing cubes are the easiest way to pack light! Many travelers designate one packing cube just for their bras, camis, and underwear. Your underwear is also small enough to be squeezed into any available nook and cranny of your packing cubes.
Best Ways To Cover Cleavage
Spoiler alert! These are our favorite ways to cover cleavage:
Black Lace Half Cami (Plus)
Best Cleavage Cover: Lace Half Cami
What's a bralette? It's an unstructured bra without molded cups or wires.  
A half cami is pretty self-explanatory – it's a shorter camisole. These names are used interchangeably by many manufacturers.
But we aren't using the bralette or half cami for any kind of support purposes (since it offers little to no support anyway). No, we're wearing a bralette over our regular bra! Genius.
And we love this black lace half cami. It's pretty and comes in several colors and sizes small to 3X, so it's great for a variety of bust sizes.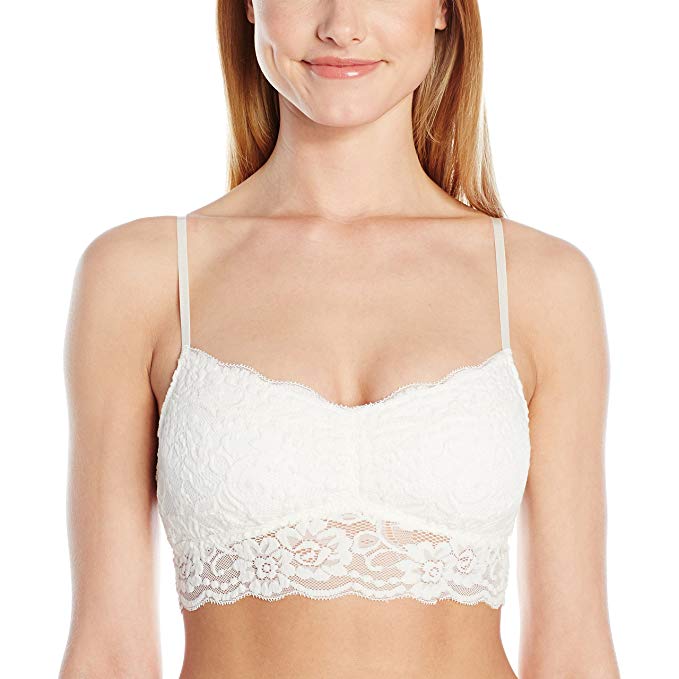 Half Cami (Lace Bralette)
Bralettes are:
Cheap

Available in any store that sells bras

Easy to buy, because sizing isn't that important. In fact, slightly loose is better than tight for our purposes.
Some bralettes only come in one size. If you do have a choice of sizes, choose larger rather than smaller.
Shop more bralettes/ half camis: Nordstrom | Amazon
Read this post to learn the importance of getting a good bra fitting!
Best Cheap Cleavage Cover: Bralette
I personally tested the three bralettes shown at the end of this post (all under $13). The most important factors to me were the quality of the fabric – it had to feel lightweight and not look cheap – and whether the fabric reached high enough on my chest to cover me up.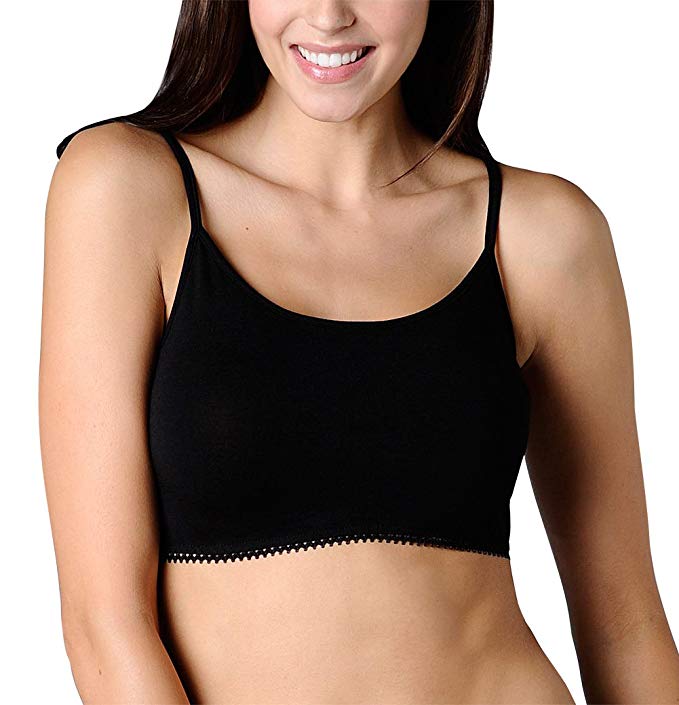 Half Cami (Adjustable)
The white cami-style bralette was the winner! As you can see from that image, it's the "tallest," which means it has the most fabric to reach higher on the chest. It also had the softest, lightest fabric, which is great for comfort and breathability.
The first time I tried the white cami over my bra, I was so excited because it felt great, fit well, covered me up, and looked nice under my low-cut tops. I can't believe I didn't try this trick years ago!
Our readers suggest the best sports bras for travel!
Best Cleavage Cover for Small Busts: Lace Bralette
Ladies who don't mind less support can simply wear a good quality bralette or cami bra like this without another bra underneath.
This bralette is an actually a wirefree sports bra with lace over the top. It comes in several colors and sizes small to 3X.
Signature Lace Deep V Bralette (Lace Bralette)
One tip to keep in mind when shopping for bralettes is to pay attention to the fabric that will be poking out of your top. Some lace can look cheaply made or low-quality. Make sure to choose a fabric that looks like it's good quality.
Shop more lace bralettes: Nordstrom | Amazon
Tip: These types of bralettes look pretty under backless tops and can easily disguise wide bra bands! They're a TFG fave!
Best Strapless Cleavage Cover: Bandeau Bra
You could also try a plain or lace bandeau bra tube top. It serves the same purpose as a half cami or bralette, but without the straps.
It can provide stylish lace cleavage cover if you buy a lace style like this one.  
A bandeau bra can work over a strapless bra for added support as well.
Shop more bandeau bras: Nordstrom | Amazon
Cleavage covers can help you minimize your travel wardrobe. Read more tips about how to create a functional but minimalist capsule wardrobe with Pack Light Stylishly!
Best Cleavage Cover for Large Busts: Snap-On Bra Overlay
As an alternative to the T-shirt bra with the built in cover for cleavage, you can also use something like this snappy bra insert which is a triangle of fabric that snaps onto your bra and tucks under your top.
One wearer says, " It's really hot where I live, so a camisole underneath, was not my first choice! This was perfect! It snapped on to my bra straps, and I was able to confidently wear my dress. No one knew, I felt great, and got compliments. And now, I have several other colors, for other tops or dresses with low cut necklines. I highly recommend this!"
Shop more snap-on bra overlays: Amazon
Read more about choosing the best travel underwear here!
Le Mystere Convertible T-Shirt Bra with Lace Insert
Best Bra Cleavage Cover: Convertible T-Shirt Bra
If you don't want the added fabric from a bralette or cami over your bra, there's another option.
There's only one underwire bra with extended sizing in the universe – that I could find – that has a modesty panel of lace to act as a cleavage cover. The moment I saw this, I had to have it!
The lace triangle very cleverly snaps and slides onto the front of the bra and can be removed. (You also can wear the lace on the back in a pretty racerback look!) It's not inexpensive, but it's a high quality, well-made bra. It also comes in extended sizing (starting at size 30 bands and up to a G cup).
I was so in love with the concept of this bra, but unfortunately, even after trying four sizes, I found it didn't work for my shape.
The lace cleavage cover up was a nice quality, but unlike a cami that you can tug up and down if needed, the bra's lace is a non-adjustable height. Also, the lace sits quite high–almost too high.
Shop more convertible T-shirt bras: Nordstrom | Amazon
These are the three bras every woman should pack for travel!

Uniqlo Women's Airism Sleeveless Top
Best Alternative to a Cleavage Cover: Uniqlo Tank Top
Remember, my goal is not to wear a camisole under my top, because I don't want an extra layer in hot weather. However, Uniqlo's AIRism line was recommended by so many TFG readers, that I had to check it out. My plan was to order a camisole, cut off the bottom, and hem it so it was just longer than my bra.
I ordered the Uniqlo AIRism camisole and their "sleeveless top" (tank top), which is pictured above.
The second I removed the tank from the bag, I said, "Oooh!" as I ran my hands over the fabric. It feels lovely. It's light and soft but not shiny, which exceeded my expectations.
AIRism wearers rave about this quick-drying, absorbent, anti-odor fabric, and I can see why. Obsessed!
That said, the camisole didn't work for me, but the tank did. Why? The only bra-less camisole they offered was a V-neck, which hung too low, not covering the cleavage enough. For this reason, I recommend getting the AIRism tank instead of the cami.
I LOVE the tank! It comes up high enough to cover my cleavage. Also, the straps are just wide enough to cover bra straps but are thinner than most tanks. This top packs into a tiny space are easy to hand wash and dries quickly. Amazing for travel!
AIRism camisoles and tanks are also inexpensive – around $10 each! (I find that Uniqlo can run small; I recommend going up a size if you're unsure.)
I haven't actually altered the top to make it shorter yet, but I think it would work! This was actually recommended by one of our readers! If only Uniqlo would create a bralette or half cami out of the AIRism fabric! Now THAT would be an incredible product!
Shop more of the AIRism line: Uniqlo
Read about the best fabrics for travel!
Still can't decide? Here's a quick overview of these cleavage cover up:
BRAND | MODEL

FEATURES

RATINGS | PRICE

Best Cleavage Cover: Lace Half Cami
Black Lace Half Cami (Plus)
Half-cami in stretchy, breathable lace with spaghetti shoulder straps
Check Price
Half Cami (Lace Bralette)
Cotton-lined cups with removable padding provide smooth support in this bralette that features a floral lace overlay and scalloped under-bust band
Check Price
Best Cheap Cleavage Cover: Bralette
Seamless Cami-style Bralette
Simple, basic, great for wearing crop tank tops or wearing as a sexy underlaying shirt.Thin but opaque and can't be seen through.
Check Price
Half Cami (Adjustable)
Designed to layer over bra for extra coverage with no bulk!
Check Price
Best Cleavage Cover for Small Busts: Lace Bralette
Overlay Bralette in Lace
Moisture-wicking performance moves perspiration away from the skin to dry quickly on the surface. Soft, seamless construction feels ultra smooth, built for medium-impact activity and all-day comfort.
Check Price
Signature Lace Deep V Bralette (Lace Bralette)
Pullover bralette featuring high illusion neck and T-back with center cutout, light, comfortable support ideal for A-C cups
Check Price
Best Strapless Cleavage Cover: Bandeau Bra
Bandeau Bra Tube Top
Floral lace pattern strapless, seamless wire-free bandeau is lightweight & stretches well. You can layer these cute bandeaus bra with an open back tank top or one of our comfy loose fit open side sleeveless tank tops for a cool funky look.
Check Price
Best Cleavage Cover for Large Busts: Snap-On Bra Overlay
Snap-On Bra Overlay
Provides a quick, easy and comfortable way for cleavage coverage whenever you need it
Check Price
Best Bra Cleavage Cover: Convertible T-Shirt Bra
Le Mystere Convertible T-Shirt Bra with Lace Insert
Detachable lace panel can be worn in the back for a racer back style or in front for a cami bra look. It can also be worn with over 9 different strap positions.
Check Price
Best Alternative to a Cleavage Cover: Uniqlo Tank Top
Uniqlo Women's Airism Sleeveless Top
Comfort features include moisture-wicking, DRY technology, heat-release, Cool Touch, anti-microbial/anti-odor, and deodorizing.
Check Price
The Sewing Book: Over 300 Step-by-Step Techniques
Alterations for Tops and Dresses
If you're looking for other cleavage cover solutions, you always can alter pieces of clothing and do a cleavage cover DIY, or have a tailor alter it for you. For sleeveless tops or dresses, you can have the straps shortened. (This would also make the armholes smaller.)
With a little sewing skill, you can sew together a too-low V-neck or even sew in a triangle of fabric.
Hopefully, one of these options will help you feel more confident wearing the hot weather tops and dresses you love!
Black bralette (left, available in three sizes) | White bralette (center, one size) | Black bralette (right, XS-XL)
Other Benefits of a Cleavage Cover
Bralettes and half camis also offer coverage for tops with large armholes or open backs, like this strappy back shirt or this open back top style.
I never would have considered wearing tops like this, but now with a pretty half cami over my bra, a whole world of back cut-outs or strappy backs has been opened up!
---
What is your favorite cleavage cover? Please share in the comments!
---
For more tips on travel underwear, please read:
---
LIKED THIS POST? PIN THIS PIC TO SAVE IT!
---
I hope you enjoyed this post on the best cleavage cover up. Please share with your friends on Facebook, Twitter, and Pinterest. Thanks for reading!
---