Support TFG by using the links in our articles to shop. We receive a small commission (at no extra cost to you) so we can continue to create helpful free content. We earn from qualifying purchases made to the featured retailers. Thank you, we appreciate your support!
Eddie Bauer shirts are a go-to in the TFG community, due to their amazing functionality and travel-friendly features. Find out why readers choose these tops for traveling constantly in this Eddie Bauer review below!
---
Eddie Bauer Womens Shirts Review
---
Table Of Contents
Eddie Bauer is widely beloved by TFG readers because they make clothing with travel in mind, and their awesome shirts tick all the boxes. Eddie Bauer tops will always keep you comfortable and are durable enough to last you throughout your travels. 
Keep reading to find out why our readers rave about these shirts!
Best Features of Eddie Bauer Travel Shirts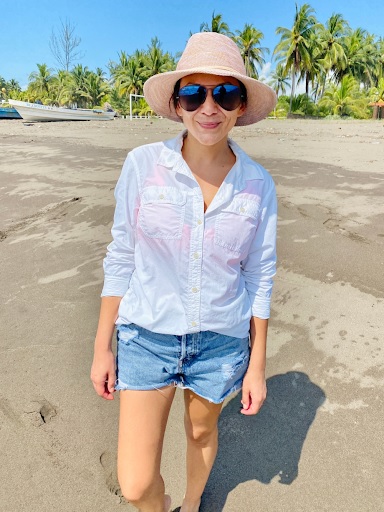 In Eddie Bauer Ripstop Shirt (With Wallaroo Sun Hat)
They're Comfortable and Travel-Ready
Eddie Bauer makes the ultimate travel tops. Most of their shirts are moisture-wicking, quick-drying, and have UPF protection, making them ideal for hot weather, outdoor activities, or simply sitting on an airplane for long hours. They're made with quality fabrics that feel super comfortable to wear for long periods of time, no matter the activity. 
One Eddie Bauer top that TFG readers absolutely love is their Ripstop shirt. It's so easy for travel, as it's lightweight, moisture-wicking, provides UPF 50+ sun protection, and works for so many different destinations and occasions. 
I also ADORE the Eddie Bauer Ripstop shirt and bought it in 2020, ending up wearing it everywhere—hiking in Utah, Playa del Carmen, and on a trip in El Salvador! I find it versatile enough to be paired with denim shorts, worn as a cover up when walking down the beach, and tucked into her favorite jeans while flying. So many of our readers share that this is their absolute favorite travel shirt as well and it meets all of their needs! 
One wearer says about her Ripstop shirt, "Somehow, this shirt resists wrinkles, stains, sweat, and being thrown in a corner after a long day of touring. I was able to wear it multiple times; didn't have to do laundry like I planned. It's like a 'miracle shirt.' A must-have for sightseeing or hiking." 
Other Eddie Bauer tops feature great fabrics like Tencel, which is super soft, breathable, wrinkle-resistant, and doesn't pill. What more could you ask for in a travel shirt?! 
I absolutely loved the Eddie Bauer Ripstop shirt so much, it made my list of top travel products—take a look at the entire roundup!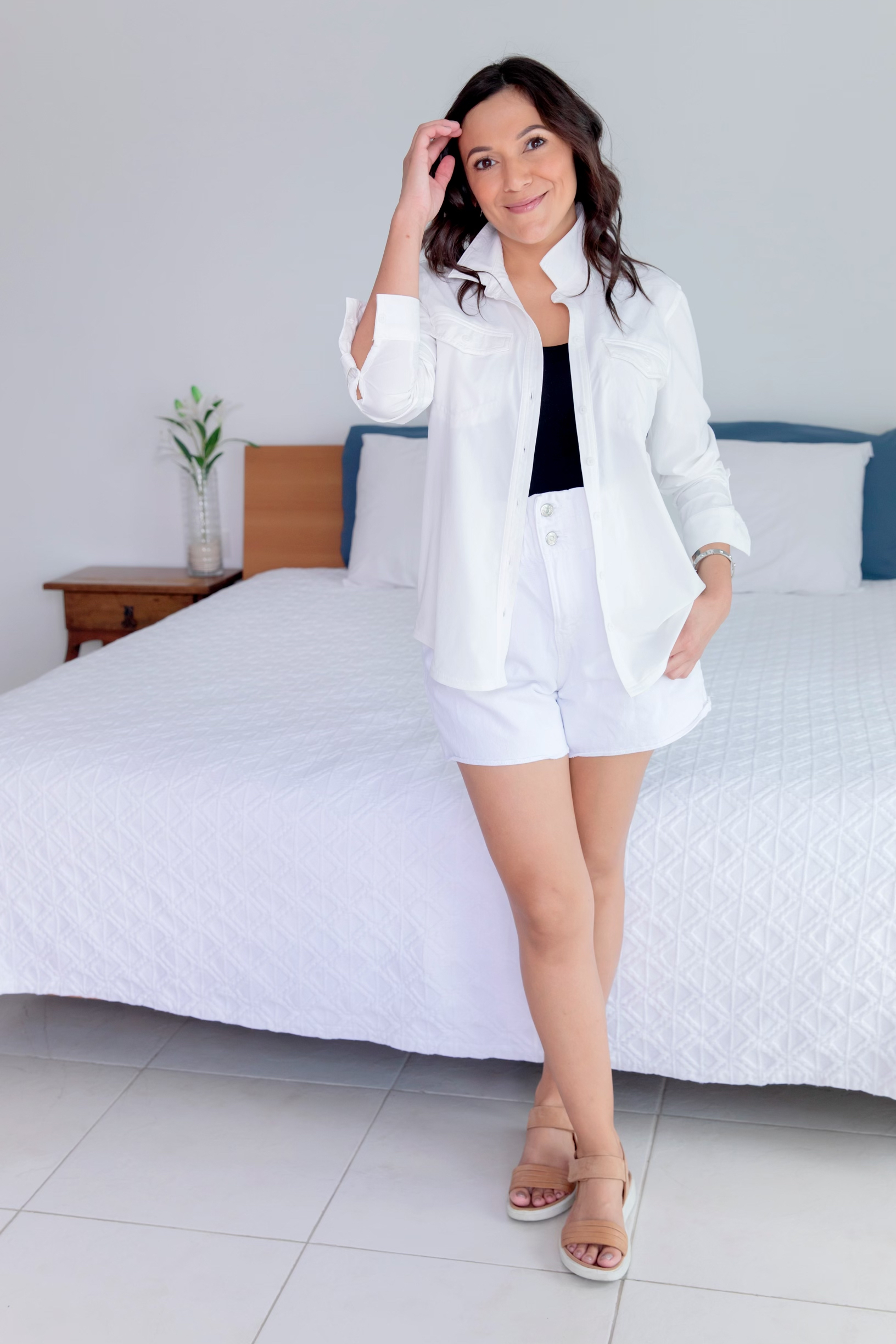 In Eddie Bauer Departure Shirt with Zara Shorts, and Ecco Flowt Sandals
They're Versatile and Easy to Style
Readers also love the versatility of Eddie Bauer shirts, and the fact that so many of them can be used on a hike one day and polished up the next! 
After finding the Ripstop shirt, I subsequently found the Eddie Bauer Departure shirt, which has become a part of my travel "uniform" that easily transitions from beach to city, and from daily wear to travel. I usually like to be a tad above strictly casual, so this is a button down blouse that goes well with denim, for instance. I love how it emits a casual but polished look, and this combination has been endlessly versatile for me!
And another traveler agrees, "This shirt is light and has shape to it. I think this will be easy and fast to wash when traveling. Highly recommend."
The Departure shirt is super soft and looks more like a regular blouse than a travel or hiking top. As a plus, it still has all the same great features, such as UPF 50+ protection and moisture-wicking capabilities to keep you cool and dry, even in the hot sun. This is a super reliable shirt for your travel capsule wardrobe.  
The Eddie Bauer Departure shirt became one of my favorite things in 2021, find out the rest of my 'best of' list here!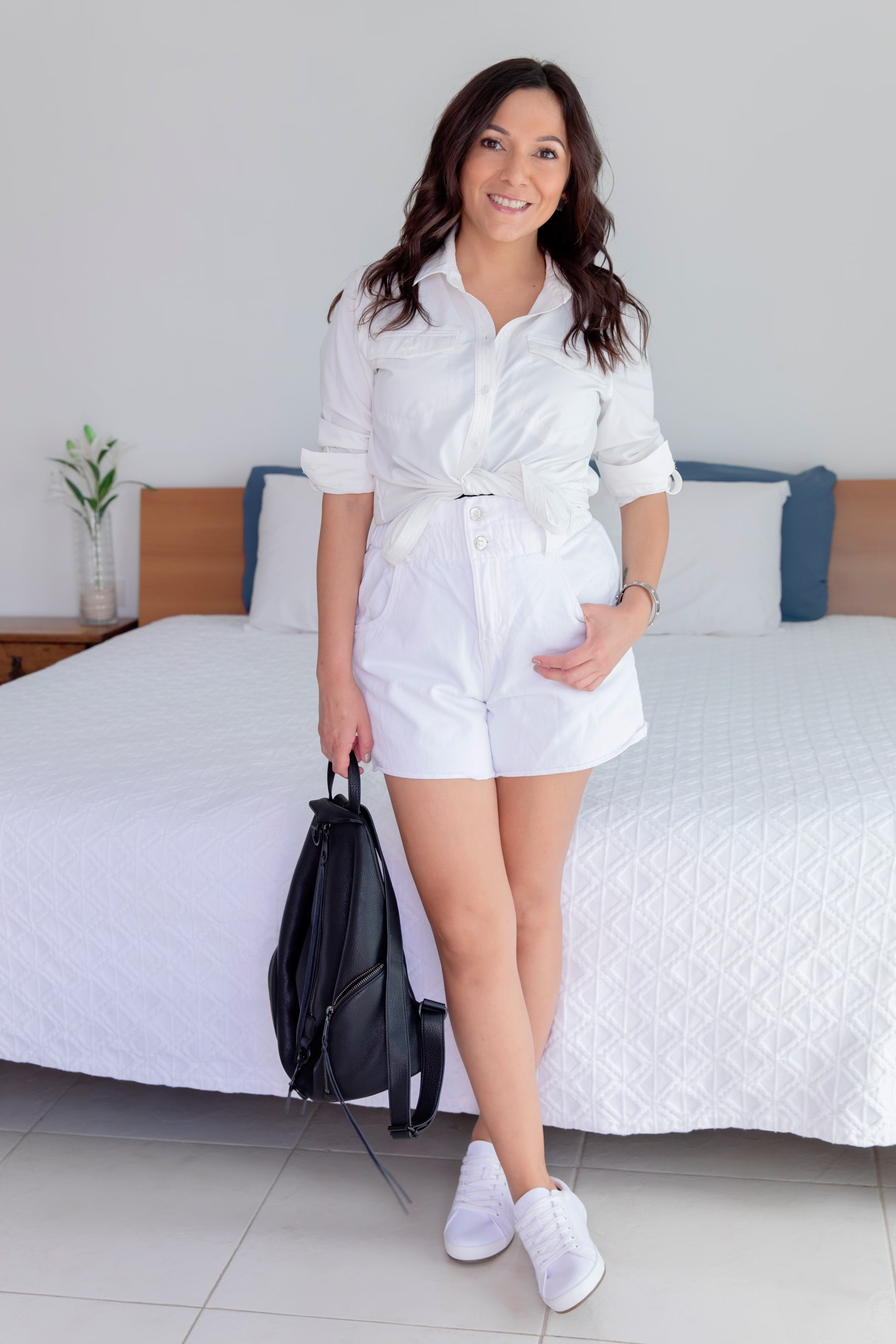 A different way to wear the Departure Shirt with Zara Shorts, Rebecca Minkoff Backpack, and Taos Sneakers
Because of how versatile all Eddie Bauer shirts are, they can truly be worn everywhere! TFG readers have donned their EB tops road tripping across the U.S. to sightseeing in Morocco. Most of their tops can easily be dressed down by day and dressed up by night, which is so amazing when you have limited packing space and want to reuse items more than once.
In fact, the secret to a travel capsule wardrobe is choosing items that mix and match together and can be worn more than once! (Check out our ebook Pack Light Stylishly to learn how to personalize your own capsule wardrobe easily!)
We've rounded up our readers' top recommendations for the best women's travel shirts.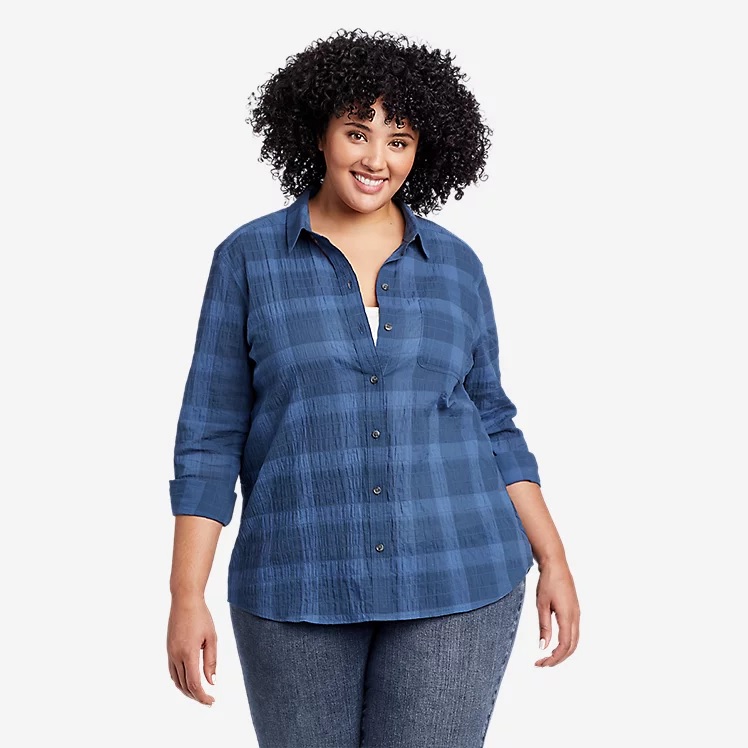 Eddie Bauer Packable Long-Sleeve Shirt
They Come in a Range of Sizes
The Eddie Bauer women shirts sizing is really inclusive, which is a big reason why TFG readers return to them again and again They have a wide range to suit many different body types. Their shirt sizing ranges from XS to XXL, with additional size ranges in petite, tall, and plus-size categories! 
In terms of fit, many users feel Eddie Bauer tops are true to size. One shares their experience, "I have three of their shirts in different colors and I absolutely love them. My husband always compliments me when I wear them too. They perfectly hide my gut but is still loosely fitted around my bust."
While not all the shirts they offer has a large range of sizing, many of them do account for diverse sizing, which TFG readers appreciate!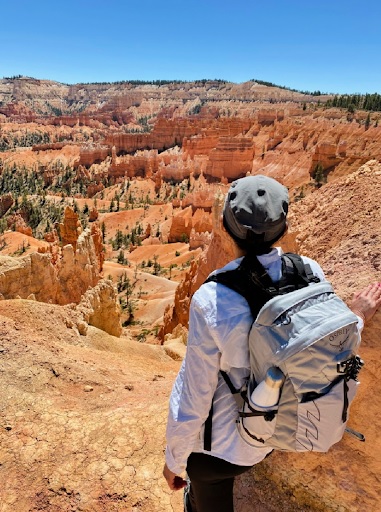 Hiking in the Eddie Bauer Ripstop Shirt
They're Excellent for Multi-Purposes
Eddie Bauer hiking shirts r are protective and durable, but you definitely won't overheat while wearing them, even if you have different activities planned! 
For example, I chose the Ripstop style for a two-week hiking and camping trip in Utah and found it to be fantastic I wore it over my icebreaker merino wool tee, and while that t-shirt is moisture-wicking the Ripstop shielded me from the sun, and the long sleeves kept my arms nice and cool in the heat. It's the perfect lightweight shirt for hiking and made me love it even more!
Want a whole list of no-iron options? Check out these women's wrinkle free shirts!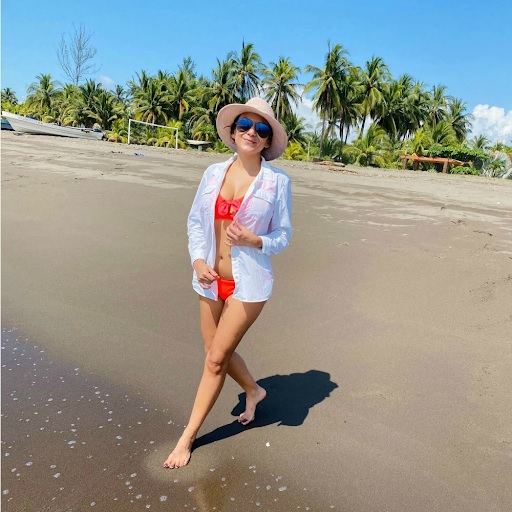 Enjoying the beach in El Salvador wearing Eddie Bauer Ripstop Shirt
And as I said earlier, I also used the Ripstop as a beach shirt and my arms and back weren't  overheated the entire time!
Eddie Bauer has so many adventure-ready styles to choose from. Their range of shirts can be used for camping, spending time at the beach, hiking, sightseeing, and everything in between. 
One wearer says that her Eddie Bauer top is, "so easy to take care of. It looks sharp for a quick dinner transition, but it's light and comfy on a hike. I even wore it as a beach cover-up on a recent trip." 
Overall, the durability, movement, and extra features like UPF or moisture-wicking properties make their shirts amazing for so many things—travel or life related!
From merino wool to cotton, look at this list of the best recommendations of the best long sleeve tshirts for travel!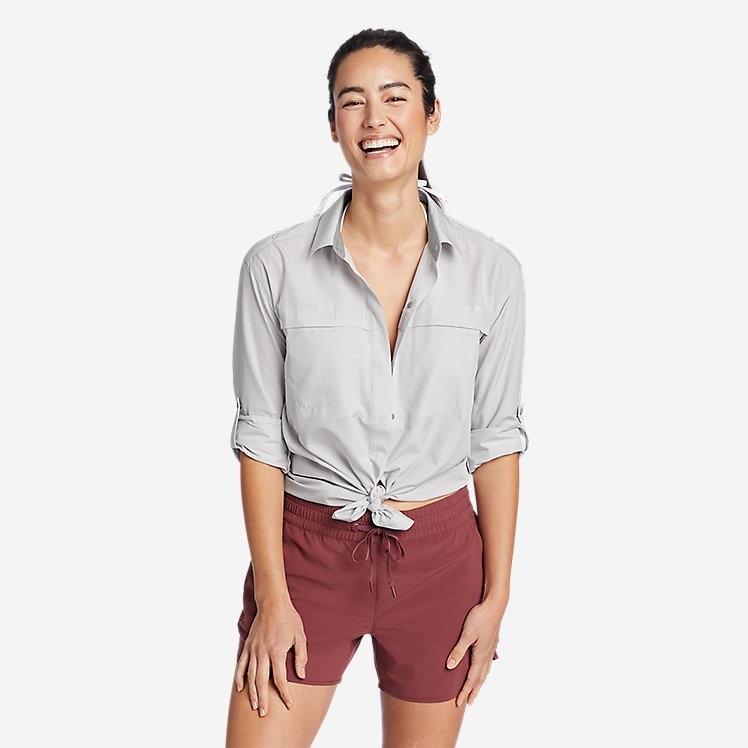 Eddie Bauer Guide UPF 2.0 Shirt
They're Budget-Friendly
Eddie Bauer shirts are really great for the price. They're all well under $100 (with frequent sales on their website!) and will last a really long time.
Readers love how durable their clothes are, even when worn over and over during travel, which is another reason they come so highly recommended in the TFG community. Overall, the price and quality is on par!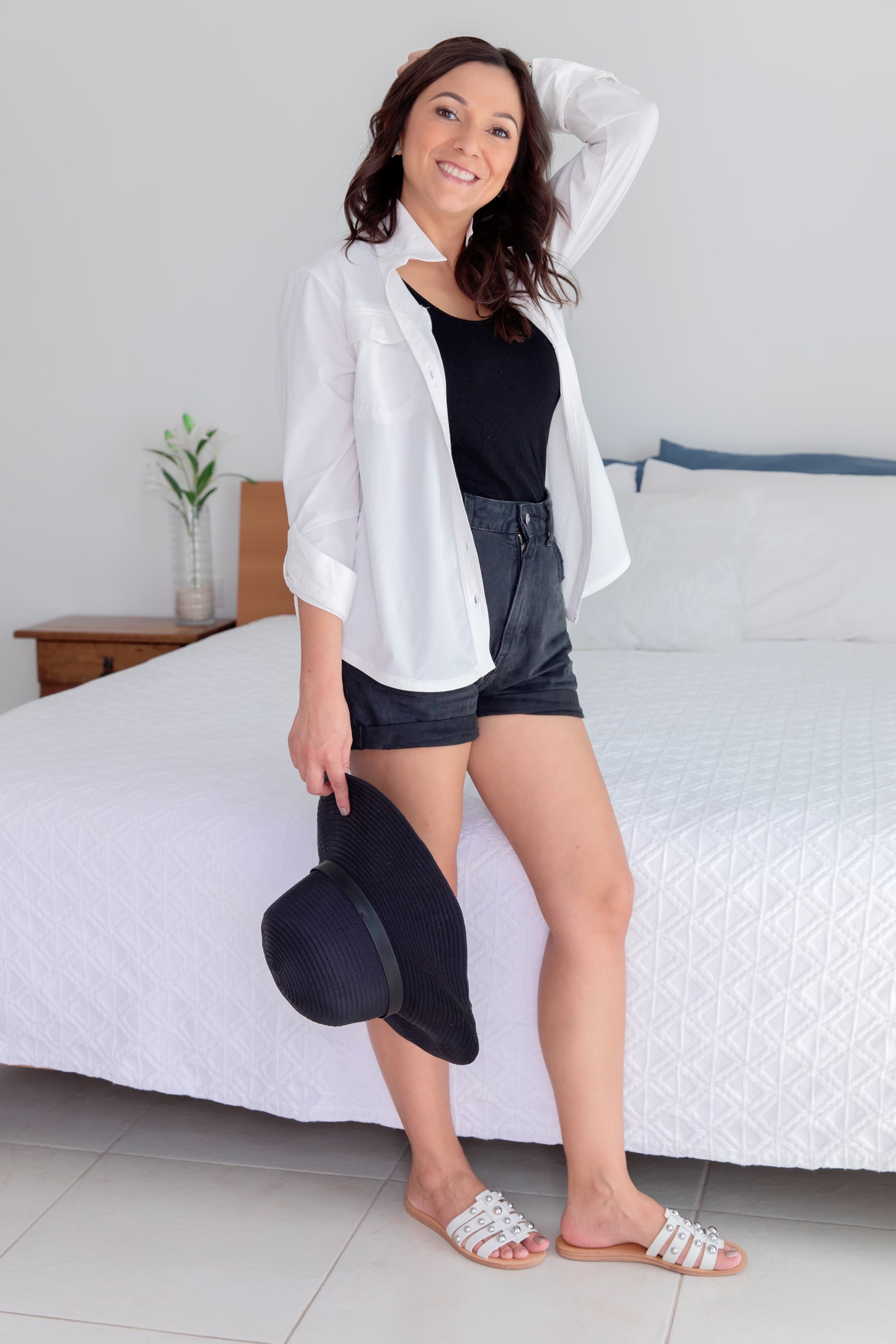 Eddie Bauer Departure Shirt with H&M Denim Shorts, Wallaroo Sun Hat, and Marc Fisher Pacca Sandals (White)
Pros and Cons
Eddie Bauer shirts have incredible features that make traveling with them so easy. Their moisture-wicking fabric that will keep you feeling fresh all day is a major plus. Having sun protection is so important when outside for extended periods of time, and their UPF shirts have you covered there as well! They're also really versatile, and many of their options can be perfectly paired with both jeans, a swimsuit, skirt, or shorts!
I've definitely fallen in love with their blouses and tops and find them really packable, wearable, and easy to take care of. A long-time Eddie Bauer devotee says, "I have several of their shirts, both short and long sleeved versions. So comfortable! Will probably buy more in various colors."
While many Eddie Bauer tops can be dressed up for nicer outings, some wearers don't find them to be incredibly polished-looking. One exception would be the Departure shirt, which is a more elevated option that still has the functionality TFG readers crave.  
To sum up, Eddie Bauer has been a long-time TFG favorite, and their shirts are big winners for travel and everyday use! 
Tip: Besides Eddie Bauer's site, you can also grab the Ripstop and Departure shirts on Amazon!
More Recommended
Eddie Bauer Blouses
and Shirts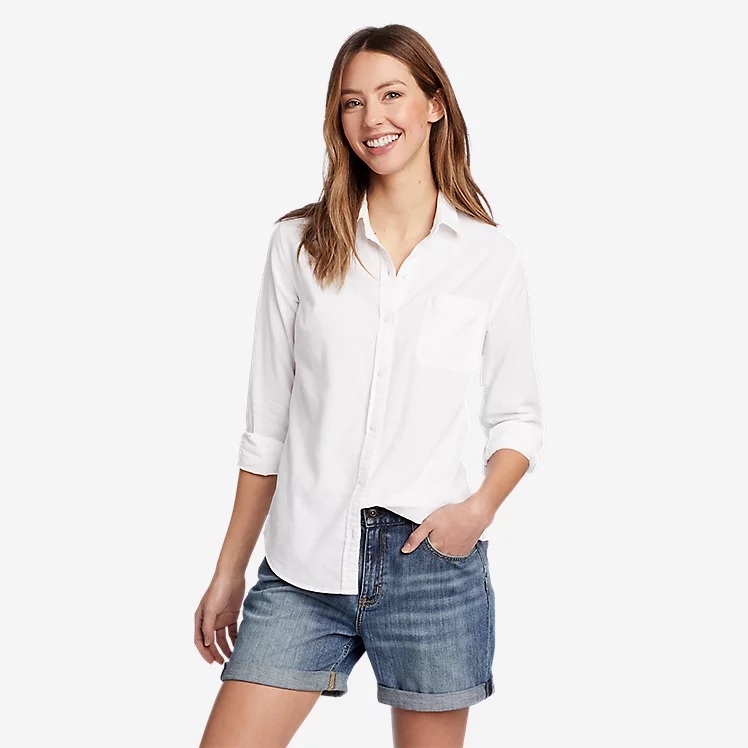 Eddie Bauer On The Go Performance Long-Sleeve Shirt
Best for Overall Travel: On The Go Performance Long Sleeve
This On The Go Performance shirt can do it all! Its classic, button-up design gives it a polished sheen, while its quick-dry technology and flexible fit allow for sportier activities. Best of both worlds here with this one! Whether you're on a business trip, an island getaway, or even going hiking, this shirt would work perfectly.  
One wearer says, "I love the fabric and fit. The bonus? It's easy care!"  Comes in some lovely colors and regular (XS-XXL) and plus (2X-3X) sizes.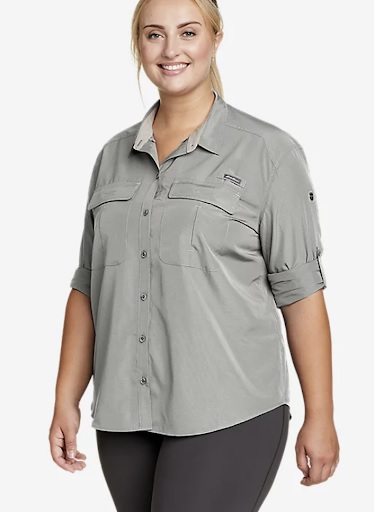 Eddie Bauer Guide UPF Long-Sleeve Shirt
Best for Hiking: Guide UPF Long-Sleeve
The Guide shirt is an ideal choice for your next hiking trip. This is an ultra-lightweight shirt that offers UPF 50+ sun protection and is moisture-wicking, too. It's polyester and nylon material optimizes airflow to keep you cool, comfortable, and fresh throughout a long hike. Wearers love the easily adjustable roll-tab sleeves as well!
One reviewer shares, "They don't wrinkle, dry fast, and look great. The plus-size shirt has a nice fit, just slightly curved and not boxy. Looks great. The fabric is smooth, and doesn't show soiling or wrinkles. Just an all-around great shirt."  
Available in a huge range of colors and regular (XS-XXL), petite (S-L), tall (M-XXL), and plus (2X-3X) sizes.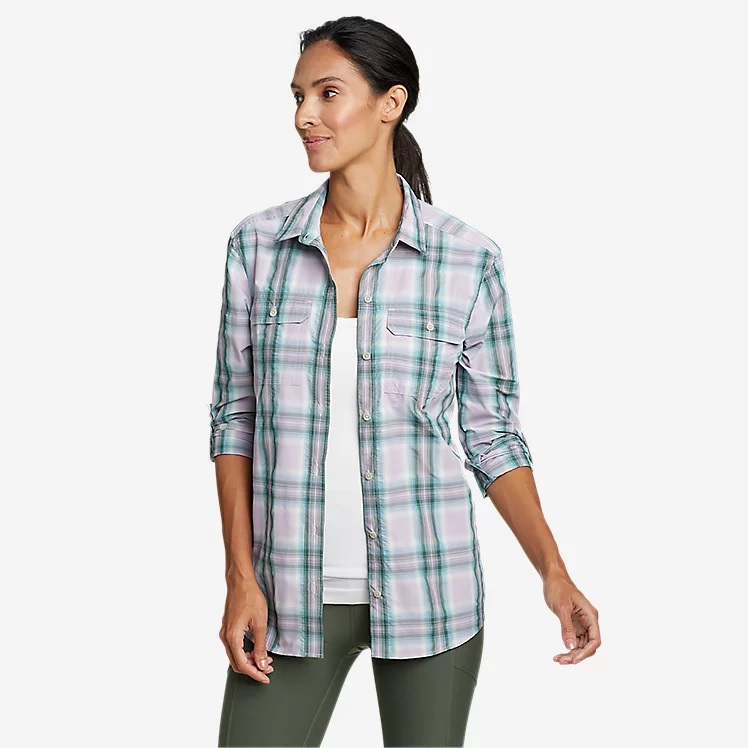 Eddie Bauer Mountain Long Sleeve Shirt
Best for Camping: Mountain Long Sleeve
If you're about ready for a road trip to some gorgeous USA National Parks, it might be wise to take along the Eddie Bauer Mountain shirt! 
This durable piece has all the marks of an excellent camping shirt: moisture-wicking, UPF 40 protection, and is majorly lightweight! The roll-tab sleeves that cinch with a snap allows you to literally 'roll up your sleeves' when you're cooking campside or want to air out your arms on the trail.
This mini-review says it all! "Great shirt for hiking, camping, hanging out at a bar, and even looks nice enough to wear to work. Dries fast, is lightweight, and allows me to skip the sunscreen. Washes well, no pilling or weird fuzz anywhere."  Grab this in regular (XS-XXL), petite (S-L), tall (M-XXL), and plus (2X-3X) sizes, and numerous colors!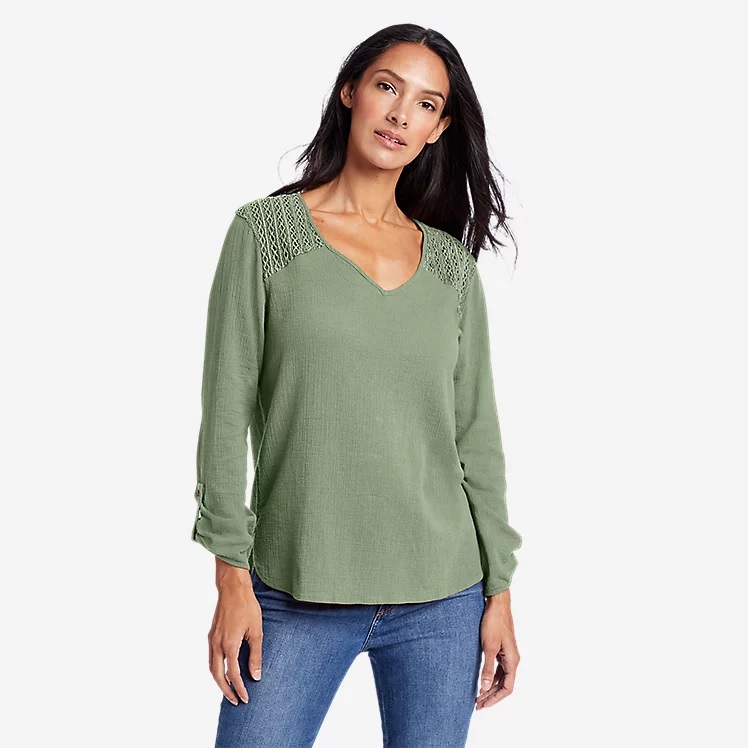 Eddie Bauer Staycation Gauze 3/4-Sleeve Top
Best for a Cruise or Resort: Staycation Gauze Top
The Eddie Bauer Staycation blouse is a wonderful choice for a vacay on the high seas or at a resort. Lightweight, soft, and airy, this shirt is a dream! It's made of soft cotton that's really breathable, so it's perfect for lounging under the sun and not overheating. 
It has a universal fit that isn't too slim or too loose, and the crochet detailing on the sleeves adds a stylish touch. Cute and polished enough for sightseeing excursions to gorgeous nights on deck or in a resort's dining area—go casual with slacks or shorts and slip ons, or elevate with jewelry, skirt, and strappy sandals!
Available in sizes XS-XXL.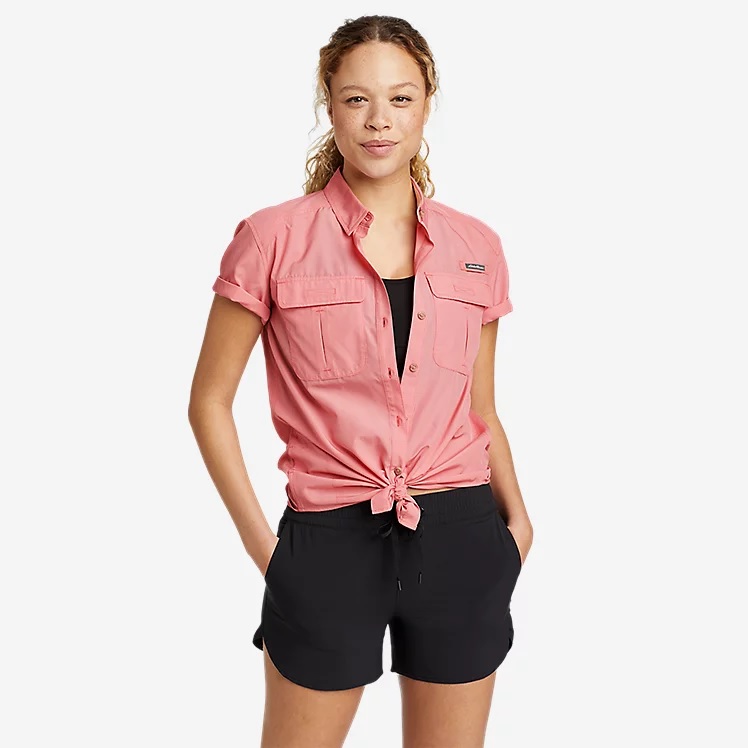 Eddie Bauer Guide Short-Sleeve Shirt
Best for Warm Weather: Guide Short Sleeve
The Guide shirt is a super cute pick for your summer destinations. It'll get you through hot weather and sun-filled days with UPF 50+ sun protection and moisture-wicking material.Totally comfortable, breathable, and gives you full mobility. It's also quick-drying, so it can handle any water activities, too! 
This is an ideal option for camping, hiking, bouncing around ruins, sinking in beach time, and SO much more! Comes in great summer colors and regular (XS-XXL) and plus (2X-3X) sizes.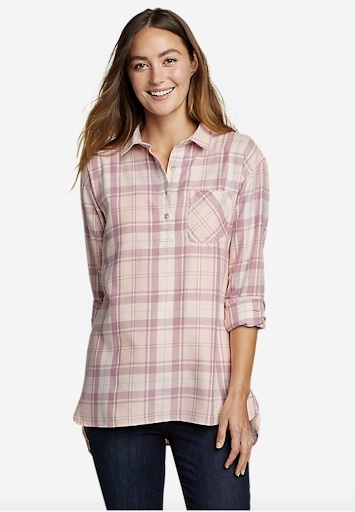 Eddie Bauer Freemont Flannel Tunic
Best for Cold Weather: Freemont Flannel Tunic
The Freemont tunic is a cute pullover style that modernizes the classic flannel a bit. It's so comfy, being made from Tencel fabric that's wrinkle-resistant, doesn't pill, and feels so very soft. As an added bonus, the Tencel is sustainably sourced! 
This top will definitely keep you cozy while sitting around a campfire at night, while still being lightweight and breathable. You can wear it as is or layer it—your choice! 
Users say this is super versatile. One shares, "This shirt is wonderful! The fabric washes well and feels great. It's good-looking enough to wear for casual days and comfortable enough for when fall hits." Comes in some soft colors and sizes XS-XXL.
Tip: Eddie Bauer has a whole section on flannel shirts if you're on the hunt for one!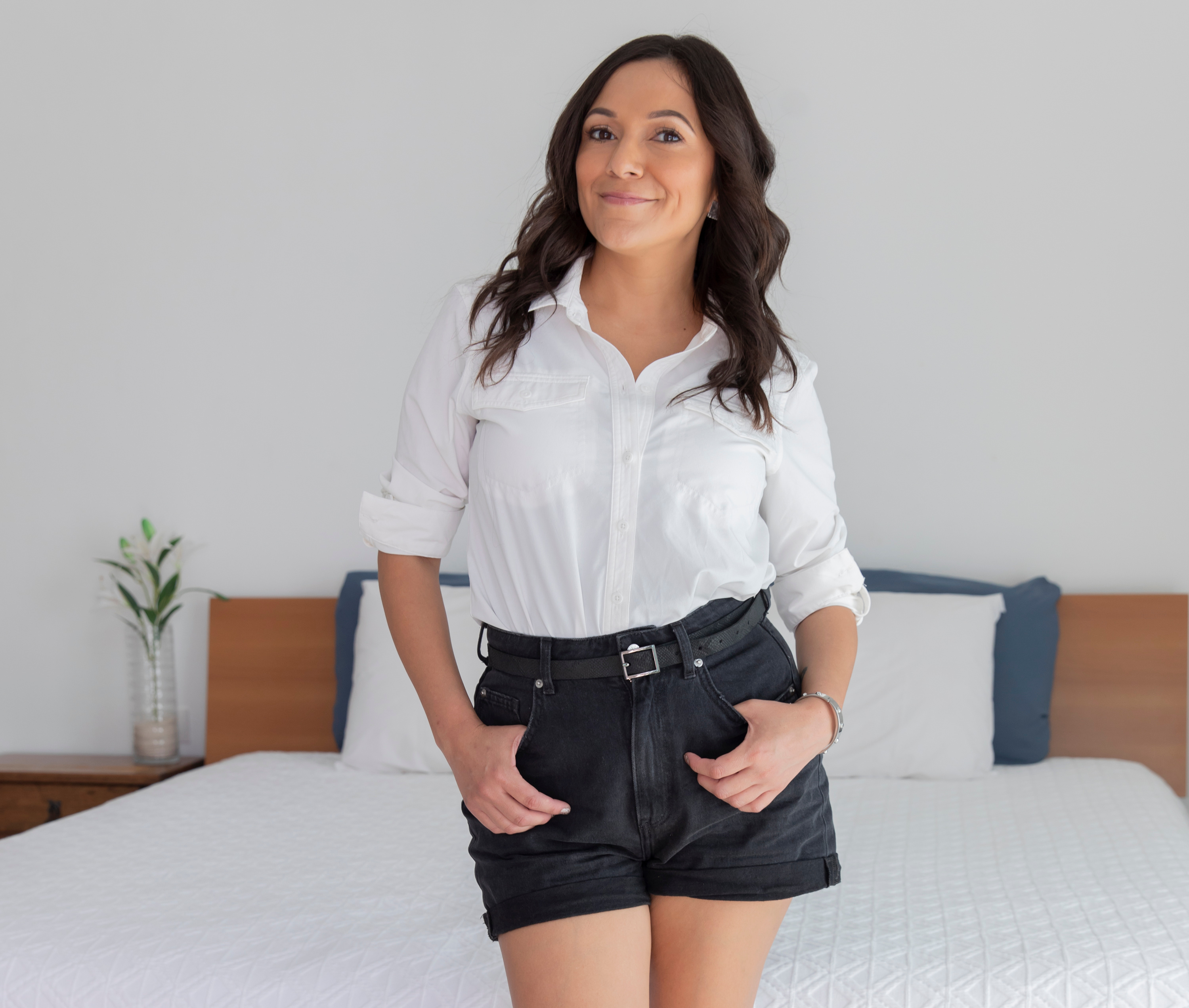 Where to Buy Eddie Bauer Shirts
You can shop for these amazing travel shirts on Amazon or on eddiebauer.com, where they frequently have great sales!  Note that some feel the customer service is not as good from Eddie Bauer vs. Amazon though. I bought a lot of Eddie Bauer shirts from Amazon and was satisfied with the shipping of my purchases.
---
What's your favorite Eddie Bauer shirt or blouse?  Share your own review with us below!
---
For more travel shirts, please read:
---
LIKE THIS POST? PIN THIS PIC TO SAVE IT!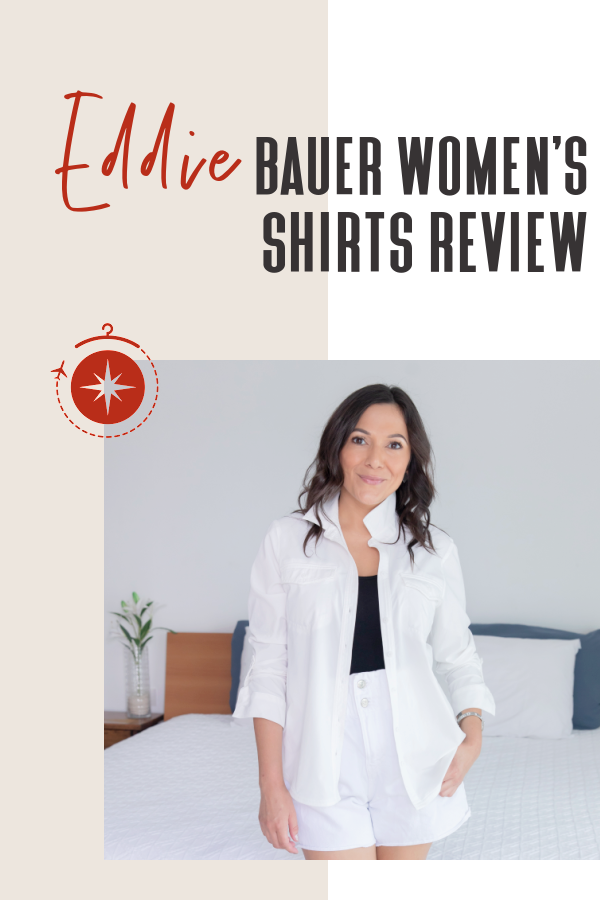 ---
We hope you found this review of Eddie Bauer shirts for women helpful. Please share with your friends on Facebook, Twitter, and Pinterest. Thanks for reading!
---