Support TFG by using the links in our articles to shop. We receive a small commission (at no extra cost to you) so we can continue to create helpful free content. As an Amazon Associate, we earn from qualifying purchases made on Amazon in addition to other retailers featured on the blog. Thank you, we appreciate your support!
It took me years to learn how to pack light and efficiently, and I'm not alone. Packing for a trip is like an art – it takes a lot of practice and sometimes you have to learn the hard way. Our readers share the packing mistakes they made during their travels. Read their experiences so you can learn what to avoid on your next trip!
---
Packing Mistakes
---
Table Of Contents
Many of us have learned packing lessons the hard way: while on a trip. While we can't always avoid these lessons, sharing them may help others avoid them on their travels. We asked our readers and seasoned travelers:
What's the biggest packing lesson you learned first-hand only once you were already on a trip?
Here's what they had to say!
Choose Comfort Over Fashion
As much as we love fashion (and believe that fashion and comfort can go together), if you have to choose between fashion and comfort, always go for comfort. Your body will thank you, no matter where you are in the world. Take it from our readers who have learned firsthand the importance of prioritizing comfort.
"Always count comfort over fashion if it comes down to it! I chose not to bring my running shoes to save space/in favor of my boots and I regretted it so much! Comfort is so important."
"If those shoes aren't comfortable at home, they won't be comfortable away. And nothing makes you more miserable than painful feet. Never, ever chance it."
"I experienced a painful six months of tendinitis because I prioritized cute footwear over comfortable."
"Don't bring clothes just because they're good for travel, bring things you'd want to wear at home, too."
"Don't take clothes that are not your style. It doesn't matter who recommended them, how much they are in fashion, or how much or little you spent. If it's not something you'd wear at home, you won't want to wear it somewhere else. I took a couple trips carrying around cute little skirts I never wore until I faced up to this simple fact: stay true to your own style."
"I always think I will wear cute tropical dresses on vacation and it's rare that I actually do. I pretty much live in tank tops and shorts when it's hot. I have one dress that I actually wear at home so it's the only one that comes with now."
"Take clothes you wear at home the most. Travel isn't the time to bust out that gorgeous dress you haven't worn in a year."
"Use this site to find two pairs of the perfect walking shoes. Leave your cute sandals and shoes at home. You're going to be walking on lots of cobblestone. The Europeans walk A LOT!"
Read these tips on how to choose the best travel shoes for any trip!
Take Your Shoes and Clothing for a Test Drive
The last thing you want when you're traveling Europe is a wardrobe malfunction, whether it's uncomfortable shoes or an itchy, uncomfortable fabric. Before heading on your trip, break in your shoes and try on all your outfits. Here's how our readers learned this lesson.
"Make sure that your footwear is broken in before you travel. There is nothing worse than shoes that hurt. It will ruin your trip in a hurry."
"Try on every outfit (yes, the entire outfit, with accessories) to make sure it fits, is comfortable and makes you feel great. If not, don't bring it because you will not wear it. And, no matter how cute they are, only bring and wear shoes that are made for walking!"
"I bought Skechers recently and wore them onto the plane right out of the box. I'd read there was no need for a break-in period. Loved them for their feather weight. I now hate them. I was halfway across the country when I noticed a faint odor while sitting at a gate waiting for my connection. By the time I landed in the destination city, my feet stunk. A quick Google search and I have found it is a common problem with Skechers. I don't normally suffer from smelly feet. My tip is to wear those traveling shoes for a bit before you travel!"
"If you won't wear it at home, you won't wear it traveling. The only exception I've found is scarves. I rarely wear them at home, but use them daily traveling in Europe in cold weather."
"Don't take new shoes on a trip you plan to do a lot of walking."
"For a long-term trip, don't pack clothing for Europe you've only just bought because they were recommended by others, and that you haven't tried on yourself to see if they work for you or not."
Look at these sample capsule wardrobes to learn more tips on choosing the best clothing for travel!
Become a Minimalist
At TFG, you know we're all about capsule wardrobes. Not only do they make it easier to pack carry-on, but they also make it so much easier to make the most out of a minimalist wardrobe. Here are the biggest packing lessons our readers learned about over-packing.
"Bring absolutely as little as possible. You can wear the same thing every day if it comes down to it, so no need for multiples of outfits."
"Even when I packed what I thought was minimal (roughly 16 items for a week in Spain and the UK), I still only wore ten of them."
"Don't bring anything you might only wear once!"
"Lugging around too much stuff around Europe (on and off trains, planes, and tiny lodgings) made me appreciate packing only the essentials and making the most of your trip outside the hotel room. It also made me appreciate the invention of the Kindle!"
"Cut down on swimsuits by coordinating tops and bottoms. Your tops and bottoms can be mismatched to make a 'new' suit."
"Pack very light. I threw clothes away in Greece and left others on church steps."
"Wear things at least twice before washing. Even workout wear can be reworn."
"Pack what you think you need and keep your clothes in one neutral color so that it will mix and match. Then take out a third of what you packed. Generally, no one is going to know if you wore something more than once while on vacation."
"You don't need to pack everything in your closet. Strangers don't care what you're wearing!"
"Bring two-thirds of what you think you will wear. If it's still clean, wear it again."
Want to learn everything about how to make a capsule wardrobe for travel ASAP? Read our ebook Pack Light Stylishly!
Shop J Jill: Regular XS-XL | Petite XSP-XLP | Tall ST-XLT
Don't Pack "Just in Case" Outfits
One of the key elements for mastering minimalist packing is to avoid those "just in case" outfits. Our readers learned these packing lessons:
"I pack really well, and am pretty proud of myself for that, but I cannot help myself from ALWAYS throwing in one or two (or three or five) things at the last minute. Oh wait…one more pair of undies came out of the dryer…throw that in! Oooh…maybe I'll need another jacket…it's coming along! Of course you'll need that other pair of shoes you convinced yourself you wouldn't need….put 'em in!"
"You don't need the extra outfit. You will never wear it."
"No, you are not going to wear as many outfits as you think. You wear the same thing even at home, so stop over packing."
"You aren't going to go out to that fancy dinner. You don't need a cocktail dress or an outfit for every possible situation. I even packed church clothes I never used!"
"You will never wear those heels you packed."
Check out my minimalist packing list with one bag only!
Be Strategic With Toiletries
Toiletries can easily turn your minimalist packing to anything but, resulting in heavy and overstuffed luggage. Here are the biggest packing lessons our readers learned to packing and organizing minimal toiletries.
"Pack liquids in checked luggage in sealed Ziploc-style bags. Years ago an aerosol sunscreen made quite a mess on my bag and its contents. There's no sense in spending vacation time cleaning everything."
"Tape bottles shut or wrap them in plastic. Exploding bottles in luggage is not the surprise you want when you unpack."
"Pay attention to hair and beauty products you didn't use on your last trip, and leave them home the next time you travel (even if they are in tiny containers)."
"Always use smaller containers for beauty products. You don't need as much as you think!"
"Learn to use a Diva/Lena/Blossom menstrual cup to minimize your feminine product needs."
"I bring a microfiber face cloth that I use for cleansing my face. It cuts down on the number of face products I need!"
"Keep a contact case, toothbrush, razor, and deodorant in your luggage at all times so you never forget them. Just buy extras and replace after a few trips."
Follow our ultimate guide to creating the perfect travel toiletries list and master the art of packing!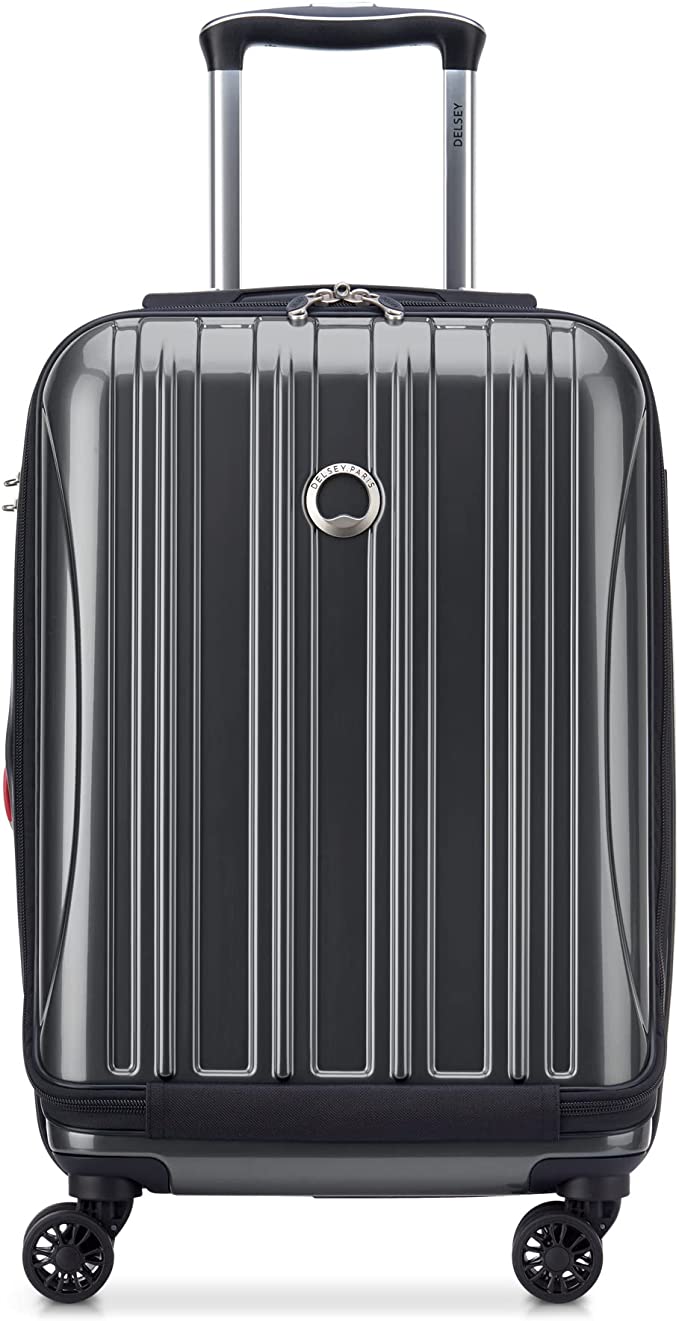 Delsey Paris Helium Aero 21″ Carry-on
Learn the Difference Between "Light" and "Small" Luggage
Just because you think your suitcase is small, doesn't mean it's lightweight. Our readers learned this packing lesson the hard way. Here's what they recommend for ensuring you aren't weighed down on your travels by your luggage.
"Pack well in advance, weigh your bag, and then start subtracting items regularly."
"Packing small is not equal to packing light. I had all my stuff in a regular school-sized Jansport-style bag and I was so proud of myself–until I was carrying it up the mountains several hours later."
"I learned to pack light after lugging around one large suitcase and a medium one. I started packing light since last year and I'm enjoying it, all thanks to your group!"
"My lesson is, the fewer bags the better. It seems obvious, but we learned this the hard way on a cycling trip where we had cycle gear including helmets, pedals, camera gear, clothes for the city after our cycling trip, and clothes for the cycling trip itself, which included some dinners where we had to wear something other than cycle gear! This kickstarted my minimalism journey."
"Leave 25% of your suitcase empty to start. I need to be able to RUN with my luggage if need be.
"Something may seem light initially but it gets heavy over time. Especially electronics and the bag itself."
"Pack only what you can carry and manage for a long period of time."
"Never take more than you can easily carry up winding staircases to sixth floor rooms."
"Make sure you can always carry your suitcase or bags easily up and down stairs, on train platforms, and in small European hotel elevators."
"I've learned to do a trial run for those extended multi-city vacations. I pack everything, including my carry-on and personal. I then haul it up and down my stairs a few times to see if the combined weight works. In the past, my personal has weighed nearly 15 pounds due to electronics and toiletries. No more!"
"Our first Greek cruise we took two suitcases and a carry-on each. We had transfers from the airport and pre-cruise hotel to the ship. Easy, right? We finished the cruise and because we were staying a few days in Istanbul, we planned to just get a cab to the hotel. No one mentioned that the cruise terminal was huge and we had to man handle six pieces of luggage between the two of us, for what seemed to be miles. Never again!"
"In study abroad advising we said you should be able to walk around the block, lift it all above your head, and fit it all into the bathroom stall with you."
To help you avoid overweight baggage fees, we've rounded up the best lightweight luggage!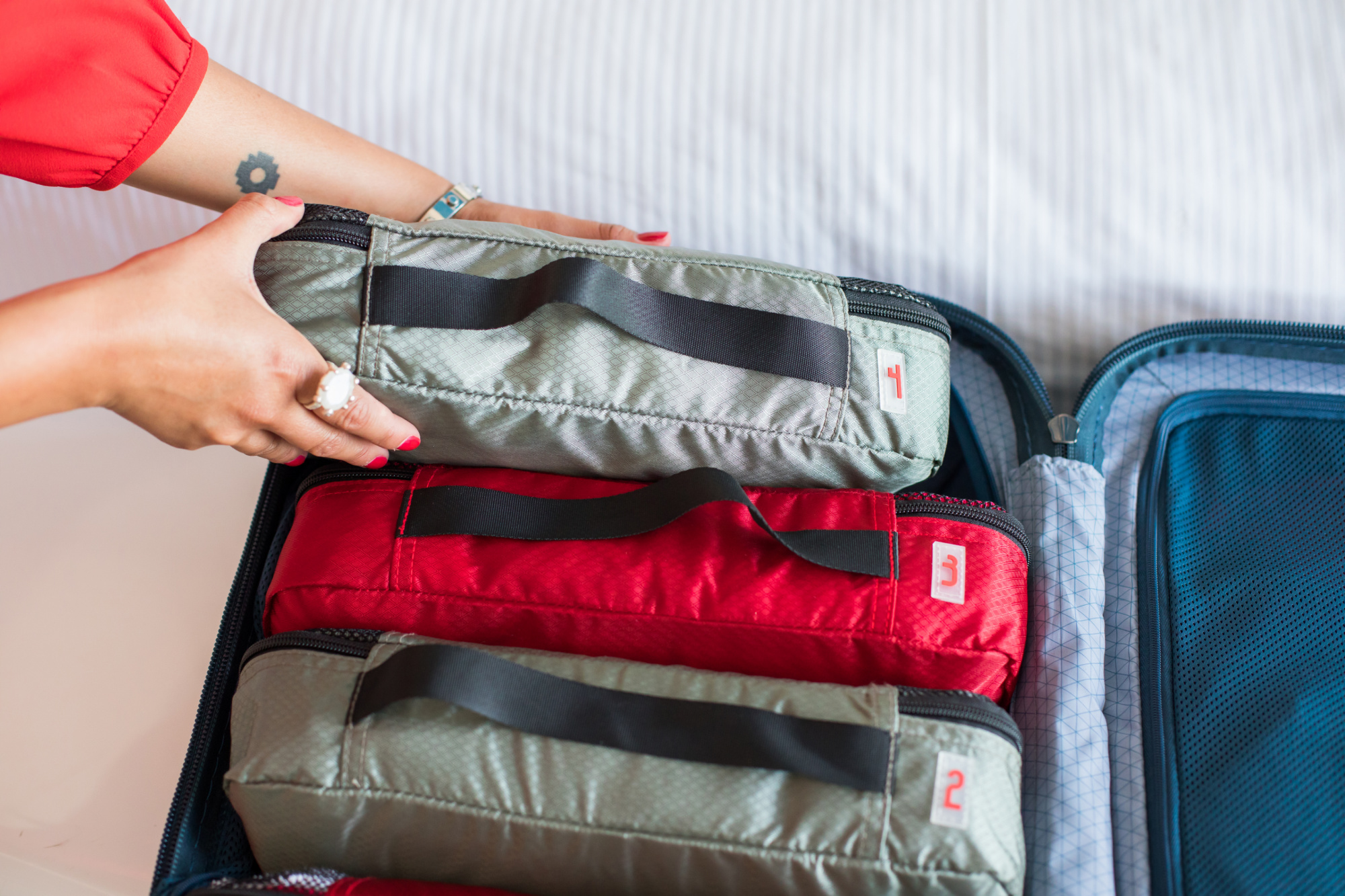 Know What to Pack…and Not to Pack
After a number of travels throughout Europe, our readers have learned through experience what to take on their trip and what NOT to take. Here's what they had to recommend on travel essentials and the items you'll want to leave behind.
"Never EVER take larger than a 21″ suitcase. You'll thank me when you see other women lugging monster luggage on cobblestone."
"Learned this the hard way before I found this group: take a Travelon security purse."
"I recommend a backpack over a shoulder bag! My first trip as a teen, I about died walking around carrying a heavy bag."
"Some items are worth the space. Bring your favorite items, like lipstick, but not ALL your favorites."
"No matter the destination in winter, throw a beanie and pair of gloves in your bag (learned this in LA this December)."
"Unless you are seriously going to the jungle in August, bring a pair of jeans no matter what.
"I bring a tiny Moleskine notebook to jot down notes on my packing and how I can improve for the next trip."
"While packing cubes and organizing bags are great, don't over do it!"
"If there is any chance of cold weather, always take a packable puffer coat! Being cold is miserable."
"Make room for a pillowcase or scarf to be used on top of questionable looking pillows (if you're a germaphobe like me)."
"Use space bags so when the suitcase next to yours leaks whiskey over everything, it doesn't soak your clothes!"
"Bring more than one pair of comfy walking shoes if you have sensitive feet in a difficult-to-find size. I learned this the hard way when I needed a new pair of shoes in Spain and couldn't find a size 11 anywhere."
"Always bring at least one soft, warm, lightweight sweater, even if you have jackets. Yes, bring the all-weather Chelsea boot. And no, you don't need to bring your cycling shoes."
"Never skimp on the number of undies you pack – even if they can be washed. You never know when Aunt Flo might show up early and ruin a pair, or a pair gets accidentally lost in a hotel room because it was underneath some towels in the bathroom (this happened to me once)."
"Rick Steves guides are your travel Bibles."
"Make a list of essential medications and emergency supplies and check it at least a week before you leave."
"When traveling with a friend, there are certain things that you don't both need to bring: bug spray, guide book, fancy camera, first aid supplies, beach bag, travel clothesline, laundry soap bar, etc. Coordinate where you can."
Watch the packing tutorial on Youtube!
I put together a five-part YouTube series showing you the different methods to use packing cubes. If you use this specific packing strategy, they can also compress your belongings. This is the secret to traveling carryon only!
Rebecca Minkoff Julian Backpack 
Plan Ahead When Checking Your Bags
While we prefer to travel Europe carry-on only, some prefer or can't avoid checking a bag. If you plan to check a bag, our readers learned a few packing lessons the hard way. Follow their tips to avoid these travel nightmares.
"Always have a set of clothes in your personal item in case the airline makes you gate check your carry on and subsequently loses it until the following day (thanks, American Airlines). If there's an important function that you must attend, that's the clothing you should have in your personal item."
"I discovered luggage tiles, so if my bag has to be checked for any reason the GPS tile will locate it for me."
"If checking in a bag, make sure you take a change of clothes in your carry on. For the last 3 trips in a row my luggage has been lost. No one wants to travel with me anymore!"
"After my checked luggage was lost in Miami and we had a very tight schedule travelling in Nicaragua I realised I have NOTHING with me. From that trip on, I travel only with carry-on."
"My luggage was lost after a ski trip. I had a race in 3 days and had to borrow stuff, as my luggage was never found. Next trip, I carried everything on the plane but my skis. I was the ugly passenger with too much stuff!"
"If taking a checked luggage and traveling with a companion or two, divide contents of the checked bags up among yourselves. The chances that one checked bag will get lost or delayed are high, and one day it will be your bag."
"If checking your bag, always take in your carry-on a pair of pajamas and an outfit. I had my luggage delayed two days in Scotland. On the upside, my travel insurance paid for clothes!"
Find out why we think Rebecca Minkoff Juian Backpack one of THE best purses for travel ever!
Printable Travel Checklist
Click here to access our editable Google Doc printable checklist. You can also download the print-friendly, PDF version here. You can click the image below to open the editable file.
The travel checklist features unique categories to help you pack for your trip efficiently including a list of things to bring on vacation and other helpful reminders. Download your free vacation checklist list and discover why our readers think this is the best packing list ever!
Read the full packing list here!
---
What's the biggest packing lesson you've learned? Share in the comments below!
---
For more packing strategies, please read these posts:
---
LIKED THIS POST? PIN THIS PIC TO SAVE IT!
---
I hope you liked this post on our readers' biggest packing lessons. Please share with your friends on Facebook, Twitter, and Pinterest. Thanks for reading!
---