Support TFG by using the links in our articles to shop. We receive a small commission (at no extra cost to you) so we can continue to create helpful free content. As an Amazon Associate, we earn from qualifying purchases made on Amazon in addition to other retailers featured on the blog. Thank you, we appreciate your support!
Shoes are a girl's best friend and when you're traveling, this is no exception. In fact, this is when you count on quality footwear the most. You need them to comfort and support you through your journey; they have the power to make or break your trip!
Don't let the wrong pair of shoes ruin your adventure. Here are a few guidelines to follow to help you find the best travel shoes!
---
Travel Shoe Rules
---
Flat shoes are the best for travel but with so many styles, how do you choose? Some women trust sneakers while others live in their soft ballet flats.
Sandals can make legs look sexy–well, if you don't mind getting dust between your toes. Brogues can be a bit clumpy, but if you're into masculine styles, they may be the perfect balance for a spring dress.
There are SO many possibilities when choosing a pair of traveling shoes; you just have to know which one suits your needs the most. If you have no idea on how to determine your comfort walking essentials, here are some points to guide you:

The Flexx Gladiator Sandal | Cole Haan Ballet Flat
Choose Supportive Style
Like a good friend you can lean on, your shoes should provide a solid level of support as you walk, run, and stride through your journey.
If you have back problems or other physical health issues, choose a low-heeled, rubber-soled pair. Don't worry if it's a bit of a downgrade to your usual stilettos!
This is why a healthy back is important for your travels!

Ahnu Emery Oxford | Dr. Scholl's Slip On Sneaker
Make Comfort Your #1 Priority
Think about this: when you arrive in a new place, there are so many sights to see and places to go. Will you be comfortable walking in your shoes for hours?
Don't miss historical landmarks and once-in-a-lifetime experiences because your shoes are killing your feet!
Other round-up posts featuring comfortable travel shoes:
Here's another tip: try on different colors and styles and choose the one you like the most, but make sure they match the rest of your travel wardrobe. Learn about choosing the most versatile shoes for travel!

Yosi Samra Snake Flats | Born Pirlo Boots
Pack It Light
Are they convenient to pack and travel with? Will they fit snugly in your carryon or will they be a bulky addition to your suitcase?
Look for shoes that are compact and can be packed easily. They don't necessary need to fold to be practical, but it's a plus if you can flatten them or if they're very lightweight. If they're heavy, wear them on the plane and during transportation journeys.
Read these tips on how to pack shoes in your suitcase!
Also, consider if this pair will suit your needs at your destination. There's no need to bring hiking boots if you're going to a city. However, a pair of ankle boots can keep your feet warm in a (moderately) cold destination without the bulk. Here's how to wear them.
This is why ankle boots are the best shoes for travel in autumn and spring!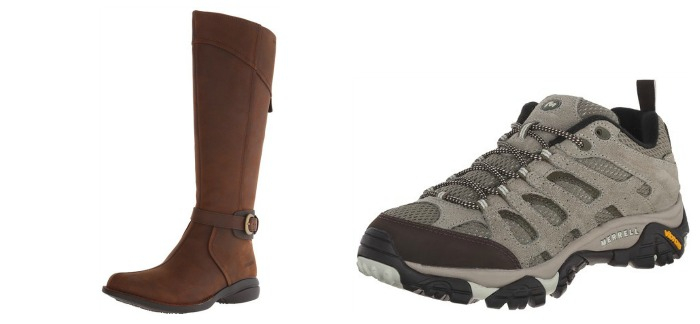 Waterproof Boot | Merrell Hiking Shoe
Buy Shoes For Long-term Use
They're going to be your best companion on vacation. It's vital to find footwear that can handle weather conditions, pavement, and long hours on your feet. You don't want to walk on old, soggy soles. Treat your feet!
Whether you're sightseeing in the city or exploring in the wilderness, don't skimp on quality shoes when you're up against the elements.
Taking a long trip has special requirements. Here are some travel shoe tips for round-the-world or long-term travel.
Should you bring hiking shoes? Find out here!

Adidas Sneaker | Me Too Ballet Flat
Versatility is Vital
You'll be wearing this travel shoe during almost all of your activities, so it must work in a variety of settings. So, how can you know if it's versatile?
Knowing the activities you'll be undertaking on your trip gives you a head start on selecting the right shoes. For example, are you going to hike on a mountain? Then obviously you'll need appropriate footwear, like sneakers or hiking boots. Think about all your planned activities and whether your selected shoes are appropriate.
If you're traveling for business, the most functional footwear may be a pair of structured yet comfortable flats like these. Limit your choices and reduce your luggage weight by choosing a hybrid type that can be worn in different settings.
Here are a few business travel essentials, too!
Pick What Suits Your Style
So, you packed day dresses in your luggage, but the travel shoes you chose are a pair that only looks good on a mountain trail. You're comfortable, but is your style at ease with them? No.
Make sure your footwear matches your planned outfits. You may want to rethink your choices–shoes and all.
It's nice to know you look good in pictures without having mismatched style! Finding the balance between function and fashion isn't easy, but all you can do is choose the best balance for you.
FINAL TIPS:
Make sure you break in your travel shoes before the trip. You wouldn't want to pack a pair that will give you blisters!
If you're planning to pack heels, go for a neutral color like nude or the color closest to your skin tone. It will go with anything. Plus, it elongates your legs.
If your vacation wardrobe requires a pair of heels, go for wedges; they will help you walk on uneven cobblestone streets with ease.
If you're headed to the sand, choose cute beach sandals over heels.
For urban trips, choose low-heeled or flat boots for cold areas or chic flats to dress up.
If your selection fails, you can find shoes where you're vacationing–but it's best to buy them at home in advance.
---
Want more? Read our free download on how to choose the best travel shoes!
What are your tips? Comment below! 
---
For more travel shoes ideas, please read:
---
LIKED THIS POST? PIN THIS PIC TO SAVE IT!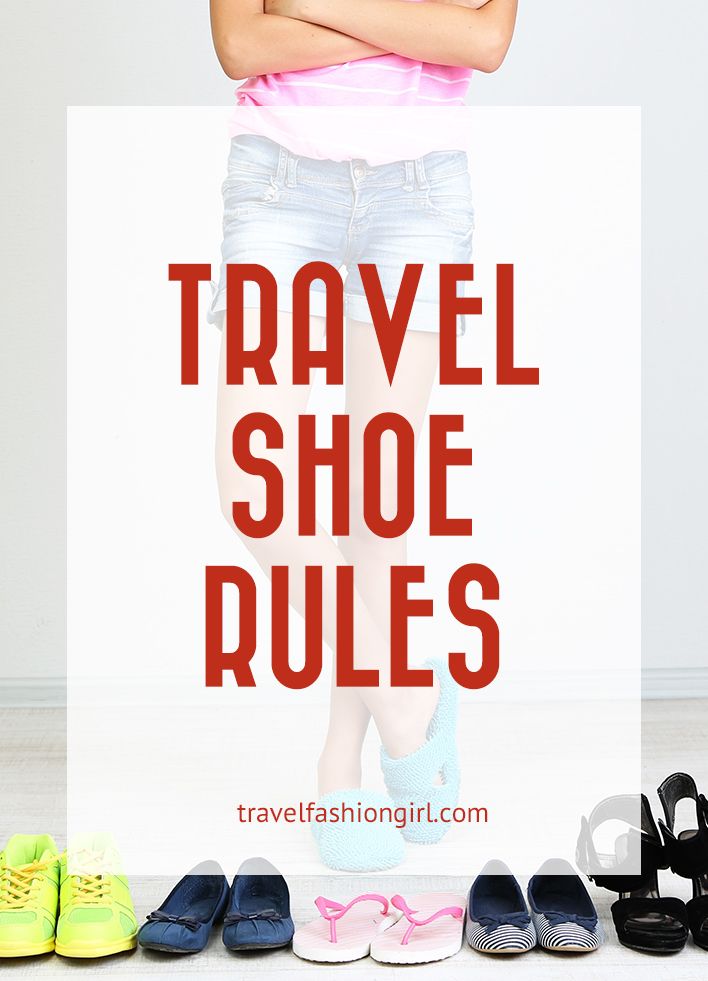 ---
We hope you found these tips on choosing a travel shoe useful. Please share with your friends on Facebook, Twitter, and Pinterest. Thanks for reading!
---