Support TFG by using the links in our articles to shop. We receive a small commission (at no extra cost to you) so we can continue to create helpful free content. As an Amazon Associate, we earn from qualifying purchases made on Amazon in addition to other retailers featured on the blog. Thank you, we appreciate your support!
Trying to figure out how to pack liquids for carry on travel can be a pain. They either leak, open up during the flight, or take up too much space in our luggage. Find out the most creative ways our readers pack creams, toners, and foundations for travel!
---
How to Pack Liquids for Carry On
---
Table Of Contents
Forget the standard makeup containers; our readers are such expert travelers that they're sharing how to pack creams, toners, and foundation for carryon travel. Spoiler alert: there are some creative ideas here!
Flents Soft Grip Contact Lens Case
Contact Lens Containers
For products like eye cream, you only need a tiny amount to last for a trip, making even a one-ounce container too large. Our readers recommend using a contact lens case. Contact lens cases are small yet sturdy and easy to carry in a toiletry case. Get a few in different colors so you can color code them based on the product.
One reader says, "I've been using contact lens cases for years since I traveled so much for business," while another reader adds, "Contact lens cases is what I've been using lately as well! On short weekend trips, I even put toothpaste in them." For other products, a reader says, "I put eye cream on one side and lip cream in other side."
The secret to packing light is to use packing cubes to compress your clothes and keep your belongings organized! 
Humangear Leakproof Travel Bottles Set
Squeezable Silicone Travel Tubes
For products like sunscreen and body lotion, most travelers believe more is more. There's nothing worse than a sunburn or dry skin. Rather than check your bag to take a giant tube of sunscreen, decant your favorite creams into silicone travel tubes. Readers have also recommended this 14-pack travel set that has silicone squeeze bottles, and also includes 3 pots and 2 toothbrush covers!
One reader says, "If I have a lot of something thick, like face wash, body wash, sunscreen, then those squeeze tubes have been my favorite."
You'll want to look your best when you travel! Read my travel tips to Pack Light Stylishly!
Centrifuge Test Tube Vial Container
Centrifuge Test Tubes
Unless you can find a travel-size version, it's nearly impossible to pack toners, micellar water, and other liquids in a small container. However, one of the most clever hacks we've heard of is using test tubes! They're tiny, compact, and clear, making them perfect for travel.
One reader says, "For super thin liquids like toner, micellar water, and such, I use containers from the lab," while another adds, "Those 15ml and 50ml falcon tubes also work great!"
Airless Vacuum Pump Containers
For serums, cleansers, and watery moisturizers, a pump container works best. These containers have an airless vacuum pump, making them easy to transfer products into and out of. The one ounce size is perfect for longer trips or products you use frequently.
One reader says, "I swear by the little airless vacuum pump containers. They're great for shampoo, facial cleanser, and other products." Another adds, "They absolutely do NOT leak!"
Clear Unicorn Pen Plastic Bottle
Unicorn Pens
These plastic tubes look tiny but they hold a whole one ounce of product. The slim design is easy to handle and slips right into your pocket or purse. The precision nozzle tip can drip just one drop or a steady stream, depending on the amount of pressure you apply.
One reader says, "I just ordered some unicorn bottles for my enormous skin care regimen. They are often used for e-juice but their slender size makes them great for packing. They're best for watery toners, micellar water, etc. But I still use contact cases for foundation, eye cream, and facial sunscreen."
Empty Lip Gloss Balm Container
Soft Tubes
Holding 0.3oz of product, this tube is the perfect size when you need to use a container that's bigger than a contact lens case but smaller than a full ounce tube. The small size makes these balm containers perfect for carrying in your day bag for touch ups.
Readers like this handy set of 10ml lip gloss tubes, too. It comes with a syringe for easing filling, and it's also available in larger 15ml and 20ml sizes.

One reader says, "I love these for everything from tinted moisturizer, sunscreen, hair gel, to medicated ointments, you name it. I bought a label maker just to keep them all identified." Another adds, " I have these as well! I use these for most of my creams. They seem small but they hold enough for several weeks."
Round Pots
As one reader puts it, "After contact lens containers, you will graduate to the small plastic round containers." These pots are perfect for creams and foundation when you need to travel with a larger amount than a contact lens can fit. TFGs also recommend this 10-piece set and 15-piece set with pots that come in two different sizes! 
One reader says, "These are awesome to put small amounts of stuff, like concealer or gel blush." If you're worried about leaking, one reader has a great recommendation: "Unscrew cap, use cling wrap over the opening, then screw cap back on. Works like a charm."
Flat Toiletry Pouches
Flat pouches are an amazing way to carry your liquids because they're incredibly space-saving! While they have the capacity to fit a good amount of liquid, they won't take up any extra space if you don't need to fill it up the whole way. And the more you use, the smaller they get, so you'll have more room in your suitcase on the way back!
These pouches from YASUOA are slim and flexible yet leakproof, and come in a 12-set comprised of 30ml, 50ml, and 100ml pouches so you can bring the right amount of each of your products! Readers have also recommended these adorable Kitsch pouches that comes in a 3-set, or you can get an 11-piece set that has the pouches but also includes pots, pumps, and a spray bottle! 
One reader says, "For decanting liquids, I used refillable pouches on my two last trips overseas. They worked well because they pack so flat."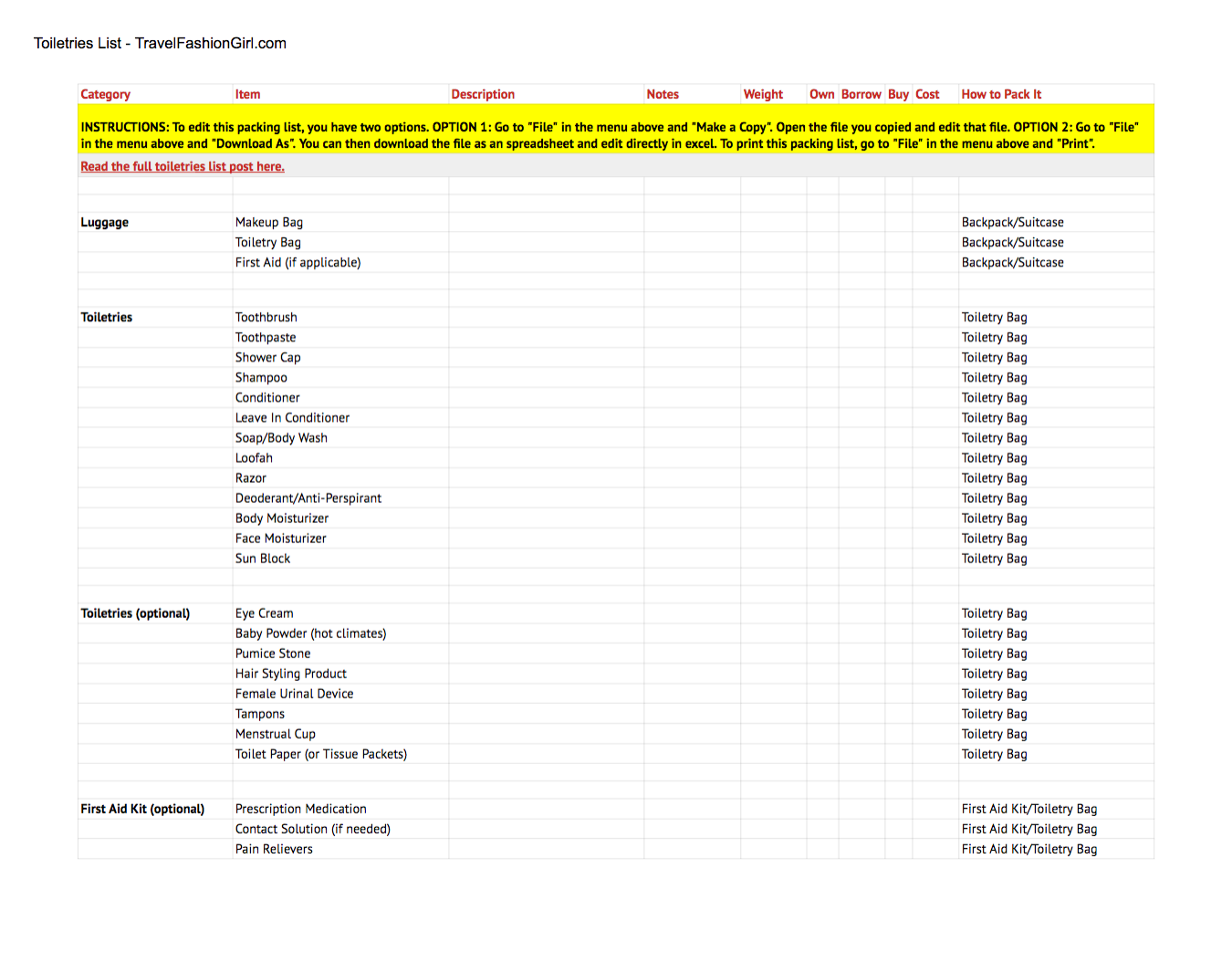 Printable Toiletries Checklist
To ensure that you don't forget to bring anything on your trip, we've created a helpful and very thorough printable toiletries checklist. You can click here or click the image below in order to open the editable file.
The list features unique categories to help you pack for your trip efficiently. It includes all the items listed in various categories above and has spaces where you can fill in your own information:
you can write in an item's weight (lighter items means less overall baggage weight)
you can note if you need to purchase something or if you already own it
and most importantly, you can organize where you'll pack each item including suggested packing organizers like these
Read this post for a printable packing list that includes clothes, shoes, and more!
---
What are your tips on how to pack liquids for carry on travel? Share your tips below!
---
For more travel beauty tips, please read:
---
LIKED THIS POST? PIN THIS PIC TO SAVE IT!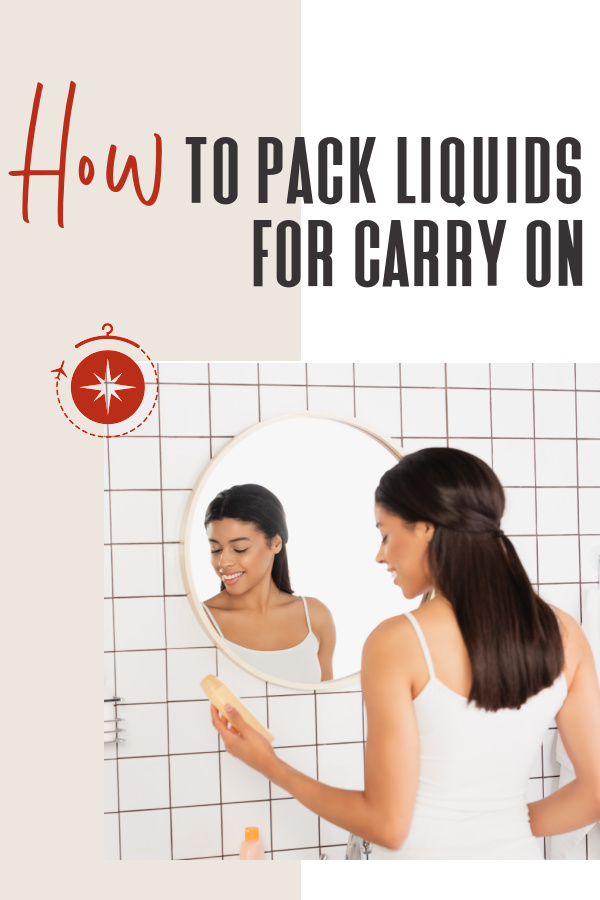 ---
I hope you liked this post on how to pack liquids for carry on travel. Please share with your friends on Facebook, Twitter, and Pinterest. Thanks for reading!
---