Swimwear season is upon us! Nothing screams summer like lying beachside in a stylish bathing suit and enjoying the sea and sun (with skin protection, of course).
To get ready for that beach vacation, you may want to do a little bikini shopping and update your summer wardrobe. Take a look at the most popular swimwear trends of the season!
---
Swimwear Trends
Written By: Niki Landry
---
Mixing Prints
Mixing and matching bikini tops and bottoms is nothing new to the swimsuit world. Usually you would pair a solid top with a patterned bottom or vice versa, but mixing prints is having a moment this summer. Contrasting prints like floral and geometric are being paired together in each piece to create an interesting, updated blocking effect.
Another alternative is to mix a printed top with a contrasting pattern bottom in the same color scheme. This paisley and stripe number is also reversible, giving you even more options and helping you travel light.
Reversible patterns that can mix and match top the list of our favorite swimwear trends!
Maximize your travel wardrobe by mixing prints. Read this post to learn how!
Ruffles
Looking to add a feminine touch to your swimwear? Take a peek at this suit sporting girly ruffles. You could easily throw on a skirt or linen pants over the suit and be ready for a late night beach party.
I love the contrast of its classic shape with the cute ruffles. Together, they come together to create a suit that's fun, feminine and perfect for your next coastal getaway.
Want to look your best when traveling but still be comfortable. Read my travel tips to Pack Light Stylishly!
Destroyed Overalls Shorts Jean
Overalls
A pair of overalls is a laid back and casual swimsuit cover up that can easily transition from beach to lunch; just throw on a shirt. If you are looking for an update on the denim cutoff beach look, then these are your answer. They look great paired with a bandeau or sporty swim top to play up the tomboy effect.
For other cover-up ideas, take a look at these classic summer tunics!
Scallop Trim
Scallops are another feminine detail that take a basic swimsuit or bikini to the next level. It's a popular hem treatment showing up on mini skirts, shorts, dresses, and the edges of swimwear. Pair with casual shorts for a fun way to cover up a simple solid swimsuit.
Many travelers designate one packing cube just for their swimwear, bras and underwear.
Sundance Underwired Padded Hi-Neck Crop Top
Updated Halter
The full coverage halter/crop top was really popular last summer, and it's back with a little modification. Mesh or crochet panels, ladder style inserts, and strappy details are allowing for a little more sheerness, and a less sporty look.
The style you are trying to achieve will determine your choice of details. Woven panels give a more bohemian style, while criss cross or ladder straps have more edge.
Use bikini tops like these in place of bras to save suitcase space. Read more of the best travel bra options!
Haiti Classic Padded Underwire Bikini Top
Tropical
This year's floral of choice is tropical. Swimsuits are covered in large palms, birds of paradise, and Hawaiian-inspired prints. The patterns feel retro, but the cutouts, shapes, and details are modern. If I wore more prints instead of my safe solids, I would be adding this bikini from Dorina Curves to my cart.
Strap Detail One Piece Swimsuit Plus
Strappy
You may have a hard time figuring out how to put on this suit, but they are sexy once you get everything into position! These strappy suits look so sleek in solid black.
These are the most daring of the swimwear trends and they aren't for the faint of heart. They are sure to turn heads and grab attention at a poolside party or beach resort. Keep in mind they probably aren't the best idea for water-based activities or beach volleyball.
---
What are your favorite swimwear trends? Share your thoughts below!
---
For more tips on travel fashion, please read these posts:
---
LIKED THIS POST? PIN THIS PIC TO SAVE IT!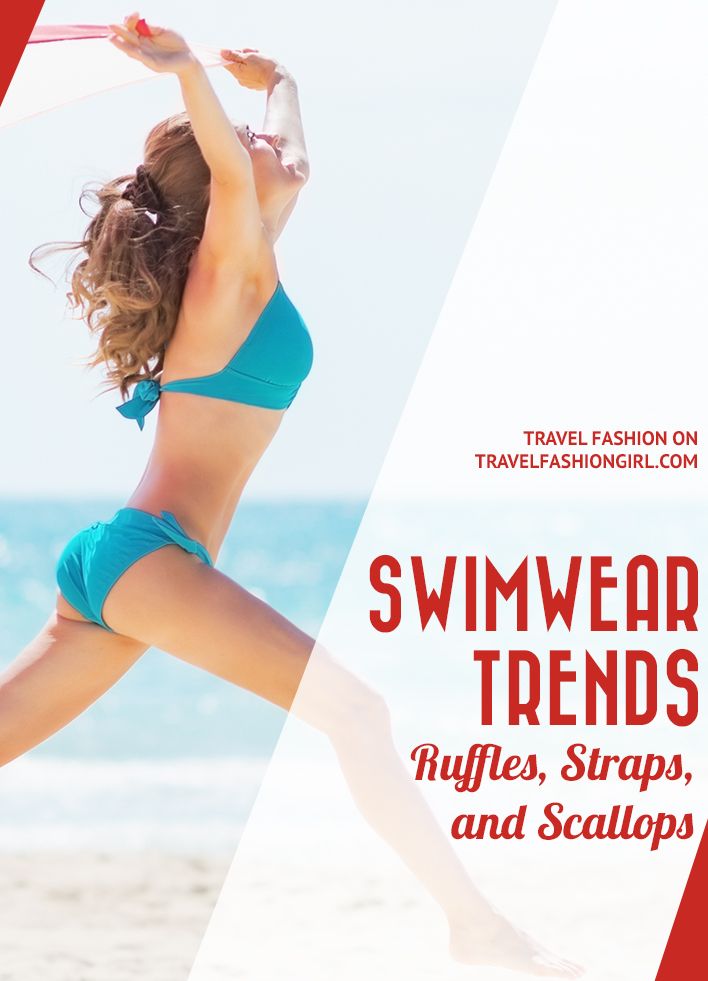 ---
Hope you liked this post on swimwear trends. Please share with your friends on Facebook, Twitter, and Pinterest. Thanks for reading!
---

Author Bio: Niki is an interior designer and artist from Louisiana. In addition to her design work, she writes for local and online publications sharing her experiences and passion for travel. Niki is currently adding stamps to her passport while building her design practice, Niki Landry Designs.
---