Support TFG by using the links in our articles to shop. We receive a small commission (at no extra cost to you) so we can continue to create helpful free content. As an Amazon Associate, we earn from qualifying purchases made on Amazon in addition to other retailers featured on the blog. Thank you, we appreciate your support!
Need help packing for Disney World? A season pass holder tells all! Find out exactly what to wear any time of the year!
---
Packing for Disney World
Written By: Niki Landry
---
Everyone should visit Walt Disney World at least once in their life. For many, it's a yearly pilgrimage. I'm a part of the later group. It's a quick flight from my home to the parks, so it's easy to make a quick trip.
I enjoy going frequently, and I've honed in on the best clothes to pack. If it's your first time or you just need some new outfit ideas, keep reading for tips on packing for Disney World.
Over the years I have tried every sort of wardrobe in the amusement park: athletic gear, t-shirt and jeans, and overly dressy. I find the perfect outfit lies somewhere in the middle, casual and comfortable, but also tailored and stylish.
I'm all about comfort, but I also don't want to wear workout tights and a Disney themed t-shirt and trainer's everyday. For one, it doesn't look great in my vacation photos. Second I like putting together outfits and looking nice, so I reserve my running gear for actual workouts.
The shoulder seasons in Orlando tend to be very short. Summer temperatures usually encroach upon spring and fall, and winter can often feel more like fall. There is a small window of mild weather, and your trip will be infinitely more enjoyable if you find it. Low humidity, medium temps, and no rain.
Always check the weather forecast before your trip. Once you've researched the weather, you can focus on creating a travel capsule wardrobe, which should easily fit in a carryon suitcase with the help of packing cubes to compress your clothing.
Although I've labeled these packing sets as seasons, you may actually need to pack a summer wardrobe in the springtime or fall gear in the winter. Keep reading to find out my best tips on packing for Disney World!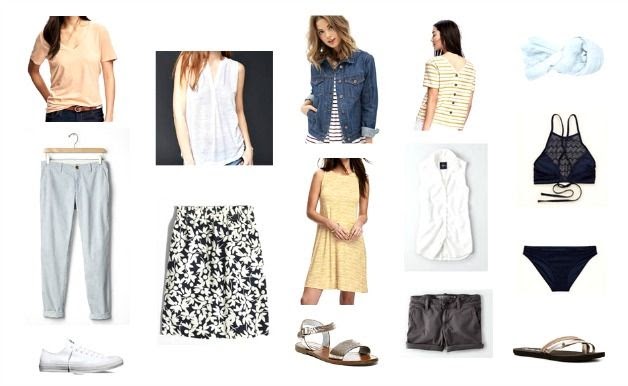 Dress | Jacket | Pants | Shorts | Skirt | Top | Tee | Chucks | Shirt | Sandals | Top | Swimsuit | Flip Flops | Scarf
Packing for Disney World in Spring
Visiting Disney in the spring is my favorite time to go. Not having kids allows me to plan a trip before school lets out for the summer. The parks aren't as busy, it's the Flower and Garden Festival, and the temps are usually warm during the day. Just add a light jacket for nighttime fireworks viewing.
Some people would never pack a dress for Disney World, but I find them infinitely more comfortable to wear for long periods of time than pants. Just ensure that they aren't super short, and be cautious when stepping onto and off of rides. You don't want to flash the queue.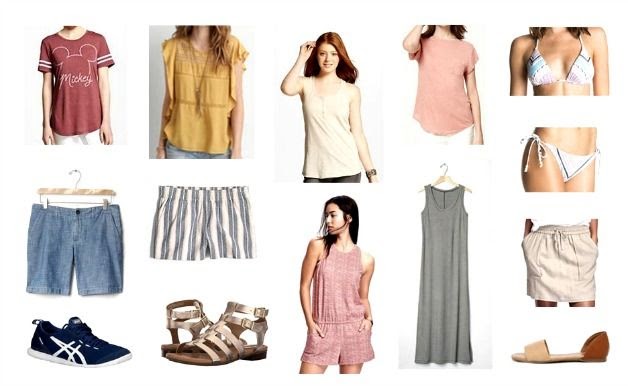 Denim Short | Shorts | Romper | Dress | Tee | Tank | Swimsuit | Tee | Sneakers | Skirt | Shirt | Sandals | Sandals
Packing for Disney World in Summer
Summer is hot, humid, and crowded, but it's also when you are most likely to be traveling to Disney World.
To fully enjoy your visit you need to be smart about your packing. Light, flowy materials are best in the summer, leave the 100% polyester at home. I like chambray shorts instead of full denim because they tend to be lighter, and will dry quicker when wet.
The water parks and hotel pools will be in full swing so don't forget your swimsuit to cool off. The one shown is reversible so you can get more than one look with it. Don't forget sunscreen (all seasons), and reapply often especially if you are swimming or sweating a lot.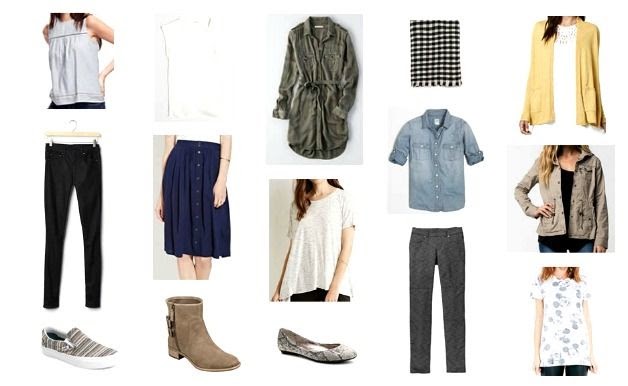 Dress | Jeans | Slip-on | Boots | Skirt | Tee | Shirt | Top | Shirt | Cardigan | Jacket | Scarf | Leggings | Flats | Tee
Packing for Disney World in Fall
I'm not big on wearing shirts with logos or patterns when I travel (except stripes and dots), but I make an exception in Disney. I don't want to sport a character inspired tee everyday, but it's nice to add one in during the trip. It can also double as your sleep top.
Layer for fall and be ready for fluctuations in weather. I don't have it shown, but it is always smart to bring a poncho, no matter the season. Rain is frequent, and umbrellas aren't easy to maneuver in crowds. Plus, you can use it to stay dry on Splash Mountain.
In addition to visiting the parks during the day, there are some fun places to visit after hours. Let the grandparents watch the kids and go out for a drink at the fun bars around Epcot. Take a shower, put on your dress and ballet flats, and enjoy a little escape. It's supposed to be a vacation after all.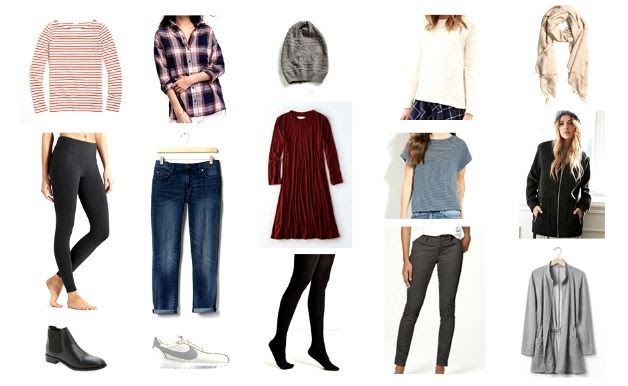 Stripe Shirt | Leggings | Jeans | Shirt | Hat | Dress | Dress | Tights | Jacket | Coat | Boots | Sneakers | Pants | Tee | Scarf | Sweater
Packing for Disney World in Winter
I have been two or three times in the winter when it's been pretty cold, especially at night. Like coat, hat and gloves cold, no huge insulated jacket needed. Be warned.
Many people don't realize that Florida can get cold and then rush to buy expensive Disney merchandise to cover up, or some will bear the cold in shorts.
For footwear I choose the same types of shoes I would wear walking around any city, something broken in, comfy, and with a thick sole if possible. I don't think full on running shoes are necessary unless you have problems with your feet. I like light streamlined sneakers instead.
My legs always seem to be more tired after leaving Magic Kingdom, so wear your most comfortable shoes on that day.
---
What are your tips on packing for Disney World? Share your tips in the comments!
---
For more North America packing tips, please read:
Suggested travel resources:
---
Hope you liked this post with tips on packing for Disney World. Please share with your friends on Facebook, Twitter, and Pinterest. Thanks for reading!
---
Author Bio: Niki is an interior designer and artist from Louisiana. In addition to her design work, she writes for local and online publications sharing her experiences and passion for travel. Niki is currently adding stamps to her passport while building her design practice, Niki Landry Designs.
---