Support TFG by using the links in our articles to shop. We receive a small commission (at no extra cost to you) so we can continue to create helpful free content. As an Amazon Associate, we earn from qualifying purchases made on Amazon in addition to other retailers featured on the blog. Thank you, we appreciate your support!
It's the age old debate when it comes to suitcases: hardside vs softside luggage? What's best? Find out as our readers share their opinions on the best type of luggage!
---
Hardside vs Softside Luggage
---
Travel Fashion Girl Help! A reader asks:
Buying luggage today. What are people's thoughts on hardside vs softside luggage?
One of the most common questions people ask about luggage is whether or not to buy a hard case or soft case. There isn't a simple answer, as there are pros and cons to both, and it partially depends on a traveler's preference.
Read the ultimate guide on how to choose a suitcase!
While I own both styles, I do prefer a soft suitcase vs a hardside because of the opening. I like having a simple, rectangular suitcase with a wide open space that I can customize with luggage organizers. I don't like having built in internal compartments within my luggage as I don't use them.
This type of wheeled luggage was especially useful for me as a long-term traveler. A soft suitcase like the Osprey Ozone allowed to pack things like scuba diving gear that wouldn't have fit very easily in a hard shell due to its rigid shape.
The one time where a hardside suitcase was an absolute lifesaver was when I traveled to London from my home in the countryside during a snow storm. I had to trudge through the streets to get to the train station and that would not have been fun with a soft side. Using the hard side suitcase in wet or snowy weather was a major benefit!
Another time when I do find the hardside suitcase better than a soft side is when I share a carry-on with my husband on short trips. We each get a side making it extremely useful to keep our own belongings organized.
You'll want to look your best when you travel! Read my travel tips to Pack Light Stylishly!
To find out the pros and cons of using a soft vs hard shell suitcase I turned to our readers so their opinion can help you choose what's best for you:
it luggage Autograph 20.1 | it luggage Valiant 22
The Benefits of Hard Case Luggage
Hard shell suitcases are trendy right now, and they look chic. Plus, if you aren't using it as a carryon, they won't get as damaged or beat up during air travel. Here are some of the reasons why readers love hard case luggage:
"I love a hardcase, as they are great for organizing. I LOVE that they have two halves. I put my shoes and other things on the zip side, and my clothes in about 3 packing cubes on the other side. I like that the smaller things are zipped up and secure."
"I prefer a hard case. I feel that my items stay protected against other luggage packed on top of it, as well as better protection against the elements. I like that it splits in half. I'm able to keep things more organized, and it's easier to access items as I'm not digging through my whole case. Finally, it's really just a preference thing. Don't buy a hard case just because you like the aesthetic. Purchase what will be most functional for you."
"I love the two halves of a hard case, and with the way I pack it I feel I can fit and utilize so much more space and keep things more organized while I'm traveling."
"Hard shell. I had a bad experience with some kind of alcohol leaking all over my soft side suitcase when debarking a ship. Everything was soaked inside my suitcase. And it wasn't my booze! I feel a bit more protected with the hard shell."
"I go for a hard shell with a four-wheel spinner, whether it's checked or carry on. HOWEVER, it can be a struggle to get the carry on hard side into an overhead bin for different reasons. If the flight is full or the plane is small, you are more likely to get a soft bag into the overhead or under the seat."
"I like my hard cases and they are lighter than any soft ones I've found. Hard cases can't get wet in the rain or when I clumsily drop my cup of coffee on them."
We've rounded up some of the best hardside luggage for women. Take a look at our twelve fabulous finds!
 Lipault Paris Originale Plume Spinner | eBags TLS Mother Lode Mini 21
The Benefits of Soft Case Luggage
Soft shell suitcases may be traditional, but that doesn't mean they're old school. There are a number of modern styles made from durable fabrics. Here are some of the reasons why readers love soft case luggage:
"As much as I like the sleek protection of a hardsided suitcase, I don't like how you have to pack things in both halves of the case. I like having one, deep space to pack my things. I also like being able to set that suitcase on a suitcase stand in a hotel, and open/close the lid for easy access, rather than having to deal with two halves of a 'clamshell,' if that makes sense. And, if you are concerned about how well your stuff is protected from damage, if you are carrying your bag on board with you, there's not much to worry about in that department."
"I prefer the look of the hard cases but the space it requires to access when laying flat on the floor is annoying. I also prefer pockets, which I've never seen in a hard case."
"I have hard sided suitcases I bought for moving. They're great for protecting delicate things and long term storage. But I'll only travel with soft sided luggage, it's lighter and more practical. Plus, they don't slide around and stack easier."
"I hate packing the two halves of a hard side suitcase. Plus, it's easier to set a soft case on a luggage rack."
"I use a soft shell case because I like being able to use luggage stands and racks in hotels. I really detest putting my stuff on the floor."
"I prefer soft because they squish into places better!"
"I prefer soft ones as you can sit on them before you put them in the size cage if they are a bit too deep. Also, on your trip you can cram more in between non-flying destinations."
"I personally think that soft cases are lighter and easier to work with."
These are the best lightweight suitcases – all under 5lb!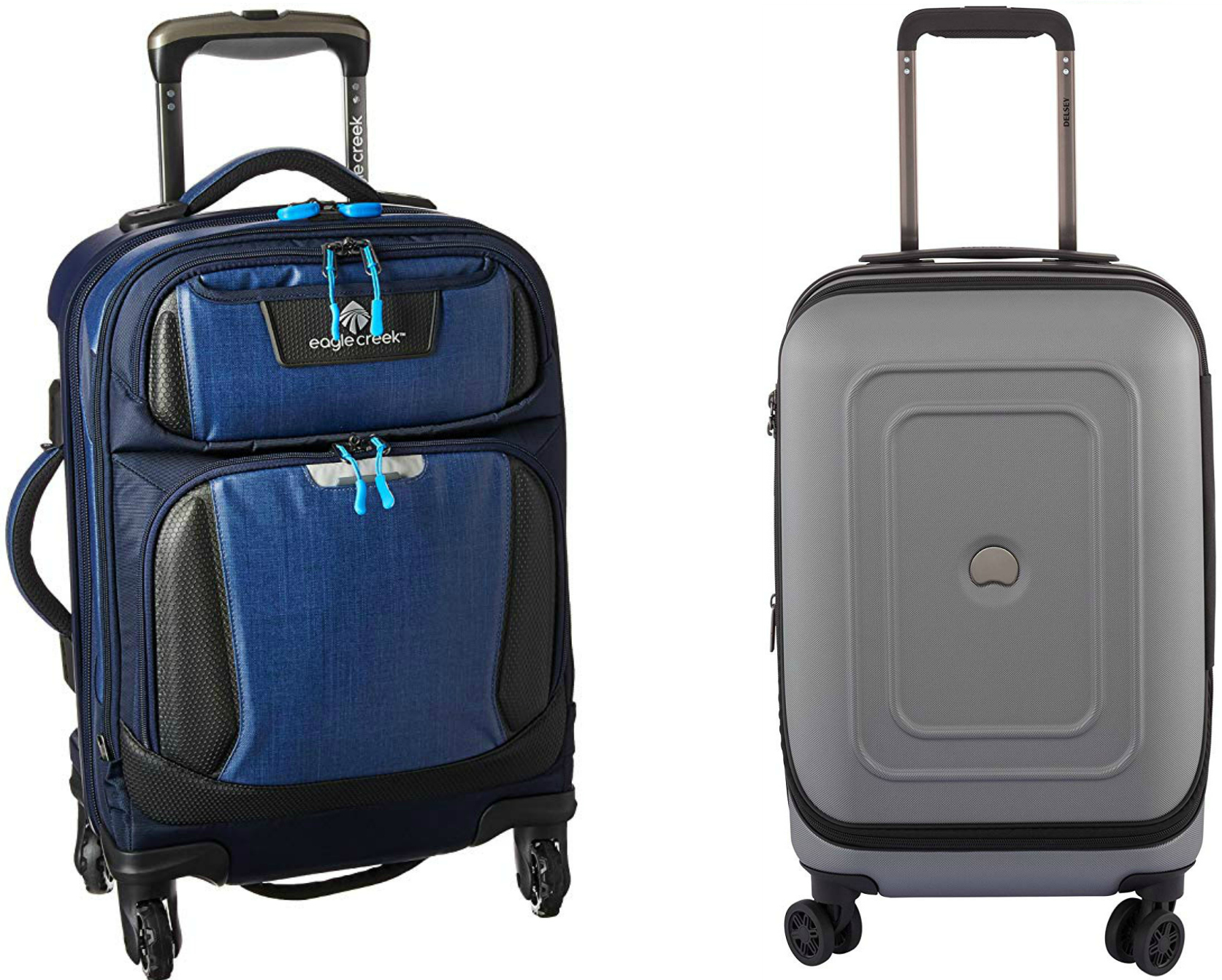 Eagle Creek Tarmac Spinner | Delsey Paris Cruise Lite
What About a Hybrid Suitcase?
Yes, there's such a thing! To address travelers' concerns and desires like these mentioned, many brands are offering hybrid suitcases, which offer a hard case on one side and a soft case on the other. Here are some of the reasons why readers love hybrid suitcases:
"I have a hybrid with one hard side and one soft side. It's convenient that the soft side makes it so it can compact or expand and the hard side protects things from being crushed. What I do not like about it is that it requires two locks as the sides are accessed separately."
"My current go to suitcase is a hybrid, the Eagle Creek Tarmac spinner. One side is hard, the other is soft with two pockets on the outside. Plus, it can expand. I REALLY like this case. When packing, I like having the two sides and it's easier to distribute the weight. But, the clamshell style is a pain in hotels, as I basically have to unpack the whole thing."
Here is a quick list of the best luggage brands according to top travel experts!
WATCH THE BEST HARD SHELL AND SOFT LUGGAGE REVIEW:
Whichever style you end up choosing, always use packing cubes. They're the ultimate tool to travel in a carryon! They changed everything for me and millions of our readers. See my packing tutorial on how to use them! Trust me, they are a must!
---
What are your thoughts on hardside vs softside luggage? Share in the comments below!
---
For more suitcase recommendations, please read:
---
LIKED THIS POST? PIN THIS PIC TO SAVE IT!
---
I hope you liked this post on hardside vs softside luggage. Please share with your friends on Facebook, Twitter, and Pinterest. Thanks for reading!
---