Support TFG by using the links in our articles to shop. We receive a small commission (at no extra cost to you) so we can continue to create helpful free content. As an Amazon Associate, we earn from qualifying purchases made on Amazon in addition to other retailers featured on the blog. Thank you, we appreciate your support!
Every year I discover certain items that I end up using repeatedly, because they're either versatile, cute, comfortable, or a combination of all three. As travel is such an integral part of my life, the majority of items I own are things that work just as well at home as they do on the go, too. Here's a round up of my favorite products for 2021!
If you missed last year's round up, read this post for my top products from 2020.
---
My Travel Must Haves
---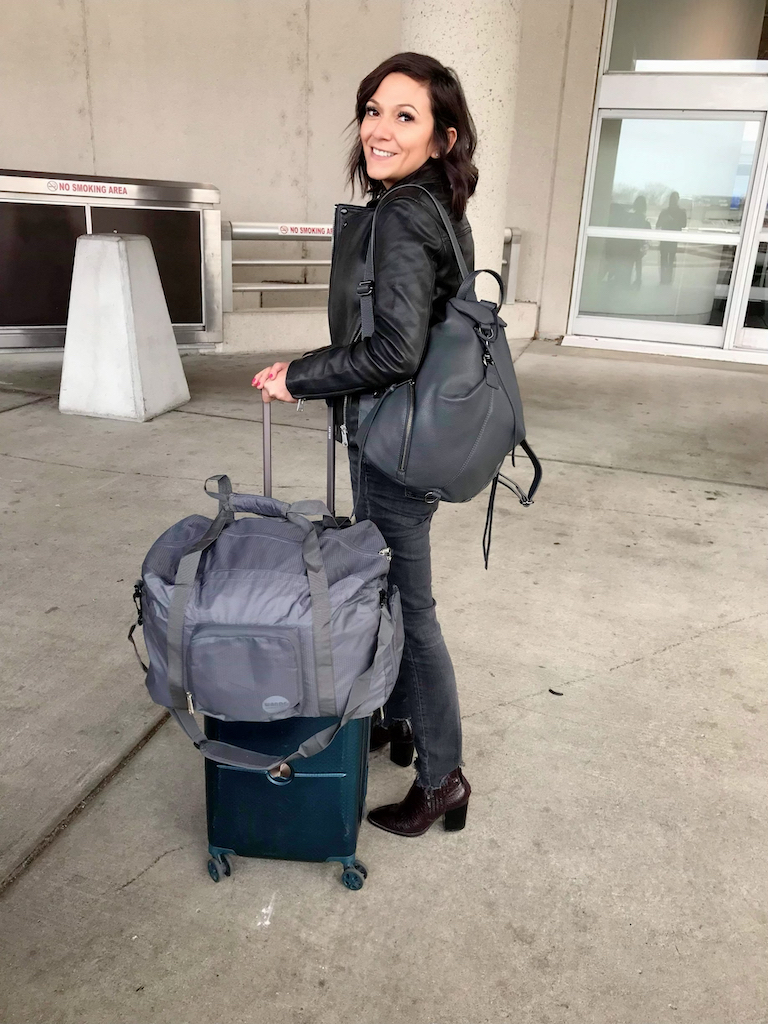 50L Wandf Foldable Travel Duffle Bag and Delsey Turenne Carryon to transport home items from USA to Mexico. 

 
Lightweight Packable Duffle Bags – Top Pick of the Year!
The first item on my list is a surprising favorite – the Wandf Packable Duffle. I've written a novel about this item because it's that good!
I'd first purchased one of these duffles for my move from England to Playa del Carmen last year because I needed lightweight luggage with maximum space so I could transport as much of my belongings as possible on one trip. It ended up being one of my best luggage purchases ever and I've since gotten several more sizes to accommodate my continuous moves.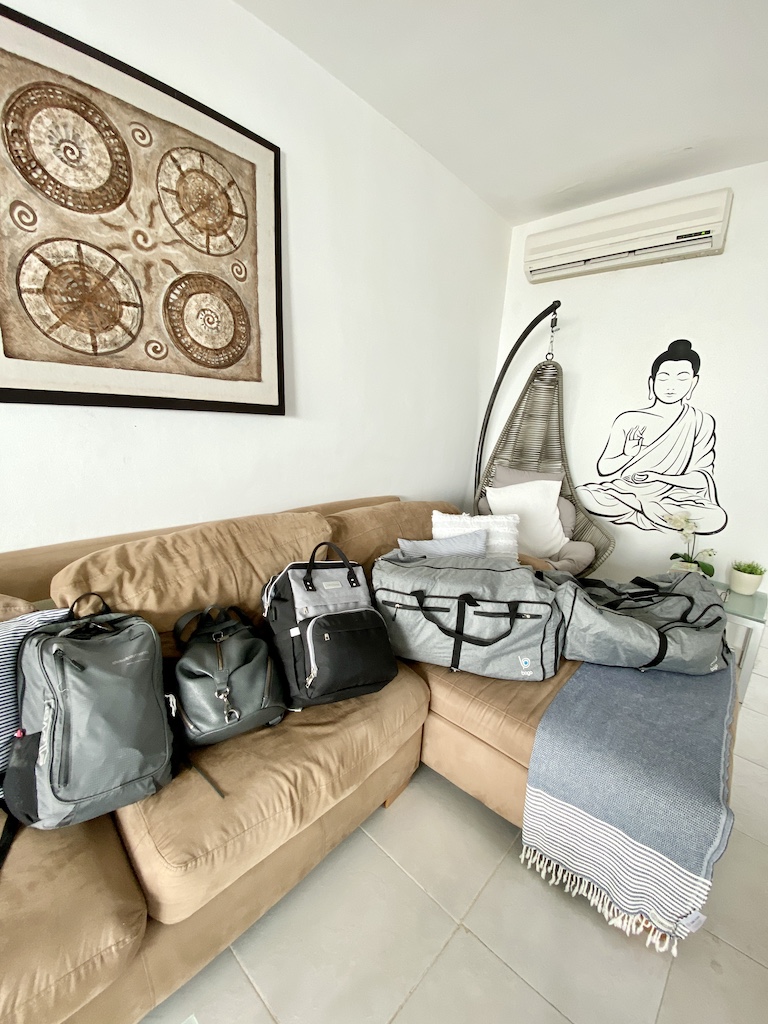 Two 80L Bago Duffles for Family Road Trip
I now own 8 of these packable duffles including:
Note: I bought so many because I ended up leaving half of them in different destinations.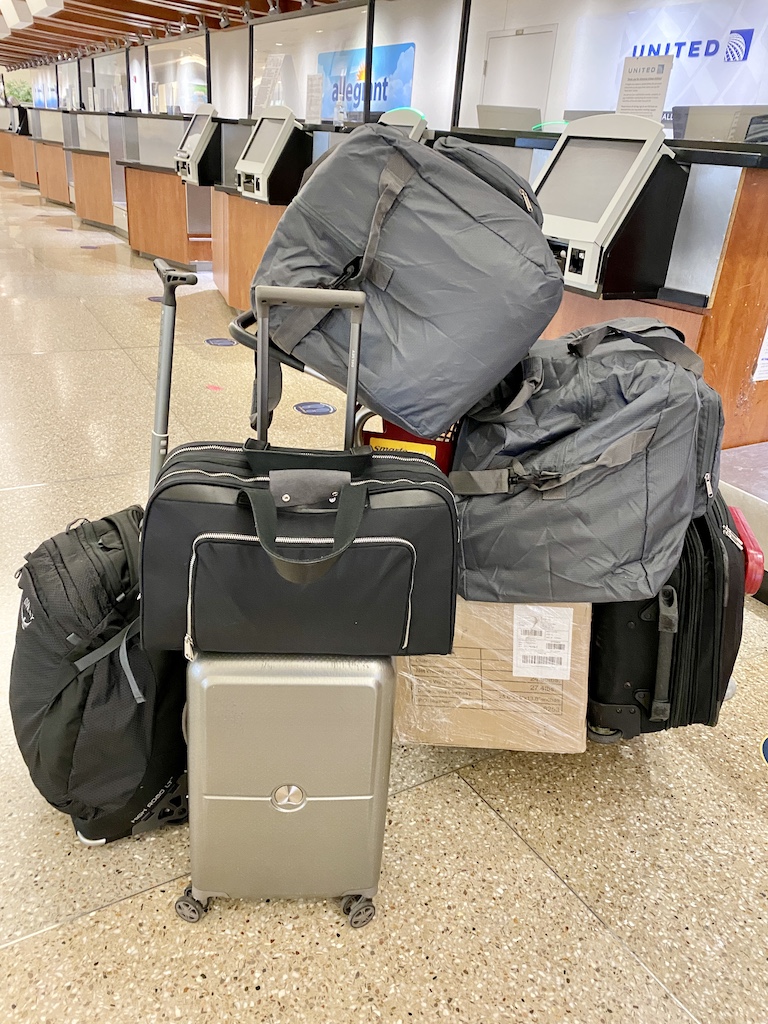 Using 80L Wandf Duffles transporting sheets, towels, and other items from the USA to El Salvador for my new beach front Airbnb!
For the purpose of moving internationally, the 80L is perfect as the maximum size for checked luggage with American Airlines, my preferred airline when traveling in North America. While a 90L could work, I don't want to risk being told I have an oversized bag thus risking a hefty baggage fee.
The featherlight material and wide open space means I get to maximize my checked baggage allowance vs wasting valuable pounds on a regular wheeled suitcase. Plus, they can be packed away to fold into their own pocket when I'm done transporting items.
I can't rave enough about traveling with this type of bag if you need to check luggage. My biggest issue is that suitcases larger than 25" tend to be very heavy, thus taking from your baggage allowance if your goal is to carry more items. This is the ideal solution because it's lightweight, inexpensive, and you can make full use of the typical 50lb checked bag weight allowance.
This is hands down my favorite item of the year and has become my go-to suitcase and the Wandf duffle bags wins as my preferred brand 100%! 
Tip: whenever I've used cardboard boxes for move, security has stopped me twice and I even got fined in Cancun for "importing in goods"! Yet another reason to travel with my duffles vs cardboard boxes. Plus, they're more durable for heavier items, too.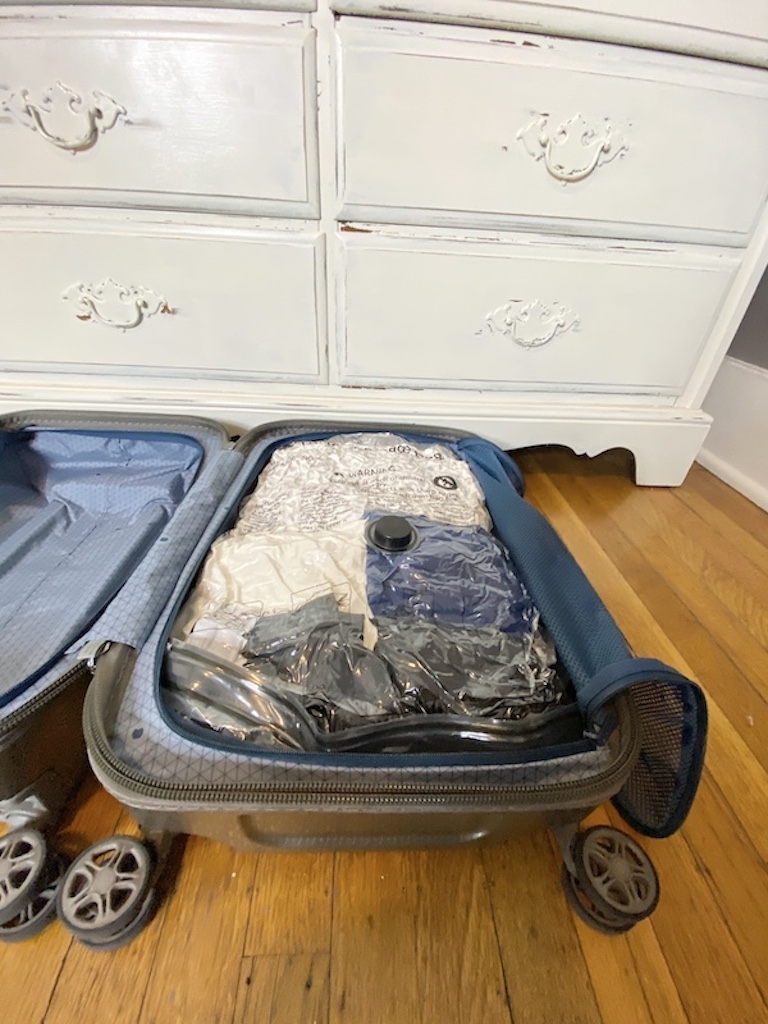 Using Gonshi Vacuum Storage and Compression bags to travel carryon only for a 1-week winter snow trip to Park City, Utah
Compression Bags – 2nd favorite product of the year!
Earlier this year I visited Park City, Utah for a week-long wintry stay in a Deer Valley cabin. Even though I wasn't skiing, I wanted to bring cute cozy clothing to spend lazy days in the cabin, enjoying the view, and being surrounded by nature.
In addition to my usual lightweight but warm winter clothes, I also brought clothing that was thick, plush, and more than I probably needed yet I still managed to pack carryon only!
My secret? Compression bags!
While I DO NOT recommend compression bags for fast paced multi-stop trips, they're perfect for a single destination when all you have to do is unpack and repack one time. For more multi-stop trips, I always use a set of packing cubes and the Compass Rose ones are color and number coded so it's easy to organize my clothing if I'm having to unpack and repack frequently.
View this post on Instagram
TAKE A LOOK AT MY INSTAGRAM VIDEO ABOVE TO SEE MY STEP BY STEP PROCESS AND LEARN HOW I USED COMPRESSION BAGS TO DOWNSIZE ALL OF MY WINTER GEAR:
I used two compression bags plus one Compass Rose carryon size packing cube with my Delsey Turenne carryon suitcase. I seriously splurged on space and did not pack as lightly as normal. I took so much stuff. 
Read the full blog post for complete details and winter packing list!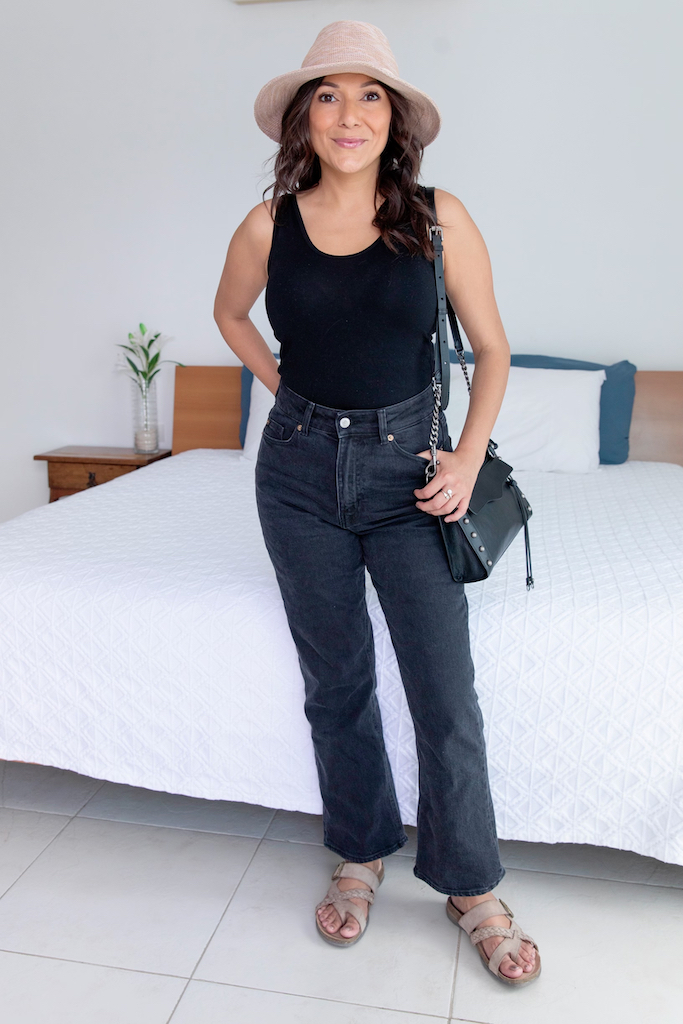 Earth Origins Orono Foster Memory Foam Sandals with H&M Jeans, Wallaroo Sun Hat, and Rebecca Minkoff Crossbody
Supportive Comfortable Sandals 
Over the past year I was in desperate need of supportive shoes and I tested it out at least a dozen sandals in search of the ultimate in comfort: There were two sandals that stood out amongst the rest: Earth Origins Orono Foster Memory Foam Sandals and Reef Star Sassy Cushioned Flip Flops (featured below). They saved my feet as they got extra swollen in the Playa del Carmen fierce summer heat!
These Earth Origins Sandals turned out to be amazing! I used them to walk everywhere and sometimes all-day at home, too.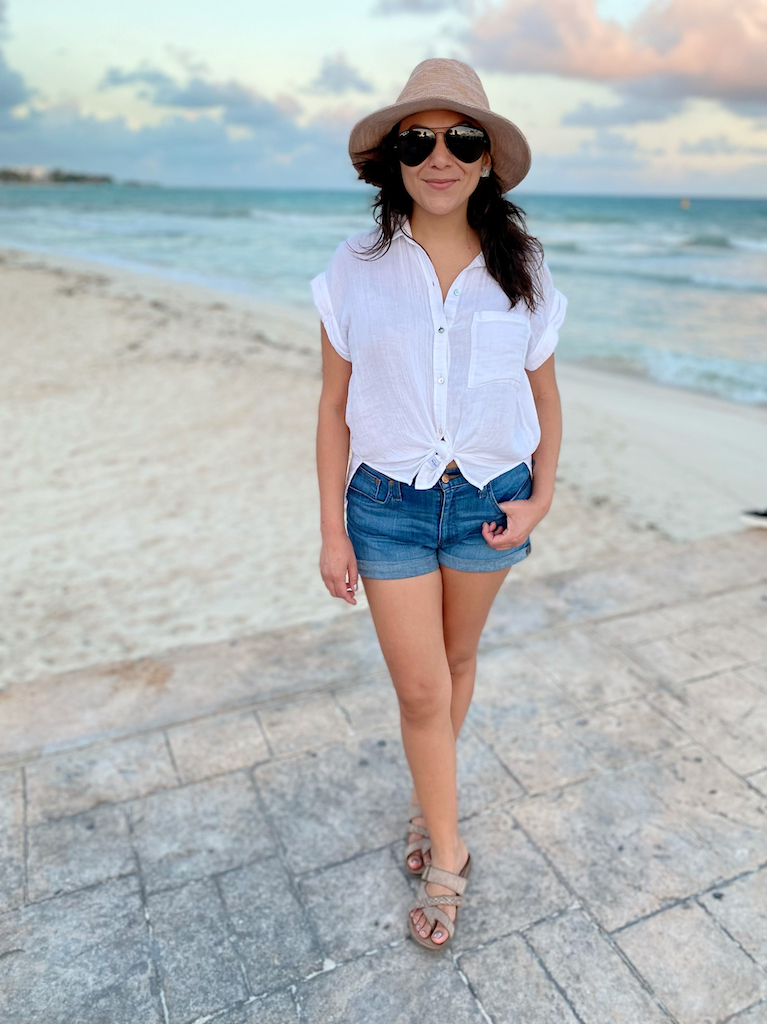 Earth Origins Orono Sandals with J Crew Midrise Denim Shorts, Rails Linen Shirt, and Wallaroo Sun Hat
I love that the style could work with a variety of outfits even in an elevated way. While I'm not sure if I would wear them as walking sandals for Europe in the summer, I can see myself using them when traveling to destinations such as Southeast Asia and tropical places near and far.
I will admit, when I first got these, I wasn't too keen on them. The color was a good neutral but I didn't think it was the best shade to flatter my skin tone. I also thought that they were way too wide for my narrow to medium foot. At that time, I didn't realize the straps were velcro and adjustable! Since my feet swell in the heat, they worked perfectly and stayed secure whether in moderate or high temperatures.
These ended up being the shoes I used the most this year.
Full blog post comparing all the sandals to come!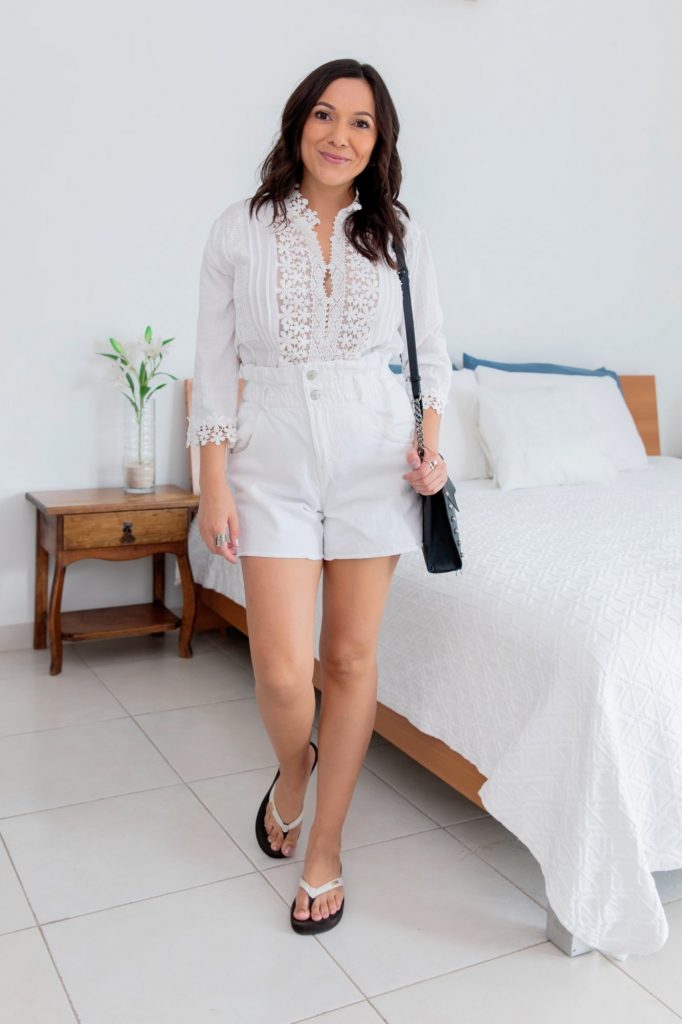 Reef Star Flip Flops worn with Zara shorts, Farysays Top, and Rebecca Minkoff Crossbody
Comfortable Flip Flops With Arch Support
My Reef Star Sassy Flip Flops with cushioned arch support have become my go-to flip flops at home in Playa del Carmen.
Never in my life would I have thought that any flip flops would have adequate arch support. While I also bought the popular Dillon thong sandals from Vionic they're designed more like sandals vs true beach flip flops. I didn't find them as comfortable as the Reefs because they were too wide for my narrow foot and fit is as important in comfort footwear as the arch support.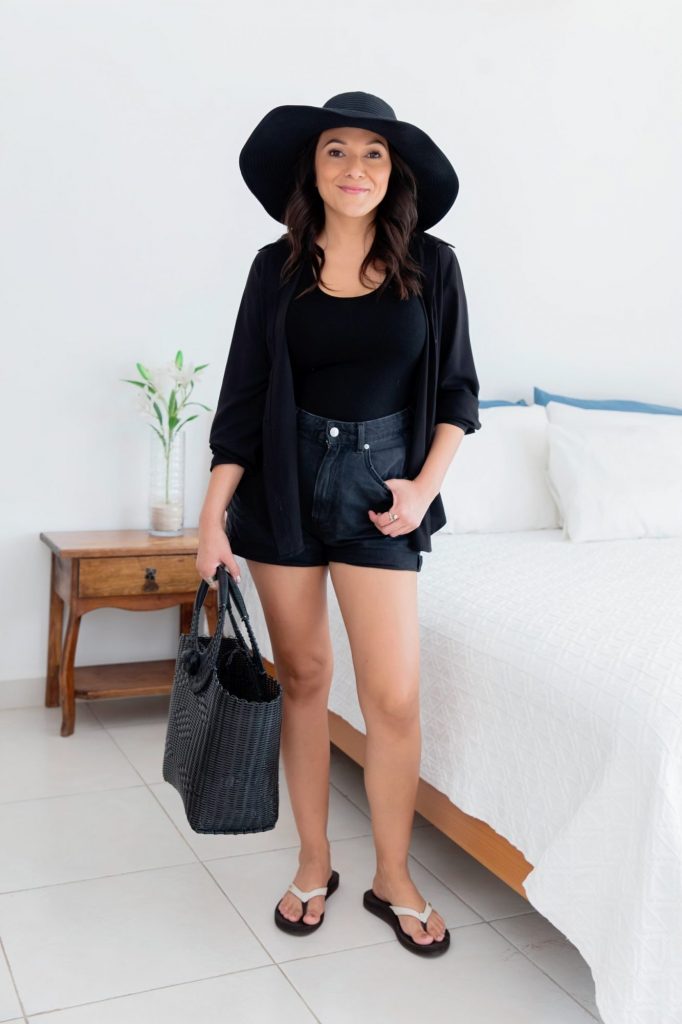 Reef Star Flip Flops worn with H&M Long Sleeve Blouse (similar), Wallaroo Sun Hat,  H&M Denim Shorts, and Woven Bag (purchased in El Salvador)
These Reef flip flops are soooo comfortable that I've now ordered a second pair and I will for sure be traveling with them for beach, scuba diving, resort, and pool trips in addition to using them at home as house slippers.
Read this post for more comfortable flip flop recommendations!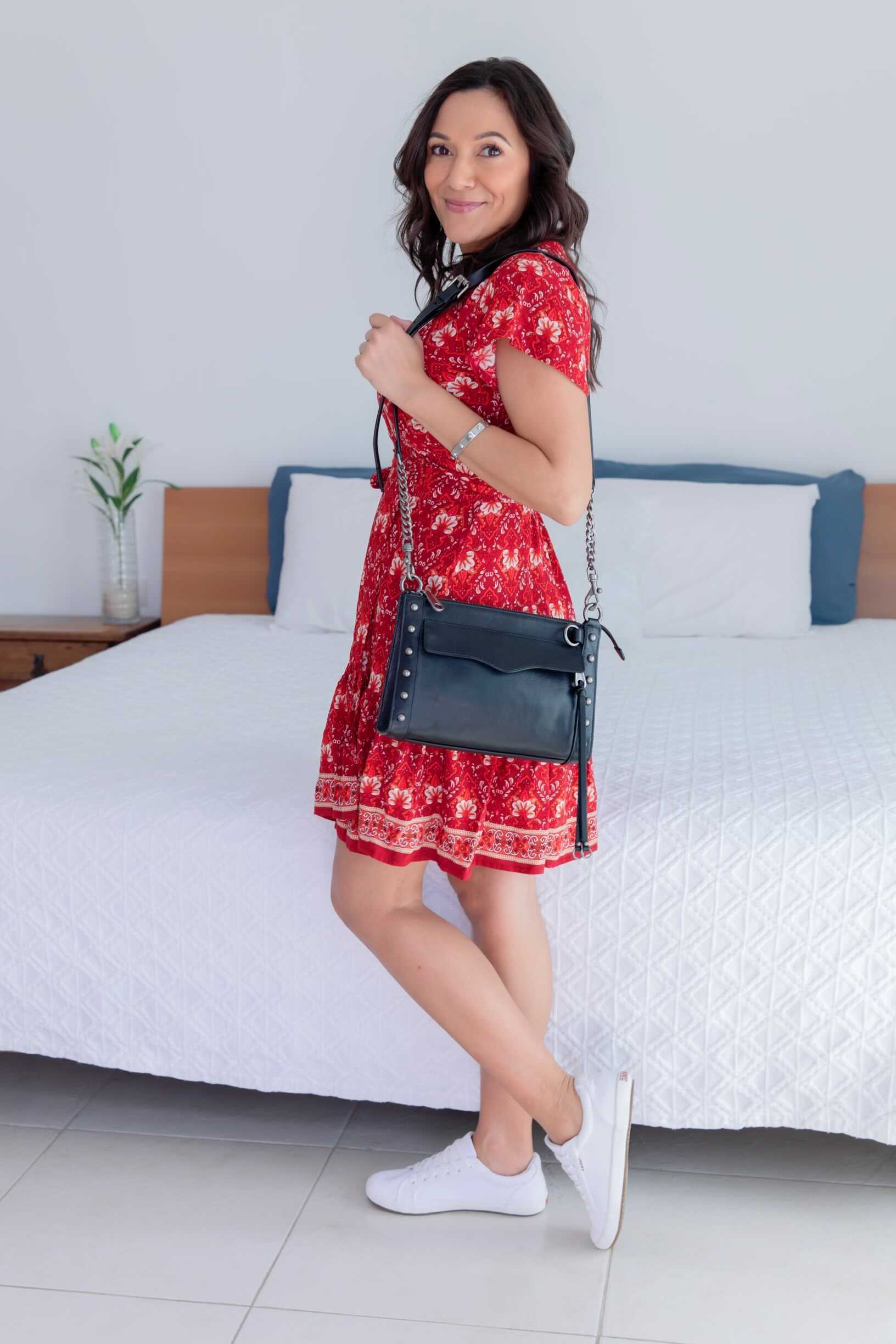 Zesica Wrap Floral A Line Short Dress worn with Rebecca Minkoff Crossbody and Taos Sneakers
Lightweight Summer Dresses
The summer months of May – August are an absolute scorcher in Playa del Carmen! I bought this Zesica Dress because it seemed lightweight for the heat and looked so packable and pretty for future travel, too! 
I originally shared it in my Spring Haul and the readers absolutely loved it! It quickly became a bestseller.
Zesica Long Dress worn with Rebecca Minkoff Crossbody and Marc Fisher Pacca Sandals
It's available in short and long length so I bought two colors, Red and Navy, in the short version and the Light Purple color in the long. I'd love if they had a 90s inspired black floral print, but do I look forward to trying on other colors as they are continuing to add more to their collection.
Since I'm not a print girl and love my neutrals, I'd probably stick with these dresses to be worn by the seaside, colorful colonial towns, or for summer get-togethers vs wearing them when traveling for a city destination.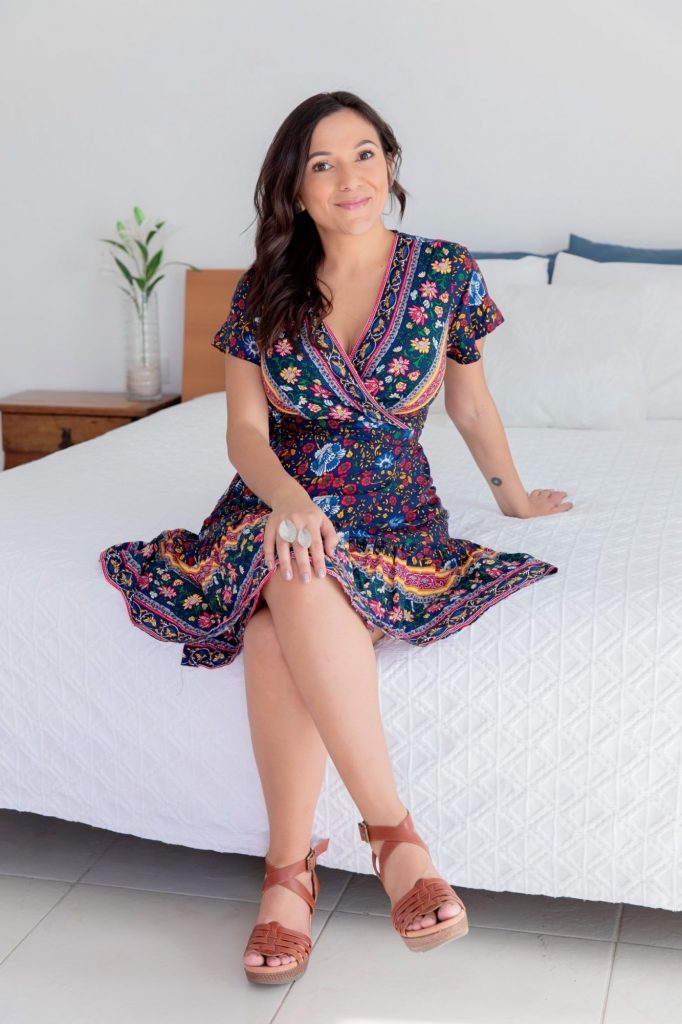 Zesica Dress worn with Vionic Wedges
I think the dress is awesome for summer and for travel, but I do have a couple of alterations I might make. I will admit that the neckline is a bit more exposed than I feel comfortable with and I'm not a fan of cleavage cover ups, so I may have the dresses tailored to fit my back so they don't sit so low in the back. 
For the short style, while the ruffles give it a fun and flirty appearance, I may buy the longer lengths and just have them cut to my preferred knee length sans ruffles. 
Both the short dress and the long dress are offered in sizes S – XXL. I'm wearing a size small in both.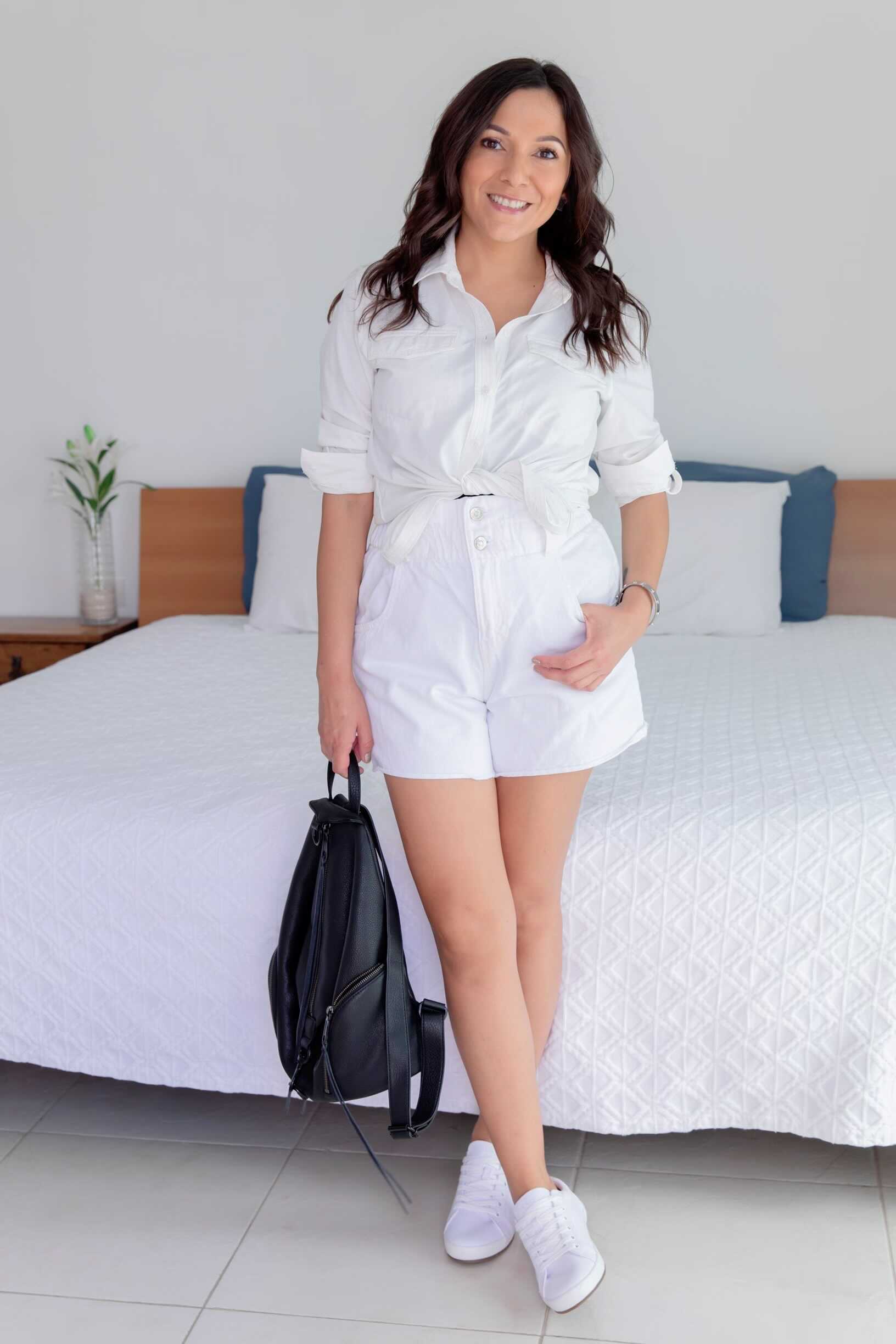 Eddie Bauer Departure Long Sleeve Shirt with Zara Shorts, Rebecca Minkoff Backpack, and Taos Sneakers
White Long Sleeve Button Down Shirt
Over the years, I've discovered my perfect "uniform" that easily transitions from beach to city, and from daily wear to travel: a button down blouse plus denim. I like a casual but polished look and this combination has been endlessly versatile for my needs!
Because of this, I'm on an endless hunt for the perfect button down blouses for the perfect minimal capsule everyday and travel wardrobe I aim to make.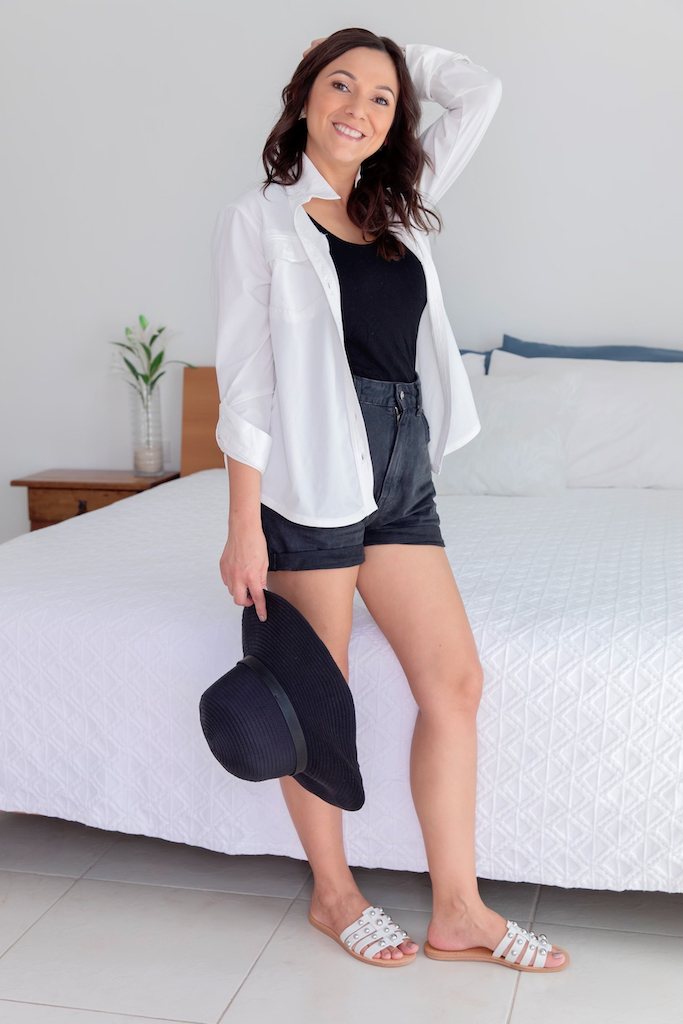 Eddie Bauer Departure Shirt with H&M Denim Shorts, Wallaroo Sun Hat, and Marc Fisher Pacca Sandals
In 2020, I was obsessed with the Eddie Bauer Ripstop Shirt, but in 2021, a different Eddie Bauer long sleeve made my favorites list: the Departure Shirt.
It's also a white button down but the fabric of the Departure is softer and looks more like a regular blouse vs. a travel or hiking top. As a plus, it still has all the same great features such as the UPF 50 protection and moisture-wicking capabilities which keep me relatively "cool" and dry in the Playa del Carmen heat.
I'd like to get this in another color to have a second reliable shirt option to circulate in my capsule wardrobe. 
It's available on Eddie Bauer or Moosejaw, and as for sizes, it's offered in XS-XXL. I wear a small petite size.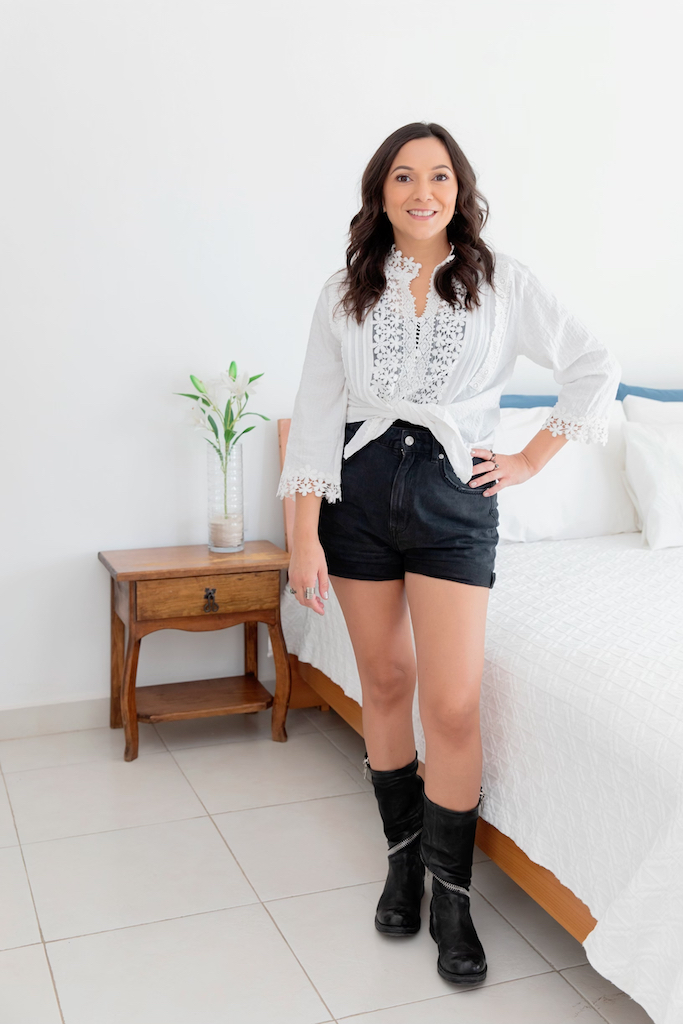 Farysays Top worn with H&M Denim Shorts, and A.S.98 Sigg Boots
Lightweight White Button Down Blouse
Another white button down blouse that has quickly made its way into my ideal capsule wardrobe is the Farysays Top – another piece from my Spring Haul and a TFG reader favorite! 
It's surprisingly versatile and I love that I can wear it in a range of ways including tucked in or out of my shorts and worn loosely outside of my jeans.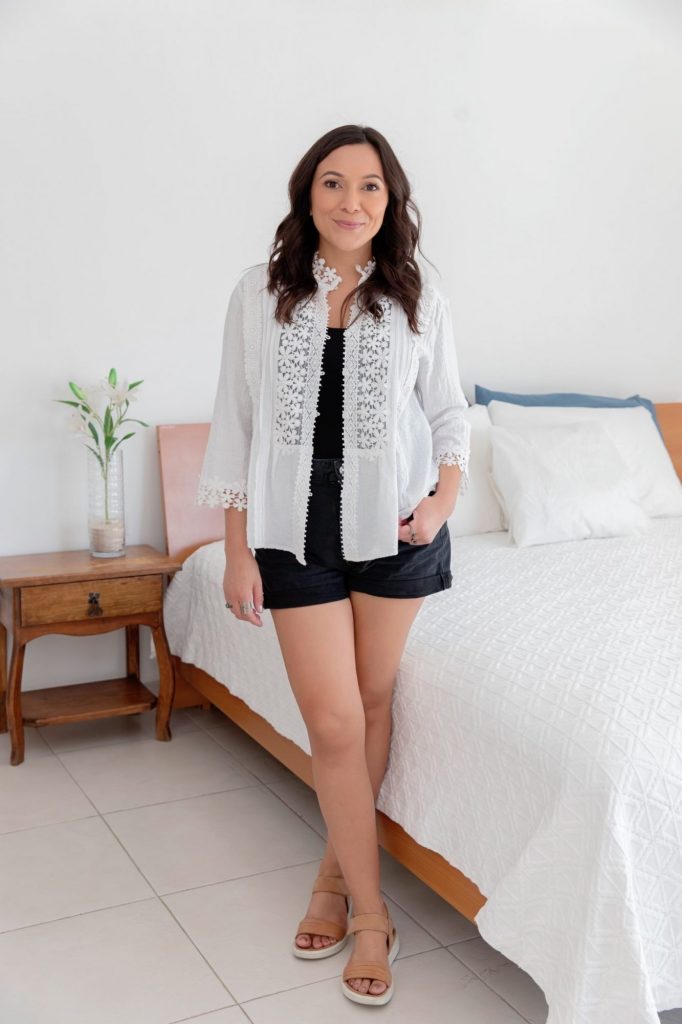 Farysays Top with H&M Denim Shorts, and Ecco Flowt Sandals
I also bought the top in black and like both but prefer the white color the most. In Playa del Carmen I wear the white top with a nude bra or the black top with a black bra and don't bother with a tank underneath. In a non-beach destination I'd wear it with a cami under if closed or a tank top if unbuttoned as shown above.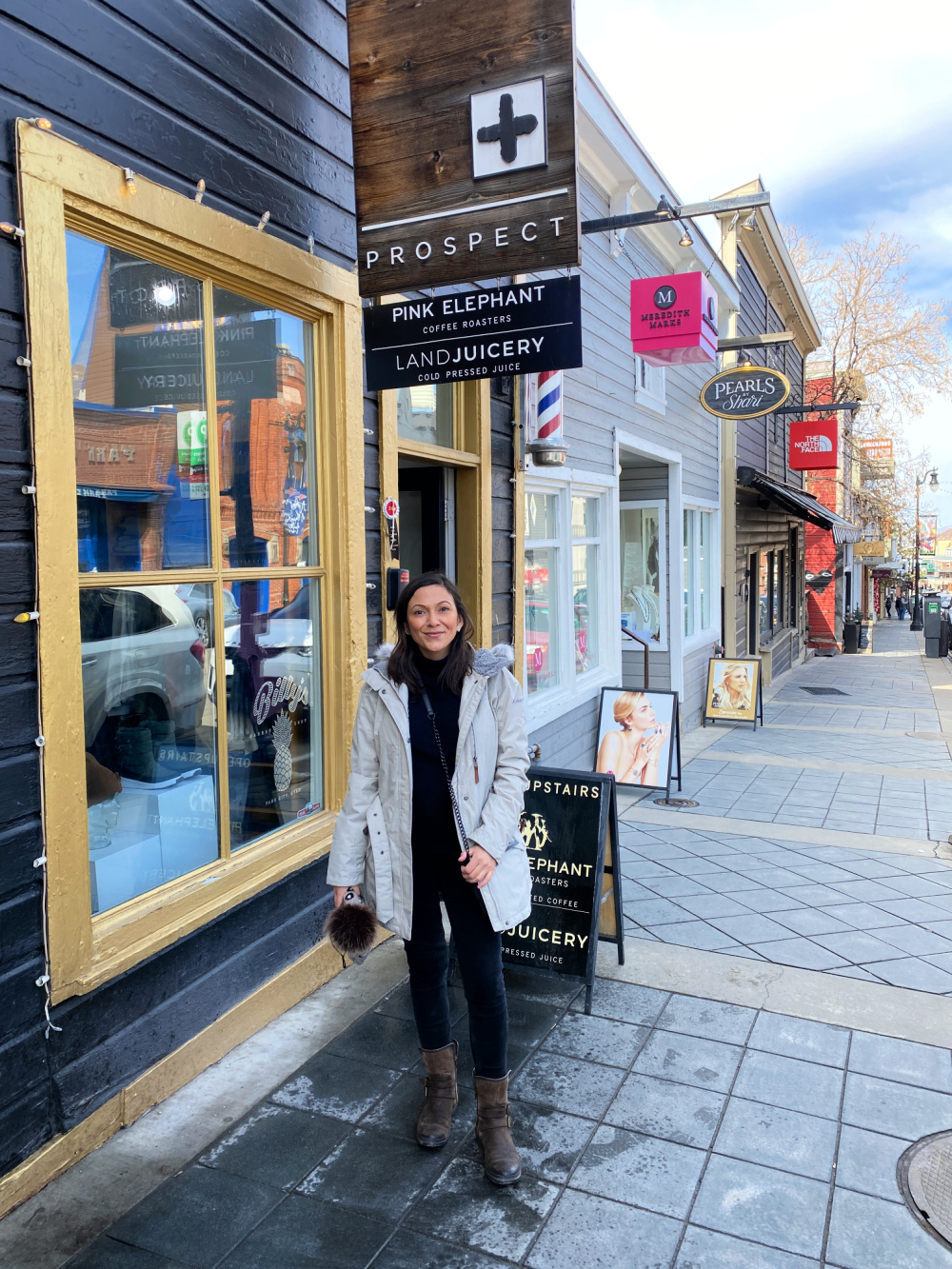 Ugg Simmens Boots (similar), worn with Columbia Waterproof Jacket, J Crew Everyday Cashmere Turtleneck, Winter Hat, and Zara Jeans
Comfy Warm Winter Boots
I originally bought Ugg Simmens Boots (similar) when I lived in England and they quickly became my go-to winter boots, particularly after using them to keep my feet warm while living in a boat for one San Diego winter! 
Their lined interior makes them soft and warm with every step, the sole has adequate traction even for frost and brief stints in the snow, and as a major plus, the design is versatile, easily transitioning from an easy hiking trail then being paired with a faux fur coat in the city.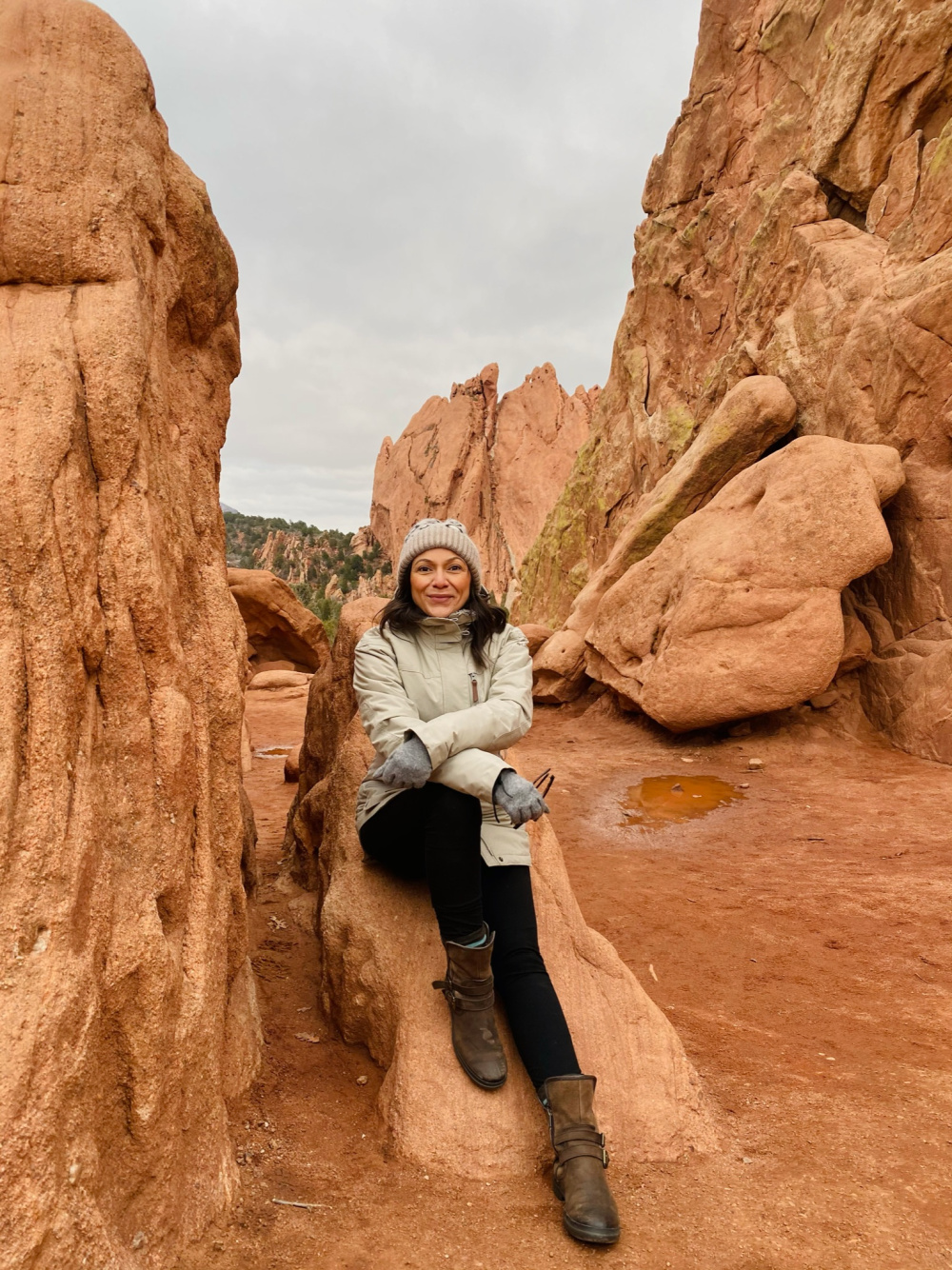 Ugg Simmens Boots (similar) worn with H&M Gloves, Winter Hat, and Zella Leggings
They've proven to be a worthy travel companion over the past year particularly on my 12 day trip to Deer Valley, Utah and Los Angeles in February and my 3-week national park road trip through Utah and Colorado. I wore it almost daily for the cold winter in Kentucky, too.
The side zipper makes them easy to slip on and off for long road trips, discreetly on an overnight flight, or to wear at home as slippers because they're super cozy. It's not an ankle length or calf boot. It's somewhere in between making it less bulky if you need to pack it in a suitcase but the height also keeps snow and rain from seeping inside.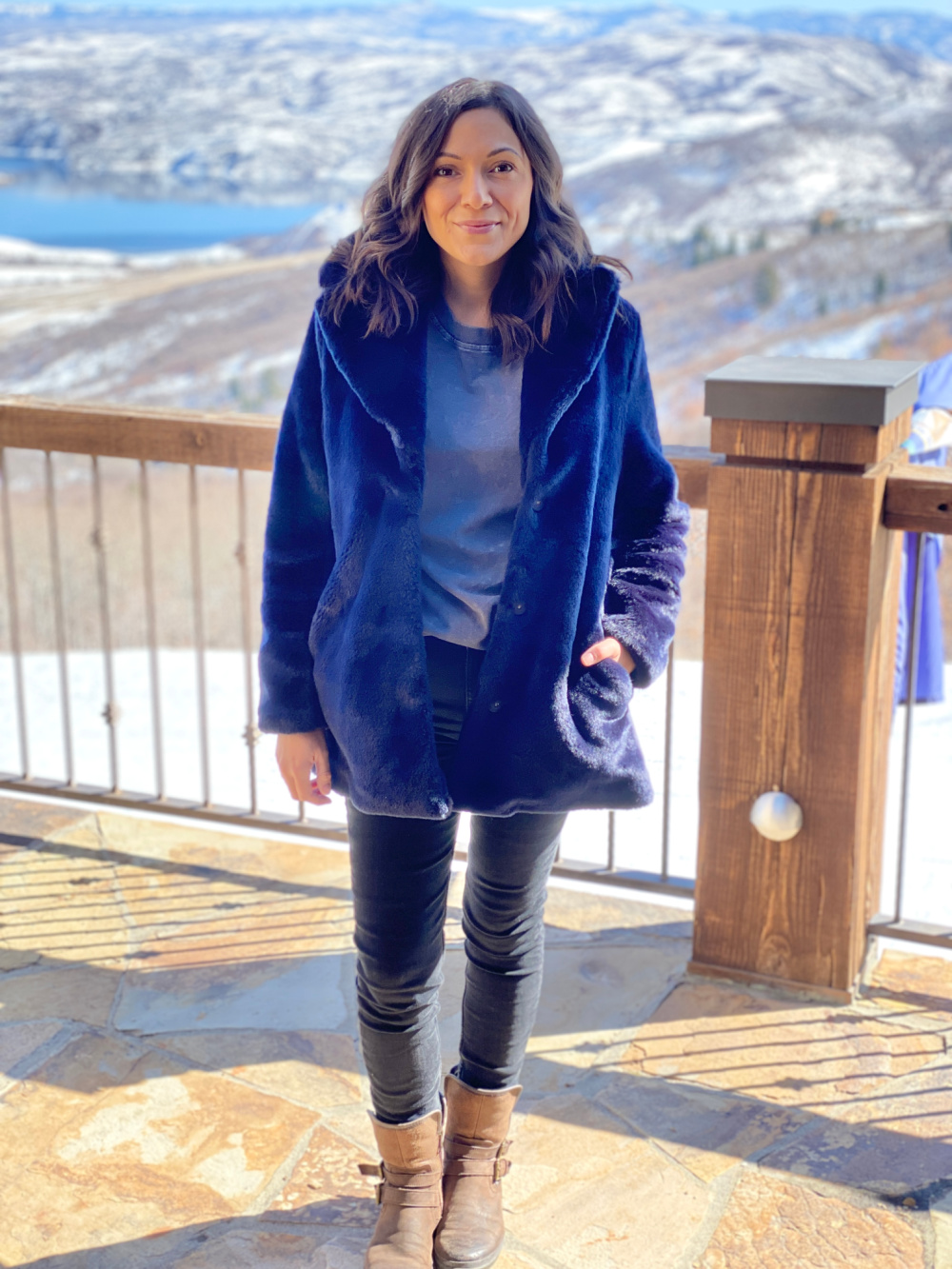 Ugg Simmens Boots (similar) worn with H&M Faux Fur Jacket, Asos Top, and Zara Jeans
While Ugg boots are expensive. I originally bought the Teva De Vina because it was cheaper, but I didn't like the style as much so I ended up buying the Ugg boots anyway. I've now learned my lesson to just buy what I want when it's perfect even if it has a higher price tag because I only need to spend the money once on the right item vs buying cheaper things that just don't work.
Unfortunately, the Ugg Simmens is now discontinued, but I also ended up buying the Ugg Lorna in black, which is a very similar style.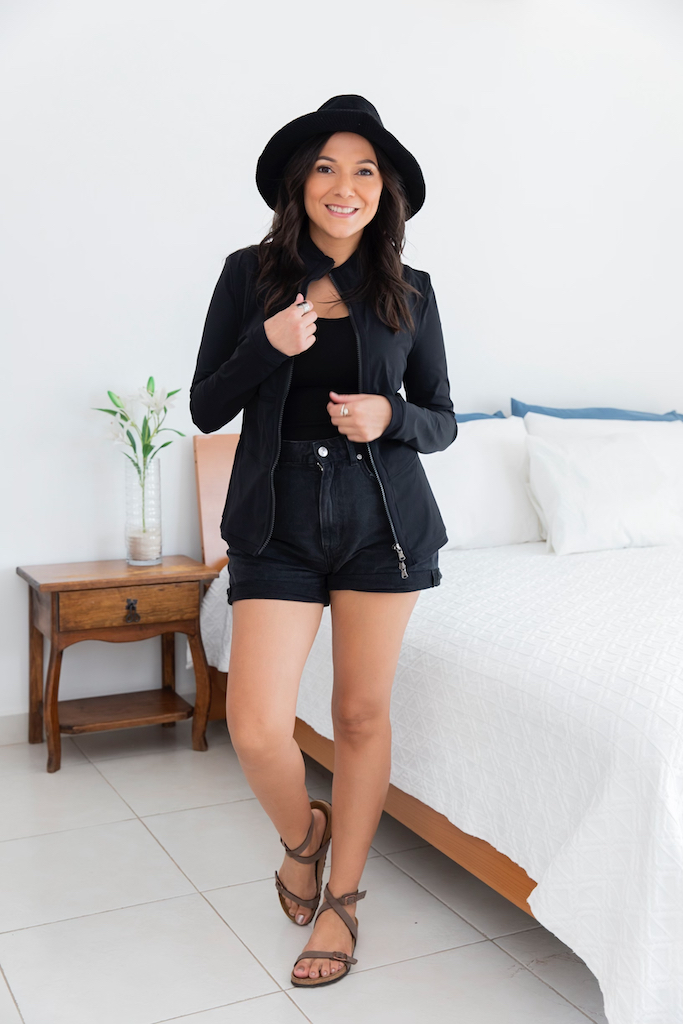 H&M Denim Shorts with Wallaroo Hat, and Birkenstock Sandals
High Waisted Denim
I've been a long time fan of high waisted shorts and with their increased popularity in recent trends, I've found a variety of options including my favorite paper bag short style. Between the above black H&M Denim Shorts and the white Zara shorts, I think I've found the perfect two for my capsule wardrobe.
I don't wear skirts as I find shorts more flattering on me, and I find that the high waisted styles suit my body type the best.
While I wouldn't pack these for city trips or to visit modest towns, living by the beach and frequenting seaside destinations, denim shorts are considered an essential in my tropical travels and daily attire.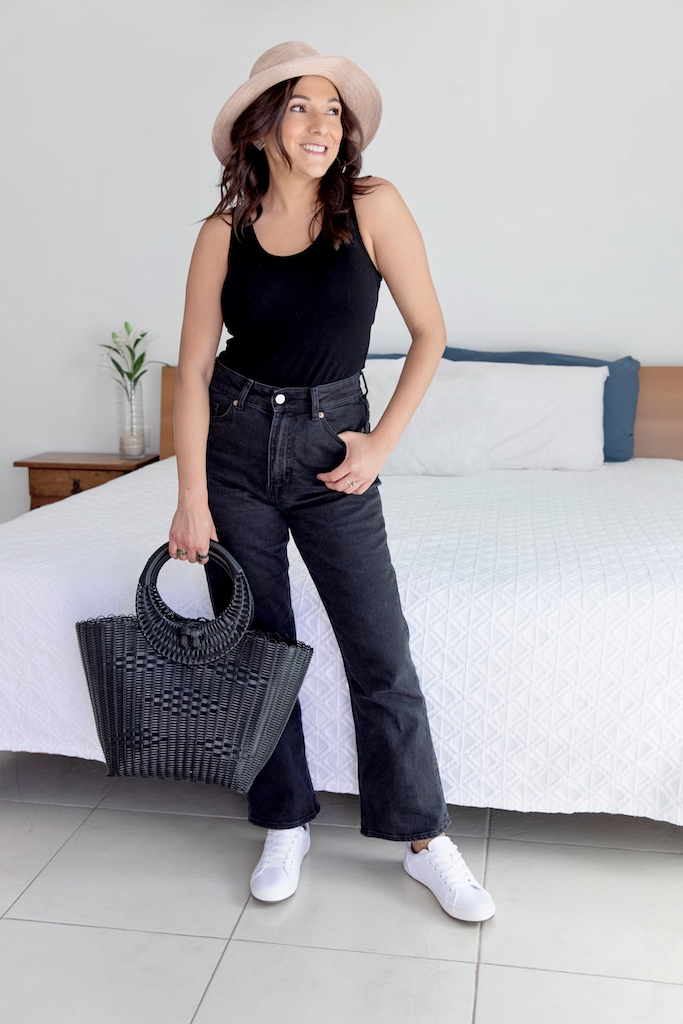 H&M Jeans with Wallaroo Sun Hat, Taos Sneakers, and Woven Bag (purchased in El Salvador)
In addition to shorts, high waisted flared and straight jeans have also become the preferred leg taking over skinny jeans. I like buying H&M jeans including the above Flared High Ankle Jeans more than higher priced brands because it allows me to try out versatile styles and fits at a reasonable price and Plus, they also have curvy designs, too
In my long term travels I discovered that denim is incredibly versatile, doesn't require frequent washing, and can easily be dressed up or down. Plus, denim suits my personal casual but polished style so this is part of my everyday lifestyle no matter where I go.
As a reminder, unless participating in specific activities, the best clothing for travel is the clothing that makes you feel your best! Just make sure the fabric works for travel and that it's suitable for your destination. Read my series on how to choose the right clothes for travel and create the perfect vacation capsule wardrobe – you can use the same principles in your closet at home, too!
---
What were your favorite travel products from last year? Share your picks in the comments!
---
For more of my favorite things, please read:
---
LIKE THIS POST? PIN THIS PIC TO SAVE IT!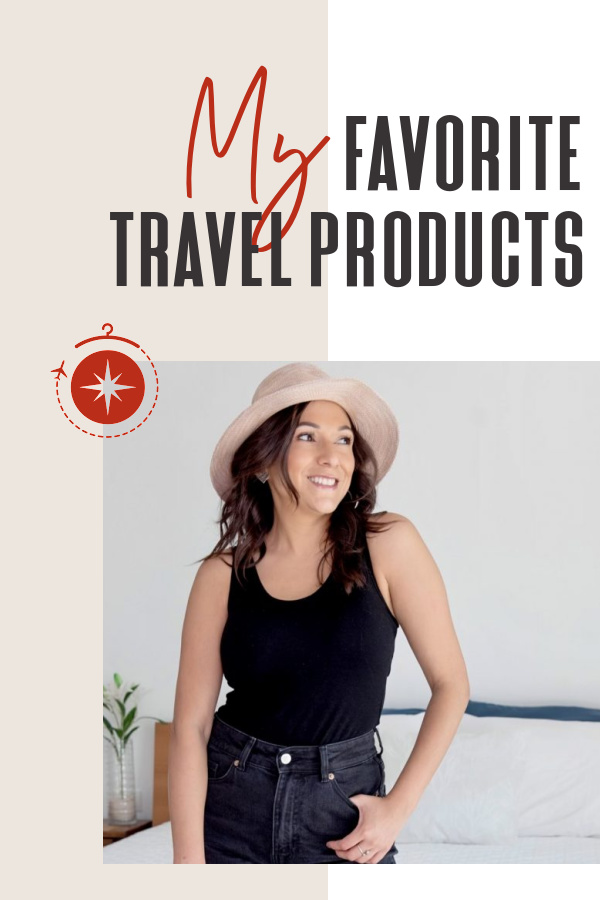 ---
I hope you liked this post on my favorite travel products for 2021. Please share with your friends on Facebook, Twitter, and Pinterest. Thanks for reading!
---