Support TFG by using the links in our articles to shop. We receive a small commission (at no extra cost to you) so we can continue to create helpful free content. As an Amazon Associate, we earn from qualifying purchases made on Amazon in addition to other retailers featured on the blog. Thank you, we appreciate your support!
As someone who always travels mostly carry-on, I had the unique experience of undergoing an international relocation—putting my entire life into several bags. I thought I'd share some lessons learned in packing! 
---
Packing for an International Move
---
Table Of Contents
I thought I'd share my packing experience since it was an entirely new situation for me. I've officially made the permanent move from England to Playa del Carmen and managed to fit my life into five bags. I'm not sure if this is an accomplishment, but I've gotten accustomed to not being attached to material things after traveling full-time for over a decade.  If you're not familiar, you can read some of my travel story in Cosmo. 
Here I found myself moving overseas again, and it was challenging since the weight of the luggage contained all my worldly belongings. Also, having to deal with the actual experience of checking in so many suitcases was entirely new for me.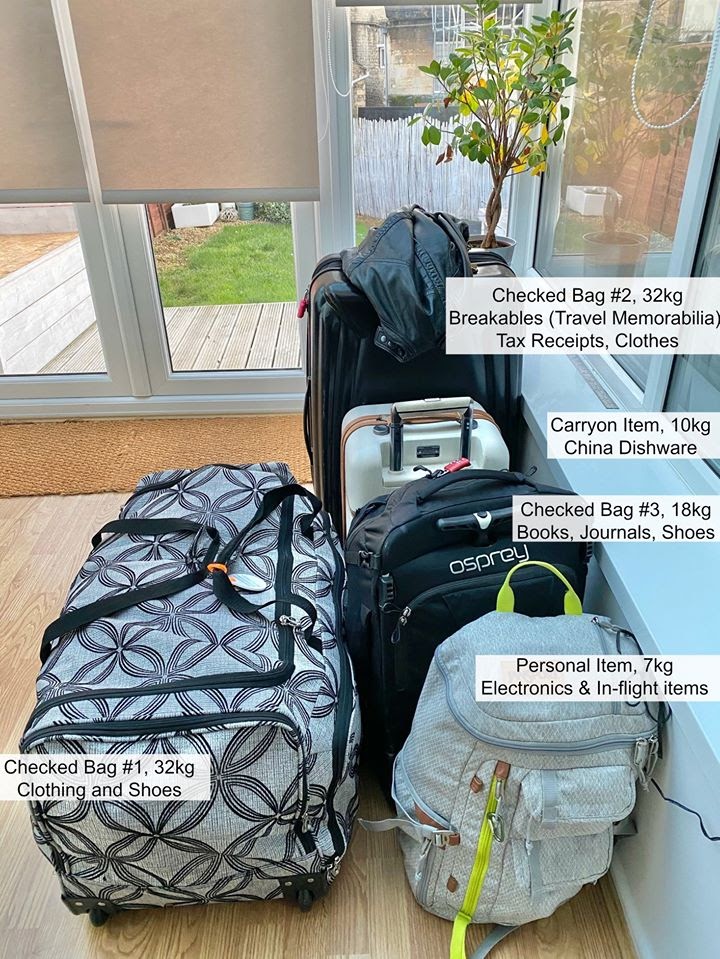 Round-up of my life in 5 bags
Normally, I always travel carry-on only, so thought I'd share a few lessons learned: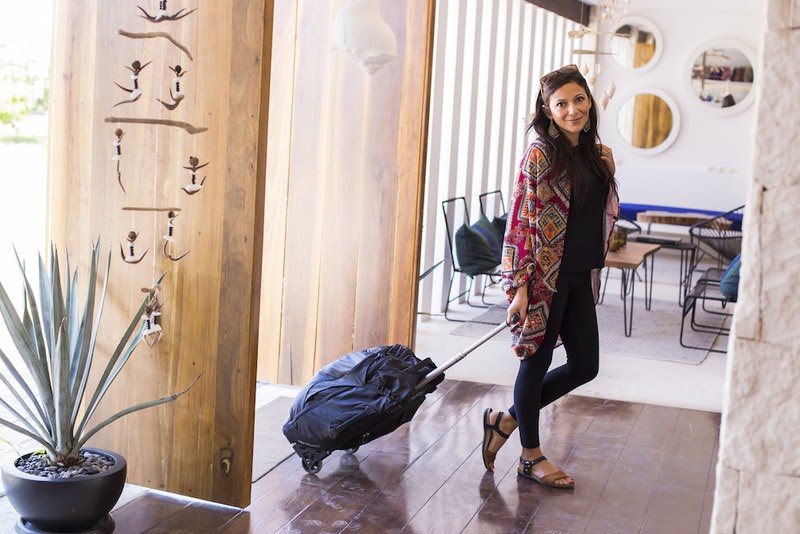 My Osprey Ozone (with Naot sandals, Diane Kroe Wrap, Zella Leggings)
Lesson #1 – Use the Right Suitcase
First and foremost, never check a black suitcase. It will be impossible to find amongst a sea of black suitcases! 
All kidding aside, when purchasing a suitcase that's 28″ and up, keep in mind that suitcase will most likely weigh a minimum of 10 lbs taking up at least 1/5 of the average weight allowance. It might be better to consider an ultra-light 25″ suitcase or smaller if you need to pack heavier things.
I packed the heaviest items in the smallest checked bag (the Osprey Ozone) because the suitcase was lightest.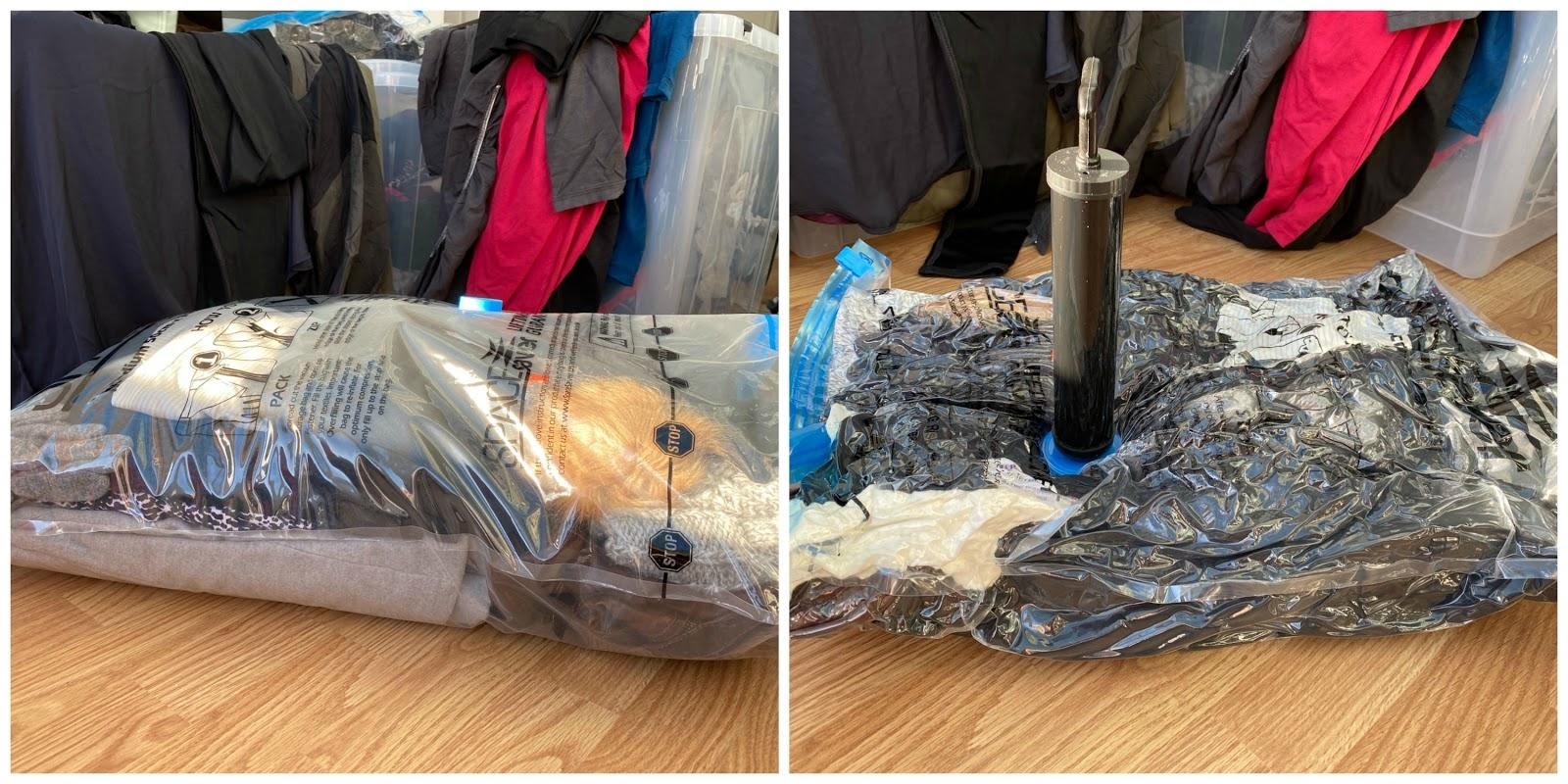 Using vacuum storage bags to pack my life up!
Lesson #2 – Use the Right Clothing Storage Bags
Vacuum storage bags are a sound go-to for a huge move! While I wouldn't use them for regular travels, they're perfect if you have a lot of clothing to pack and will only unpack your bags one time. I used four of these medium-size vacuum storage bags for all my clothing (mostly winter items).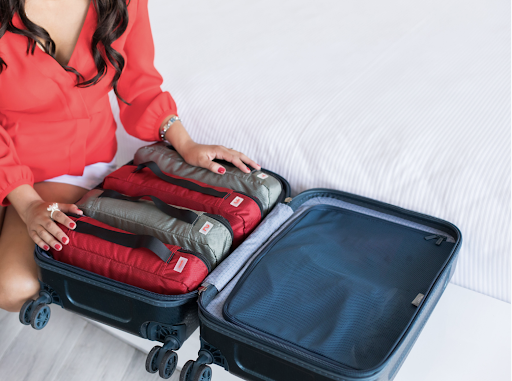 For regular travels, I still prefer packing cubes because they're a reliable solution for organizing and can unpack/repack in a flash. Obviously, Compass Rose packing cubes are my organizers of choice!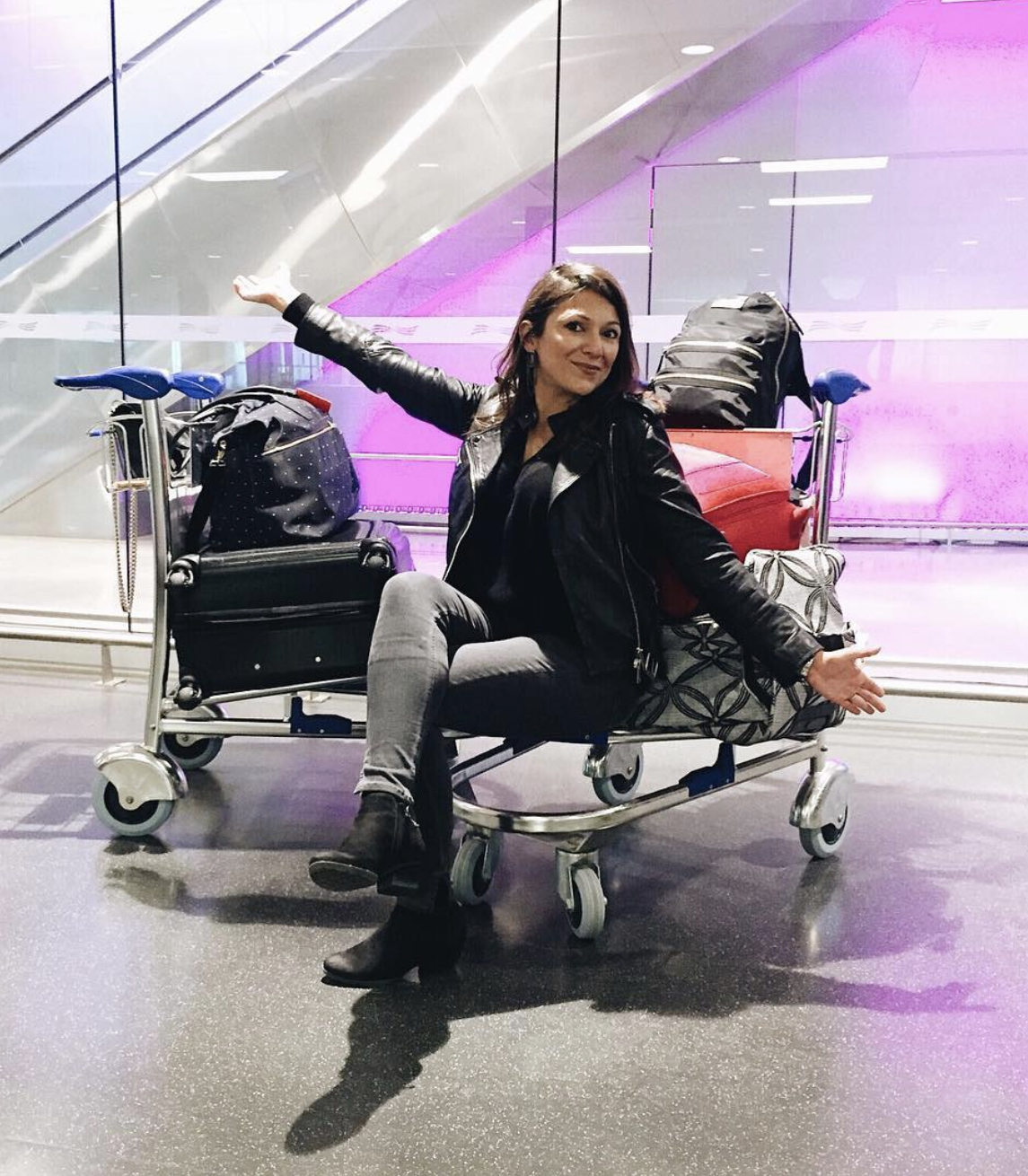 When you have bags galore!

Lesson #3 – Navigating Airport Baggage Check-In
If you're traveling on your own and for some reason need to check a lot of luggage, curbside check-in, and porters are your best friend. Bring some tip money!
British Airways is SUPER strict with the weight of checked luggage. Not an ounce over the limit. (I have Oneworld Sapphire status so I have a higher baggage weight allowance even in economy). On the plus side, they didn't weigh my carry-on or personal item. On a side note, avoid British Airways economy unless they have an awesome deal. I'm small and the economy seating was a tight squeeze even for me at 5'2″.
If TSA searches your checked bag in the USA, which they did to two out of three of my suitcases, they'll leave a note inside to inform you that you cannot reattach your lock. They'll also have little regard for the seemingly unimportant things you consider valuable and will not handle items with care.
Checking a third bag is expensive even when the first two bags are free—it cost me around $150! It was acceptable for this move, but I'd hate for this to be a regular occurrence for every trip.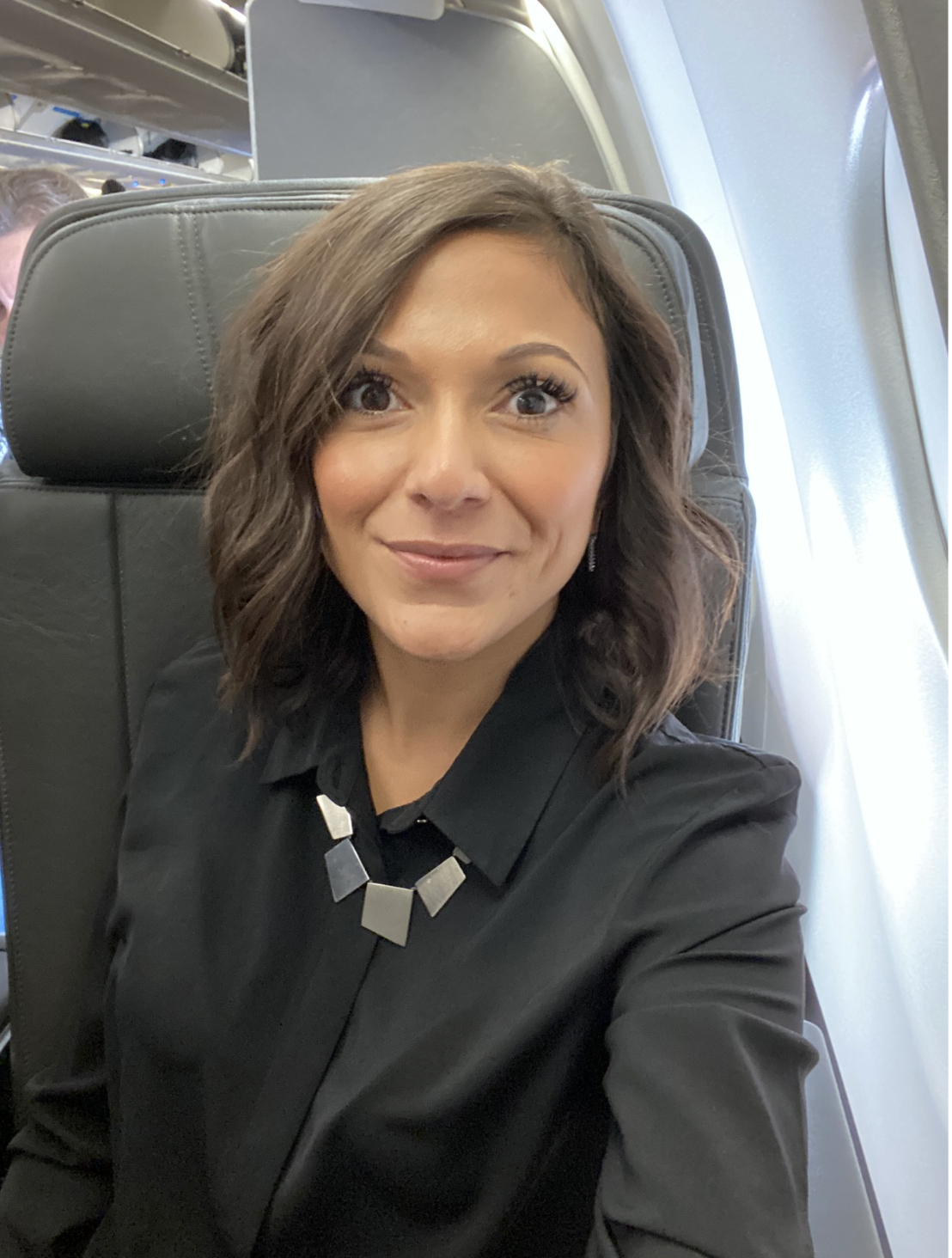 Ready to go In my fave flying outfit

Lesson #4 – Wear a Comfortable Outfit for Your Move
Remember to put aside the clothing you'll need to wear during your move before packing all your clothes into a vacuum bag and putting it into the depths of your suitcase, or you'll end up wearing the exact same outfit for five days straight!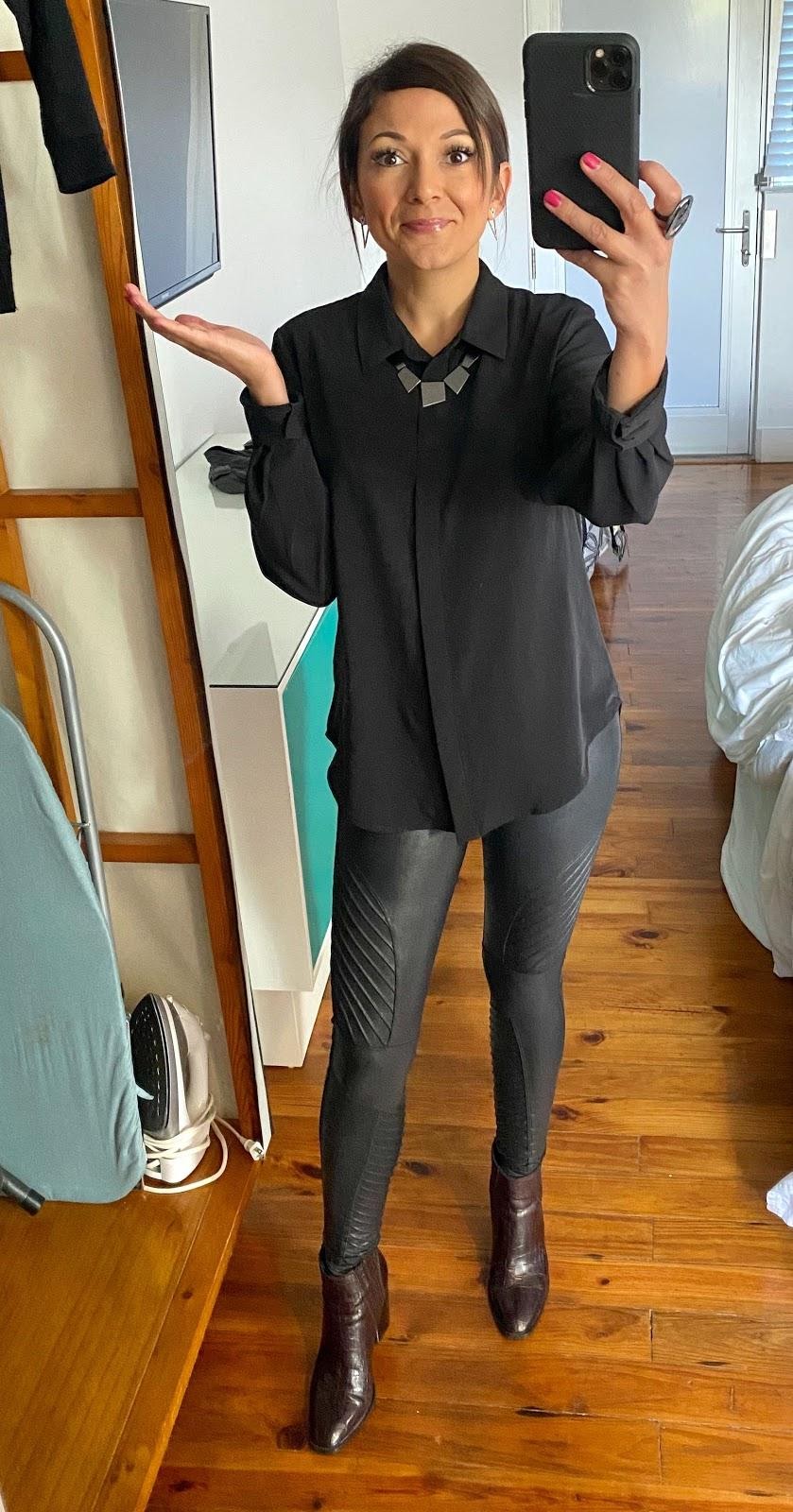 On a happy note, this top and bottom combo have become my go-to flight uniform. I love it so much! I'll change the shoes and layer depending on the weather at my destination.
I'm wearing:
The necklace was made from an artisan at the New York City market
See my picture below for an alternate option where I style my new favorite travel outfit with Tory Burch Minnie Flats, Longchamp Le Pliage, and Delsey Helium suitcase.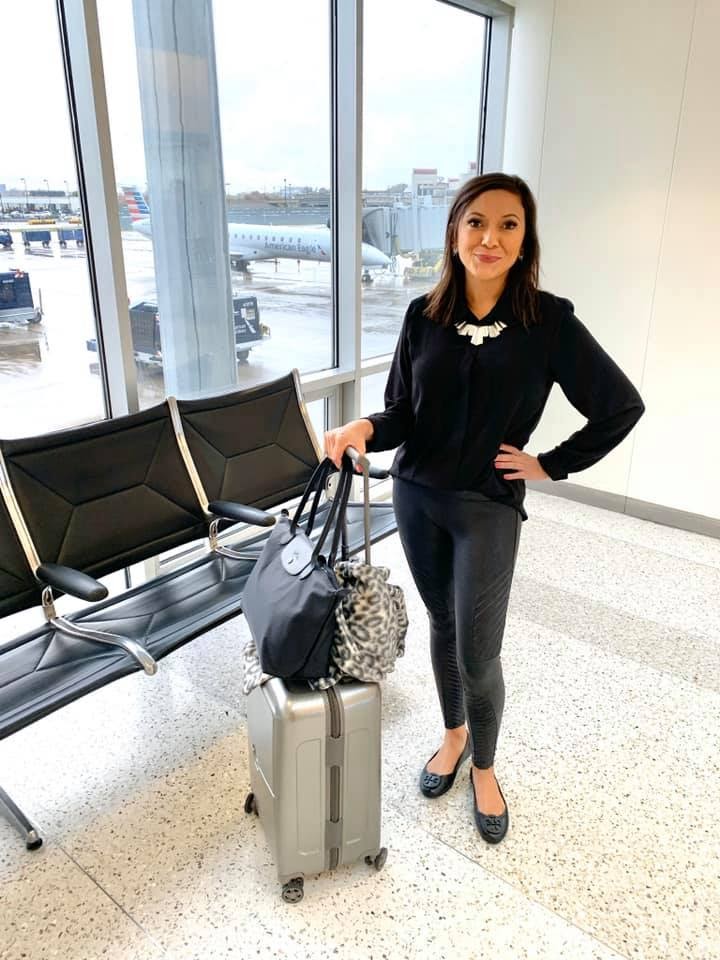 I felt chic enough for first class, but of course, I sat in an economy seat! ?
Watch this video to discover more about my outfit and other tips and products I use to make my travels more enjoyable and stress-free.
---
Have you had to deal with global moving and packing several bags? Share your tips below!
---
For more packing tips on air travel, please read:
---
LIKED THIS POST? PIN THIS PIC TO SAVE IT!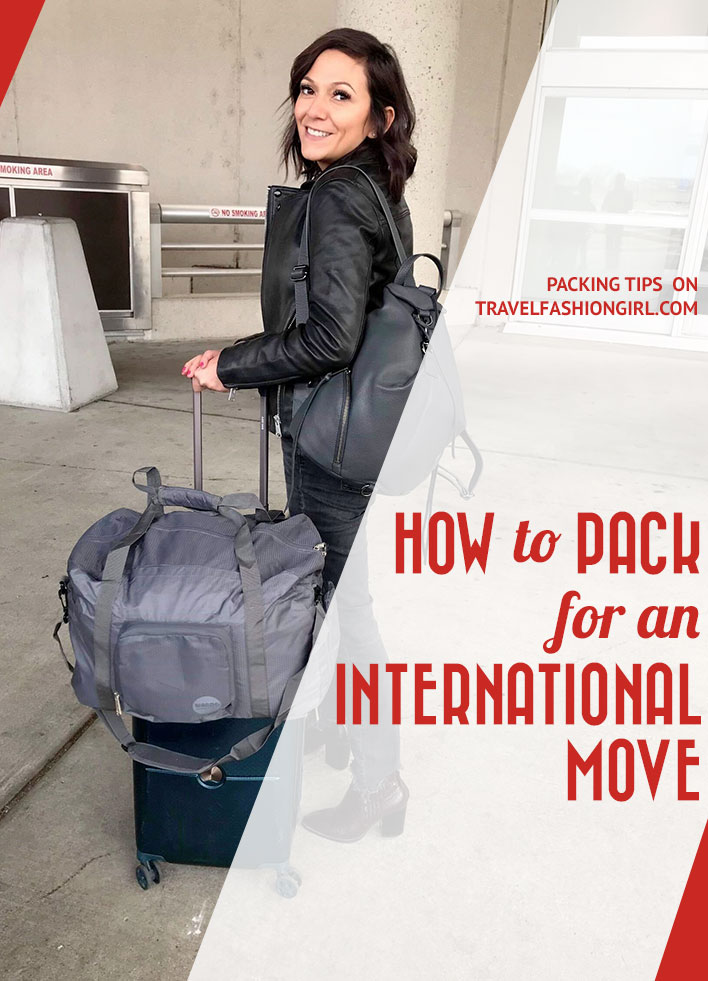 ---
I hope you liked this post on my experience with overseas moving and packing. Please share it with your friends on Facebook, Twitter, and Pinterest. Thanks for reading!
---